Hi! My name is Dini and I'm the blogger behind The Flavor Bender! I'm so excited to be a contributor to Made From Pinterest and I hope you guys enjoy this recipe just as much, or even more than I did, creating it! 🙂 But first, let me quickly introduce myself.
I was born in Sri Lanka, grew up in New Zealand, and lived in Australia before moving to the US a couple of years ago. I have moved many times on top of that, but the one constant in my life has always been my love of cooking and baking! The result of that was The Flavor Bender, which I launched in late 2014. As the name suggests, my blog is all about flavors and all the wonderful ways in which I combine those flavors in new and wildly creative ways. My blog slogan is "because it's OK to play with food", and that truly reflects how I approach my cooking and baking. As important as food is for our subsistence, and as much as we all love to eat great food, I think it's also important to enjoy the process of cooking those meals. And if you're looking for recipes and recipe ideas that bring together great flavors and show you how to have fun with your food, head on over to The Flavor Bender!
As my first contribution to Made From Pinterest, I thought I'd share with you guys one of my original recipes (I mostly have original recipes on my blog) that is also quite simple, yet produce exceptionally delicious results! These Gluten Free Fudgy Chocolate Brownie Bites with Sea Salt are a classic flavor combination.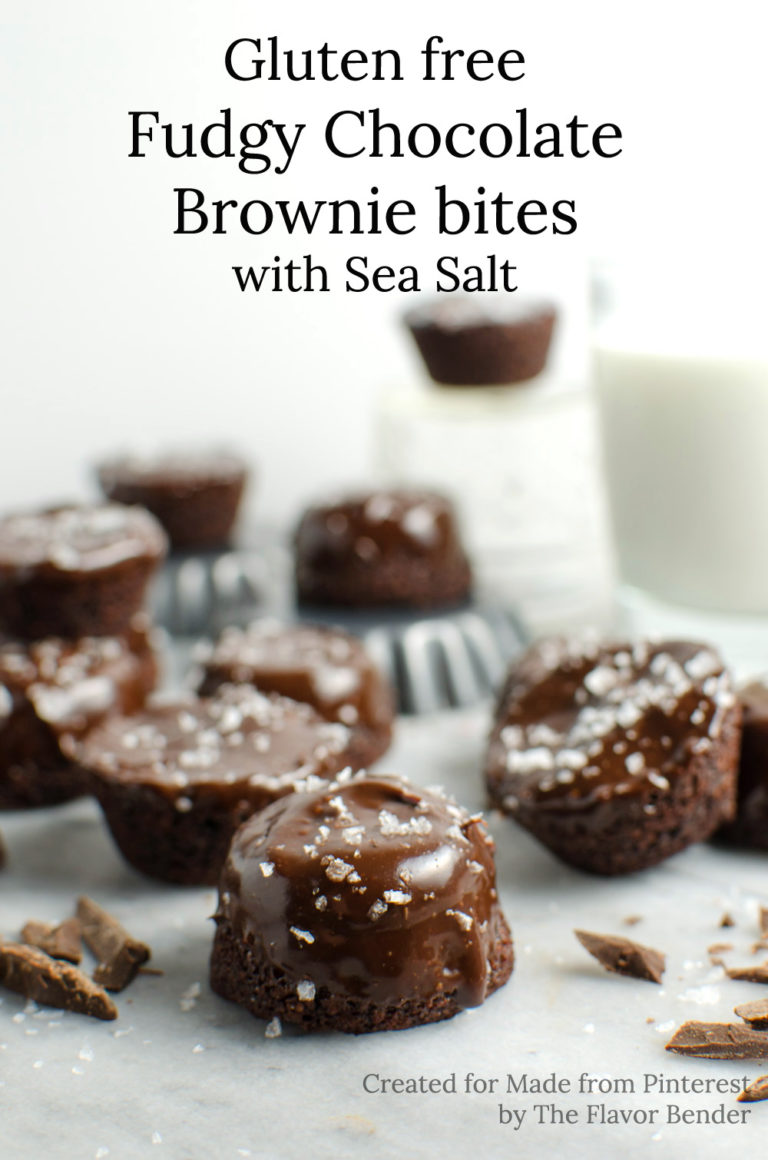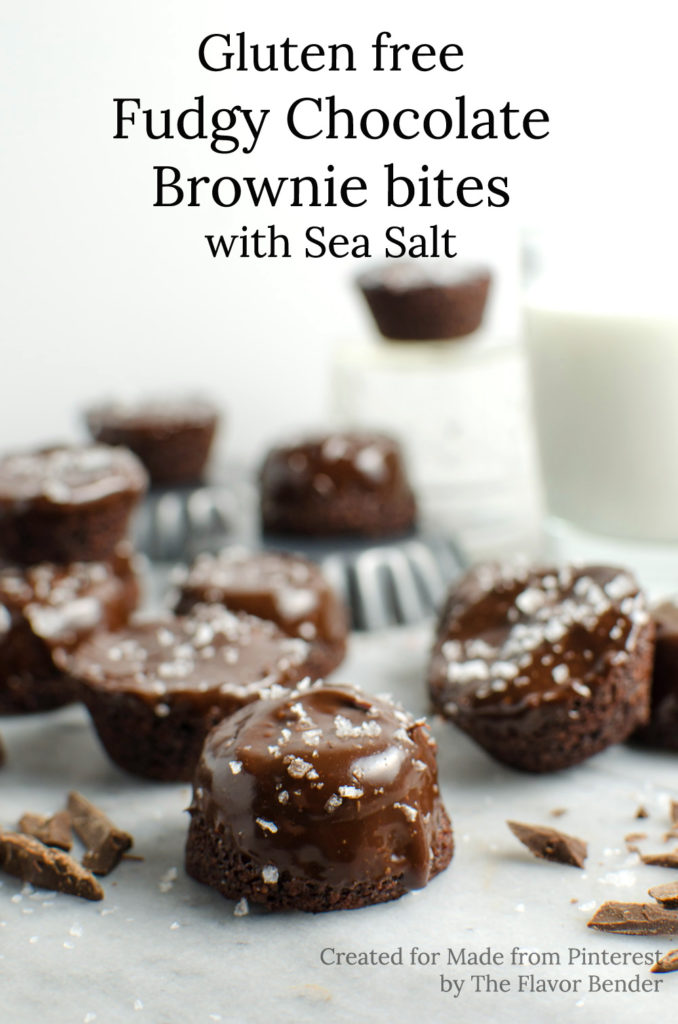 Since they are made with good-quality Valrhona cocoa powder, they have a deep, rich chocolate flavour. Valrhona is a type of premium French chocolate with complex yet balanced flavours. I promise, just one whiff of it and you're hooked. Of course you're more than welcome to use regular cocoa powder instead, but if you can get your hands on some Valrhona, I most definitely recommend it!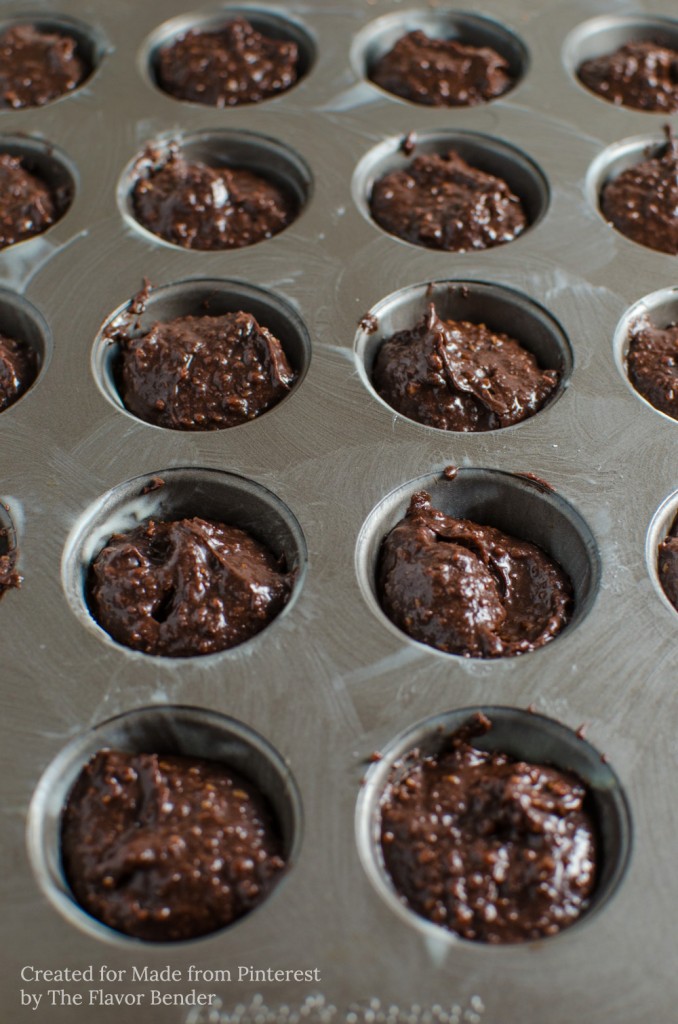 I also incorporated raw almonds in this fudgy chocolate brownie bites because I wanted them to have a nutty taste and texture as well. You can use ground almonds or almond flour, although I do prefer getting whole almonds and then processing them myself. They really add an irresistible flavour and texture to these brownie bites.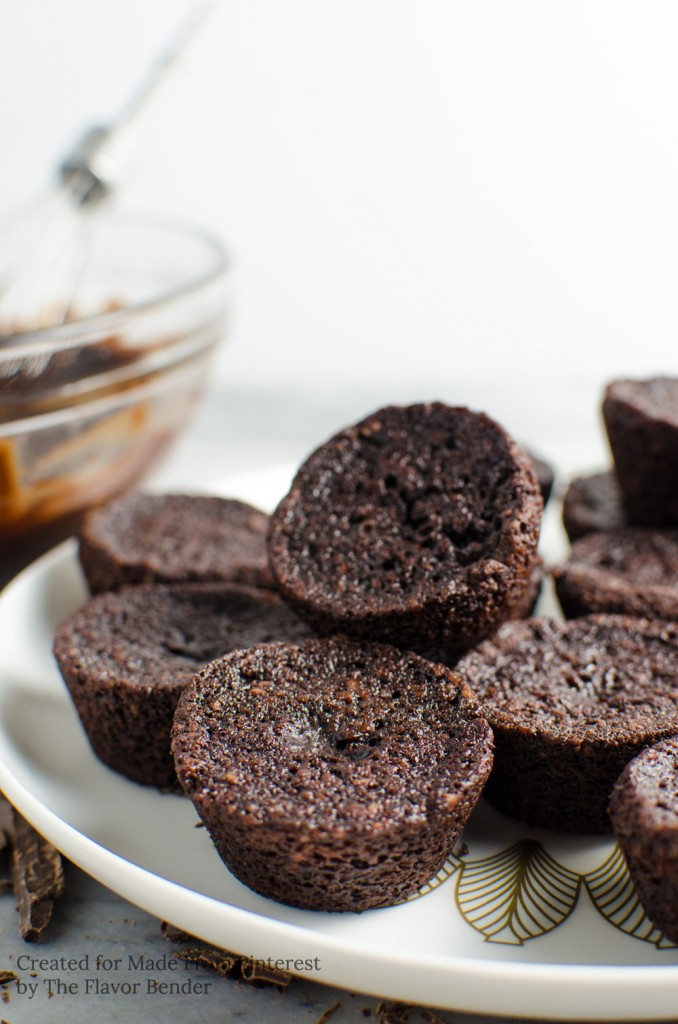 Chocolate and sea salt are a classic pairing of course. So nothing fancy there. Salt both enhances the sweetness and also provides a contrasting flavour profile. Plus they extract a depth of flavour from chocolate like nothing else. And each of these delectable brownie bites has crispy edges and a rich, fudgy little center with little bits of almond. Take my word for it, they are absolutely addictive.
And as if that wasn't enough, you can give these chocolate brownie bites and extra decadent touch by dipping each one in a luscious chocolate glaze and then sprinkle some sea salt flakes on top. It's something to even get your kids involved with, although I do recommend some adult supervision! Otherwise these brownie bites will all disappear before you can say chocolate.
They are super easy to make, plus they are gluten-free too. So go ahead and enjoy them with a glass of milk. I'm sure you'll be making these again and again. 🙂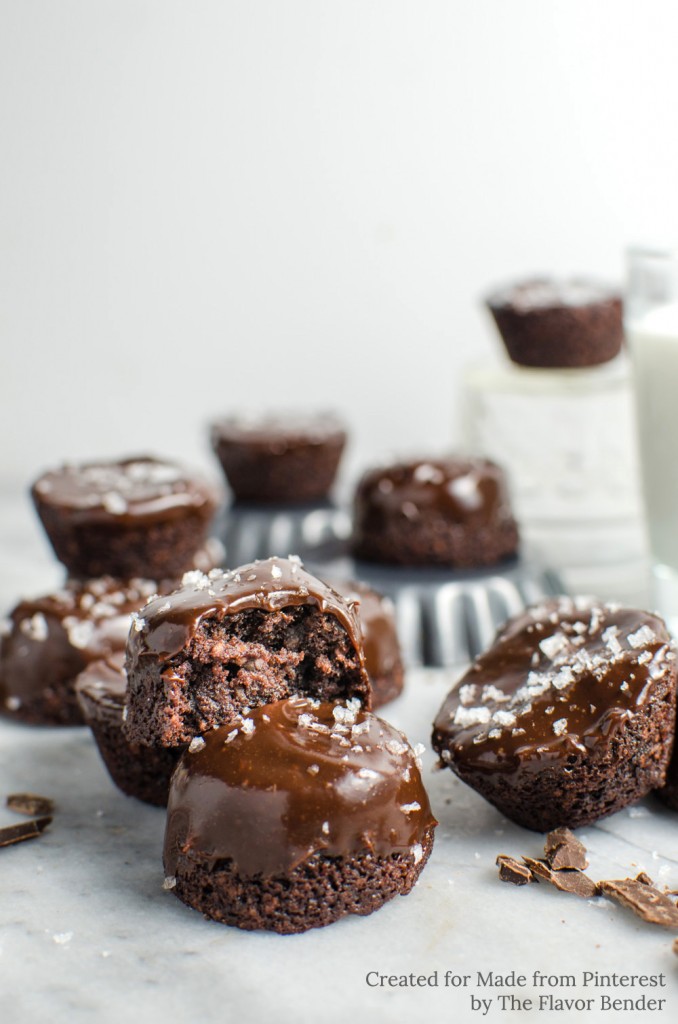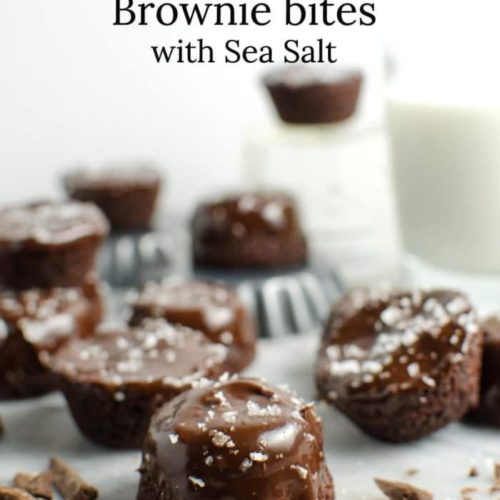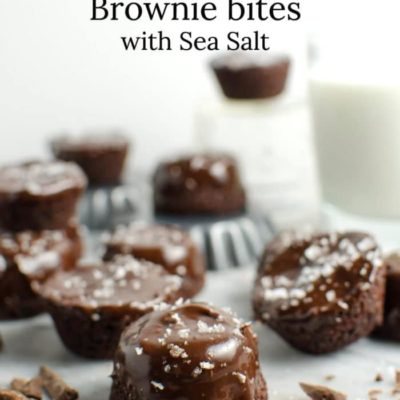 Chocolate Brownie Bites
Ingredients
Brownie Bites
3.5

oz/ 100g Melted warm butter

should not be hot, plus extra melted butter to brush the mini muffin pan.

2.5

oz

/ 70g

about 2 Egg whites, lightly beaten

4

oz

/ 115g Raw Almonds or Ground almonds

1

oz

/ 30g Valrhona Cocoa Powder

or Regular Cocoa Powder

3.5

oz

/ 100g Icing sugar

confectioners sugar

2.5

oz

/ 70g Brown sugar

½

tsp

Vanilla extract
Chocolate glaze
3

oz

/ 85g

in weight whipping cream

3

oz

/ 85g semi sweet chocolate

chopped finely

generous ½ tsp sea salt

I used Maldon

2

tbsp

brown sugar

optional

Extra sea salt to sprinkle ontop
Instructions
Brownie Bites
Preheat oven to 350°F / 180°C. Generously brush melted butter in the mini muffin wells of a mini muffin pan.

Place the almonds in a food processor, if using whole almonds, and process till they're chopped very finely (like coarse sand).

Add the icing sugar, brown sugar, and cocoa powder and pulse a few times, until the dry ingredients have mixed well. (Alternatively, you can mix all the ingredients in a bowl using a whisk - just make sure there are no lumps).

Transfer the dry ingredients to a bowl. Add the lightly beaten egg whites and using a spatula mix this through the dry ingredients. Add the vanilla and melted butter and fold through the batter until mixed through.

Using a spoon or mini scoop to fill each mini muffin well, almost to the top - leaving some room for them to rise.

Bake in a preheated oven for 9-10 minutes, until the edges look a little crisp, the middle is slightly risen, but looks fudgy.

Let it cool completely and pop them out of the muffin pan. While the brownie bites are cooling, make the Chocolate glaze.
Chocolate Glaze
Place the chopped chocolate in a heat proof bowl.

In a small saucepan place the cream, sugar, and salt. Heat gently until you start to see it simmering. Pour the heated cream over the chopped chocolate and cover the bowl for 1 minute.

Using a small whisk, mix the chocolate and cream until melted and shiny. Let it cool slightly, till it's a little thick.

Dip the cooled brownie bites (bottoms or tops - whichever you prefer) - Dip all of the brownie bites, and then go back and sprinkle the sea salt on top. (this allows the glaze to set slightly before the salt is sprinkled. Can be stored in an air tight container for a few days (if they last that long)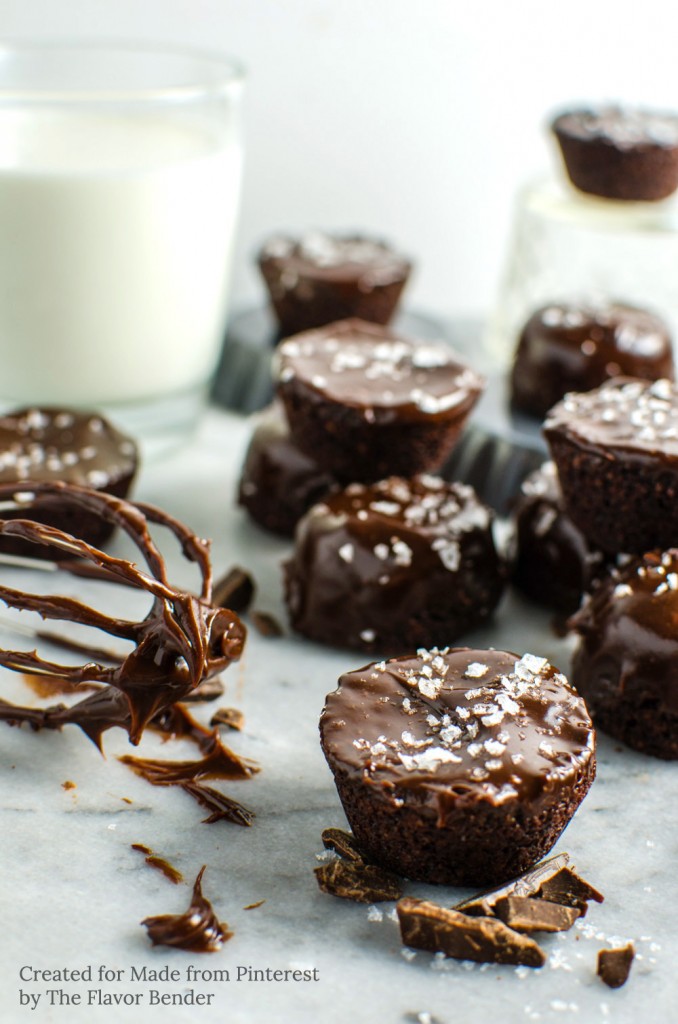 If you'd like to check out some other popular recipes on The Flavor Bender, here are three of them.
Caramelized Apple and Fennel, Pork Sausage Rolls
Sri Lankan Watalappan (Cardamom spiced Coconut Custard)
Breakfast Sausage Frittata with Persimmon Salsa
You can also find me on all of the following Social Media platforms too.
FACEBOOK | TWITTER | INSTAGRAM | PINTEREST | GOOGLE-PLUS