Who says Pinterest is just for we ladies?
My husband absolutely loves when it is my week to post here at madefrompinterest because he knows he will be in for some great stuff! Whether it is a new dinner recipe or some new fangled dessert, he is happy to be experimented upon!
In his own male way, he has endorsed and embraced Pinterest and the other day he was wondering if there was anything on Pinterest that showed how to clean the protective cover over his car headlights.
Why yes, honey. Yes there is!
Taking instructions from a pin that I pinned from Snapguide, the best thing about the directions is that it takes only one ingredient. And that one ingredient is………toothpaste!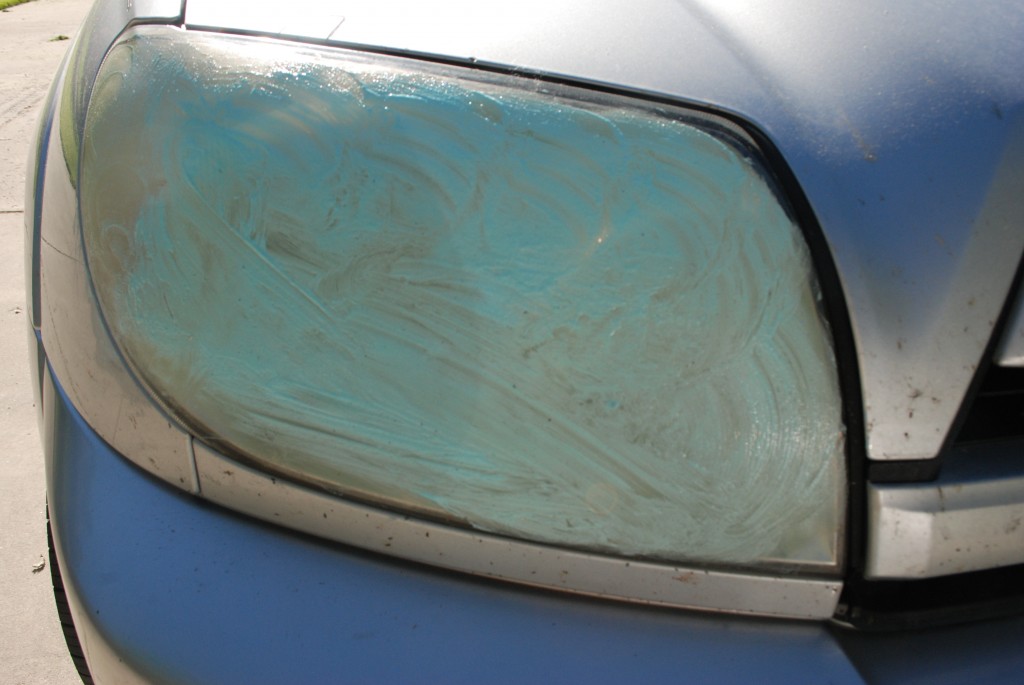 Our local grocery store had a sale on Crest toothpaste for $1.00 so I grabbed a tube and off I went to tackle our headlights. With a paper towel, I covered the entire headlight area with the toothpaste. Then I took a sponge that had a rough side on one side and lightly rubbed over this area.
Wash the toothpaste off with some warm water and look at the results!
This little favor made the hubster so excited! You know how men are about their cars. And now he loves Pinterest even more!
Sometimes a gift of your time makes the best gifts. Wouldn't Dad love to come out to find his headlights this sparkling clean? For some other Father's Day cleaning ideas, check out these posts:
The Magic Way to Clean your BBQ Grill
The Magic Way to Clean Your Windows
The Magic No Ammonia Way to Clean your BBQ Grill
However, I felt a little guilty that I only cleaned his headlights. I should really finish the job and wash and wax the whole car, right?
Nah.
I'd rather go inside and brush my teeth with my new toothpaste.
I promise that the Dad in your life will agree that This Pin Rocks!

Disclaimer: If the cover over your headlights is super scratched, your results will not be as good as this process only cleans the headlights and doesn't buff the scratches out. Just sayin.
These are rockin' sites that we are linking with today!
Uncommon Designs – Plaid and Paisley Kitchen – Flour Me With Love – I Should Be Mopping the Floor – A Pinch of Joy – Southern Fairy Tale – Keeping It Simple – This Gal Cooks – Say Not Sweet Anne – Jembellish – Sew Can Do – Sew Chatty – DIY Showoff