I can truly say I grew up at Disneyland! Why? Becaused we lived about 20 minutes from the Magic Kingdom, not only did we live close by but, several of my friends worked there. That meant FREE tickets whenever we wanted to go. How many of you remember the "ticket books" with tickets A, B, C, D and E? Anyone recall how much it cost? Remember what the most coveted ticket was? It was the one ticket you got the least of in the book because it got you on the best rides. The coveted E ticket. General Admission was $3.75 and an adult ticket book was $5.50! We went so often that I remember a drawer in our kitchen that we would drop our "unused" tickets to save for the next trip. I wish we had saved them, as the are valuable collector items now! One of the best spots then and now is the Carnation Cafe on Main Street. Once again I was lucky as one of my BFF's worked as a server there! They still have some of the best soups and salads around. So I was pretty excited to try out their Loaded Baked Potato Soup.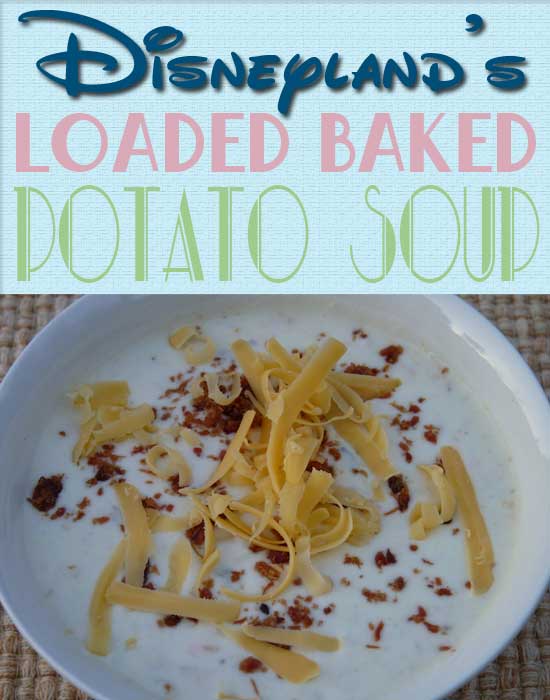 I ended up adding a few more veggies's than the recipe calls for and really liked it. The combination of the two kinds of potatoes is great. I thought it tasted even better the second day! Yes, this soup is LOADED with calories. But sometimes you have to ignore counting calories and just enjoy the culinary experience!
To Carnation Cafe on Main Street I have to say that……This Pin Rocks!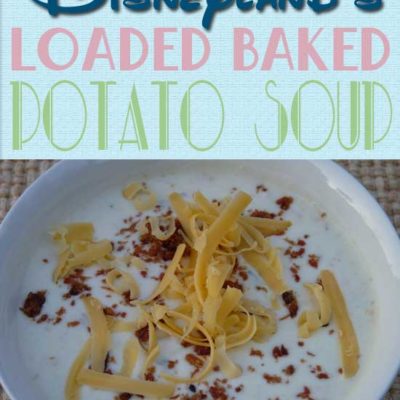 Disneyland's Loaded Baked Potato Soup
Ingredients
1

pound

bacon

roughly chopped

1

medium yellow onion

diced

1

large carrot

peeled and diced

3/4

cup

diced celery

4

large Russet potatoes

peeled and diced

4

medium red potatoes

diced

1/4

cup

flour

2

cups

chicken or vegetable stock

Coarse salt

freshly ground pepper, to taste

4

cups

heavy whipping cream

Optional garnishes: chopped chives

bacon bits, sour cream, shredded cheddar and Monterey Jack cheese
Instructions
In a 6- to 8-quart stockpot over medium heat, fry bacon until crisp.

Remove bacon and drain on paper towels, reserving half for garnish. In bacon fat, cook onions, carrots, and celery until the onions are translucent. Add potatoes and cook for 4 minutes, stirring occasionally.


Whisk in flour and stir constantly over low heat until the flour is cooked and the mixture has thickened slightly, about 5 to 7 minutes. Add chicken stock and half of the bacon. Season with salt and pepper.

Over medium-high heat, bring the soup to a simmer and cook for 25 minutes or until the potatoes are soft. Mash some of the potatoes for thicker, creamier texture. Add whipping cream and simmer for 5 minutes.

Adjust thickness by adding water or stock. Soup should have a creamy consistency.

Season to taste, and garnish with toppings.