It is a family tradition to dye the eggs, and the grandkids love it. That's why I want to make sure that we have enough no cracks, easy-peel, perfect hard-boiled eggs for that purpose.
In fact, once I tasted a perfectly hard-boiled egg, I knew I could never go back to dry, crumbly yolks. But no matter how hard I tried, I got the timing wrong and ended up with the green ring.
Over the years, I have found a technique that I believed to be perfect. Then I found this pin and tried it, and now there is a new tool in my bag of cooking tricks. It works every time!

Hard-boiled eggs are nutritious and healthy
Eggs are such a quick, easy, portable snack. They are a great source of high-quality protein, too. Rich in selenium, vitamin D, B6, B12, and a source of minerals such as zinc, copper, and iron.
In fact, one large egg contains about 75 calories which makes it a low-calorie food.
Moreover, they are filling and make you eat fewer calories. With so many health benefits for the body, these products will help if you want to lose weight and maintain a healthy diet.
Health benefits of eggs
low-calorie
rich in protein
rich in minerals such as zinc, copper, selenium
rich in vitamins
contain Omega-3
contain healthy fats
source of choline
source of lutein
filling and satiating
Are you eating enough protein?
Getting enough protein can help with building muscle mass, losing weight, and lowering blood pressure. No wonder that people who tend to live a healthy lifestyle eat eggs on the regular. Include them into your diet to increase the feeling of fullness.
Protein is essential for the body! Make sure you eat enough of it. No cracks, easy-peel, perfect hard-boiled eggs are something you should consider adding to your diet.
Include hard-boiled eggs into your everyday meals
Got a batch of perfect hard-boiled eggs ready and peeled in your fridge? Eating them without seasoning may get boring. Think of ideas on how to make things more interesting.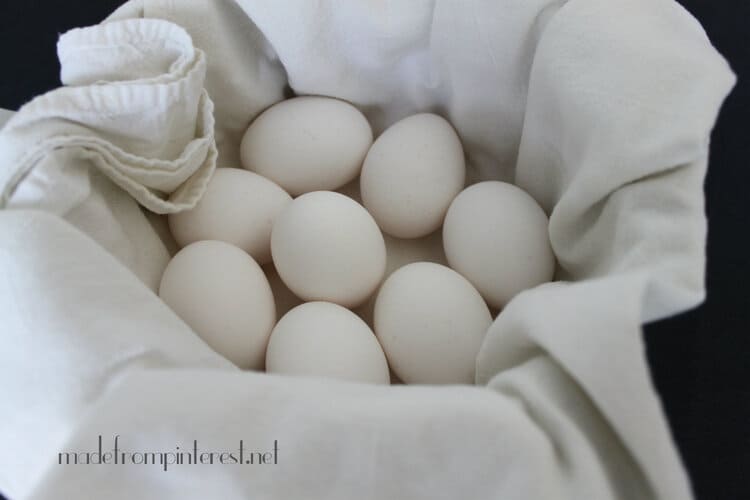 For increasing your protein intake, add hard-boiled eggs to:
salads
sandwiches
wraps
pasta
appetizers
breakfast bowls
creamy dips and sauces
hummus and veggie bowls
smoothies
You can use them chopped up in salads, grated on pizza, or as a base for dips. Add a hard-boiled egg to your smoothie bowl, to give it an extra protein kick. Marinate them and season with sesame seeds and paprika.
In addition, make healthy and nutritious sandwiches and wraps with veggies and eggs. Use them in dressings for salad or make a paste with eggs for your sandwich, too. Shredded eggs are great for tossing on pizza or salad.
For example, deviled eggs are something I tend to make only in spring, and I am looking forward to them. I have had plenty of hard-boiled eggs that have that green ring around the yolk.
Growing up, I thought that is how they are supposed to be. Actually, I didn't know that the green coloring means they are overcooked.
Tips for making the perfect hard-boiled eggs
How many Easter eggs have you cracked while experimenting with different techniques? No cracks, easy-peel, perfect hard-boiled eggs are so easy to make. To boil the eggs, use boiling water on the stove, an instant pot, or even an air-fryer. In fact, I use the old-fashioned way with the boiling water in the pot on the stove.
You will need:
Older eggs
A cotton kitchen towel
A pot
First of all, to make no cracks, easy-peel, perfect hard-boiled eggs, you have to use eggs one week old. Older eggs are easier to peel. The next step is to lay a clean white cotton kitchen towel in the pot.
I got this tip from my wonderful mother-in-law (I have mentioned before how good she is at all things homemaking. She raised her five kids on a farm. Grew, canned, cooked, and sewed everything herself! She even made her own Easter candy!).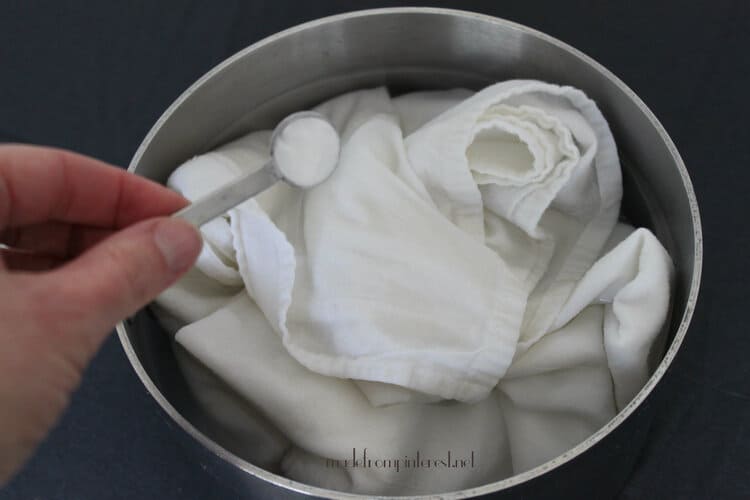 How to protect the eggs from cracking
Easter eggs should not get cracked while boiling. Otherwise, you turn out to have fewer eggs for dyeing. In fact, the cracked ones will make a great addition to your salad. But the main idea is to have all the eggs hard-boiled and to minimize cracking them.
The towel acts as a cushion for the eggs. So when the water boils, the eggs don't knock against each other and get cracks. You can do many eggs in a large pot this way if you lay the towel in between layers of eggs. I like this when I am making a lot of eggs for Easter. I can do a large batch, and they come out perfect for dyeing.
Helpful tips for making no cracks, easy-peel, perfect hard-boiled eggs:
Assure there is enough space for the eggs and not put too many of them in the pan.
Position them in just one layer and not put one over the other.
Fold the towel over the eggs and fill the pot with enough water to cover the eggs. Here is the new Pinterest tip I learned from The Kitchn via Pinterest. Add 1/4 tsp baking soda to the water. The Kitchn explains how it changes the pH level and makes them easier to peel.
Bring the water to a rolling boil. Not only bubbling but also rolling. Boil for 1 minute, then turn off the heat and leave the eggs in the pan of water until cooled. Drain the water, and they are ready. Perfect for Easter egg dyeing.
How to peel hard-boiled eggs easier
Who else feels frustrated when shells come off in tiny pieces? The peeling process can be so annoying and time-consuming sometimes.
Moreover, it is nerve-wracking when shells come off with pieces of egg whites on them. A real test for the nerves! And the result is a peeled egg that is not even on the outside and looks a bit chipped. In fact, if I end up with eggs looking uneven and chipped, I prefer to use them shredded instead.
I like to make enough eggs for a week, peel them all at once, and store them in a ziplock bag for a quick snack on the go. Actually, I will share with you a fact about peeling eggs. As a matter of fact, I start peeling at the end, where there is a bubble of air. It helps get under the skin, and peeling goes easier.
Make sure to try this easy way to peel your eggs! How to Peel Your Eggs With a Spoon – another simple and effective way to peel eggs!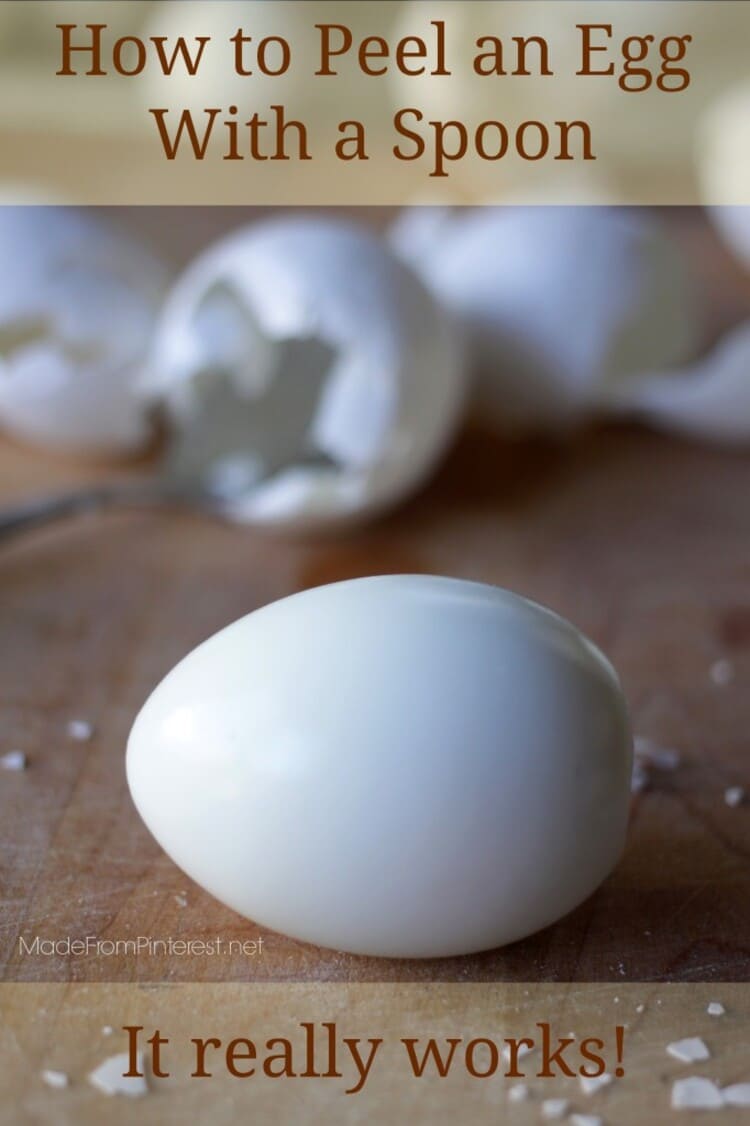 I compared eggs boiled with and without baking soda and found baking soda did make a difference.
The best feeling is when there are large pieces of shell that come right off. You feel so happy and proud at the same time! You almost feel like a chef in some fancy restaurant. Eggs always seem to be perfect-looking in restaurants. Making easy-to-peel eggs can be a difficult task, indeed. But it is a possible one!
Safety tips for using eggs
Always wash your eggs with water before use.
Store hard-boiled eggs in a container in the refrigerator for up to seven days.
Place the eggs on the coldest part of your refrigerator – not the door.
Inspect the eggs before buying them, and never buy cracked eggs.
Always check the expiry date of the eggs before buying them.
Don't keep eggs at room temperature for more than a few hours.
Easter egg dyeing is a great family time with the grandkids
How many hard-boiled eggs will you be boiling for Easter? I know I will be hard-boiling my share of eggs to decorate this year. I like at least a dozen per person for dyeing.
Decorating eggs is another fun family tradition. A time to bond with the grandkids and create memories that last a long time.
It gets messy! But also creativity is involved, and they spend time having fun without any electronics or toys. Build a strong bond with your grandchildren while dyeing Easter eggs, ask them questions and answer theirs. Create meaningful conversations about the tradition and coloration of the eggs. It is a way to spark their creativity and express their thoughts.
Try using natural dyes like beetroot, onion skins, red cabbage, spinach, carrots, spirulina, matcha powder, or turmeric. It is the way to make sure you won't add any artificial substances to your food. You already have these in your kitchen. It will be fun for the grandkids to find these coloring agents in the kitchen and see how they can color the eggs with them.
The bottom line
It's the end of your struggle with hard-boiled eggs and spending a long time peeling them. I know you have been looking for a way to boil eggs without cracking them and make these shells slide off easily.
Finally, we have answers to these questions! And the method is tested and proven effective, of course!
Now that you have no cracks, easy-peel, perfect hard-boiled eggs, put them to good use and enjoy! Besides, being an affordable source of protein, you should consider adding eggs to your meals. For instance, add some hard-boiled eggs to your salad or sandwich. It plays a big role in maintaining healthy body weight and living a healthy lifestyle.
In short, don't worry about the Easter egg dyeing anymore. Make hard-boiled eggs like a PRO! It will change your life! Get crackin', peel away, and enjoy your eggs. This Pin Rocks!
Looking for more posts about eggs? Check THIS out!