With spring in the air, these Distressed Mason Jars are super easy to make in these darling pastel colors!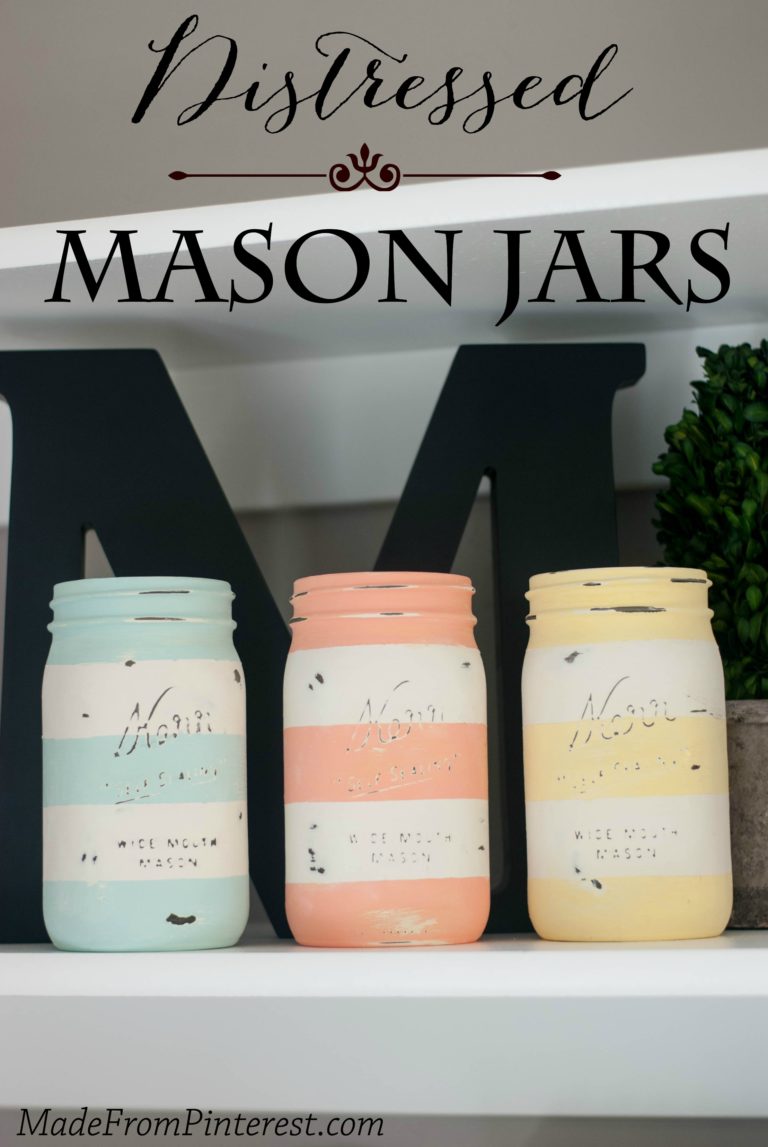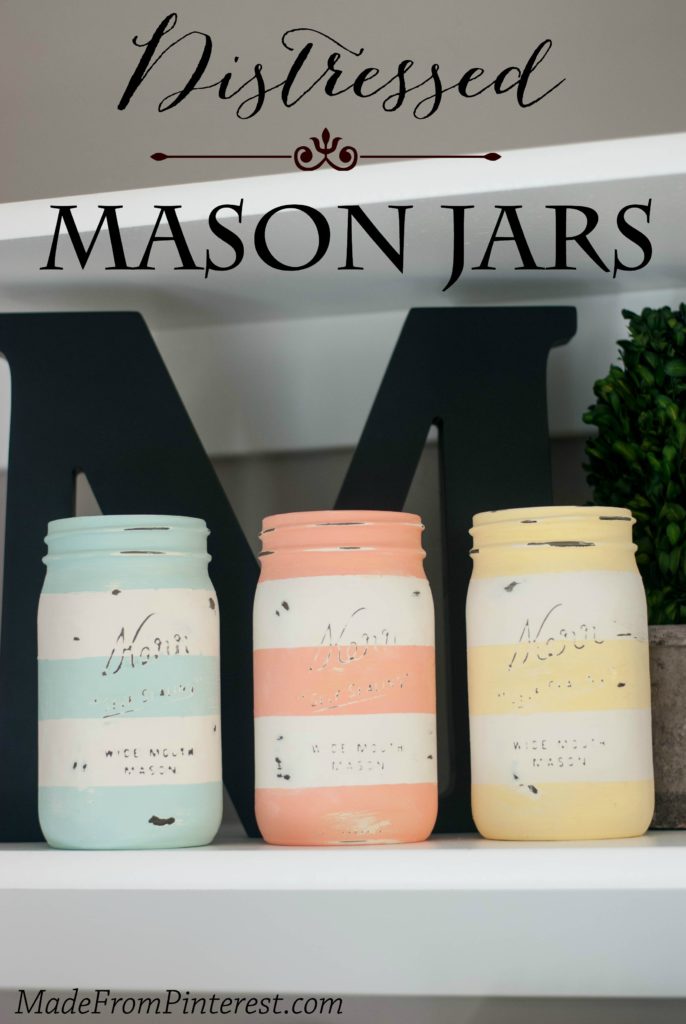 If this is your first time here at our site, I hope that you can tell that we love Pinterest! I have been pinning on Pinterest since they very first started and I still love it!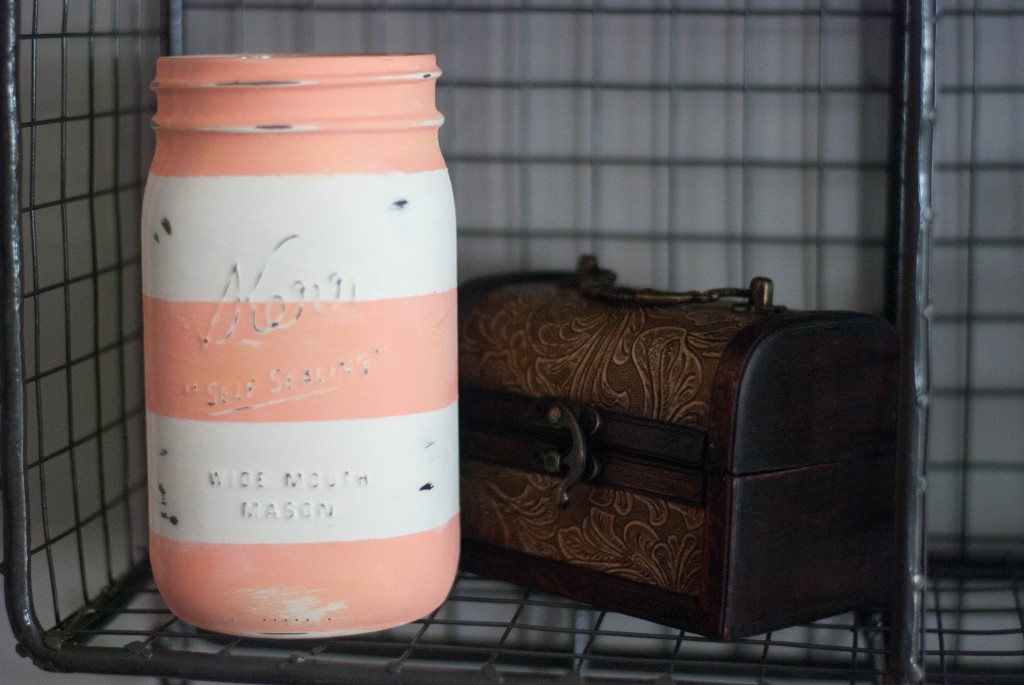 Some people look at Pinterest and it stresses them out because they see all these wonderful things and feel pressure to do everything! I feel just the opposite.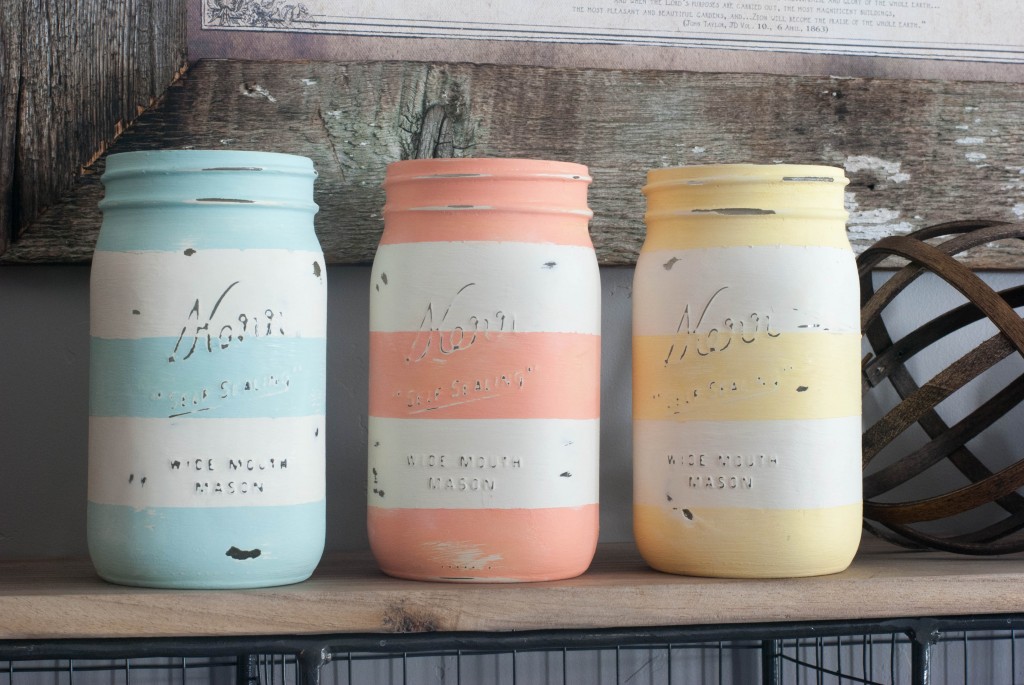 Pinterest actually reduces stress for me because when I need something, it is right there in full color. With other searches, you get a text result and you can't see the actual thing you are searching for.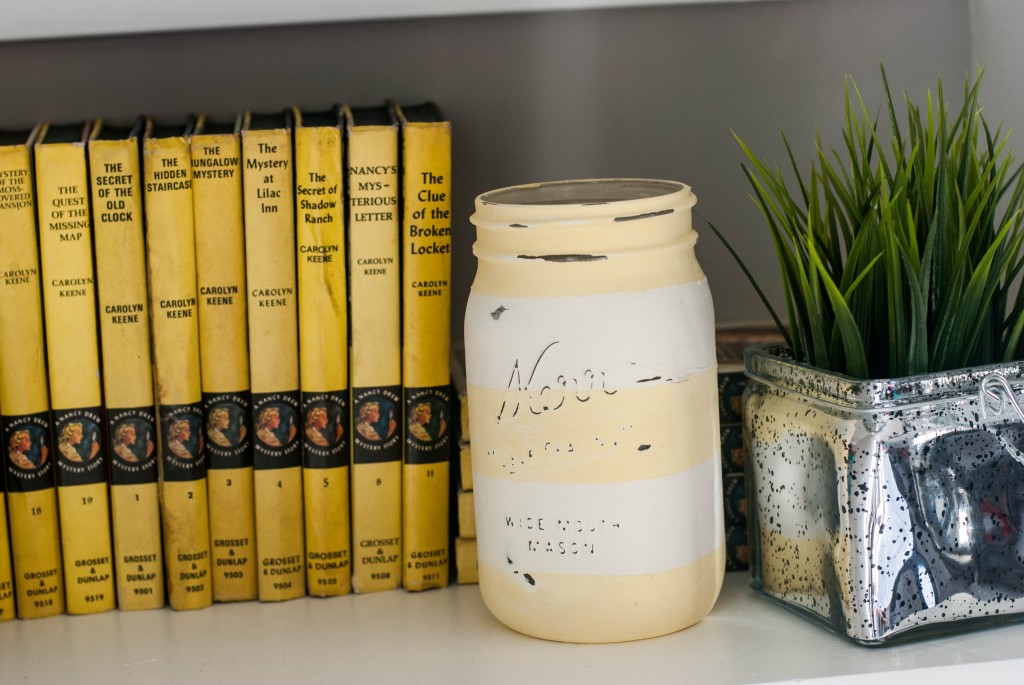 For example, last October we added a family room onto our house and we had some bookshelves built. And I am STILL looking for things and how I want to decorate them. (Fun note: The books in the above picture are my Nancy Drew books that I read when I was a little girl. They have been through lots of moves and have some wear and tear but hey, they are over 40 years old! )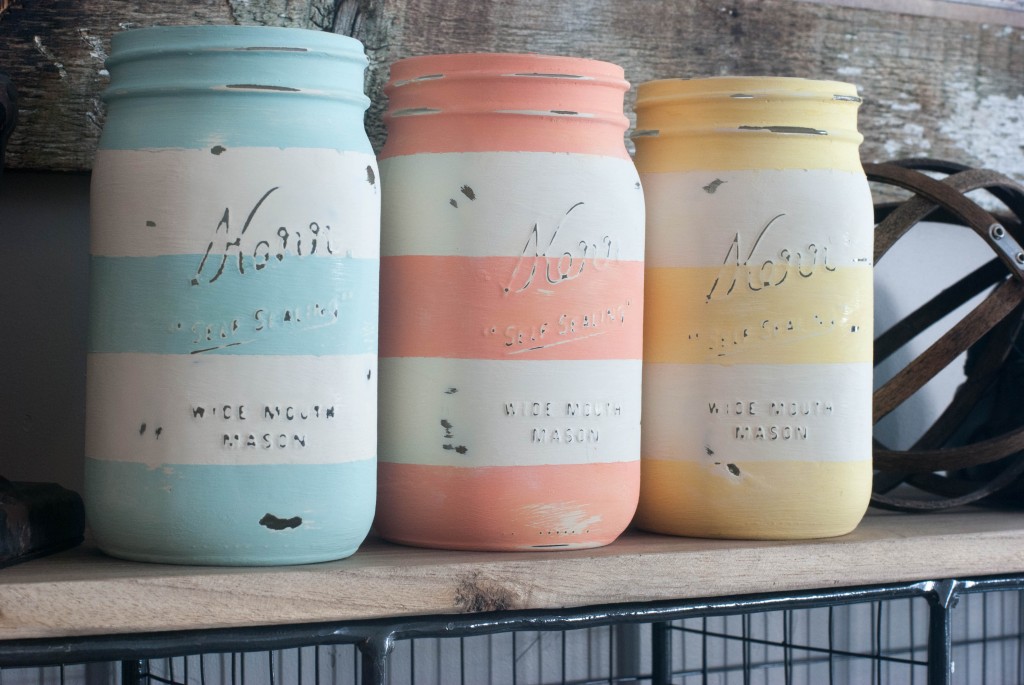 Anyway, onto Pinterest I went and immediately found these darling Striped Distressed Mason Jars from The Crafted Sparrow! Bingo! What a relief! These were just what I was looking for.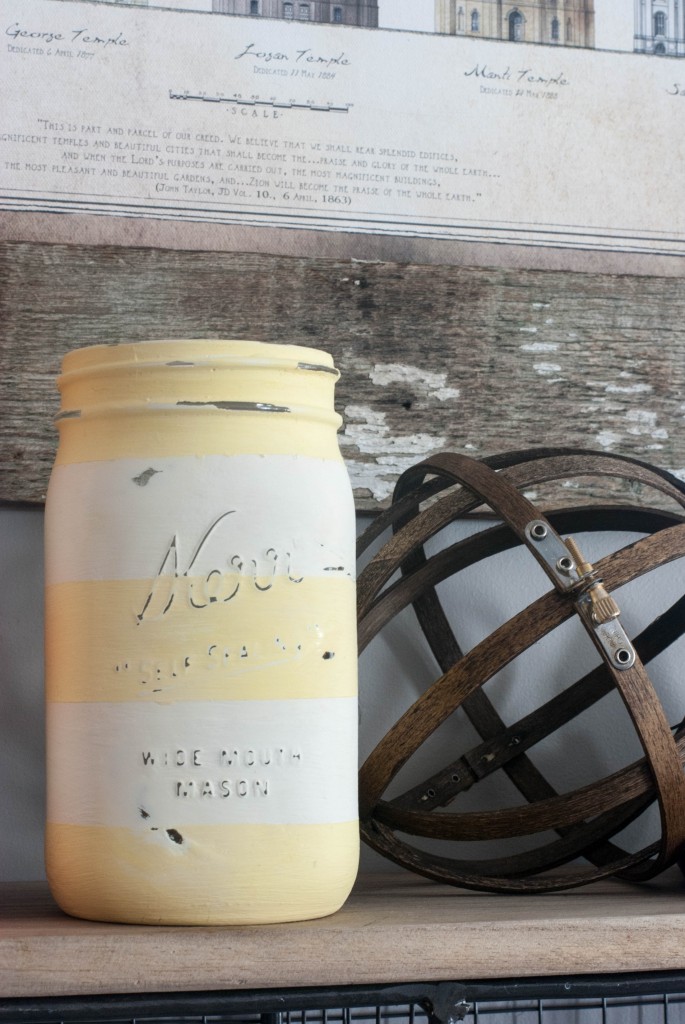 In just the right spring colors, these jars were super easy to make but super big on impressive! And if you happen to like the wooden hoop orb in the above picture, click HERE to learn how to make one from our site!
Well enough yakking…let's get crafting! Here is what you will need:
Mason Jars – I used the wide mouth jars. Don't have any Mason Jars? Get some HERE
.
Americana Decor Chalky Finish paints – I used Everlasting
, Delicate
, Refreshing
and Smitten
Painters tape
Paint brush – I used a foam one
Sandpaper
Americana Decor Creme Wax – You can use another paint sealer if you don't have this
Instructions: Make sure your jars are very clean and very dry. With the white chalky paint, paint each jar until well covered. I painted mine with four coats of the white but don't worry, this paint dries quickly. Make sure each coat has dried very well before starting the next coat though.
Next you want to apply your painters tape to create the stripes. My painters tape was a little too thick so I cut mine down to about 1 1/2 to 2 inches wide. Be sure to press the edges of the tape onto the jar really well so the paint gets nice clean lines.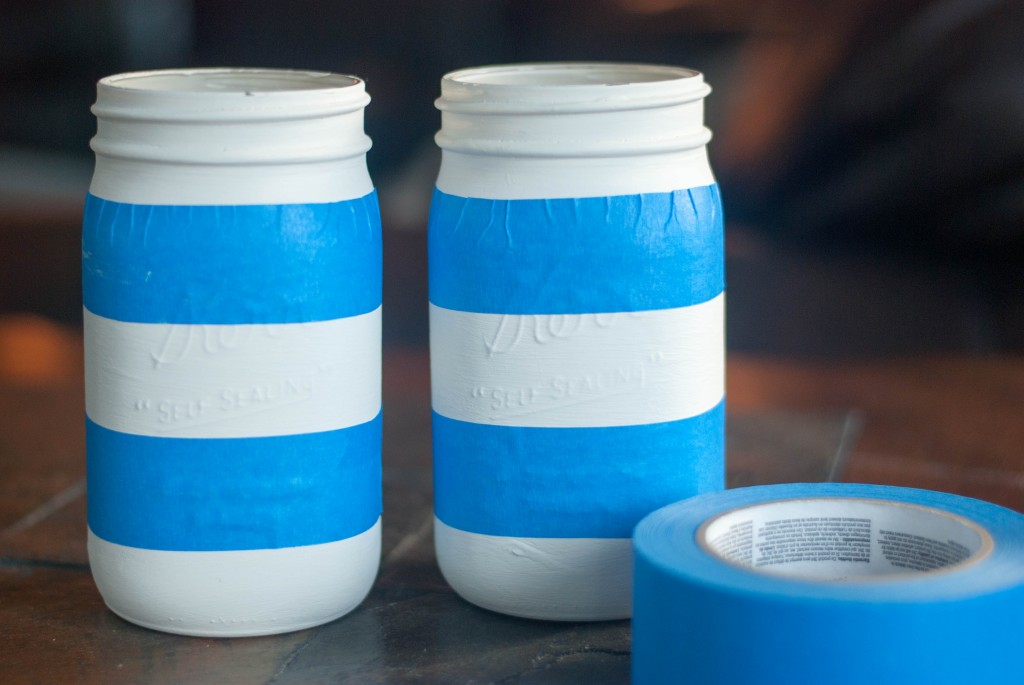 When you are applying your tape, watch closely to where you are putting it so that you can put the tape on the next jar exactly the same as the first so that your lines will line up. If you look at mine, the bottom of the first tape went right through the middle of the letter K in Kerr, so I made sure to do the same to my next two jars.
Next, paint two coats of each color that you are using and thoroughly let dry.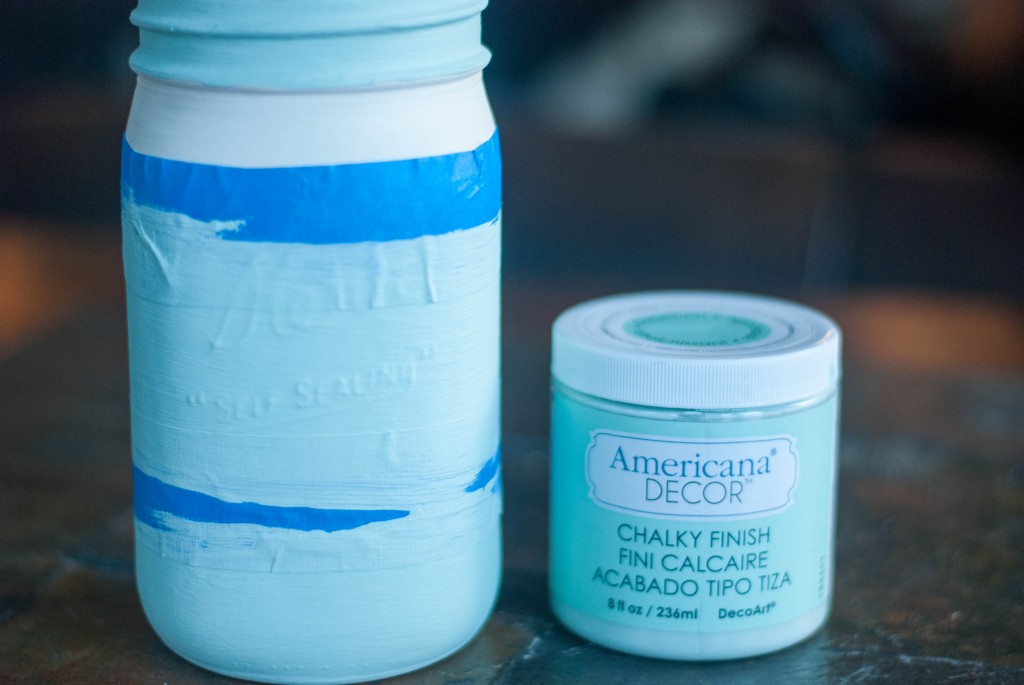 When dry, carefully remove the painters tape and then take your sandpaper and softly distress the raised areas of the jar along with some distressing around the sides. If you have any little areas that seeped back behind the tape, just take your white chalky paint and touch up.
When you are done distressing, take some clear wax and apply with a foam brush. Wipe off excess with a dry, lint free cloth and this will seal the paint and give it a soft lustre. Or you can you use another paint sealer if you do not have any wax.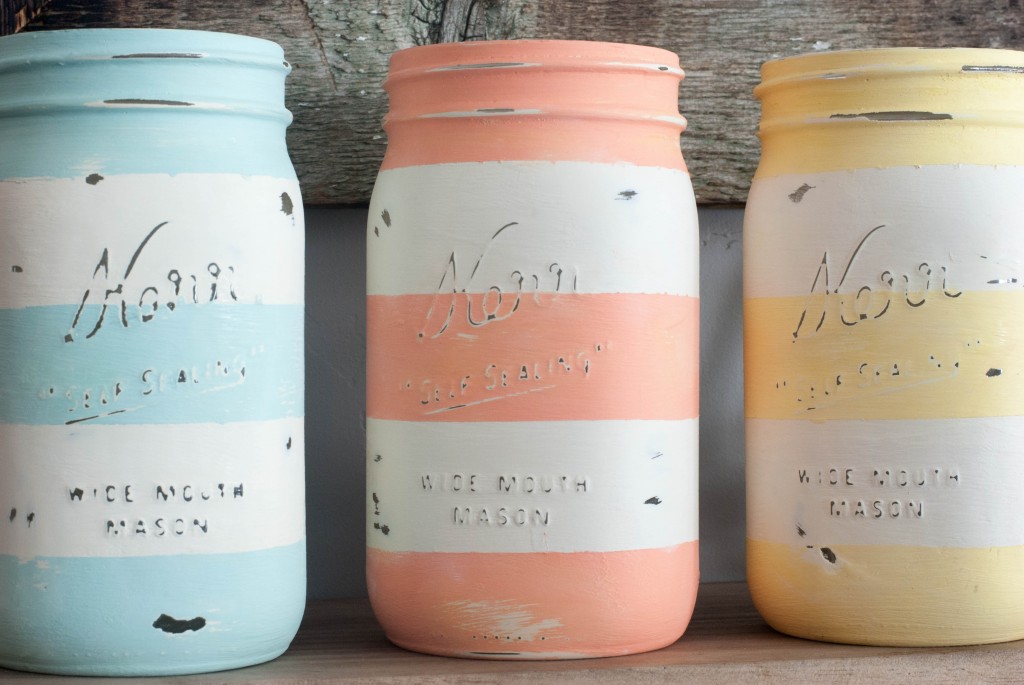 These look darling on my bookshelves. Thank you Pinterest for making it easier to decorate my home!
This Pin Rocks!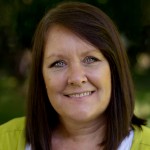 You can also find us on Pinterest │ Facebook │ Twitter │ Instagram │ StumbleUpon │ Hometalk
Looking for some more mason jar crafts? Check these out!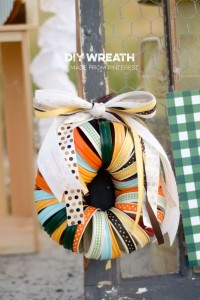 Fourth of July Mason Jar Candles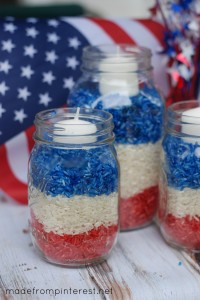 This amazing post has been shared with Living Well Spending Less and Tatertots and Jello.