I'm thrilled to be visiting from my blog, Atta Girl Says, with a pineapple-themed craft that will help you bring a little bit of the tropics to your spring and summertime entertaining: DIY Etched Pineapple Glasses.
I have been obsessed with all things pineapple lately. My favorite fruit has been popping up in lots of crafts and home decor projects.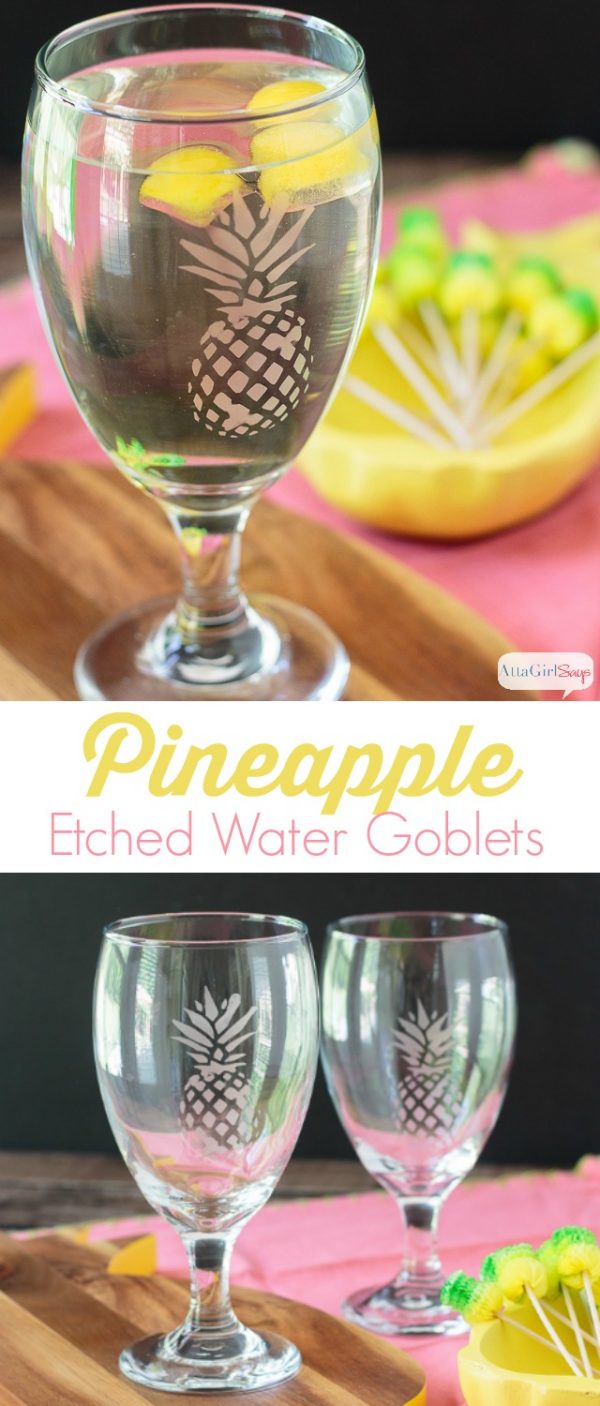 Aren't these etched pineapple water goblets adorable?
Especially when you add some pineapple juice ice cubes to them. (I got my pineapple ice cube trays from World Market, FYI.)
I have done several etched glass projects, and it's a great way to get a high-end look for not much money. And etching glass is easier than you think, too, especially with some of the new formulations of low-odor etching creams available.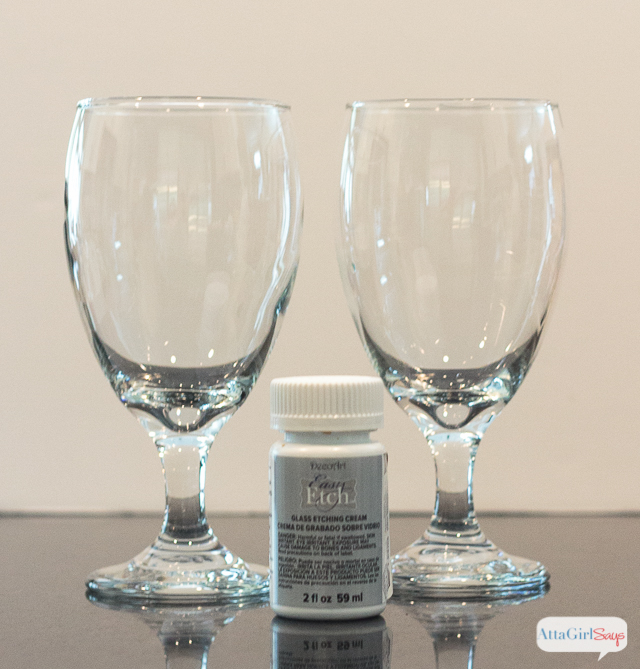 I used DecoArt's resuable Easy Etch cream for this project, but any glass etching product will work. Just be sure to check the manufacturer's directions to know how long to leave the product on the glass. The water goblets are from the dollar store, but you could do this project on any kind of clear drinking glasses.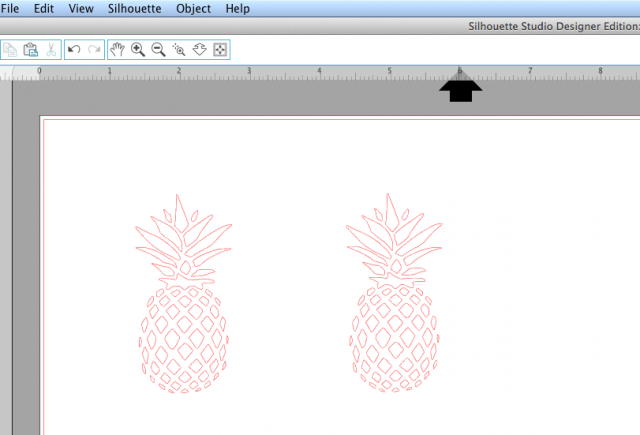 I found a pineapple stencil I liked from Smirking Goddess. I used my Silhouette Cameo to cut a stencil from vinyl.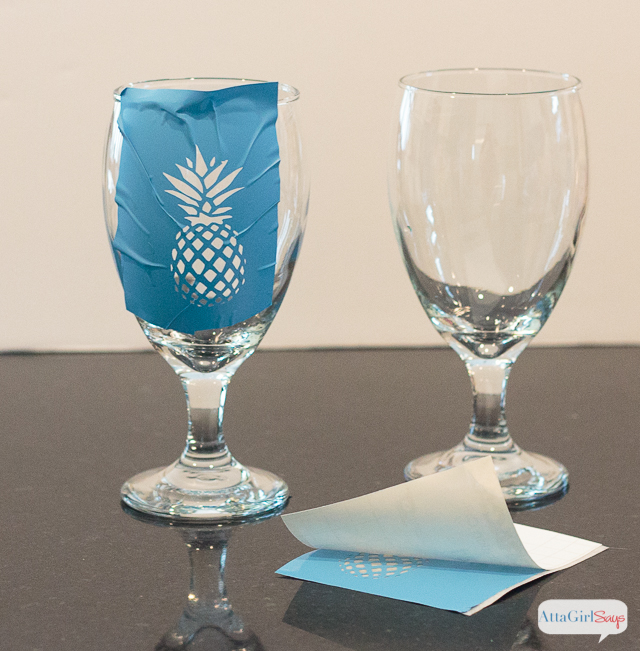 After weeding the design from the vinyl, I used my transfer paper to apply the stencil to the goblets. Be sure the glasses are clean and smudge-free. I usually wipe them down with rubbing alcohol and allow to air dry.
Since the glass is not flat, the stencil will wrinkle some, and that's OK. Just make sure that you press firmly all over the design, so that etching cream doesn't seep under the stencil and ruin the design. Use a clean cloth, not your fingers, to press the stencil so you don't get fingerprints or oil on the glass.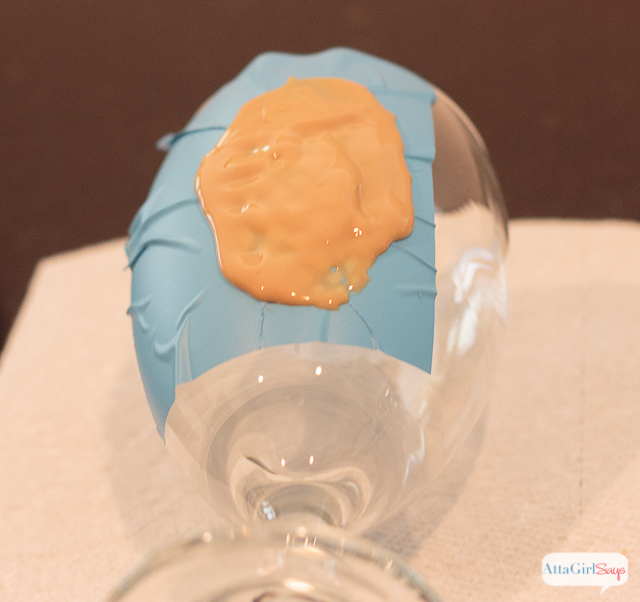 While wearing gloves, use a plastic knife apply a thick coat of Easy Etch cream to the glass.
Allow the etching cream to sit on the glass for 15 minutes. If you're using Easy Etch, after 15 minutes, use the plastic knife to scrape the etching cream off the glass and return it to the jar. Then rinse under cold water until completely removed, and remove the stencil. (For other etching creams, you just wipe and rinse away the excess.)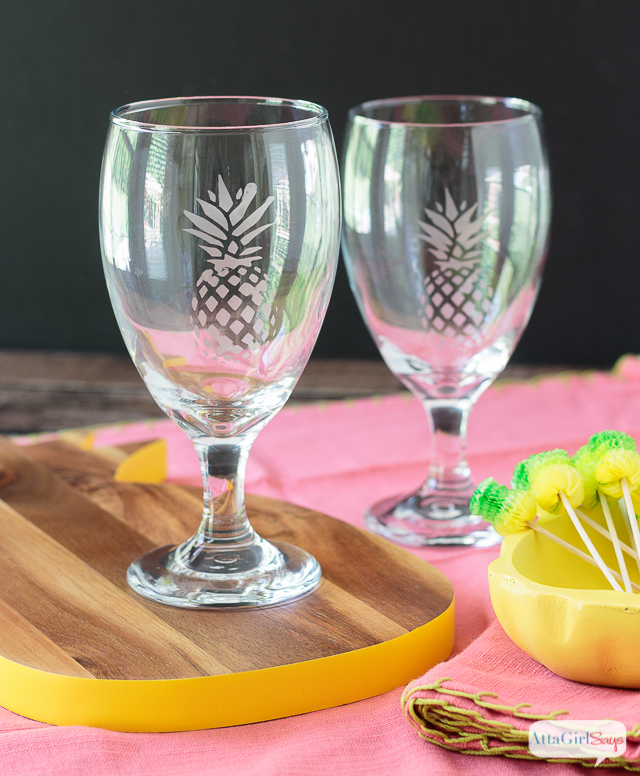 These are going to be so fun to use for a tropical luncheon or beach-themed party. And I have the perfect healthy, fruity drink to serve in them: homemade Hawaiian POG juice.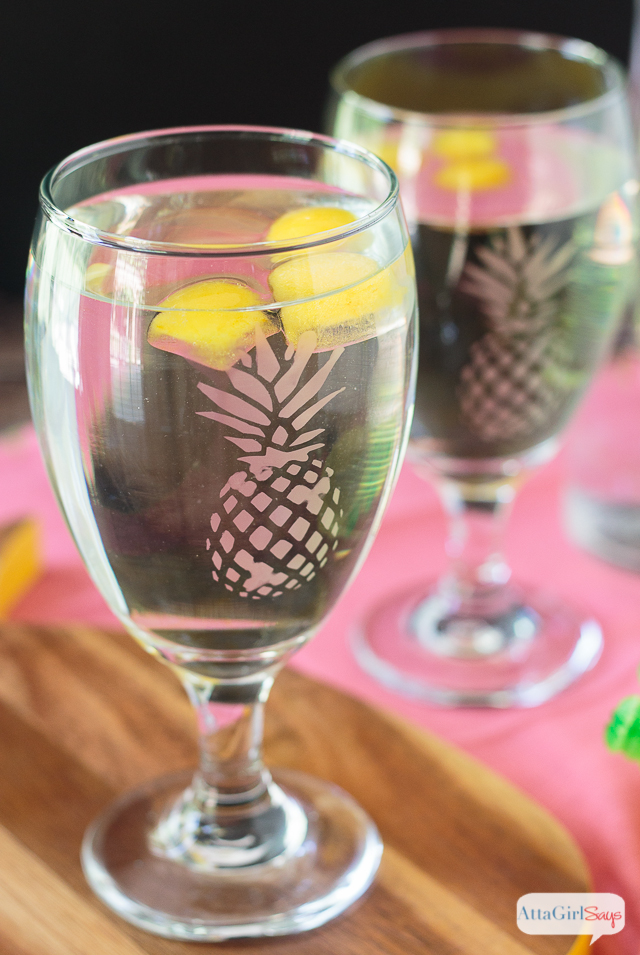 And don't think you have to just use pineapples for your design. You can etch all kinds of fun images and personalizations onto glassware using this technique.
If you enjoyed this craft, check out these other projects: