I am a 3rd generation SoCal girl. My beach days were filled with body surfing, beach bonfires, baby oil and iodine, (until Baindesoleil Orange Gelee SPF 4 came along!) and listening to Rick Dees on the radio. Sand was something you put up with when you went to the beach. Then I got married, moved to northern California, and had kids. I still filled plenty of our summer days by taking the kids to Santa Cruz beach. I put up with the sand and my kids dug in it, rolled in it and several of them even ate it. That made for some pretty gritty baby poop the next day! Today the only sand we are talking about comes from the craft store. Thank you Martha Stewart for yet another great idea!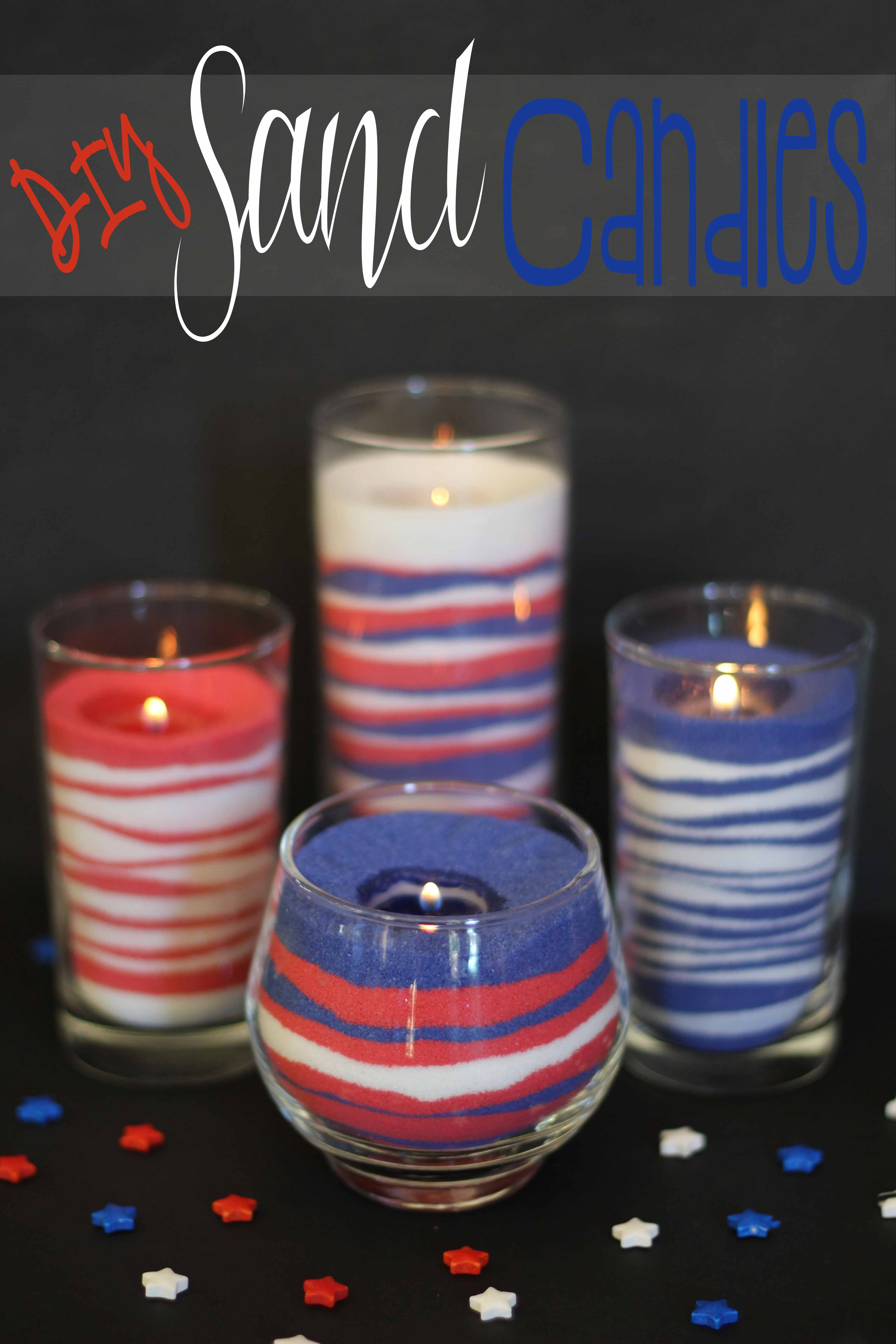 Supplies Needed
Tall and/or short votives $2 bought them from a thrift store

Colored Sand $5
Tea candle or votive candle $1
Total Cost $8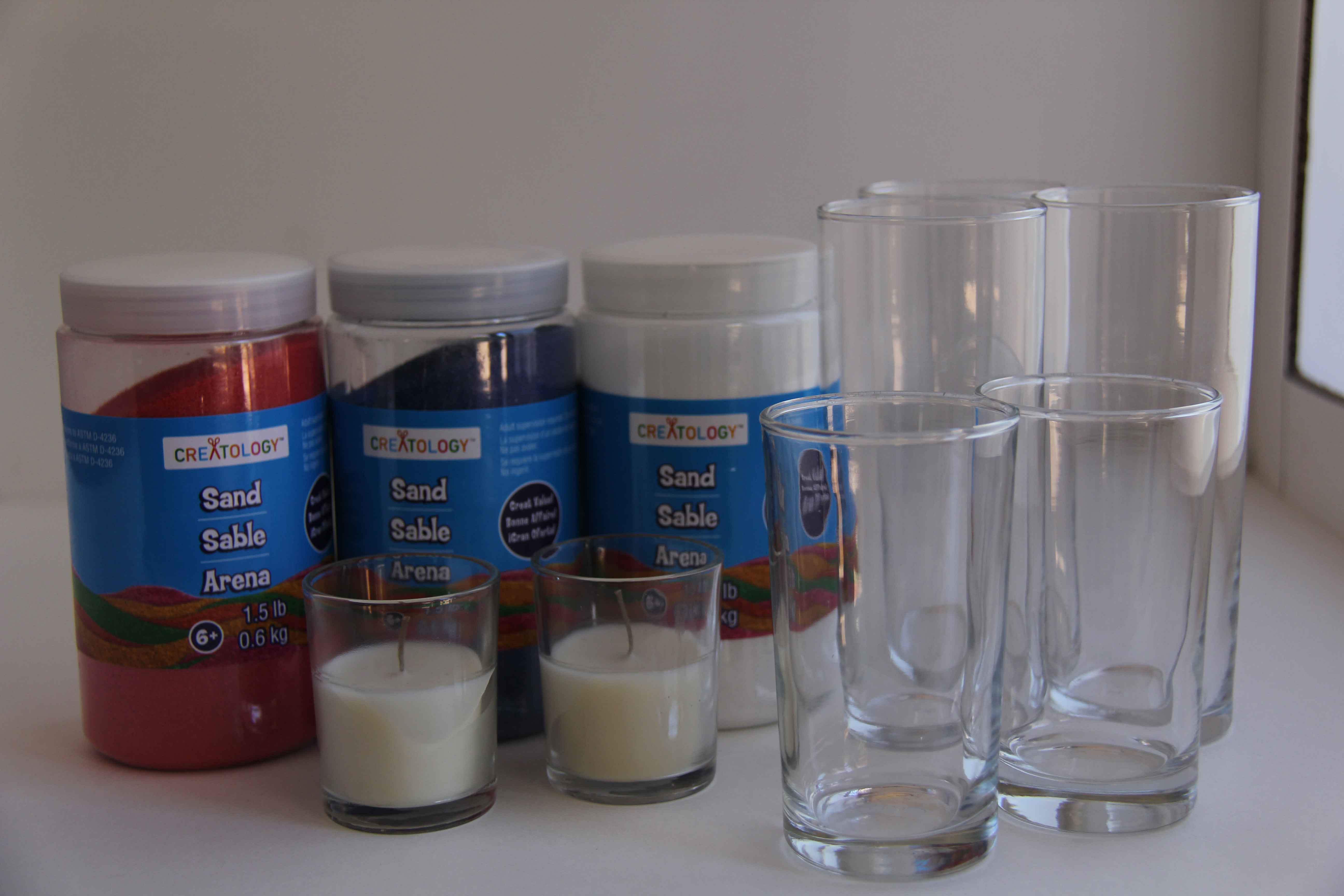 The votive candles I bought ended up being too wide for the glasses and votive I used. So I used a medium sized tea candle instead. They worked great. When I make these next time I will remember to get wider glasses/votive. Start by layering your sand alternating colors of your choice.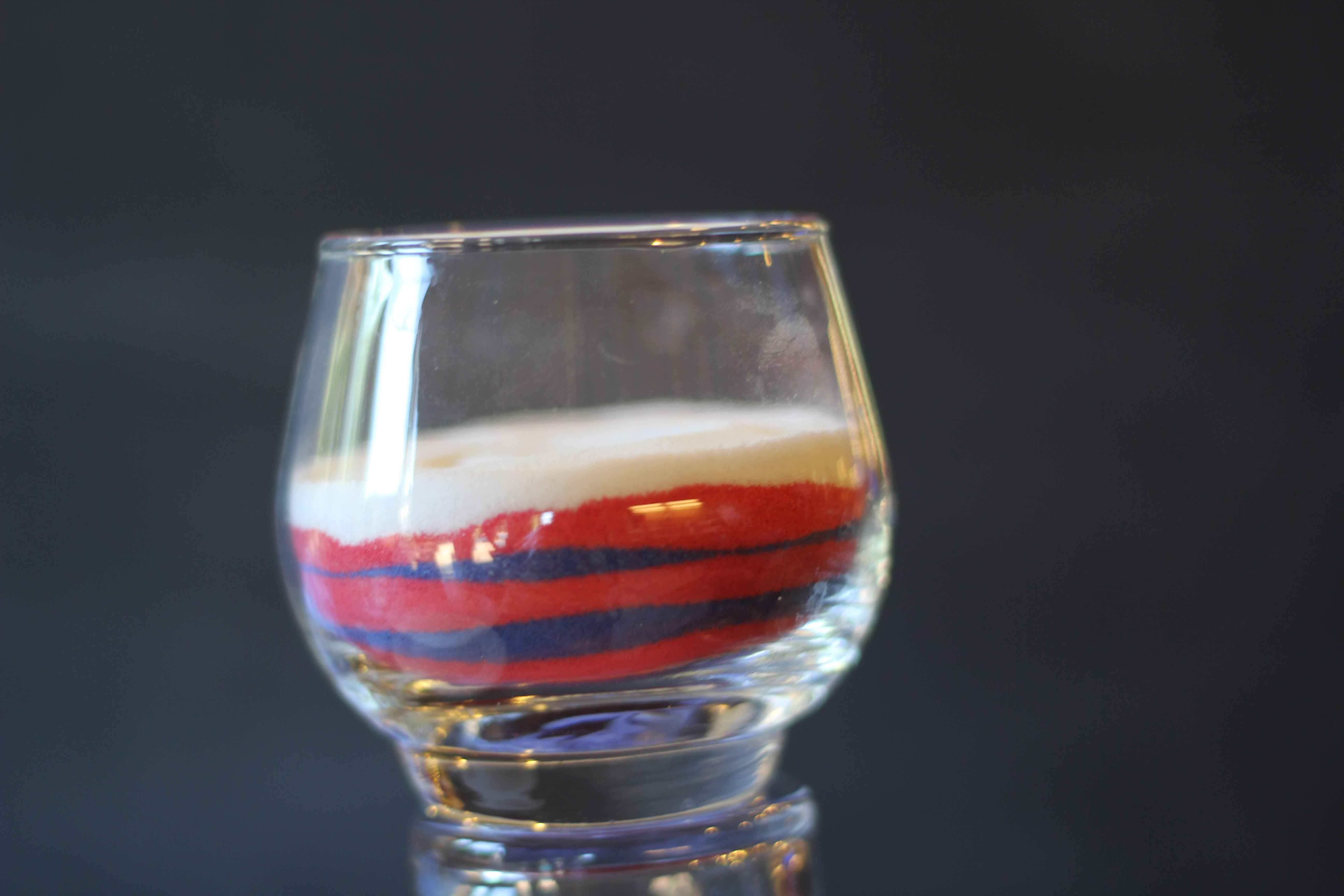 When your votive is about 3/4 full place your tea candle or votive candle in the center. Continue layering your sand.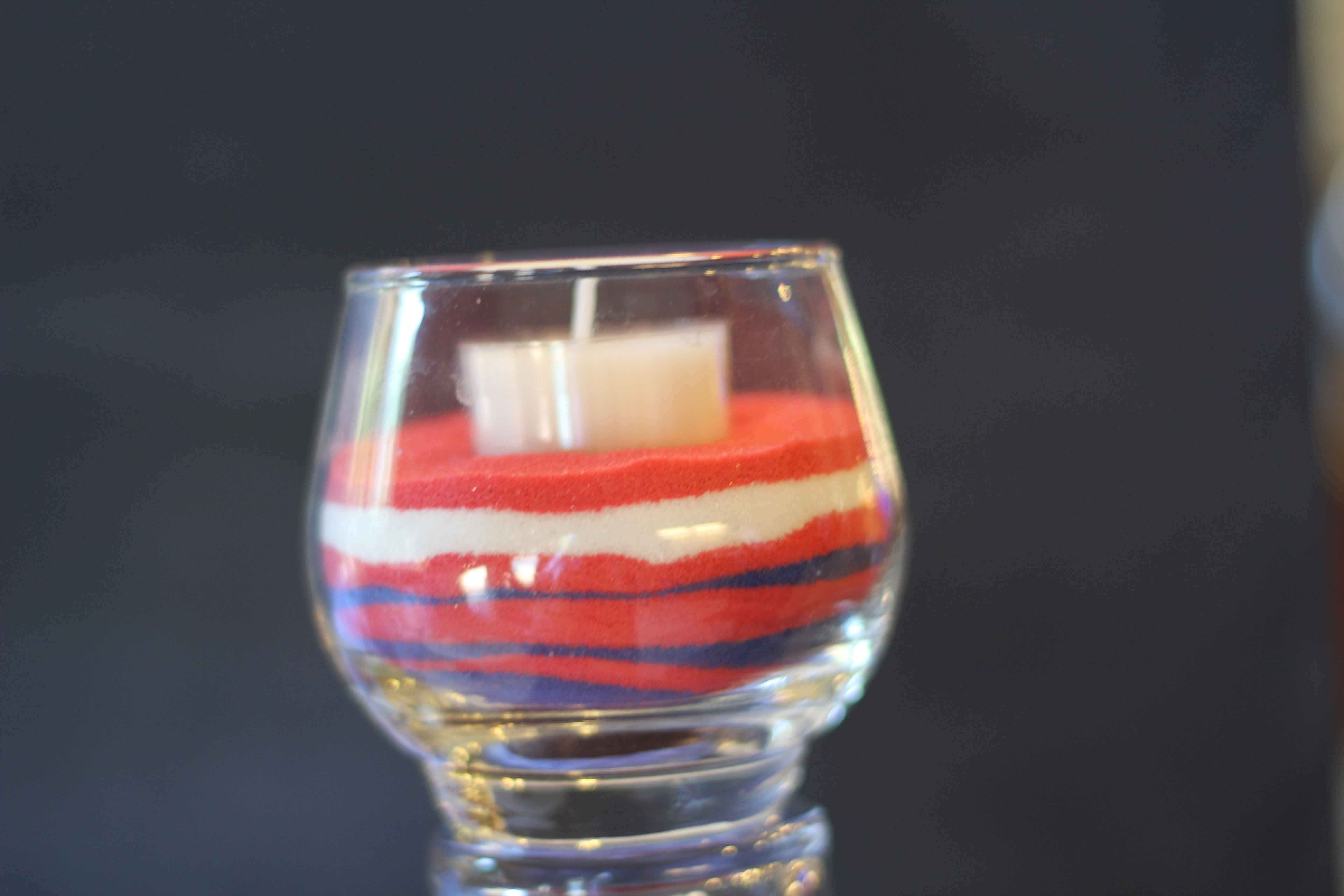 This was my last layer of sand. I covered the tea candle with the blue sand, all you could see was the wick when I was finished.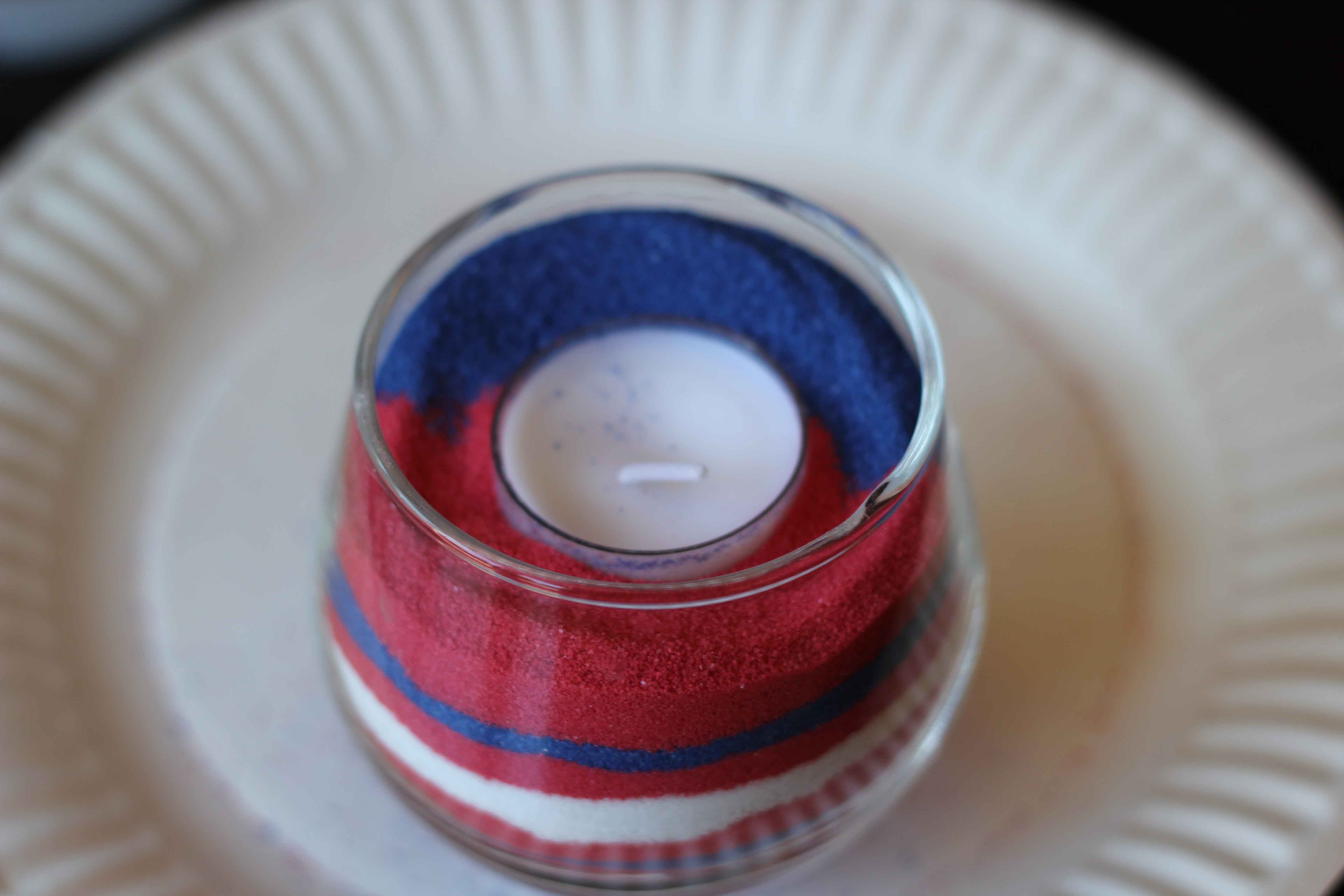 These won't take you more than about 30 to 45 minutes to make. I love that you can customize your candles with different colors. Black, purple and orange will look great for Halloween. This is one of the few times you get to play with sand without getting it all over you! And you end up with great candles.
Yeah, you guessed it….This Pin Rocks!
Be sure to check out our other awesome 4th of July ideas: Patriotic Wreath, Patriotic Ice Cream Sandwiches and Red, White and Blue Jello Stars!
Link Parties: Home Stories A to Z/Blackberry Vine/Homework/Funky Polkadot Giraffe/A Bowl Full Of Lemons/Mommy by Day Crafter by Night/Chef in Training/Rustic Pig/Cupcakes and Crinoline/Creative Blog