Have you ever wondered who started or invented the classic ice cream sandwich? In July of 1900 the New York Tribune ran the following story:
"The ice cream sandwich man, who sells quarter-inch layers of alleged ice cream between tiny slabs of water wafers, did a big business during the hot spell and his field of operation was within the district inhabited by the Nordic enclaves, and his pushcart was elaborately decorated with signs in runic characters. He made the sandwiches quickly in a tin mold, and was kept so busy that he could not make change, but insisted on receiving the actual price for each ice cream sandwich — 1 cent." In the beginning, the sandwich seller was known as a "hokey-pokey vendor," which refers to the no longer peddled treat of a cut slab of ice cream. The men that peddled these once popular English treats through the streets of London, according to The New York Times, announced their presence by yelling, "Okey-pokey!" The New York ice cream man may have started these but Thimbleleanna gets credit for updating the old classic!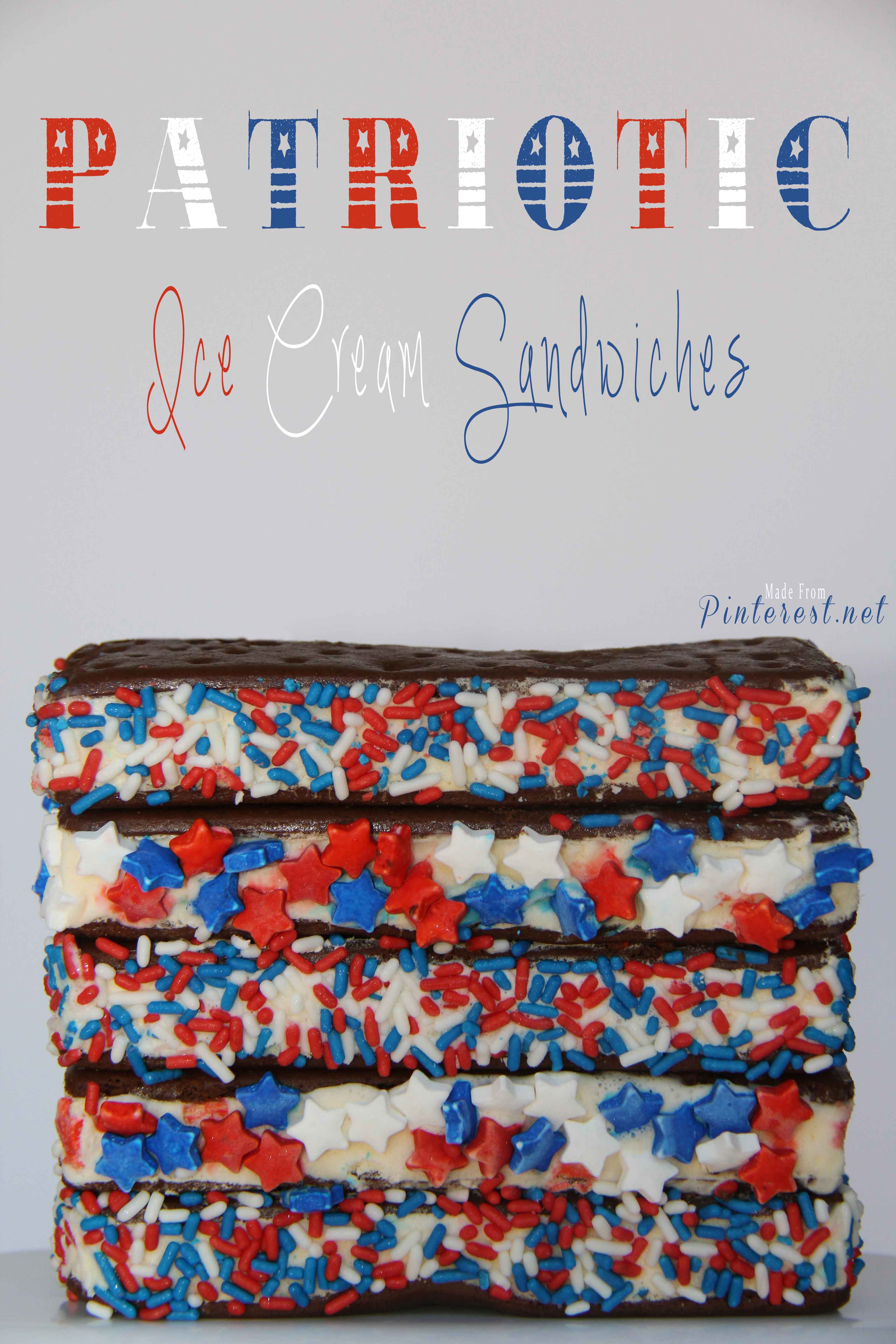 You have to work fast to make a patriotic "Okey-pokey!" Put a cookie sheet lined with wax paper in your freezer for 30 minutes. Now that your cookie sheet is chilled put your sprinkles on a large plate. Grab your ice cream sandwich, take the wrapper off and let it sit for a minute or two so the ice cream will soften. Dip the edges of the ice cream sandwich in your sprinkles, place on your chilled cookie sheet and return to the freezer. Place your ice cream sandwiches on a chilled plate just before serving. Living Locurto gives you the option of cutting your ice cream sandwiches in half and adding candy stick to them.
Doesn't matter how you make em……This Pin Rocks!
Here's a few more great patriotic ideas! Patriotic Sand Candles, Patriotic Wreath, Patriotic Jello Stars.