Hey everyone! Mandee from The Kitchen Wife here and I am so excited to be sharing with you something that I have been doing to save money in 2016. Along with all of you, my goals consist of eating better and saving money. However, I think the reason so many of us do not succeed is because we fail to plan. My husband and I love to go out for breakfast on Saturday morning. It's nothing for him to run through a drive thru and bring home breakfast. It's over $10 a visit and that can add up over time. BUT, for about the same amount of money I can make enough of my Easy to Make Breakfast Sandwiches to provide yummy breakfast goodness for an entire week!
It's so simple and ready in UNDER 20 minutes! The best part is that you can freeze these and pull them out during the week for a great breakfast every single day! I can't wait to share with you how I did it so…
Let's Get started!
Easy to Make Breakfast Sandwiches:
*Prep Time: 10 min. *Cook Time: 90 sec. *Servings: 12 Breakfast Sandwiches


Ingredients:
1 dozen Eggs

12 English Muffins

12 Slices of Cheese

12 slices of Canadian Bacon

Salt and Pepper
To begin you will need to preheat the oven to 350 degrees.
I don't know about you, but I love the shape of the eggs in the McMuffin sandwich. I've tried MANY different ways to achieve this, but in the end, the muffin pan method beats them all!
Spray your muffin pan with cooking spray, and place a cracked egg into each compartment. I really like these 12 muffin pans, but any muffin pan will do.
Next season the eggs with a little salt and pepper.
Place the eggs into the preheated oven and them cook for 10-15 minutes. you want them to be solid and white. NO JIGGLY CLEAR STUFF!
While the eggs are baking you can prep the rest of the ingredients.
Halve the English Muffins.
Heat a griddle pan and spray with cooking spray.
Place the English Muffins face down on the pan and cook until toasted and brown.
After that, brown the Canadian bacon on both sides.
by this time the eggs should be done.
Trust me. The are completely cooked through, even the yolks.
Assemble the sandwiches.
Don't the eggs look so cute!
Put them together and wrap them individually in foil.
From this point you can eat them OR freeze them for later.
To reheat, remove the from the foil and place in the microwave for 90-100 seconds.
And there you have it! Delicious, ready to go, breakfast sandwiches, for the ENTIRE week! The best part, I paid around $10 for the supplies, $12 if you could the hash browns I bought. You can also make these more figure friendly by using egg whites and whole grain English muffins. What a great way to achieve BOTH goals! I hope you found this helpful and as always…
Happy reading, Happy Eating, and Happy Living,
~The Kitchen Wife~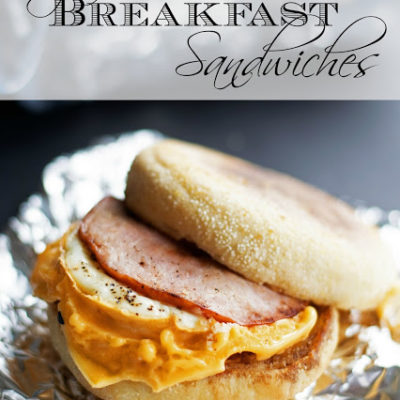 Easy to Make Breakfast Sandwiches
Easy to make breakfast sandwiches that can be frozen for a great breakfast everyday of the week.
Ingredients
1

dozen eggs

12

English Muffins

12

slices

of Canadian Bacon

12

slices

of cheese

Salt and Pepper
Instructions
Preheat the oven to 350 degrees.

Spray a muffin pan with cooking spray and place one, cracked, egg into each compartment.

Place in preheated oven and bake for 10-15 minutes, until eggs are white and no longer jiggly.

In a hot skillet or griddle pan, brown the halved English muffins and brown the Canadian bacon.

When the eggs are finished assemble the sandwiches.

Eat or wrap individually in foil and freeze.

To reheat, remove from foil and cook for 90 seconds in the microwave.