Paula Biggs here writing from the party over at Frog Prince Paperie. I always love a good celebration, with cupcakes making parties all that more fun! There are so many things to celebrate in May—Mother's Day and Teacher appreciation days to name a few. If you've got kids, having a few kids-can-make-them-too gifts up your sleeve is pretty handy! Like these Fizzy Cupcake Bath Bombs!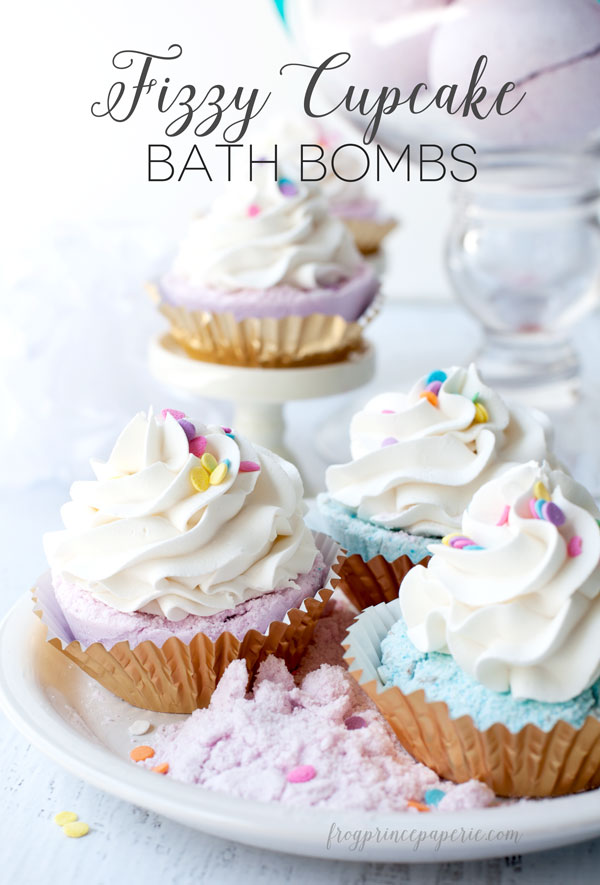 It goes without saying that little hands should be able to get involved in their gifts for mom and teachers. Making something to gift that could be a source of relaxation – like a fizzy cupcake bath bomb — is the perfect thing for kids to craft.
In making this post, I'm going to admit to you I actually had a few Pinterest fails trying to find a recipe that worked. (Gasp!) And I consider myself pretty accomplished at crafting and in the kitchen. I was inspired by this pin for Fizzy Bath Bomb Cupcakes on MakeandTakes.com.
Lovely little cupcake bath bombs there, no? Sweet and perfect for gift-giving I thought.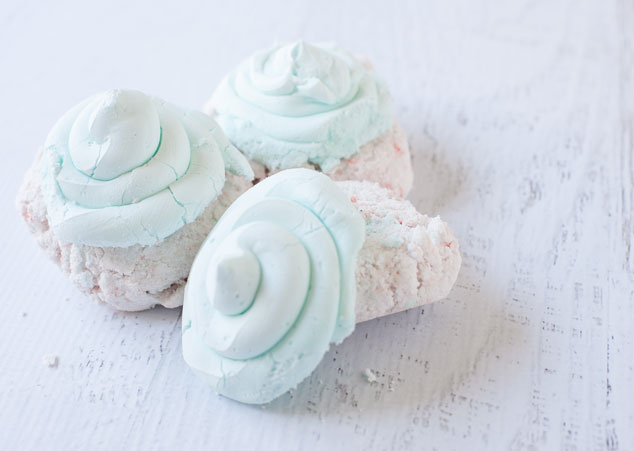 For me, the execution didn't go so well. I think my point of failure was with the water spray. Was also a tad humid that day, so my bath fizzies completely took on a life of their own. Thought for a minute I was going to have to whack them with the spatula to keep them from crawling across the kitchen.
So I looked on for another recipe. The second one didn't require a spray bottle, but they came out so crumbly, they were hard to handle let along package to give away.
Luckily, third time was the charm. This recipe from Soapy Hallow was just perfect, and it was something the kids could easily do with a little supervision.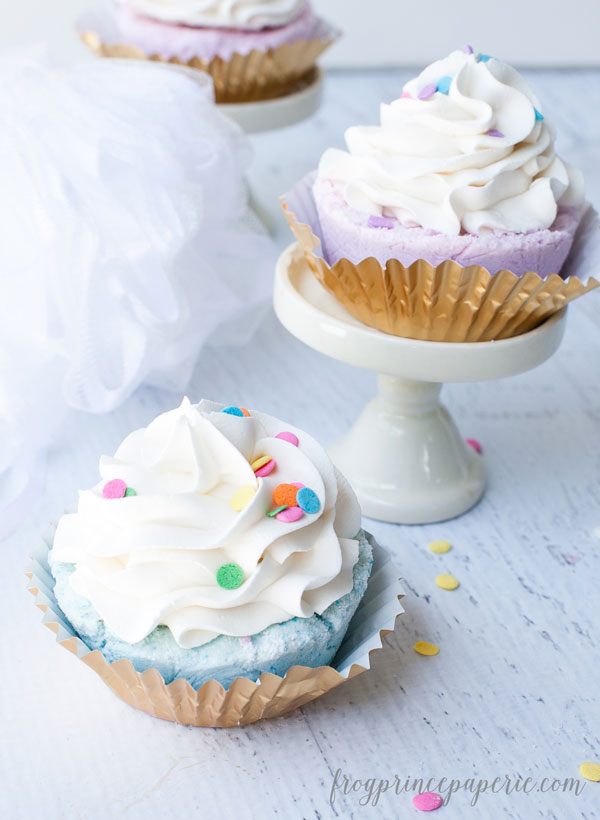 I didn't give up completely on that first pretty cupcake pin, though. Once the bath fizzies came out of their molds, I tried out the royal icing "frosting" and it all set up just great and picture perfect.
After tweaking a few Pinterest recipes and blending them together, here's how to make some sure-to-be appreciated Fizzy Cupcake Bath Bombs!
Vanilla Fizzy Cupcake Bath Bomb Recipe
Makes 3 large round bombs or 7 cupcake bombs
Cake ingredients:
8 oz baking soda

4 oz citric acid

4 oz corn starch

4 oz Epsom Salts

2 ½ tablespoons coconut oil

¾ teaspoon water

2 teaspoons vanilla extract

4 drops food coloring
Frosting ingredients:
3 tablespoons meringue powder

6 tablespoons warm water

1 lb powdered sugar

1 teaspoon vanilla extract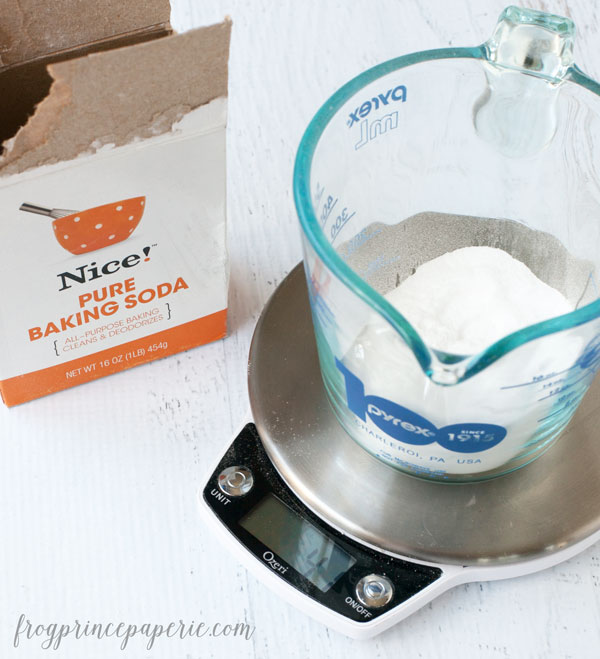 Step 1. Measure your ingredients.
Yes, you'll want to use a little kitchen scale to measure your dry ingredients out. The good news about this is that kids are fascinated by this part and will be more than happy to measure the ingredients.
Get them off to a good start making the bombs by mixing together the baking soda, citric acid, corn starch and salts into a large GLASS (it's non-reactive!) bowl to create the bath bomb base.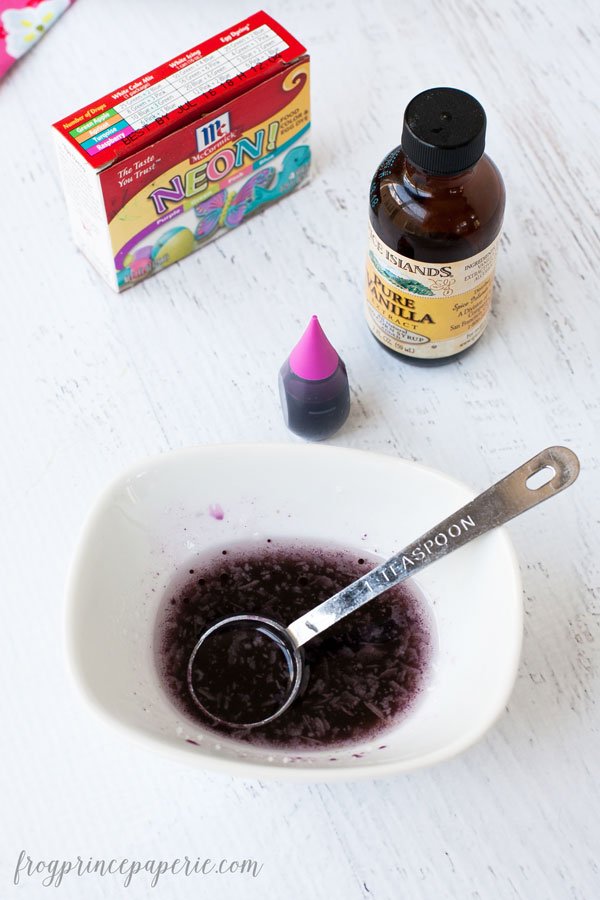 In a separate very small bowl, combine the coconut oil, water, vanilla extract and food coloring. Oil and water don't mix very well, so don't worry if they aren't 100% combined.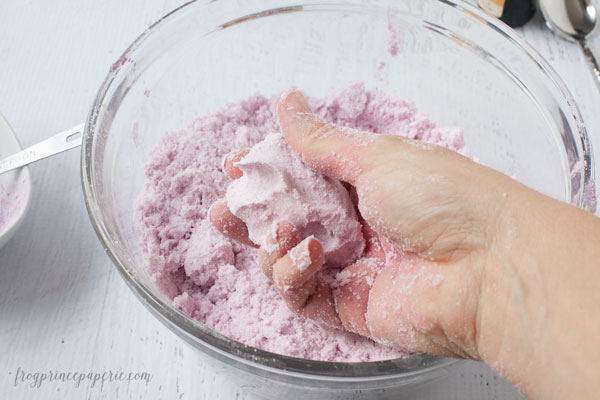 Step 2: Combine wet and dry ingredients.
Here's where this recipe really was different and what make it work: mixing the wet and the dry ingredients. The citric acid in the base fizzes up when it makes contact with water. You can see where there might be a problem combining the wet and the dry. Tell the kids they're going to have to work really fast to get this project done!
Add one teaspoon of the wet ingredients to the dry at a time. You'll have to work really quickly, and mix it around with your hands. Pinch at the little bits of stuck together pieces to get them to come apart.
If your mixture is bubbling up, you're adding the wet to the dry too fast. When this happens, just be sure to mix the wet pieces to the non-reactive dry really fast and it should stop.
At the end, your mixture should feel a lot like slightly wet sand. It will stick together, but it's going to be crumbly. Mold the fizzy bath bombs immediately after you're done mixing—this doesn't keep!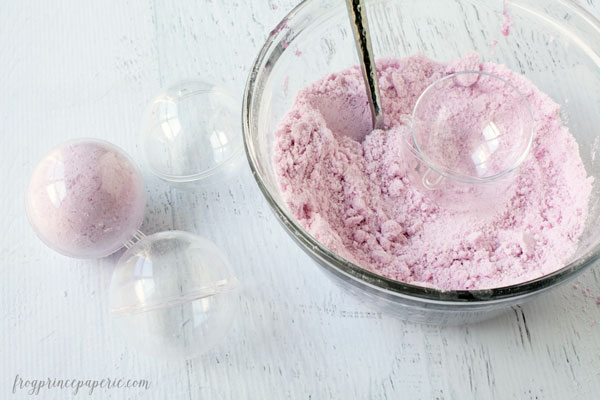 Step 3: Molding your fizzy cupcake bath bombs.
Bath bombs can take pretty much any shape you want. If you want to make cupcakes out of these, line each cup in a muffin pan with plastic wrap. Hard pack the bath bomb mix into each of the cups. I mean, really REALLY pack that stuff in there, pushing it down as hard as you can.
With this recipe, you only have to let them sit for about 10 minutes before you unmold them and let them dry for a few hours.
If you're going to skip the frosting aspect of this recipe, use the clear plastic ornaments that split into two you can find at the craft store (for less than $1) for molds.
Step 4: Making frosting.
Basically, what we're going to do is make a royal icing frosting. The kind that you put on sugar cookies that gets really hard. Personally, I can take or leave the frosting when it comes to putting it in the bathtub, but it does make the presentation pretty.
In your mixing bowl, blend together the meringue powder and warm water until it's frothy. Add the powdered sugar and vanilla. Beat on high until stiff peaks form. If the frosting is too stiff, add a teaspoon of water at a time until it's a consistency you can pipe while still standing on its own.
I liked adding a few sprinkles on top to make them pretty. Let the frosting dry for a few hours before you attempt to wrap them up.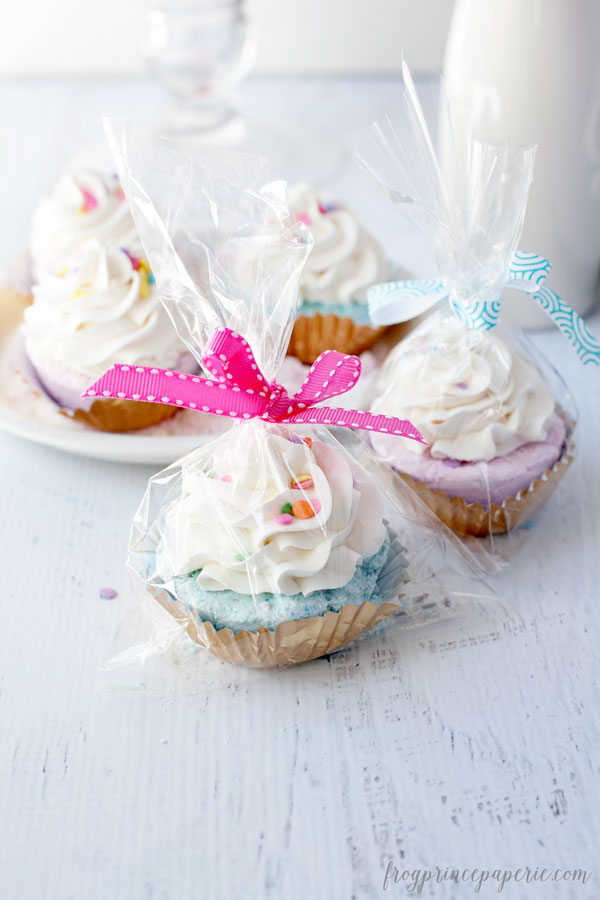 Step 5: Packaging!
A cellophane bag and a piece of ribbon is really all you need to wrap up these beauties.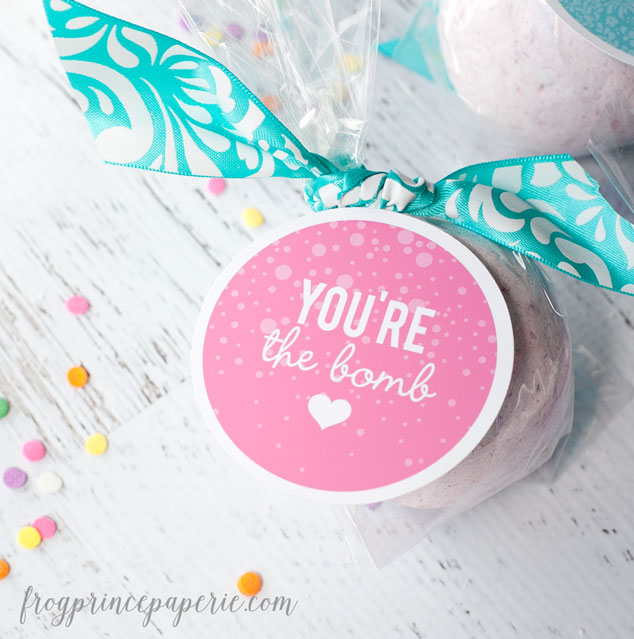 If you want to get really fancy with your packaging, hop over to my blog and download these free "You're the Bomb" printable tags!
Thanks again to MFP for asking me to be a regular contributor! I'd love it if you'd stop on by Frog Prince Paperie for party inspiration, and maybe find some tutorials and recipes for a few other holidays, too! You can also find me on Facebook, Pinterest, Instagram, Twitter and Google+.
A FEW OF MY MOST POPULAR POSTS:
Graduation party ideas and free printables!
Angel Lollipop party favors
Beachy Shower on the Ocean