Making my Roasted Rice Krispie Treats will earn you the title of Culinary Goddess!
Truth is, I am a simple girl. I like simple things. Rice Krispie treats reign as one of my all time favorite simple treats. I've been seen eating them for breakfast. The main ingredient is cereal so why not? I've also been known to eat more than my fair share in one sitting, (translation: a whole pan eaten by myself in one day). If you are foolish enough to eat a whole pan by yourself, remove all evidence so your family will not find out. They will use your gluttony to exploit you whenever possible! The key to Rice Krispie treat perfection is the proper ratio of Rice Krispie Cereal to marshmallow. Too much Rice Krispie Cereal and they will be too hard. Too much marshmallow and they will be soggy.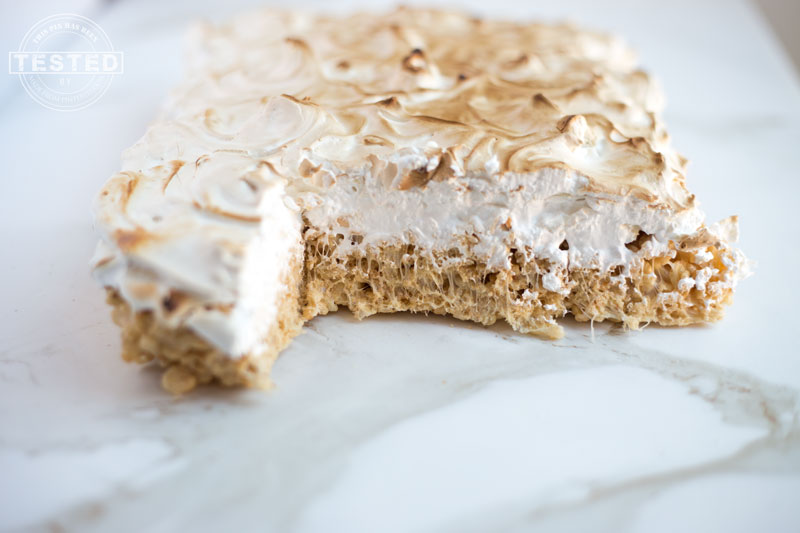 I've always been of the opinion that classic Rice Krispies treats are impossible to improve. Two pins tempted me to give it a try, Toasted Rice Krispies from Shelly at Cookies and Cups and S'mores Rice KrispieTreats from Naomi at Bakers Royale. Shelly has you roast the marshmallows in the oven to a golden brown instead of melting them in a pan on the stove. Naomi makes homemade marshmallow creme and spreads it over her Rice Krispie treats, then roasts the marshmallow creme topping in the oven to a perfect golden brown.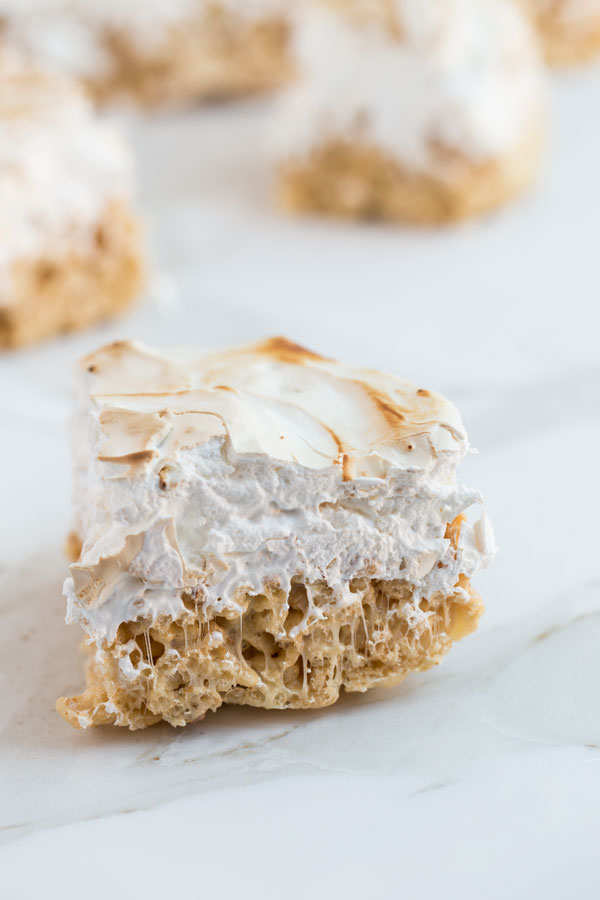 Roasted marshmallows are another simple treat I happen to love. Here is a little secret of mine, I roast my marshmallows until they are a perfect golden brown all over. Then I carefully slide the perfect golden brown outer layer off and gobble it up. The gooey middle left on my roasting stick goes back over the fire to be roasted again to golden brown perfection. I repeat the process until there is no more marshmallow left to roast. I decided to combine two of my favorite treats and see how it would taste.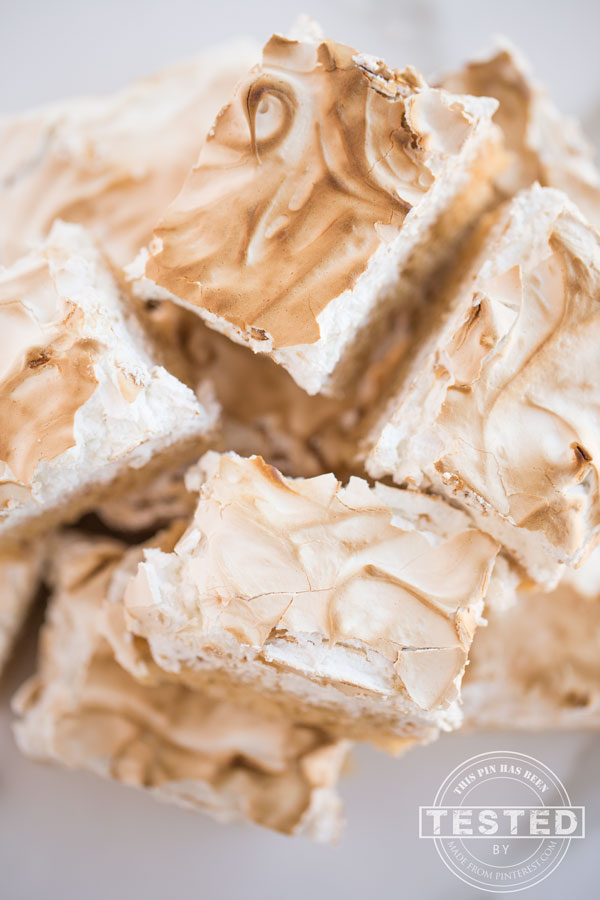 My Roasted Rice Krispie Treat recipe was born and the impossible happened. I now have a new way to enjoy classic Rice Krispie treats! These cannot be described as simple. They are outrageously, wickedly decadent. I went to have one for breakfast the next day and found an empty pan with only a few crumbs left over. I thoroughly enjoyed the crumbs before placing the pan in the dishwasher.
Yes, this pin totally ROCKS!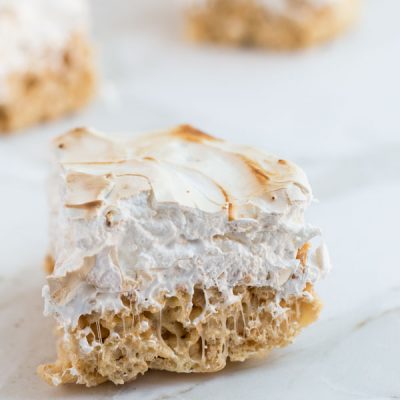 Toasted Rice Krispie Treats
Ingredients
1/2

cup

butter

2

10.5 oz bag mini marshmallows

11

cups

Rice Krispie Cereal


Homemade Marshmallow Creme

5

large egg white

11/2

cup

sugar
Instructions
Grease a 9X13 pan with cooking spray or butter. You can also line your pan with parchment paper for the easiest removal.


In a large saucepan melt your butter over medium-low heat, stirring constantly until it turns a nice golden brown. This should take around 5 minutes, turn the stove off and leave butter in the saucepan.


Line two baking pans with parchment paper that has been sprayed with cooking spray or spread with butter, evenly spread one bag of mini marshmallows on each pan.


Place under broiler for 45 seconds to 1 minute or until marshmallows are puffed and golden brown. Watch them closely as they will go from golden brown to burnt quickly.


Spray a rubber spatula with cooking spray and use it to scrape the roasted marshmallows into the pan with the melted butter. Stir quickly to combine them well.


Pour the krispie cereal in and stir well, press evenly into prepared pan. Set aside and make marshmallow topping.


Combine egg whites and sugar in a pan or bowl placed over simmering water. Whisk constantly until mixture reaches 160 degrees F.


Transfer mixture to a stand mixer with the whisk attatchment, beat on medium high speed (speed 8 on a KitchenAid stand mixer) until the mixture doubles, cools and forms stiff peeks, this takes about 10-12 minutes.


Spread over Rice Krispie treats and plae under broiler for 1 - 2 minutes until the top turns golden brown. Be careful as it will go from golden brown to burnt very quickly. You can leave the oven door open a crack to watch it closely. A kitchen torch can also be used for browning.


Allow to cool before cutting and serving.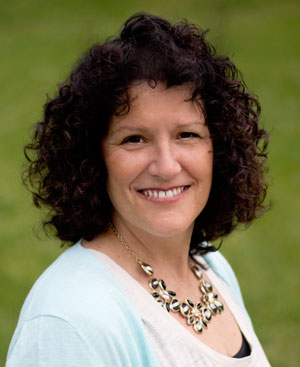 Try these yummy Rice Krispies recipes!