Quick and easy Greek Ravioli Salad – With just a few ingredients you can turn your pre-packaged Ravioli into a delicious salad. A great way to lighten it up your for the summer.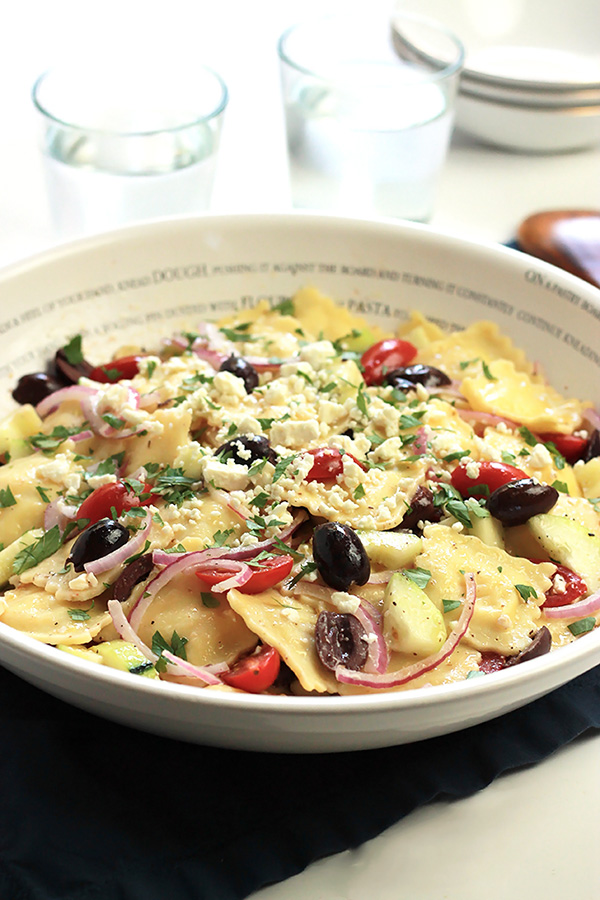 Hello again Made For Pinterest reader, it's Celeste from The Whole Serving, I hope everyone's Spring is off to a great start. April brought us lots of rain and hail here in Texas, so I hope that means we'll have lots of pretty May flowers.
Salads have been big on my go-to meals lately, but my daughter Taylor loves cheese ravioli, and she loves to smother it in rich creamy alfredo sauce. With that being said, I had to come up with a healthier way for her to enjoy cheese ravioli. We had enjoyed a Greek salad a few weeks earlier so I had the idea to add all the traditional Greek flavors and make it a Greek Ravioli Salad. It was an immediate hit.
This salad is so easy even my non-cooking daughter can put it together.
It's so quick and easy, while the pre-packaged cheese ravioli is boiling, prepare the veggie and salad dressing.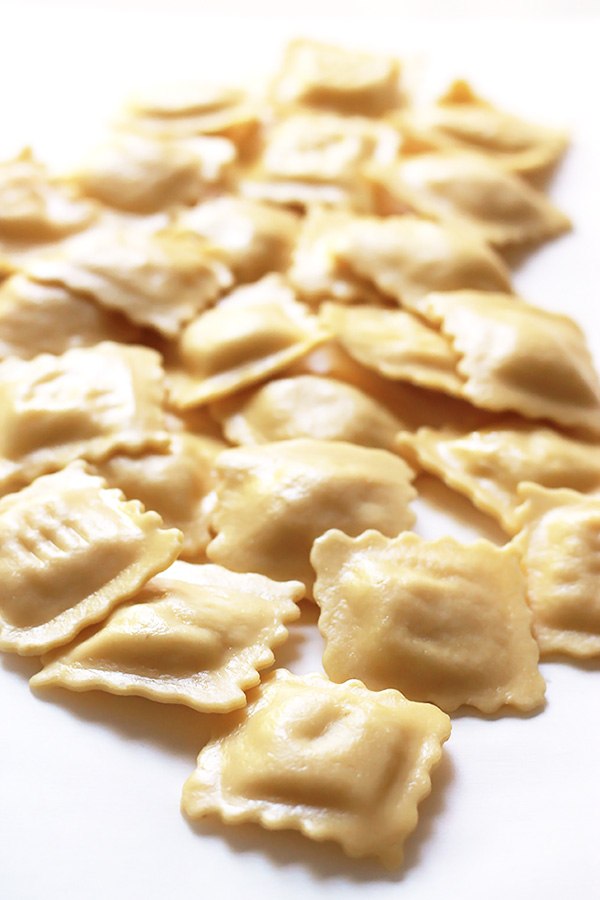 When the ravioli has cooled a bit, just toss in the veggies, toss with dressing and add the feta and you are ready to eat.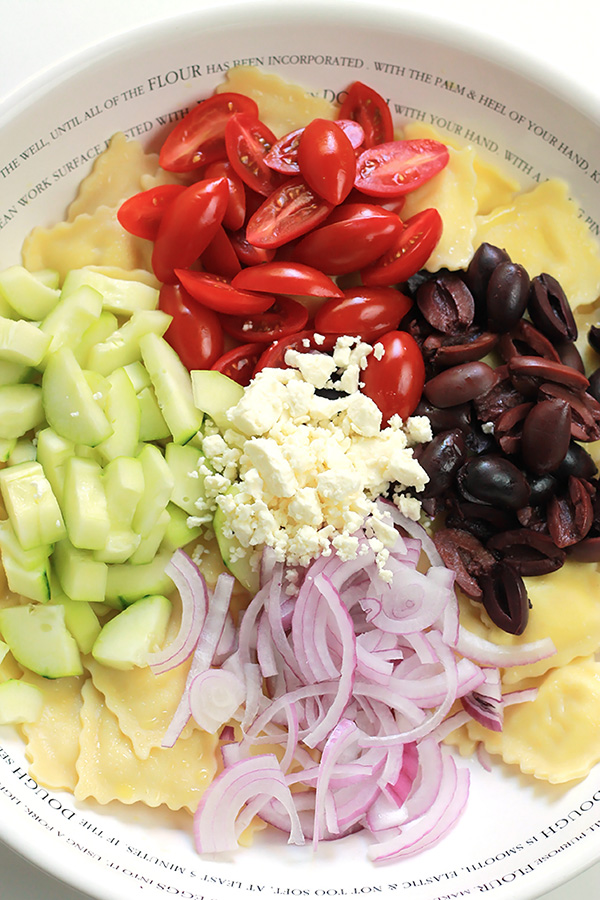 This is such a great way to lighten up pasta for the summer. If you're not into Greek salad, simply switch some of the ingredients to make it Italian or Mexican.
For Italian you can omit the cucumber, switch the feta for parmesan, and toss with basil and Italian dressing.
For Mexican, toss in some jalapeño, cilantro, mexican cheese and avocado.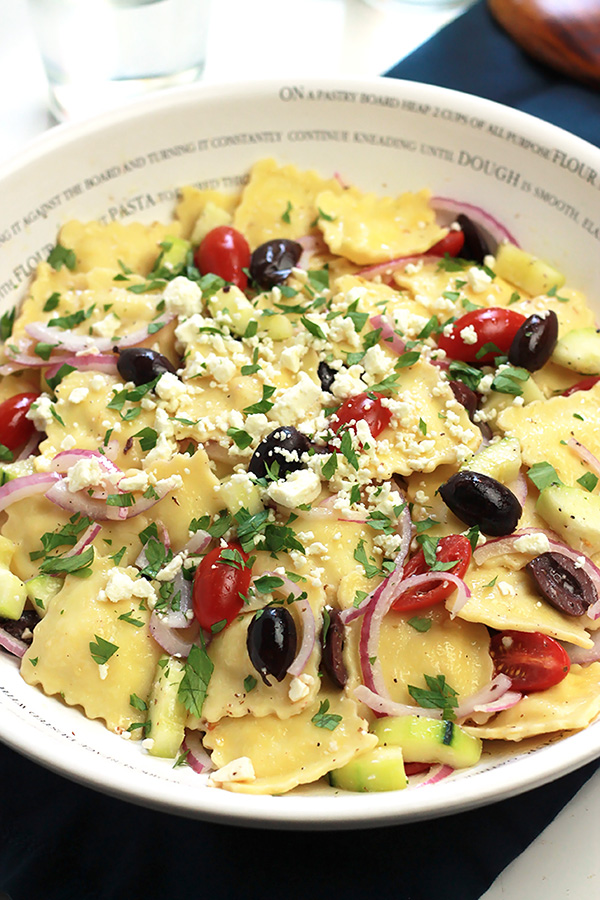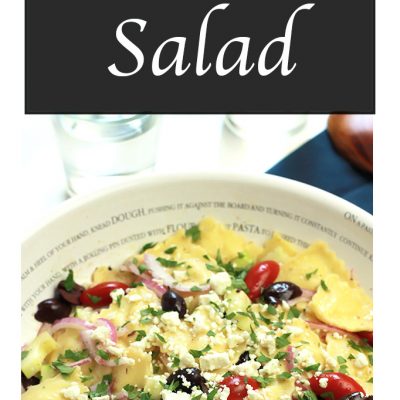 Greek Ravioli Salad
Ingredients
1 20

oz.

package of boil and eat cheese ravioli

1

cup

sliced cherry tomaotes

1

cup

quartered and sliced cucumbers

1/2

cup

sliced red onions

1/2

cup

sliced kalamata olives

1/2

cup

crumbled feta cheese

2

tablespoon

chopped parsley

GREEK DRESSING

2

cloves

finely minced garlic

1

tablespoon

onion powder

1

tabespoon oregano

1

tablespoon

parsley

1/4

teaspoon

black pepper

1/4

teaspoon

red pepper flakes

1/2

teaspoon

salt

1

tablespoon

honey

1/2

cups

extra virgin olive oil

1/4

cup

red wine vinegar
Instructions
Prepare ravioli according to package directions.

While ravioli is boiling, prepare the veggies and place in a large bowl.

Place all of the dressing ingredients in a glass jar, secure top and shake until well combined.

When ravioli is done, drain allow to cool slightly before tosing with the veggies and toss with 1/3 cup plus 2 to 3 tablespoons of the dressing.

Add feta, parsley and season to taste with salt and pepper.

Toss and serve.
If you like this, you may enjoy some of my other creations over at The Whole Serving. Here are a few of my latest creations, stop by and check them out.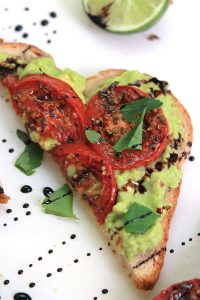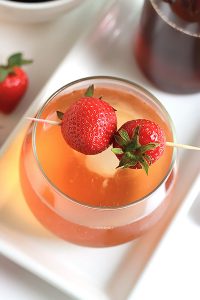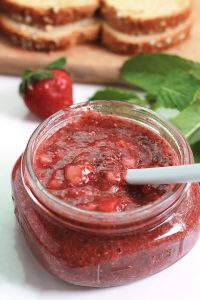 No-Cook Strawberry Mint Chia Jam