Will you do me a favor please? It is time to throw away those nasty packages of store bought taco seasoning! This homemade taco seasoning is simply the best and contains no preservatives or other scary ingredients.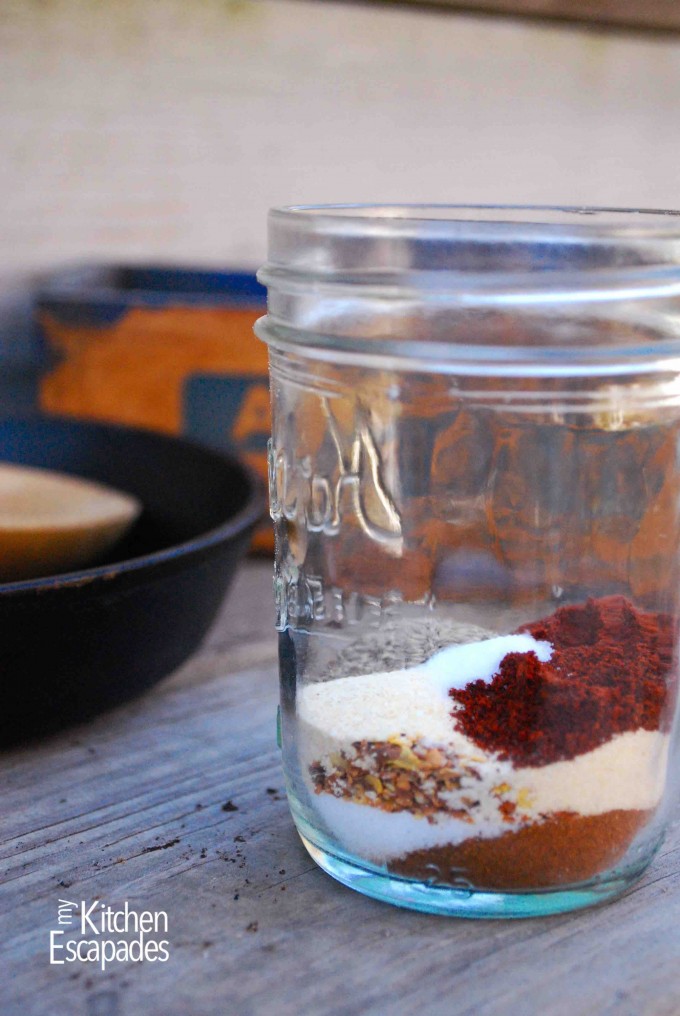 This is Carole from My Kitchen Escapades and do I have something great for you. I have always seasoned my taco meat mixing up my favorite yummy spices in my cabinet. It is what my mom did when I was a kid so I had no idea what the stuff from those envelopes ever tasted like. Then this summer came along and I was asked to be the camp cook for over 100 girls. Since I had to prepare over 30 pounds of ground beef, I decided to take the short cut and buy a big jar of pre-made taco seasoning. I didn't really think twice about that decision….until it came time to eat our walking tacos that night for dinner.
I kept taking bites of my walking taco trying to figure out what the heck was wrong with it. It tasted so bland and the meat was all pasty and nasty. Let's just say I have taken a sacred vow to never use the prepared seasoning packets junk ever again.
If you have never made taco seasoning from scratch, I will forgive you but only if you raise your right hand right now….yes, now….and also vow to never buy those packets ever again. This recipe comes together in less than 2 minutes and your taco loving life will never be the same again.
2 Tb chili powder

1 tsp garlic powder

1 tsp onion powder

1/2 tsp red pepper flakes

1/2 tsp dried oregano

1 tsp paprika

1 Tb cumin

2 tsp salt

2 tsp pepper
Instructions
Mix all the spices together and store in an airtight container. To use, combine 2-3 Tb with one pound of cooked ground beef. The amount depends on how seasoned you like your taco meat.
If you are a fan of taco night, then you will love my Pork Carnitas recipe as well! Click on the picture to check out my all time favorite recipe!