I am just going to admit it. I have been bored with salads lately. All winter long, I look forward to the bounty of fresh summer salads. But after so many salads, my tastebuds were experiencing salad apathy. I was actually starting to think about soup. I thought I was crazy until I walked through my local craft store and they already had out all their fall craft supplies. And still, my salad loving heart cried out, NO! It is not time to abandon my precious summer just yet! This Italian Salad will shock your tastebuds right out of the summer doldrums and remind you to enjoy the pool while it is still open.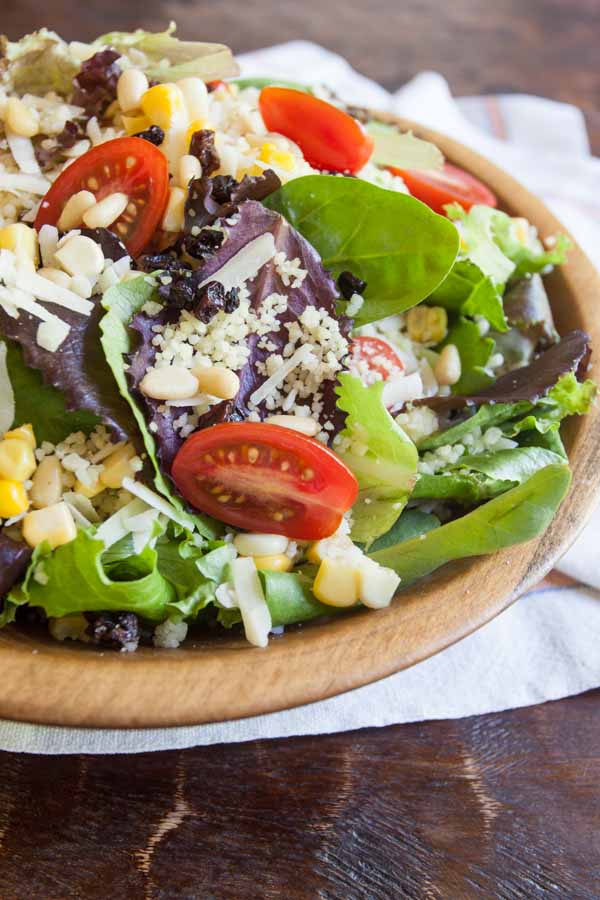 Okay, I haven't actually been to our community pool once this summer. But I have been to the lake several times. But how is it that every year the summer goes so fast. I remember when my kiddos were little, we used to spend every day at the pool. EVERY DAY! I used to think it was just a platitude when moms would say the time goes fast? Sometimes it felt like the time was going slow. Really slow. But in hindsight, it has gone by fast. I am glad to be where I am now. But it has taught me to enjoy every moment.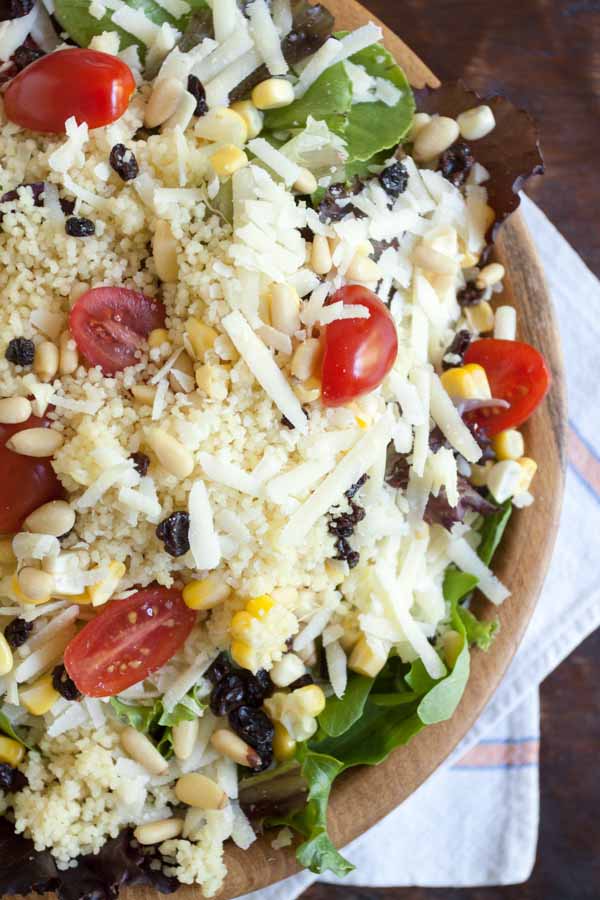 On Sunday, I shared with you Creamy Basil Ranch Dressing and warned you to be on the lookout for this salad today. I thought about posting them together. But they are so good, they really stand on their own. But mama mia, put them together and WOWSER!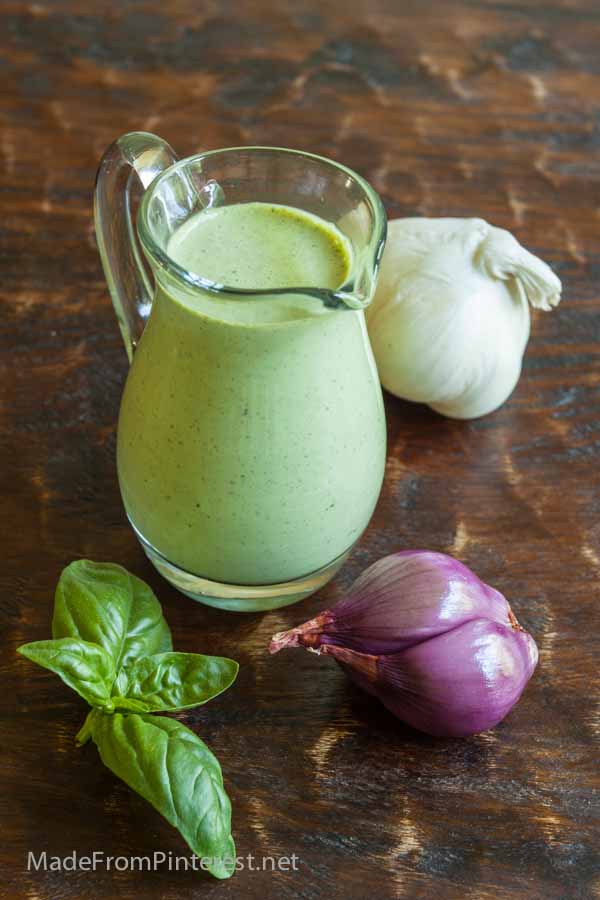 The dressing is drink it from the bottle good, and all that fresh basil smells like heaven. Pour it over this salad filled with nuts, veggies, asiago cheese and couscous. Did I mention the dried blueberries? Okay, so that little pop of flavor is amazing! Oh and fresh corn. Think fresh corn is not worth the trouble. We've got you covered! Check out the Magic Way to Cook Corn. It only takes minutes and leaves your corn with no silky strings! My mother-in-law shared this recipe with me after visiting her daughter. My sister-in-law is an amazing caterer and every time my mother-in-law comes back from visiting her she makes one of her recipes and they always make it into our family favorites. She and her family are coming to visit next week and I can't wait.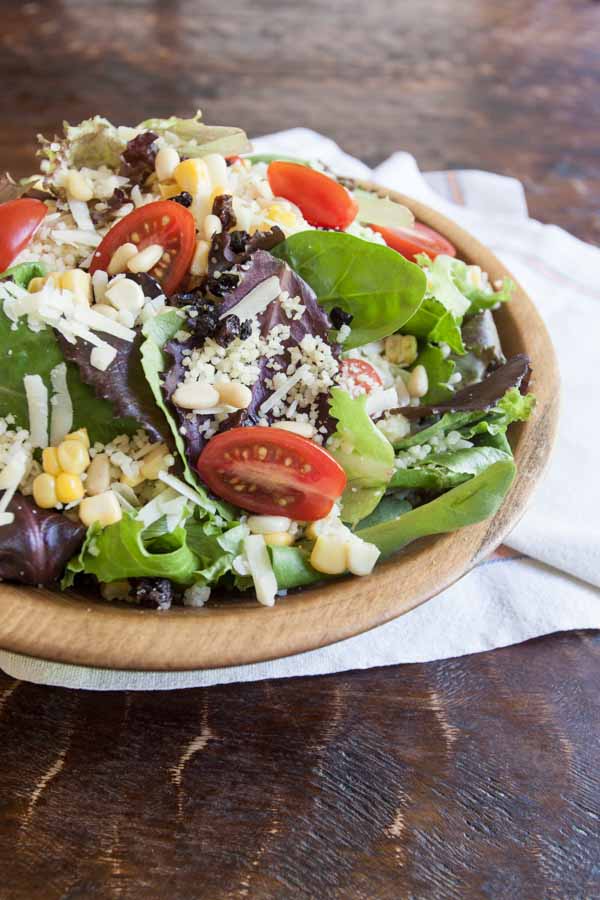 So quick! Make sure to enjoy some of this Italian Salad and pour some Creamy Basil Ranch Dressing all over it before summer is over and we are on to soups. I am looking forward to that. But it is not time yet. Summer doesn't last forever.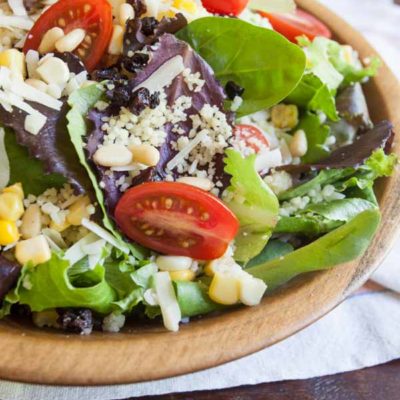 Italian Salad
Ingredients
1/2

cup

grated Asiago Cheese

1/3

cup

dried blueberries

1/3

cup

pine nuts

10

ounce

package plain couscous

cooked according to package instructions

3

cups

lettuce green

2

cups

grape or cherry tomatoes

sliced in half

2

cups

fresh corn kernels

from about two ears
Instructions
Layer ingredients, pour dressing over the entire salad and toss until salad is coated with dressing.
This awesome post has been shared with Home Stories A to Z