Microwave salted caramels are easy to make for even the least experienced Willy-Wonka-Wannabe! You just have to pay careful attention to the time and you'll have chewy caramel candy in less than 10 minutes.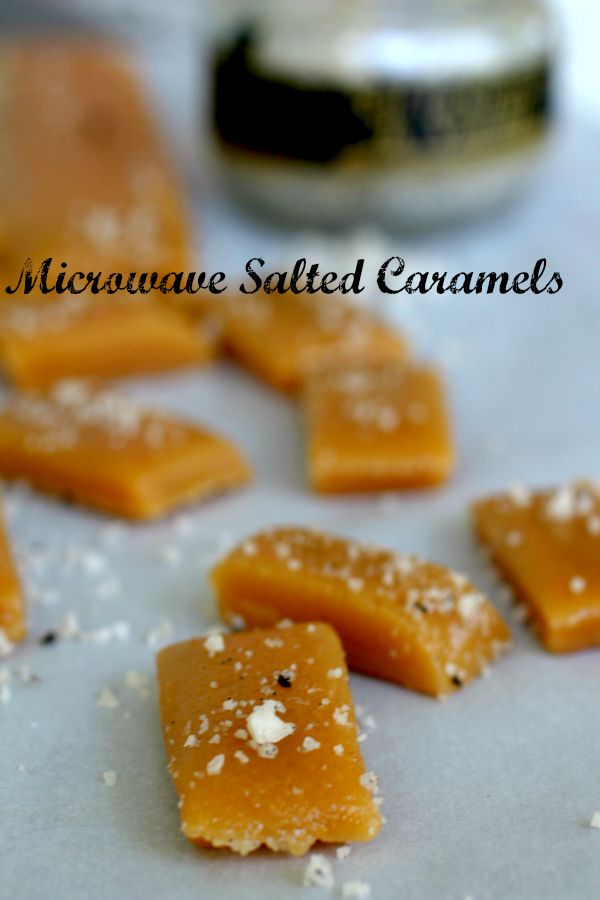 Hi y'all! I'm Marye from Restless Chipotle, back again to share something yummy! These easy microwave salted caramels are perfect anytime. I love sweets… I love them way too much, as a matter of fact. I've made homemade candy for Christmas and special occasions for years but I'm making it more often now — for no reason at all except that it's delicious!
I love salted caramel, don't you? I wanted to make some this week but I didn't want to drag out the heavy pot, the candy thermometer, and the whole shebang. Plus, we are now flirting with 100 degree days here in Dallas so I didn't want to heat the kitchen up, either. As I was paging through Pinterest (Can we page through things now or is it just surfing?) I saw these microwave caramels on Spend with Pennies.
What a great idea! All the flavor without creating Dante's Inferno in the kitchen.
Although the recipe didn't call for salt I decided to use some of my vanilla salt crystals to add that salty-sweet combination that I love. You know what part of this recipe takes the longest?
Waiting for this stuff to cool!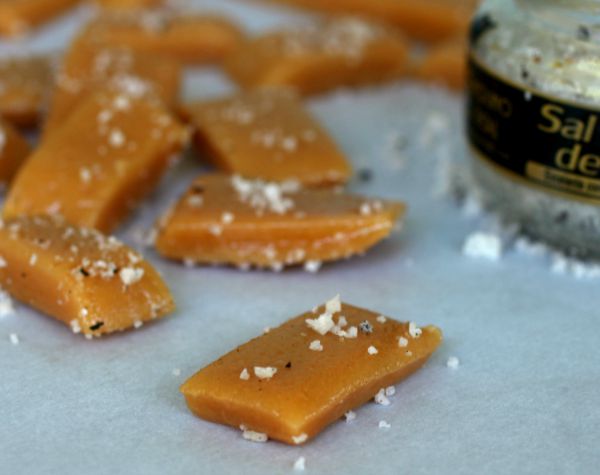 The recipes instructs you to microwave it for 6 minutes, stirring every minute and a half. I followed it exactly but I think my caramels were just a touch harder than I like. You might try stopping it at 5 minutes if you like softer caramels.
Be sure to grease your pan well. I had a little trouble getting the caramels out so I think next time I will grease the pan, add parchment paper, and then grease the parchment before I add the salted caramel goo stuff. Also, when you've cut the candy after it's cooled wrap it in parchment or it will attract moisture in the air and get sticky.
Vanilla salt is like a fleur de sel with pieces of vanilla bean in it. It has a faint vanilla flavor and scent and I love it on caramel and chocolate. If you can't find it locally you can get it on Amazon. Just sprinkle it sparingly on the caramel when it is set but still quite warm. Press it in gently. The caramels in the image have a lot of salt on them — honestly that is so they would look better in the pictures. Just sprinkle a little of it on top.
By the way, the black specks are pieces of vanilla bean, not anything gross.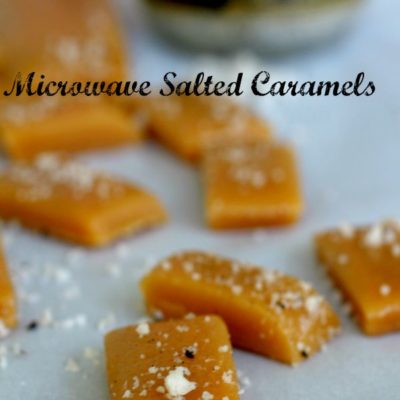 Microwave Salted Caramels
Chewy, creamy caramels, made in a microwave in just 6 minutes. If you like that sweet-salty flavor you can sprinkle the caramels with just a touch of vanilla sea salt.
Ingredients
¼

cup

butter

½

cup

white sugar

½

cup

brown sugar

½

cup

corn syrup

¼

teaspoon

salt

½

cup

sweetened condensed milk

Vanilla Sea Salt for sprinkling
Instructions
Generously butter an 8x8 inch pan.

Mix all ingredients in a large microwave safe bowl

Microwave on high for 6 minutes, stirring every 90 seconds.

Pour into a small buttered dish.

Let cool for about 5 minutes, or until set.

Sprinkle salt crystals sparingly over the top.

Press in gently.

Let cool completely.

Cut into small squares.
Nutrition
Serving:
1
g
Calories:
66
kcal
Carbohydrates:
12.4
g
Protein:
0.4
g
Fat:
2
g
Saturated Fat:
1.6
g
Cholesterol:
6
mg
Sodium:
38
mg
Sugar:
9.8
g
If you liked these easy, microwave salted caramels you may like these recipes from my blog, Restless Chipotle. And, be sure to find me on Facebook, Twitter, and Pinterest.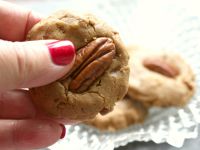 Creamy Pecan Pralines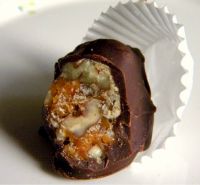 No Bake Chocolate Billionaires
Grilled Dessert Nachos
This awesome post has been shared with Home Stories A to Z