This Creamy Basil Ranch Dressing is a cinch to make and crazy good on pasta salads, veggies salads and for dipping. It is a great way to use all the basil in the garden! Basil is one of my favorite things to grow in garden. It is so beautiful and the smell says something good is coming out of this kitchen! This dressing is so easy to make and the minute I tasted it, I was thinking of everything that it would taste good on. The list was long and it doesn't really matter, because I started spooning it straight out of the blender.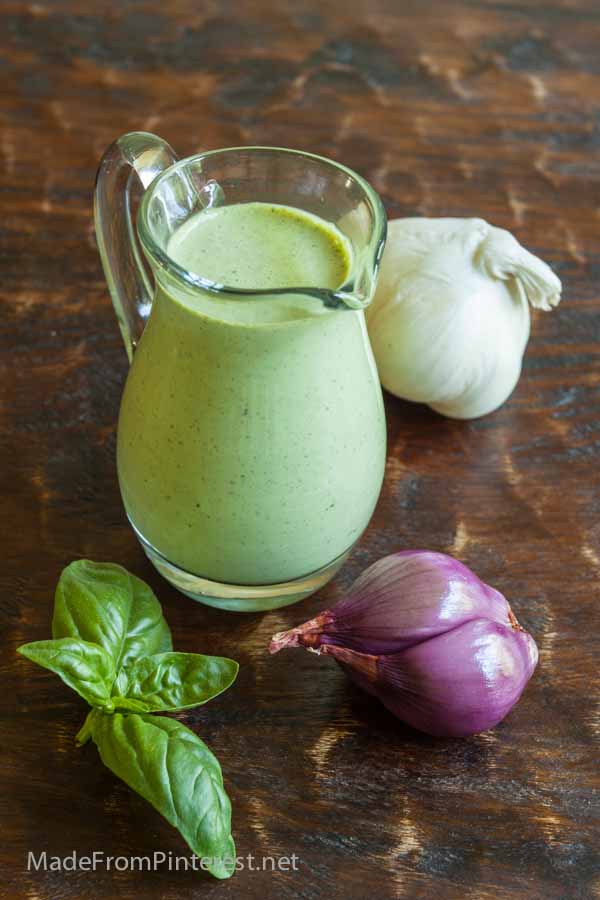 I figured I should probably start incorporating some veggies or I was going to make myself sick on this Creamy Basil Ranch Dressing. This is amazing on a chopped Italian Salad. Mine was filled with greens, cheese, tomato, nuts, and a hint of sweet dried fruit. I will be posting the recipe Tuesday. You will want to keep an eye out for it! (I have since posted it. There is a pic at the bottom of this post. You have to try this salad and dressing together. It is UH-Mazing!) I have not been able to stop thinking about this dressing since I had it at my mother-in-law's. I couldn't wait to make it and put my own little spin on it.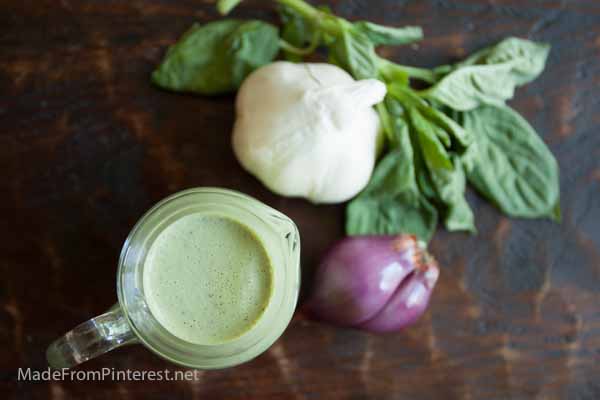 I love the fresh taste of good ingredients. I first started really gardening after my in-laws lived with us for a few years. My father-in-law is a master gardener and got me started. Fresh herbs are definitely one of my favorite things to grow. I love to start them indoors in paper seed pots and once started, plant them straight into my containers on the deck. That way they are handy and close to the kitchen when I am cooking. Besides basil, I love to grow rosemary, thyme, cilantro, parsley and mint on the deck.
We just moved in to our house in February. Is it bad that I am still not done unpacking? My father-in-law, the master gardener, has been going crazy planting things in our backyard! He just came over and told me he had a hibiscus to go along the fence. It is stunning! He has been going crazy getting my yard to look amazing. Eventually I am going to have to do something to get the front yard to match. And unpack, and paint. But that is for another day. At this point, my landscape around the house is like a mullet. Business in the front and party in the back.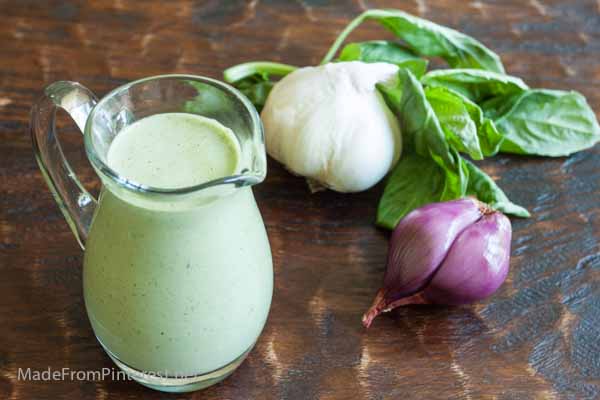 The fresh flavor of this dressing will have you coming up with your own quick list of things to put it on, or dip into it. This Creamy Basil Ranch Dressing is simply delicious! Grab some basil and get your own party started!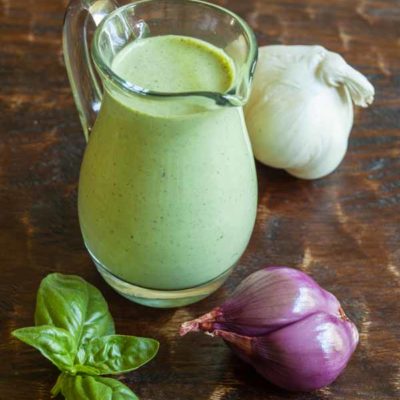 Creamy Basil Ranch Dressing
Ingredients
1

cup

fresh basil leaves

packed

1

cup

mayonnaise

1

small shallot

halved

1

clove

garlic

peeled

1

cup

buttermilk

1

Tablespoon

fresh lemon juice

Salt and Pepper
Instructions
Blend basil leaves, mayonnnaise, shallot and garlic in blender or food processor until smooth. with Blender or processor running, gradually add buttermilk and lemon juice.

Season dressing to taste with salt and pepper

Can be made one day ahead.

Cover and refrigerate, 1-2 weeks.
This awesome post has been shared with Home Stories A to Z