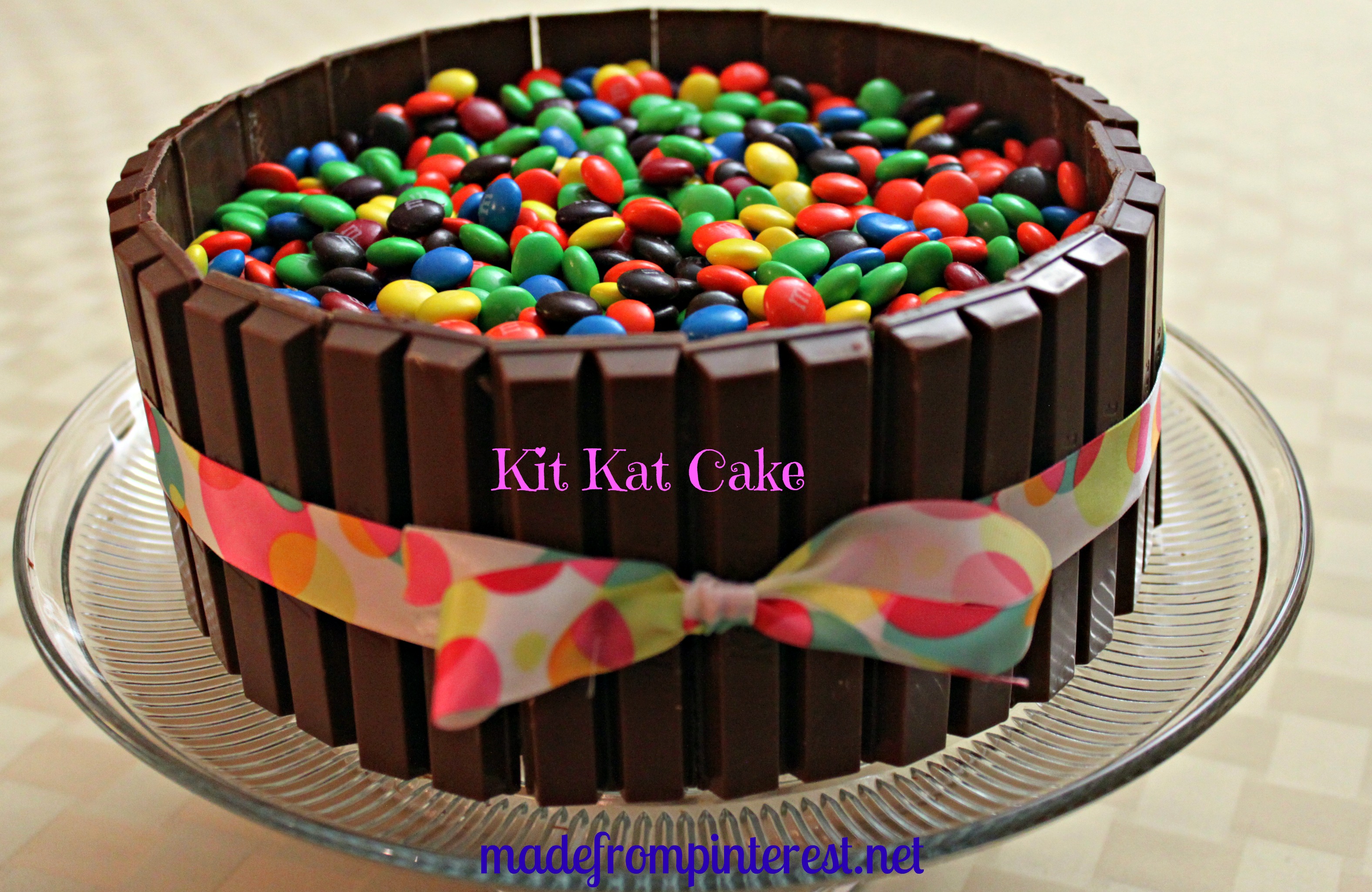 I am so excited to share this with you today! It is my very first pin EVER! Seriously, the first thing I ever pinned on Pinterest. About two years ago Debbie told me about this great new site called Pinterest and I hopped on over quick like a bunny. I pinned this, and that was it. Love at first pin, I was hooked. One of my favorite types of pins are the things that are so simple, you can't believe how easy it is, and how amazing the results are. If cake decorating is not your thing, this is the cake for you. This cake is low on the need for capability and high in presentability.
First, get your cake mix. You can do any flavor, but I did chocolate. Actually, I suppose lemon would not be so good. Use good judgement. Following package directions, bake two or three layers (I did two). Frost the cake. I did chocolate. I like chocolate. Lots of chocolate. It doesn't matter if the frosting looks a mess. Really, you can just slop the frosting all over! Now get your Kit Kat Bars. Break them carefully into sections of two. Press them into the frosting all around the cake. Pour a large bag of M&Ms on the top of the cake. Get some cute ribbon and tie a bow! Done! Looks delicious and beautiful!
One of my favorite things I love about this Kit Kat M&M cake is that it can be modified for any holiday or occasion. Think Super Bowl this weekend! Tie it with ribbons in your team's colors. Or for the upcoming holidays, try pink M&Ms + pink bow = Valentine's Day. Green for St. Patrick's, browns for Fall/Thanksgiving, green and red for…well you get the idea. Name the holiday or occasion, this cake has got you covered.
The first time I served this was at a Boy Scout Pinewood Derby last year. It was a hit! I also did a Funfetti cake with vanilla frosting and surrounded it with rainbow Twizzlers and topped with Skittles. That barely got touched, Kit Kat and M&M was the winning combination. It got devoured! So, thank you to Melissa from Made in Melissa's Kitchen for this post and for getting me started on Pinterest.
This Pin Rocks!
We are pleased today to be linking with: While He Was Napping, The Answer is Chocolate, Naptime Crafters, My Romantic Home, Simply Designing, Chic on a Shoestring, Craftberry Bush, A Little Knick Knack, and French Country Cottage.