Hey y'all! It's Marye back here from Restless Chipotle to share a new recipe with you. These Lavender Vanilla Scones are tender, buttery, and a sweet way to begin the day. They're great as a pick me up in the afternoon, too.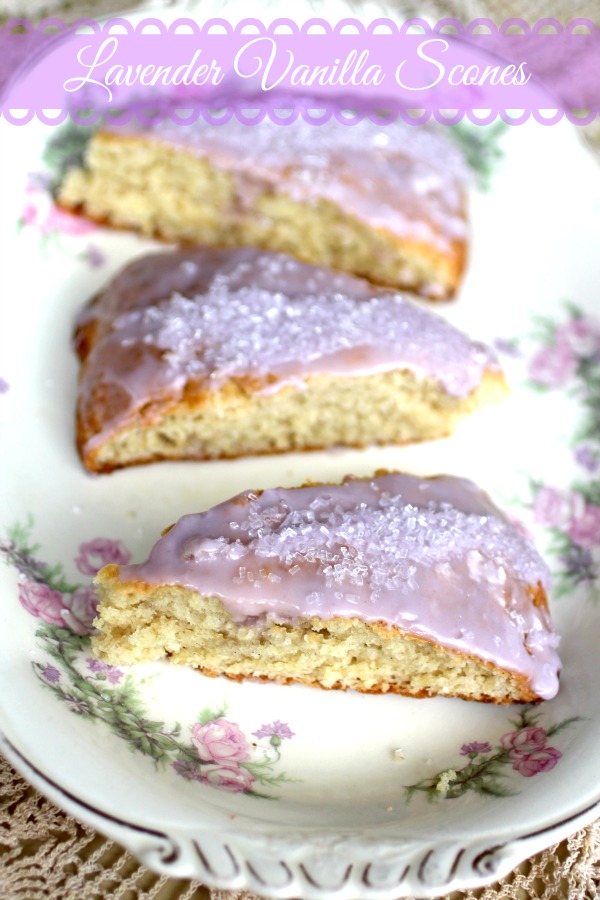 I have had enough of cold weather and I am totally ready for spring. I realize that some of y'all live in (and love) snow country but I'm here in Dallas and even 55 degrees is too cold for me! I like to get at least one or two days of snow so I can sit by my fire and watch it but then I am so done with the cold. On to flipflops and sunscreen!
I love roses and I collect almost anything with roses on it. I have vintage plates, tea cups, platters, and who knows what else. Well, sometimes in the midst of a dreary, chilly day I'll put together a spring table setting and sit down to enjoy some spring flavors. Nothing tastes more like warm weather to me than something with lavender. If you've never tried it you'll find that it has a citrus flavor with faint, flowery notes. If you have had it and you think it tastes like soap then I can tell you that there was too much lavender in the recipe. You must use a light hand when you bake with it because it will overpower all other flavors and yes, it will taste like soap if you get too much in. Also be sure to get culinary lavender.
Now, lavender can be expensive if you just buy it in a little jar. It can cost anywhere from $4 to $8 or more. If you buy it on Amazon you'll have a lot of it but it won't cost you much more than the little jar. The following link is an affiliate link, which just means I get a little commission if you click through and buy something. It doesn't affect your cost at all but it helps keep me in vintage plates! Here's the lavender that I use – Culinary Lavender. There may be a few little stems and such in it but you just need to pick them out. I've seen some reviews on other Amazon companies that say there were pebbles and all kinds of stuff in theirs but it has never happened to me with this company.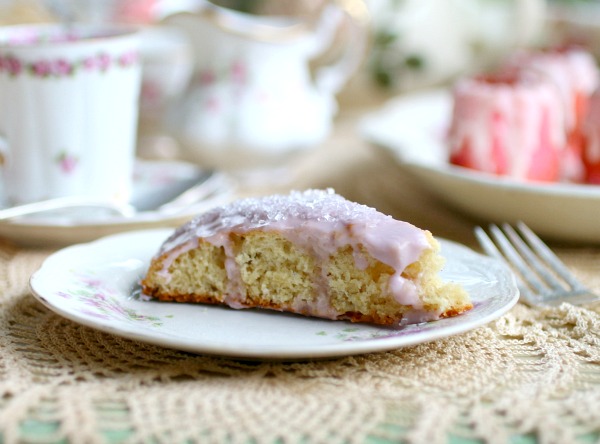 These lavender vanilla scones have a heavy vanilla flavor and just the daintiest hint of lavender. They are buttery and crumbly and I promise that they will cheer you up on the dreariest of days. You can freeze them, too. That means that you can pretty much have a little taste of spring at a moment's notice. There's just nothing better than that.
One thing about scones that not many people tell you to do. You HAVE to let the dough rest for right around 30 minutes before you bake them. This lets any gluten that has been developed by your mixing to relax and chill. Your scones, no matter what recipe you use, will be more tender and flakier. Also, if you use a chunk of frozen butter and grate it into the flour mixture when you're making these it will help them be flakier, too.
I like a glaze on scones. This is just a simple confectioner's glaze that goes really well with the flavor of the lavender vanilla scones but you can certainly leave it off if you like.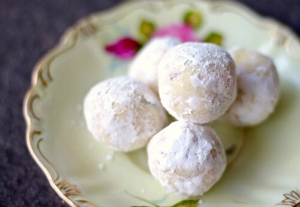 Lavender Vanilla Scones
Tender, buttery scones are flavored with rich vanilla and tangy lavender for a pretty, indulgent breakfast, brunch, or snack.
Ingredients
2

cups

all-purpose flour

2

teaspoons

baking powder

3/4

teaspoon

culinary lavender buds

1/2

teaspoon

baking soda

1/2

teaspoon

salt

1/2

cup

sugar

or vanilla sugar

4

tablespoons

unsalted butter

cold

3/4

cup

buttermilk

1/4

cup

heavy cream

1

large egg yolk

2 1/2

teaspoons

vanilla extract

1/2

inch

piece of vanilla

1 1/2

c

powdered sugar

1

tsp

vanilla

1

tablespoon

unsalted butter

melted

2 - 4

tablespoons

heavy cream

enough to make a glaze

Few drops of blue and red food coloring to make lavender

Sugar crystals
Instructions
Mix the buttermilk and cream

Add the vanilla bean to the buttermilk and cream.

Heat until it just simmers.

Let cool.

Mix the flour, lavender, baking powder, baking soda, salt, and sugar together

Grate the cold butter into the flour mixture

Rub the cold butter into the dry ingredients until flour is crumbly.

Remove vanilla bean from buttermilk.

Cut in half and scrape the vanilla pulp into the buttermilk, stirring to distribute the vanilla evenly.

You can discard the vanilla pod or dry it off and add it to a cup of sugar. Cover tightly and in a few weeks you'll have vanilla sugar.

In a separate bowl, whisk together the cooled buttermilk mixture, egg yolk, and the 2 1/2 teaspoons of vanilla extract until blended.

Add to the flour mixture and stir with a fork until dough forms a ball.

Dough will be sticky.

Place the dough onto a silpat lined baking sheet and pat into a disk about 1-inch thick.

Cut the dough into wedges but do not separate them.

Let stand twenty to thirty minutes, so the gluten can relax.

Brush with heavy cream.

Sprinkle with the vanilla sugar

Bake for 15 minutes at 400F or until golden.

Meanwhile mix the confectioner's sugar, 1 teaspoon vanilla, melted butter, and cream until it is a thick glaze.

Color with the food coloring.

Spoon over warm scones.

Sprinkle with sugar crystals.
Nutrition
Serving:
1
g
Calories:
240
kcal
Carbohydrates:
40.6
g
Protein:
3
g
Fat:
7.4
g
Saturated Fat:
4.5
g
Cholesterol:
38
mg
Sodium:
203
mg
Fiber:
0.6
g
Sugar:
24
g
Hey, don't be a stranger! I'd love it if you'd follow along on Facebook, Pinterest, Twitter, and Instagram!
If you liked this lavender vanilla scones recipe you might also like these recipes from Restless Chipotle…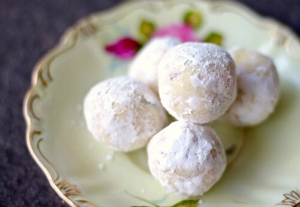 These rich creamy lavender white chocolate truffles are easy to make and they are so good!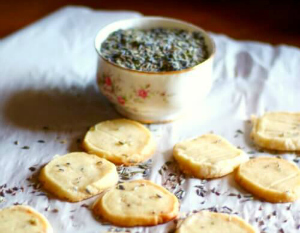 Lavender shortbread cookies are crumbly and buttery perfection.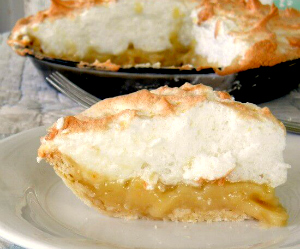 Unique Lavender Lemon Meringue Pie has an extra pop of flavor from a little lavender.