Lindsay here from Frenchie Wraps and I'm so excited to share these incredibly easy Mini Lemon Icebox Pies with you today. I can't tell you how much I dig convenience and how much I need it in my life. These only take a few items of prepared foods, a few hours of freezing time and then you can sit back and enjoy. They're perfect all Spring and Summer long.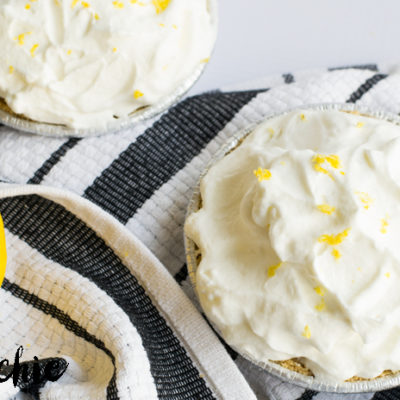 Mini Lemon Icebox Pies
Ingredients
1

package of 6 mini premade Graham Cracker Crusts

Keebler

3

individual Lemon Yogurts

I prefer Yoplait

1

cup

Whipping Cream

1/4

cup

sugar
Instructions
Place mini shells on a baking sheet for easy transfer

Add 1/2 of the yogurt into each pie shell and freeze for 2 hours

Whip cream with 1/4 cup of sugar and serve.
Set the mini pie shells on a baking sheet so that you can transfer all of them to the freezer later. Next, you'll want to just pour half the cup of yogurt into each of the pie shells.
Place those into the freezer for about 2 hours. You can do these the day before and have them sit in the freezer overnight, just let them sit out about an hour before you serve. You will want them to be semi-soft to serve and top it off with your whipped cream.
You have two options with the whipped cream, you can get the aerosol canned kind or the liquid kind and whip it up. If you whip the cream, whip it up with 1/4 cup of sugar. Add some zest of you'd like! These are so refreshing and perfect for a summer BBQ!
If you like this recipe, stop by my site, frenchiewraps.com for more great crafts and recipes!
XO
Lindsay