My love affair with mango began with fruit smoothies. From there we expanded our relationship to mango salsa. I serve mine with with a grilled pork loin seasoned with a Jamaican rub and black beans and rice.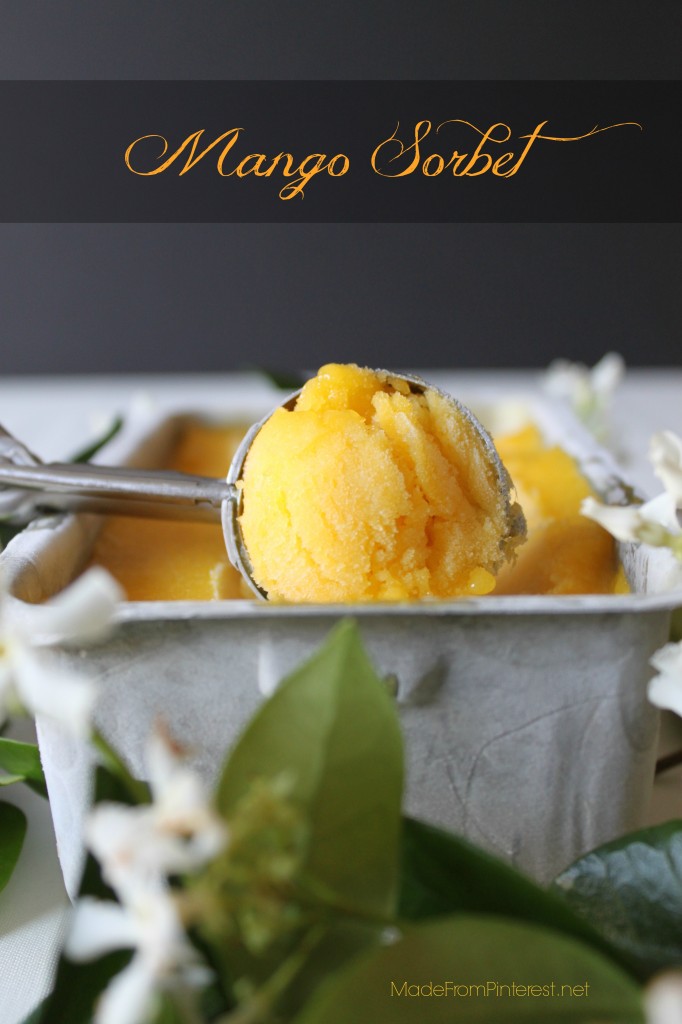 Mangoes are often compared to peaches. I like peaches. But mangoes are just…better. But I had not fallen head over heels until I got my ice cream maker several years ago and came across a recipe for mango sorbet. That was when my love became complete. With a hint of lime, the recipe was fresh, sweet, smooth, cold. And easy!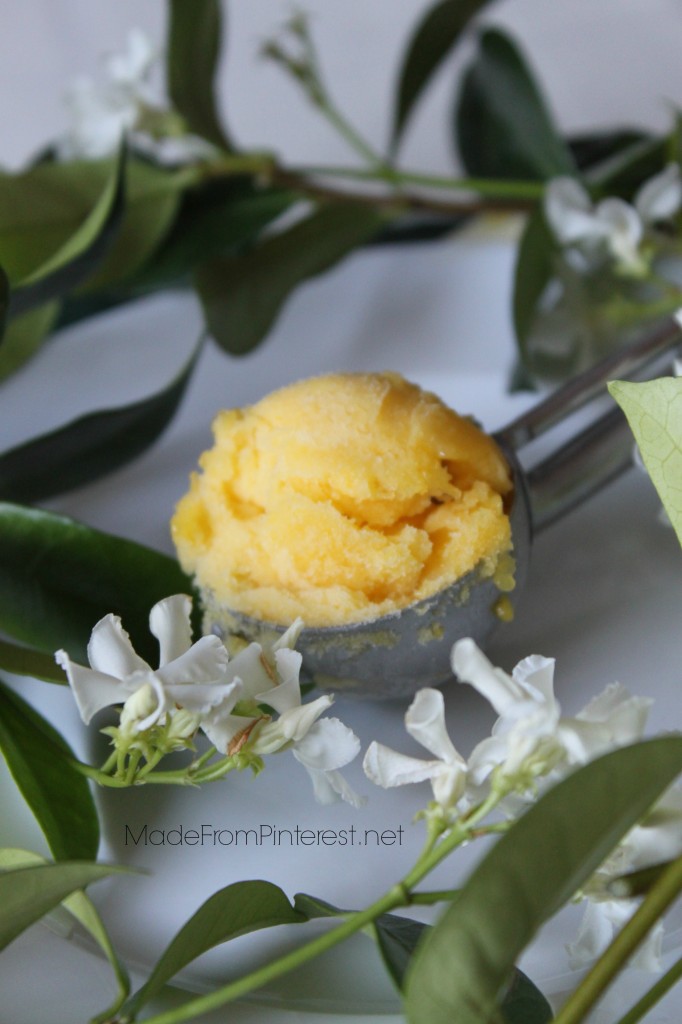 Somehow I lost the recipe. It was tragic, but I had hope of finding it again. True love stories always have happy endings, right? I tried one recipe from Pinterest and it was a total flop. Ick. This was worth a second try. I was very dedicated to finding a good recipe and Pinterest did not disappoint this time.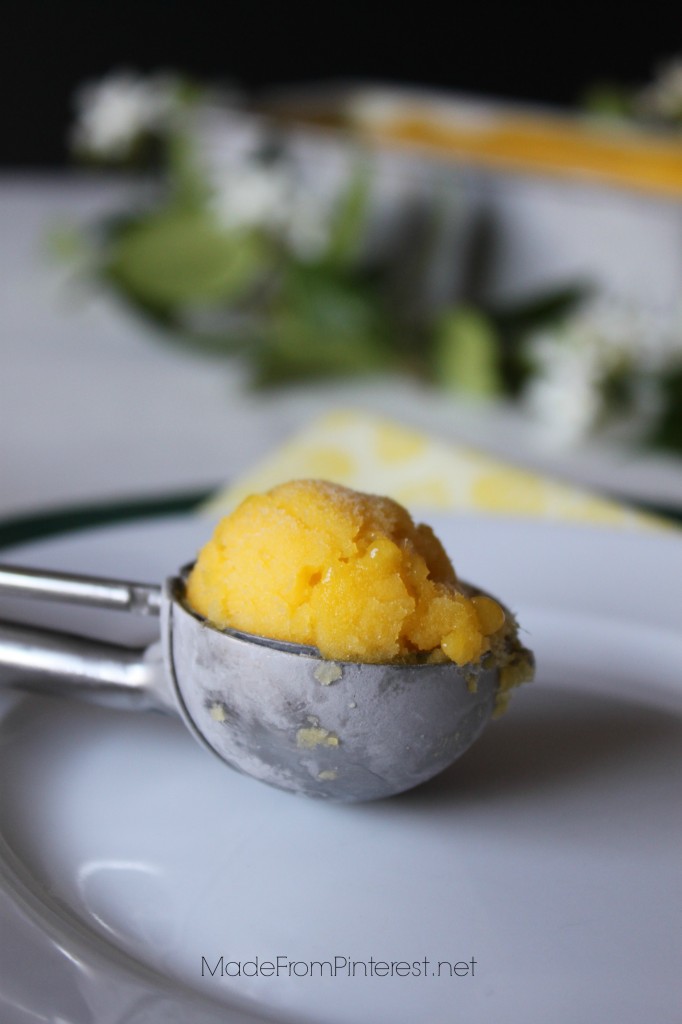 Only four ingredients are needed to make a batch of this creamy smooth, fruity and fresh sorbet. Water, sugar, mango and lime. Boil the water and sugar to create a simple syrup. Normally 1 + 1 = 2, but with simple syrup 1 + 1 = 1 1/3. Purée that with fresh, ripe mango and fresh lime juice. The next step was the hardest part for me. I was tempted to drink the purée. Well, to be truthful, those you who have been following our blog long enough to get to know me a little, know very well that I did slurp several delicious spoonfuls as if it were a fruit soup.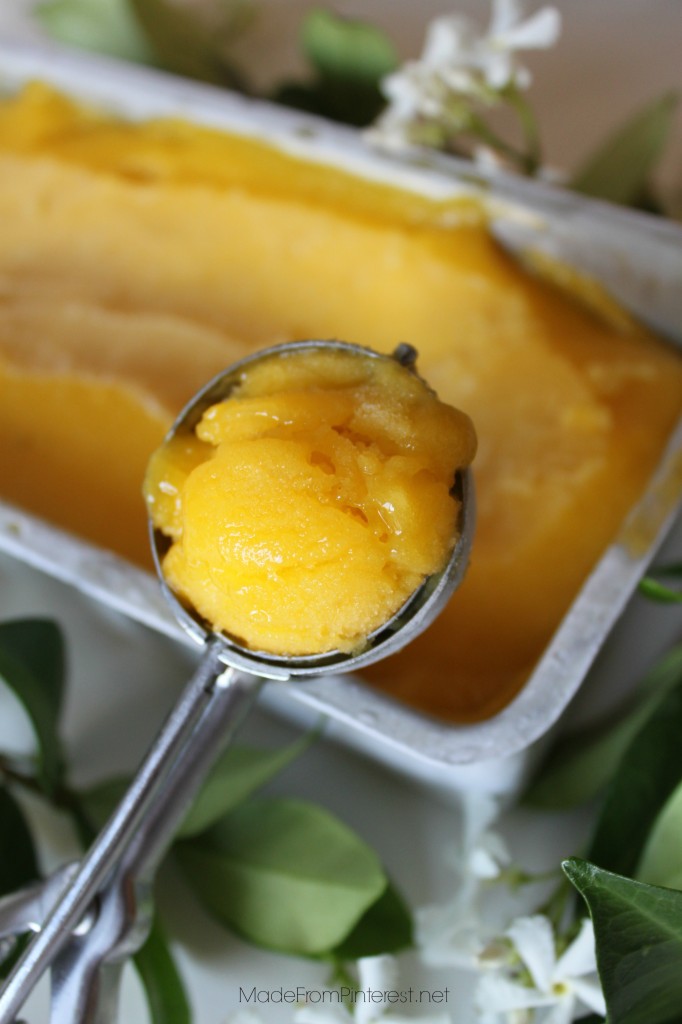 The remainder made its way into the chilled bucket of my ice cream machine and whirred away for about 30 minutes. I sampled at this stage again and found it to be creamy,sweet tropical goodness. I spread what was left in a small bread pan, and it it in the freezer. I haven't bothered with a bowl yet, but rather sneak a spoonful right from the pan throughout these hot summer days. Thank goodness I found the pin from MarylandGirl via Allrecipes!
Just in case it is not already clear to you, I am giving this pin a rating of…
This pin ROCKS!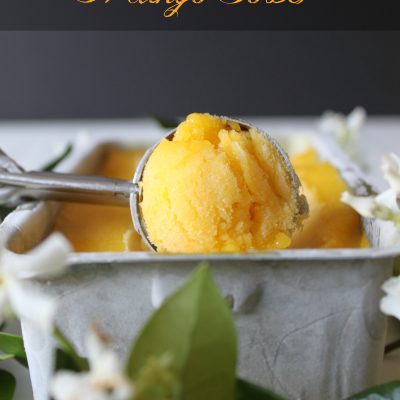 Mango Sorbet Recipe
Ingredients
4

ripe mangoes

1

cup

simple syrup

3

tablespoons

fresh lime juice
Instructions
Cube mango and combine with lime juice and simple syrup. Puree in blender or food processor until very smooth.

Place in ice cream maker for 20 to 30 minutes. Place in container and freeze until firm.
Notes
Make sure your mangoes are nice and ripe. I place mine in a brown lunch bag for a few days if they are not quite ready. It is very important to the flavor for them to be ripe.
To make simple syrup combine 1 cup sugar and 1 cup water. Bring to a boil until sugar dissolves. You will have about 1/3 cup left over.
This recipe will work perfectly in our recent guest post at My Kitchen Escapades for Mango Strawberry Daiquiri Pops: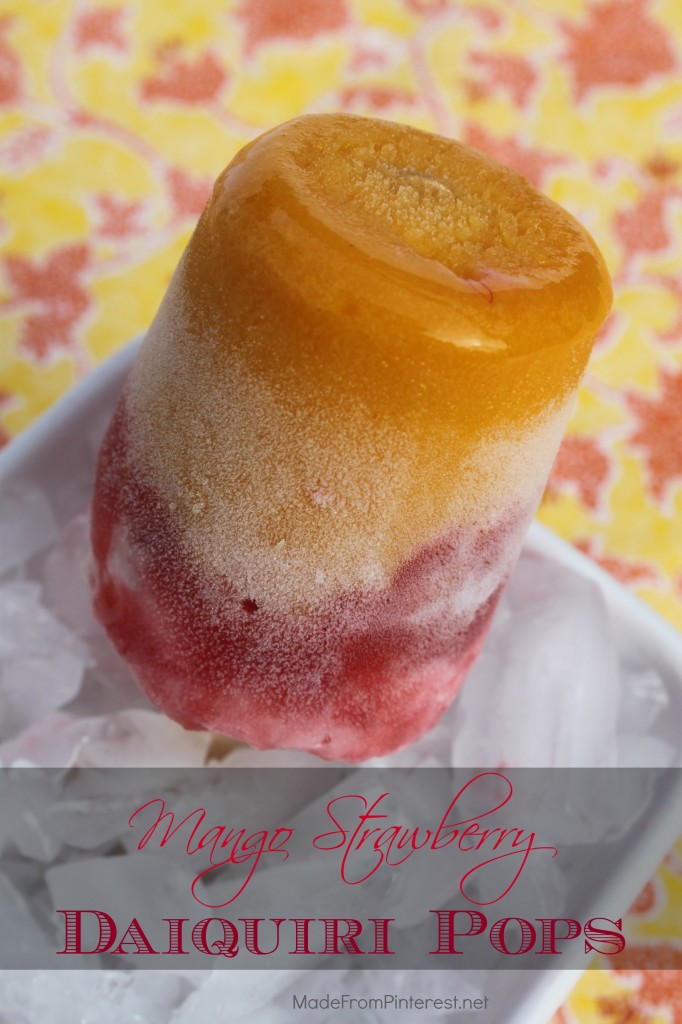 Linked today with: Cornerstone Confessions, Homestories A to Z, Blackberry Vine, Homework, Chef in Training, Cupcakes and Crinoline, Sugar Bee Crafts, Mandy's Recipe Box, Inside BruCrew Life, Dorothy Sue and Millie B's Too.