These Mini Peanut Butter Chocolate Tarts combine a heavenly whipped peanut butter filling with the perfect mini, tender crust.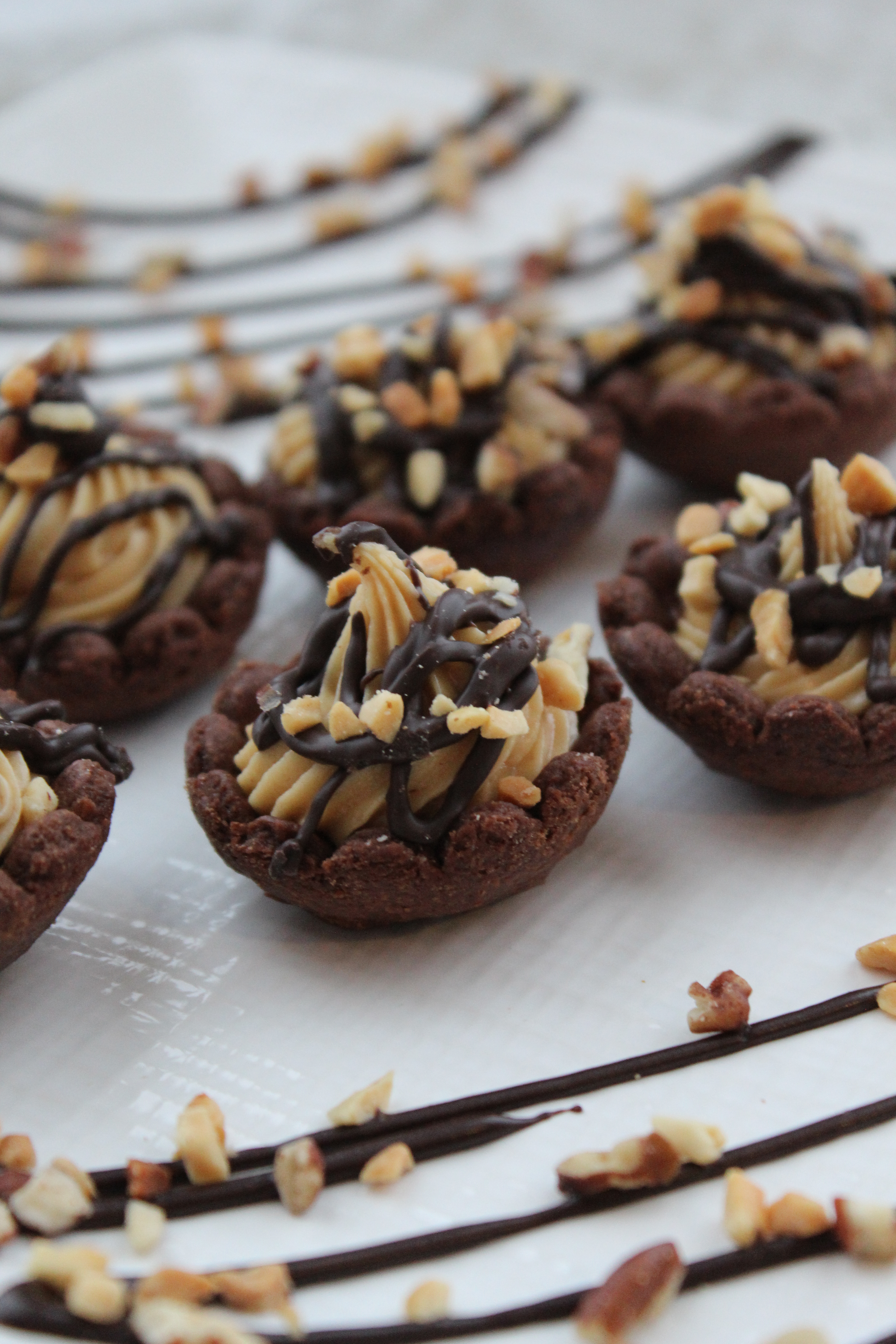 Hello everyone, Katy here from Her Cup of Joy, as you all might know by now, I love to bake! Recently, I wanted to create a treat to share with my friends at a party. Peanut butter and chocolate are the perfect combination, there are thousands on recipes online featuring the duo, remember these peanut butter chocolate chip cookie dough bars I shared a few months ago? They were a success! It was the perfect recipe, no baking required and very quick to whip together. But some days I crave longer baking sessions, it is a form of stress relief, some of you may agree with me. There's nothing better than being able to turn on some great music and spend time baking up a sugary and delicious treat in the kitchen.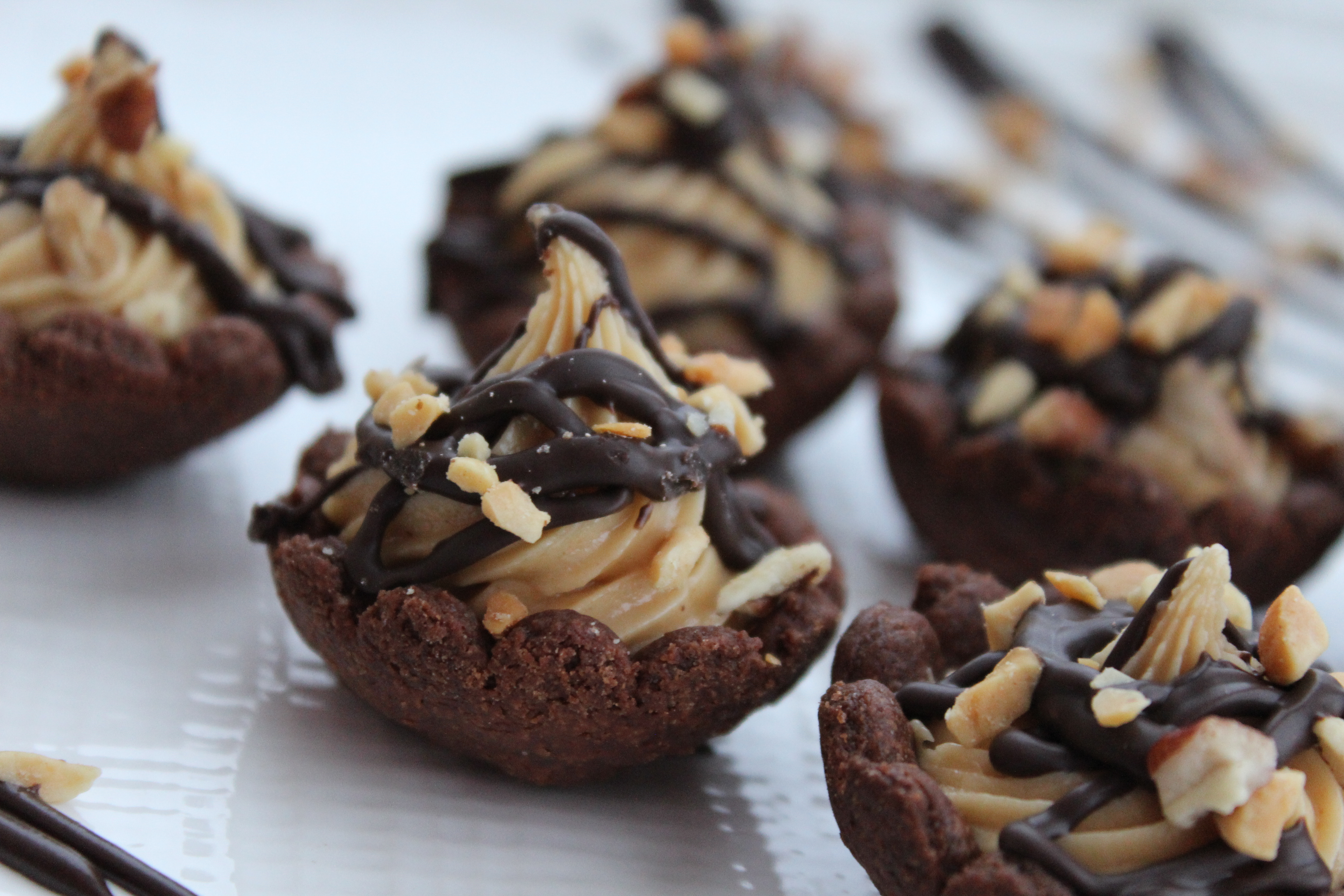 I stumbled upon this recipe on Pinterest made by Inspired by Charm and knew I had to attempt to make these tarts. I brought these mini peanut butter chocolate tarts to a party and everyone raved about how cute and tiny they were. The crust is so tender and flaky, it is very similar to a pie crust and the whipped peanut butter filling is just heavenly, I could eat it straight from the bowl.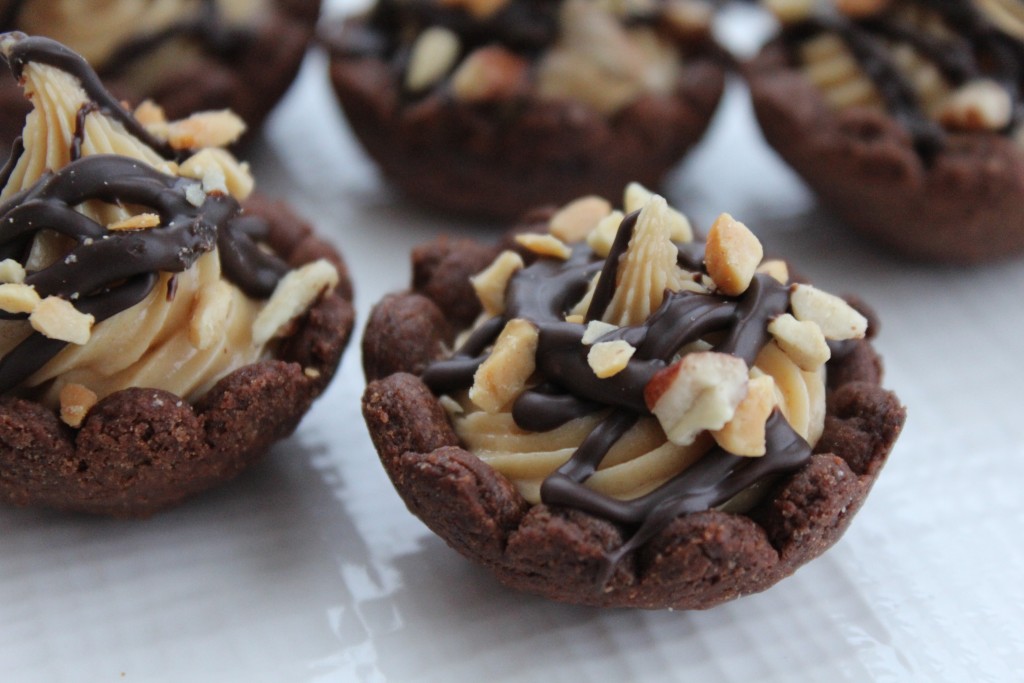 I was so surprised that I did not need any special tartelette pans or molds, the crust is rolled out and cut out with a flower cookie shape, or a circle shaped cookie cutter, as seen on this post. You could even just cut out the shape with a small glass cup. The flower cookie cutter gives it those cute scalloped edges. The crusts are then placed in a mini cupcake pan, you don't need to press them in much either, just gently push the crust in with your finger, they will sink down during the baking process. After they bake, a delicious fluffy peanut butter filling is piped into the tarts, then they are drizzled with chocolate and sprinkled with chopped nuts. Doesn't that sound amazing!?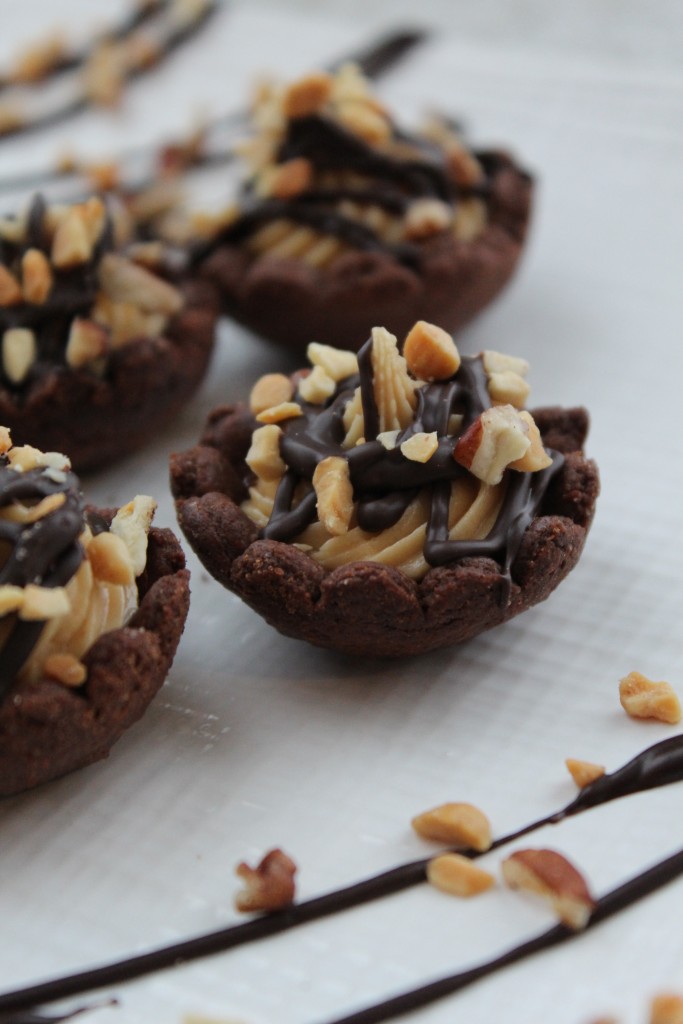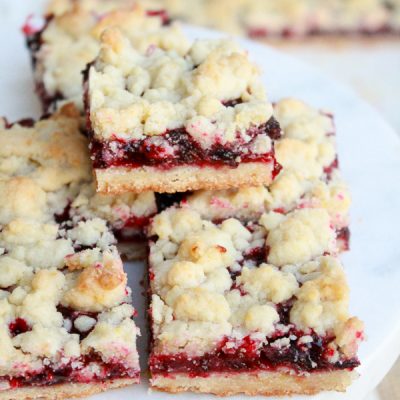 Mini Peanut Butter Chocolate Tarts
A perfect combination of peanut butter and chocolate, this dessert will certainly wow all of your guests.
Ingredients
Chocolate Crust:

2

cups

all-purpose flour

4

tablespoons

cocoa powder

4

tablespoons

sugar

1

teaspoon

kosher salt

1

stick unsalted butter

cold

4

tablespoons

shortening

2

egg yolks

6

– 8 tablespoons cold water

Peanut Butter Filling:

1

cup

creamy peanut butter

1

package

8 ounce cream cheese, softened

1

teaspoon

vanilla

1 1/4

cup

confectioners' sugar

1

package

8 ounce Cool Whip, thawed

Chocolate Drizzle:

1

cup

semi-sweet chocolate chips

1

tablespoon

shortening

Chopped peanuts

optional
Instructions
To make the chocolate crust shells:

Combine the flour, cocoa, sugar, and salt in a food processor until blended. Add the butter and shortening and blend until coarse crumbles form. Add the egg yolks and cold water and process with slow pulses until the dough forms a ball. Start with about 5 tablespoons of cold water, carefully keep adding a tablespoon at a time.

Refrigerate the dough for 30 minutes.

Next, preheat the oven to 350 degrees F.

Roll out your dough on a floured surface until it is about 1/8 inch thick. Then cut out the dough using a flour shaped cookie cutter. Once your first set of flowers or circles are cut, gently press the flowers into an ungreased mini muffin pan. Once your pan is full, bake for 12-15 minutes.Repeat until you have used as much of the dough cut out as possible.

Allow the shells to cool in the pan for 5 minutes before removing the crusts.

To make the peanut butter filling:

Beat peanut butter, cream cheese and vanilla until smooth. Then add the powdered sugar, beating again until smooth. Add in the Cool Whip and mix until well combined.

Place the filling into a piping bag or plastic bag, then pipe into the shells.

For the drizzle, melt the chocolate chips and shortening in a microwavable bowl (or in a double broiler). Allow the mixture to cool a few minutes, then transfer to a piping bag. Snip off a tiny portion of one corner of the bag and drizzle the chocolate onto the filled tart shells. Top with chopped peanuts.
I appreciate the wonderful opportunity of being a guest contributor at this awesome blog! For more recipe ideas be sure to visit me at Her Cup of Joy | Instagram |Pinterest | Facebook | Twitter
You may also like these featured favorite recipes from my blog:
Fresh Black Currant Shortbread Bars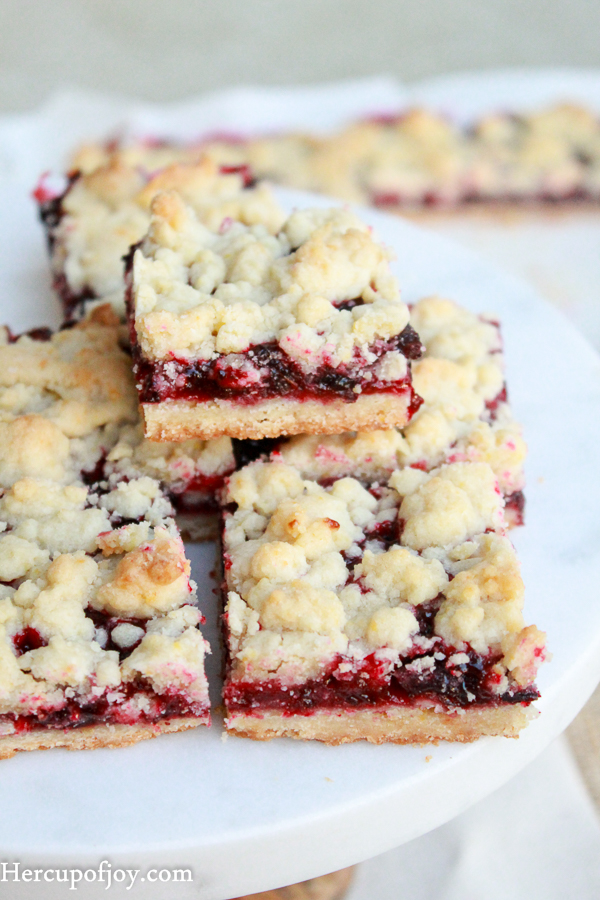 This awesome post has been shared with Home Stories A to Z