Irresistible Peanut Butter Cookie Dough Bars: The title of this post explains these bars perfectly; irresistible chewy, soft cookie dough bars with mini chocolate chips and a hint of peanut butter, topped with a luscious chocolate peanut butter ganache topping.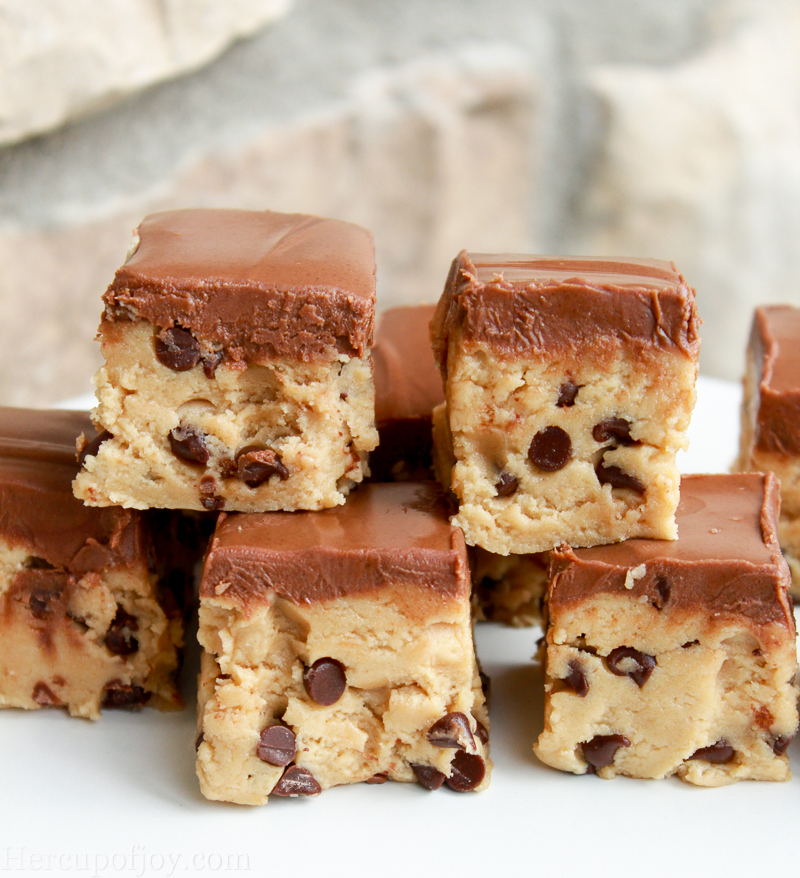 Hello MadeFromPinterest readers! It's Katy here from Her Cup of Joy and today I am sharing a lovely recipe that you need to make ASAP. All cookie dough lovers will rush to snatch a few or these bite sized bars. They taste exactly like cookie dough that you stuff in your mouth, you know what I'm talking about, I know you love to sneak a few spoons of cookie dough in your mouth before baking. I am not judging you if you eat raw cookie dough because I do it all the time! In fact, I would rather eat the cookie dough instead of baking actual cookies. Except, then I would feel too guilty of eating all of that dough. Which is why these bars were created, they are a perfect portion for a quick pop in your mouth, and the best part about these bars, no raw eggs :).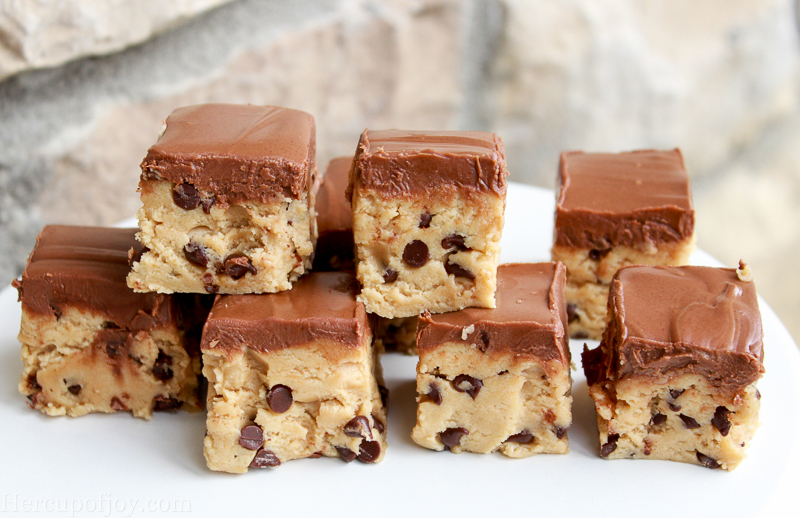 Last month I shared this funfetti cookie cake with my coworkers, this month I brought in these cookie dough bars. Aren't I spoiling them a bit? There were some exciting changes at work and I wanted to bring something in the next day as a mini celebration. Any reason to bring goodies to work is always great. Plus I knew I had to share the bars with everyone, or else I would eat them if they stayed in my house. They always appreciate any treats, and adored these little bites of fudgey dough.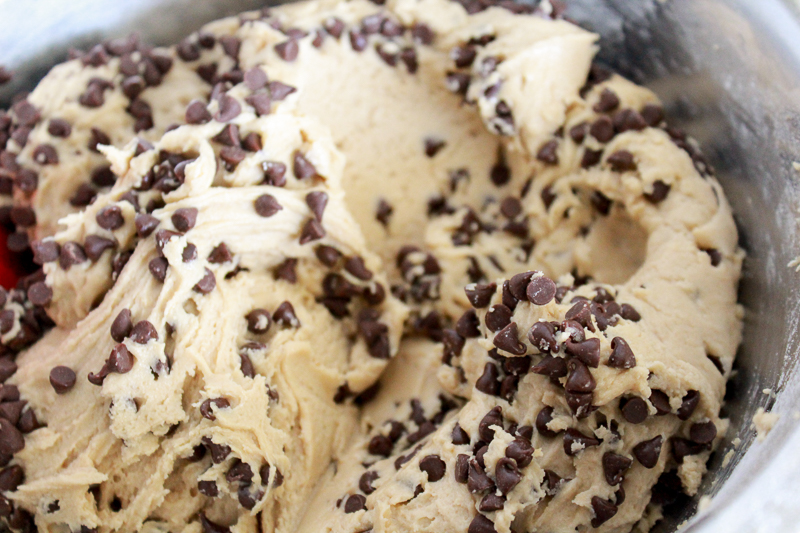 I found this recipe in my Pinterest feed and knew I had to make them. I checked out the ingredients list and saw that everything was already stocked in my pantry, except for the mini chocolate chips. These bars are too easy to make. I came home from work and picking up my daughter around 5:00 pm, quickly whipped up the cookie dough batter, topped with a delicious peanut butter chocolate ganache and had the bars chilling in the fridge by 5:20 pm. My husband came home and didn't suspect a thing, though, I caught him red-handed trying to eat the bars out of the pan with a spoon.
After tasting a bar, I knew I had to quickly hide them in the fridge and "dispose" of them at work the next day. Don't think that I eat cookies all day every day, (although it would be great!) I actually am watching what I eat most of the time, but every once in a while we all need a sweet treat. That night, while my husband was watching the basketball game I ran on the treadmill to burn off a few cookie dough calories, and to be a healthy mom/wife, of course. Who knew basketball games could drag on so long, my goal was to run the whole second half of the game, but after 50 minutes of running I stopped midway through the last quarter.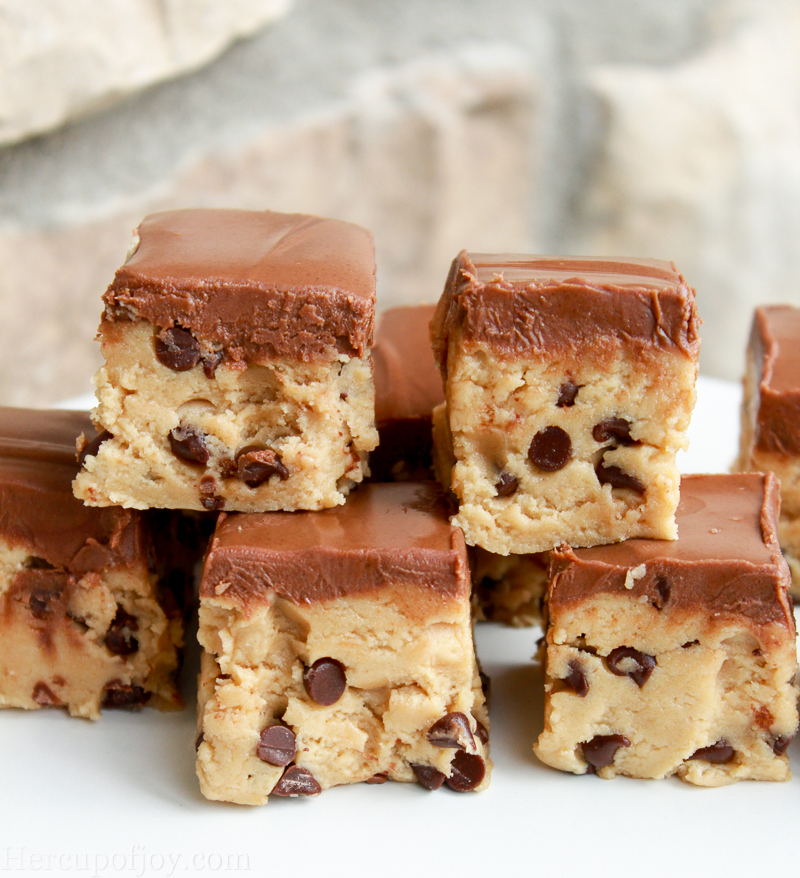 Back to talking about the amazing bars, although I should have waited a few more hours to cut into the bars, I knew the sun was starting to set (food photography problems) and I didn't want to wait until the next day after work to try them out. This is the best I could do at cutting them, but they taste delicious either way you cut them! These bars have been floating around Pinterest, I used Shugary Sweet's recipe, although do not compare her perfect cut with mine!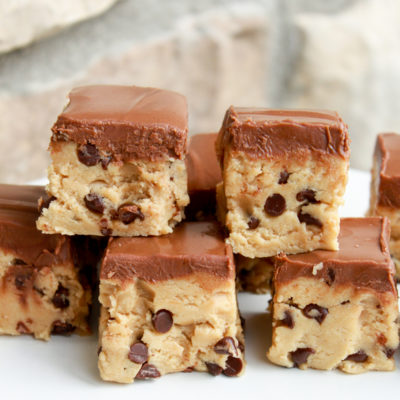 Irresistable Peanut Butter Cookie Dough Bars
Ingredients
For the Cookie Dough:

1/2

cup

unsalted butter

softened

3/4

cup

light brown sugar

packed

1

tsp

pure vanilla extract

1/4

cup

creamy peanut butter

2

cups

all-purpose flour

1

can

14oz sweetened condensed milk

2

cups

mini chocolate chip morsels

For the frosting:

3/4

cup

creamy peanut butter

3/4

cup

semi-sweet chocolate chip morsels
Instructions
To make the cookie dough base:

With mixer set to high speed, beat butter and brown sugar in a large mixing bowl until creamy. Add vanilla, peanut butter, and condensed milk, mix until combined.

Slowly, add in the flour until combined. Then gently fold in the chocolate chips.

Line a 8x8 baking dish with plastic wrap or foil. Press the cookie dough mixture into the baking dish.

To make the chocolate peanut butter ganache topping:

Add chocolate chips and peanut butter to a microwave safe bowl. Heat in the microwave for 30 seconds, then stir until all chocolate has melted. Heat in increments of 15 seconds if the chocolate hasn't melted.

Pour the topping over the cookie dough and spread with a spatula.

Place the baking dish in the fridge for 3 hours, or overnight, until fully set. Then, cut into mini bite sized bars.

Keep any left over bars refrigerated in an airtight container for up to a week.
I appreciate the wonderful opportunity of being a guest contributor at this awesome blog! For more recipe ideas be sure to visit me at Her Cup of Joy | Instagram |Pinterest | Facebook | Twitter
You may also like these featured favorite recipes:
Chia Seed Protein Pudding Cups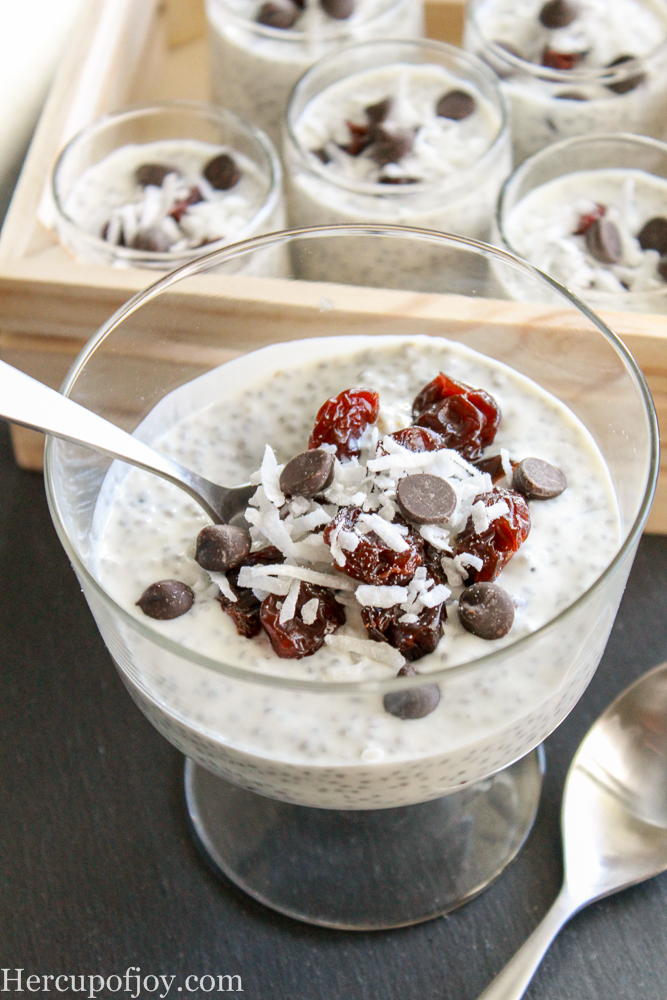 Bacon Cheeseburger Stuffed Potatoes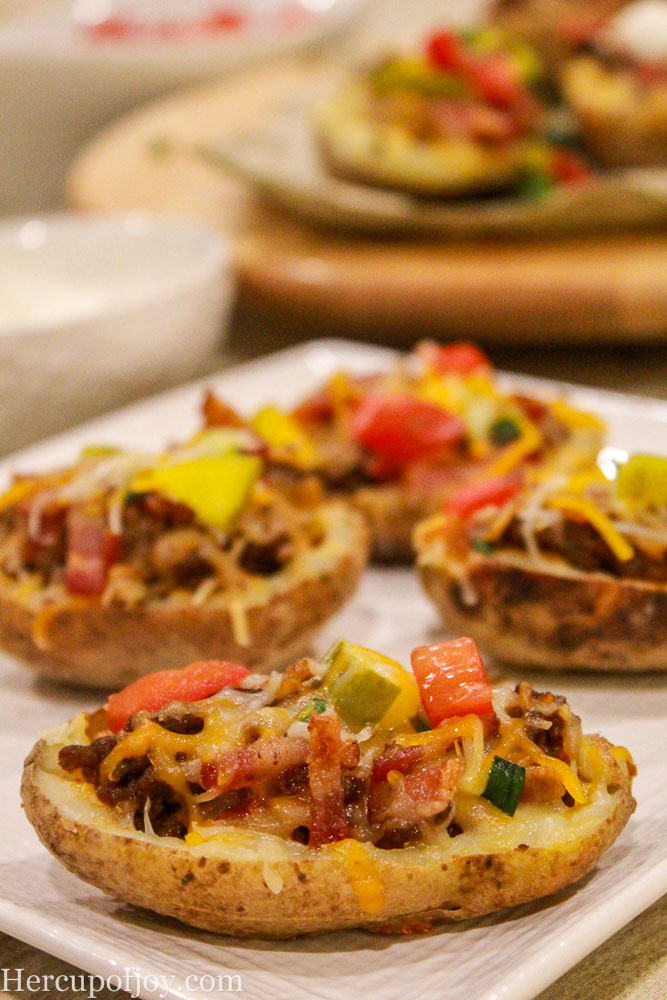 Simple Fluffy Sour Cream Pancakes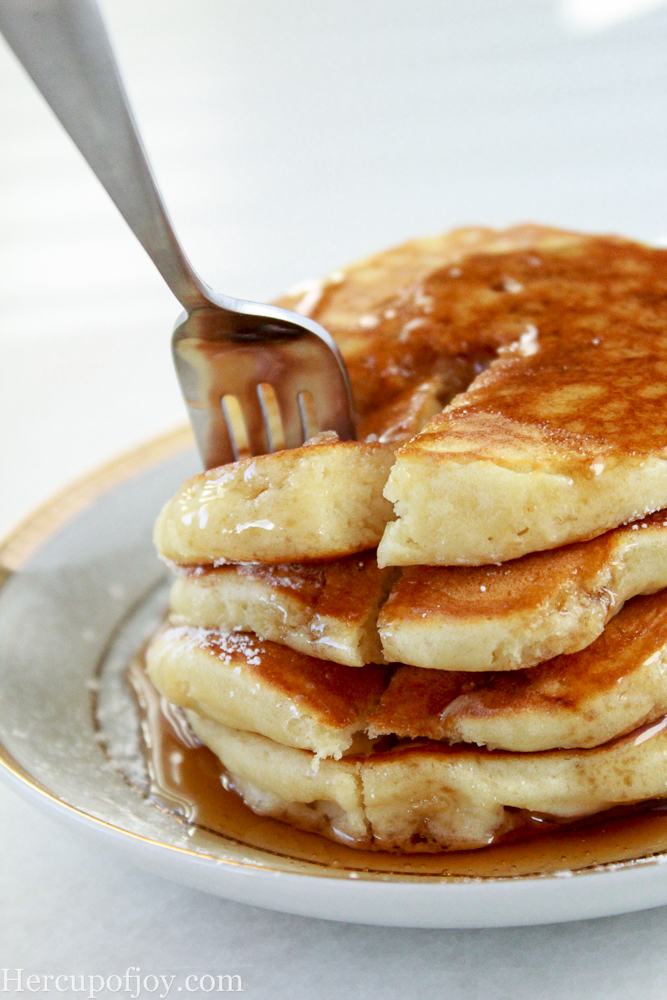 This awesome post has been shared with Home Stories A to Z and Living Well Spending Less