Merry Christmas, everyone! The big day is finally here! I hope that you are all snuggled up, enjoying the festivities with those closest to your heart. I'm excited to spend time with my family, play around with my new gifts and eat massive amounts of pie. Priorities, right?
With the new year literally days away, I've been thinking about some of my New Year's resolutions. Getting organized is a big one for me. If there's anything that blogging has taught me, it's that you need to be organized in order to be successful. So that is my main goal for 2015.
To get a jump start on my goal I decided to figure out a way to organize all of those little bits and bobs that seem to get lost in all of the drawers, cracks of the couch, the "I'll put this away later" basket, etc. You know? Things like rubber bands, paper clips and the like.
While I was perusing Pinterest for organization ideas, this awesome spice rack organizer idea jumped out at me and I instantly knew that I had to recreate it. I just so happened to have a similar spice rack taking up unnecessary space in my kitchen cabinet. I'm sure the same idea could be replicated with any spice rack and some empty spice bottles.
Materials:
Spice rack and empty bottles
Chalkboard paint
Chalk, chalk marker or paint pen
Instructions:
My spice rack and bottles were already cleaned out but you will definitely want to make sure yours are 100% clean before placing any items in the bottles. Unless, of course, you are going for the Thanksgiving turkey scented office supply vibe.
Then I peeled the labels off the bottles, removed the sticker residue with Goo Gone and washed & thoroughly dried everything. Next it was time to spray paint the lids. I used black chalkboard spray paint (Valspar) and applied three even coats.
After they were dry, I seasoned the tops of the lids so that my first writings/markings wouldn't be permanently scratched into the surface. To do that I gently rubbed a piece of chalk, long side down, over the entire lid surface, then erased the chalk dust.
Time to fill my bottles! I tried to grab those items that have large quantities, are small, and like to get lost easily. I filled mine with binder clips, clothes pins, rubber bands, chalk, paper clips, staples, tacks, glue sticks and the round stickers that reinforce paper hole punches.
I labeled my jar lids with a piece of chalk because that's what I had on hand, but you could use a chalk pen or even a paint pen to make things more permanent.
I love that not only is this great for corralling all of those tiny items in one place, but that it easily transports from a craft cabinet to your desk. You could even fill it with homework supplies for the kiddos.
Thanks again for having me over at MFP! I am always thrilled to be here hanging out with you all and these three awesome ladies! I hope everyone has a wonderful day and I will see in the new year! Until then, you can take a peek at some of my other DIYs and craft projects over at Little Red Brick House.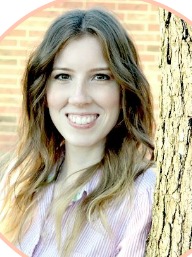 Thanks so much Sarah for this darling Organizer Caddy. Getting organized next year is definitely a goal of mine and this will help immensely!
This awesome post has been shared with Home Stories A to Z and Whipperberry