Do you love it when you learn a new cooking tip? I remember when someone told me how they cut and scoop out avocados and I've done it that way ever since. How do I do it? Well….that will have to wait for another post.
But today I learned a tip that I've never done before with potatoes. In reading the recipe from a pin that I pinned from Annie's Eats, the recipe stated to soak your potatoes in water before cooking. Really? I've never soaked my potatoes. Never even HEARD about soaking your potatoes. Now my sister, Sherri, might know about this as she is a fabulous cook, but my fries usually come from a bag. Yep, me and Ore-Ida make a mean french fry.
However, I wanted to make some french fries from scratch and this recipe really filled the bill. These turned out great and would make a great side dish to almost anything else you are preparing for dinner. I mean just look at these: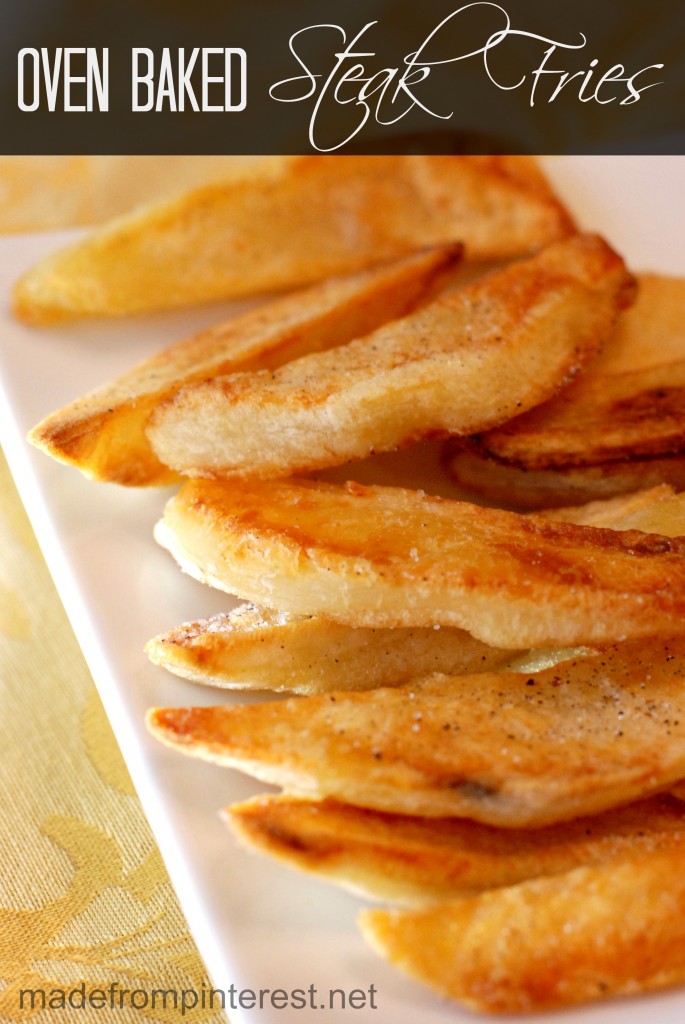 But enough of me yakking, let's get to the business of the recipe so here ya go!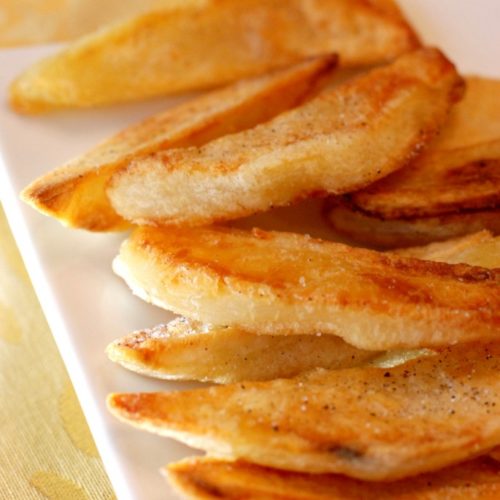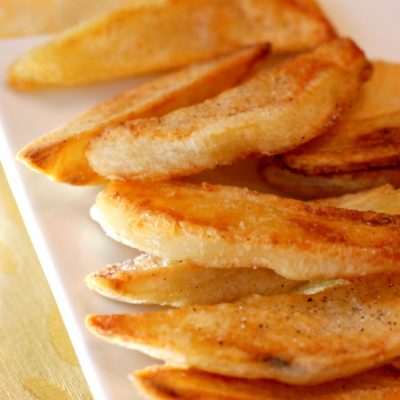 Oven Baked Steak Fries
Ingredients
3

russet potatoes

peeled and cut into steak sized wedges

5

tablespoons

of vegetable

peanut or canola oil

3/4

tsp

kosher salt plus more to taste

1/4

tsp

black pepper plus more to taste
Instructions
Preheat your oven to 475 degrees. Put all of your potatoe wedges into a large bowl then cover them with hot water. Let your potatoes soak for 10-30 minutes. I let mine soak for 30.

Pour 4 tablespoons of your oil into a jelly roll pan with sides. Use a pastry brush to coat the entire bottom.

Now sprinkle the salt and pepper evenly onto the pan and set aside.

Drain your potatoes and then pour them onto a paper towel or a clean towel and pat each potato dry. Wipe out the bowl that they just came from until that is dry also then put your potatoes back into the bowl. Add the remaining 1 tablespoon of oil and coat your potatoes.

Layer the potato wedges evenly on your pan and cover with foil. Put into the oven and bake for 5 minutes.

Remove foil and bake for another 15-20 minutes until the layer on the down side starts to turn golden brown.

Using a spatula, turn over all of the wedges so that another side will brown. Cook for another 15-20 minutes.

Rotate your pan to ensure even browning.

When all the potato wedges are beautifully browned, remove from oven and place potatoes on a plate with a paper towel and lightly pat potatoes to remove extra oil.

Sprinkle some more salt and pepper if desired.

Serve immediately while warm.
The tip of soaking your potatoes I think makes these potatoes moist and they didn't last long in my household so I would say that makes This Pin Rock!
If you liked these potatoes, you might also like these Lipton Onion Potatoes. We're famous for them!