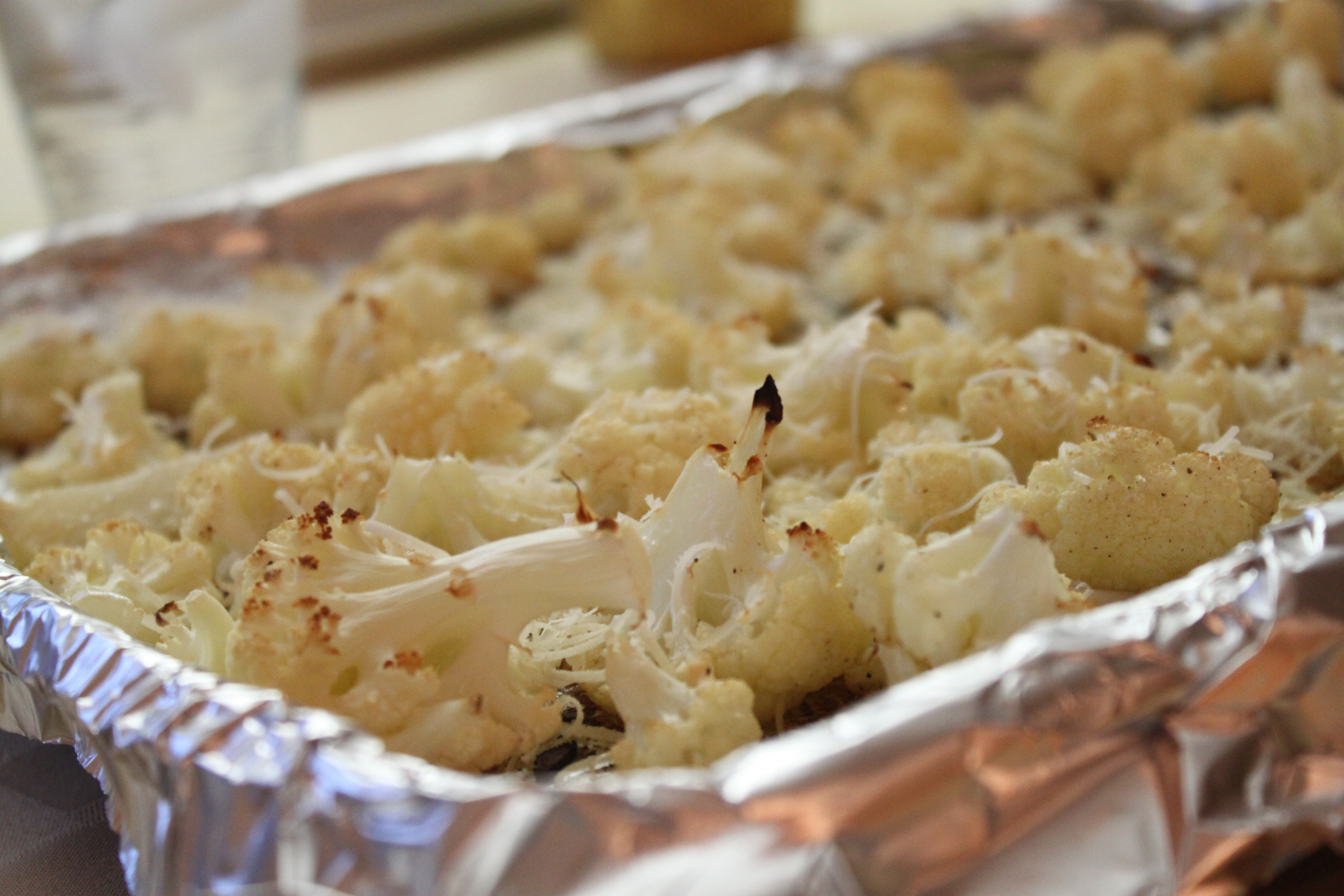 When the kids went back to school after Winter Break I was grumpy. I know as a mother sometimes I am grumpy when the kids go back to school because vacation is over, we have to get back to our regular schedule and the fun is ended. But this time, I was not grumpy for any of those reasons. I was grumpy because I had to pull out my fat pants. A few years ago I worked really hard and lost 20 pounds and it felt great! Recently I had a few things going on with my health that affected my exercise routine and I have gained all of it back. And I am grumpy about it. During the Christmas season I told myself this is not the time to try and tackle the problem. But… Christmas season is over, and I want to get back into my skinny jeans. They are way cuter. And I worked too hard to slide back into my fat pants and be okay about it! So I have been trying out some healthy recipes from my Pinterest boards. I was attracted to this Oven Roasted Cauliflower pin from One Perfect Bite because cauliflower is one of the vegetables my kids will eat a little of. When the kids were younger (they are teenagers now) I used to steam cauliflower and broccoli and call it trees and clouds to convince them to eat some. It worked, to a point. We usually have it steamed and seasoned with butter and salt and pepper. I generally have some left over that nobody eats.
I used a whole head of cauliflower in this Oven Roasted Cauliflower from One Perfect Bite and there was not one tiny morsel left! The pan was picked clean. My husband loved it and when he finished what he had put on his plate he started quietly picking florets with his fork directly out of the pan. The kids looked up and saw that all the cauliflower was gone. They were disappointed! They actually wanted more. How often to you teenagers say that? And about cauliflower! We are a family of four and one head of cauliflower was not enough for us! We loved how the garlic roasted giving you a surprise bit of sweet garlic and the brightness of the lemon was a hit. I have a large binder of all our recipes that are regulars in our family. When I am going to try a new one, I print it out, put it in the front pocket, where it stays until I have given it a try. After trying it, if it was good, it goes in a page protector which is it's new permanent home. It has made into the book. If not, it gets tossed. I used my premium sheet protector for this one! Give it a try. You will be glad you did. Happy green and clean eating!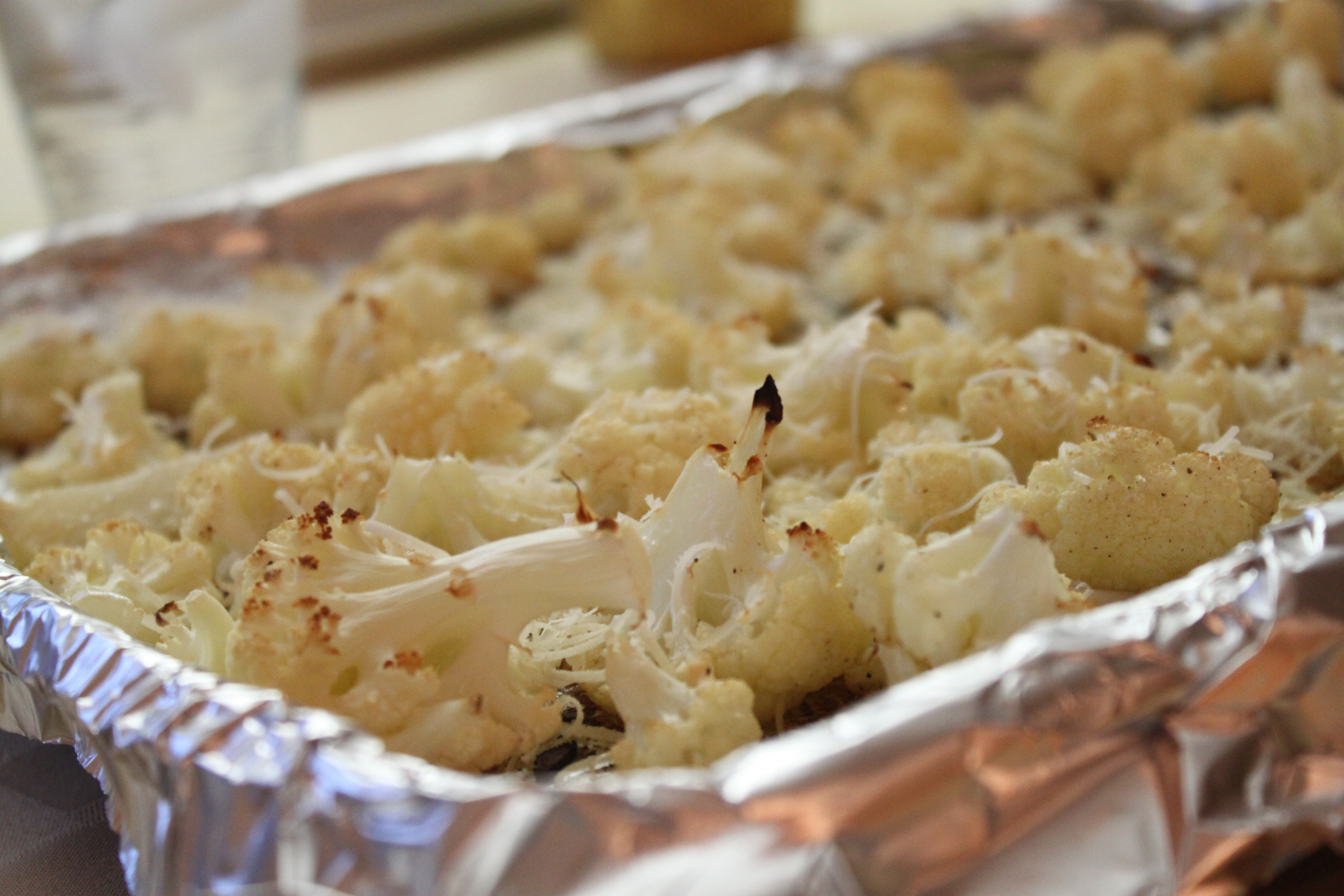 Oven Roasted Cauliflower
Ingredients
1

medium head cauliflower

about 2-1/4 pounds, trimmed and cut into florets

3

large cloves garlic

thinly sliced

1/4

cup

olive oil

2

tablespoons

lemon juice

1/2

teaspoon

salt

1/4

teaspoon

black pepper

2

Tablespoons

grated Parmesan Cheese
Instructions
Heat oven to 450 degrees F. Combine cauliflower and garlic in large bowl. Drizzle with olive oil, lemon juice, salt and pepper. Transfer, in a single layer, to a large rimmed baking sheet. Roast at 450 degrees F for about 25 minutes, stirring once. Sprinkle with cheese. Serve immediately.
This Pin Rocks!
Today we are happy to be linking with Gingerly Made, A Lil Dash of Diva, Glued to My Crafts, The 36th Avenue, Katie's Nesting Spot and Somewhat Simple