About 7% of all Boy Scouts achieve the rank of Eagle and my son is one of them! He was right up to the last minute, but it got done. Speaking of last minute, we barely managed to get his Court of Honor done before he left home on a mission for our church. Did you know that when a scout reaches the rank of Eagle the mother gets a pin? I just have to tell you, I really earned that thing. I worked hard to help him and so did his dad. It was definitely a family affair. Recently my brother-in-law heard how nervous I was about his board of review, because his Eagle project was not yet approved. If he had been turned down we would have had no time to do anything about it because he was turning 18 and it would be too late to do another project. He accused me of being one of "those" mothers. I am totally owning up to it. I am one of "those" mothers! One of "those" mothers that gets things done! One of "those" mothers that pushes her kids to accomplish things. One of "those" mothers who EARNED HER PIN! Have I told you that I am a Water Sports Merit Badge counselor among other things? My son gave me all the credit. But the truth is, he really did earn this honor. These pictures that my daughter snapped say it all. I always tell him he is my favorite son. It's true, too. I have one son and one daughter. I get to have favorites. I am so very blessed. Cheesy, right?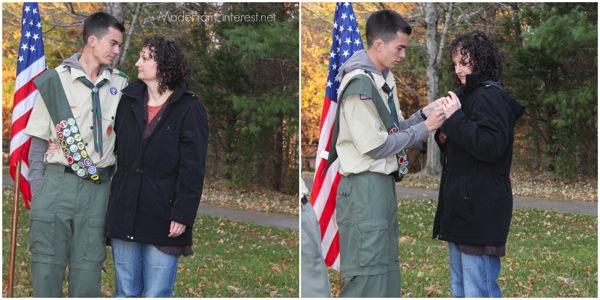 Speaking of cheese, I wanted to share with you some interesting facts about cheese and crackers. When someone like me needs info, I Google it or search Wikipedia. What I found was that there is nothing really interesting about them. Crackers and cheese, while a tasty snack, are boring. UNTIL NOW! Cream cheese with pecans, dried cranberries and a dash of hot sauce layered between deli slices of cheddar is way better than a boring old cheese and cracker tray! These cheese and crackers are ready to have a good time. And they are purty! I loved that I could make them well in advance and cut and arrange them just before serving. This is a yin yang sort of recipe. There is the balance between crunchy and smooth, spicy and mild, salty and sweet. It hits all the right notes. I brought these to my son's Eagle Court of Honor and they were popular even among the stellar yummy treats the three other moms whose boys were also being recognized had brought.
The next time I made these, I brought them to a dinner party. Usually I warn people to watch what they say about any food that might end up on our blog, because I just might quote them. But before being warned, one guest said he could stay and eat Party Cheese Ribbon Slices all day. He gave me permission to quote him. I could eat them all day long too. I love this combination of flavors. It looks so holidayish. These cheese slices just look like they should be at a party, right?
These are so easy to make. After mixing the cream cheese, nuts, dried cranberries and hot sauce, I layered the cream cheese mixture using a cookie scoop.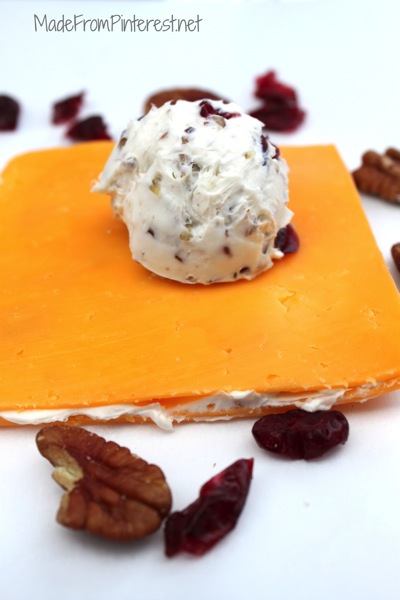 It was the perfect amount. Then I spread the mixture to the edges of the cheese squares and repeated layering 6 times. This yielded two stacks of cheese. After refrigerating for several hours I took them out and to keep it looking perfect, I trimmed off the raggedy looking edges, cut each stack in half and then into slices.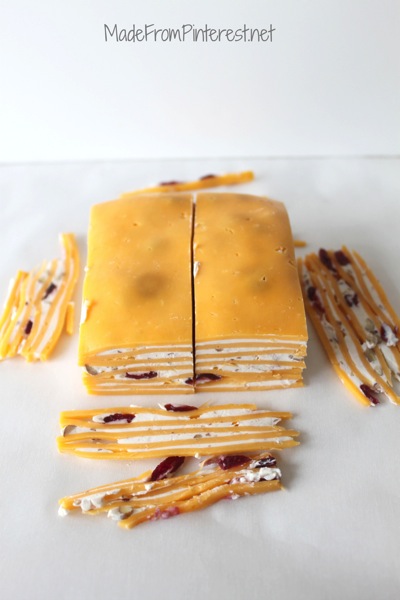 Those edges are good for pre-party snacking. Of course if you don't mind raggedy edges or don't like pre-party snacking, you can skip this step. But I like a little nibble, and these cut off bits are the perfect excuse. Thanks to Buttercream and a Sewing Machine for introducing us to this rockin' recipe.
Now just set them on a serving plate with crackers and you are ready to go.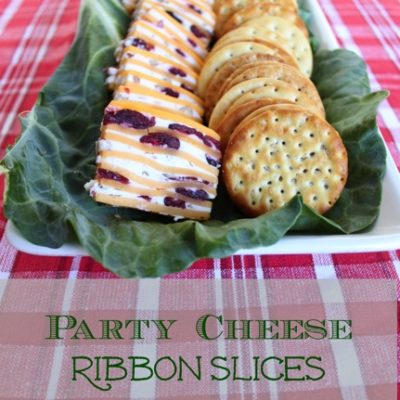 Party Cheese Ribbon Slices
Ingredients
1 8

ounce

package of cream cheese

softened

1/2

teaspoon

hot pepper sauce

1/4

cup

chopped pecans

1/3

cup

dried cranberries

2 8

ounce

packages deli-style cheddar cheese slices

about 3 inches square

Assorted Crackers
Instructions
Mix cream cheese, hot pepper sauce, pecans and dried cranberries.

On a piece of aluminum foil place one slice of cheese and spread one cookie scoopful of cream cheese mixture to the edges of the cheese. Repeat layers six times.

Fold foil around cheese and seal tightly. Refrigerate for 8 hours of overnight. Trim edges, cut in half lengthwise and then widthwise into 1/4 inch slices.
This Pin Rocks!