This is a sponsored post written by me on behalf of P.F. Chang's Home Menu. All opinions are 100% mine.
Having friends over for lunch doesn't have to be a lot of work! Sometimes I just need life to be simple. P.F. Chang's Home Menu line of frozen foods in your local grocery store makes it easy to prepare beautiful food for guests in about 30 minutes! I am going to give you all the tips and tricks to creating a Wok Wednesday get together that will have you friends saying, "Wow! That looks beautiful!" Mine did.

I invited 4 friends for lunch. Before inviting them over I wanted to test which of the meal options my family liked best before serving it to guests. I settled on Chicken Mini Egg Rolls, Mongolian Beef, Mongolian Chicken and Orange Chicken served over either PF Chang's Steamed Brown Rice or Steamed Jasmine Rice. There were so many PF Chang's Home Menu Entrees in the frozen section of the grocery store, it was tough to choose. I was impressed with the variety of choices. They all have their own sauces, we like that the veggies are crisp and colorful and you will find a great selection is in grocery stores nationwide.
It was nice to be able to have my friends over without a lot of fuss. We are all so busy, and it was nice to get together at home rather than a restaurant. We usually don't do that, because it is too much work. But this made it much more simple. And Chinese inspired food at home is something I would not try at home! It was a great break from regular lunch fare. Make sure to watch the quick video at the bottom of this post showing us having a great time! You will see how easy it is to decorate and prepare for your own Wok Wednesday with friends. Keep it simple and have fun!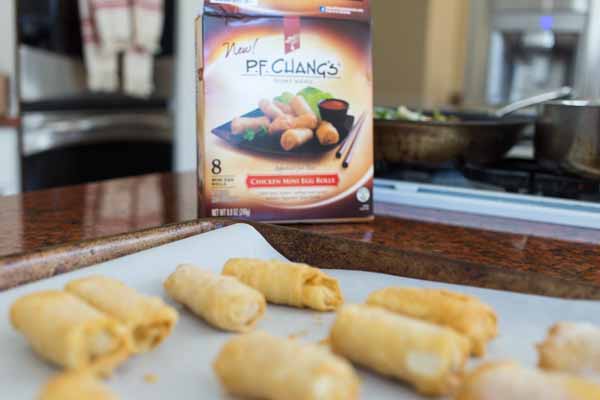 As it turns out, it didn't really matter what I had planned. Because when I went shopping for the big day, I must have been in a hurry. I did get the Orange Chicken right but I came home with Mongolian Chicken and instead of Mongolian Beef somehow Honey Chicken snuck its way into the cart, and I have no idea how that happened! Gotta say, not sorry. That Honey Chicken ended up being our favorite by far.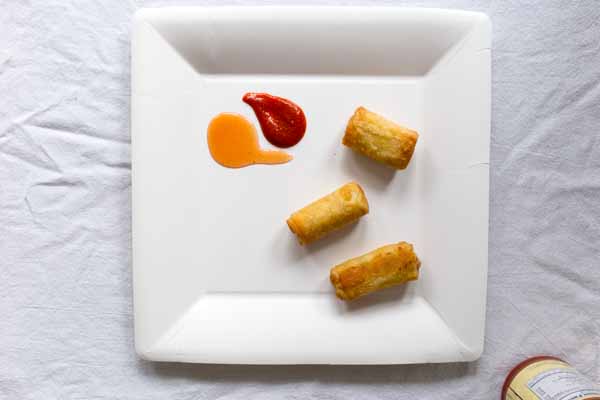 The Mini Chicken Egg Rolls come with a sauce packet that we found to be quite tasty. We decided to get adventurous and try pairing it with sriracha sauce. It was a hit! We loved the sweetness of the sauce combined with the heat of the sriracha. Everybody but one of us tried it. One friend did not bow to peer pressure and decided spicy was just not for her!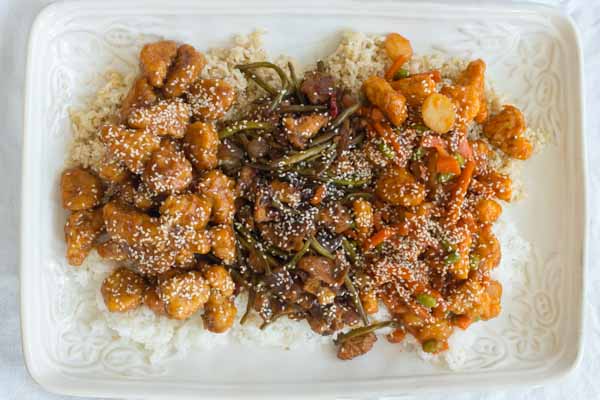 To make a beautiful presentation I spread the Steamed Brown Rice along the length of one half of my platter and Steamed Jasmine Rice along the other half. Then I put the three entrees widthwise on top of the rice and topped with sesame seeds. Everybody oohed and aahed when I set it on the table! It was nice because then guests could choose which kind of rice they wanted with each entree.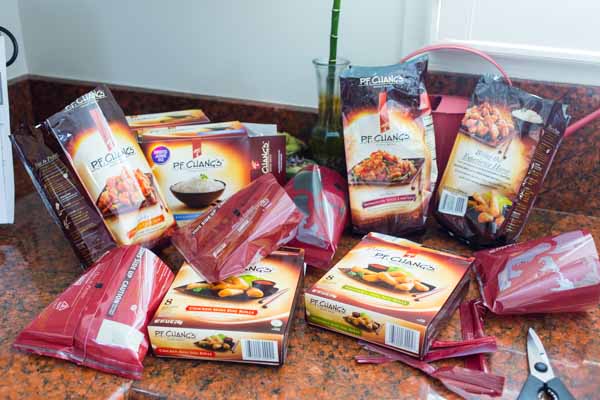 This is my home menu graveyard after we killed all the food. There was nothing left! Here are few of my tips for everything to turn out top quality:
There is a microwave option, and it is fine, but we found the flavor and texture of everything to be better when cooked in the oven or stovetop, right down to the rice.
The instructions on the rice packet say to cook one at a time, but there are two packets in each box, and on the stovetop both packets at once turned out to have great texture. That was a time saver when serving several people.
We were surprised by how much we liked the brown rice. In fact, the brown rice went first.
We did feel that adding a little bit of salt to the rice would make it taste even better. Next time I will add it to the water when cooking.
And while everything was really good, veggies crisp, meat tender, the Honey Chicken stole the show. Totally the tops!
Check out all the fun we had!
Wok Wednesday Giveaway:
One lucky reader will receive a Wok Wednesday Kit to enjoy your very own P.F. Chang's Wok Wednesday meal!
Wok Kit includes: branded woks, chopsticks, and tableware.
Here is how you enter: Leave a comment sharing your #WokWednesday celebration ideas. What would you do on #WokWednesday? Entry deadline is Wednesday, November 18th.