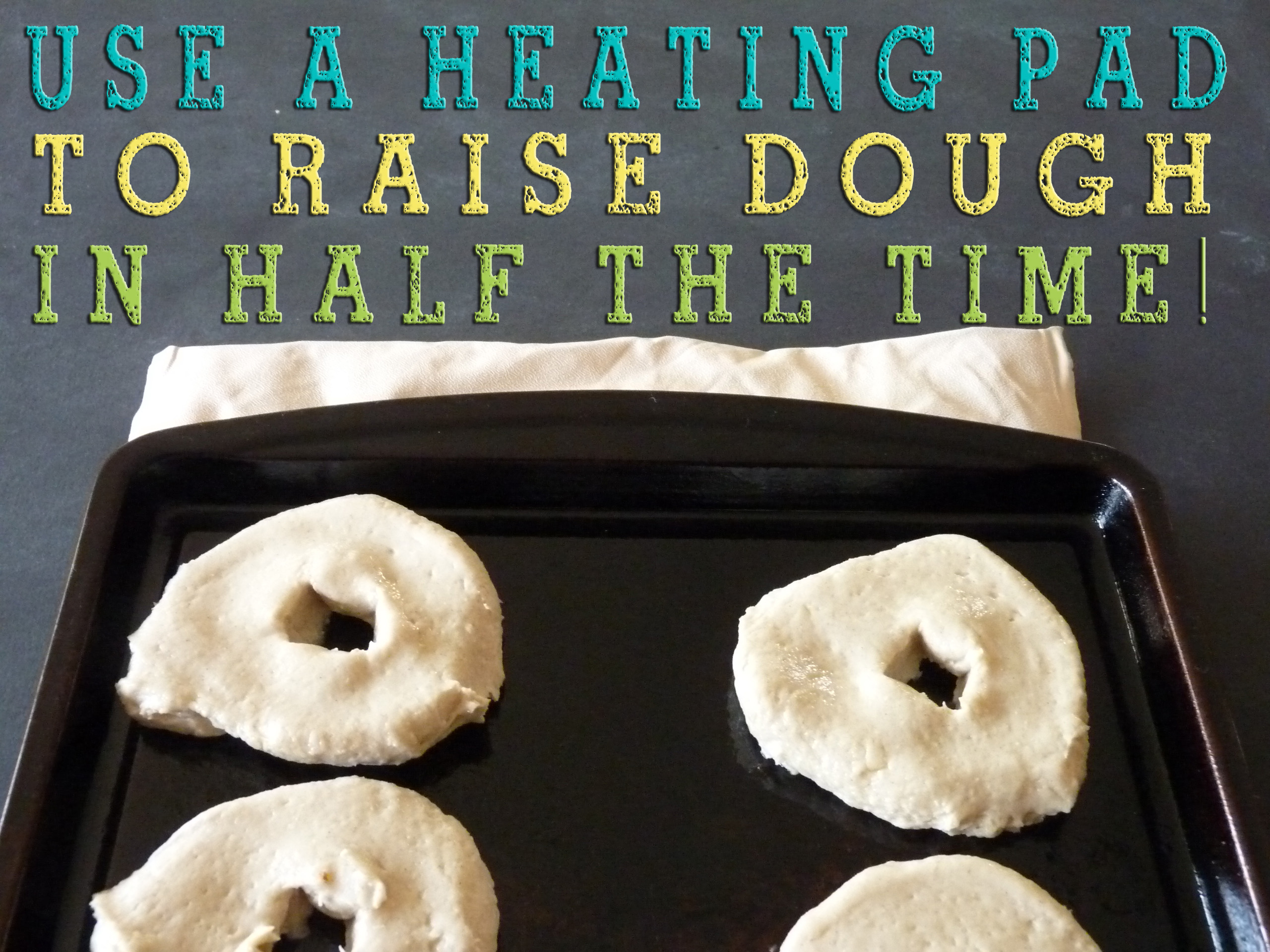 I just LOVE, LOVE, LOVE the smell of home baked bread of any kind! Then there is the taste of warm bread with butter slathered all over it, heaven! But, who has time for homemade bread? I know many of us have bread machine,s but I don't always like the way the crust turns out. Since going gluten free I make bread and bagels from a GF mix. Again, I don't like the way they turn out from the bread machine. So, when I found this pin I was REALLY hoping it would work and save me some time. I tried this method out on GF bagels that require a 1 hour rise time. I chose the medium setting hoping it would be just the right temperature. Woot, woot! I was correct, and my bagels rose in half the time! Happy day for me. I make homemade bagels about once a week, cutting the rise time in half is a really big deal to me. So there is only one thing left to do. Go to Target and buy another heating pad so I can quick rise two pans at once! Thank you Robyn from The Pink Peony of Le Jardin for the great idea!
I have found that whatever works with GF cooking will work with regular dough as well. So if you want homemade bread that is not from a bread machine, get your heating pad out and start baking!
Oh yes, This Pin ROCKS!
Update: Megin from VMG206 (LOVE her blog) requested the GF bagel recipe I use. Here is the original recipe and the minor alterations I have made.
I use quick rise yeast instead of regular yeast. Without a heating pad I let them rise for one hour, with the heating pad I let them rise 1/2 hour on the medium heat setting. I also add about 1/4 cup additional water to my bagels. Last alteration, I found 2 cups of cheese to be too much. We like 1 to 1/2 cups, depending on what cheese you use. We like sharp cheddar and Asiago is FABULOUS! The ultimate is to add some cheese to the top of the bagel the last 10 minutes of baking!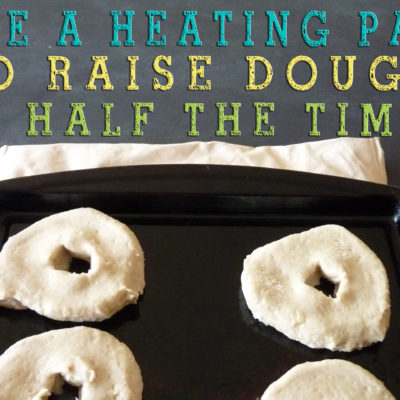 Gluten Free Bagels
Ingredients
1

bag

3-1/2 cups Pamela's Gluten-Free Bread Mix

2-1/4

tsp

1 yeast packet enclosed in 19 oz bread mix bag only

1-1/3

cups

warm water

1/4

cup

oil
Instructions
Use a HEAVY DUTY STAND MIXER with whisk attachment. Combine dry mix, yeast, oil and water (eggs are not used). Mix on medium for 3 minutes. Use 1/2 cup of dough for each bagel. Place on greased baking sheet. Use oil on fingers to form round bagel shape. Let dough rest for one hour then poke large hole in center of each bagel.

BAKE: Preheat oven to 400º. In boiling water, boil bagels for 25 seconds, remove with slotted spoon and place on greased baking sheet. Bagels do not have to be boiled before baking but it is suggested. Bake for 20-25 minutes.

FOR FRESHLY BAKED MORNING BAGELS: Prepare dough, shape bagels on greased baking sheet, cover and refrigerate overnight. Bagels will rise while in refrigerator. In the morning, preheat oven to 400º, boil bagels, then bake for 25-30 minutes.

Variations:

Whole Wheat Style Bagels: add 2 tablespoons Black Strap Molasses.

Three Seed Bagels: add 2 tablespoons sesame seeds, 2 tablespoons sunflower seeds, 1 tablespoon poppy seeds

Cheese Bagels: add 2 cups finely shredded cheese, 2 tablespoons melted butter (optional add 1/4 cup chopped green onions or jalapeno peppers)

Herb Bagels: add 2 teaspoons Italian herbs and 1/2 teaspoon onion powder

Cinnamon Bagels: add 2 teaspoon cinnamon and 1/4 cup sugar