A friend of mine introduced me to this dessert and it was love at first bite. I have been looking for a super easy way to make it myself. Some recipes for this traditional thai dessert can be quite complicated. Not so here. This recipe is is so simple with ingredients that are easy to find and tastes amazing.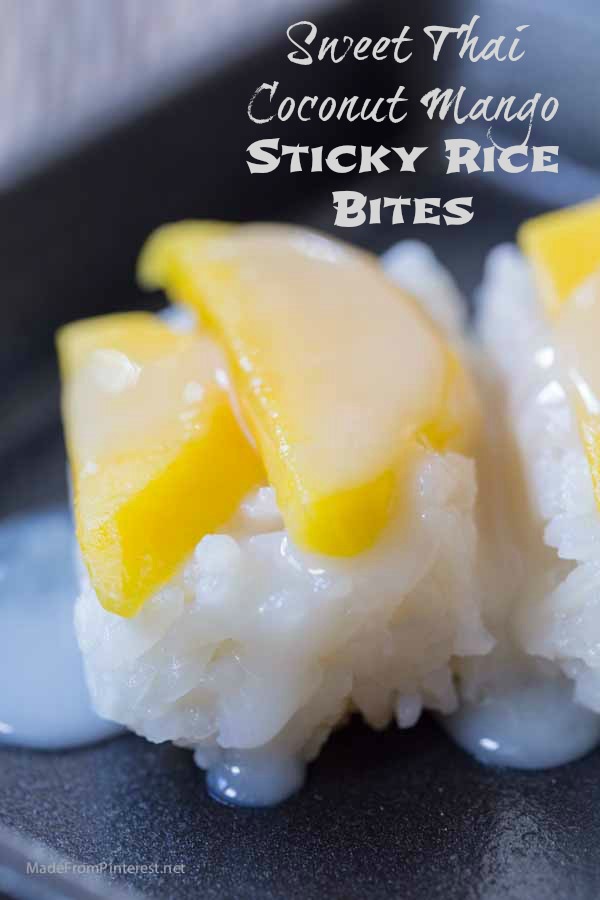 Sometimes I act like a kid. And as a kid, I was a picky eater. I don't like sushi. I try to like sushi. I just don't. I can force myself to enjoy a few bites if I try real hard, but then, not a fan. Sushi lovers are always telling me I just haven't been to the right sushi place. So I go with them. And manage a few not awful bites. And then it is over. My sushi loving friends also tell me I have not tried the right variety. Have you tried…? I try it; don't love it. I feel a little Sam I Am-ish about sushi. With so many people telling me how good it is, there just has to be a way for me to like sushi.
Sweet Thai Coconut Mango Sticky Rice Bites are not sushi. I LOVE them! This is my all time favorite dessert for my friends who are gluten sensitivite, because it doesn't taste like a version of something that normally has gluten. This sweet dessert tastes just like it should. Sweet Thai Coconut Mango Sticky Rice Bites are my kind of comfort food. These bite size desserts are a great way to get kids to try something new and expand their palate.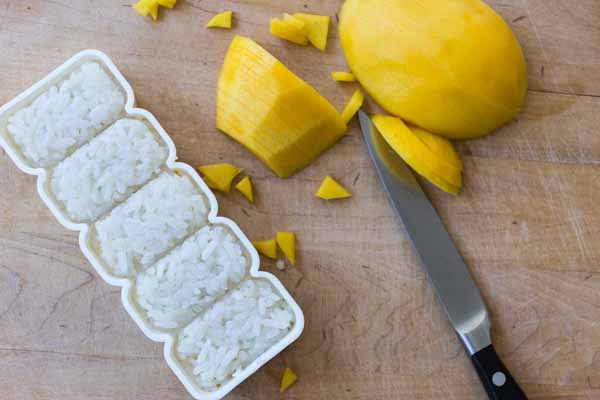 So I thought to my sushi adverse self, would I still like this dessert if it were in the form of sushi? I bought myself a sushi mold to test the theory. I know this is not traditional sushi. Thailand is not Japan. But putting Thai Coconut Mango Sticky Rice into a sushi mold made the perfect little bite!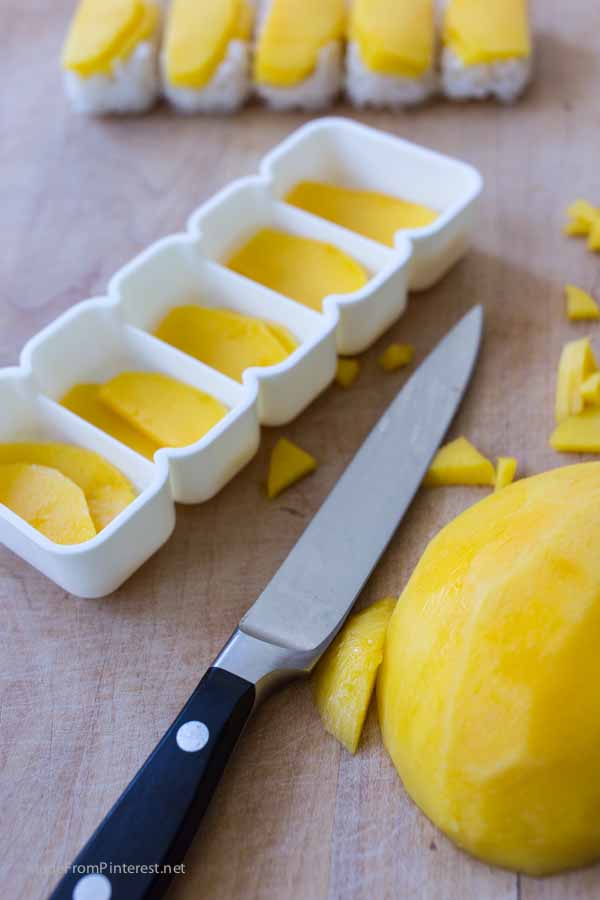 So if you will let me call this sushi, then I like sushi! If you don't think this counts, then I don't like sushi. These sushi molds are the coolest thing! The little hole at the top lets you push the sushi right out perfectly formed.
.
The colors are beautiful! Don't be afraid to experiment with different fruits. Berries or kiwi or banana would be some other kid favs. That might freak out those who know this traditional dessert well. It is ALWAYS served with mango! But then, I turned mine into sushi, so I am all about playing with you food. So I give you permission to get creative and serve it however your family will like it best. I like it best in my mouth.
This post contains an affiliate link, which means that if you use the link to purchase I will receive a small compensation at no additional cost to you! I only share things I am truly happy I have in my kitchen, so we both benefit!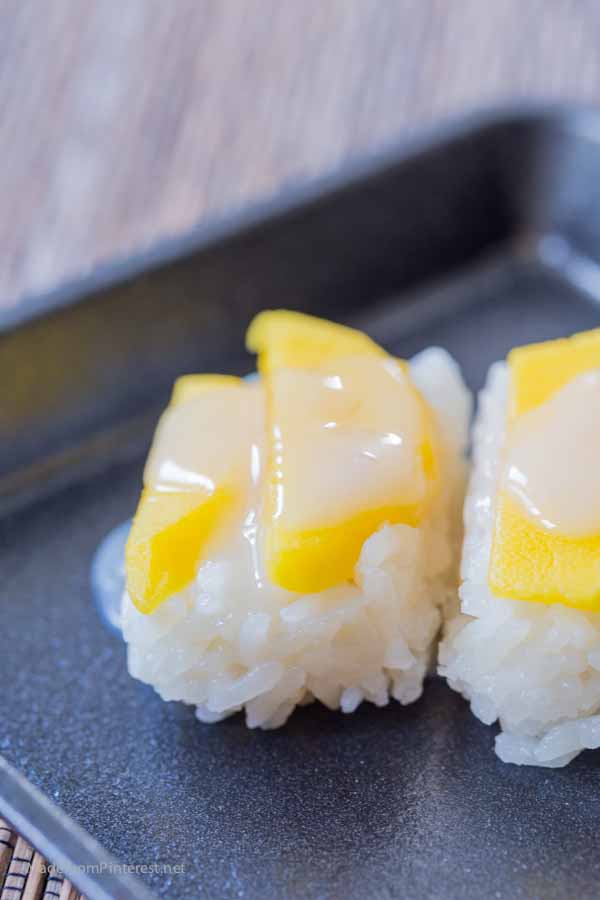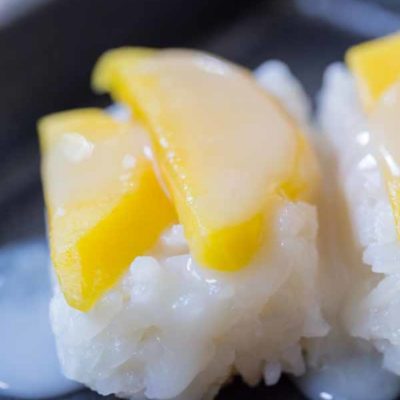 Sweet Thai Coconut Mango Sticky Rice Bites
Ingredients
1/2

cup

jasmine rice or any short grain asian rice

1

can coconut milk

1/2

cup

sugar

divided

1

mango sliced
Instructions
Cook rice according to package directions, substituting half the water with coconut milk and adding 1/4 cup sugar.

Check during cooking and add more water a few tablespoons at a time if needed.

It will be sticky without any liquid left at the bottom when done.

While rice is cooking, boil the rest of the coconut milk with the remaining 1/4 sugar. Reduce to a simmer and continue cooking until the sauce becomes thick and syrupy.

Place two slices of mango over each hole in the sushi mold. Spoon half the rice mixture into the mold on top of the mango slices and press with the lid.

Remove the lid, flip the mold over and press gently on mango slices to release. Place on platter, drizzle with warm coconut sauce and serve warm.