Hi again, everyone! Marye from Restless Chipotle is here. I want to share a no-bake, quick and easy candy recipe for Peanut Butter Pretzel Bark. It is just perfect for holiday giving.
Addictive chocolate and peanut butter treat topped with some salty pretzels will save the day. Make these together with your grandkids, and have fun!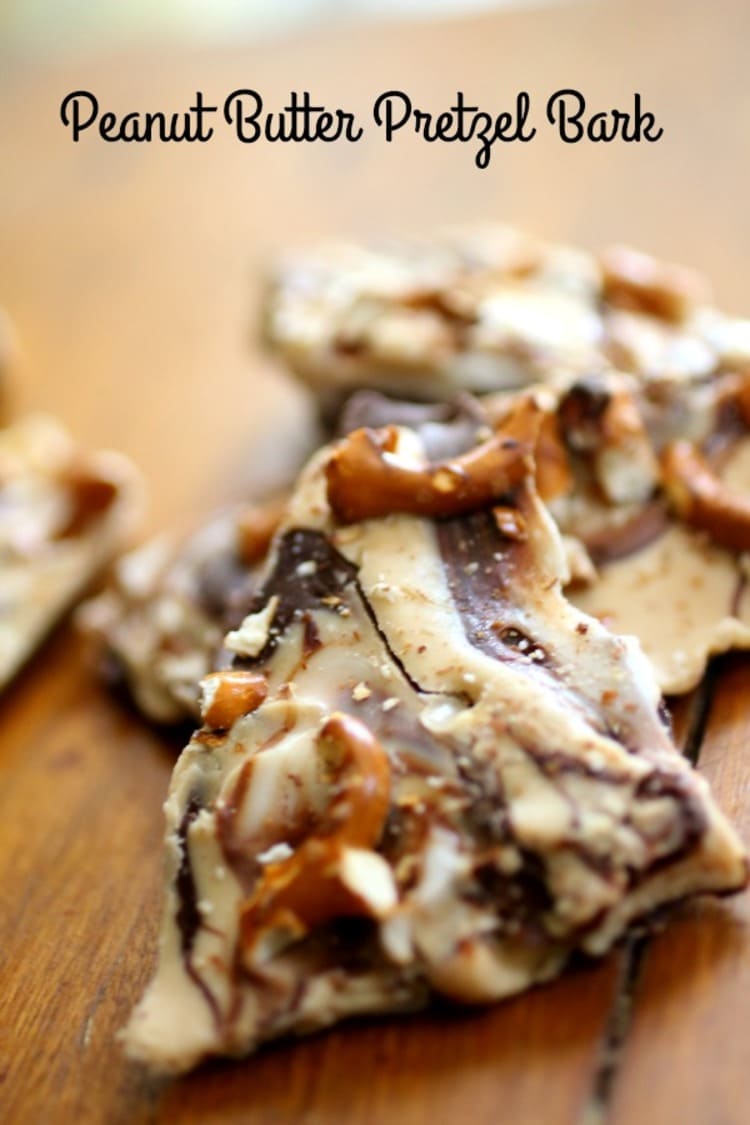 Why I made this recipe?
Call me a peanut butter maniac, but I love to add this tasty cream to my snacks, sandwiches, even salads. Well, yes, I do eat it out of the jar sometimes. Certainly, it is no surprise that this recipe is packed full of peanut butter and chocolate chips. But it needed a little bit of salt for an additional twist.
Then, I came up with the idea to add some crushed pretzels on top. And it made the difference! You have heard of salted caramel and chocolate with sea salt. Trust me, chocolate peanut butter with pretzels is the thing you need!
Why are you going to love Peanut Butter Pretzel Bark?
I don't know about your family, but mine all have a sweet tooth the size of one of those prehistoric sabertooth tigers. Maybe bigger. In fact, especially around the holidays, we all let down our guards a little and enjoy treats more than usual. That is what makes holidays so great!
First of all, one thing I like to make is candy. Certainly, homemade candy is the best. It's one of those things that people don't make much anymore — when's the last time someone you know had a taffy pull?
See what I mean?
All of that changes around the holidays. Everyone digs out their family recipes for fudge, peanut brittle, and pralines and makes pounds of sugary sweets. In my opinion, the sugar companies love us.
The thing is that candy can be persnickety. If it's too humid, too hot, too cold, or you're not holding your mouth right, you can end up with a sticky mess. That's why I like microwave candies, indeed. They are quick and easy, plus every bit as good as the more complex kinds.
What is more, this peanut butter pretzel bark is so easy that your older elementary grandkids can make it. You have to have 3 microwave and oven-safe bowls. I used my French Onion Soup bowls — you know, the crockery kind with handles?
After you melt the chocolate in the microwave, you should keep it in a warm oven. It won't allow it to harden up.
You don't want to put a bowl in there and have it explode everywhere. It's a mess to clean up! And more importantly, it's a waste of good chocolate.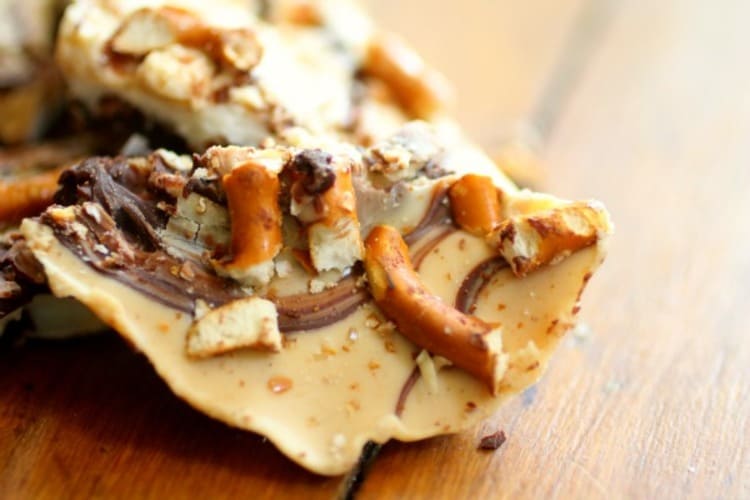 No-bake recipe to make with your grandchildren
Even the little ones can do this recipe with no difficulty. Prepare the ingredients in separate bowls, and your grandkids will enjoy the process. For instance, crushing and sprinkling the pretzels, drizzling the peanut butter mixture, making swirls can be a lot of fun!
Without a doubt, they can get a little messy and eat some melted chocolate, but this is part of the process. Use every opportunity to get help in the kitchen. What is more, grandkids are always curious to learn and see new things. It is a way to keep them busy for a little while, too.
They will learn how to:
melt ingredients of different textures – solid chocolate and creamy peanut butter

stir and blend the ingredients

make swirls and decorate the melted mixture with pretzels

clean the countertop and kitchen tools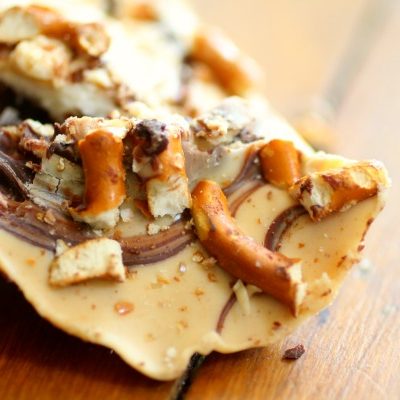 Peanut Butter Pretzel Bark
Ingredients
2

cups

milk or semi-sweet chocolate chips

2

cups

white chocolate chips

divided use

1/4

cup

creamy peanut butter

2

cups

coarsely broken pretzel twists.
Instructions
Spray an 8x8-inch pan with cooking spray.

Cover with waxed paper.

Spray the paper with cooking spray and set aside.

Set the oven to warm.

Melt the chocolate chips in an oven proof bowl in the microwave, stirring often until smooth and "drippy"

Place in the oven to keep warm.

Melt 1 cup of the white chocolate chips in the microwave, stirring often until smooth.

Place in the oven to keep warm.

Melt the 1/4 cup peanut butter with the remaining cup of white chocolate, stirring to blend.

Place in the oven to keep warm.

Spread the chocolate mixture evenly over the waxed paper.

Sprinkle with 1 1/2 cups of the pretzels.

Drizzle the white chocolate over the top.

Drizzle the peanut butter mixture over that and used a knife to swirl the mixtures together gently.

Sprinkle the remaining pretzels over the top and press lightly.

Chill until the chocolate has hardened.

Break in pieces to serve.
Nutrition
Serving:
1
g
Calories:
203
kcal
Carbohydrates:
24.7
g
Protein:
3.5
g
Fat:
10.3
g
Saturated Fat:
6
g
Cholesterol:
6
mg
Sodium:
164
mg
Fiber:
1
g
Sugar:
16.1
g
Peanut butter treats are my favorite
Peanut butter has to be a part of a balanced diet. It is a high-calorie food, and you shouldn't eat much of it. One spoonful a day is considered enough. Make sure your intake is moderate.
However, if you try to lose weight, be careful with the sweeteners added to the peanut butter.
Peanut butter is rich in protein, antioxidants, and minerals. It has vitamin B, vitamin E, manganese, magnesium, and others.
It is packed with healthy nutrients, and you can easily incorporate it into your diet. Add some peanut butter to your breakfast cereal or smoothie. Make a sandwich with peanut butter and a banana. Top some fruit with it and enjoy! There are so many ways you can eat it.
Benefits of peanut butter
nutritious and healthy

contains healthy fats

helps maintain good cholesterol

contains Omega-6

good source of protein

rich in antioxidants

rich in minerals
How to make Peanut Butter Pretzel Bark healthier?
Looking for a healthy allergy-friendly alternative to this recipe? If you want to make it healthier and substitute some of the ingredients, be my guest.
Peanut butter is a good source of protein. It adds a health benefit to this recipe. I should note that peanuts are allergens, too. Make sure that your guests are not allergic to nuts before you serve them.
You can use sugar-free and dairy-free dark chocolate to make it more healthy. It will reduce the calories, too.

To make the recipe vegan-friendly, use dairy-free chocolate. There are no other animal products included.

Are you wondering how to make the recipe gluten-free? Instead of pretzels, you can add gluten-free crackers or salty biscuits.
It is the way to make this recipe guilt-free and enjoy without any regrets.
The Peanut Butter Pretzel Bark is:
nutritious

sweet

crunchy

peanut buttery

with chocolate flavor

with salty crushed pretzels

perfect for your party candy bar

no-bake and easy to make

with simple ingredients
What kind of peanut butter to use?
I am a fan of all things peanut buttery! I won't get tired of it. Creamy or chunky style, it doesn't matter. Actually, there is peanut butter with dates or chocolate to make it sweeter.
Use the type that you prefer. In this recipe, I use the creamy one. Chocolate makes it sweet enough. You don't need to add other sweeteners.
In fact, I've heard of a peanut butter powder, but never tried it. Surely, it is the next thing on my to-do list.
Tips for making the perfect Peanut Butter Pretzel Bark
Surely, some things can go wrong during the cooking. Don't let that happen. That's why you should follow the steps of the recipe correctly. And these tips will help you make the perfect candy treats.
Make sure you don't overheat the chocolate in the microwave when melting it. It can burn easily.

The same goes for peanut butter.

Spread the mixture evenly on the paper.

The layer should not be too thin.

Make sure you distribute the pretzels evenly and add too much to some of the areas.
When is the time to make Peanut Butter Pretzel Bark?
Undoubtedly, you can make these easy treats any time you wish. When you have a sweet tooth, this dessert will satisfy your cravings in no time.
Are you hosting a party? Or maybe you are planning a family dinner? You can't go wrong with Peanut Butter Pretzel Bark! Who doesn't like the chocolate and peanut butter combination? It is a lovely addition to your party candy buffet. Not only the kids, but adults will enjoy it, too.
Make this recipe for:
family reunion

Christmas dinner

any other holiday dinner

birthday party
Take this to your next party, and it is going to be a hit!
Nutritious, sweet, and rich in protein, these candy treats are unreal!
How to serve Peanut Butter Pretzel Bark?
It is the easiest part of all! Since it is a chocolate candy bar, you can break it into pieces and serve it on a large plate. Treat it like any other chocolate bar or candy.
In fact, it is finger food, so don't be afraid to eat it with your fingers.
Make sure that the temperature is not over 24 degrees because the chocolate will start to melt. You can bring it in a box or cover it with aluminum foil to protect it from melting.
Don't consider bringing it to a picnic or a garden party if you can't protect it from the direct sunlight or the weather is too hot. Otherwise, you can end up with a melted mess in your hand.
For instance, decorate it with fresh fruit to make it more attractive and colorful.
How to store your Peanut Butter Pretzel Bark?
I recommend you make this recipe a few hours before your guests arrive at the party. The chocolate needs time to harden.
For example, you can make it the night before, and serve it when your guests come over.
After that, if you have any leftovers, refrigerate them.
In conclusion
Are you looking for a tasty peanut butter treat? Look no further. This recipe is so easy and delicious.
In short, chocolate and peanut butter go together so well! Add some crunchy pretzels on top, and it is a homemade candy bar that will taste beyond your expectations. It is hard to resist one of these candy peanut butter treats.
Give this a try and let me know what you think. As you can expect, ours disappeared fast!
If you like this Peanut Butter Pretzel Bark recipe, you can try these other peanut butter treats: