Are you a grandparent of teenagers? I'm not quite there yet but when they do become teenagers, I want to be a cool Grandma. I want to know about things that are trending in their lives and what they think is "cool". Around where I live, there are soda stores and bakeries that are popping up that the local kids think are pretty cool. One store is called "Swig" and they offer sodas with a ton of different flavors and they are very well known for their sugar cookies. Hence today's post on this Swig Sugar Cookie Recipe!
The first batch that I made of these cookies were too much for just my husband and I to eat by ourselves so I took them to our next door neighbor's. They have a lot of kids and I thought it would be fun for them to have these as an after school treat. Their oldest teenage daughter answered the door and pretty much before I could say anything, she excitedly asked "Are those Swig cookies?!!"
I was cool right then and there.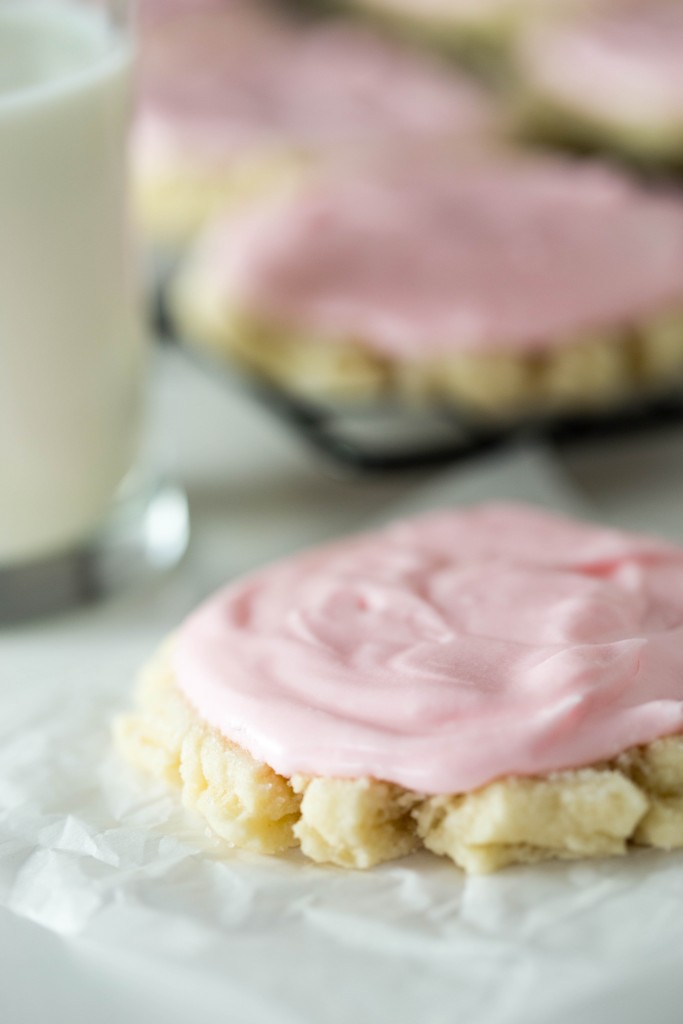 I then made them again for Valentine's Day and my daughter inhaled them saying that they were much better because I had made them with almond extract instead of vanilla. It's kind of my signature cookie secret.
Bam. Cool again.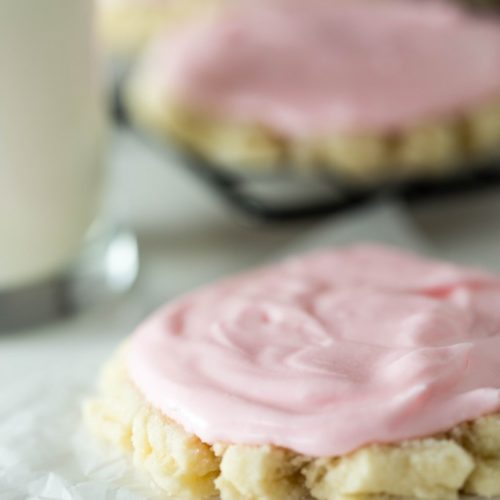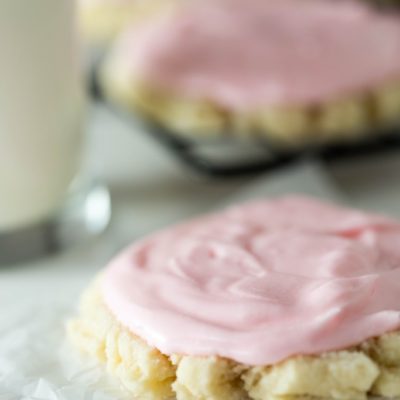 Swig Sugar Cookie Recipe
Ingredients
Cookies
5

cups

flour

1

tsp

salt

½

tsp

baking soda

½

tsp

cream of tartar

1

cup

2 sticks softened butter

¾

cup

vegetable oil

1¼

cup

sugar

¾

cup

powdered sugar

2

TBL water

2

eggs

1

tsp

almond extract. Can also use vanilla

Additional 1/2 cup sugar for dipping your glass into to smash cookies. Do not add this into the cookie mix.
Frosting
5

tablespoons

Land 'o' Lakes butter

softened

⅓

cup

+ 1 TBL sour cream

¼

tsp

salt

2-3

TBL milk

3.5 to 4.5

cups

powdered sugar

1

tsp

almond extract. Can also use vanilla.

1

drop red food coloring. I used two drops of neon pink.
Instructions
Cookies
Preheat oven to 350 degrees.

In a separate mixing bowl, mix flour, salt, baking soda and cream of tartar. Set aside.

In a large bowl, cream together butter, sugar and powdered sugar until well blended.

Slowly pour in oil while mixing all the time.

Add water, almond extract and eggs, blending well.

Add dry flour mixture to the wet ingredients and mix until well incorporated.

Roll cookie dough into 2 inch balls.

Put the additional 1/2 cup sugar into a small bowl.

Place the 2 inch balls onto an ungreased cookie sheet about 3 inches apart because they will spread.

Place a glass into the sugar (you may need to press the glass against some cookie dough to get the sugar to start to stick) and then press into the balls of dough.

Press until cookies are about 1/2 inch thick. The edge will become jagged and the cookie will spread beyond the bottom of the glass.

Bake for only 8 minutes. You do not want to over bake these cookies. 8 minutes is just about perfect.

Remove cookies from cookie sheet and transfer to a wire rack to cool.

If you aren't going to frost these cookies right away, place them in an airtight container until ready to frost. This is what keeps them moist. I usually layer them in a gallon size ziploc bag.
Frosting
Cream together butter, sour cream and salt.

Add powdered sugar and add milk as needed.

Add almond extract and food coloring (1 drop red OR two neon pink) until well blended.

Add either more milk or more powdered sugar as desired. I like my frosting on the thicker side.

Spread over cooled cookies and serve immediately.

You can also allow the icing to dry a little then place in an airtight container until ready to serve.
If you want to be a "cool Grandma" to your teenage grandkids, make a batch of these Swig Sugar Cookies. If your teenage grandkids don't know about these cookies, then you're already cooler then they are.
Toodles!