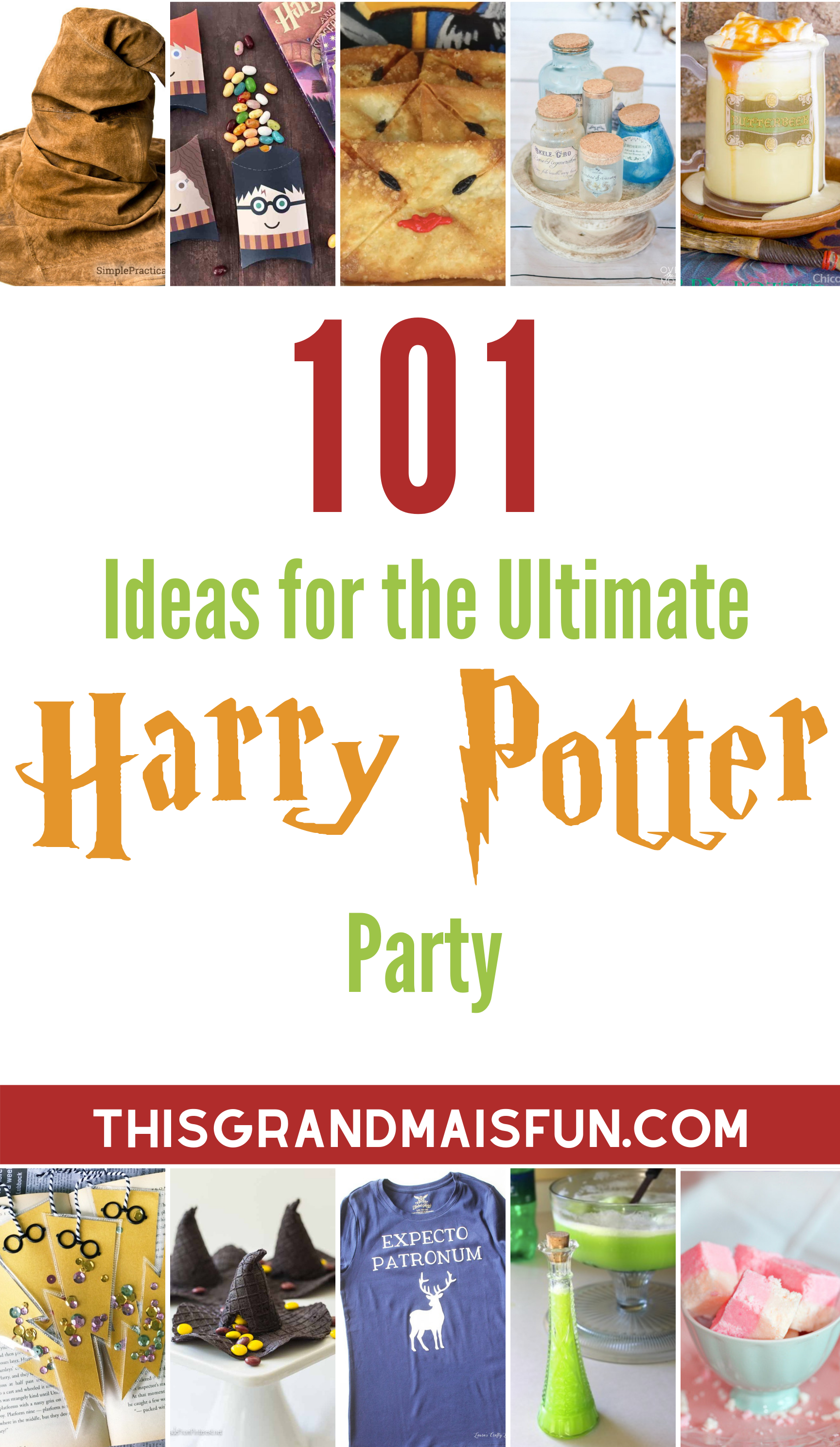 I have a confession. I love Harry Potter. No, I mean it. I really, really love Harry Potter. It's not that I'm not in love with Harry Potter. He just happens to be my favorite (fictional) person in the whole wide world. I cry when he cries. I laugh when he laughs. His triumphs are my triumphs! I'm always cheering him on. He's not even real. Totally fiction. But, reading his story as he grows up and becomes who he's meant to be- ugh. I just grew to LOVE this character. I just want this totally fake, not real person to be happy in his totally fake, not real universe. If you love Harry as much as I do (or if you love him to a lesser, more sane degree…), then you'll love our 101 ideas for the ultimate Harry Potter party!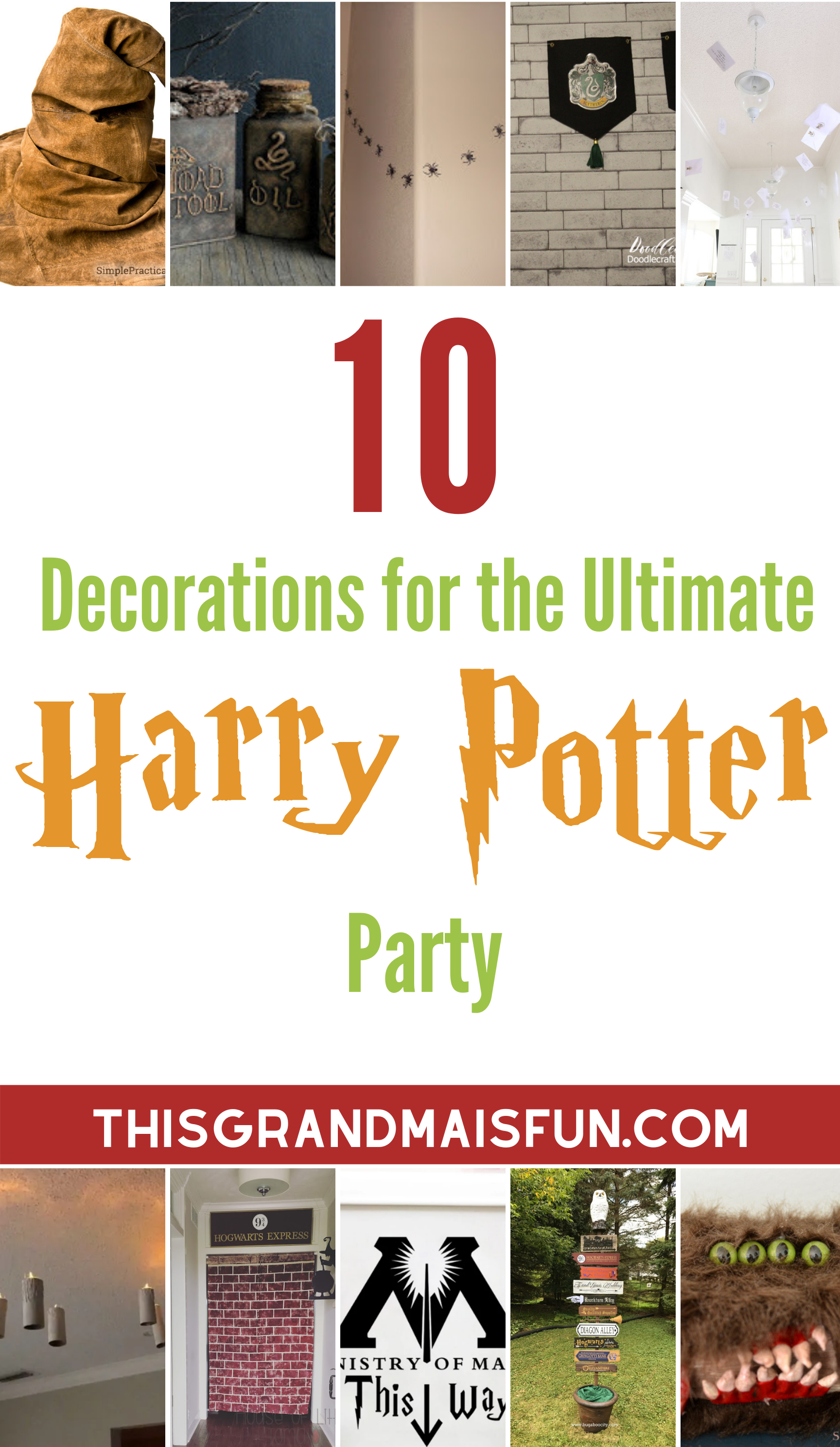 Don't be afraid to go heavy on the decor. This is Harry Potter we're talking about…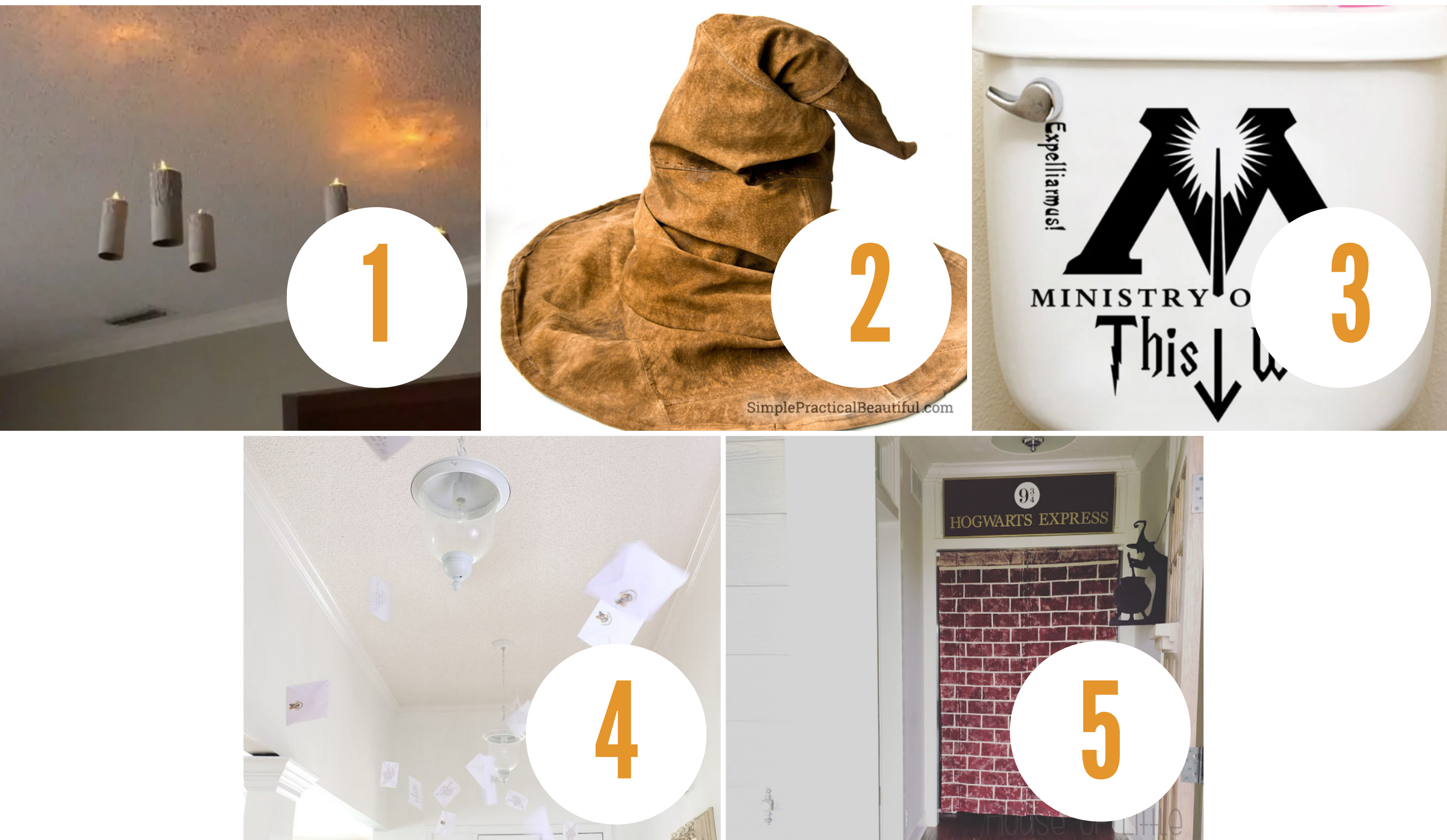 1. Floating Candles– Wow party guests with this DIY from A Few Shortcuts!
2. Sorting Hat– Are you a Gryffindor, Hufflepuff, Ravenclaw, or Slytherin? Find out with this DIY from Simple Practical Beautiful!
3. Ministry of Magic Vinyl Toilet Decal– I love this decal from The Mage's Emporium so much, I'm probably just going to keep it on the toilet forever.
4. Flying Letters– And so Harry's Hogwarts journey begins! Relive this iconic moment with Life on Summer Hill's DIY.
5. Platform 9 and 3/4– Give your guests an authentic wizard experience with this amazing entryway from House of Little Tomato!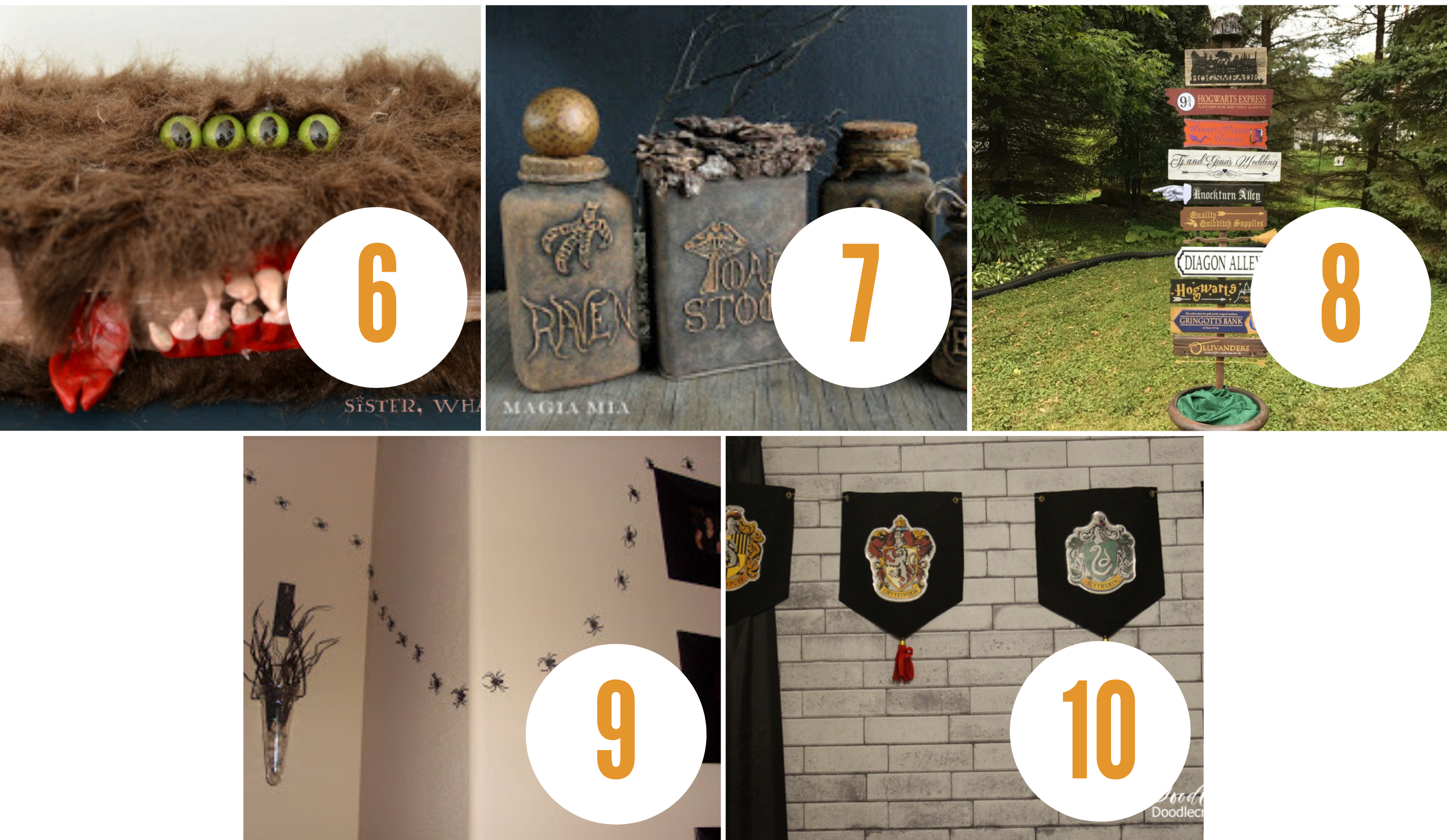 6. Monster Book of Monsters– This Monster Book from Sisters, What! adds the perfect wizard touch, don't ya think?
7. Potion Bottles– Magia Mia's potion bottles feel so authentic!
8. Directional Sign– In case anyone gets lost in the Wizarding World, they can always look to this sign from Crafting Cheerfully!
9. Spider Trail– "Follow the spiders!" with your own spider trail from Cupcakes, Kisses N' Crumbs.
10. Hogwarts House Banners– Let the rivalry begin! Get this cute DIY from Doodlecraft .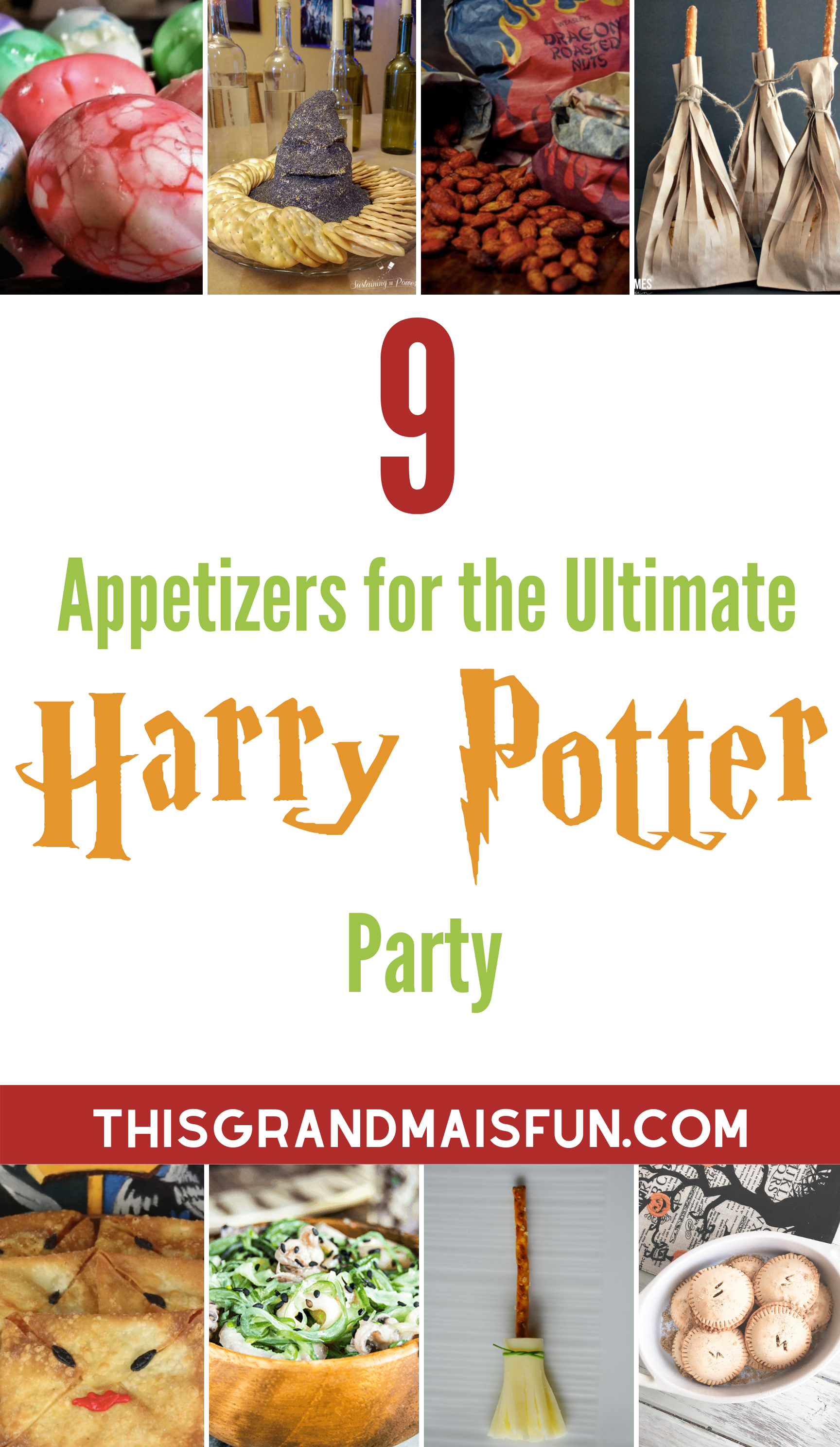 A real wizard party means real wizard food. And lots of it.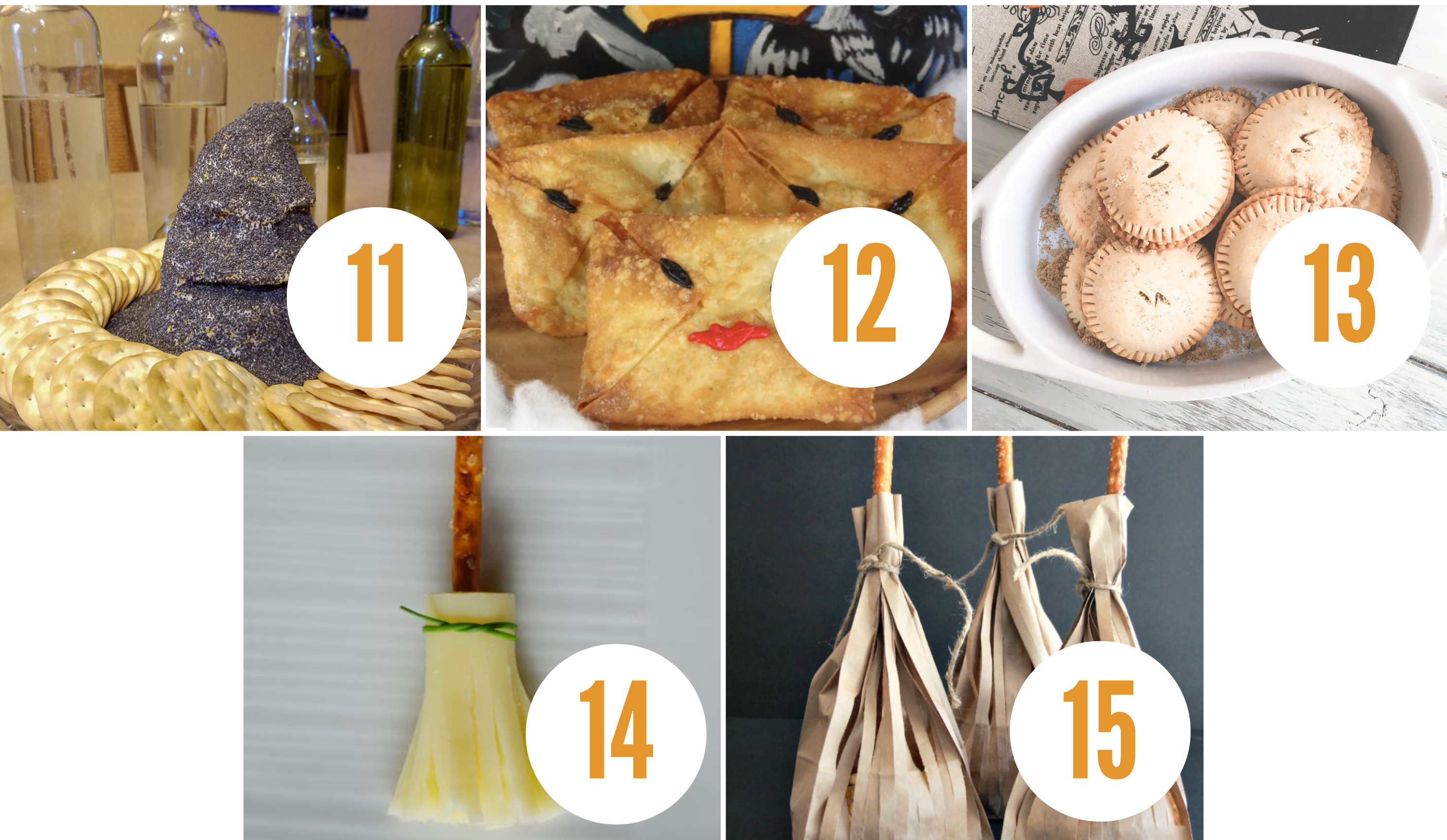 11. Sorting Hat Cheese Ball– If you've ever wondered what the dusty, dirty Sorting Hat would taste like (who hasn't, right?), here's your chance to test it with this recipe from Sustaining the Powers.
12. Pumpkin Howlers– I can already feel the burning humiliation. Find the recipe at Food and Wine!
13. Pumpkin Pasties– Alexa Pettengill's pumpkin pasties are a true wizard classic!
14. Pretzel and Cheese Broomsticks– What Harry Potter party wouldn't be complete without a broom themed snack? Try out One Little Project's edible broomsticks!
15. Popcorn Broomsticks– And on that note, you'll definitely want to try Kelly Leigh Creates's popcorn broomsticks too!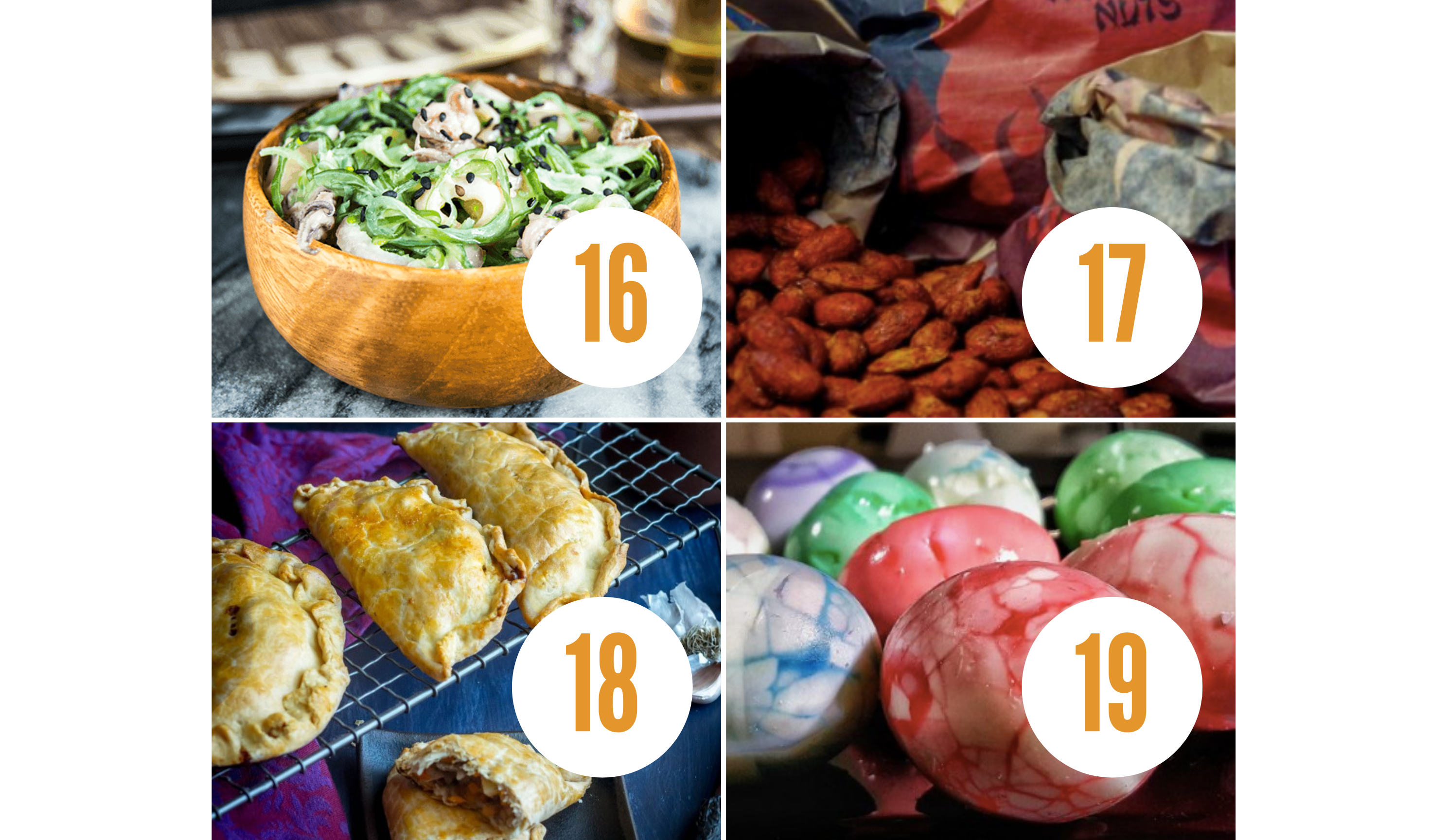 16. Gillyweed Salad– I never knew how appetizing Gillyweed could be until I found this salad from The Starving Chef! (PSA: Do not attempt to breathe underwater after eating Gillyweed salad.)
17. Weasleys' Dragon Roasted Nuts– Set your breath on fire with these delicious nuts from In Literature!
18. Cornish Pasty– If you're looking for something a little more savory, you'll love Feast of Starlight's traditional pasty!
19. Dragon Deviled Eggs– For a truly magical appetizer, you have to have these eggs from Simply Potter!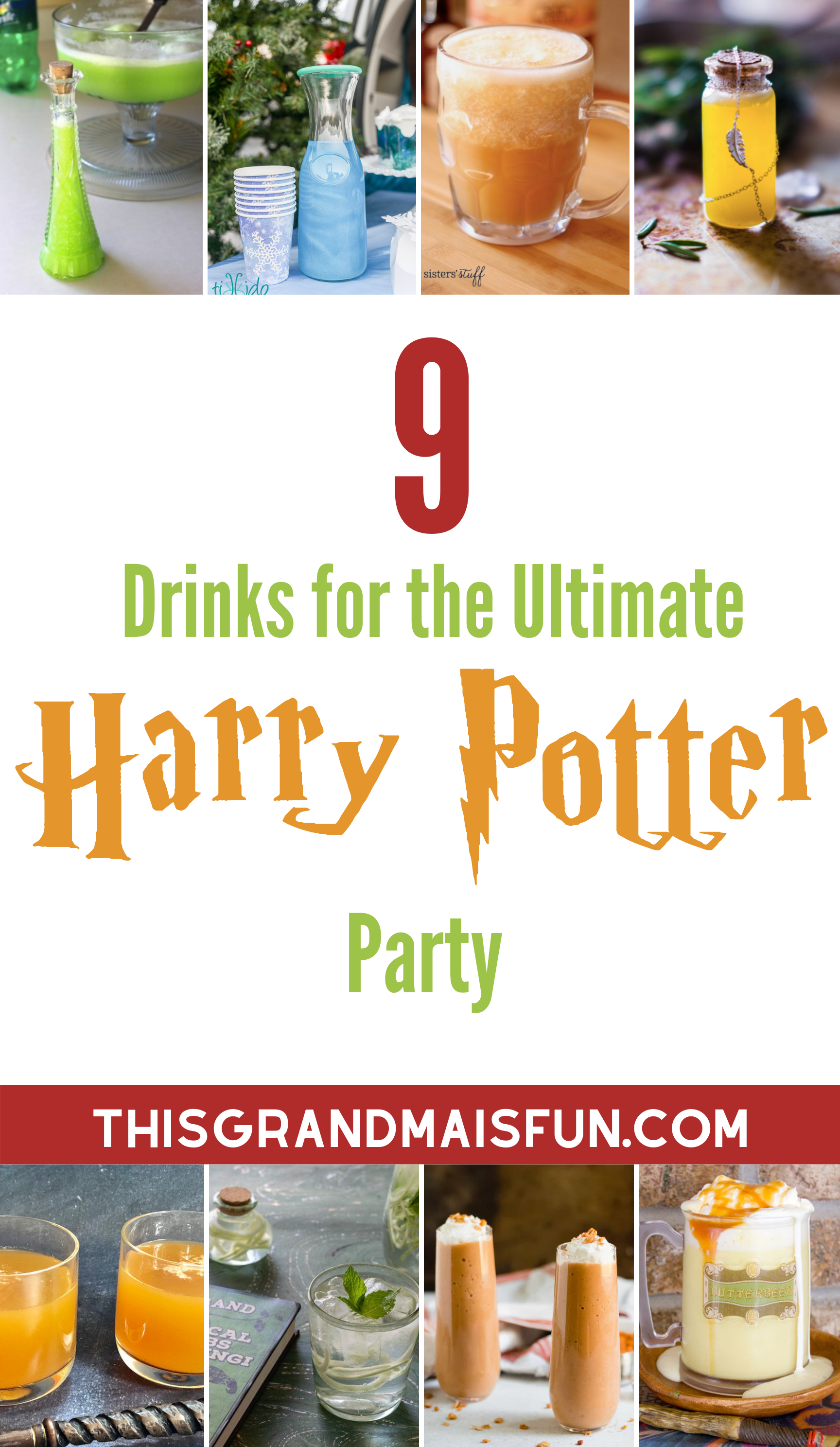 We love wizard drinks. Especially butterbeer. We have 3 different butterbeer recipes for heaven's sake!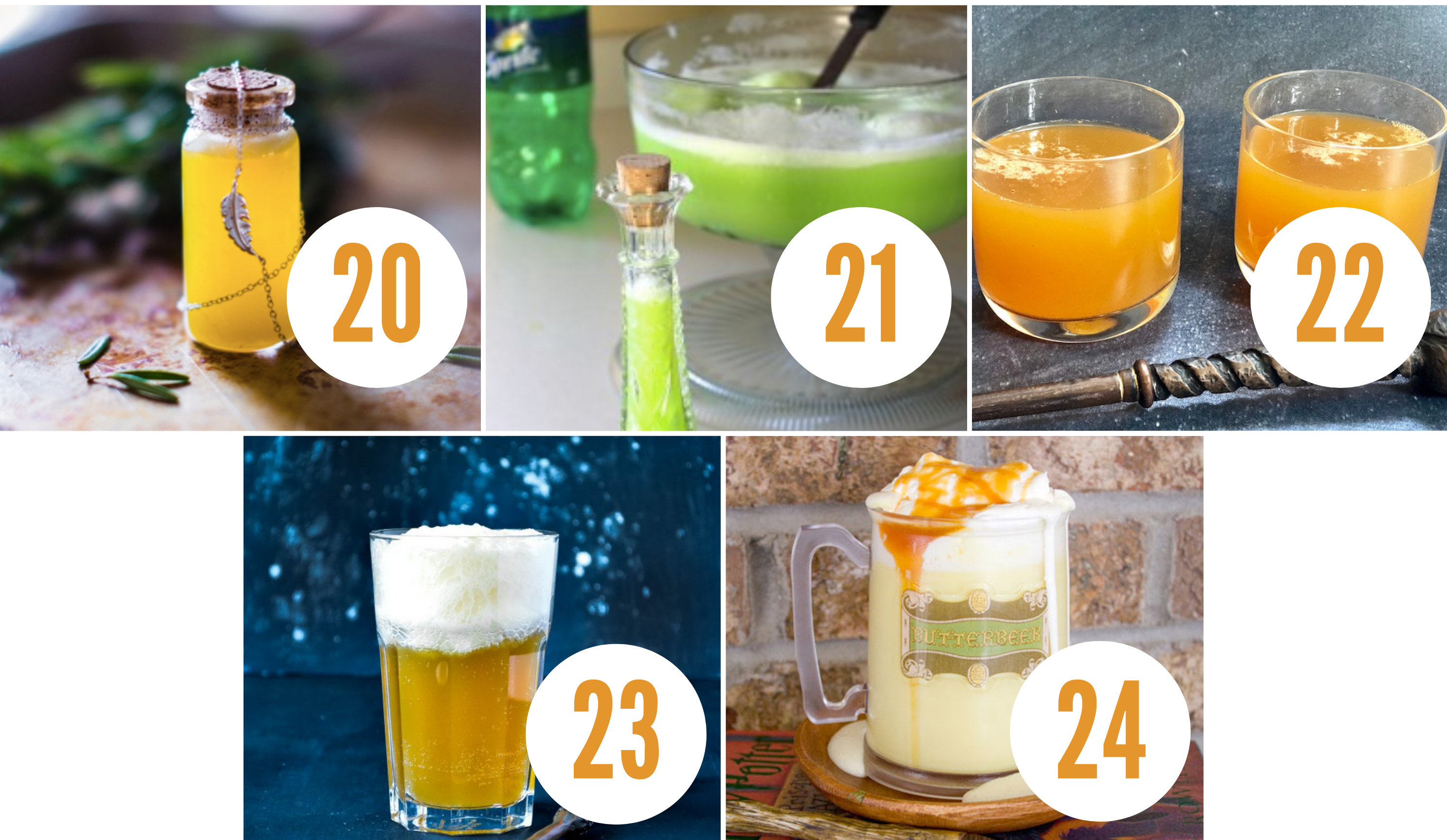 20. Felix Felicis– If you're in need of some good luck, try out this delicious drink from Plant Crush! Disclaimer: We can not guarantee this recipe's ability to bring good luck.
21. Polyjuice Potion– Our delicious potion is both easy and delicious!
22. Pumpkin Juice– If you're curious to know what juiced pumpkin tastes like, head over to Redhead Baby Mama!
23. Butterbeer– The iconic, nay, the absolutely essential drink to have for any Harry Potter party. Try this recipe from Love is in My Tummy!
24. Hot Butterbeer– Chica and Jo has the perfect recipe for nice, hot butterbeer! The picture alone has me feeling all warm and cozy!
25. Frozen Butterbeer– If you live in a warm region, (like me in the deserts of Arizona!), you'll love this variation on butterbeer from Six Sisters' Stuff!
26. Gilly Water– Cool and refreshing, 2 Geeks Who Eat's water is great for any party!
27. Shimmering Potion Punch– This potion from Tikkido is sure to amaze your guests!
28. Pumpkin Pie Smoothie– Pumpkin pie and smoothies. Is there a better combination?! Try it out at Lemon and Zest!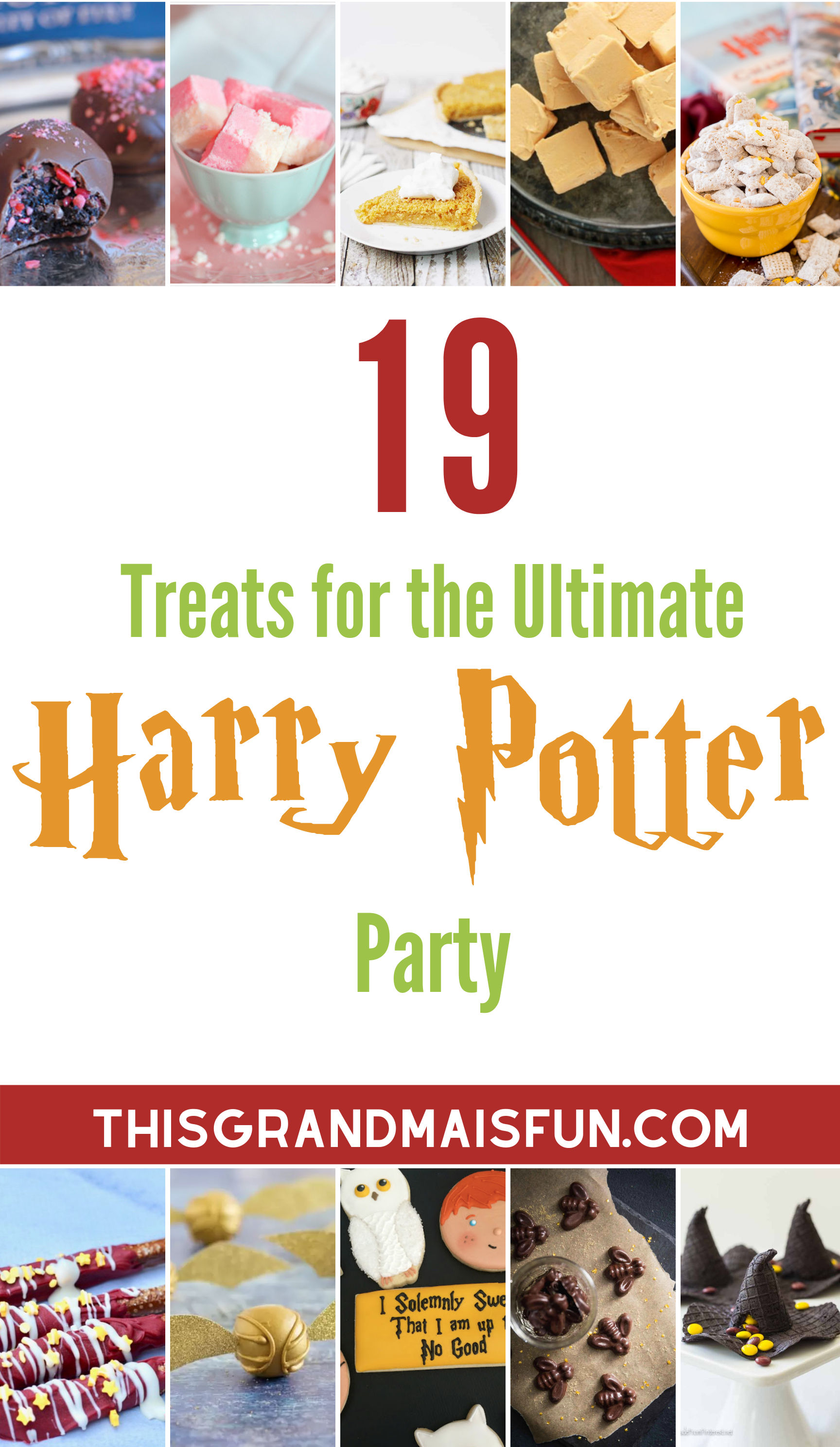 It's not a party if there aren't desserts!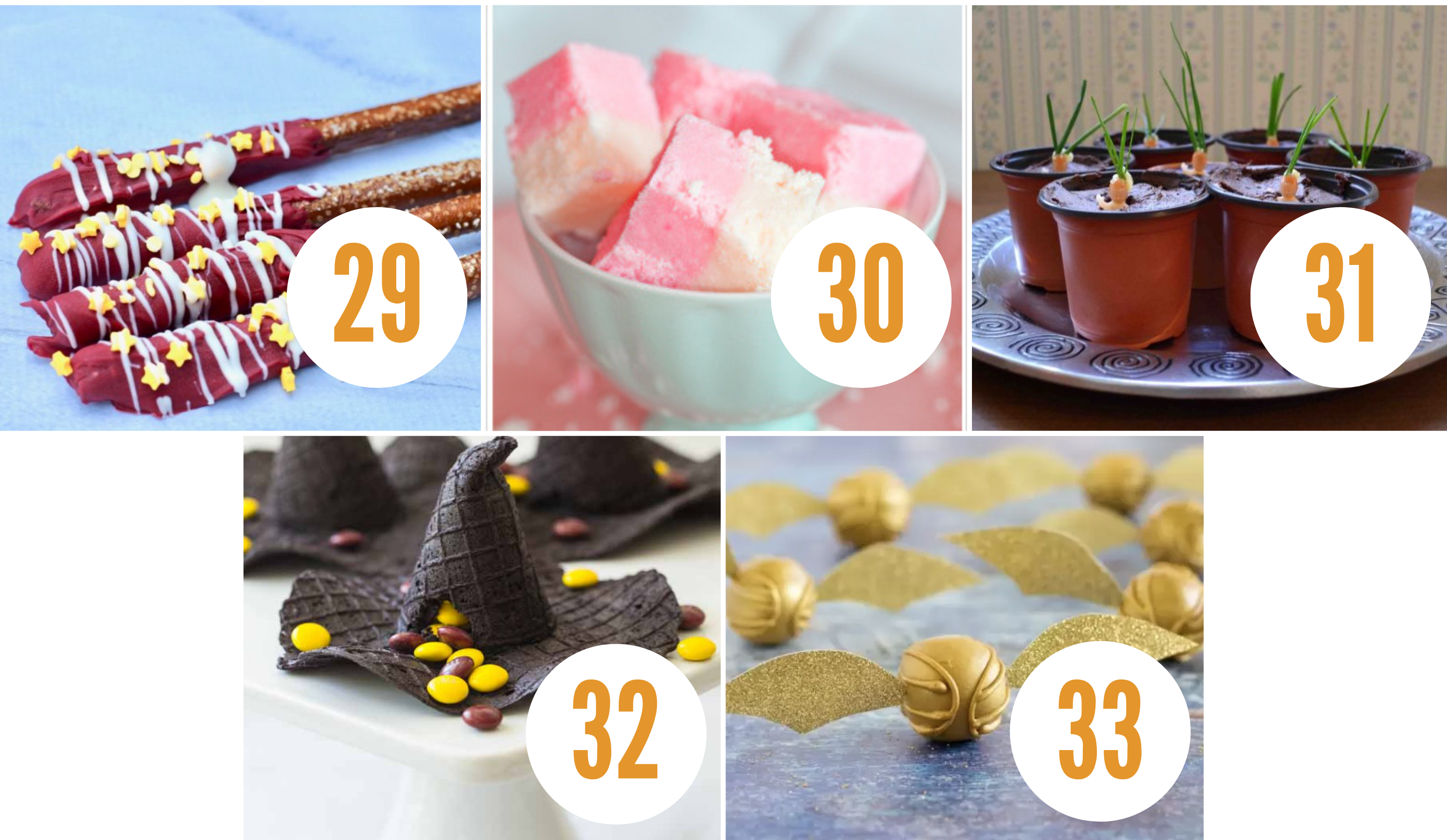 29. Gryffindor Wands– Simple and delicious, guests will love this treat from Ever After in the Woods.
30. Pink Coconut Ice– The picture already has me drooling. Find it at Just Easy Recipes!
31. Mandrake Cakes– I'd never considered mandrakes a treat until I saw these from Teaspoon of Nose! Delicious and cute!
32. Candy Filled McGonagall Hats– This fun treat has a surprise inside! Find it at TGIF!
33. Golden Snitch Peanut Butter Balls– Thankfully, these snitches from Fun Money Mom won't fly away from you when you try to eat them!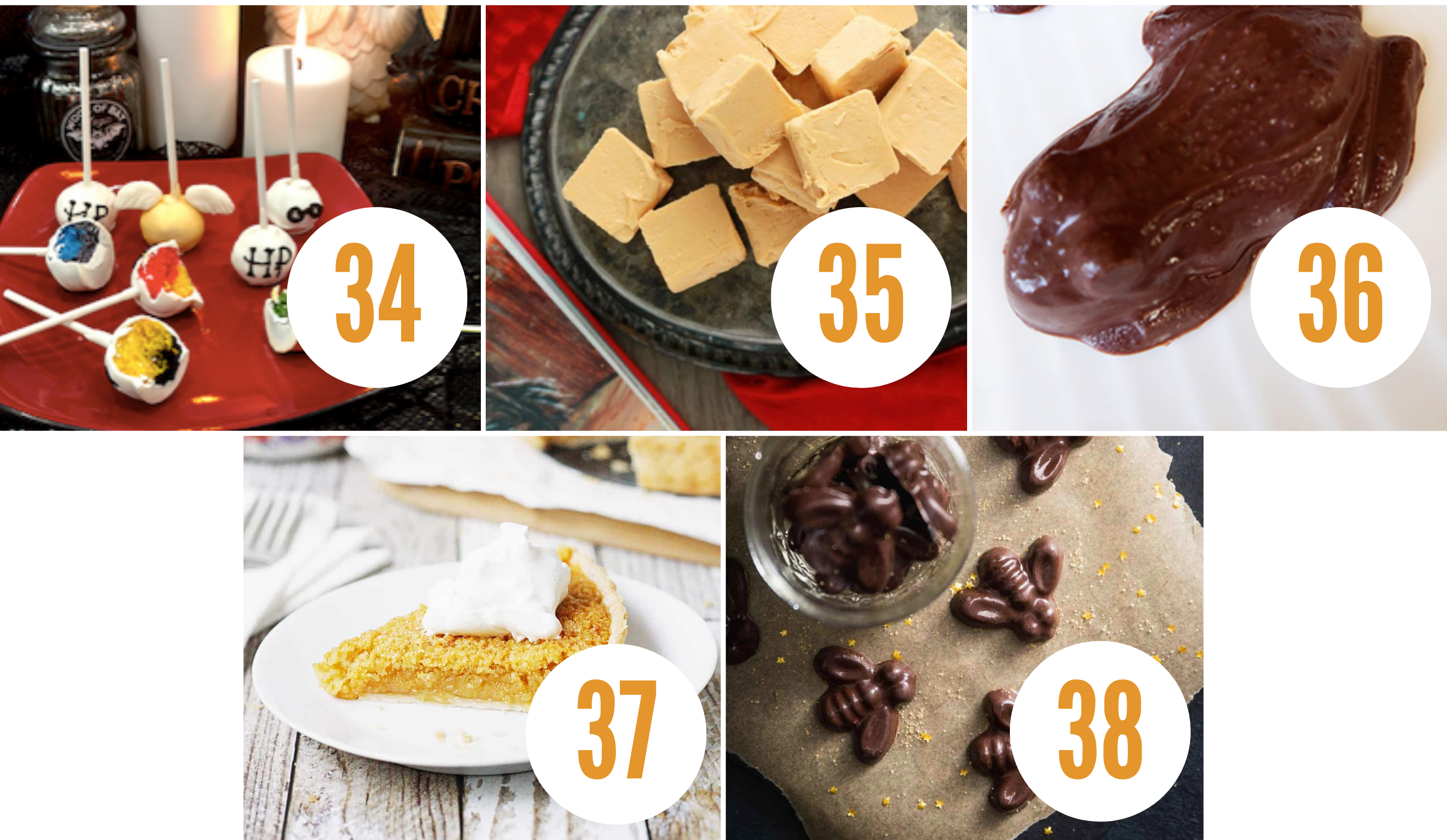 34. Sorting Hat Cake Pops– We love this fun idea from The Keeper of the Cheerios to sort your guests into their houses!
35. Butterbeer Fudge– Butter beer is good. Fudge is good. Put them together and you've got a whole lot of amazing! Try out One Sweet Appetite's tasty recipe!
36. Marshmallow Filled Chocolate Frogs– You'll love these frogs from Woo! Jr.! If you're worried about them wriggling down your throat, just bite off the head first.
37. Easy Treacle Tart– We can't wait to take a bite of this traditional recipe from Half Scratched!
38. Fizzing Whizzbees– These fizzing whizzbees from Wyldflour are almost too cute to eat!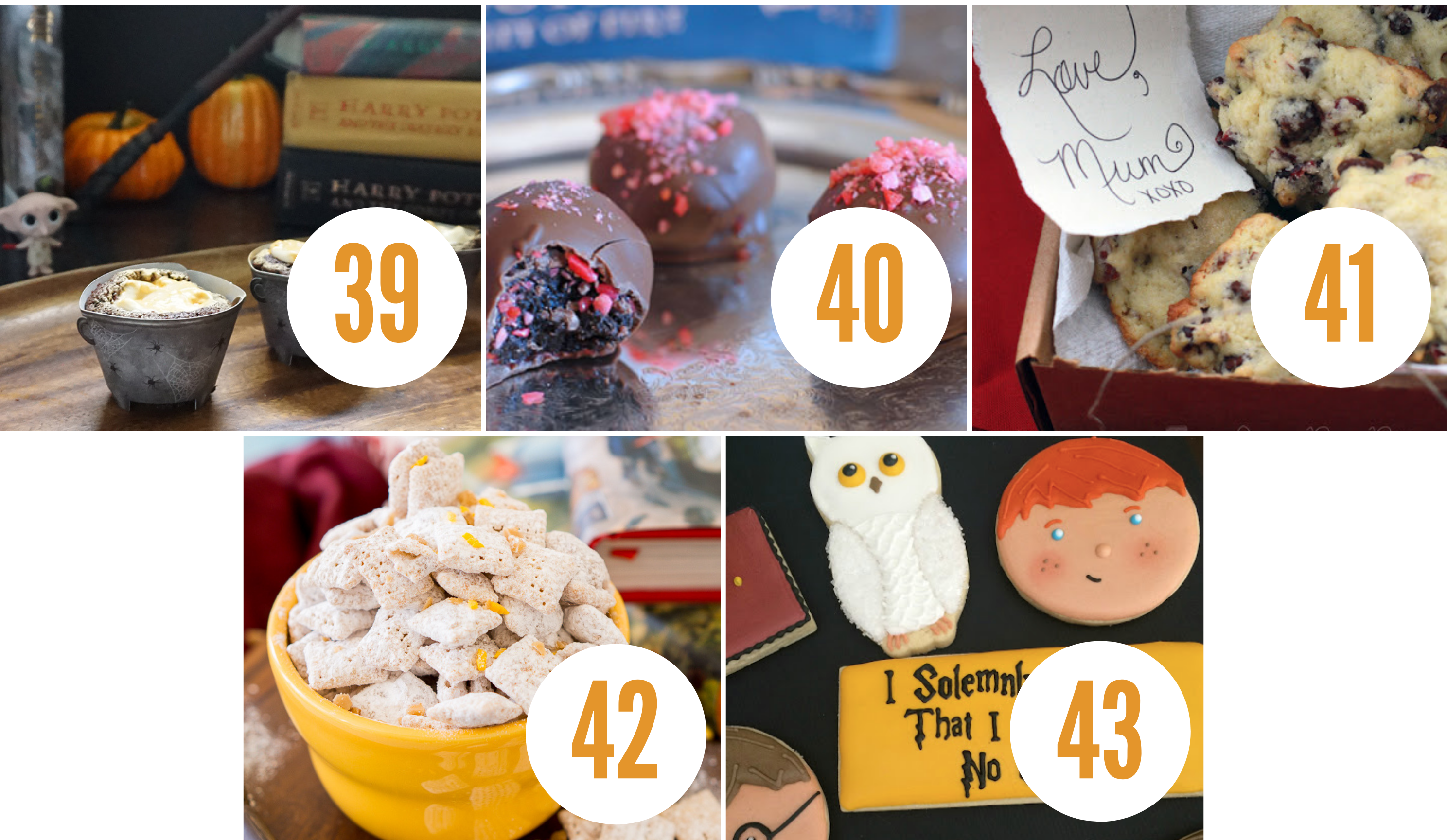 39. Cauldron Cakes– Bijoux and Bits's cakes will make for a wonderful presentation.
40. Exploding Bonbons– These bon-bons from Get Away Today will create an explosion of flavor in your mouth!
41. Molly Weasley's Rock Cakes– As an American, I had no idea that rock cakes are not just a nickname for Hagrid's baking. They are a real British treat (although maybe you already knew that!) and you can find a delicious recipe for them at Bakingdom!
42. Butterbeer Muddy Buddies– The word, "addicting," comes to mind with this delicious recipe from Sugar and Soul.
43. Cookie Decorating Tutorial– Is it just me, or is Pinterest filled with the most beautiful Harry Potter sugar cookies? If you are dying to know how to decorate these cookies yourself, check out this tutorial from Sweet Jenny Belle.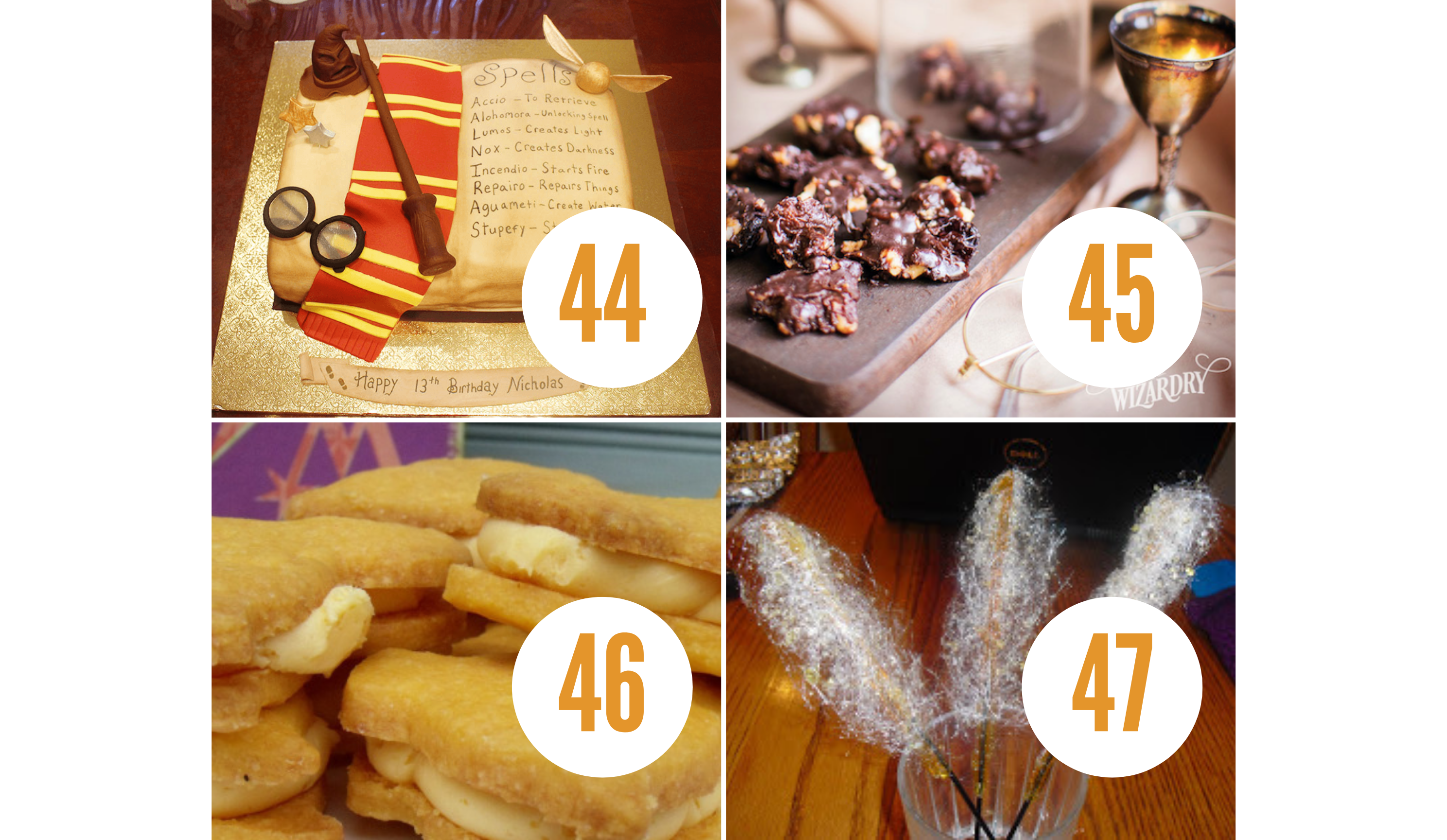 44. Spell Book Cake– This cake from Savvy in the Kitchen looks so amazing, you might just not eat it! But then, would it even be a cake?….
45. Cockroach Clusters– I never had a desire to try cockroach clusters until I saw these from Art of Wizardry.
46. Canary Creams– If you love shortbread, then you'll love Blue Nose Baker's canary creams!
47. Sugar Quill– I don't know about you, but A Tale of 2 Foodies's sugar quills are exactly what I had in mind when I first read about them in Harry Potter!
`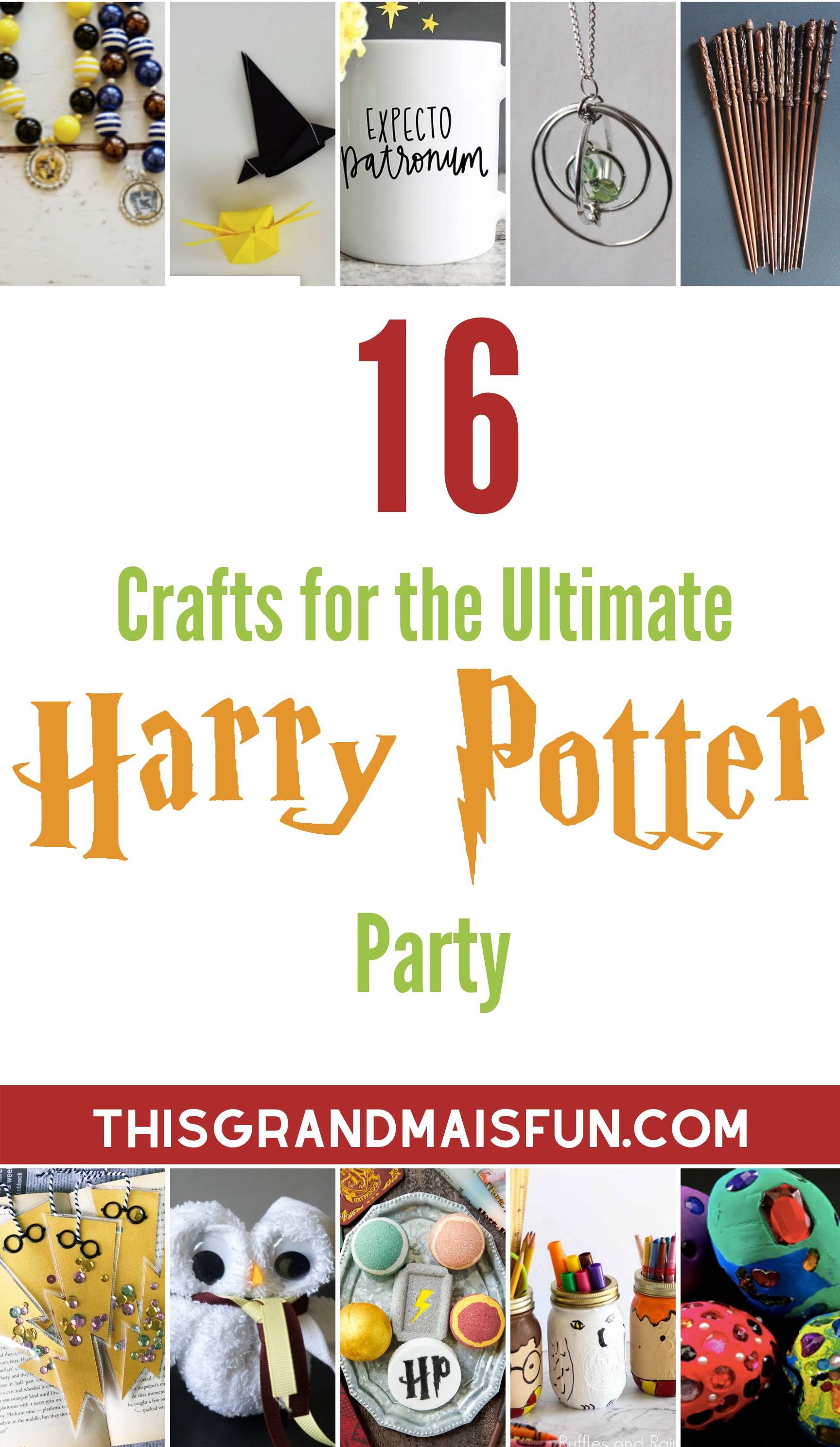 Everyone can bring home a souvenir from their visit to the wizarding world.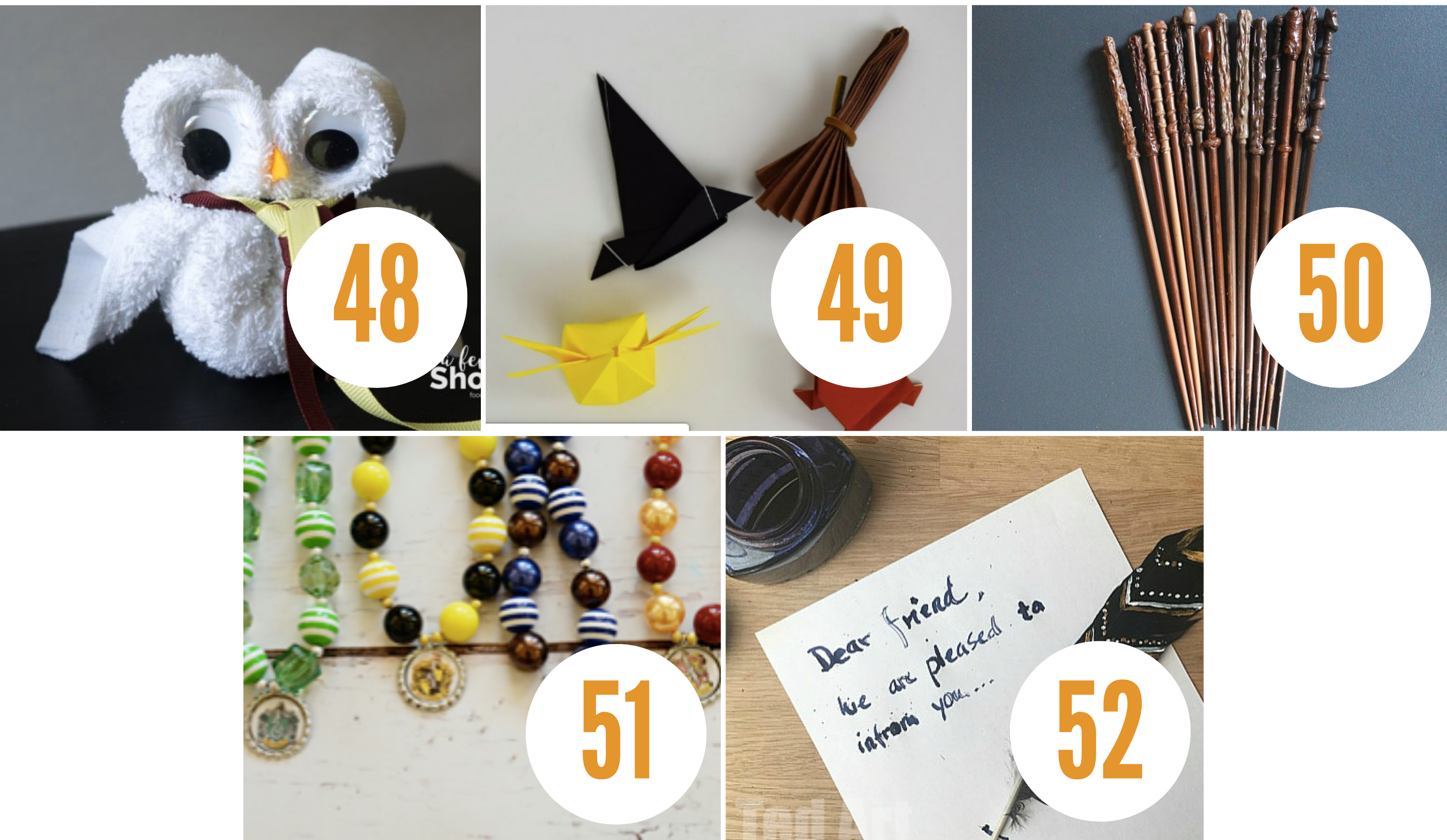 48. Washcloth Owl– A Few Shortcuts's owl is a cuddly craft that kids will love to bring home!
49. Harry Potter Origami– This craft from Fave Mom is simple and easy!
50. DIY Wands– No witch or wizard is complete without a wand! Make your own with Boxy Colonial's tutorial!
51. House Necklaces– This craft from Housewife Eclectic is a nice, classy way to show some house spirit!
52. Feather Quills– Red Ted Art's quills are sure to make homework fun!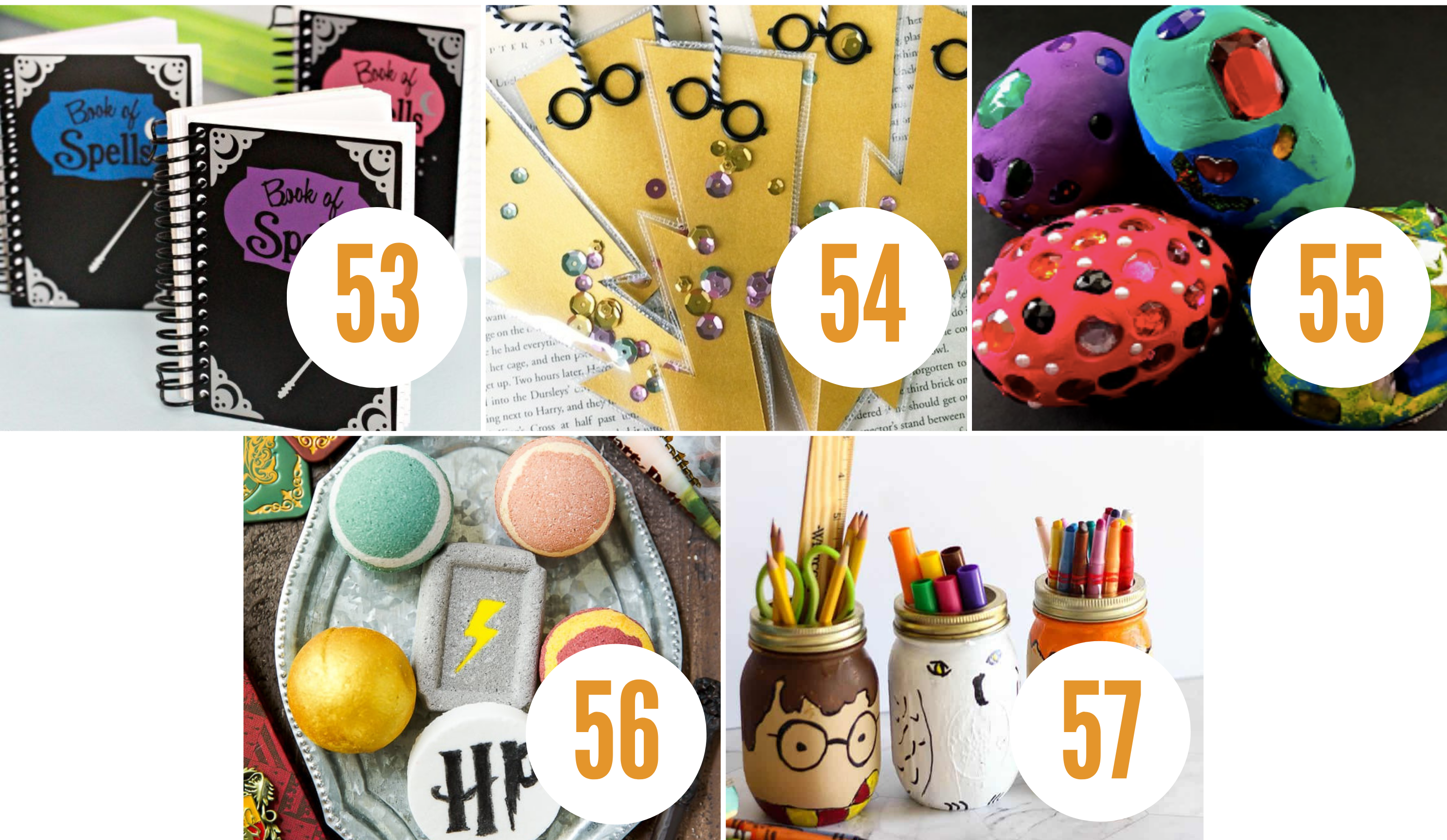 53. Book of Spells– Now every witch and wizard at your party can write out their own spells with this easy craft from Busy Mom's Helper.
54. Lightning Bolt Bookmarks– Desperately Seeking Gina's bookmarks are the perfect craft for any bookworms you might have at your party.
55. Dragon Eggs– Little hands will love making these beautiful eggs from My Baba!
56. Bath Bombs– Now every guest can pamper themselves with these fun bath bombs from A Pumpkin and a Princess.
57. Pencil Holders– Ruffles and Rain Boots's pencil holders hit me right in my organization-obsessed heart!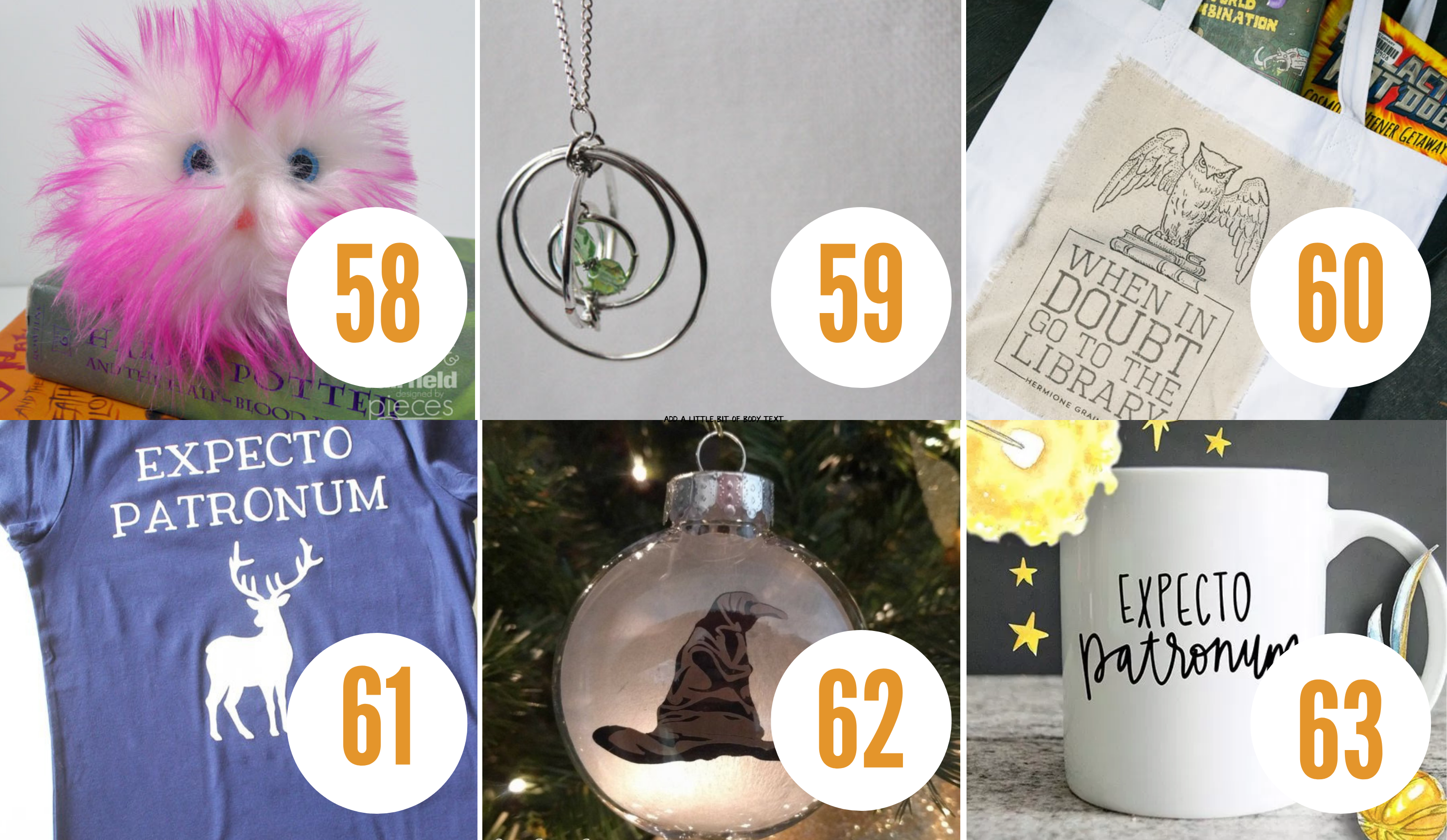 58. Pygmy Puff– Now you can make your own beloved pygmy puff with this craft from Fairfield World!
59. Time Turner Necklace– If you've ever thought to yourself, "I wish I could be in two places at once," than 30 Minute Crafts's time turner necklace is the craft for you!
60. Book Bag– I think it's safe to assume that if you're a Harry Potter fan, then you love books (unless you've only watched the movies. If so, promptly check out the first Harry Potter from the library and begin the journey…) Tried and True's book bags are a cute way to lug around your favorites!
61. Expecto Patronum Shirt– Wear your love for Harry Potter with this shirt from Laura's Crafty Life!
62. Floating Christmas Ornaments– If you're having a Harry Potter Christmas party, then you'll love The Quiet Grove's ornaments!
63. Mugs– Start your morning off right with Pineapple Paper Co. 's mug and some hot butterbeer!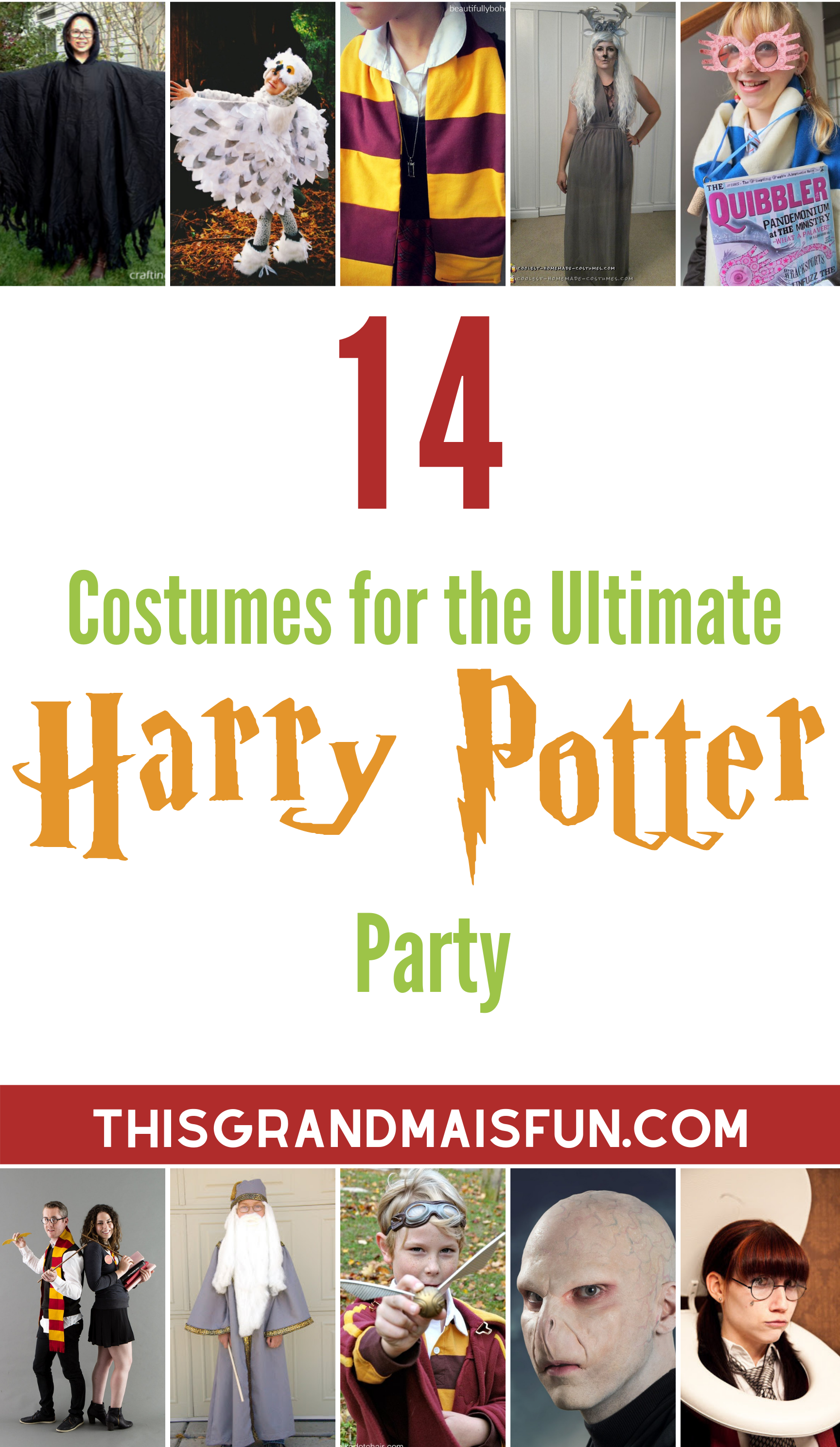 When someone comes up with a DIY invisibility cloak, will you let me know? Thanks in advance!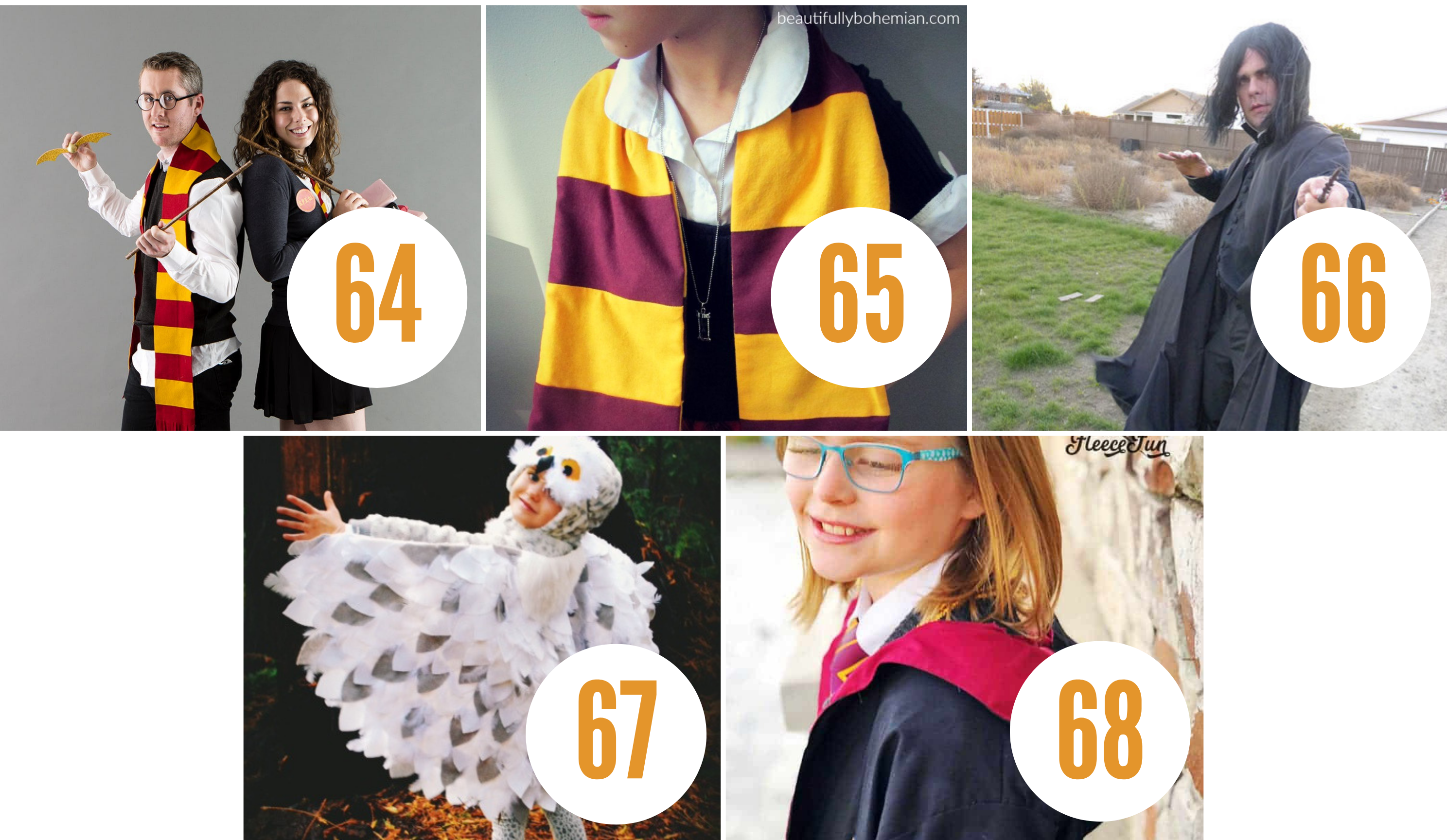 64. Harry and Hermione– You can't have a Harry Potter party without Harry (and his friends of course!). Check out Brit + Co for ideas on your Harry costume.
65. DIY Scarf– This scarf from Bohemian Vegan Kitchen is clearly a Gryffindor scarf, but of course you can make it in the other house colors too.
66. Snape– If you could dress up as Snape every day for the rest of your life, would you? If your answer was, "Always," check out this costume from Pieces by Polly.
67. No-Sew Snowy Owl (or Hedwig!)– Who says you have to be a witch or wizard? You can come as Harry's beloved owl, Hedwig, with these ideas from Craft and Burn.
68. Robe Pattern– We love Fleece Fun's easy robe pattern!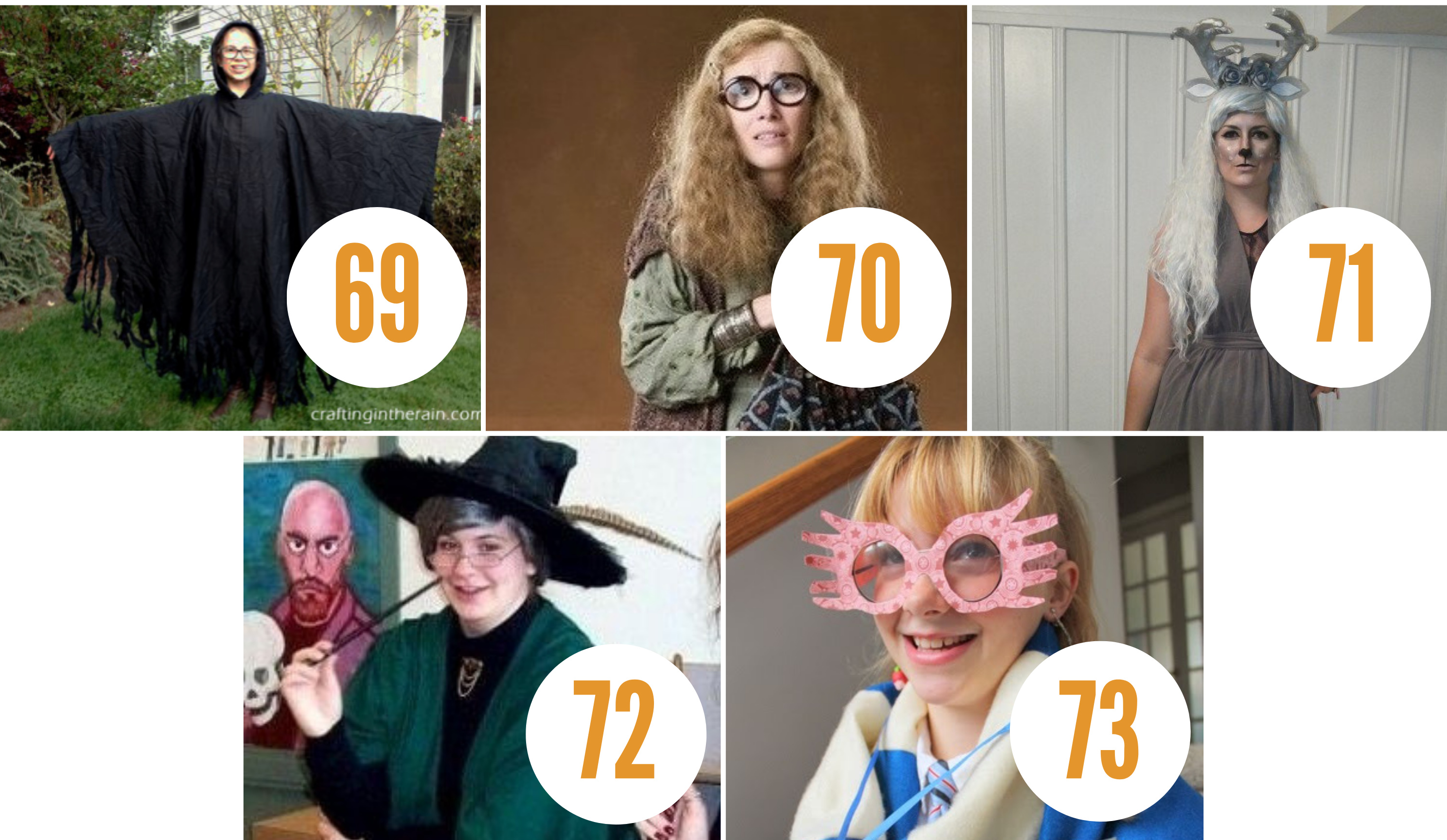 69. Dementor– One thing I love about the Harry Potter series is how it mixes fun in with creepy and dark. Bring the creepy to your party with Crafting in the Rain's dementor costume!
70. Professor Trelawney– I predict that Costumet's costume will win the costume contest!
71. Patronus– Think outside of the box with Coolest Homemade Costumes's patronus!
72. Professor McGonagall– If you're strict and stern, but have a secret soft spot for troublemakers, you'll love this costume from Cut Out and Keep.
73. Luna Lovegood– My favorite part of this costume from Frugal Family Times is the glasses!
74. Dumbledore– "Nitwit! Blubber! Oddment! Tweak!" If these words hold any meaning to you, please proceed to Jengerbread Creations for your costume.
75. Moaning Myrtle– I have to admit that this costume from Kate Johns is my favorite. The toilet seat is the cherry on top!
76. Voldemort Makeup Tutorial– This tutorial from Wholesale Halloween Costumes is for anyone who's ever wondered what it would feel like to have no nose.
77. Quidditch Robes– These costumes from Polkadot Chair will make you actually feel like you're flying above the quidditch field!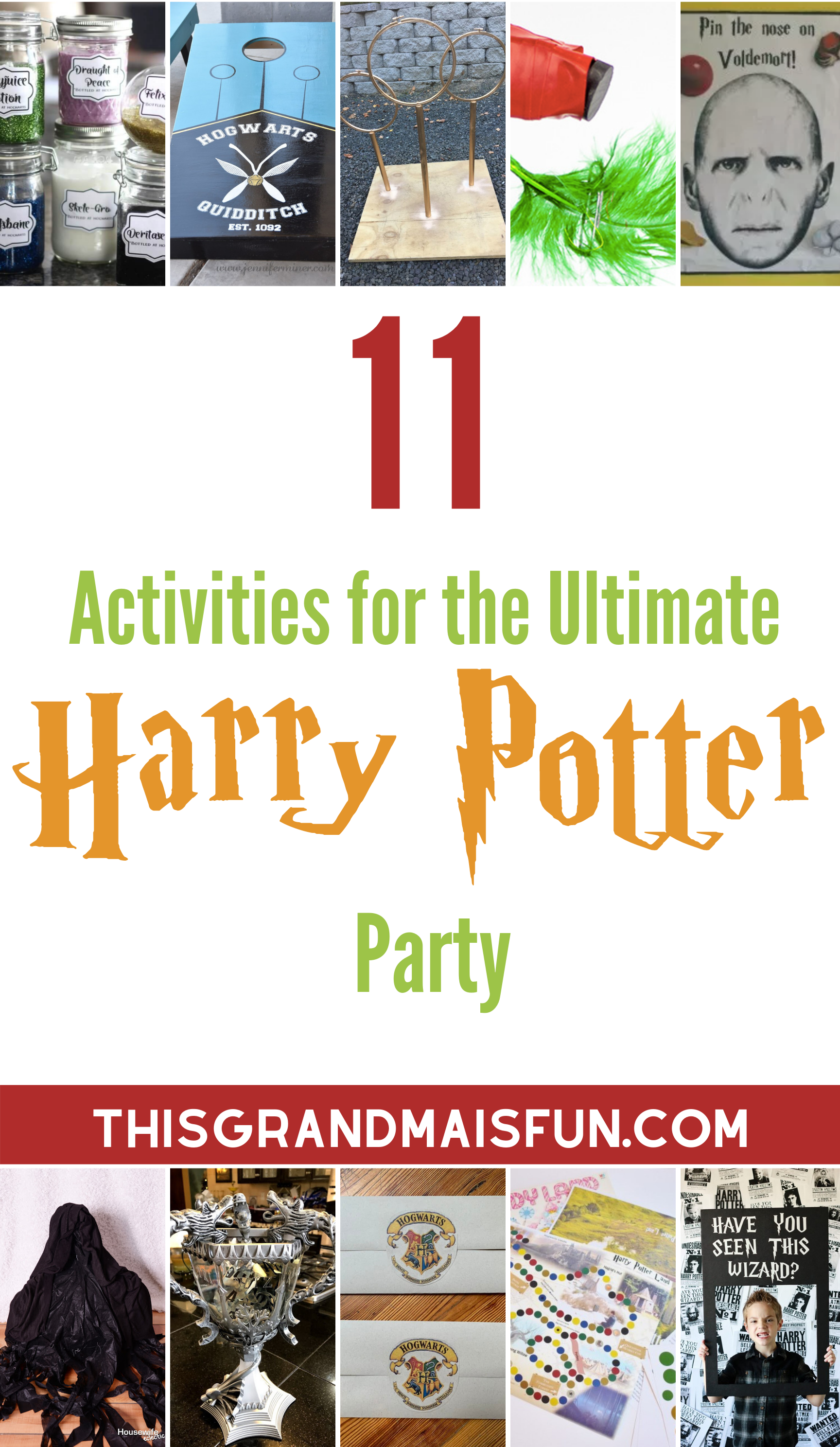 Unfortunately, a google search for "Wizard's Chess" only resulted in regular chess. Thankfully, we have a bunch of other games for you to play!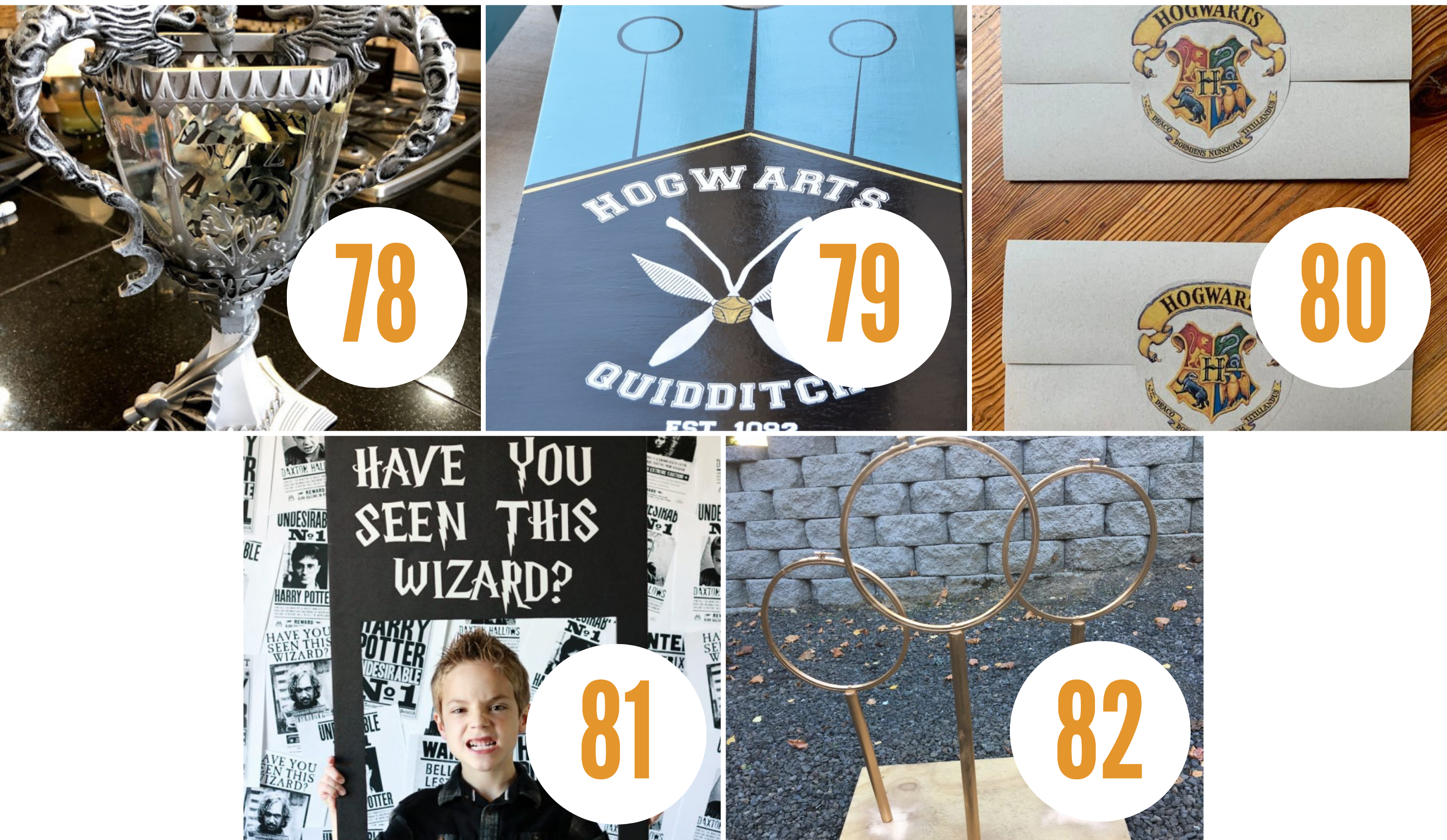 78. Wizard Minute to Win it– Holly's Home's games are great for anyone who works well under pressure!
79. Quidditch Cornhole– I never realized how much I needed corn hole boards, until I found these from Jennifer Miner.
80. Scavenger Hunt– Keep your guests busy with Life with Neal and Suz's scavenger hunt!
81. Photo Booth– Your guests will "Siriusly" (yes, I really did just say that) love playing with this photo booth from One Sweet Appetite!
82. Quidditch– Quidditch: like football only with 7 players, 4 balls, 3 hoops, and you're soaring hundreds of feet in the air on on a narrow broomstick. Just the same. Find this DIY at Food, Fitness, Life, Love.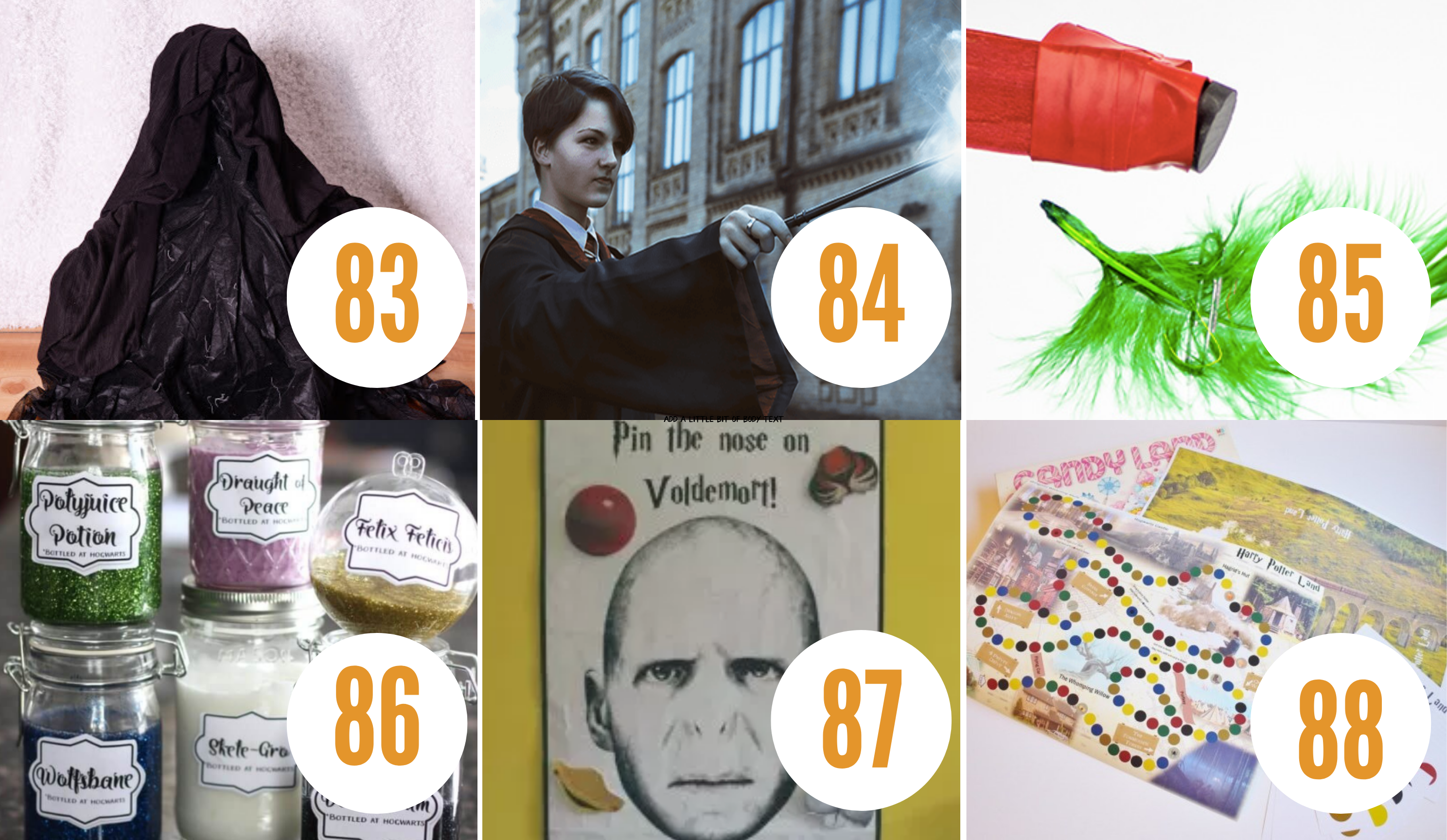 83. Dementor Piñata– Expecto patronum the candy out of this piñata from House Wife Eclectic.
84. Wizards' Duel– Don't worry. No spells are used in Royal Baloo's game.
85. Wingardium Leviosa Science Experiment– "It's leviOsa, not levioSA." Check this activity out at Steam Powered Family.
86. Potion Slime– Become the potions master with Little Bins for Little Hands's slime!
87. Pin the Nose on Voldemort– If You-Know-Who is a little too creepy for your guests, use So Mum's game to make him a lot more fun!
88. DIY Harry Potter Game– Forget Candy Land! Turn your's into a fun Harry Potter game with this DIY from Now that's Thrifty!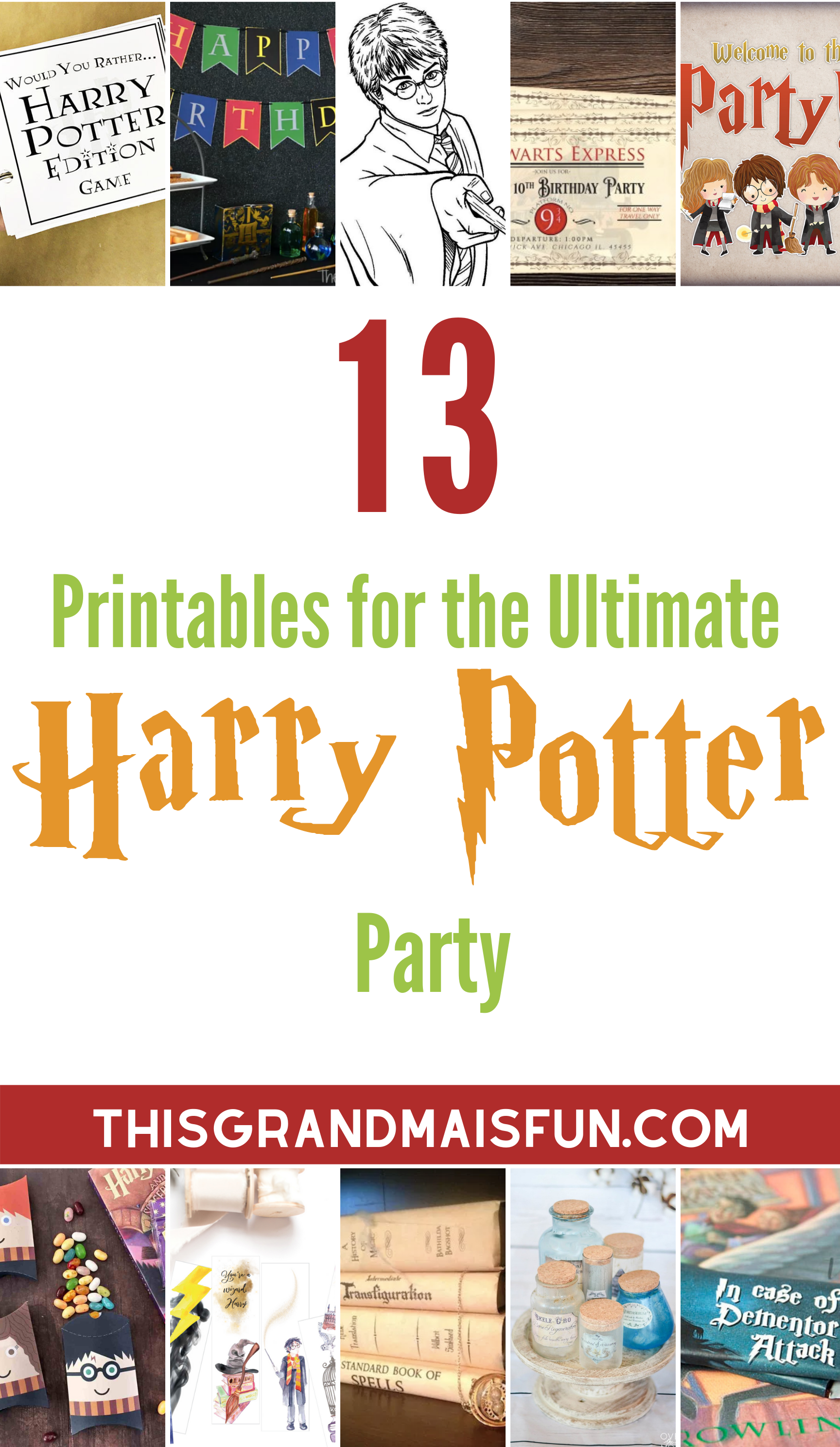 These are free. Let me repeat: FREE.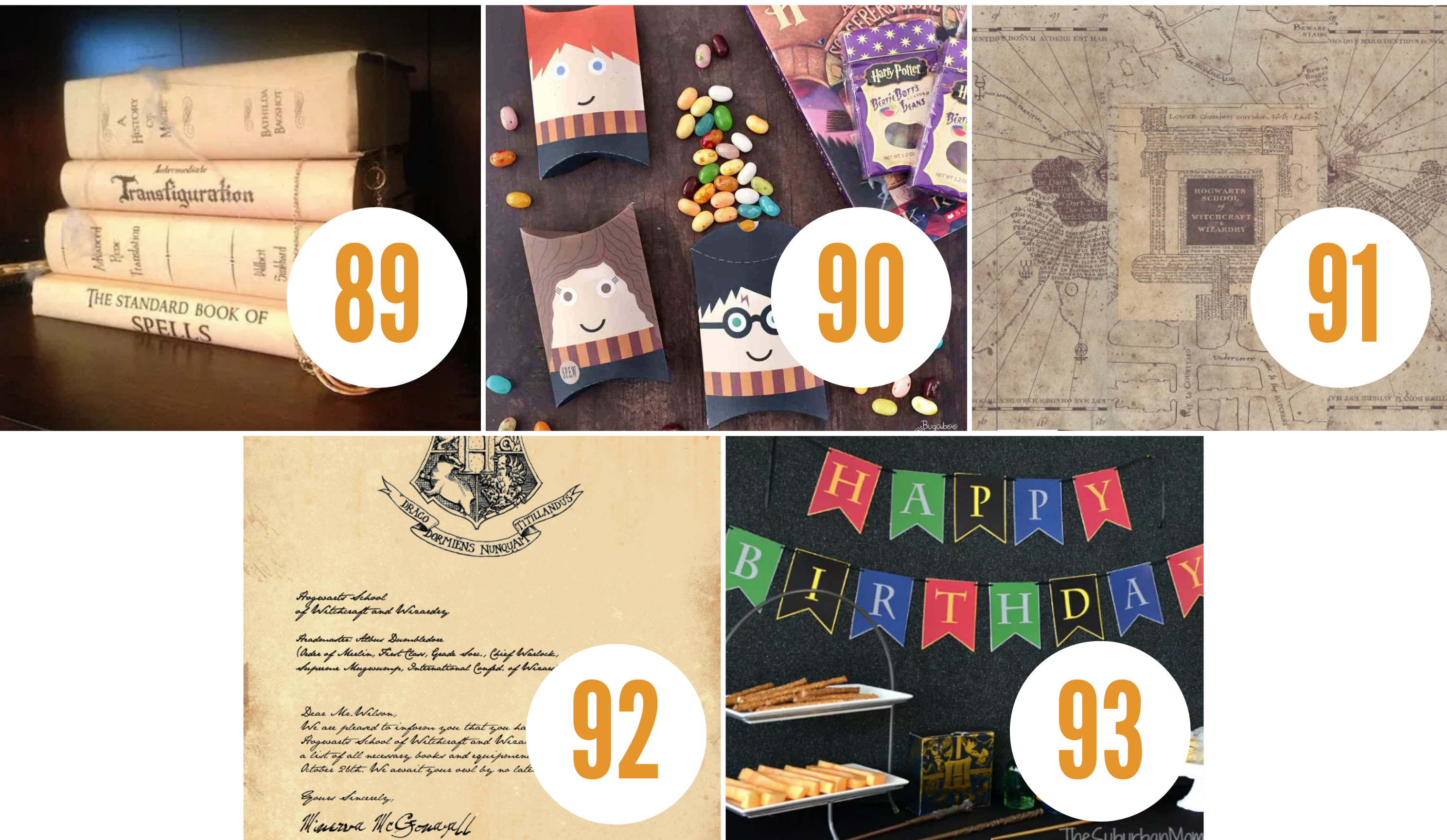 89. Book Covers– These book covers from Paper Trail Design add an authentic touch!
90. Pillow Boxes– Crafting Cheerfully's boxes are so cute, it's hard to believe that they're free!
91. Marauders Map– Try this incredible map from Harry Potter Paraphernalia if you're ready to make some trouble!
92. Hogwarts Letter– What muggle hasn't dreamed of getting one of these? Go to Mandy's Party Printables for a free letter!
93. Birthday Banner– Wish your loved ones a "Happee Birthdae!" with this banner from The Suburban Mom!
94. Hogwarts Express– Make sure to give your guests a ticket from Drevio! Otherwise, they'll be stuck at the train station!
95. Coloring Pages– Coloring Pages 7's coloring pages are a perfect way to calm things down when you need it!
96. Activity Pack– Artsy Fartsy Mama has created a whole pack of free printables for you to use!
97. Bookmarks– We love these bookmarks from Ordinary Girl, Extraordinary World. They'd make a great party favor!
98. Potion Labels– If you're looking for a simple decoration, use Over the Big Moon's printable!

99. Would You Rather Game– As if this game wasn't funny enough, Or So She Says put a Harry Potter spin on it and made it even better! Who knew that was even possible?
100. Party Pack– The Cottage Market just made decorating a snap with this party pack!
101. Dementor Attack Chocolate Bar Wrapper– Harry Potter proved what we all knew deep in our hearts: chocolate saves lives. Remind your guests with this printable from More Than Thursday!