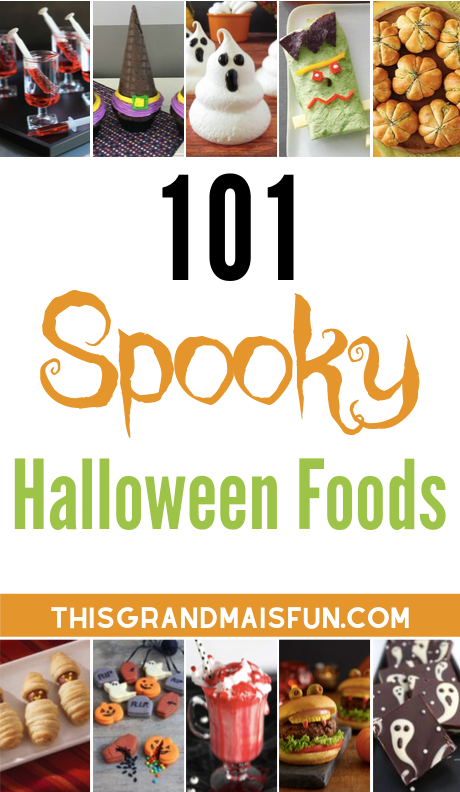 It's the most dreadful time of the year. Sinister ghouls waiting in the bushes, horrible monsters stalking the streets at night, the dead waking from their sleep, and ghosts visiting the living from the other side. The chill air bites, and dead, crisp leaves litter the ground. Jack o' lanterns cast a frightening glow to passerby, reminding all to beware… It's Halloween! And of course, that means it's time for Halloween food. But, what do monsters, and goblins, and witches eat? Let us help you there with our list of 101 Spooky Halloween Foods. I promise you, they'll be absolutely ghastly…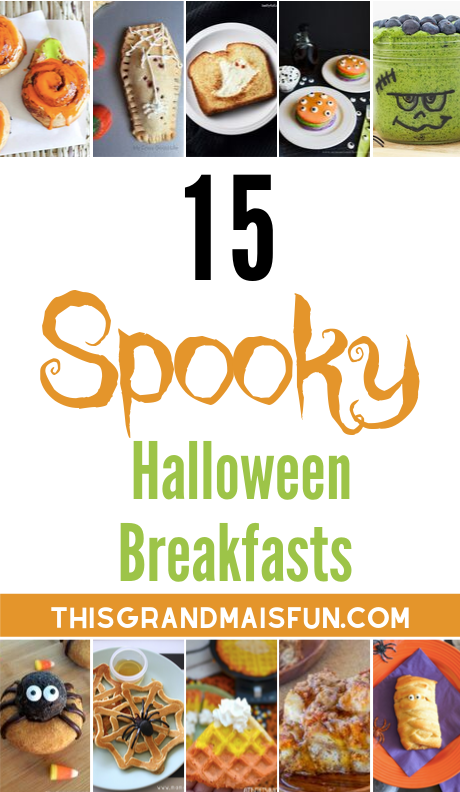 Time to wake the dead!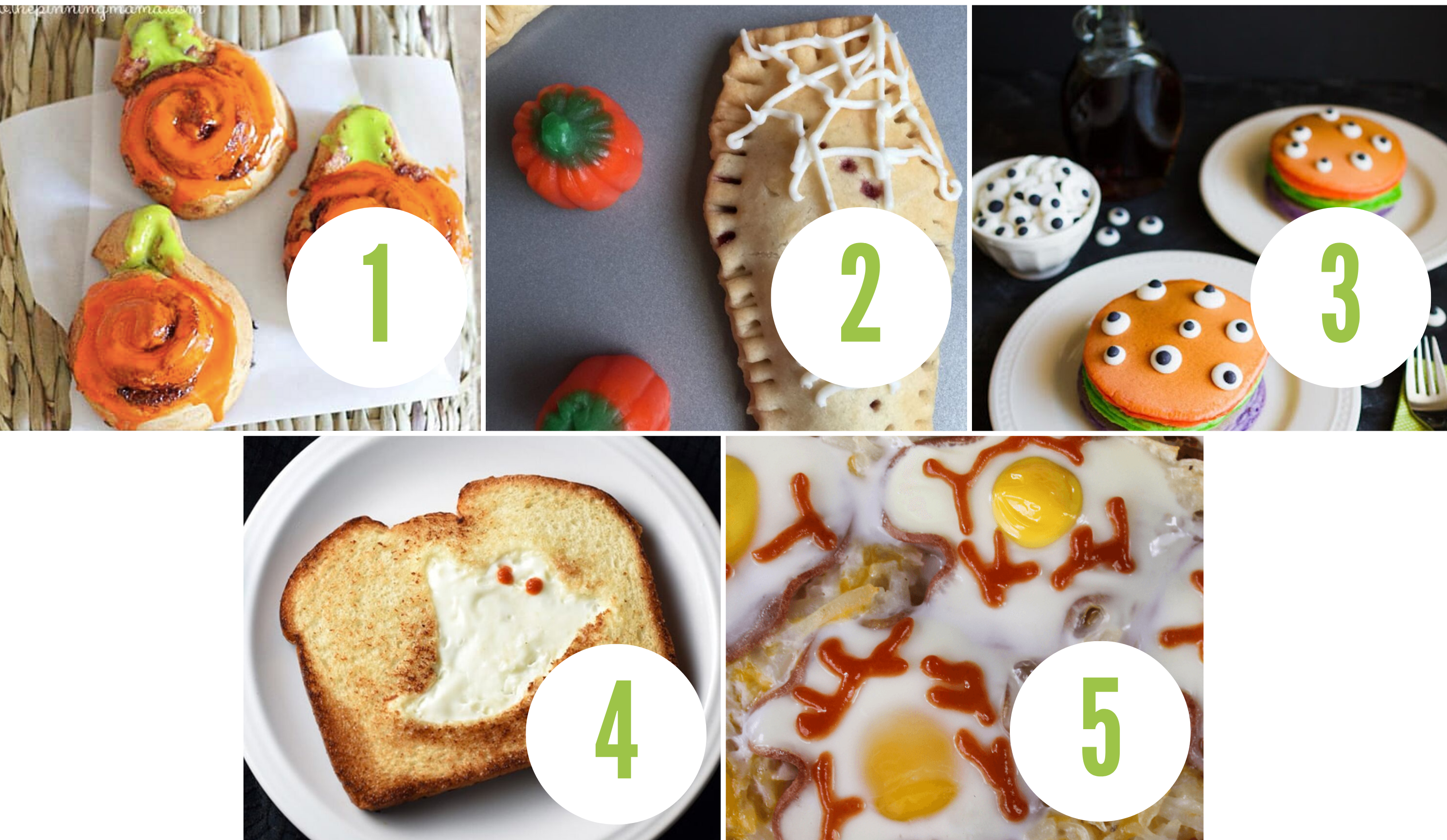 1. Cinnamon Roll Pumpkin– Put a Halloween spin on this classic from The Pinning Mama!
2. Coffin Shaped Poptarts– If you feel like the walking dead first thing in the morning, than this breakfast treat from My Crazy Good Life if for you!
3. Monster Pancakes– My Name is Snickerdoodle's pancakes are creepy…. yet satisfying.
4. Ghost Toast– This ghost toast from Belly Full will haunt your kitchen all October!
5. Halloween Breakfast Casserole– Simply Made Recipes's casserole is just the right amount of spooky for breakfast.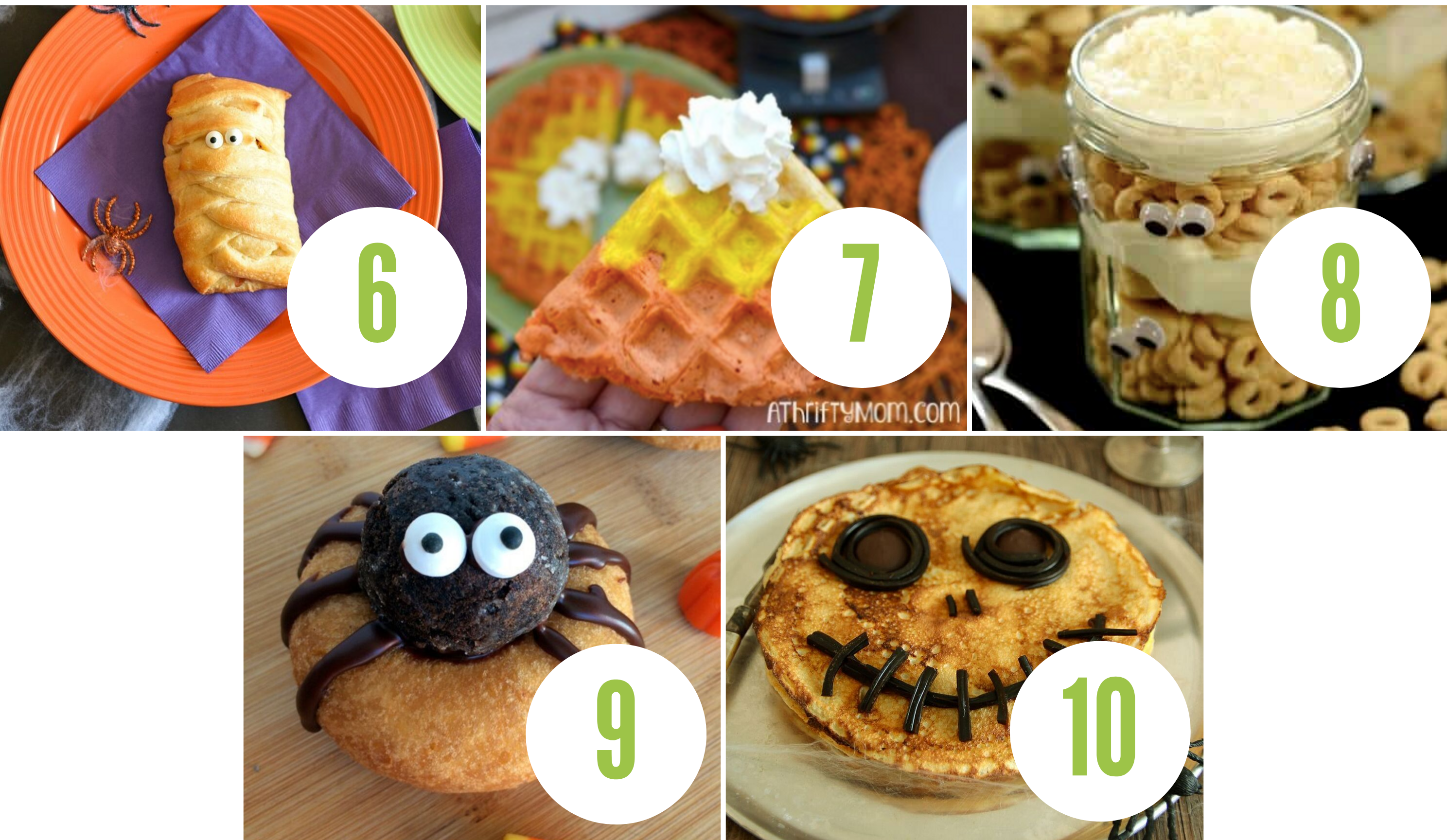 6. Mummie Sandwich– Need something cute and easy? Try these sandwiches from Fun Squared!
7. Candy Corn Waffles– Pay tribute to the classic Halloween candy with these waffles from A Thrifty Mom
8. Spooky Banana Breakfast Parfait– Make healthy eating spooky fun with Eats Amazing's tasty parfaits!
9. Halloween Spider Donuts– As terrified as I am of spiders, I would never turn The Semisweet Sisters's spider donuts down!
10. Creepy Crepes– These crepes from Not Quite Nigella are the perfect way to start Halloween day!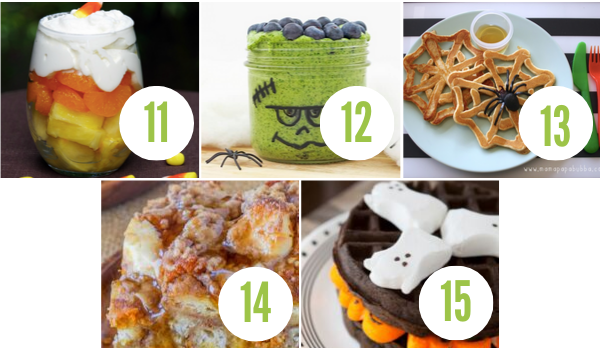 11. Candy Corn Fruit Parfait– Although it's called "candy corn," this breakfast treat from Suburbia Unwrapped is healthy and delicious!
12. Frankenstein Smoothie Bowl– Who said Halloween is all about candy and sugar? Sneak some nutrition into the day with Healthy Little Foodies's smoothie bowl.
13. Healthy Spider Web Pancakes– Fry up some spiderwebs (never thought I'd say that!) with this recipe from Mama. Papa. Bubba.
14. Pumpkin French Toast Bake– The rule is if you add pumpkin to anything, it automatically becomes a Halloween dish. Pumpkin and cookies? Halloween. Pumpkin and ice cream? Halloween. Pumpkin and cheese? Halloween. And now, Dinner Then Dessert's sweet and tasty pumpkin French toast bake- Halloween.
15. Dark Chocolate Marshmallow Halloween Waffles– Brownie Bites's waffles are making my mouth water…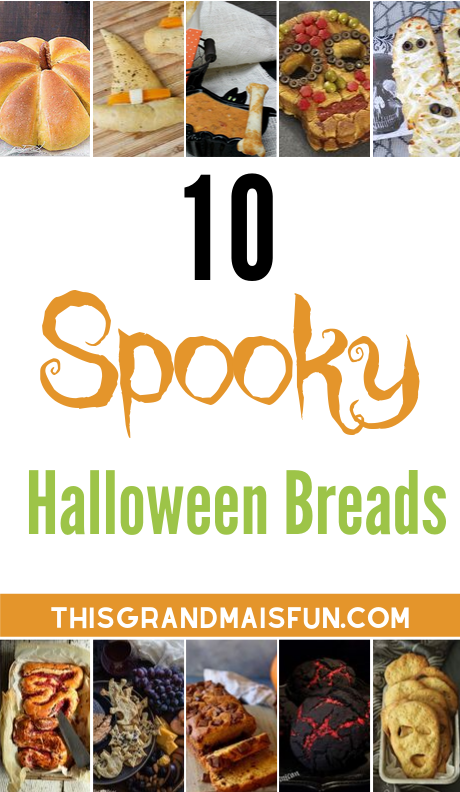 Bread isn't just for the living anymore…
16. Brimstone Bread– A perfect recipe from Instructables to welcome any ghouls and monsters wandering around Halloween night.
17. Pumpkin Dinner Rolls– These rolls from As Easy As Apple Pie look so much like a pumpkin, I might accidentally carve them into jack-o-lanterns!
18. Mummified Garlic Bread– On the one hand, you'll have Foodtastic Mom's delicious garlic bread. On the other, vampires probably won't come to your party. Choices, choices.
19. Skull Pull-Apart Pizza Bread– This pizza from Wilton is both super creepy and delicious!
20. Herbed Boo Ghost– My Diverse Kitchen's bread is perfectly haunting for any Halloween party.
21. Icky Intestines Bread– Creep out friends with Sugar Dish Me's sumptuous intestine bread!
22. Crescent Roll Witch Hats– These witch hats from Spaceships and Laser Beams will bring a little hocus-pocus to any Halloween party!
23. Bat and Ghost Crackers– Fox and Briar's crackers are surprisingly easy to make and of course, delicious!
24. Chocolate Chip Pumpkin Bread– What's Halloween without some chocolate chip pumpkin bread? Try Princess Pinky Girl's tasty recipe!
25. Bones and Cheese Dip– This bones and cheese dip comes straight from the grave…. ok, it's actually from Pocket Change Gourmet, but it sure looks like something from a cemetery!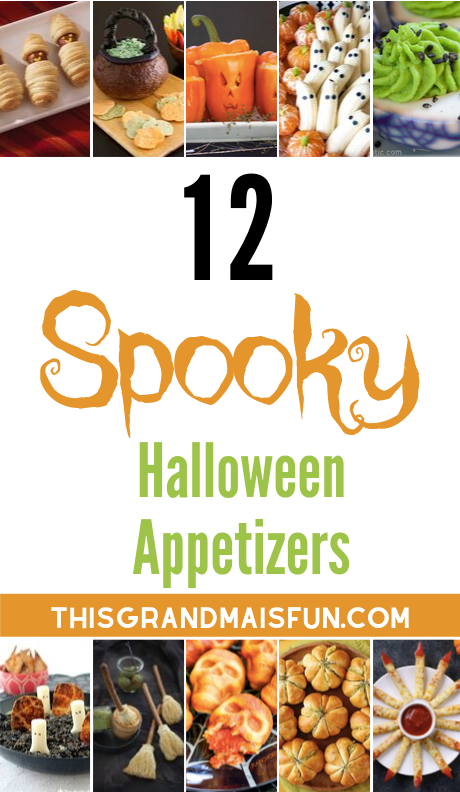 These appetizers look revolting…. I can't wait to try them….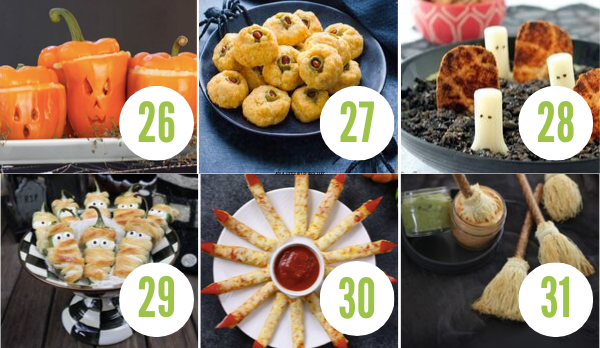 26. Jack O'Lantern Shepherd's Pie Stuffed Peppers– If carving a pumpkin sounds like too much work this year, try carving a pepper instead! The best part: you can eat it! Check it out at Cupcakes and Kale Chips.
27. Eyeball Cheese Olive Balls– These olive balls from Garlic & Zest prove it is possible to be both gross and delicious at the same time.
28. Ghost in the Graveyard Dip– Foodtastic Mom's dip makes a boo-tiful presentation!
29. Jalepeño Popper Mummies– Try out The Hopeless Housewife's recipe for something fun and tasty!
30. Witches Fingers Pizza Sticks– These witches' fingers from Tip Buzz are so yummy, they'll make a monster out of you!
31. Pretzel Broomsticks– If you always knew you were a witch at heart, then you'll love Sprinkle Bakes's broomsticks!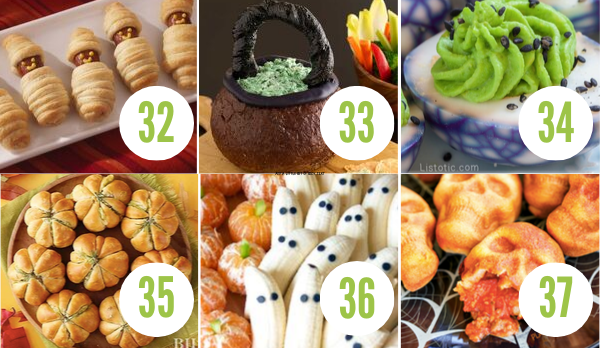 32. Lit'l Smokies Mummie Dogs– Delish's mummie dogs are almost too cute to eat! Or maybe they're too spooky?
33. Spooky Spinach Dip in Bread Bowl Cauldron– Mix up some magic with Woman's Day's spinach dip!
34. Rotten Deviled Eggs– Don't worry. These eggs from Listotic won't stink up the house.
35. Pumpkin Shaped Meatball Biscuits– Put a Halloween spin on meatballs with Better Homes & Gardens's meatball biscuits!
36. Tangerine Pumpkins and Banana Ghosts– If you need something ghastly but healthy, try out Flo and Grace's pumpkins and ghosts!
37. Pizza Skulls– Bite into this skull from Plain Chicken for a pizza surprise!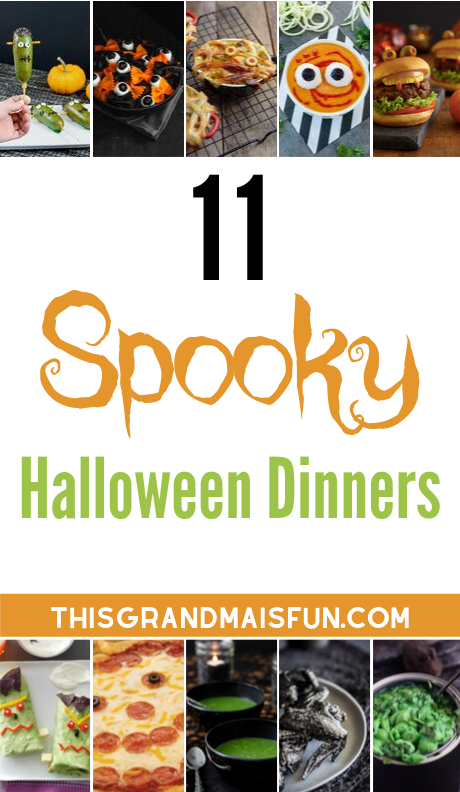 Don't worry. Human isn't on the menu tonight….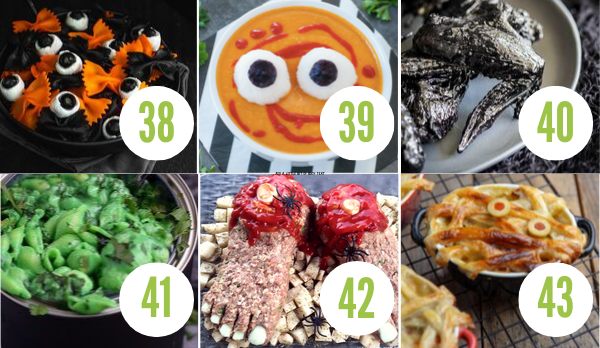 38. Bat and Eyeball Pasta– This meal from Colavita is a monster favorite!
39. Monster Mash Soup– Peas and Crayons's soup will be a hit with the zombie crowd.
40. Sweet n' Sour Bat Wings– Eating these wings from Sprinkle & Sprouts will make you feel like a true ghoul!
41. Toxic Waste Mac n' Cheese– A Halloween twist on an American favorite from Cooking With Curls!
42. Creepy Feetloaf– If you're going for realism, you'll love Heart Hook Home's gruesome feetloaf!
43. Mummie Pot Pie– This pie from Cozy MessMoms Who Think is a true monster comfort food!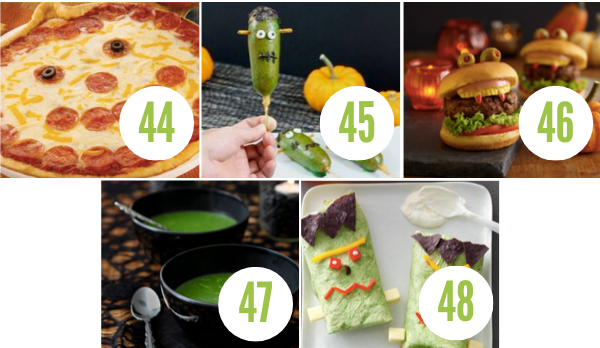 44. Jack O Lantern Pizza– This pizza from Thrifty Northwest Mom is perfect if you need something easy that will feed a lot of people.
45. Frankenstein Corn Dogs– Transform a basic corndog into a scary monster with help from Growing Up Bilingual!
46. Monster Burgers– These monsters from Annabel Karmel are a fun, easy way to spice (or shall we say, "spook?") up your burger!
47. Witch's Brew (Cheesy Spinach Soup)– Everyday Annie's spinach soup is a delicious concoction!
48. Frankenstein Boo-ritos– Feed the monster inside with Taste of Home's Boo-ritos!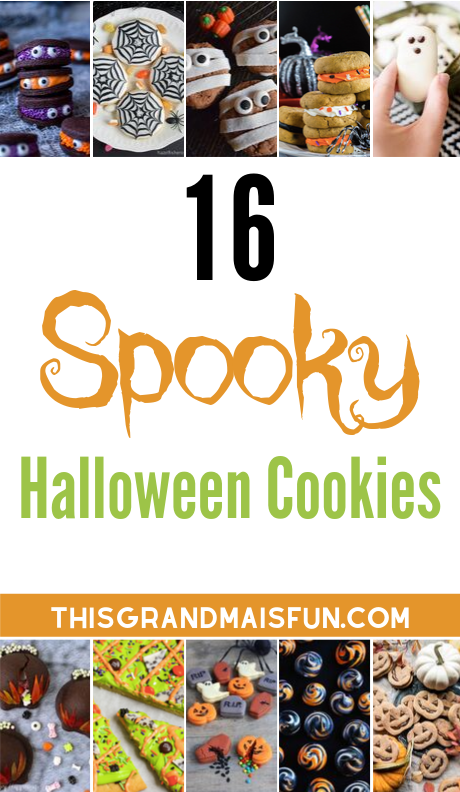 Halloween cookies? How dreadful.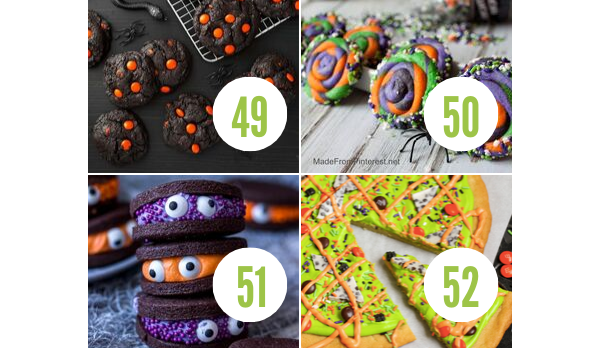 49. Dark Chocolate Halloween Cookies– This cookie from Simply Happy Foodie is a simple, tasty treat!
50. Twisted Halloween Cookies– Our twisted Halloween cookies may look complex, but they are actually quite easy and look beautiful!
51. Chocolate Monster Halloween Cookies– Sugar Salt Magic's cookies are for any monsters with a serious sweet tooth!
52. Halloween Sugar Cookie Cake– Yes. That's right. Lil Luna's cookie here doubles as a cake. Ok, not an actual cake, but just look at the size of that thing! It's fit for a giant Frankenstein!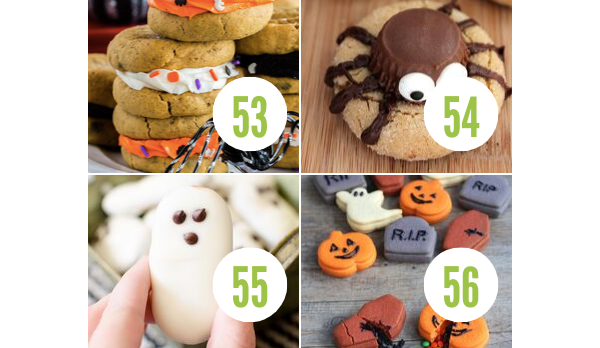 53. Pumpkin Sandwich Cookies– Forget oreos! Try out these sandwich cookies from Cook with Manali!
54. Peanut Butter Spider Cookies– Normally, anything spider is a big "Nope!" for me, but I have to make an exception for Mommy Musings's adorable spider cookies.
55. Easy Ghost Cookies– Don't be surprised when these cookies from Butter with a Side of Bread completely disappear. If you're wondering if I'm referring to them being ghosts or that everyone will gobble them all up, the answer is yes.
56. Trick-or-Treat Cookies– These cookies from Not Martha are the perfect surprise treat for eager young trick-or-treaters!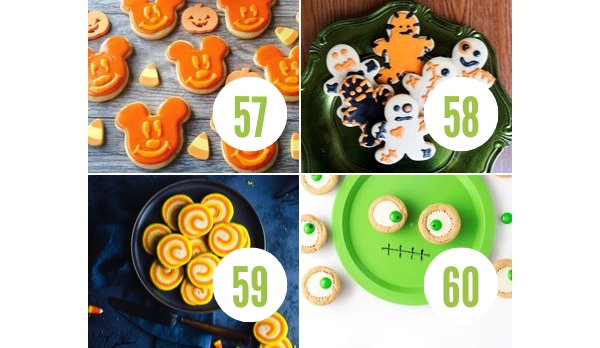 57. Pumpkin Spice Sugar Cookies– Who needs a latte when you can have these scrumptious cookies from Mommy Mouse Club House?
58. Voodoo Cookies– Please do not attempt any witch craft with these cookies from Woo! Jr. Just take a bite and enjoy!
59. Candy Corn Swirl Cookies– Ode to candy corn! We love the results of this cookie from The Simple Sweet Life!
60. Peanut Butter Cup Eyeball Cookies– I always feel like somebody's watching me…. which makes Design Eat Repeat's cookies perfect for me!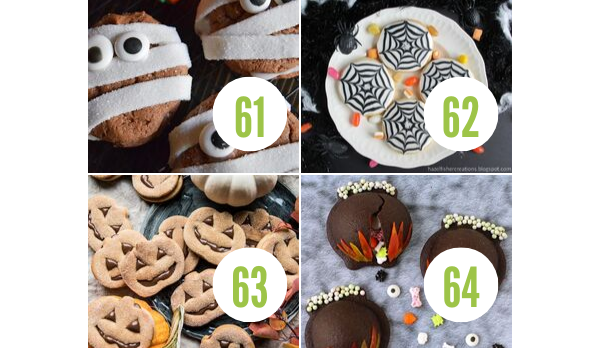 61. Mummie Whoopie Pie– Didn't you know the ancient Egyptians loved whoopie pies? They especially would've loved this recipe from Adventures of Mel.
62. Spider Web Sugar Cookies– If you want to up your cookie decorating game, follow Hazel Fisher Creations's recipe!
63. Milk Chocolate Stuffed Jack O' Lantern Cookies– These Jack o' lanterns from Half Baked Harvest turned out so cute!
64. Candy Filled Cauldron Cookies– These cauldrons from Hungry Happenings really are magic!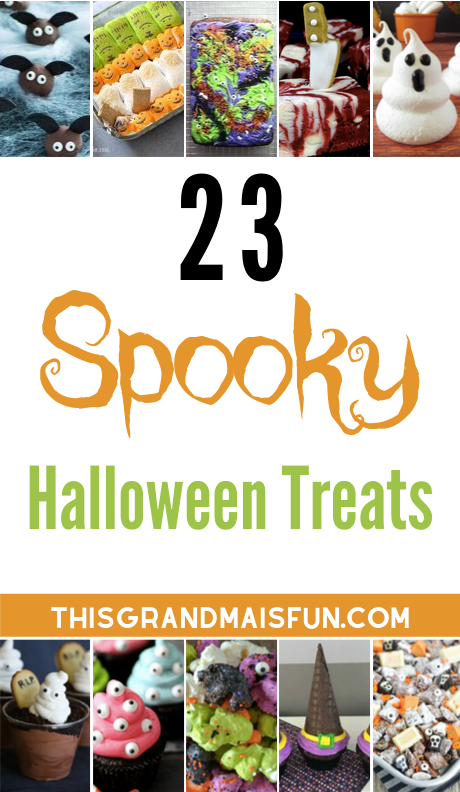 It is true that a cupcake or truffle will stave off a monster's appetite….. for a while…..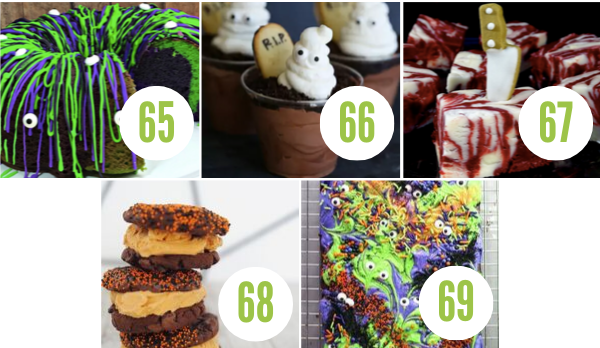 65. Monster Bundt Cake– Kitchen Fun with My 3 Sons's cake is a ghoulish delight!
66. Ghosts in the Graveyard– These grim, grinning ghosts from Our Best Bites are a perfectly haunting treat.
67. Bloody Fudge– For the vampires at your house, try True Blue Me & You's bloody fudge.
68. Chocolate Pumpkin Ice Cream Sandwich– Pink Peppermint Design's deathly cold treats are sure to be a hit!
69. Monster Mash Halloween Brownies– Don't these brownies from Buy This Cook That make you want to get up and do the mash?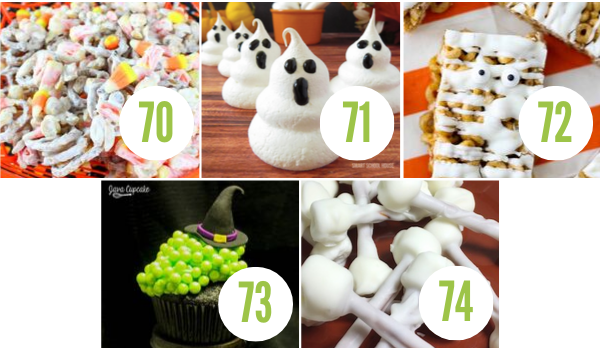 70. Halloween White Trash Mix– The Country Cook's white trash mix is hauntingly good!
71. Ghost Meringues– Smart School House's ghosts are the epitome of Boo.
72. Mummy Cereal Bars– Mummy cereal bars that are happy to see you!
73. Witch's Cauldron Cupcakes– Bubble, bubble, bake some trouble with Java Cupcake's witch's cauldron!
74. Skeleton Bones– Penny Pinchin' Mom's recipe is frighteningly easy!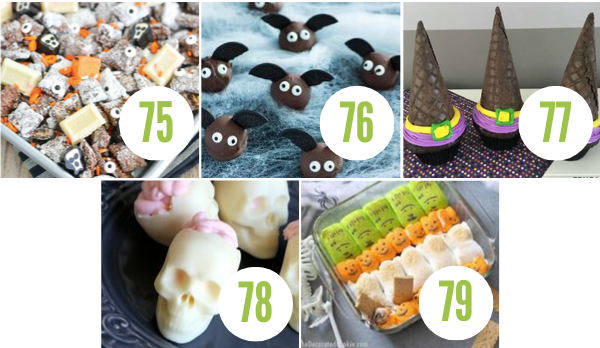 75. Halloween Muddy Buddies– No witch could turn down Sizzle Yum's muddy buddies!
76. Oreo Bat Truffles– Make all your creepy guests feel at home with Butter and Baggage's bat truffles.
77. Witch Hat Cupcakes– Rumor has it that the waffle cone is what inspired witches to take up their pointy head garb. See for yourself at Frugal Coupon Living.
78. Pink Brain Mousse in White Chocolate Skulls– Delight all the goblins and ghouls at your party with these gruesome goodies from Mom Foodie!
79. Halloween S'mores Dip– No need to camp at the graveyard with The Decorated Cookie's s'mores dip!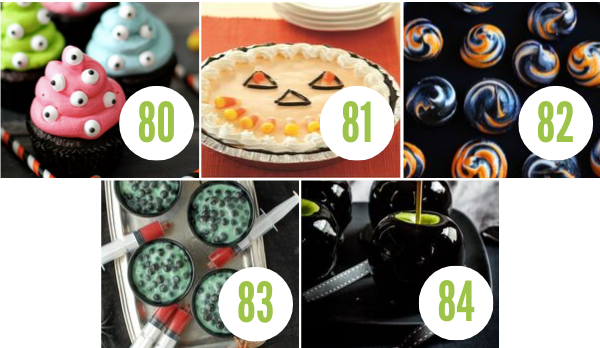 80. Monster Cupcakes– Hurry and eat these cupcakes from Life with the Crust Off before they get up and run off the plate!
81. Jack o' Lantern Pie– Level up pumpkin pie with My Food and Family's jack o' lantern pie!
82. Spooky Halloween Meringue Swirls– There is something about Cake n Knife's meringues that make them seem almost…. otherworldly.
83. Creepy Spider Egg Pudding– For those of us with a love of creepy, squashy textures (I'm looking at you monsters out there!), you'll love Boulder Locavore's pudding!
84. Poison Toffee Apples– I like my town with a little drop of poison…. and also my apples. Find this recipe at Simply Delicious.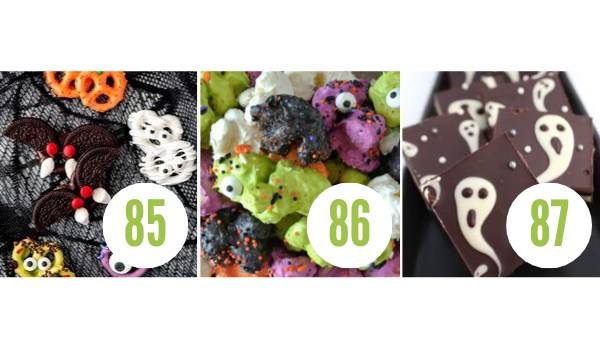 85. Halloween Chocolate Covered Pretzels– Make a variety of scary monsters with Garnish and Glaze's recipe!
86. Monster Munch– This munch from Easy Peasy Pleasy is for monsters only.
87. Ghastly Candy Bark– The Simple Sweet Life's candy bark is sure to attract all the spooks haunting the town.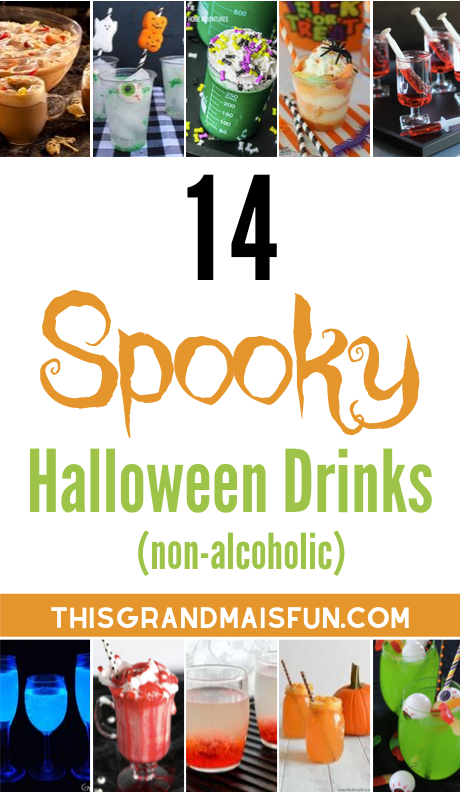 I highly recommend the decayed juices of the undead. It's got a nice tangy flavor to it…..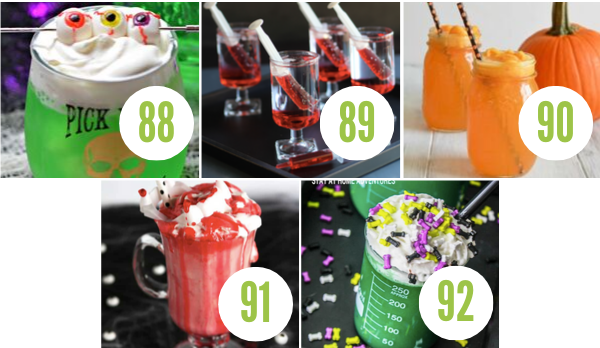 88. Boogeyman Brew– The boogeyman's favorite drink (I mean, he's gotta get thirsty once in a while, right?)! Find it at Who Needs a Cape?
89. Bloody Shirley Temples– I want to suck your blood…. but this will do.
90. Hocus Pocus Punch– For those of you who've always wanted to try the Sanderson Sisters' Life Potion, Nourished Simply has it all figured out.
91. Vampire Ice Cream Floats– You don't need to be a vampire to enjoy this float from Living Locurto!
92. Monster Hot Cocoa– The perfect drink to warm up little monsters after an evening of trick or treating. Find it at My Stay at Home Adventures.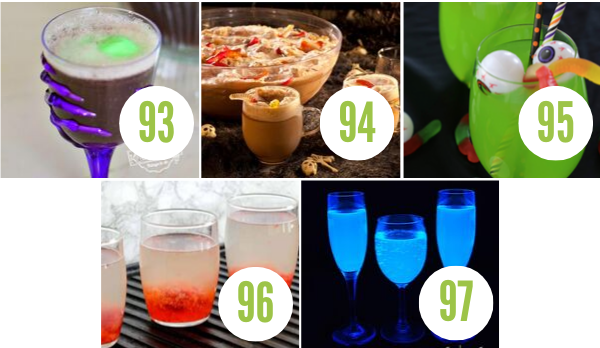 93. Bat Brew– Aaah, bat brew from Kid Friendly Things to Do. Just what the witch ordered.
94. Cemetery Slime Punch– HGTV's punch is straight from the crypt!
95. Witch's Brew– Channel your potion making skills with Served Up With Love's brew!
96. Zombie Gore Guzzlers– This drink from Squirrels of a Feather is simply to die for!
97. Trick or Treat Punch– Because even monsters get thirsty. Check it out at Spending with Pennies.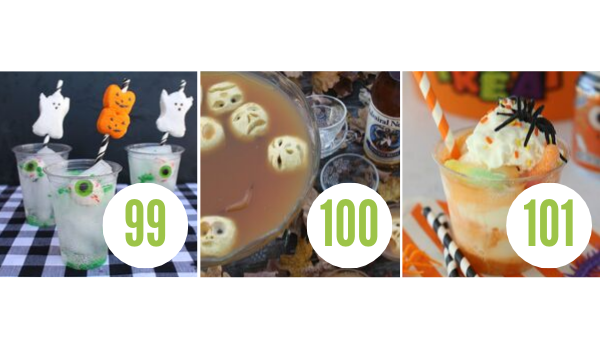 98. Blacklight Lemonade– Yes. You read that right. Girl Loves Glam has glow in the dark lemonade.
99. Easy Halloween Drinks with Peep Straws– The little demons at your house will love this cute recipe from A Girl and a Glue Gun.
100. Shrunken Heads in Spiced Cider– This drink from All Roads Lead to the Kitchen looks like something out of a horror movie!
101. Scary Sunkist Floats– If you never thought a float could be scary, then you've never seen Diary of a Recipe Collecter's Sunkist floats.