Halloween is almost here folks! Yaay! I am super excited. Mainly because I will be able to see the creative side of my grandkids. The past Halloween they all dressed as superheroes and heroines. It was a fulfilling day for me. I even remember we took photos and printed them for memories' sake. Whenever I feel bored I always look at them and a smile effortlessly appears on my face. I sure am a Halloween lover. No debate on that. In my exploration of ideas, I came across an incredible trick recipe. These Bloody Shirley Temples are perfect for your Halloween.
If you are like us, you can't get enough of Halloween! Talk of the crazy costumes, décor, trick, and treat games, and Halloween-themed foods. How can you say no to all this fun and experience!
Here are some of our favorites so far this year: Washi Tape Mason Jar Rings Wreath, Halloween Countdown Calendar, and Cheese Cloth Ghost Spirits. And now on to Bloody Shirley Temples. The name sounds thrilling and somewhat messy. Well, I freak at the slightest sight of blood. So you get where I am coming from. Haha. But this is what Halloween is all about. And thus you cannot go wrong with this recipe.
You can complete your checklist by adding it to your recipes for the party. It creates a different mood for the entire setup. And did I mention that they are the best for your young ones and also create a good addition for your adults' bar? So shall we try it?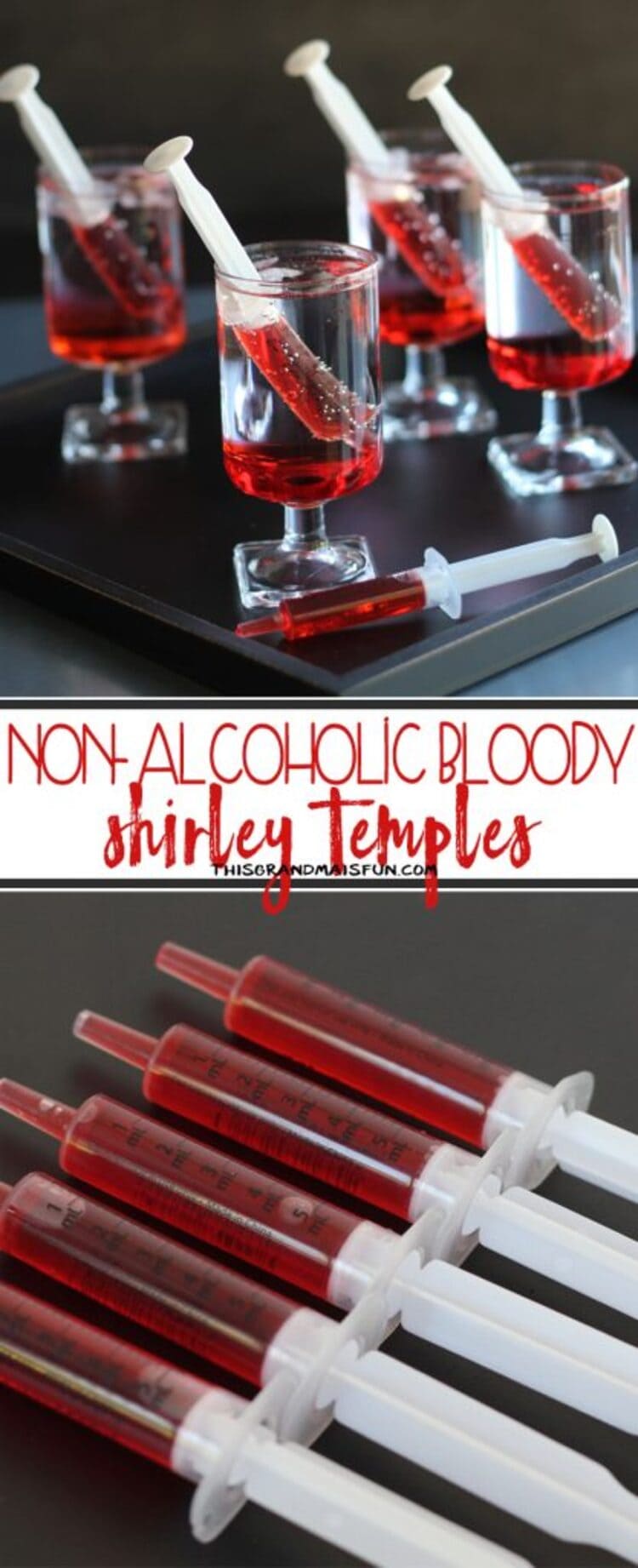 Bloody Shirly Temple Drink Recipe
Let's go a little bit down memory lane. I can tell almost when I had my Shirley experiences.
I'm trying to remember my first memory or experience with the actress Shirley Temple. I'm pretty sure it was when I was eight or ten. I was spending the night at my grandmother's house and she let me watch one of the Shirley Temple movies. My next memory is a vivid one.
While watching the movie I was immediately enamored with Shirley's curly hair. I couldn't get over the fact that she could dance around or run around. And her hair would stay in those perfect non-frizzy blonde curls. Why was I so fascinated with her hair? Because my hair is very dark and VERY curly and not cute curly. Uncontrollable frizzy, brillo pad-curly. I was having some serious hair envy issues.
My first memory of having a Shirley Temple drink was again when I was 8 or 10. We went out to dinner with my mother's side of the family. My Aunt ordered Shirley Temples for the girl cousins and Roy Rogers for the boy cousins. I felt bad for the boys because my Shirley Temple drink looked better. And I was sure it tasted better than their Roy Rogers drink.
I was right, it did taste better!
What is a Shirley Temple Drink?
It would be so unfair of me to assume that we all are aware of the drink in question. So let me be considerate and start with the basics.
A Shirley Temple is a non-alcoholic mocktail drink that is sweet, fizzy, and optionally served with maraschino cherries. It is known to be a 1930's drink that was then served to my favorite curly-haired girl, Shirley Temple. It bears her name and is a legendary drink so to say.
Though named after her, Shirley never really championed it. She kind of didn't like the sweet taste of it. A confession she made in an interview according to Boulder Locavore. Such a funny discovery! Can I joke about it just a little? They might have forced it down her throat for the show. Haha.
Now that we know what our famous drink is, we can go right into preparing it. So excited about this. Can't keep calm.
Ingredients for the Bloody Shirley Temple Drink
When I found this pin by Amy at your Southern Peach it made me laugh. Whenever I hear the name Shirley Temple I think of this darling curly-haired little girl with dimples.
Another thing that comes to mind is the contents of the drink. It is one of the few drinks you do not need to scratch your head to figure out what it is composed of. And the ingredients themselves are easy to come across. Only three ingredients are needed for this trick recipe.
Grenadine – When we mention bloody there is certainly some red color that is at play. And of course, it ain't the actual blood. For the blood trick, Grenadine syrup is the perfect suit.
Ice – The second ingredient you need is ice. There's something that ice does to a drink. That breezy calming effect is felt down the gut. Always a refreshing moment. The ice though is optional.
On to our third ingredient. Sprite soda for that fizzy look.
The last item is syringes to draw in the grenadine. You can get the normal medicine syringes from a pharmacist, and they will work the trick.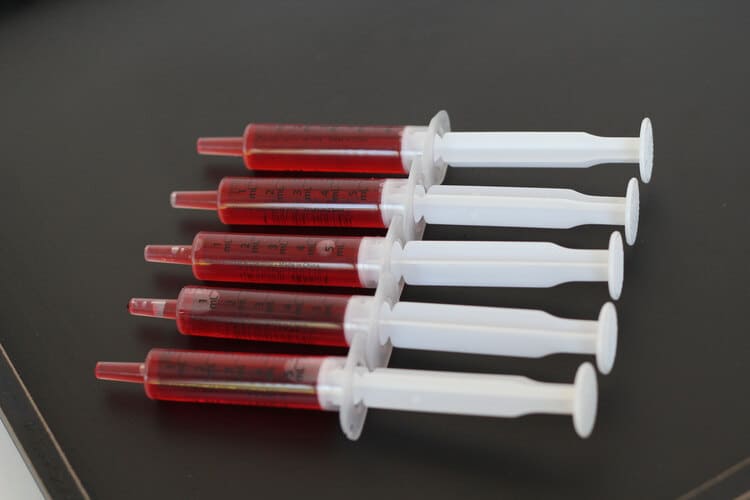 How To Make The Bloody Shirley Temple Drink
Amy updated the Shirley Temple drink from a classic to a very cool, creepy Halloween drink. Some of your grandkids may get grossed out about the syringes filled with pretend blood (Grenadine). Though most of them are going to think it is awesome and have a blast squirting the blood into their drinks.
If they are like my grandson, they will keep drinking them just so they can use the syringe over and over again.
With your supplies ready, we are set to start making the drink.
Super easy steps for you to follow. It will only take a few minutes to have this mocktail drink set. And every moment will be worth the while for your Halloween party guests. Let's do this together. Shall we?
First things first, have your glasses ready. Then scoop some ice and place it in your glass(es).
Secondly, pour the sprite soda over the glasses with ice in them.
The final step is to garnish the drink with a bloody grenadine syringe. Then let the guests or your grandkids shoot in the grenadine in their drinks themselves.
And just like that in those three steps, you have your drink set for enjoyment.
An illustrative recipe video from Chef Tips will be of great help in making our Halloween Shirley temple recipe. It is a fun one to watch. So feel free to dive into it.

Adult Halloween Shirley Temple Drink Recipe
The kids have their share of fun, and adults can't be left behind on this. We mentioned earlier that the drink can also be enjoyed by adults at their bar. So here is how.
Instead of adding sprite to the ice, try experimenting with other soda flavors. If are keeping your sugar intake low, prepare it with plain soda water and some freshly squeezed lemon. The other steps are just like the kids' mocktail.
Now the party can begin!
Costumes are in check. Drinks in check. Games in check. It's party time!
Also, a tip you can take away from us is to prepare the grenadine syringes beforehand. For a party that has a big turnout, it can be hectic to prepare them on site. Thus prior preparation will make things run smoothly. And the crowd will be more appreciative.
I can't wait to have this recipe for this coming Halloween. Because it is super fiery. The first time I made some samples of it, my grandkids went ballistic. In a good way. Haha. They were so excited and could not stop talking about the lovely experience they had.
Every time they come to visit they always want me to prepare the drink. And who am I to say no to them. It is never a dull moment having them around. So anything for my darlings.
What are your Halloween plans this time around? Are you as excited about it as I am? I am thinking of having a red and black-themed party. So that it can match with my Shirley mocktails.
There is only one thing that I think would make this drink even better. I wish having a Shirley Temple drink, bloody or not would turn my frizzy, brillo pad curls into silky curls. As you can tell from my picture below it hasn't happened. That's OK. Because Bloody Shirley Temples taste great and they are a fun, creepy drink. You know what that means…
We would love to hear from you on how your experience is once you try out the recipe. It is our joy to hear that guys get to enjoy the content we share. And makes us want to even do more. So don't shy away from commenting on our comments section.
That said, enjoy our recipe.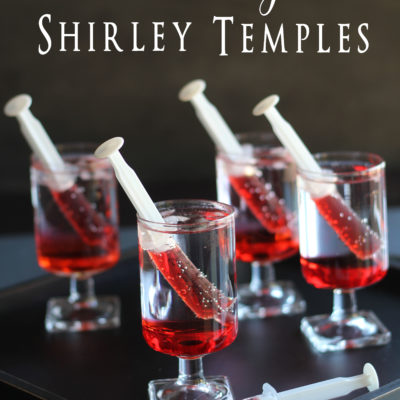 Bloody Shirley Temples
Ingredients
Sprite

Ice

Grenadine

Syringe
Instructions
Pour Sprite over ice, wait until it stops fizzing. Squirt Grenadine in for a fun taste and look.
This Pin Rocks!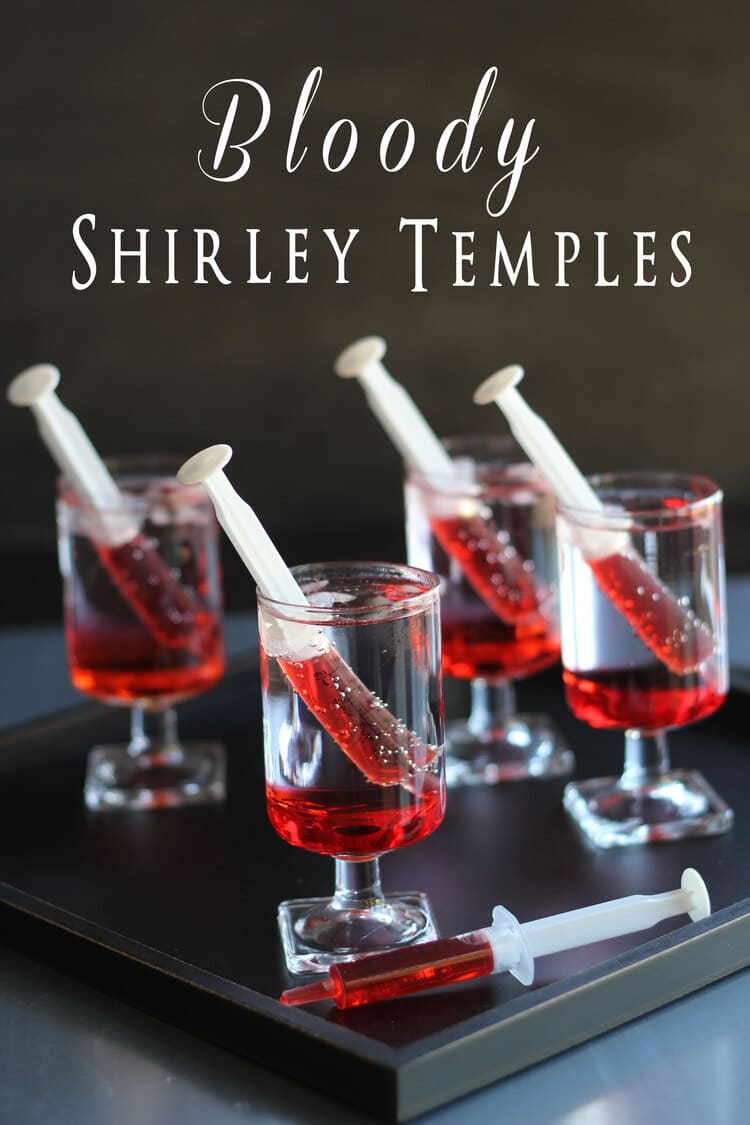 Did you enjoy our Halloween Bloody Shirley Temple Drink? Want even more Halloween ideas? Check out these great ideas we have for you: