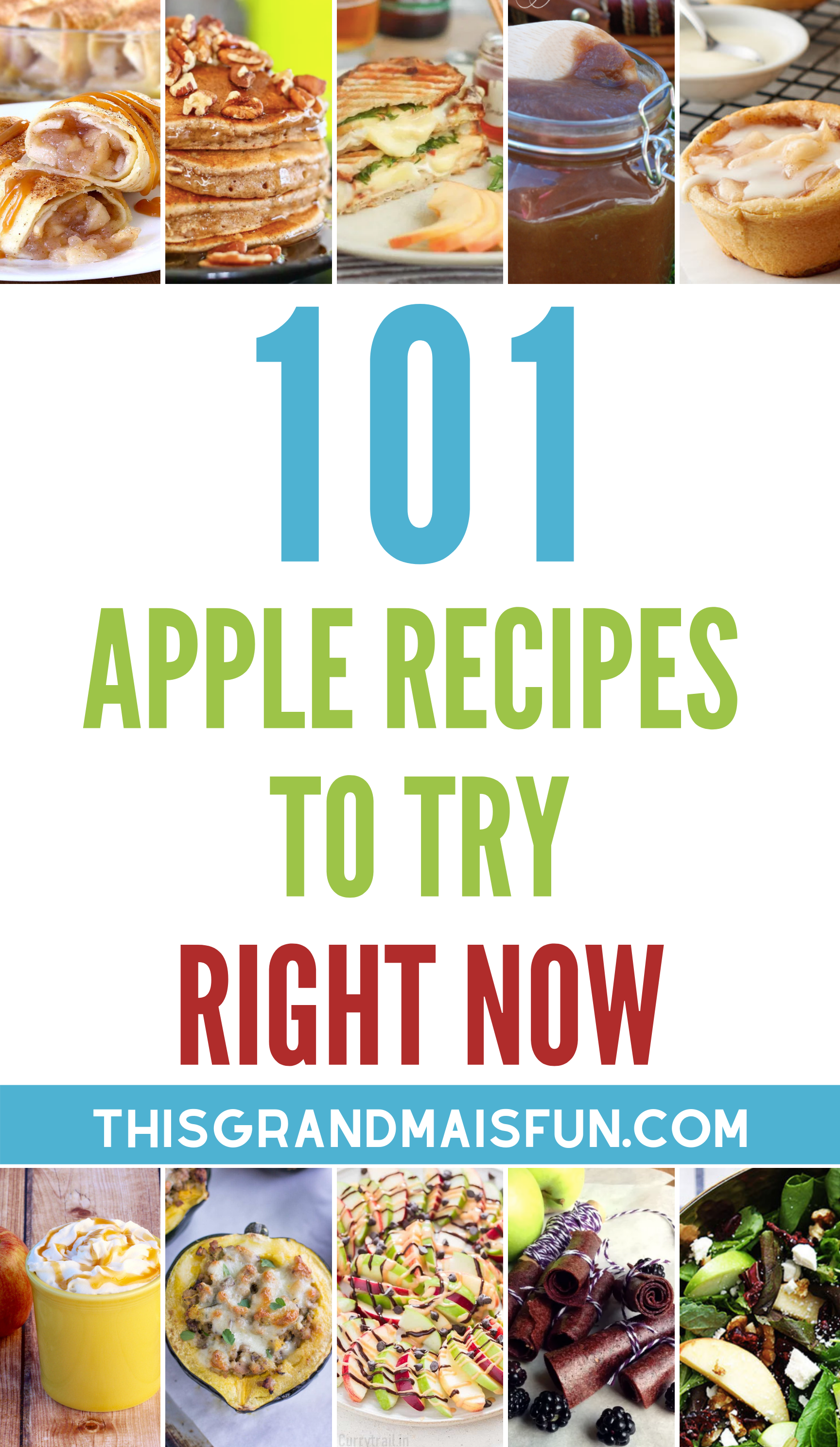 Fall time is here and what better way to celebrate than with apples? Here are 101 apple recipes to try right now!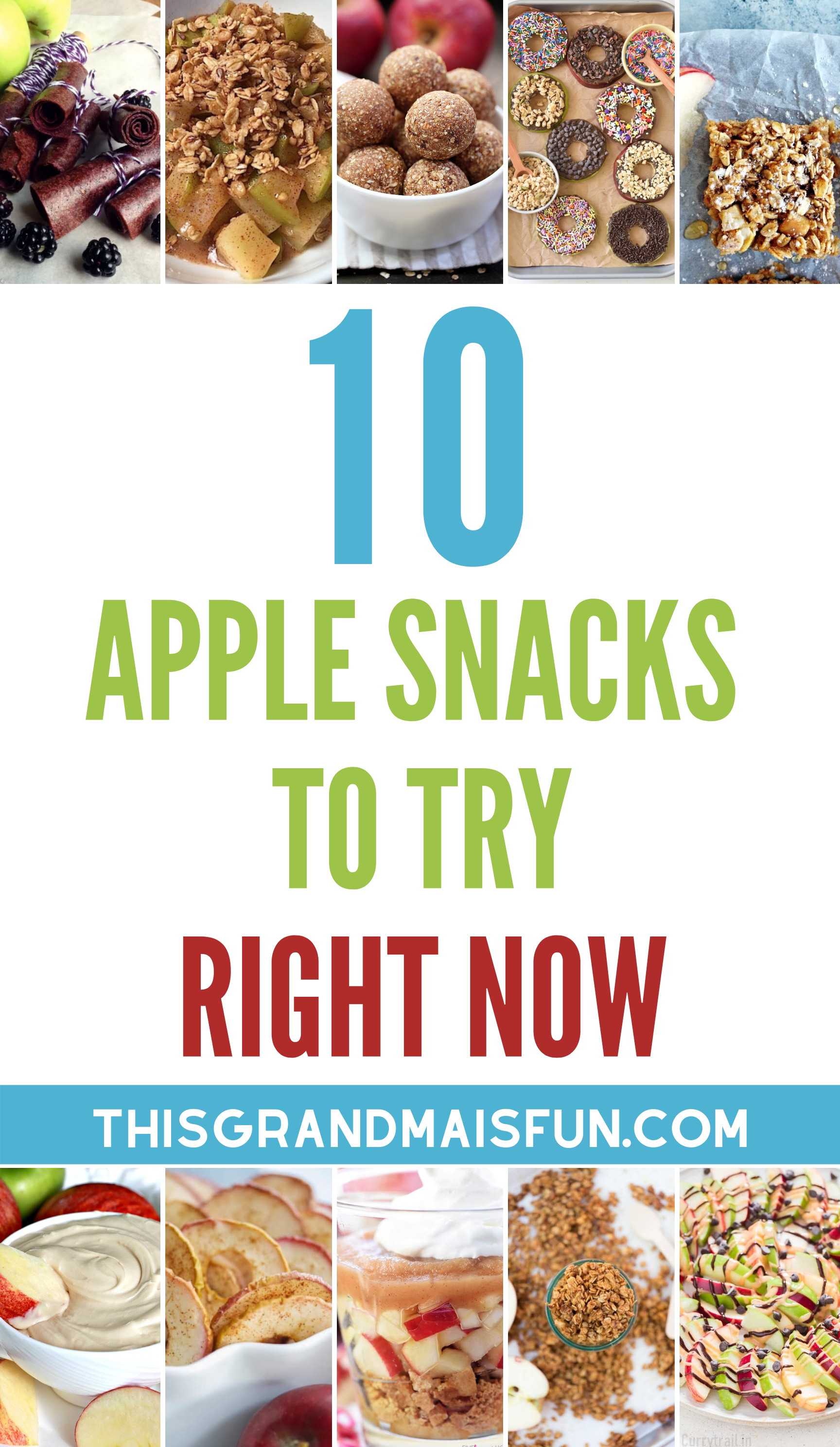 Light, sweet, and refreshing, apples make for some of the best snacks!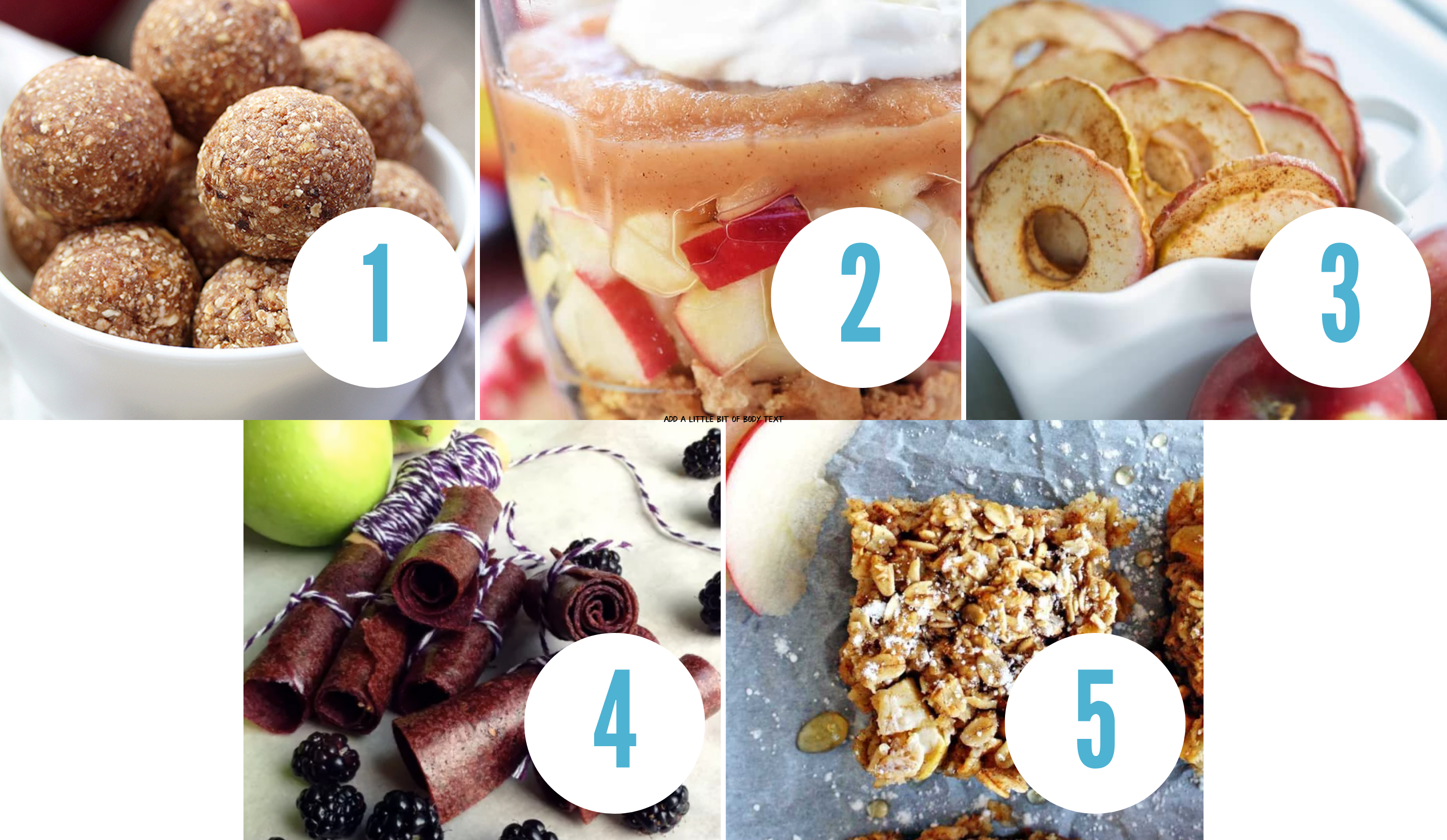 1. Easy Cinnamon Apple Energy Balls– This easy snack from Sweet Spicy Kitchen will start your day right!
2. Apple Pie Snack Cups– Why wait for dessert when you can have these delicious snacks from Five Heart Home any time?
3. Cinnamon Apple Chips– Apple chips are one of my favorite snacks. I could eat these chips from Carrie's Experimental Kitchen all day!
4. Blackberry Apple Fruit Leather– This fruit leather from Salt in my Coffee is a perfect fall snack!
5. Baked Apple Oatmeal Bars– These oatmeal bars from My Everyday Table are sure to make your mouth water!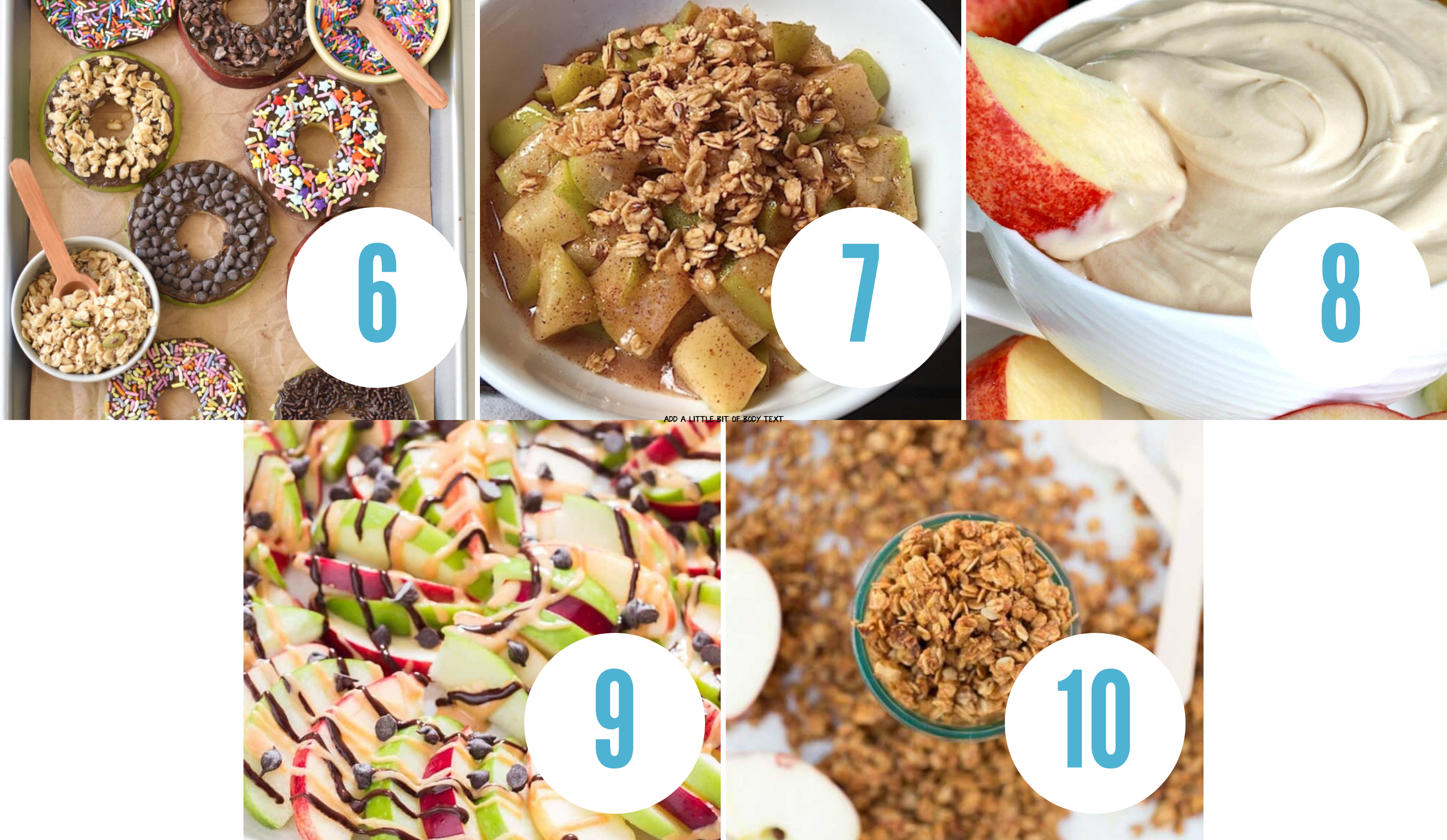 6. No Bake Apple Donuts– Ok, no, these snacks from Fork and Beans are not really donuts, but with a name like that, your kids will be begging for these sweet, healthy snacks!
7. 2-Minute Cinnamon Apples– A quick, sweet snack from Listotic!
8. Cream Cheese Apple Dip– Is it just me, or is cream cheese a magic ingredient? It goes with everything and only makes a recipe even more amazing! Check out this cream cheese recipe from Grateful Prayer, Thankful Heart!
9. Apple Nachos with Peanut Butter and Chocolate– Delicious nachos from Curry Trail. I never imagined nachos without cheese could ever be this appetizing!
10. Apple Cinnamon Homemade Granola– Can you for one second just imagine the aroma of this granola from Spaceships and Laser Beams baking in your kitchen? Oh yeah, I'm totally drooling…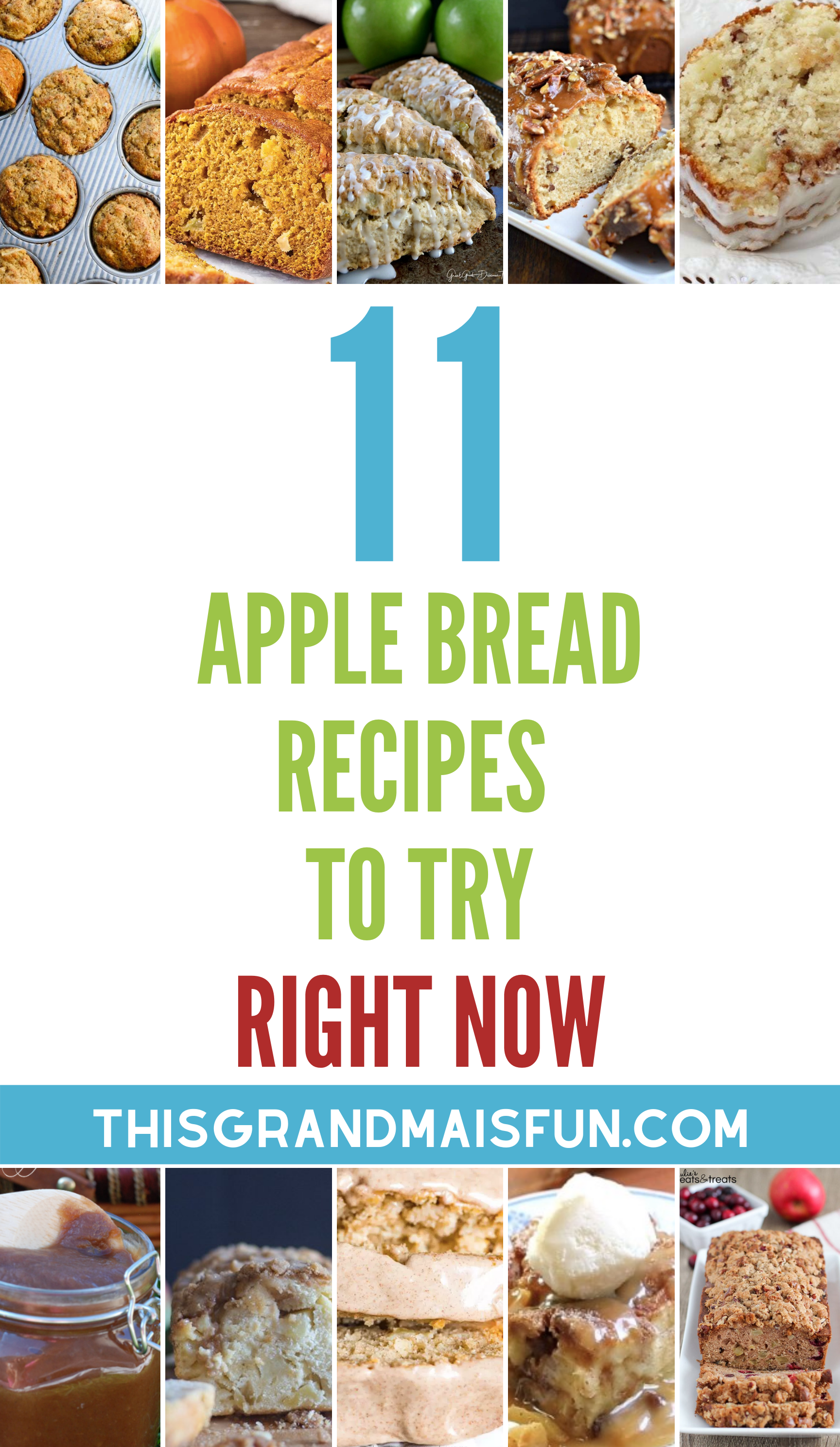 There are so many different breads to make with apples, it was hard to choose! We selected what we believe to be the BEST apple bread recipes just for you!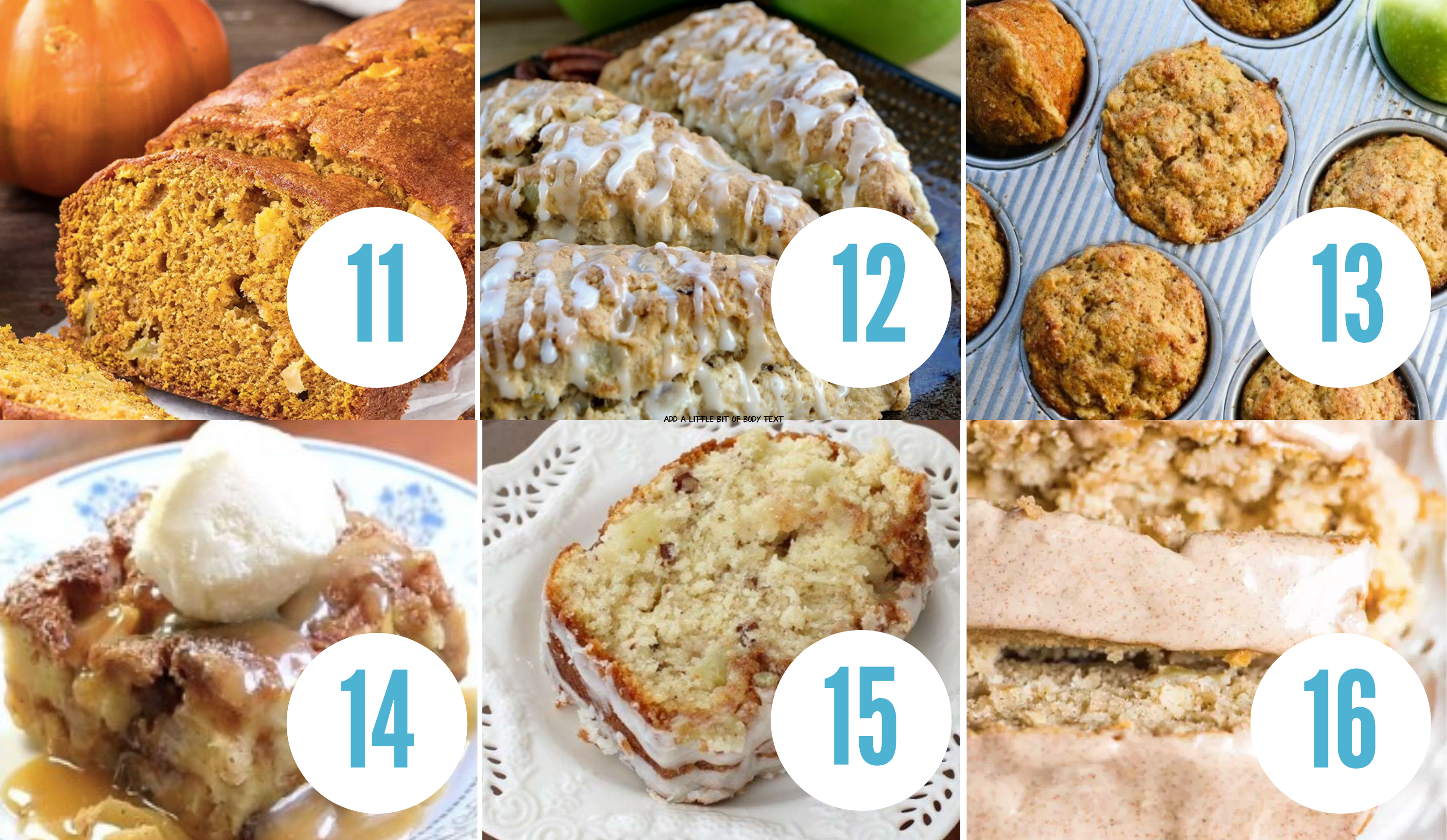 11. Pumpkin Bread with Apples– One bite of this bread from Yellow Bliss Road and *POOF*! You're in buffalo check flannel with a beanie and UGGs.
12. Apple Pecan Scones– These scones from Great Grub, Delicious Treats make me want to curl up with some hot cocoa, a blanket, and a good book.
13. Healthy Apple Muffins– Yes, it is possible for muffins to be healthy, as you can see in this recipe from Cookie and Kate.
14. Caramel Apple Pie Bread Pudding– If you're a bread pudding fan, you will love this recipe from Yuma's Kitchen!
15. Dutch Apple Bread– Two words for this bread from Butter with a Side of Bread: cinnamon- streusel. I'm in!
16. Glazed Apple Bread– The glaze on this bread from Tastes of Lizzy T looks heavenly!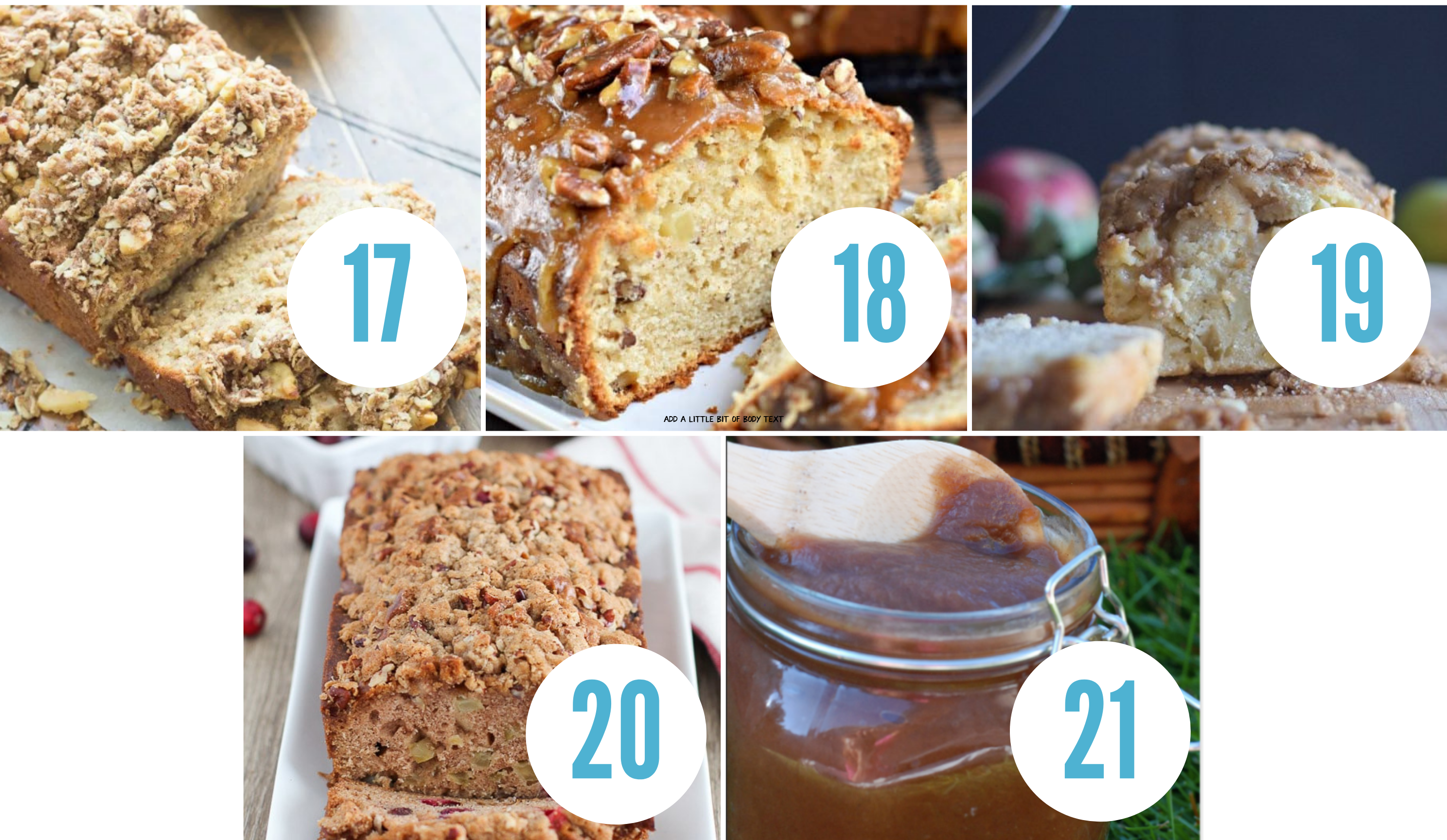 17. Greek Yogurt Apple-Cinnamon Bread– This bread from Kristine's Kitchen Blog looks so good!
18. Praline Topped Apple Bread– Pralines? On apple bread? I must be in heaven now! Thanks Shugary Sweets!
19. Apple Crumb Bread with Maple Caramel Sauce– This bread from An Italian in My Kitchen just screams autumn!
20. Apple Cranberry Bread– Can I get a hallelujah for this bread from Julie's Eats and Treats?!
21. Apple Butter– One of my favorite things to pair with bread is apple butter and we have just the recipe!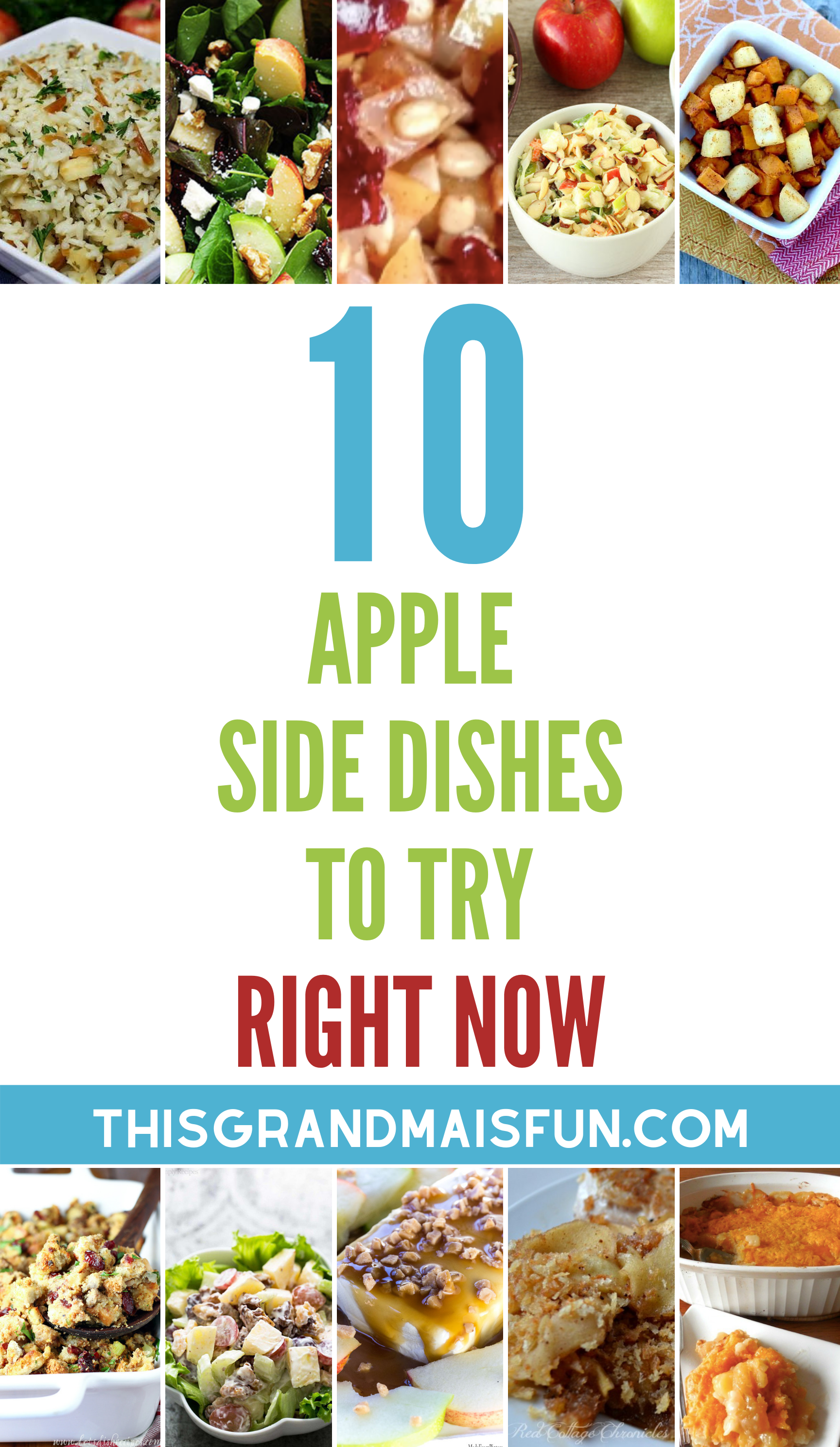 From salads to casseroles, apples make for a versatile side dish.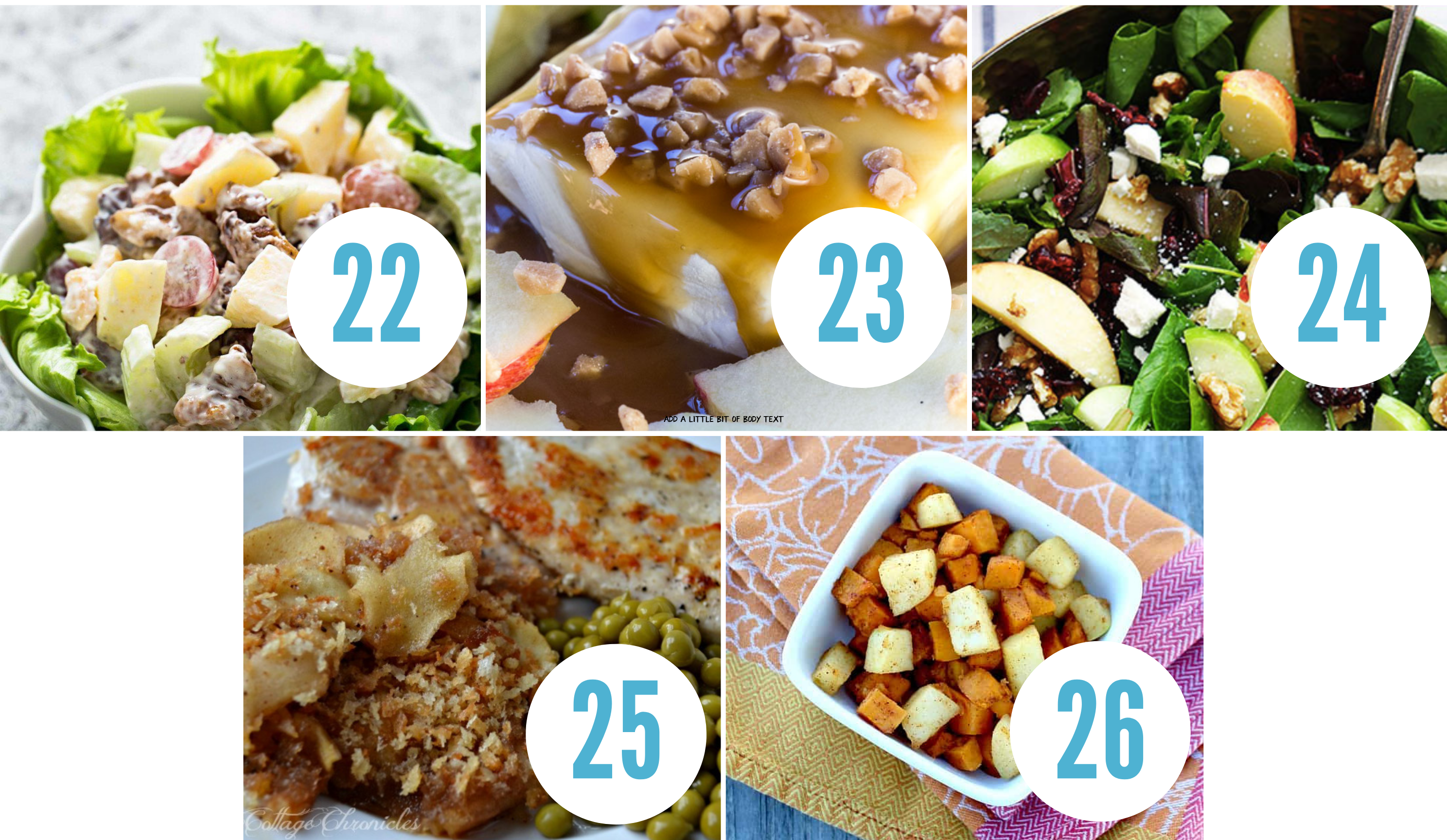 22. Waldorf Salad– I can't wait to try this salad from Simply Recipes!
23. Cream Cheese Caramel Apple Spread– This recipe is so easy-peasy and delicious, you'll probably eat it every day. You have been warned…
24. Apple Walnut Feta Salad– This salad from Top and Exclusive Foods is a perfect combination of sweet and savory!
25. Scalloped Apple Casserole– Normally, when I hear the word "casserole," I run and hide. But this recipe from Red Cottage Chronicles has officially changed my mind about casseroles.
26. Maple Cinnamon Sweet Potatoes and Apples– I'm pretty sure this recipe from Delicious Little Bites is the epitome of autumn recipes.
27. Cheesy Apple Casserole– I never realized how good cheesy apples sounded until I found this recipe from The Southern Lady Cooks.
28. Sausage, Apple, and Cranberry Stuffing– This stuffing from Let's Dish has me all ready for Thanksgiving!
29. Cran-Apple Slaw– I truly believe the best coleslaws are made with apples. Look at this recipe from Hungry Girl if you don't believe me!
30. Apple Chutney– This chutney from The Project Pile is both healthy and delicious!
31. Apple Almond Rice– This rice from Just a Pinch is a dinner game changer! Seriously, I don't know how I'll ever go back to boring white rice again…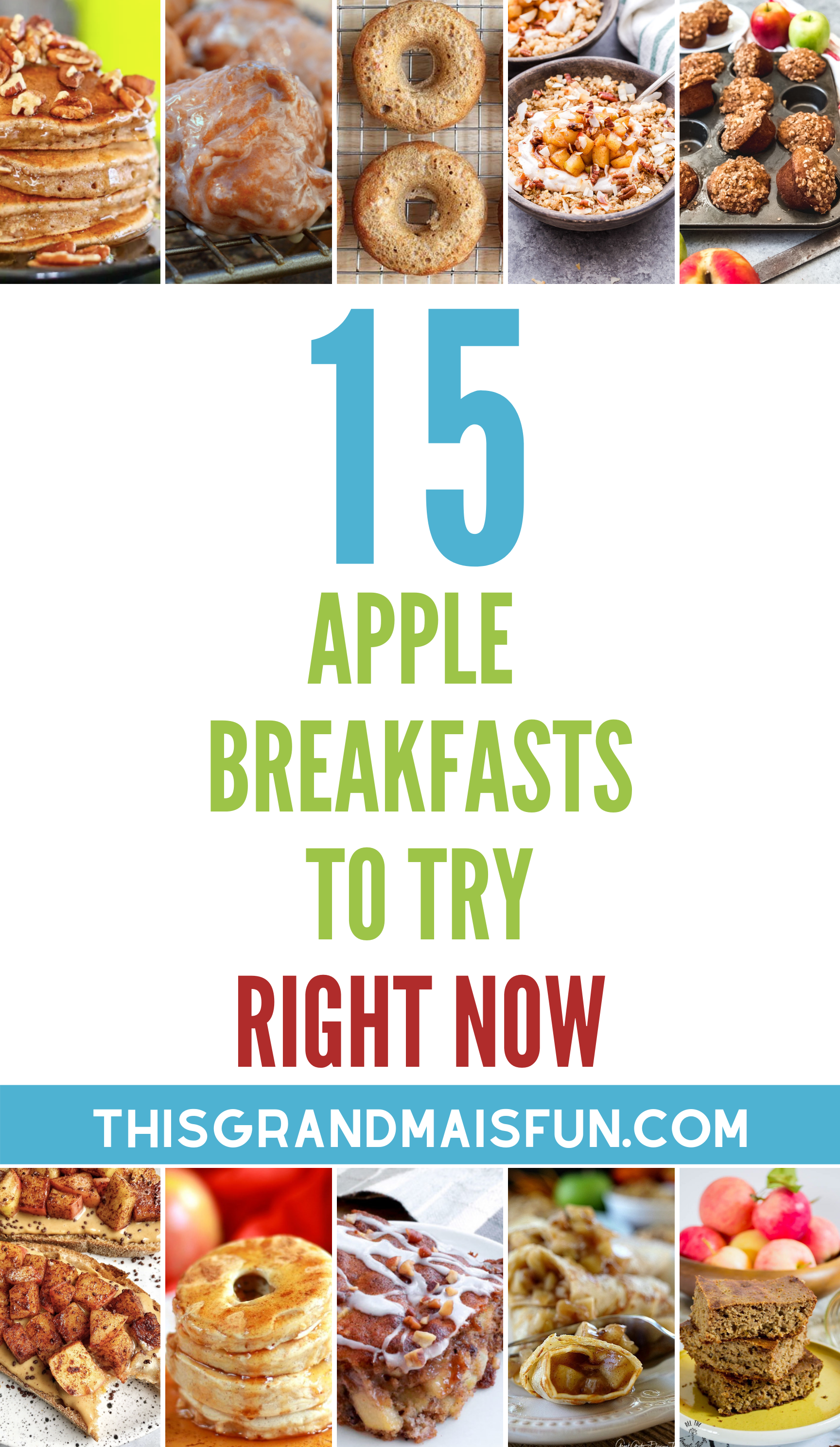 I am not a morning person. Getting out of bed is my least favorite part of the day- until I saw these recipes. With breakfast like these to look forward to, getting out of bed will be a cinch!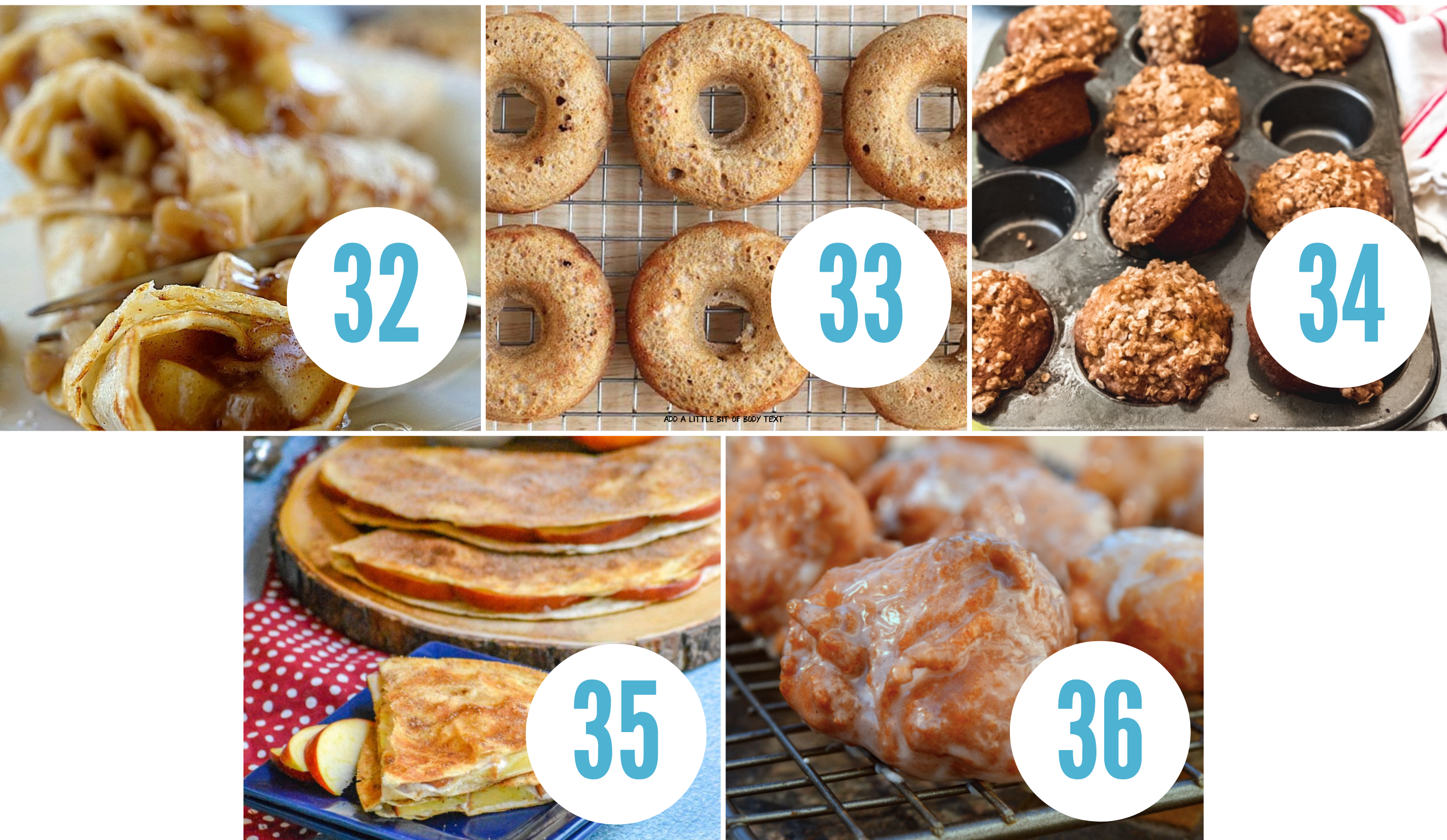 32. Apple Walnut Crepes– What would the world be without crepes? These crepes from Great Grub, Delicious Treats are heaven on earth!
33. Easy Baked Apple Donuts– "Easy," and, "Donut." That's all I need to know about this recipe from Yummy Toddler Food.
34. Easy Apple Oatmeal Muffins– These muffins from House of Nash Eats are comfort food at its finest!
35. Apple Cheese Cake Breakfast Quesadillas– This breakfast from 4 Sons R Us looks so rich and delicious, the world might just end.
36. Easy Apple Fritters– If you've never made apple fritters before, than this easy recipe from Souffle Bombay is the perfect place to start.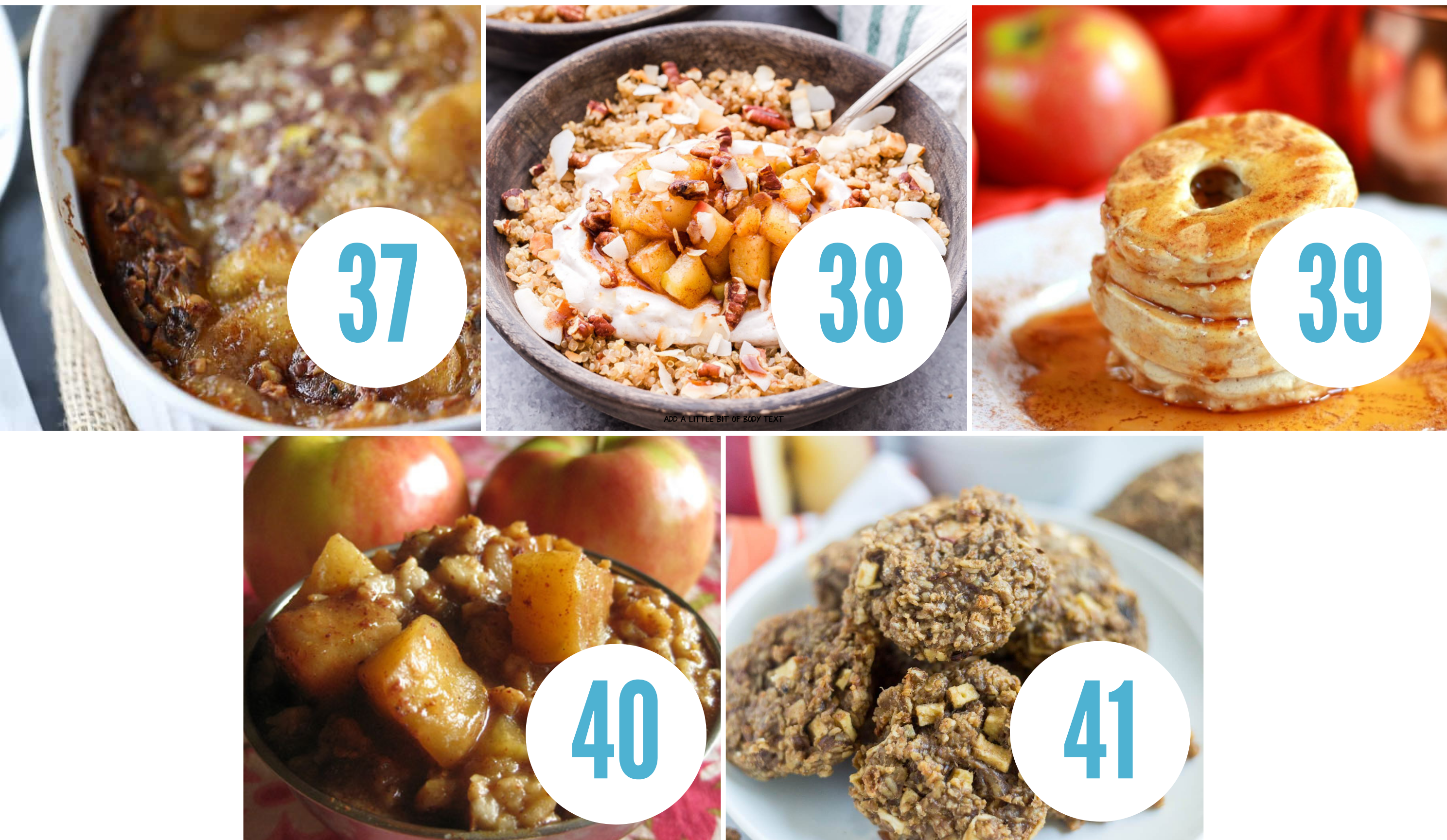 37. Apple Pie French Toast Casserole– There are no rules written anywhere that says you can't have apple pie for breakfast. But, if you're worried, this recipe from Simply Stacie is technically French toast. The perfect cover!
38. Apple Cinnamon Quinoa Breakfast Bowls– Wait- Quinoa for breakfast?! Try this breakfast from Recipe Runner and you'll never second guess quinoa again.
39. 5 Ingredient Apple Ring Pancakes– This recipe from Everyday Cooking had me at "5 Ingredient."
40. Caramelized Apple Slow Cooker Oatmeal– Can you imagine waking up to the smell of this oatmeal from Nourishing Joy after cooking all night? Heavenly!
41. Apple Cinnamon Oatmeal Breakfast Cookies– This is an easy to-go breakfast from What Molly Made.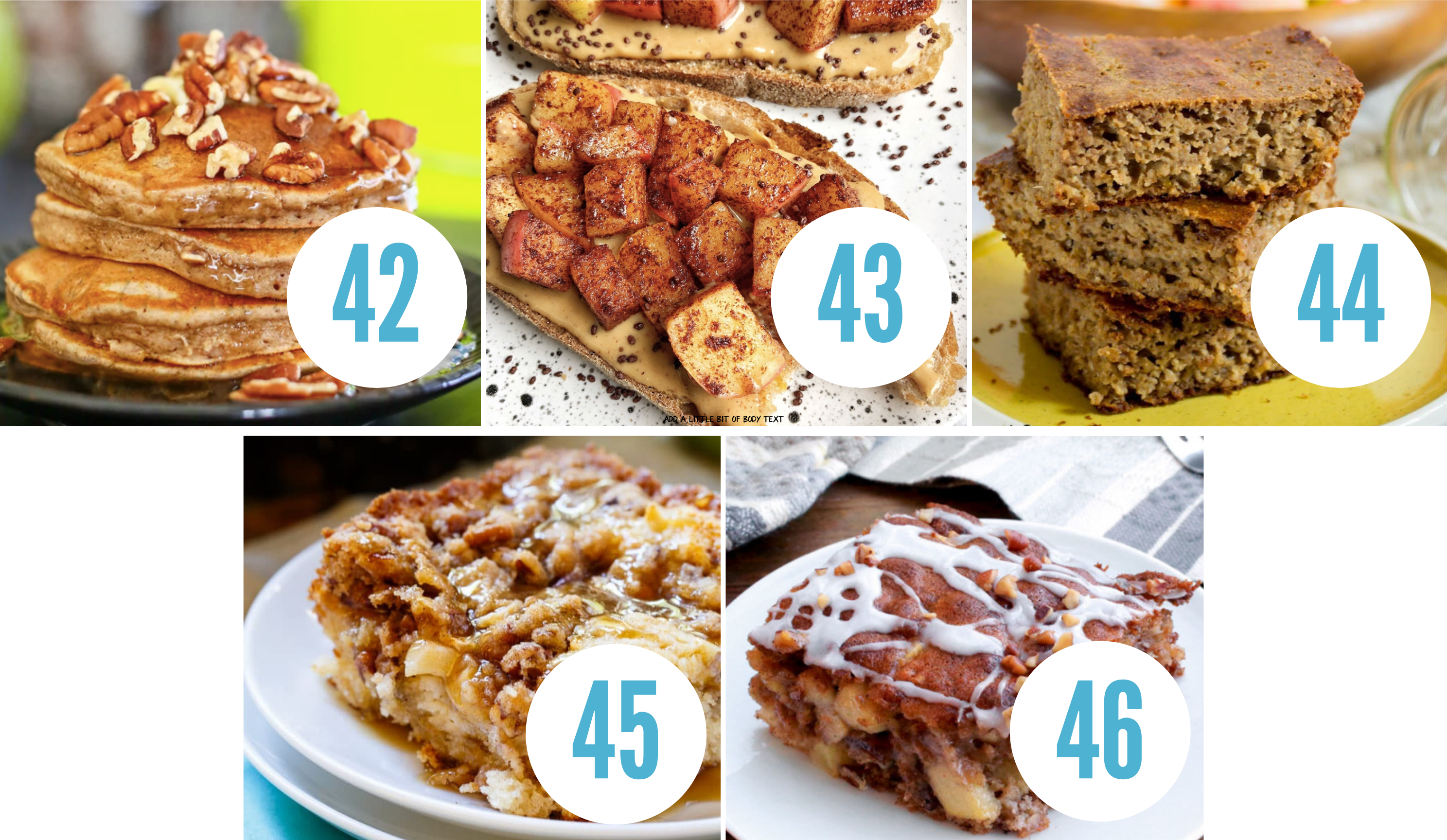 42. Apple Butter Pancakes– You will never eat regular pancakes again after you try these from Kleinworth Co. Just sayin'.
43. Apple Peanut Butter Toast– This toast from Erin Lives Whole is simple and delicious. Perfect for a busy fall morning!
44. Nourishing Apple Breakfast Cake– Nourishing and cake. Two of my favorite things in one recipe from All the Nourishing Things.
45. Apple Crisp Coffee Cake– The perfect breakfast treat from Spicy Southern Kitchen!
46. Oatmeal Apple Breakfast Bake– This recipe from Everyday Dishes has my mouth watering.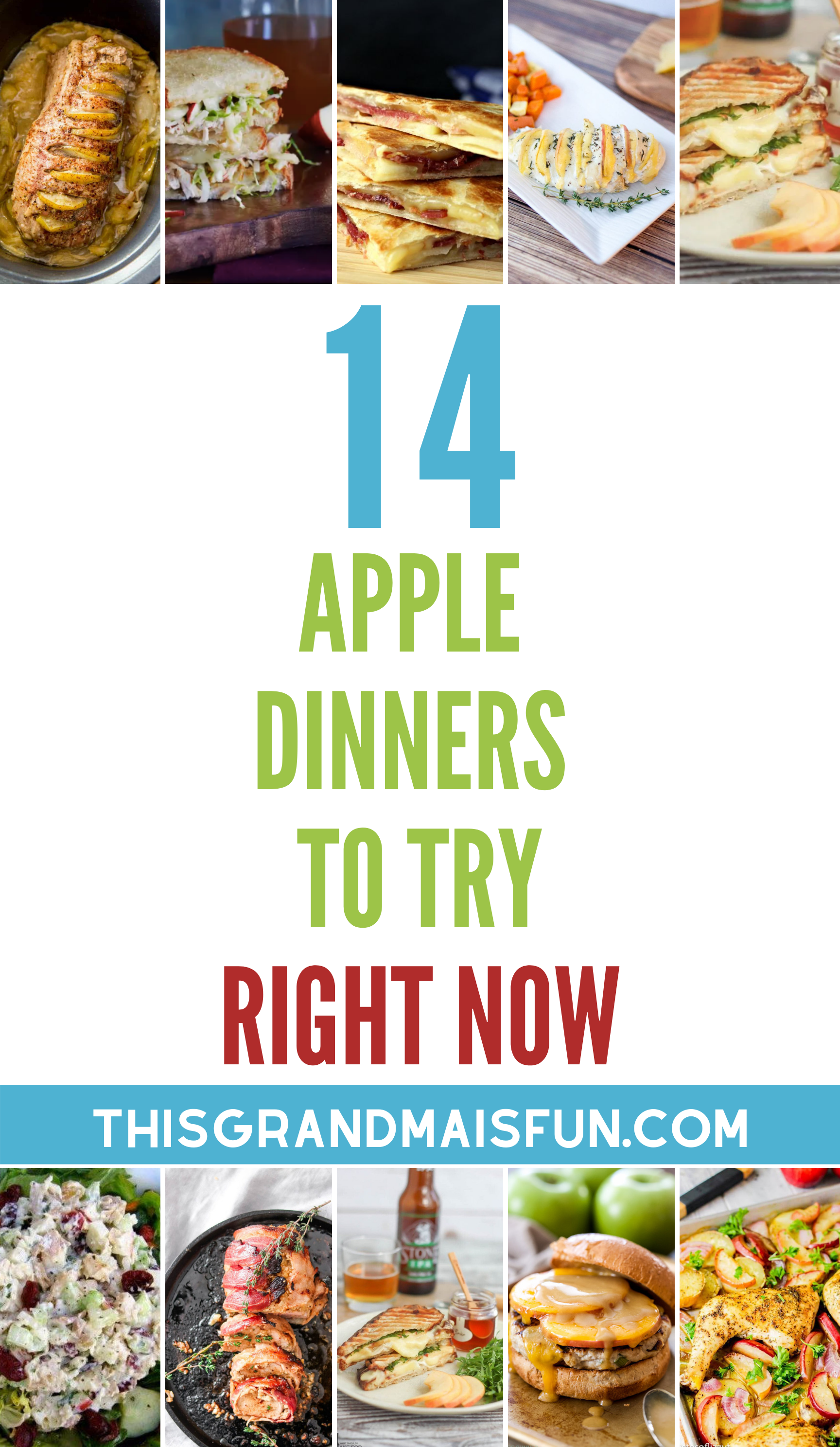 Apples add the perfect amount of sweet and sour to any main dish!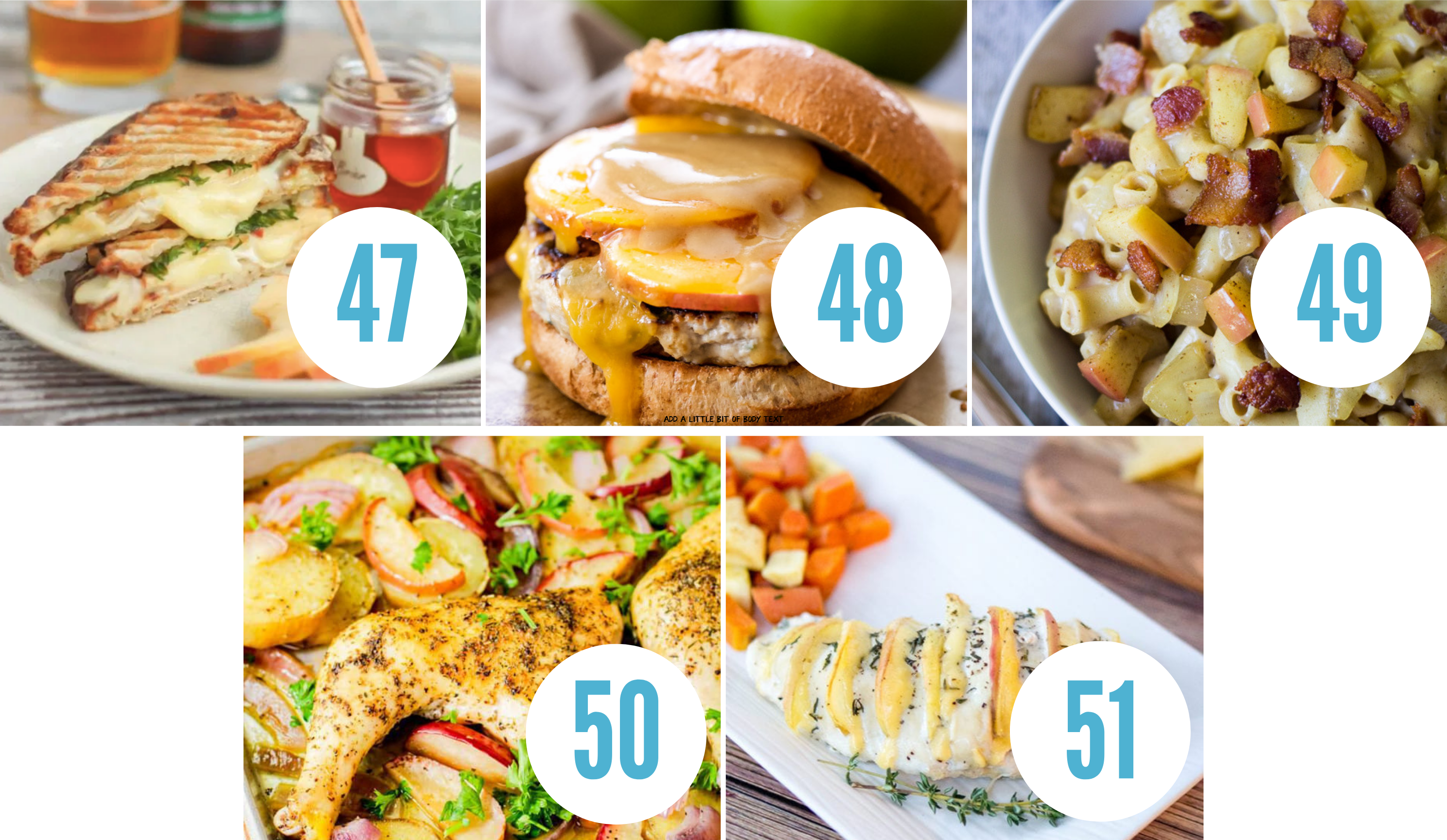 47. Chicken, Brie, and Apple Panini– This panini from What Should I Make For is everything I ever hoped for in a sandwich. *wistful sigh*
48. Apple, Cheddar, Turkey Burger– A blend of sweet and savory your mouth will not soon forget! It will ruin all other burgers for you. Find it at Recipe Runner!
49. Apple Bacon Mac and Cheese– I would love to enter my house on a cold, wet day to find a bowl of The Wanderlust Kitchen's mac and cheese waiting for me at my table.
50. Apple Chicken Sheet Pan Dinner– Throw all the ingredients to this recipe from Tastes of Lizzy T onto one pan, and you've got yourself dinner!
51. Apple and Gouda Stuffed Hassleback Chicken– This chicken from Jamonkey makes a beautiful presentation. It doesn't hurt that it tastes amazing too!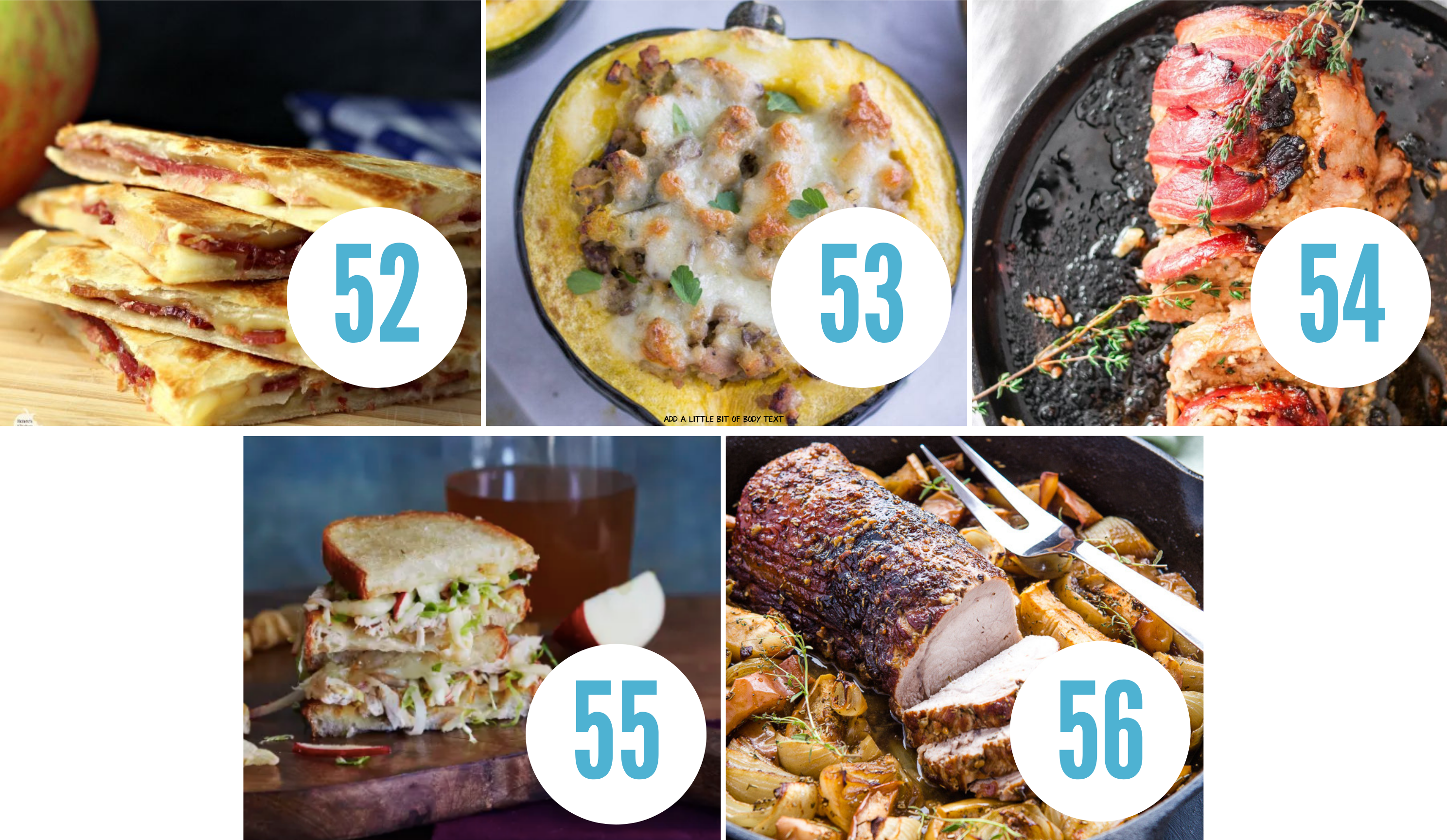 52. Smoked Gouda, Apple, and Bacon Quesadilla– I love this creative take on quesadillas from Renee's Kitchen Adventures!
53. Turkey, Mushroom, Apple Stuffed Acorn Squash– The Clean Eating Couple gives us one more reason to love acorn squash!
54. Apple Bacon Wrapped Pork Tenderloin– This pork tenderloin from What Great Grandma Ate sounds too good to be true!
55. Apple Cheddar Chicken Melt– Check out Kitchn's chicken melt! I know what I'm having for dinner tonight!
56. Easy One Pan Maple Glazed Pork with Apples and Onions– This one-pan recipe from The Busy Baker is so good and so easy, you'll probably make this for dinner every night. You'll never have to wonder what to make for dinner again!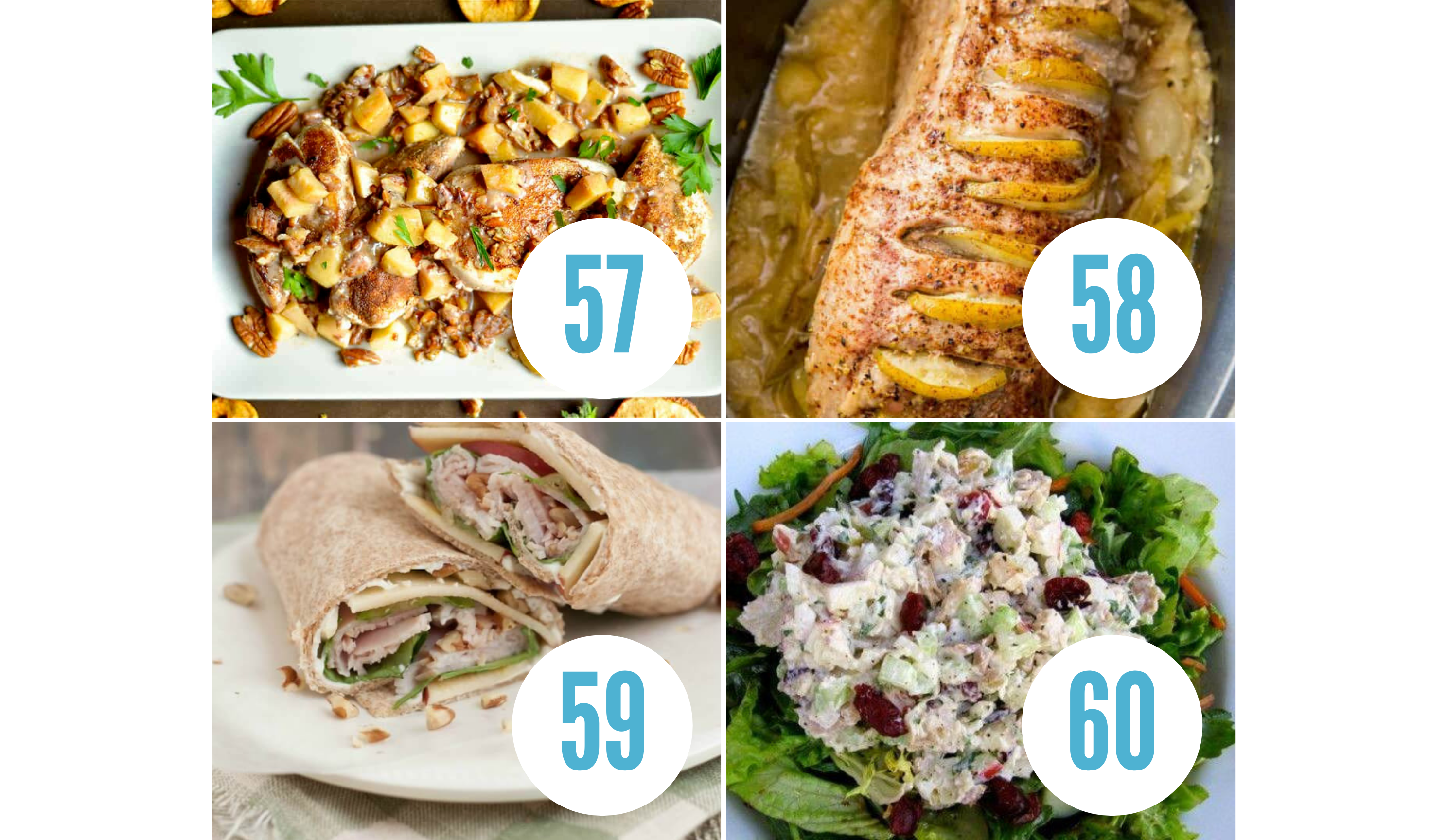 57. Creamy Spiced Apple Pecan Chicken– Wholsomelicious's chicken is so good, you'll be dreaming about it until the next time you make it! Be prepared…
58. Slow Cooker Honey Apple Pork Loin– Any recipe that uses a slow cooker, like this one from Dinner Then Dessert, is already my favorite.
59. Turkey Apple Honey Pecan Wrap– This wrap from Meal Planning Magic is delicious, yet nutritious!
60. Chicken Salad with Apples and Cranberries– Skinny Recipes's chicken salad looks too good to eat!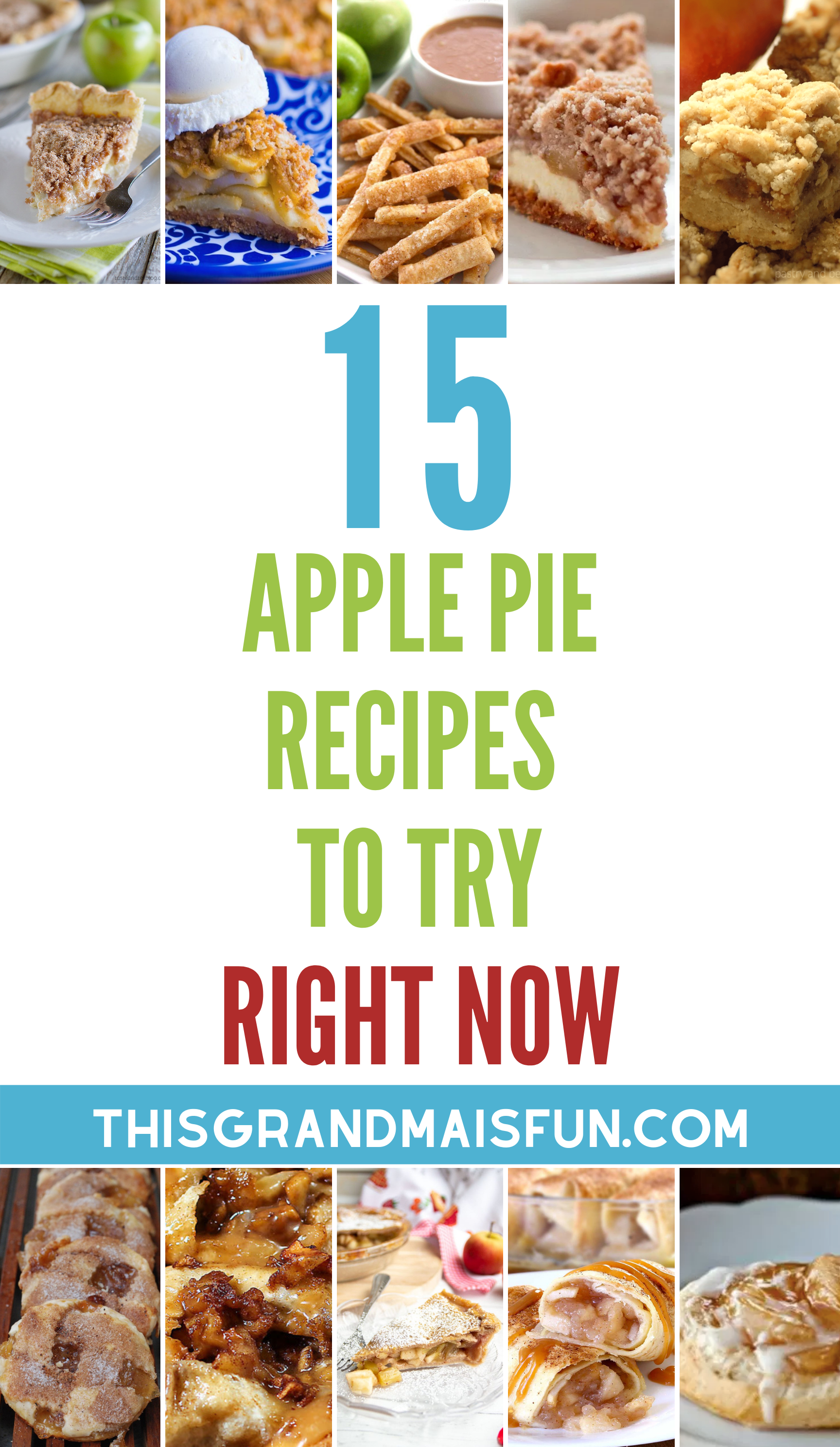 Yes, we had to make a whole section dedicated to pie only. That's the best part about apples!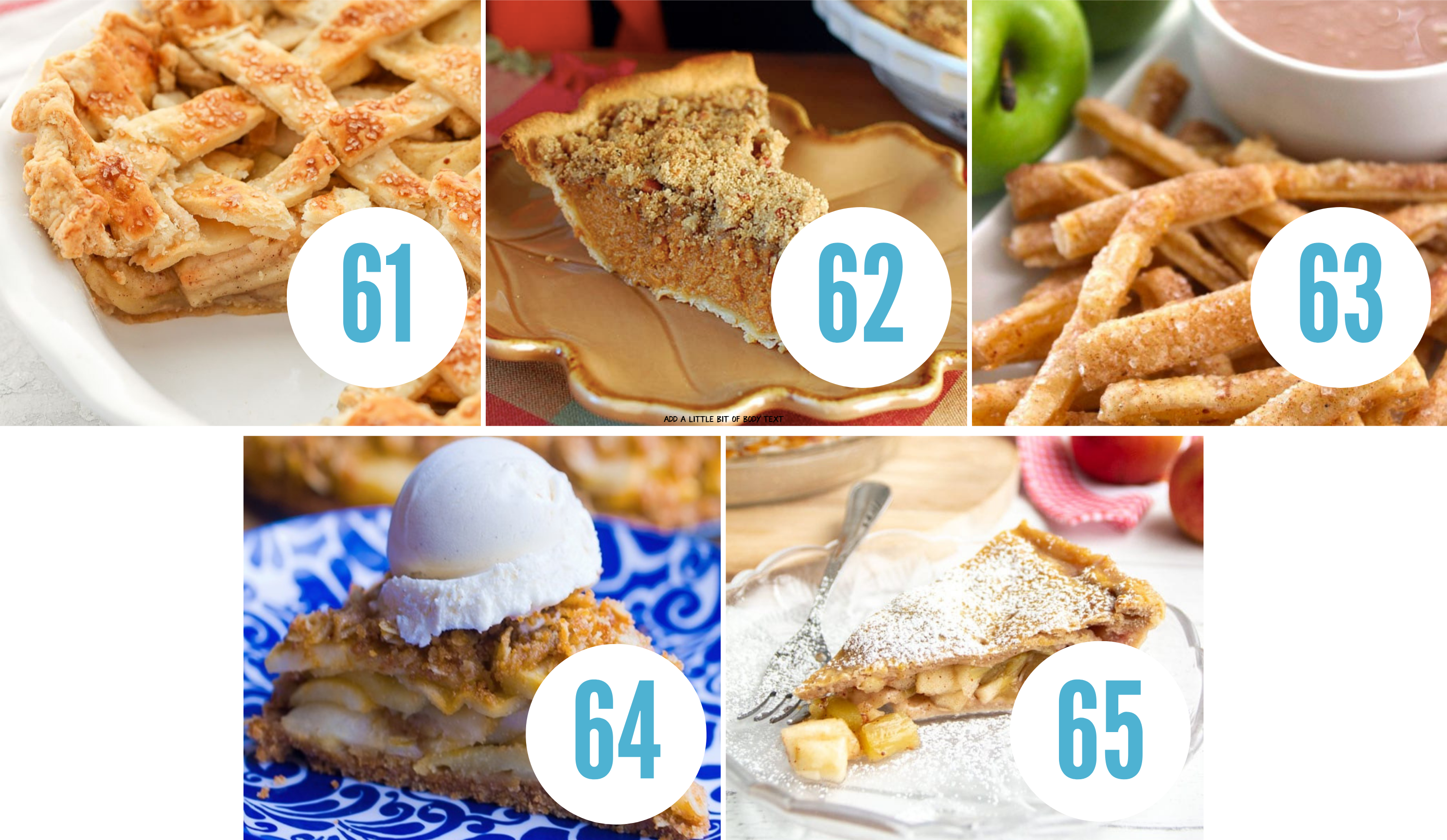 61. Classic Apple Pie– Of course, we had to include the classic all- American apple pie! We love this recipe from Live Well, Bake Often!
62. Apple Butter Pumpkin Pie with Streusel Topping– Apple and pumpkin in a pie. It's the best of both in Tidy Mom's pie recipe!
63. Apple Pie Fries– These apple pie fries from CincyShopper are perfect for those of us who like to take their apple pie on the go (As in me. Seriously, I'm bagging these up and stuffing them in my purse…)!
64. Healthy Apple Pie– If you're going for a more guilt-free pie eating experience, try Chocolate Covered Katie's recipe!
65. Cinnamon Rhubarb Apple Pie– If you love apples and if you love rhubarb that this recipe from Sustain My Cooking Habit is a must!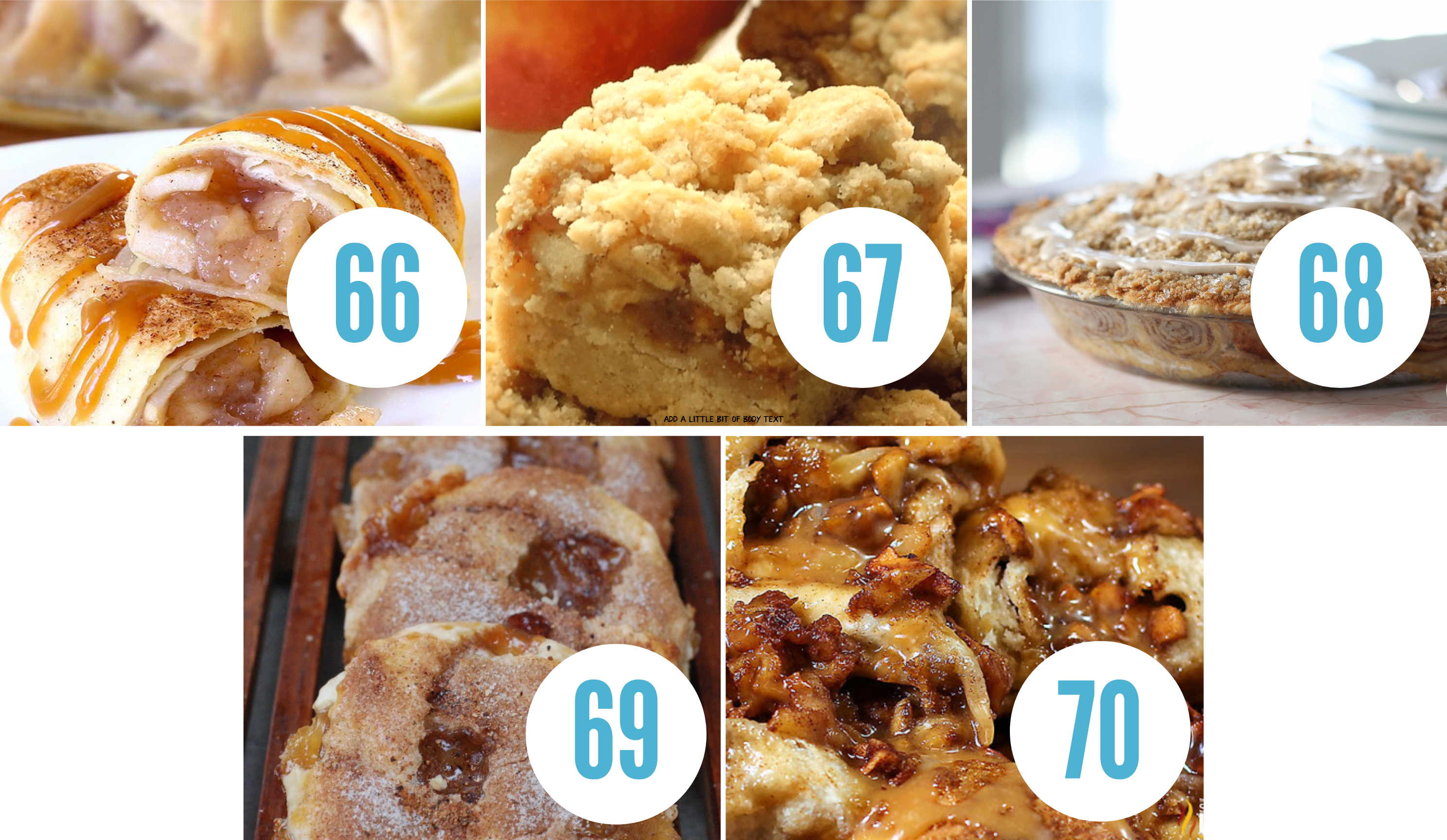 66. Apple Pie Enchiladas– I have never loved enchiladas more than when they were made into apple pie. Thanks Sugar Apron for the genius idea!
67. Apple Pie Bars– These apple pie bars from Pastry & Beyond are apple pie made easy!
68. Cinnamon Roll Apple Pie– My head just exploded from all the deliciousness in Inspired By Charm's recipe. It's too good. Too. Good.
69. Mini Apple Pie Cookies– They're called cookies, but they are literally miniature pies. Mmmm!
70. Crazy Caramel Apple Pie Bombs– These apple pie bombs from The Slow Roasted Italian are an explosion of flavor!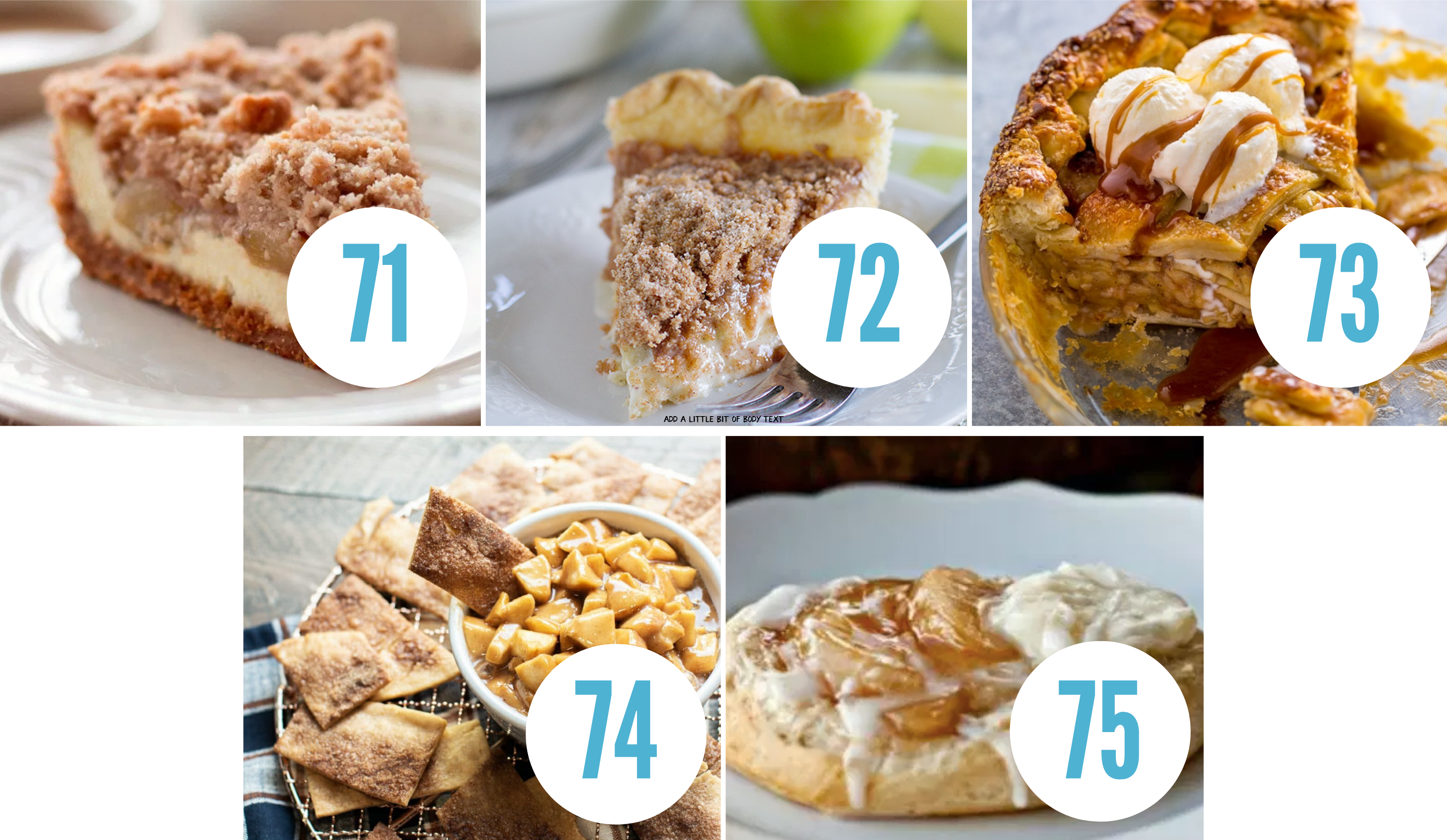 71. Snickerdoodle Cream Cheese Apple Pie– Apple pie in a snickerdoodle. Can you say, "YUM!?" Find the recipe at Mommy's Kitchen.
72. Sour Cream Apple Pie– This apple pie from Taste and Tell is sure to be creamy and delicious!
73. Salted Caramel Apple Pie– Forget caramel apples! Have this pie from Baker By Nature instead!
74. Slow Cooker Caramel Apple Pie Dip– You don't even need crust to have apple pie! Try this dip from The Magical Slow Cooker!
75. Apple Pie Danish Biscuits– These biscuits from Food, Folks, and Fun are good for breakfast! Or lunch, dinner, snack time, dessert… you get what I'm saying.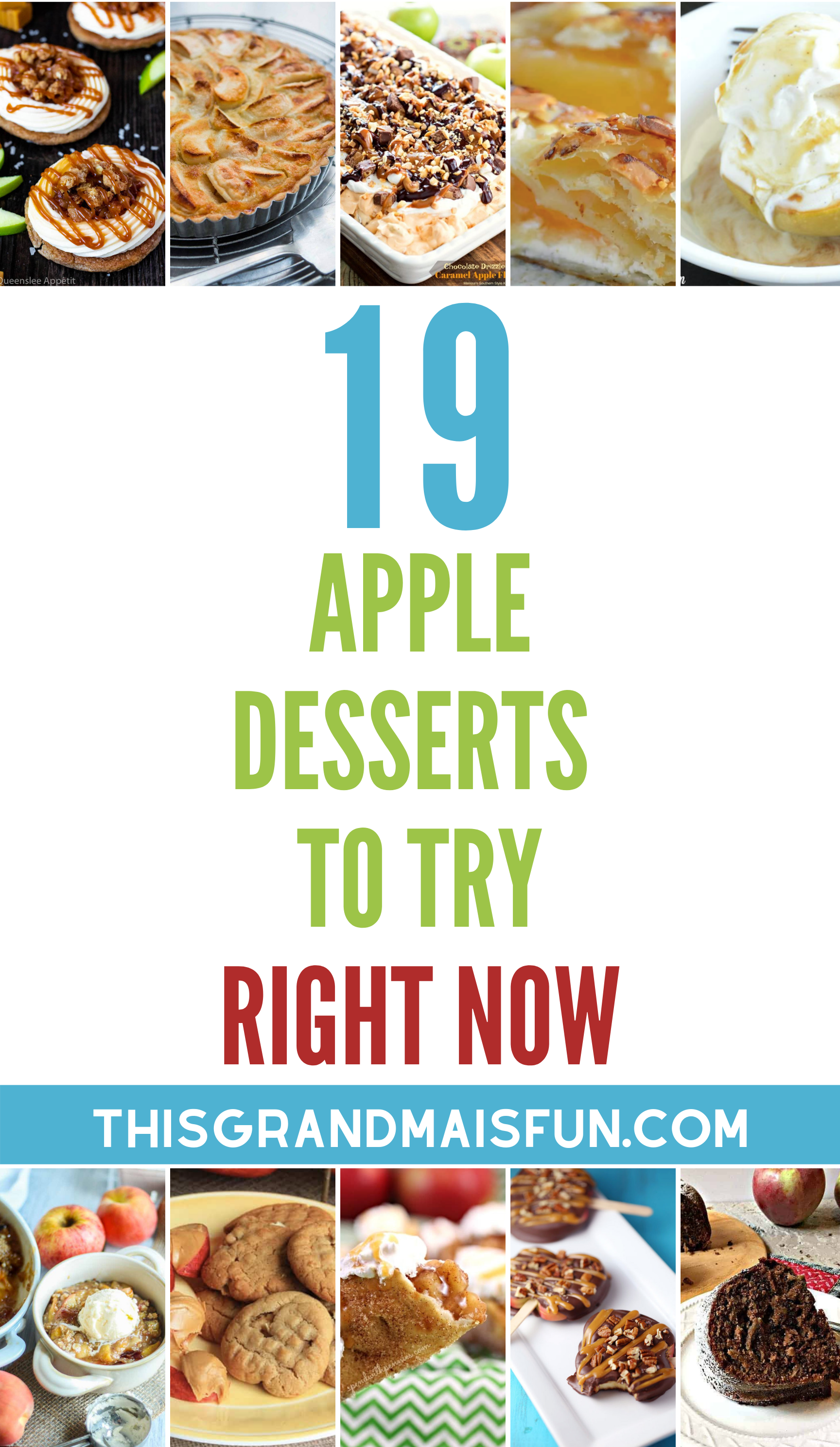 Making this list up, my mouth started watering. These desserts are seriously amazing!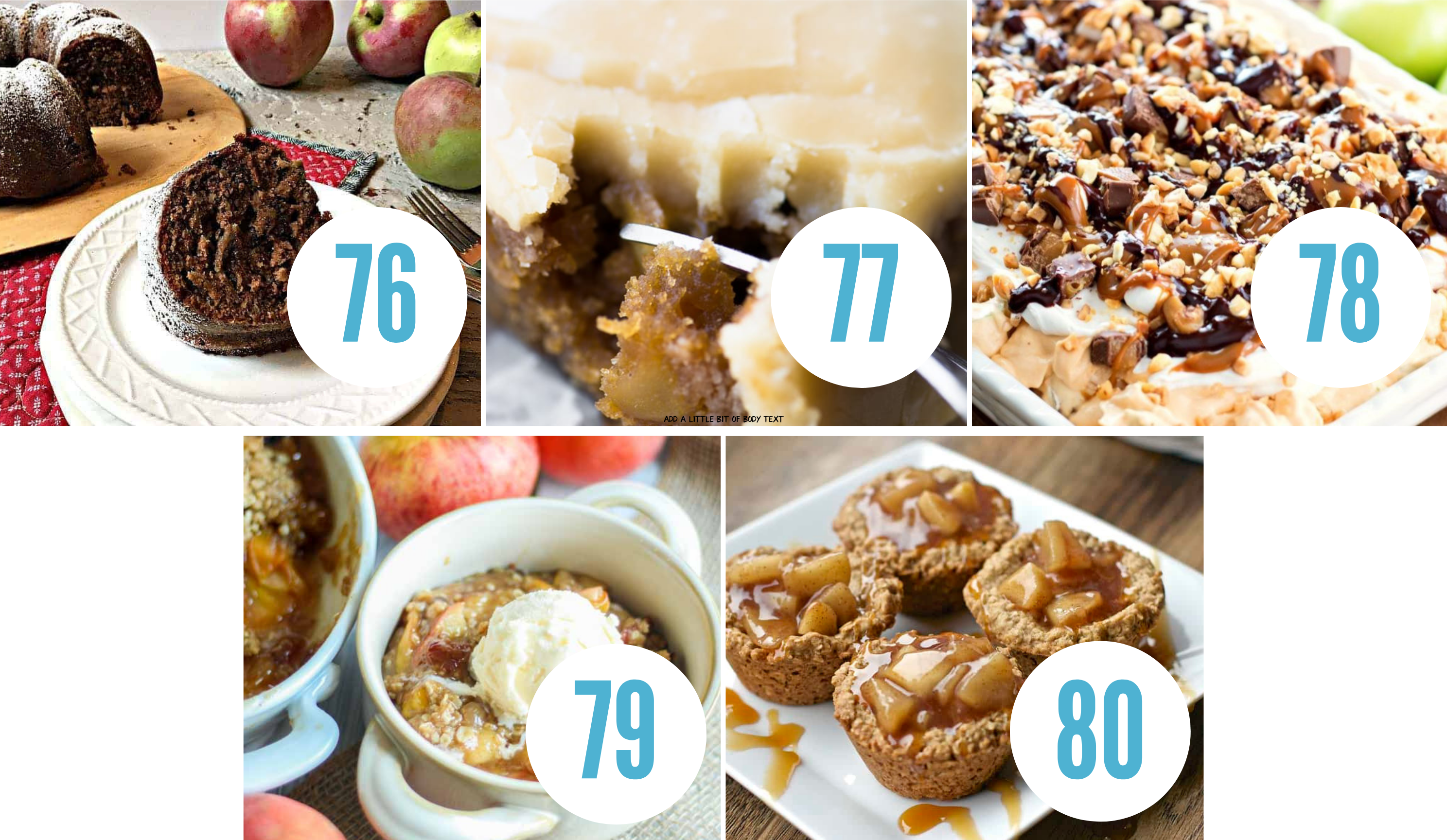 76. Cocoa Apple Cake– This delicious recipe from Beyond the Chicken Coop adds a chocolatey twist you are sure to love!
77. Maple Frosted Apple Blondies– Who needs brownies when you can have these apple blondies from The View From Great Island?
78. Chocolate Drizzled Carmel Apple Fluff– So many wonderful things combined in one amazing dessert! Check it out at Melissa's Southern Style Kitchen.
79. Peach Apple Crisp– You'll love this simple but delicious recipe. It's perfect for the end of summer and the beginning of fall!
80. Apple Crisp Cookie Cups– A new take on a classic from Mommy's Kitchen.
81. Chocolate Turtle Apple Slices– These are almost too good to be true! Thanks Mom Loves Baking!
82. Easy Cream Cheese Apple Strudel– I'm pretty sure I could eat these strudels from Savory Experiments every day, all day.
83. Apple Whoopie Pie with Cookie Butter Filling– Anything with cookie butter is certain to be amazing! Try this recipe from A Bajillian Recipes and see what I mean!
84. Baked Chocolate Caramel Apples– Caramel apples on a stick are a think of the past with this bake from Meatloaf and Melodrama!
85. Apple Blackberry Crumble– I can't wait to try Butter & Baggage's apple crumble!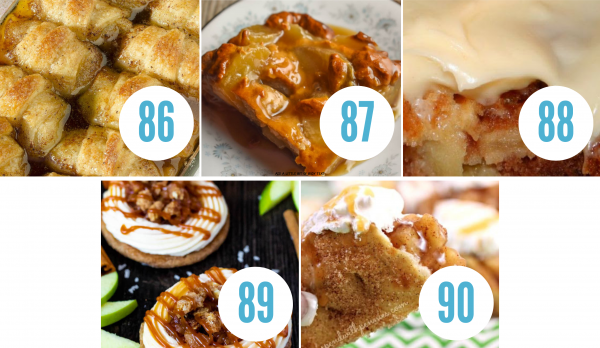 86. Easy Apple Dumplings– If I had known apple dumplings were this easy to make, I would have made them a long time ago. Find this recipe at Oh My Goodness Chocolate Desserts!
87. Old-Fashioned Apple Cake with Caramel Sauce– I'm pretty sure I could eat all of this apple cake from These Old Cookbooks in one sitting.
88. German Apple Cake– Now for the German take on apple cake from Tasty Apron.
89. Salted Carmel Apple Crisp Cookie Sandwiches– You had me at cookie! We love this recipe from Queenslee Appetit!
90. Apple Pie Tacos– Did you know apples now come in tacos? Try these from Spend with Pennies!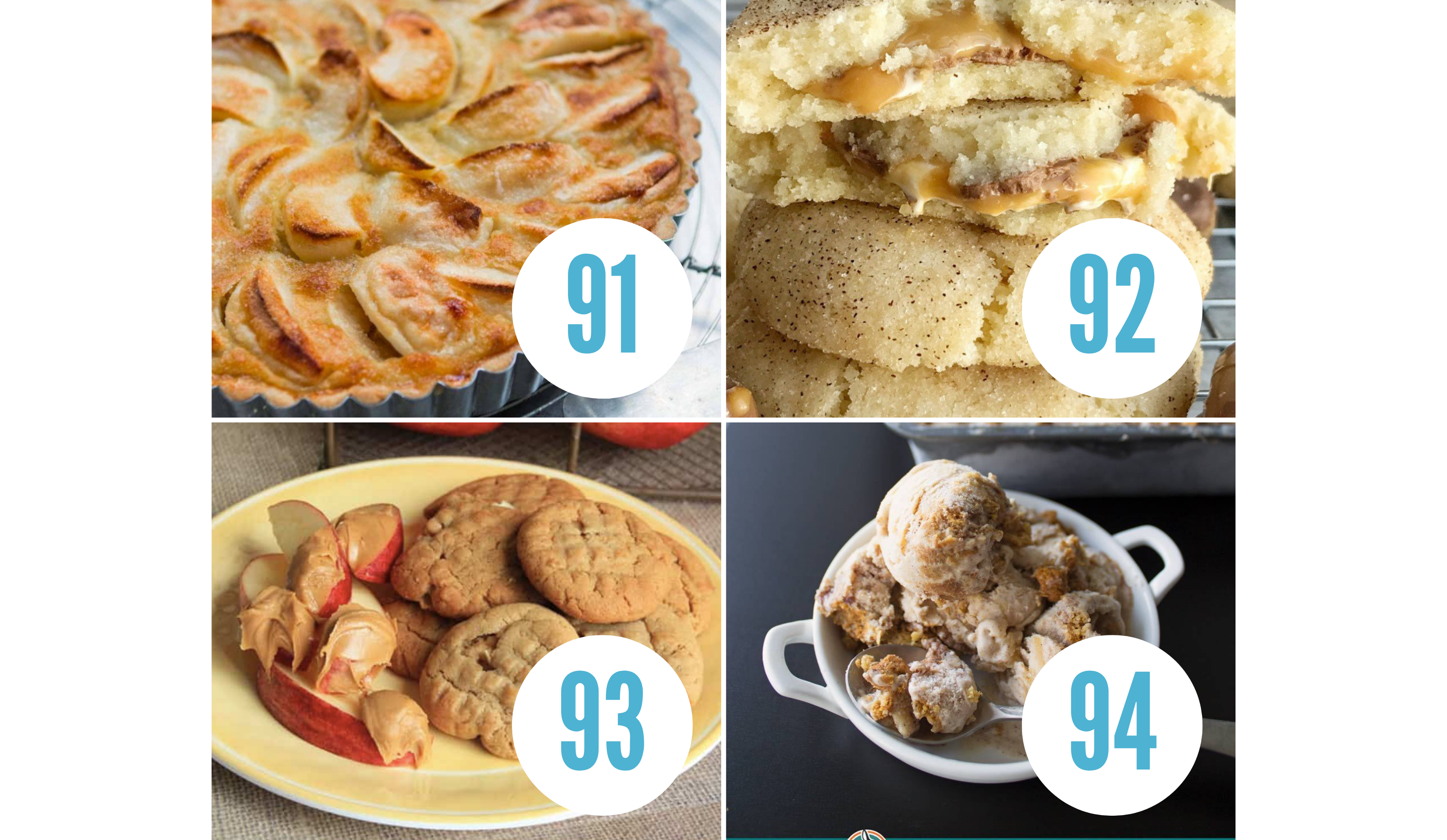 91. French Apple Tart– Forget pie! Trie apple tart from David Lebovitz instead!
92. Caramel Apple Snickerdoodle– Ever since finding out about these yummy treats from Together as Family, I've had dreams of snickerdoodles and apples bouncing around my head.
93. Apple Peanut Butter Cookies– If you love peanut butter apples, then you'll love the cookie version from Mostly Homemade Mom!
94. Homemade Apple Crisp Ice Cream– I know what I'm having for dessert tonight! Try this recipe from Dishes & Dust Bunnies!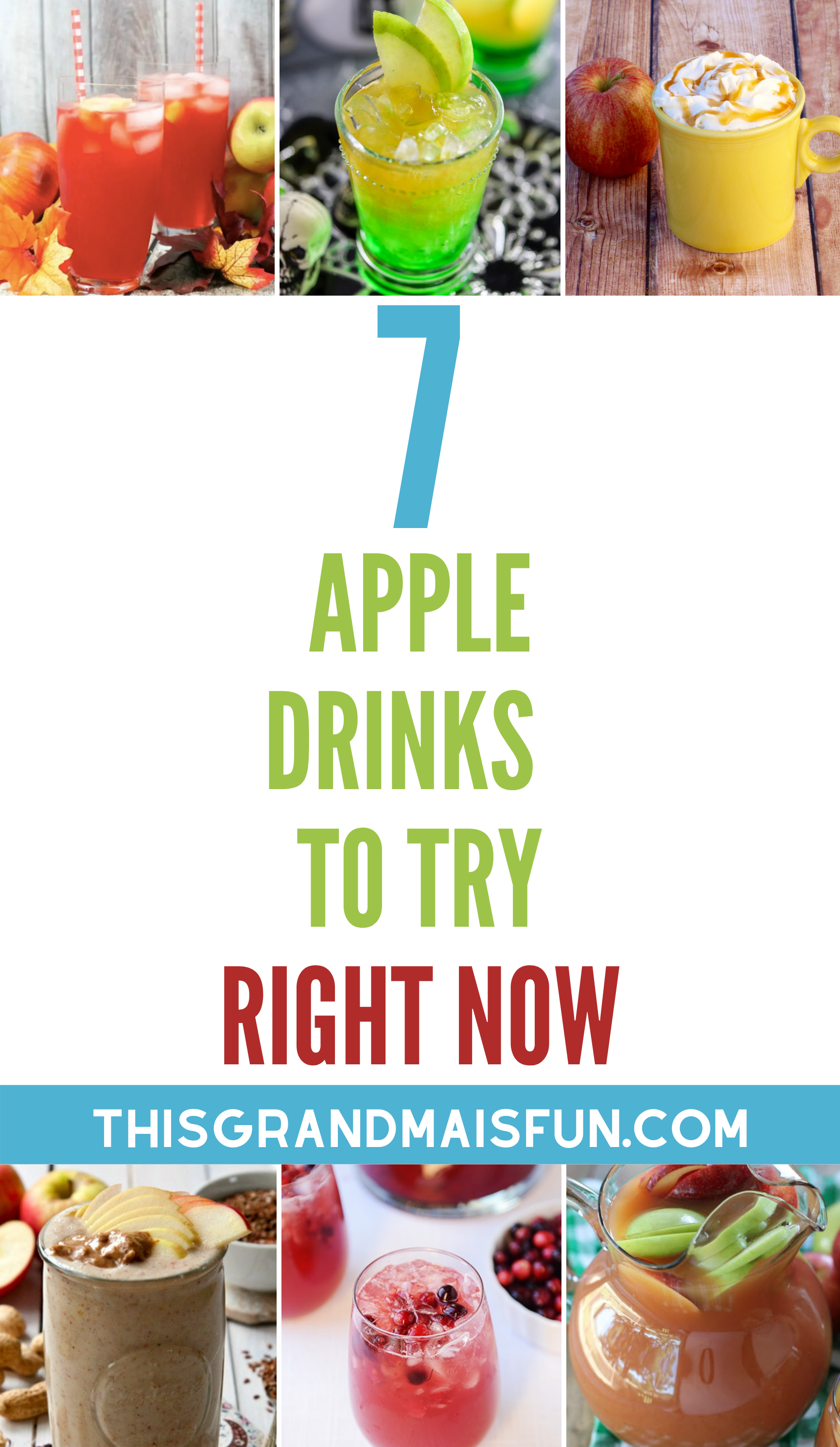 Nothing says fall like apple cider (and punch…)!
95. Green Apple Cider Lemonade– This recipe from A Worthey Read is the best of both summer and fall. The kids are sure to love it!
96. Autumn Harvest Punch– Serve up this punch from Served Up With Love at your next football party!
97. Instant Pot Spiced Apple Cider– Instant pot = magic. Thanks Curry Trail for this easy recipe!
98. Apple Peanut Butter Smoothie– This smoothie from Further Food is the perfect wake-up call!

99. Crockpot Caramel Apple Cider– This drink from The Frugal Girls was made for the fall!
100. Sparkling Cranberry Apple Cider– This drink from Mel's Kitchen Cafe is perfect for pretty much any occasion!
101. Poison Apple Halloween Drink– Our Family World's poison apple drink is perfectly wicked!