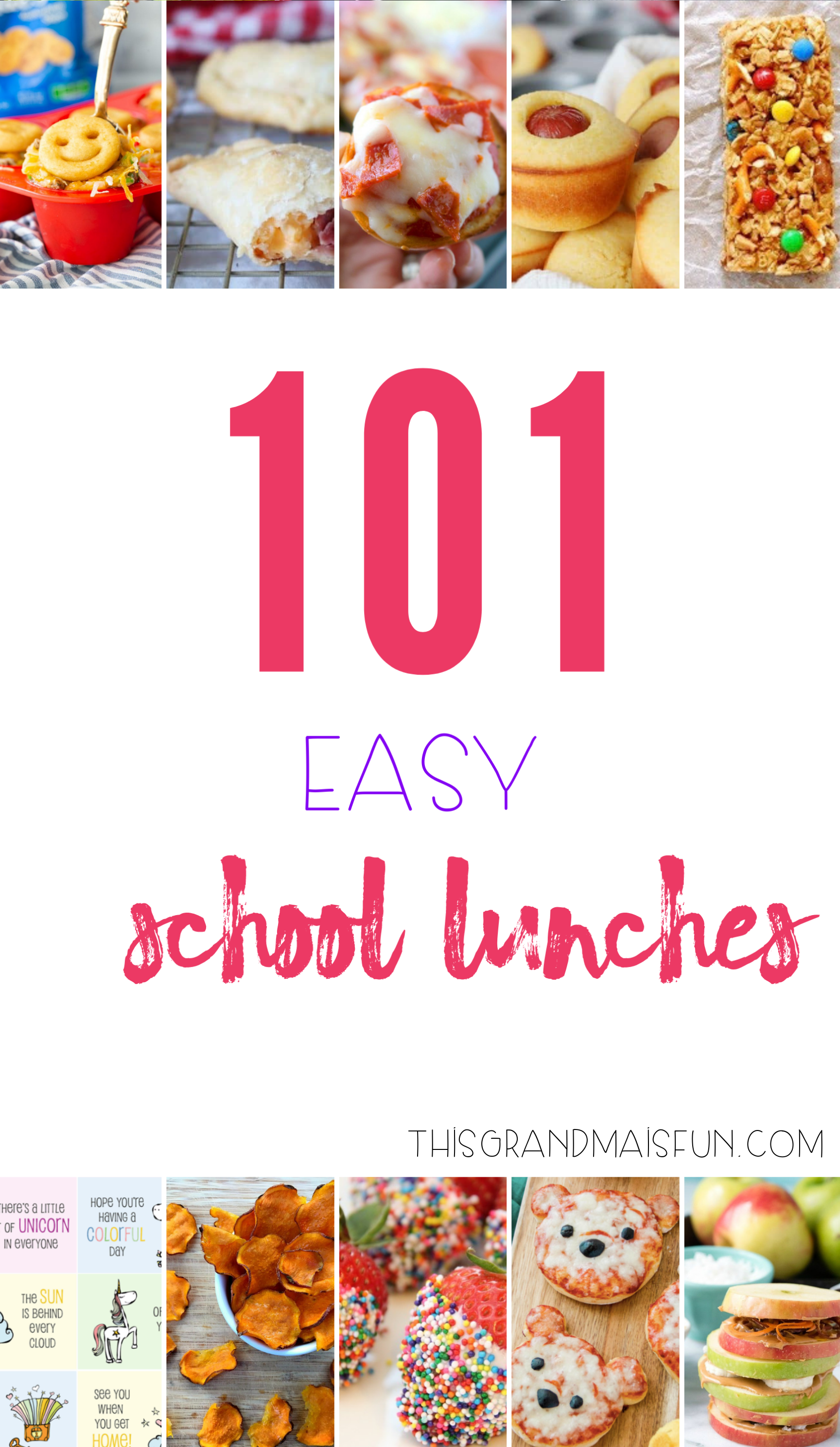 The beginning of a new school year is an emotional time of year at our house. There's lots of tears, grumbling, mess, and frustration. I mean, who wants to get out of bed to drive around all day and sit in your car? Packing food, stuffing angry kids in their clothes, throwing out breakfast…. And then there's homework. Yes, it's your child's homework, but it is essentially your homework too. It's a lot to take in. So, to help make the beginning of the school year a little bit easier on you and thus your children, we've come up with a list of 101 easy school lunches!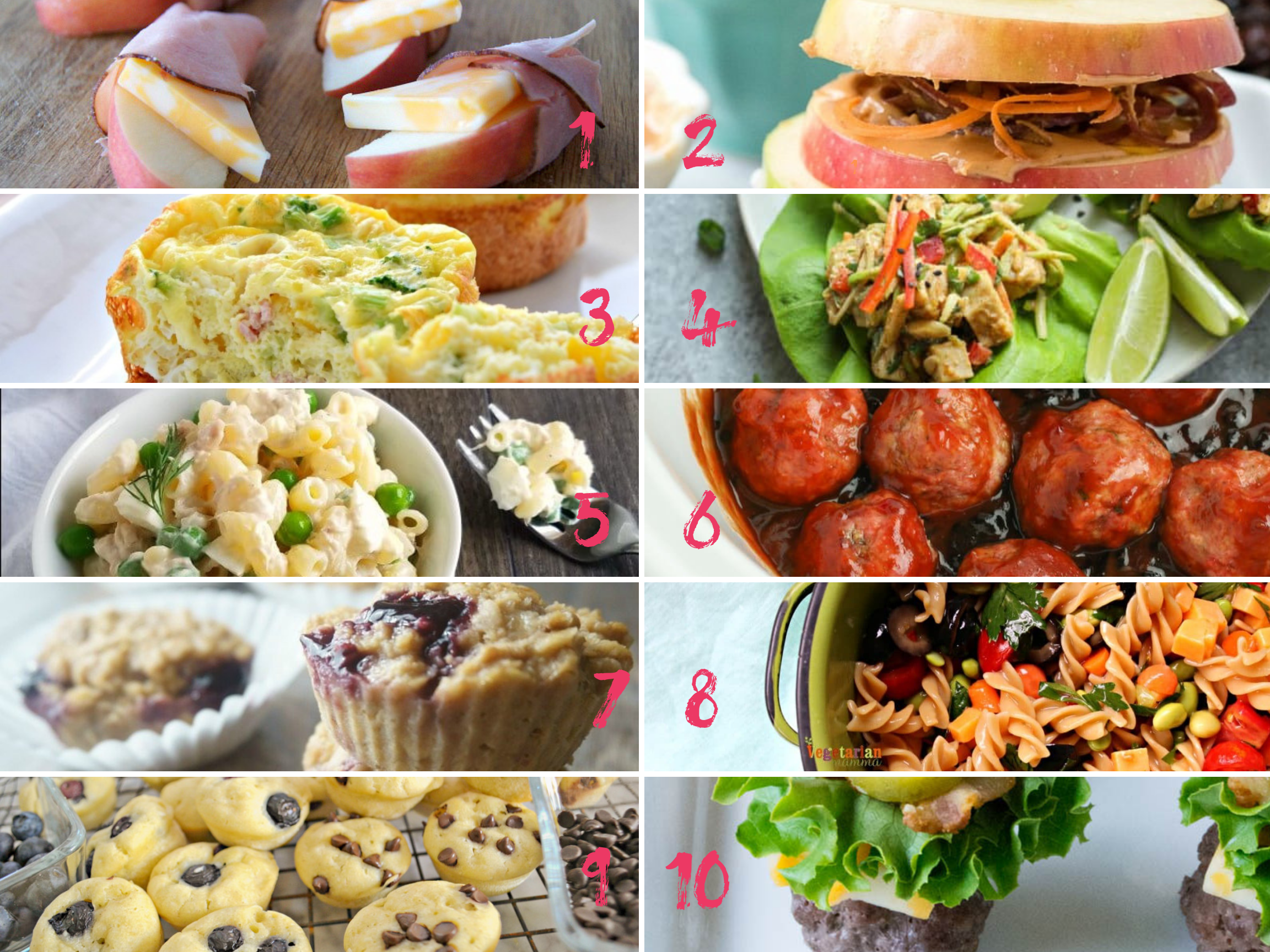 It can be hard to find lunches that are both delicious and satisfy dietary needs. We're making things easier for you with our list of gluten free lunch ideas!
1. Ham and Cheese Apple Wraps– Your kids will love this sweet and savory lunch from Momables!
2. Apple Peanut Butter Sandwich– We love this tasty idea from Boulder Locavore!
3. Egg cups– This recipe from Just What We Eat works nicely for a quick breakfast as well.
4. Lettuce Wraps– This lettuce wrap from The Real Food Dieticians looks so good, I'm making it for my lunch too!
5. Tuna Salad– We love this take on tuna mac salad from MI Gluten Free Gal.
6. Gluten Free Meat Balls– Meatballs are always a kid favorite! Thanks for the great recipe, Food for Fought!
7. Peanut Butter and Jelly Muffins– A tasty twist on a classic from A Mind "Full" Mom.
8. Gluten Free Kid Friendly Pasta Salad– This pasta salad from Vegetarian Mamma makes a perfect lunch for school!
9. Pancake Bites– If your kids love breakfast, then they are sure to love these pancake bites from Hip 2 Save to school!
10. Bunless Cheeseburger Bites– Sugar Free Mom has such a creative take on cheeseburgers that your child will love!

There's nothing better than a nice, hot lunch from home on a rainy day! What we love about many of these hot lunch recipes is that they make great dinners too and the leftovers are perfect for a school thermos!
1. Bagel Bites– If the Bagel Bites jingle was your anthem as a 90s kid, you (and your child of course!) are sure to love this fun recipe from The Anthony Kitchen!
2. Easy Baked Cheeseburger Sliders– The title contains both the words "easy" and "cheeseburger". If that's not enough to convince you to try this recipe from This Delicious House, I don't know what will!
3. Ramen Vegetable Stir Fry– It could be my own personal bias towards Ramen noodles, but this stir fry from A Cultivated Nest looks delicious!
4. Biscuit Chicken Pot Pie– This easy chicken pot pie from Cook Me Quick screams comfort food! Perfect for students away from home all day!
5. Easy Chicken Fajitas– Check out this tasty recipe from Healthy Recipes Blogs. You can roll up some tortillas to pack along with the thermos!
6. Mac and Cheese– In all seriousness, if my child could eat mac and cheese every day, he would. The Diary of a Real Housewife's recipe is perfect for any like-minded student.
7. Sweet-and-Sour Meatballs on Rice– "Most Beautiful Presentation" award goes to the meatballs from Todays Parent. Do those not look amazing? My kids would gobble that up in a minute!
8. Crockpot Chicken Noodle Soup– It doesn't get much easier (or tastier) than this crockpot soup from The Chunky Chef.
9. Broccoli Pesto Pasta– Does your child avoid vegetables like the plague? Try this delicious pasta from My Fussy Eater and they'll be begging for broccoli!
10. Quick & Easy Taco Soup– This taco soup from Must Have Mom is both quick and delicious!
11. Spaghetti Carbonera– If your child is obsessed with pasta, you'll both love Momables's spaghetti carbonara!
12. Easy Chicken Chow Mein– Just the thought of chow mein makes me drool. I can't wait to try Life Made Sweeter's recipe!
13. Shepherd's Pie Cups– How cute are these shepherd's pie cups from Eazy Peazy Mealz?! A meal that's happy to see you!
14. 4-Ingredient Easy Potstickers– I never thought that potstickers could be easy, but I was wrong. Check out this recipe from Little Broken!
15. Ham and Cheese Empanada– These empanadas from The Anthony Kitchen look about a thousand times more appetizing than any microwave Hot Pocket!
16. Pulled Pork Sandwiches– These sandwiches from Baby Food look so delicious, I can already taste them!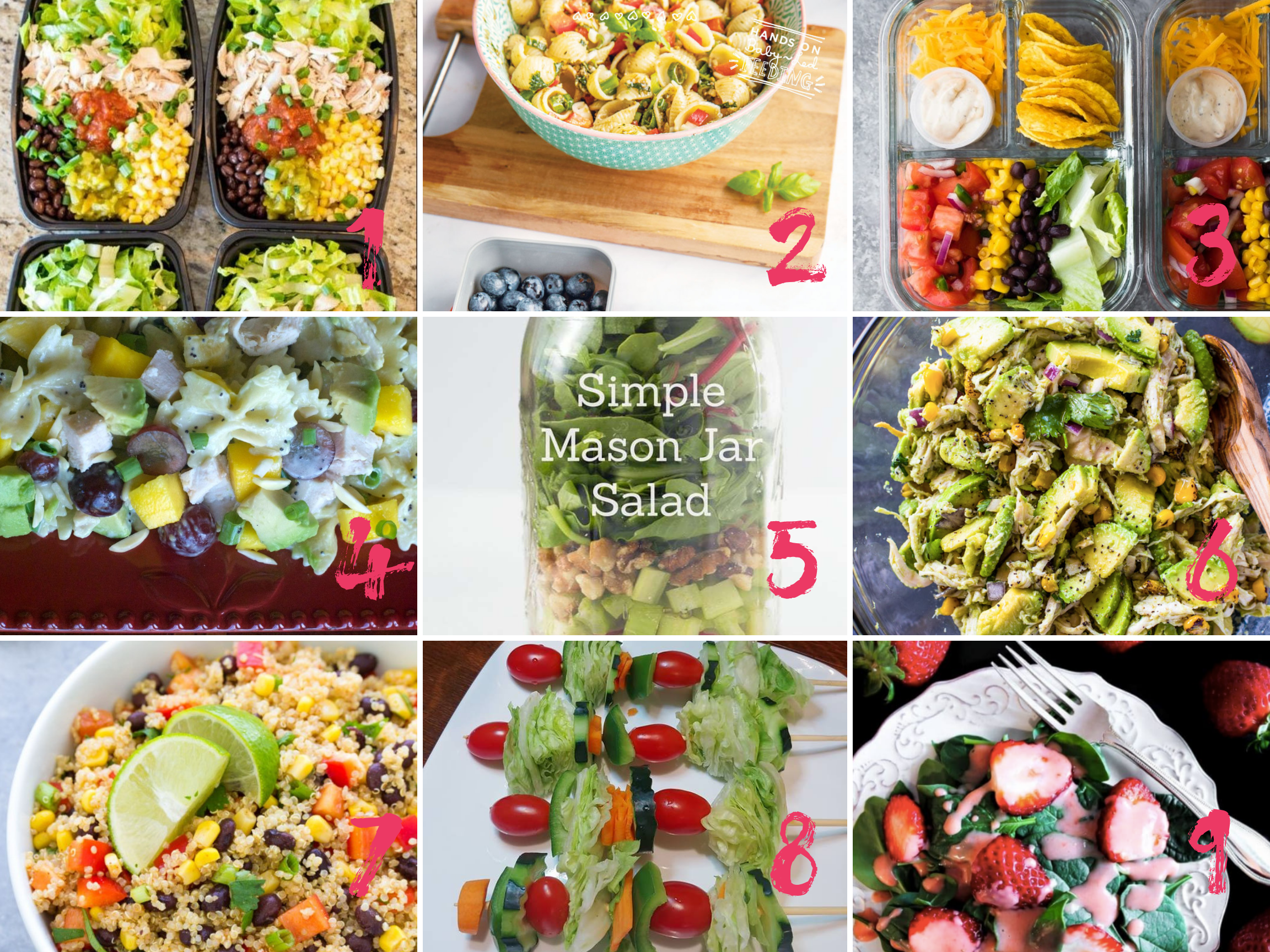 A salad-eater is a rare breed in children, but these recipes might just change any kid to being a salad lover!
1. No-Cook Burrito Bowls– Did somebody say "no-cook?" This recipe from Lovely Culinary just made salad/lunch easy!
2. Kid Friendly Pasta Salad– This recipe from Baby-Led Feeding is sure to be a hit!
3. No-Cook Taco Salad Bento Box– This recipe from Sweet Peas and Saffron is like a fiesta in a bento box!
4. Mango Pasta Salad– If you make this pasta salad, make a lot. You and your family will become addicted, so make sure you have lots to satiate your palate. You have been warned….
5. Mason Jar Salad– How were mason jar salads not a thing when I was growing up? Wait…. were they a thing??? Don't let your child miss the mason jar salad boat and check out this recipe from Pass the Plants!
6. Avocado Chicken Salad– Find this mouthwatering recipe at Gimme Delicious!
7. Southwest Quinoa Salad– Kristine's Kitchen's salad is both healthy, delicious, and filling. In other words, a parent's dream-come-true!
8. Salad Kabob– Make salad fun with this awesome idea from Jett's Kitchen!
9. Strawberry Spinach Salad– I can't explain it, but strawberries and spinach are a match made in heaven. Try this recipe from The Hidden Veggies for school lunch!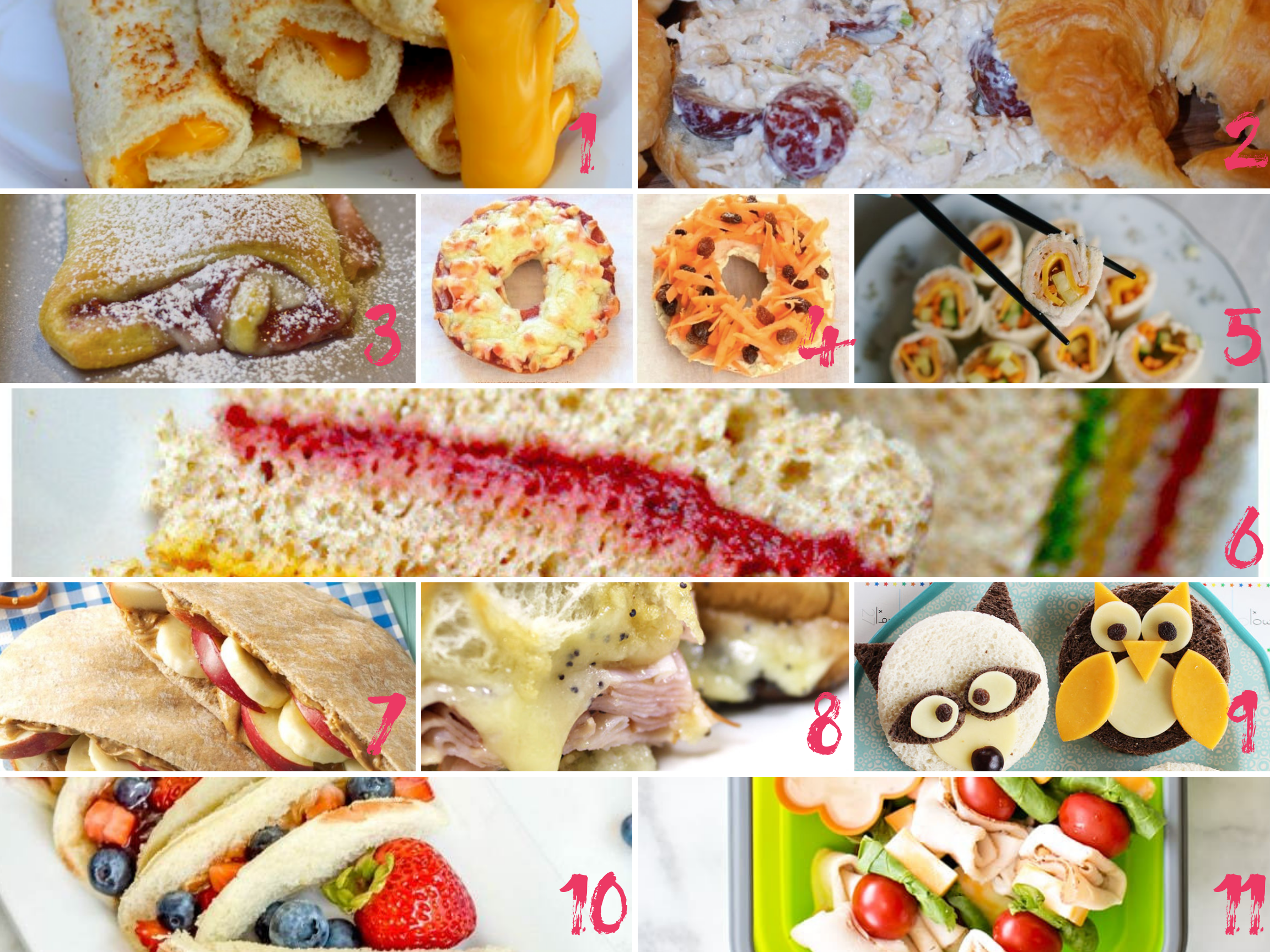 I know, I know. Sandwiches are the most unoriginal and boring lunch ever. Or are they? Check out this list of sandwiches, and you may feel differently!
1. Grilled Cheese Roll-ups– We love this fun twist to a classic from Raining Hot Coupons!
2. Chicken Salad Sandwich– If you have chicken salad fans in your family, we have just the recipe for you! It's delicious with or without the cashews!
3. Monte Cristo Roll-ups– When I saw this recipe from Fast Forward Fun, the word that immediately came to my mind was "Ingenious!"
4. Bagels– Eats Amazing has a few tasty bagel ideas you could make for lunch!
5. Kid-Friendly Sushi Sandwiches– We are big sushi eaters in our family and I know my kids would love these sushi sandwiches from Everything Gerica!
6. Healthy Rainbow Sandwich– How pretty are these sandwiches from In the Playroom? I never thought sandwiches could be pretty before…
7. Fruity Peanut Butter Pitas– These pitas from Taste of Home are not only delicious, but healthy too!
8. Hawaiian Sweet Roll Sliders– I can't get over how easy these sandwiches from Through Her Looking Glass are to make, and yet they taste like something from a restaurant!
9. Woodland Creature Sandwiches– Your kids are sure to smile when they find these cute, little critters from Positively Splendid in their lunch boxes!
10. Peanut Butter and Jelly Tacos– I'm pretty sure tacos are the best thing to ever happen to this planet. They're even coming in PB & J now! Check it out at Homemade Interest!
11. Sandwich Skewers– Food is just better when it's eaten off a stick. Get this recipe at Hello Wonderful!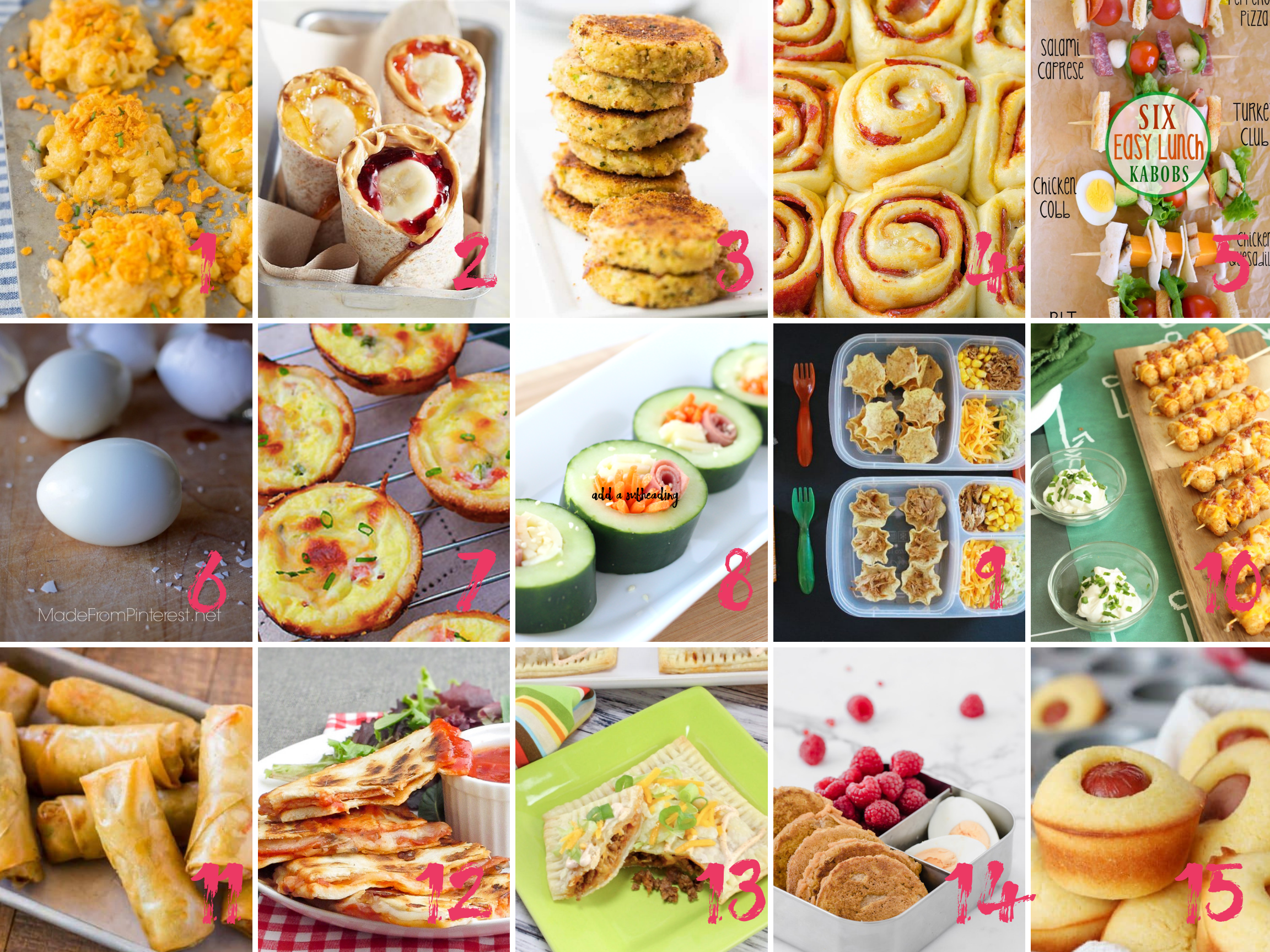 Here are some easy, 100% delicious food ideas that are neither sandwiches nor salads!
1. Mac and Cheese Cups – Experience the miracle of muffin tin food with these mac and cheese cups from Super Healthy Kids!
2. PB & Banana Burrito – I am convinced that tortillas are the most versatile food on earth. You can even put bananas in them, like this easy recipe from Jif.
3. Shredded Zucchini Tots– These zucchini tots from Brooklyn Farm Girl remind me of french fries, but healthier.
4. Pepperoni Pizza Rolls – We know rolls are good, and we know pizza is good. Combine them together and you get amazing! Try this easy recipe from Yummiest Food!
5. Easy Lunch Kabobs– These kabobs from Mom on Timeout are such an easy way to make lunch exciting for kids!
6. Hardboiled Eggs We've even got this super easy way to peel them with a spoon! Perfect hack if you need to peel a lot eggs for a lot of lunches!
7. Mini Quiche– This recipe from Top and Exclusive Foods sounds so fancy, but it's really easy!
8. Easy Cucumber Sushi– This sushi from Raising Whasians is a fun way to help your kids eat their vegetables!
9. Mini Taco Bowls– Your child never has to be without tacos again with this simple but tasty recipe from Iriemade.
10. Loaded Tot Kabobs– These tots from The Country Chic Cottage look so yummy, I'm probably going to make them for myself.
11. Spring Rolls– An easy and fresh recipe from Dinner Then Dessert your kid is sure to love!
12. Pepperoni Pizza Quesadilla– When it comes to feeding children, the more things you can make into pizza, the better. Take this quesadilla from Snixy Kitchen, for example!
13. Taco Poptarts– My dreams have come true. A taco I can make in the toaster! What child (or mom) wouldn't love that?! Check it out at Awe Filled Veteran's Wife!
14. Mini Pumpkin Pancakes– These pancakes from Momables are perfect with fall around the corner!
15. Hotdog Cornbread Muffins– I have to admit that we have these corndog muffins from The Anthony Kitchen a little too much at our house. What can I say? They were a hit!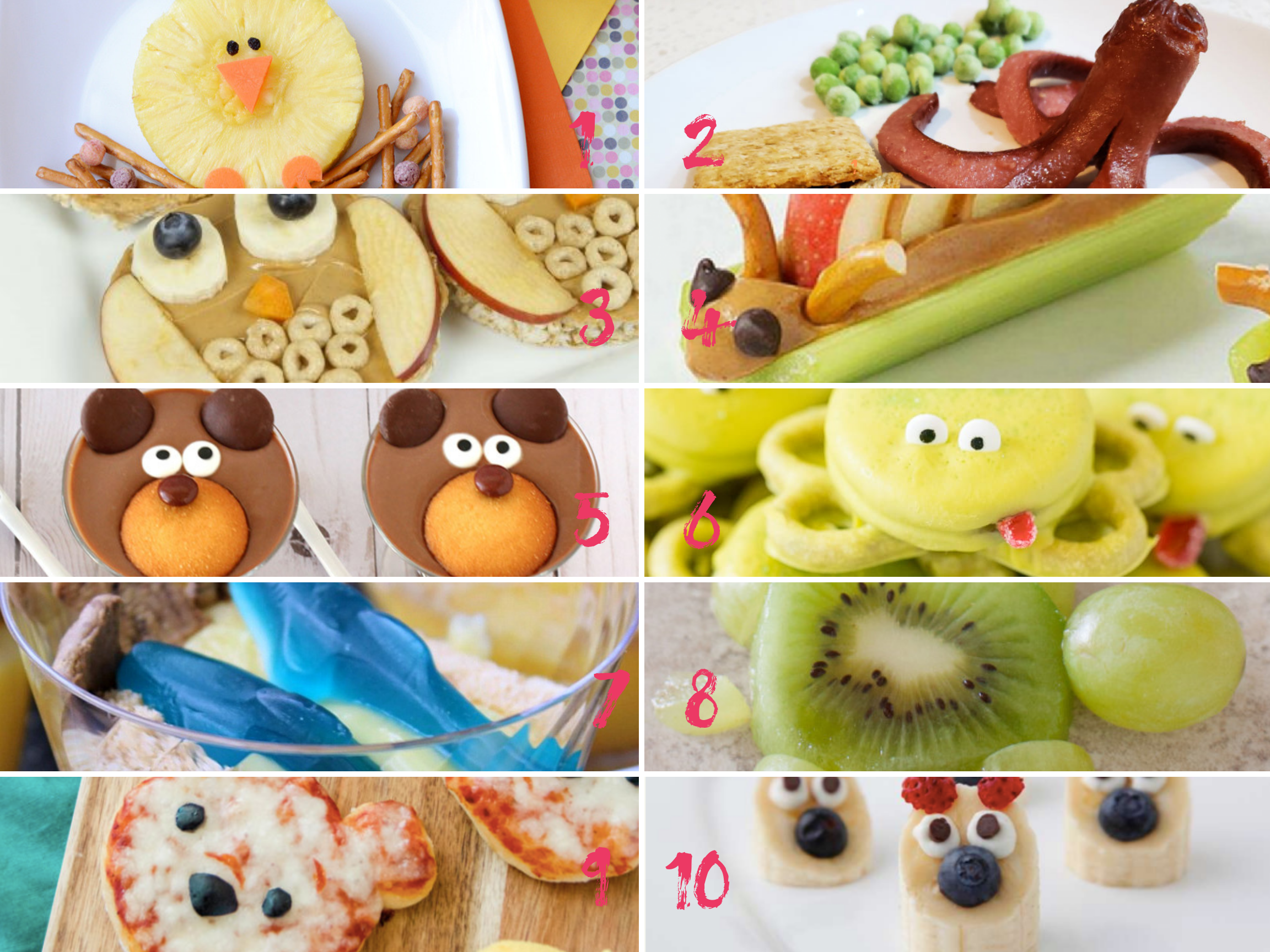 For the artist inside of you, try out these fun ideas your kids are sure to love!
1. Birdie Kix Snack– I love how easy this food art from Kix Cereal is!
2. Hotdog Octopus– When I was a kid, this was the only way I'd eat hotdogs. Find out how to make them at Exploring Domesticity!
3. Owl Rice Cakes– How cute are these Owl Rice Cakes from Super Healthy Kids?
4. Peanut Butter Snail Snack– Finally, a snail my girls won't run away from screaming (yes, they are that terrified of all bugs). Yummy Mummy Club makes these snacks look easy!
5. Chocolate Pudding Bears– Hungry Happenings's chocolate pudding bears are almost too cute to eat…. almost….
6. Oreo Frogs– No need to worry about from slime from these oreos from Made to Be a Momma.
7. Shark Sand Cups– I can't believe how easy these shark sand cups from Cook, Eat, Go are to make!
8. Kiwi Turtle– I love how simple and cute these turtles from Eating Richly are!
9. Mini Winnie the Pooh Pizza– I know quite a few kids who would be ecstatic over these pizzas from Disney!
10. Banana Bears– I don't know about your kids, but this recipe from Weelicious is the only way I can get my daughter to eat bananas.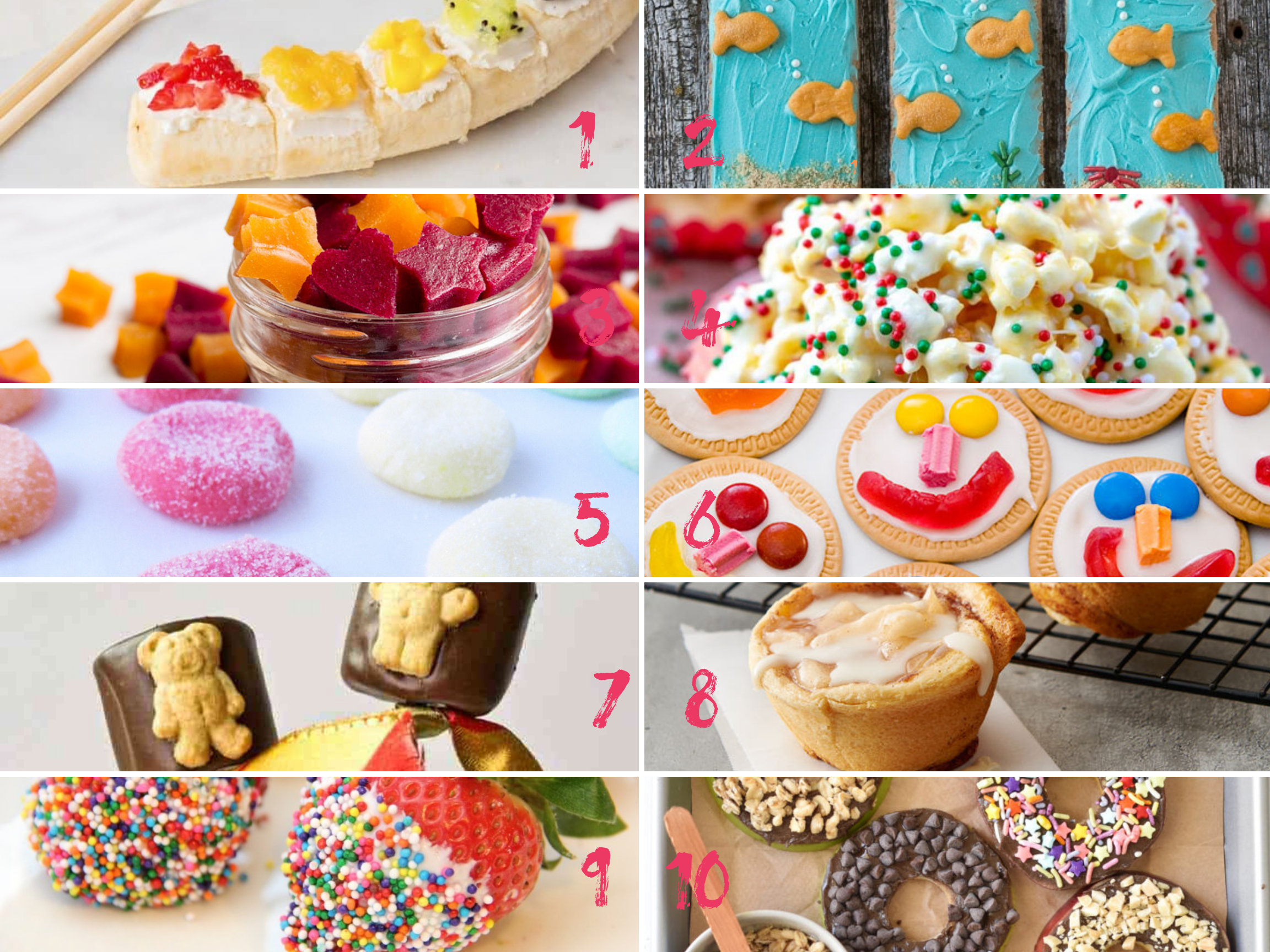 What lunch is complete without a treat?
1. Rainbow Fruit Banana Sushi– A healthy treat from Hello Yummy.
2. Under the Sea Graham Crackers– A cute, and easy treat from The First Year.
3. Homemade Fruitsnacks– Did you know you can make your own fruit snacks? This recipe from Dessert for Two shows you how easy it really is!
4. Marshmallow Popcorn Ball– Sticky, sweet, and salty- all rolled into one big ball! What's not to love about this popcorn treat from Tornadough Alli!
5. No-Bake Jello Candy Melts– If it says "no-bake," that's my kind of recipe. These candy melts from Smart Schoolhouse are too easy and delicious to pass up!
6. Quick and Easy Face Cookies– Your kids will love how cute and silly these cookies from Picklebums are!
7. Teddy Graham S'more Pops– These s'more pops from Tastes of Lizzy T are liking bringing campfire goodness to school.
8. Apple Pie Cups– Two ingredients? Did they say two ingredients?! Pillsbury, we give you our sincerest thanks!
9. Confetti Dipped Strawberries– These cute strawberries from Step Stool Chef will make your kid feel like they're having a party at lunch!
10. No Bake Apple Donuts– This easy apple treat from Fork and Beans is sure to be your child's newest favorite!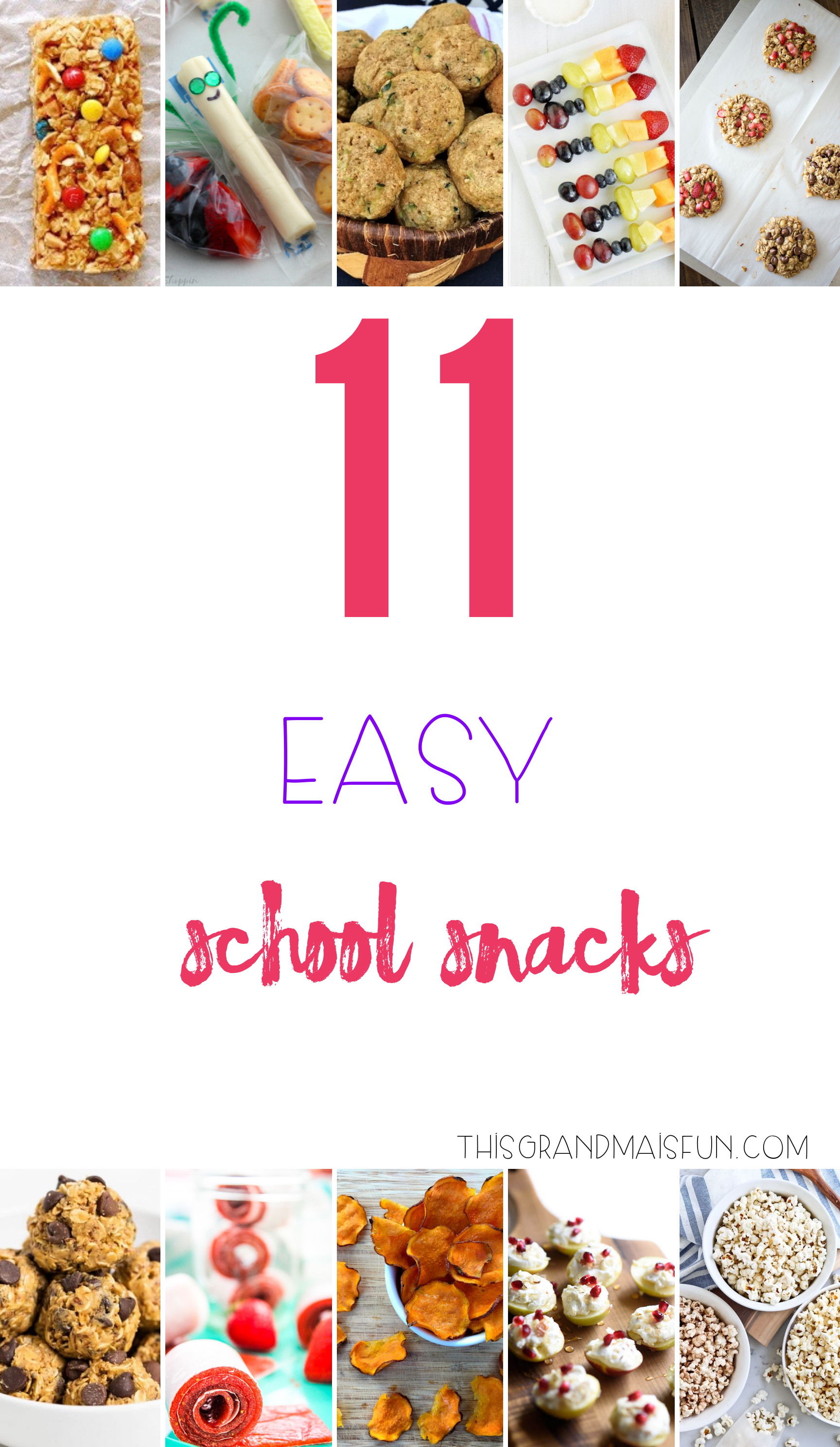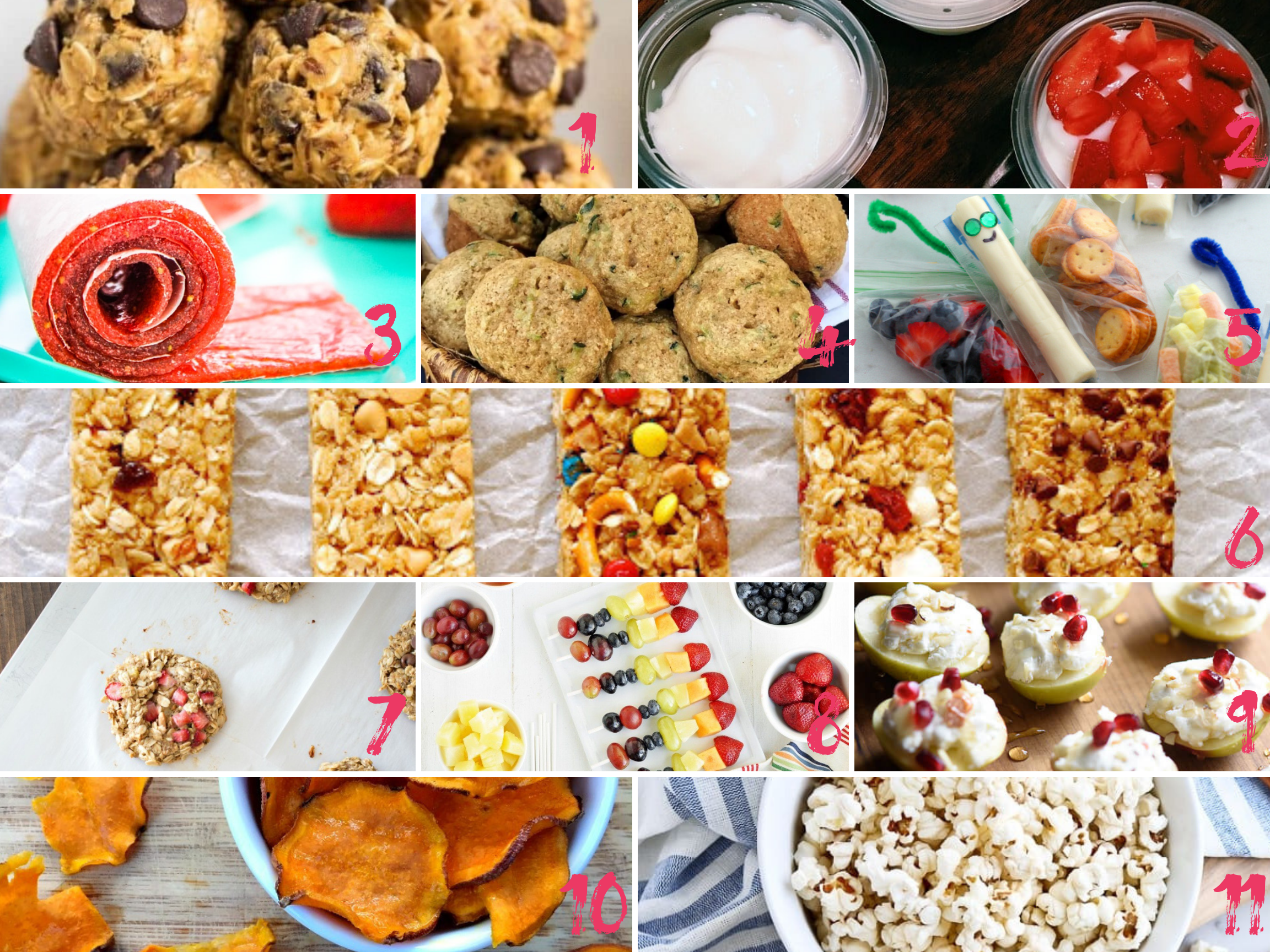 To keep lunch well balanced, it helps to have snacks!
1. Easy No-Bake Energy Balls– Make these energy balls from I Heart Naptime for your kids, sure- but save some for yourself too. You're a mom. You could use a tasty bite of energy too!
2. Vanilla Yogurt Parfait– A parfait for lunch? C'est parfait! Find this recipe at That Fit Fam.
3. Homemade Strawberry Fruit Leather– If you're highly suspicious of over processed snack food that surely met their peak in the 90s, try this fruit leather from Mommy Musings!
4. Mini-Zucchini Muffins– If your child is not a fan of vegetables, have them try these muffins from Create Kids Club. I bet they'll change their mind.
5. Butterfly Snack Bags– Butterflies are the only acceptable bug to my kids and I know they would love these snack bags from The Cents'Able Shoppin.
6. No-Bake Granola Bars– Forget buying granola bars from the grocery store. This recipe is far too easy and much too tasty to ever need grocery store granola bars again!
7. Oatmeal Breakfast Bites– These oatmeal bites from A Night Owl are good for breakfast or snacks!
8. Rainbow Fruit Kabobs– We love these kabobs from The Chic Site!
9. Apple Cheese Bites– I might be sneaking some of these apple bites for myself… Find them at The Adventure Bite!
10. Baked Sweet Potato Chips– A nutritious potato chip? Just what moms everywhere are looking for! Thank you Clean Eats, Fast Feets!
11. Instant Pot Popcorn– Seriously, the Instant Pot can do anything! Check out this popcorn at Tidbits!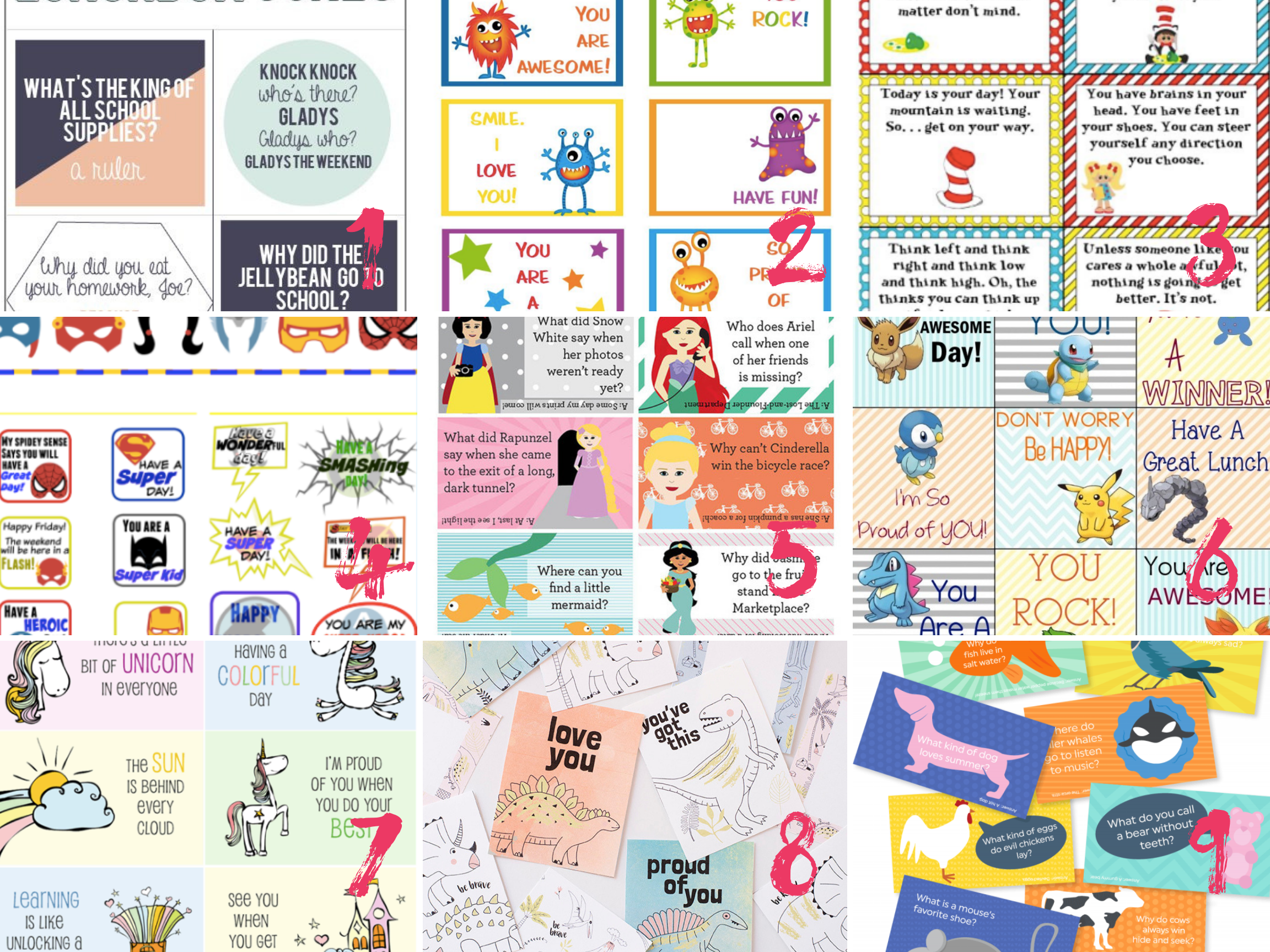 A little something extra to bring a small to your child!
1. Printable Lunchbox Jokes– Give your kid a laugh with these funny jokes from Gag Dad.
2. Inspirational Lunchbox Notes– Sometimes, all we need is some words of encouragement. Find these notes at Laura's Crafty Life!
3. Dr. Seuss Lunchbox Notes– I love how whimsical these notes from Trip Beauty are!
4. Super Hero Lunchbox Notes– Save the day with Bearhugs and Blanket Forts's superhero notes!
5. Princess Lunchbox Jokes– If you have a little princess, she is sure to love these princess jokes from Kristen Duke Photography!
6. Pokemon Lunchbox Notes– These pokemon notes from Merry About Town are perfect for your pokemon trainer!
7. Unicorn Lunchbox Notes– Make lunchtime magical with Pretty Simple Mom's unicorn notes!
8. Dinosaur Lunchbox Notes– We think Alice and Lois's dinosaur notes are perfect for little paleontologists!
9. Animal Lunchbox Jokes– These animal jokes from Simple Every Day Mom are sure to make your child smile!