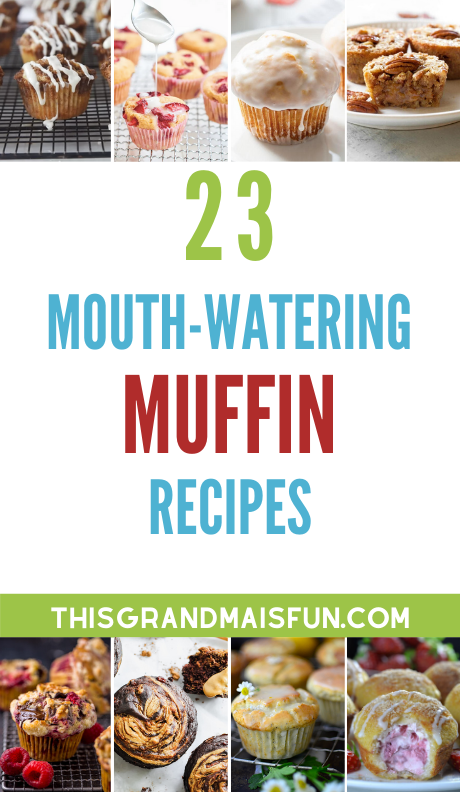 I have never been a big breakfast fan. It is my least favorite meal of the day. Cereal? Blech! Oatmeal? No way! Toast? Big, fat nope. Do you know what I'm craving in the mornings? Something sweet and fluffy. That's right. I'm talking about muffins! If you're tired of the same old, bland breakfast, you'll love these 23 mouth-watering muffin recipes!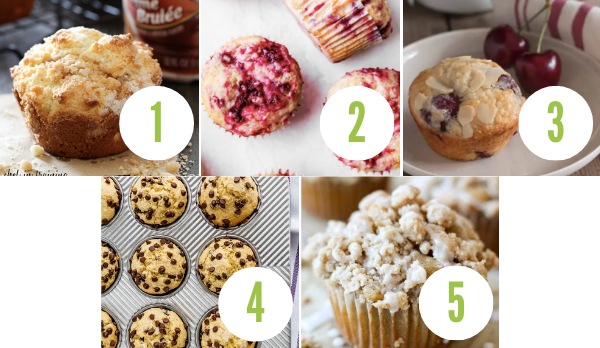 1. Crème Brûlée Muffins– I found out I could have crème brûlée for breakfast. Life just seems better now. Try crème brûlée muffins at Chef in Training!
2. Raspberry Yogurt Muffins with Honey Lemon Butter– Yes To Yolks's muffin recipe is bursting with flavor!
3. Almond Cherry Muffins– There's just something so elegant about cherries. Find this recipe at Pretty Simple Sweet.
4. Chocolate Chip Muffins– I am a huge fan of chocolate chips. They make everything better, including muffins like these from Love from the Oven!
5. Coffee Cake Crumble Muffins– Mmmmm! I can already smell these muffins from What Molly Made baking in the oven!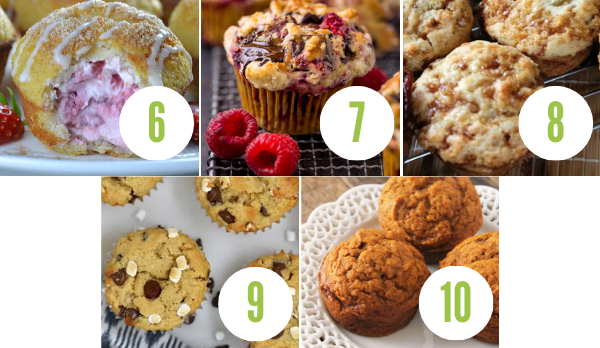 6. Cream Cheese Strawberry French Toast Muffins– Oh My Goodness Chocolate Desserts's french toast muffins made my jaw drop. Look at that picture. Just look at it. Are you drooling yet?!
7. Dark Chocolate Chunk Raspberry Crumb Muffins– Baker By Nature's muffin recipe is the perfect combination of sweet and tart!
8. Toffee Muffins– The toffee in these muffins from How To Be Awesome on 20 Dollars a Day add a yummy crunch!
9. S'mores Muffins– You don't need a campfire for these yummy muffins from Burlap and Blue!
10. Pumpkin Muffins– Here at This Grandma is Fun, we try to be humble, but we cannot lie when we say these are the BEST pumpkin muffins! And so easy too…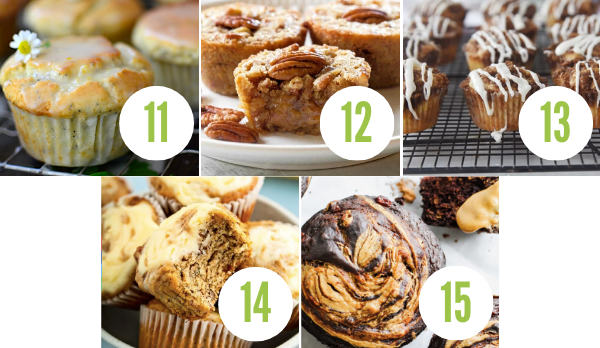 11. Lemon Poppy Muffins– What is it about lemon and poppy that makes them an amazing combination? Try Yammie's Noshery's recipe for a delicious muffin!
12. Pecan Pie Muffins– Make it the Christmas season all year long with The Girl Who Ate Everything's pecan pie muffins!
13. Cinnamon Roll Muffins– As if cinnamon rolls already weren't delicious enough, Your Home Based Mom went and turned them into muffins. Heaven. Pure heaven.
14. Banana Cream Cheese Muffins– You know it's good if its got cream cheese! Find this recipe at The Novice Chef .
15. Chocolate Peanut Butter Swirl Muffins– Are you a peanut butter addict? Then you'll love Our Balanced Bowl's muffin recipes!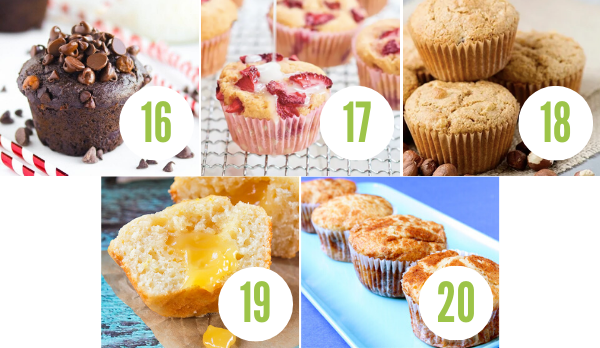 16. Nutella Filled Chocolate Muffins– Nothing fills my chocolate lover's heart with joy more than finding a Nutella stuffed muffin. Thank you Honest Cooking!
17. Orange and Strawberry Muffins– These muffins from The Kitchn make the perfect pick-me-up in the morning!
18. Apple Biscoff Hazlenut Muffins– If you wanted something a little on the healthier side, try Baked Bree's recipe!
19. Lemon Curd Filled Muffins– Add some zest to your morning with Annie's Noms lemon curd muffins!
20. Muffadoodles– Ever notice how the good things in this world end with "doodle?" Snickerdoodle, golden-doodle, muffadoodles…. Find muffadoodles at Gimme Some Oven.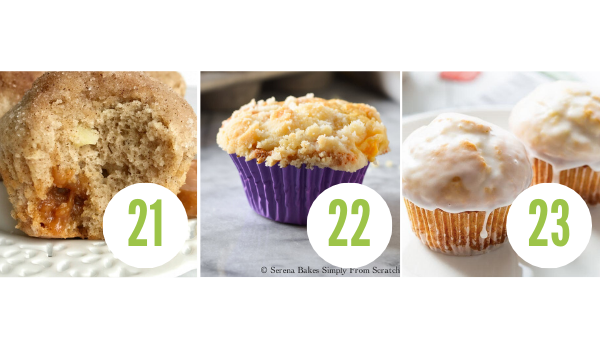 21. Caramel Apple Muffins– These muffins from Together as Family will make for a tasty breakfast treat.
22. Peach Crumb Muffin– Serena Bakes Simply from Scratch's peach muffins make me want to out to the orchard and pick peaches right now.
23. Old Fashioned Donut Muffins– I believe any recipe that starts with "old-fashioned," like this recipe from Saving Room for Dessert, is an automatic win!