I am obsessed with beautiful bread lately. The smell of fresh baked bread just fills a home with that perfect aroma. These rolls are tender and perfect for Mother's Day! Chrysanthemum Bread is more about the technique than the recipe, though. I promise, it is easy to get this look. You can make your Chrysanthemum Bread as cinnamon rolls, or filled with pesto, cheese and topped with pine nuts. This technique is super versatile. I filled mine with sausage and cheese for a hearty breakfast. These are great leftovers for busy mornings. Pull off a petal, 10 to 15 seconds in the microwave, and you have a hearty breakfast on the go!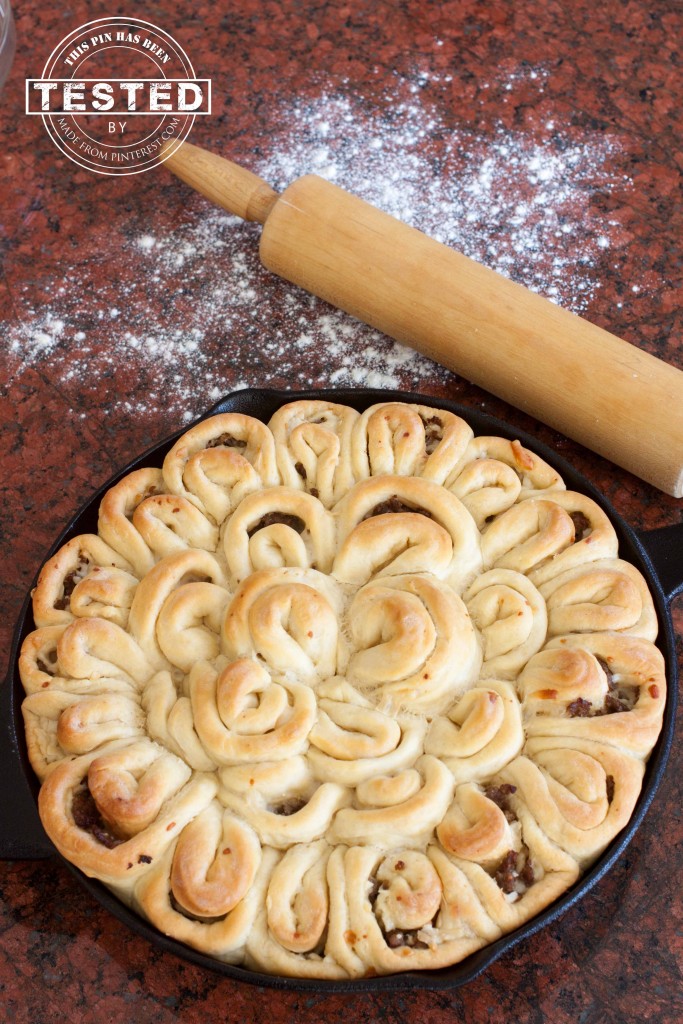 For a soft roll recipe that is easy, I used the recipe from my recent post Curly Swirly Bread. See what I mean? I really am currently obsessed with uniquely shaped bread. I rolled out the dough into a rectangle large enough for about 30 circles. My biscuit cutter was about the same size as the rim on my water glasses, about 3 1/2 inches.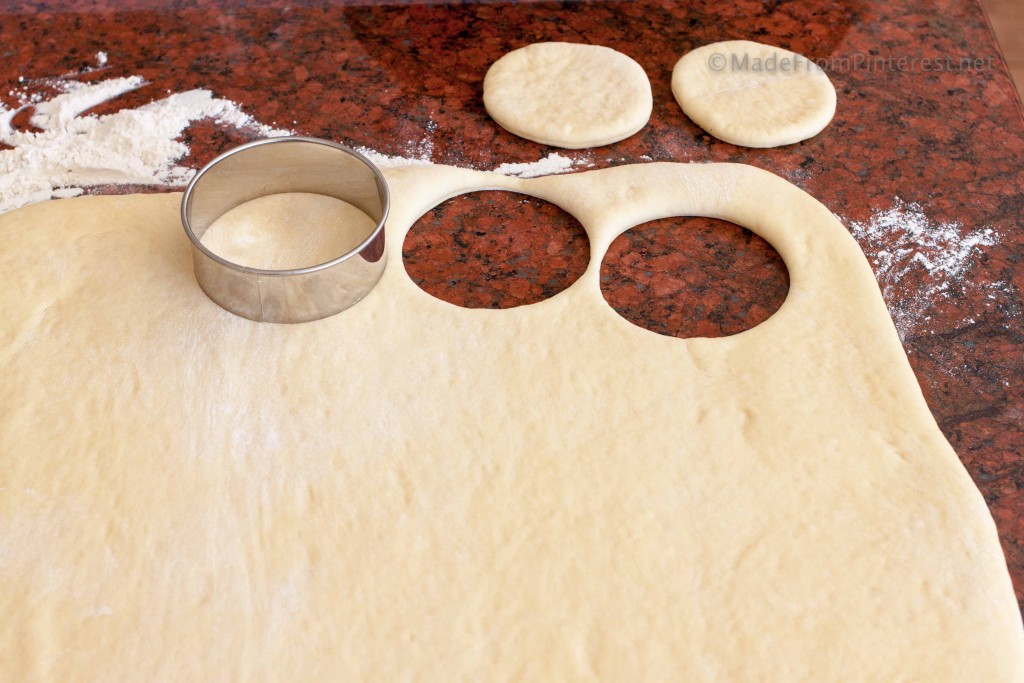 Next I topped each round with cooked breakfast sausage and cheese. About a tablespoon each.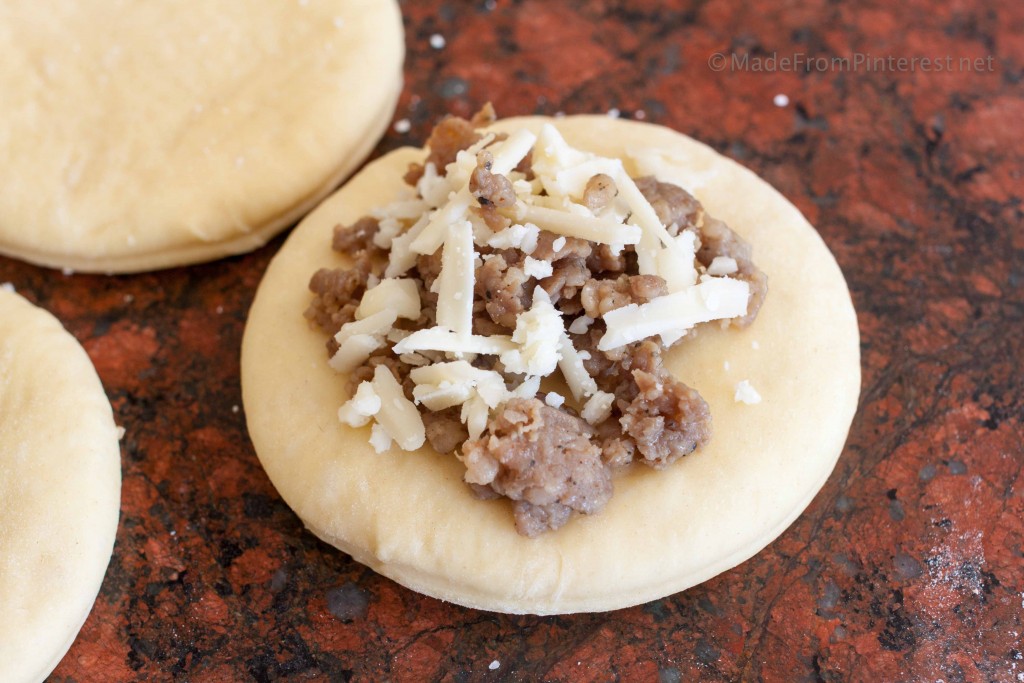 Then fold it in half like a taco.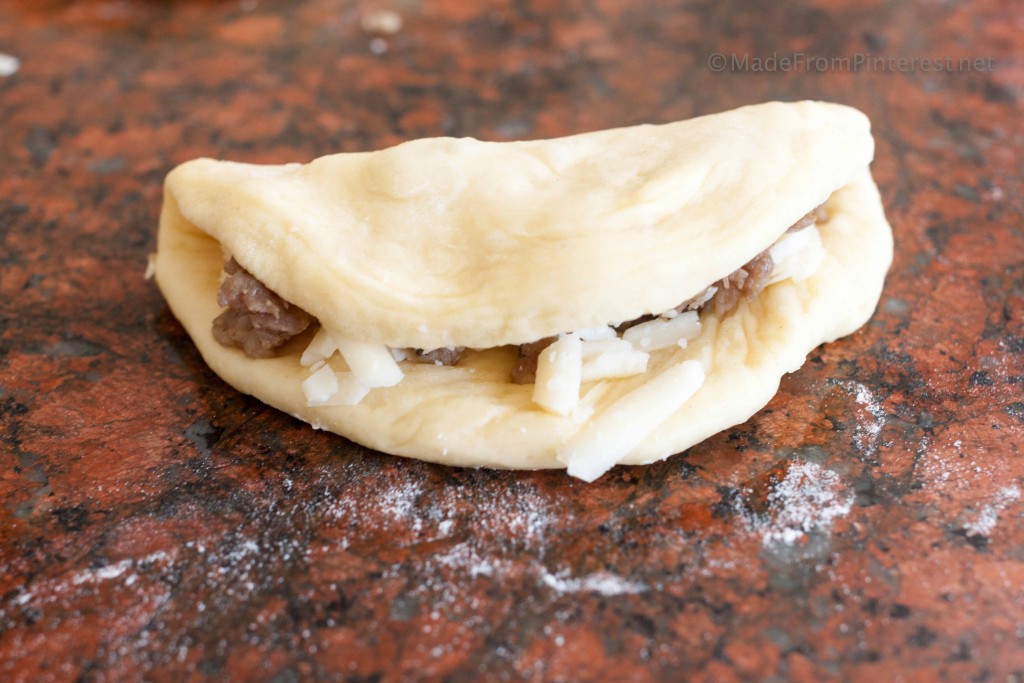 And fold it in half again, pinching the corners to seal. This creates your Chrysanthemum petals.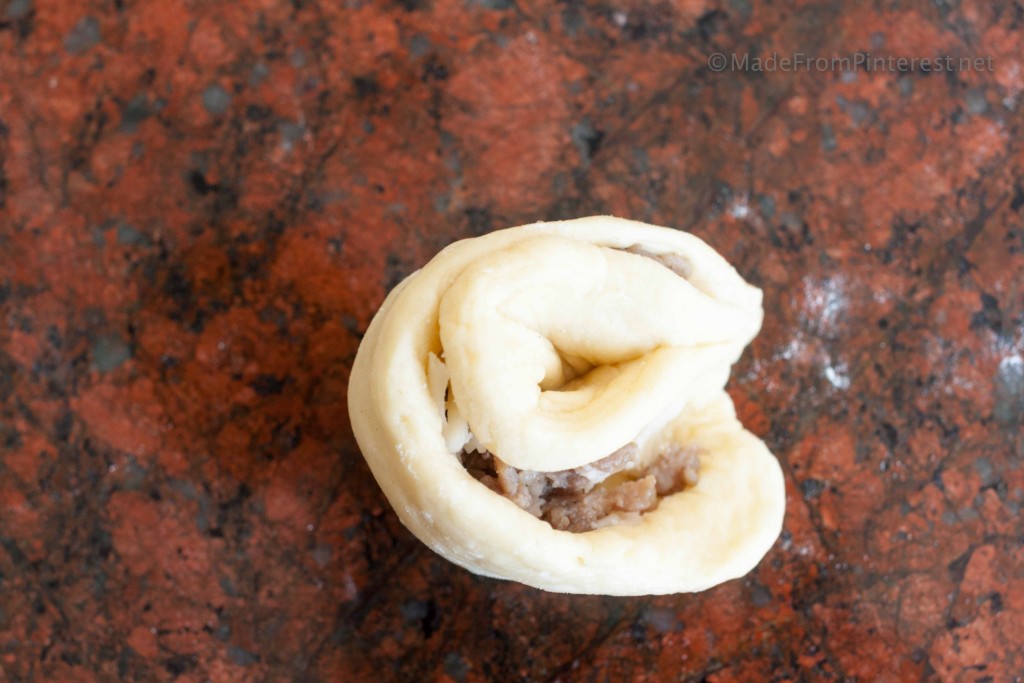 I love baking in my cast iron skillet. It makes a golden brown buttery crust. I buttered the pan and began placing my petals along the outside edge of the pan. Then did the next ring inside of that, and then filled in the center.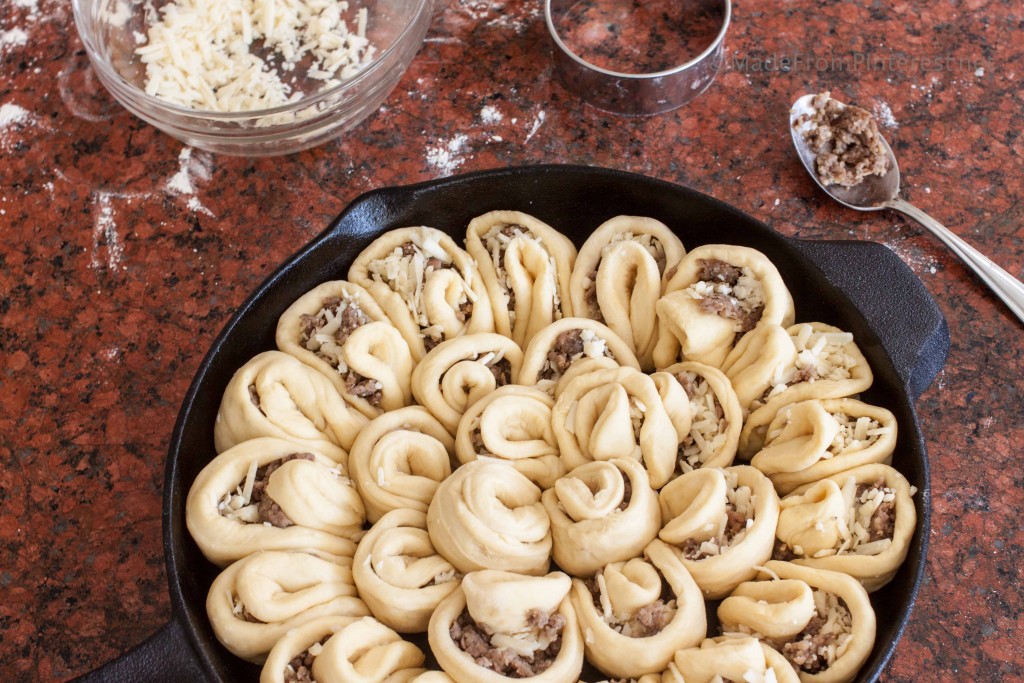 Let it rise until doubled and bake up to a golden brown. How beautiful is this?! I hope you will enjoy your own Chrysanthemum Bread soon!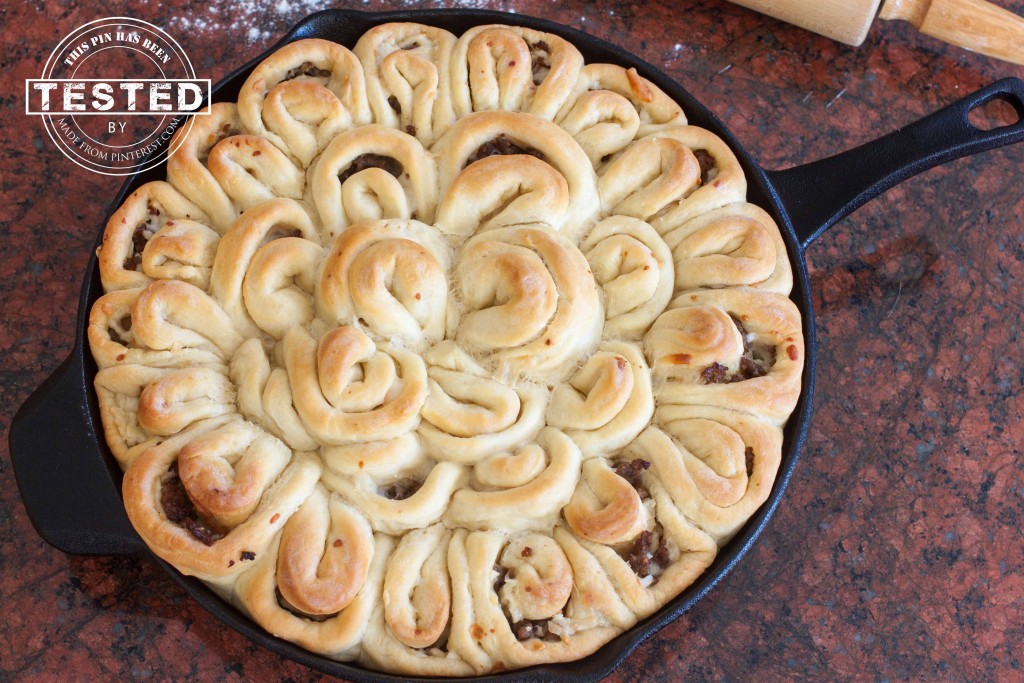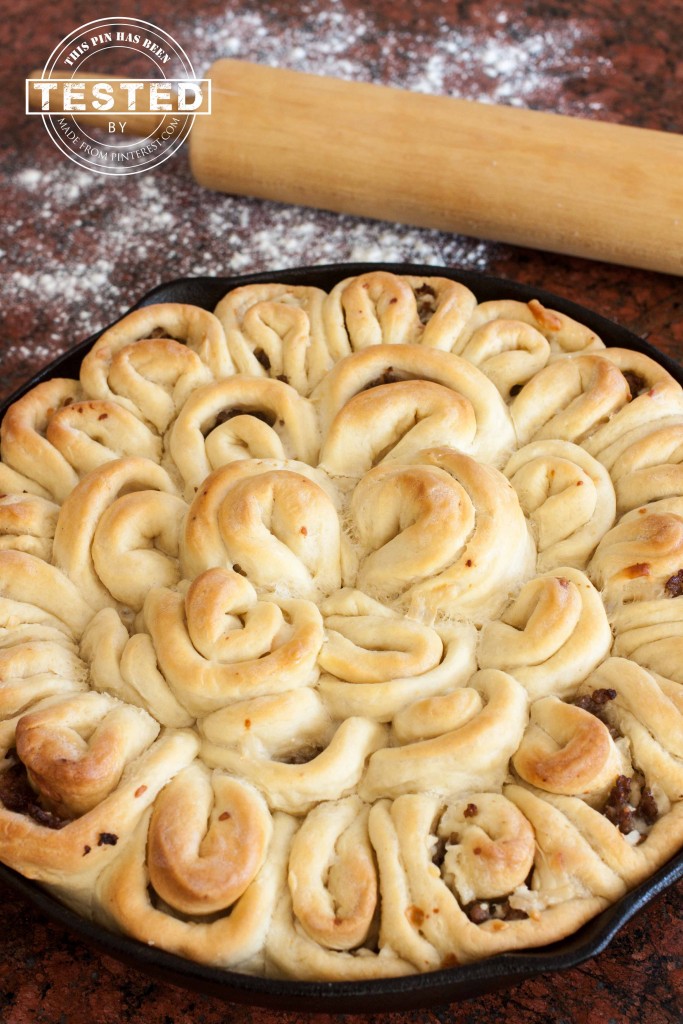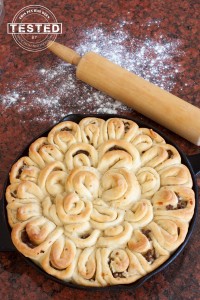 Chrysanthemum Bread
Ingredients
1

recipe of dough for dinner rolls

1

pound

breakfast sausage cooked

2

cups

cheese shredded - cheddar or mozzarella was good. There is room to experiment here.

melted butter to brush on after baking.
Instructions
Follow recipe directions for dough. After first rising, roll out into a large triangle and cut about 30 circles. The amount will depend on how big your pan is.

Fill each circle with 1 Tablespoon of cooked sausage and 1 Tablespoon of shredded cheese.

Fold in half like a taco. Fold in half again pinching ends to seal.

Let rise until double, 30-45 minutes. Preheat oven to 350°.

Bake at 350° for 30 - 40 minutes until golden brown.

Brush with melted butter.
Recipe adapted from Stranamam.
Come check out a few of our most popular recipes recently posted:
Brazilian Limeade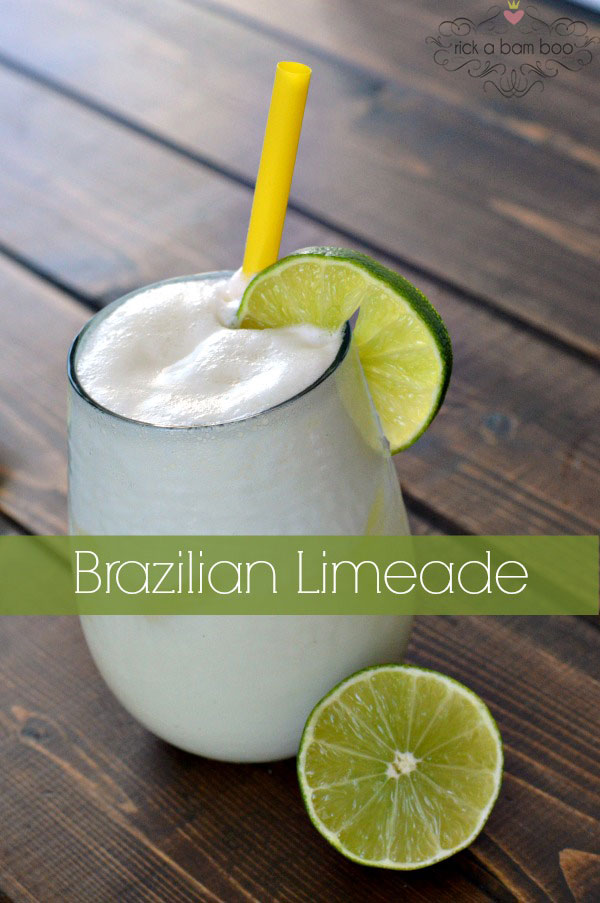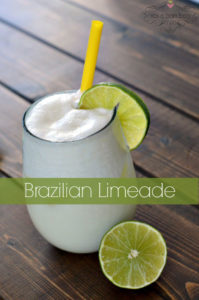 Chicken 5-5

Chocolate Italian Cake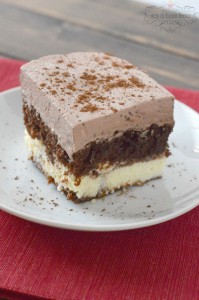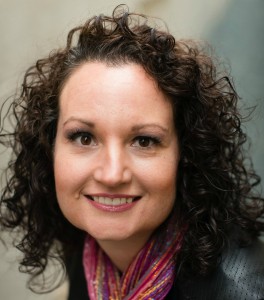 This awesome post has been shared with Homestories A to Z and Whipperberry.