How often do you clean your hairbrush? We tend to forget this little detail. But it plays a huge role in hair care. Clean your brush in minutes with this method and make sure your hair will get the best treatment.
Do you have a bad hair day? The reason may be your brush is not clean enough. These tips will help you manage and style your hair much easier and more effectively.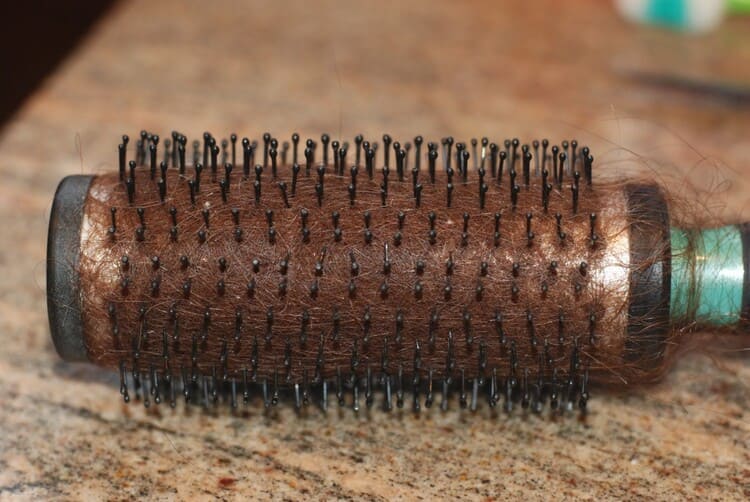 What is the grey lint of your hairbrush?
Have you noticed a grey mossy thing on your hairbrush? These are dead skin cells, skin tissue, dirt, hair product, and dust that accumulate on your hairbrush over time. This buildup makes it difficult to brush properly.
In fact, if you don't clean that bacteria and residues from your brush, it goes back to your scalp and spreads on your hair. This may cause reduced hair volume and make your hair look greasy.
When is the time to clean your hairbrush?
Take a good look at your hairbrush. Does it look clean to you? Actually, if you're not entirely sure, give it a good wash first. Then begin styling your hair. Repeat once in a while, every time you feel necessary.
Do you have one of these days when your hair doesn't look good? You don't know what is wrong, but it doesn't stay in the right direction. Then you decide to tie it up and leave the house this way.
The reason may be dirty hair tools. If you style your hair with a hairbrush that is not completely clean, it can make your hair look greasy and dirty.
Benefits of cleaning your hairbrush
keeps your hair clean

hairbrush lasts longer

brushes better

no dirty beauty tools in your cosmetic bag

you won't be embarrassed if somebody sees it
What is more, it will get much more difficult to manage and style. Don't allow dirty beauty tools to ruin your efforts! All these minutes spent styling your hair should be worth it. To make sure that your hair looks fabulous, don't neglect the details and clean your beauty tools.
Dirty brushes and combs tend to accumulate bacteria. And we don't need that on our hair, do we? Hair products, grease, dandruff, and other dirty residues can stay on the brush after using it. Think about that! The next time you brush your hair, all of this may get back on your scalp and cause some type of irritation of the skin.
I highly recommend you remove any old hair from the brush after every use. This task is not time-consuming, don't forget it. This way, you will be sure that it is ready for the next brushing.
If you forget to do it, you may put dirt and dead skin cells on your hair. Surely, it is not something you want. Like every other beauty tool, this also needs good care.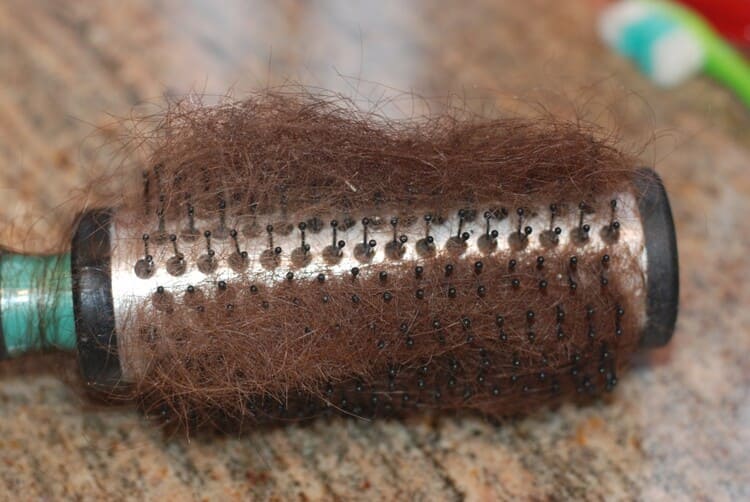 Why do you need to brush your hair?
Do you tend to neglect to brush your hair? It is like a massage for the scalp. It encourages blood flow and hair growth. Brushing every day helps remove loose hair. And there will be some loose hair, don't worry about it, it is perfectly normal. Also, it helps remove any tangles.
It is recommended you brush your hair twice a day – morning and night. It helps distribute the scalp's natural oils through the hair. There is no need to do it more often. It is a chance of over-brushing your hair that may damage your cuticles. And that is not a good thing to do. So keep it simple, and brush it twice a day for maximum results.
If you notice excessive hair shedding or thinning of the hair, irritations, or other problems with your hair or scalp, consult a dermatologist.
Tips for keeping your hairbrush clean
Having difficulties with keeping your hairbrush clean and sanitized? Then, apply these tips often for the best results.
Try to make it a habit! After styling your hair, take care of your hairbrush. It is that simple!
Remove all of the hair left on the brush after use.

Use warm water and a little bit of shampoo to clean it.

Clean your hairbrush as often as possible, at least once a month.

Keep combs and hairbrushes in a separate cosmetic bag from your other beauty tools.

Don't keep combs and hairbrushes on shelves. They can easily get covered with dust.

Disinfect your brushes with a sanitizer gel.

It is a personal beauty tool. Don't let anyone else use yours. Just like your toothbrush.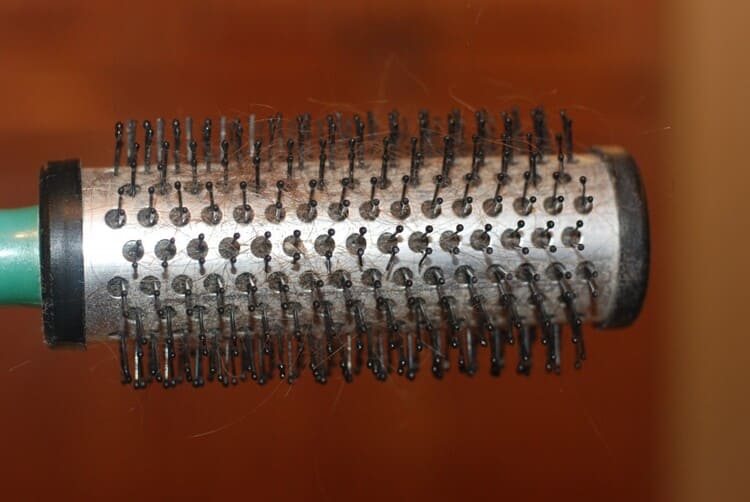 How often do you clean your hairbrush?
Do you have that gross and fluffy buildup on your hairbrush that accumulates over time? Stop brushing your hair with it! You have to remove it.
I know that we all have priorities, and we put some of the tasks at the end of the list. They often remain to wait for a long time. But this has to change.
For instance, make a schedule for cleaning your beauty tools. A good wash once a month will make them look new. You won't feel embarrassed if your grandkids or somebody else sees your hairbrush.
I don't know if you are like me or not, but there are chores, cleaning projects, and things that I need to organize, and I think, "I am going to do that today." But then I don't.
And then the next day, I think, "I am definitely going to do that TODAY!"
But then I don't.
And before I know it, a week has passed. Or maybe even a month. But that's all I'm going to confess.
No, I would never let anything that I need to clean go past a month.
No, I would not.
Never.
Recently I have been feeling that way about my hairbrush. I saw that fluffy lint buildup on it and felt the need to clean it as soon as possible.
I had to clean it a day ago.
Or maybe it was a week ago.
Could it really have been a month?
Ewww.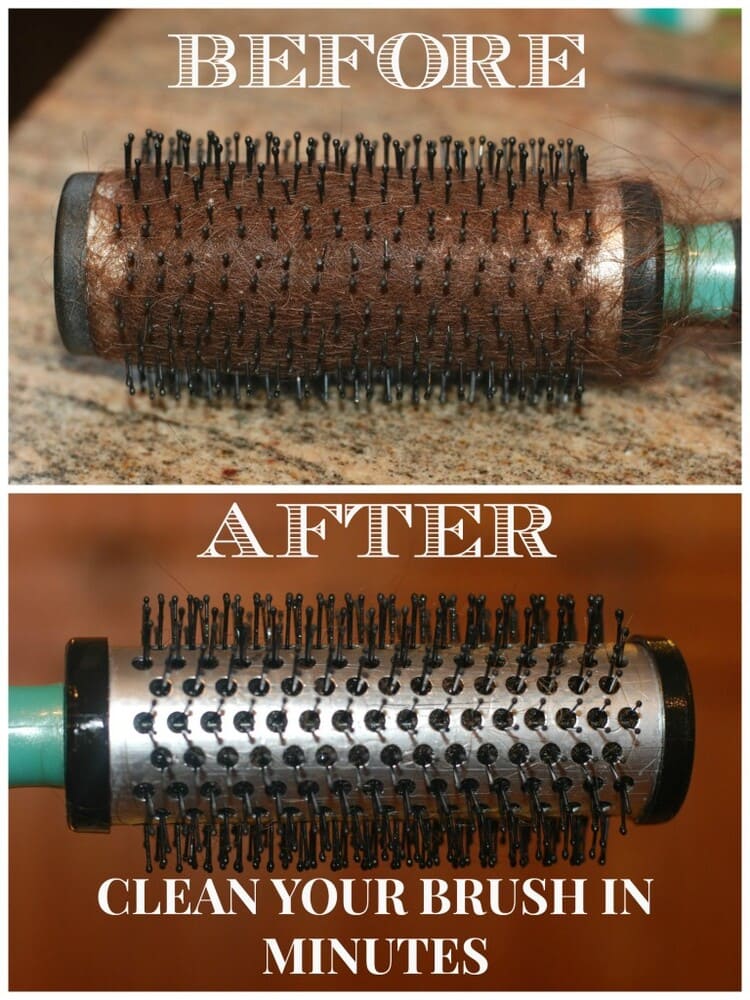 How to clean your brush in minutes?
Luckily today was the day I cleaned my hairbrush! I feel much better now!
This cleaning project that I have been thinking about for days, got done today. It is thanks to a pin that I pinned from Anithamallya's Blog.
I've adapted the instructions a little bit, but here is how to clean your brush in minutes. And it works great! Get your hairbrush and try it.
You will need:
scissors
warm water
shampoo
toothbrush
Instructions:
1. Take some scissors, cut the hair in the brush lengthwise down every 2nd or 3rd row. Make sure you are cutting in between the bristles.
2. Take the tip of the scissors and slide the scissors lengthwise underneath the hair and lift. The hair should lift right up. Continue until you remove all the hair. Pull off any loose stragglers.
Tip: Do not use a comb or another brush to remove the hair from your brush! It usually pops off the small beads that are on the top of your bristles. Once those beads are gone, it sure doesn't feel good when brushing your hair.
3. Now, after removing most of the bulky hair, there is still dander and dust on your brush. Set it in a sink that has some warm water mixed with a small amount of shampoo.
4. Take a spare toothbrush. Brush vigorously up and down each row of your hairbrush and also all around the top.
5. Set on a paper towel to dry, and your brush should look like new.
Easy peasy! And doesn't take much of your time.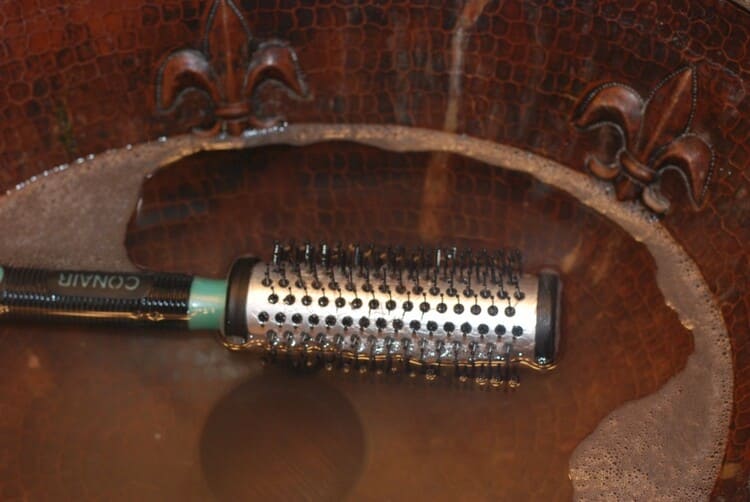 Helpful tips for a healthy and beautiful hair
How to maintain and style your hair? It needs some special treatment once in a while. Conditioners, hair masks, and serums help the hair to maintain its strength. Treat yourself to some good products.
Also, don't forget that hydration is the key to healthy hair. Drinking a lot of water helps your hair look pretty.
On the other hand, some of the hair products may contain toxic ingredients. You have to read the labels carefully.
Stay hydrated! Drinking at least 2 liters of water has beneficial effects on your hair strength and growth.

The wet hair is thin and can break easily. Try not to brush it until it is completely dry.

Don't tousle your hair with a towel, this may create tangles.

Use conditioner and other hydrating hair products.

Untangle in sections and carefully. Try not to damage or break the hair.

Use shampoos and conditioners that are suitable for your hair type.

Read the labels. Try to avoid products with toxic ingredients such as sulfates, parabens, and other chemicals.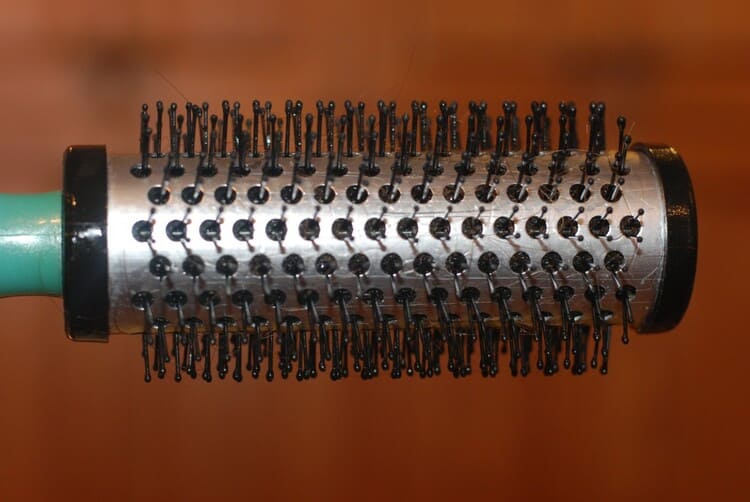 In conclusion
In short, cleaning your beauty accessories is important because they come in contact with your skin and hair. The hairbrush is no different.
If you want to maintain healthy and beautiful hair, you need to clean it once a month. Otherwise, you may be brushing your hair with dirt, grease, and product. Undoubtedly, the results will not be so good.
Make sure you style your hair with clean beauty tools only. What is more, brushing makes your hair look pretty, helps remove loose hair and tangles. But to experience the benefits, you have to do it with a clean brush. Anyone can do this method, and it is totally worth it!
Tomorrow is going to be a good hair day! I just know it! Because This Pin Rocks!
Give it a try!
Did you find this article helpful? You might also like these other makeup cleaning tips!