Slime. Is there any other word in the English language that instills a cringe in a parent faster than slime? However, these Halloween Slime Jars are still a darling craft to make if a few rules are followed!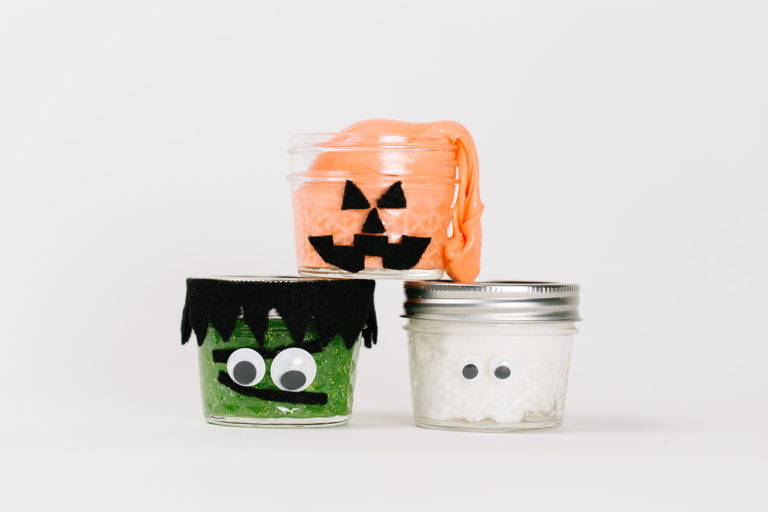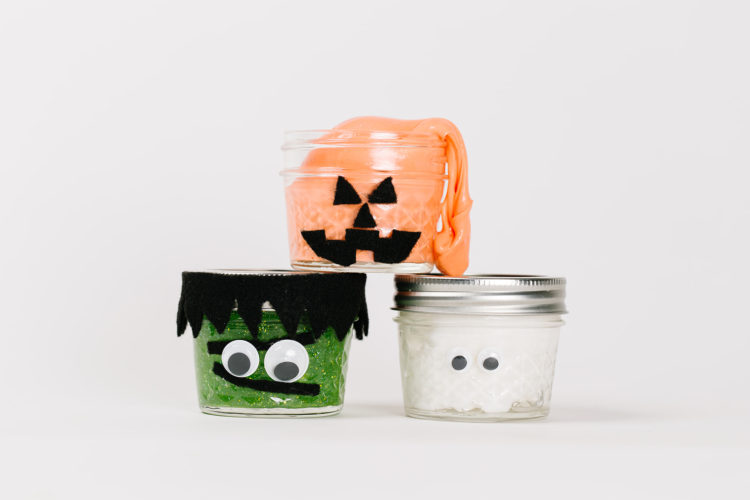 Before we start the tutorial, let me share Grammy's Rules for Slime!
1. Wherever we make the slime, it cannot be over carpet. Kids need to sit on the floor or on a chair that has no carpet underneath.
2. Any cute little child with long hair, must have it back in a pony tail.
3. And lastly, slime can only be played with in a room without carpet! (There's that carpet again) No taking slime into a bedroom.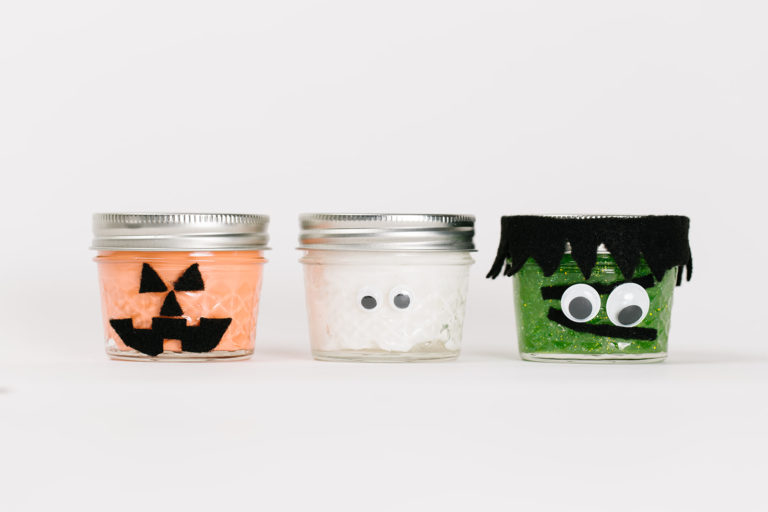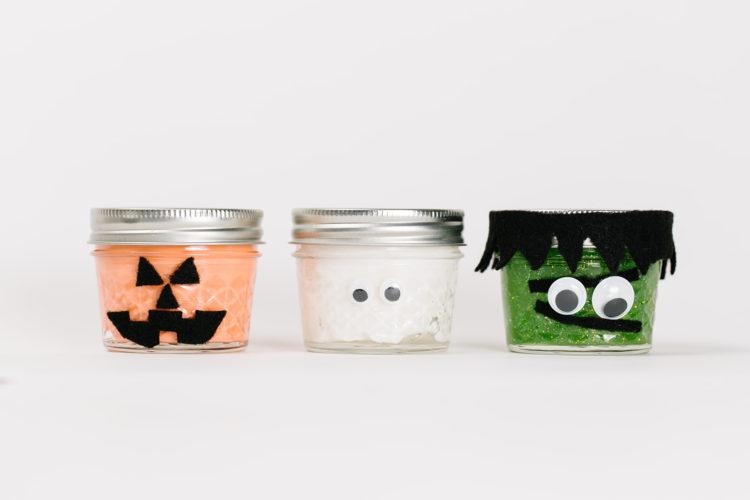 As long as those rules can be followed, then this Grammy is ready to make slime! Let's start with the ingredients. The ingredients listed below will make ONE batch. So if you want all three colors, you'll need to adjust quantities.
6 ounces of white Elmer's glue, 1/2 teaspoon baking soda, 1 1/2 tablespoons contact lens solution (this solution must have boric acid in it for the slime to work). Lastly you can add 2 tablespoons of water to your glue before the baking powder if you'd like your slime to be a little stretchier.
For the green slime, you'll need 6 ounces of Elmer's green glitter glue
For the orange slime, you will need some orange food coloring.
Also needed will be some small glass jars, googley eyes, a sheet of black felt, scissors and some type of adhesive – glue dots, tacky glue or a glue gun (Use glue gun only with adult supervision)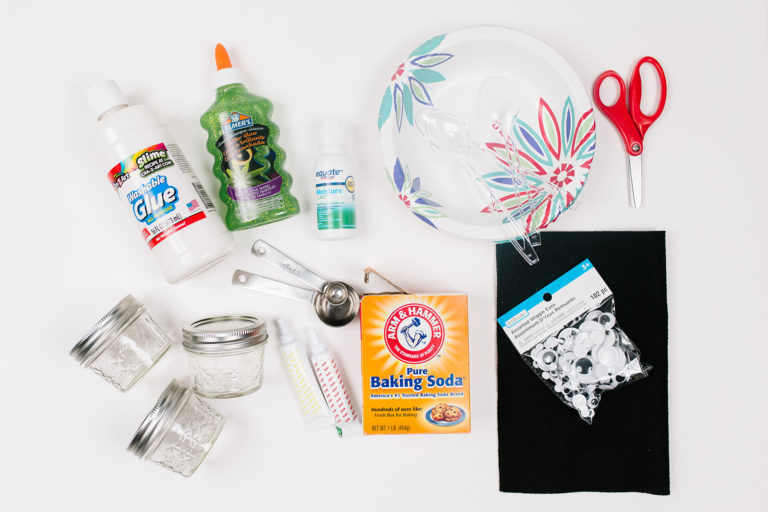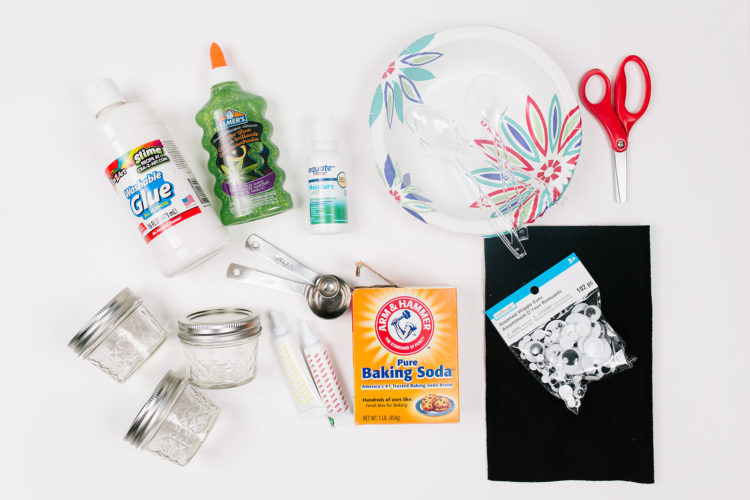 Now we are ready to start! Squeeze all of the 6 ounces of glue into a small bowl. We are showing the green glitter as our example.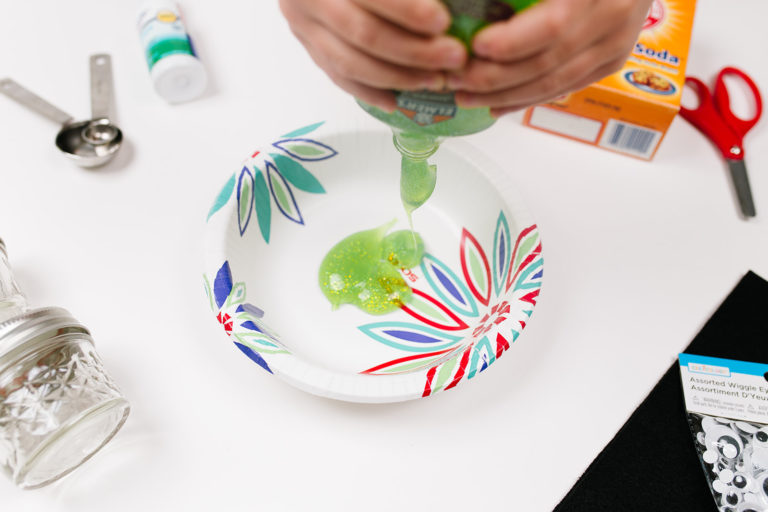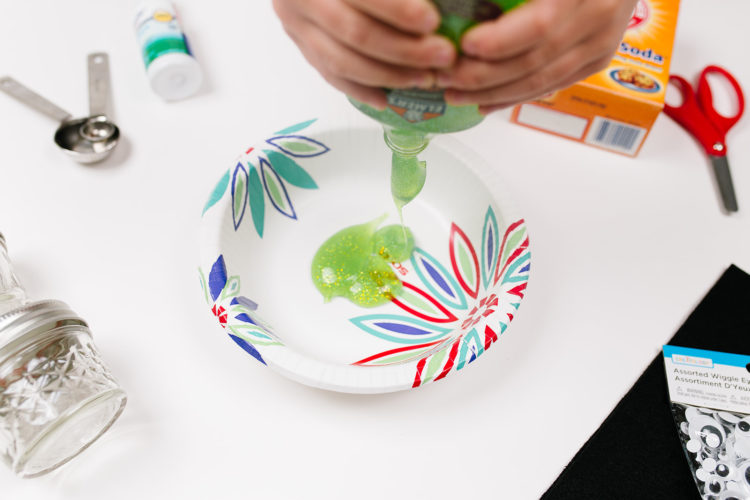 If you are adding water, do that step now. Mix well.
NOTE: If you are making the orange slime, add the food coloring now to the white glue mix to make it orange.

Then add 1/2 teaspoon baking soda into the glue.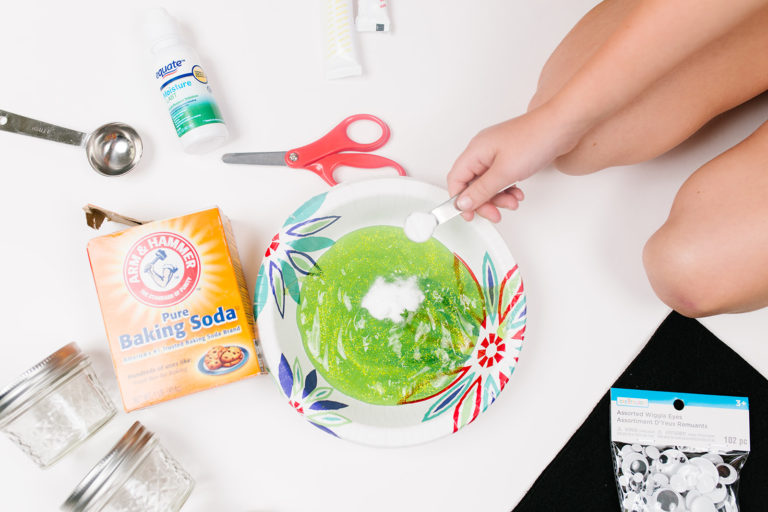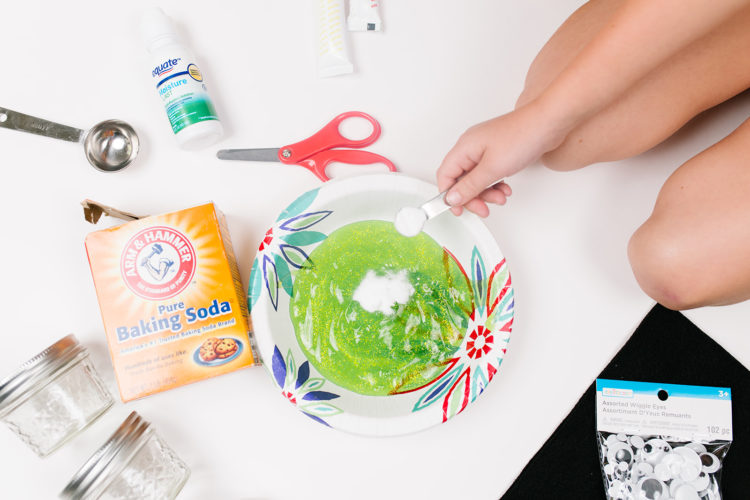 Next it is time to add the contact lens solution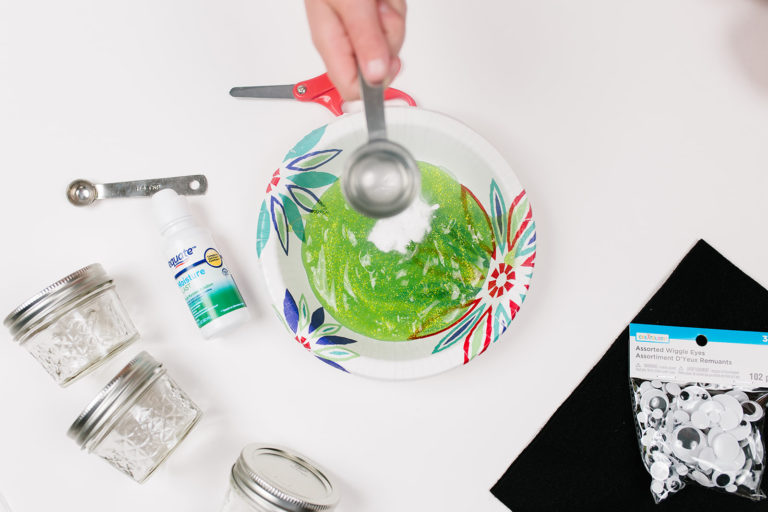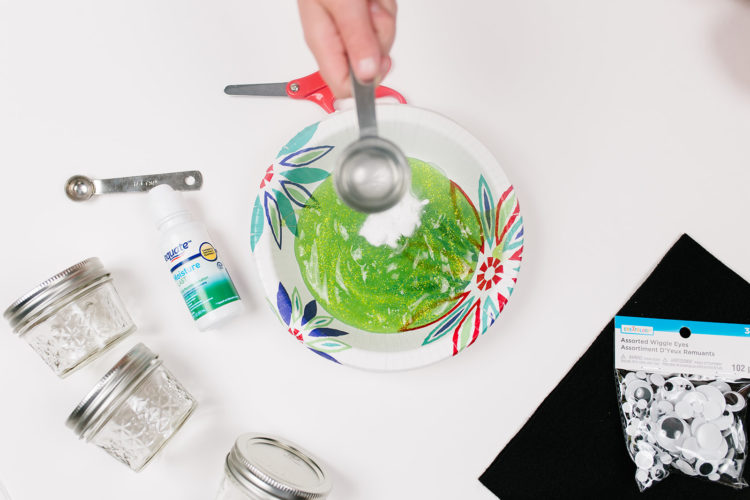 Start to mix everything together. This part may be challenging for some kids and adult supervision might be required. If the mixture is too sticky add a little more contact lens solution. When the mixture is looking fairly solid, let your kids knead it until everything is thoroughly blended and it is looking like slime!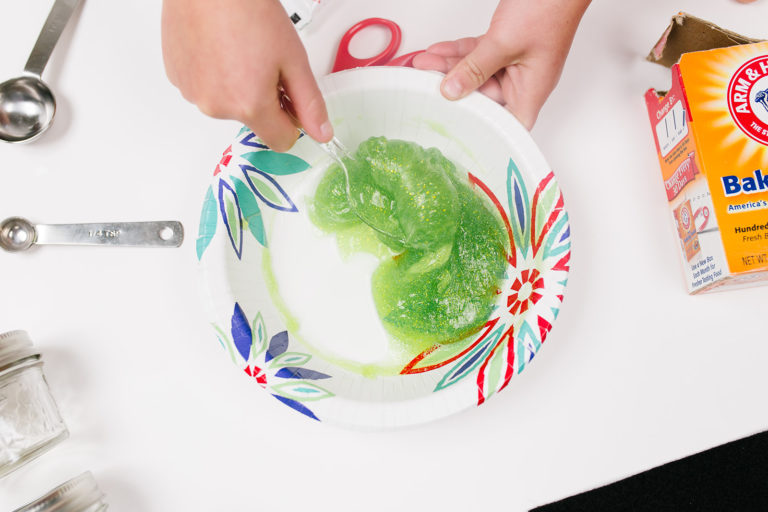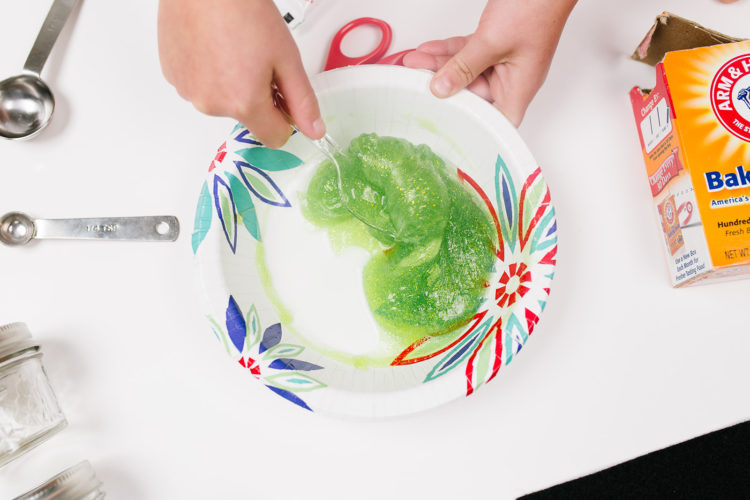 Next cut out the jar's facial features out of the black felt.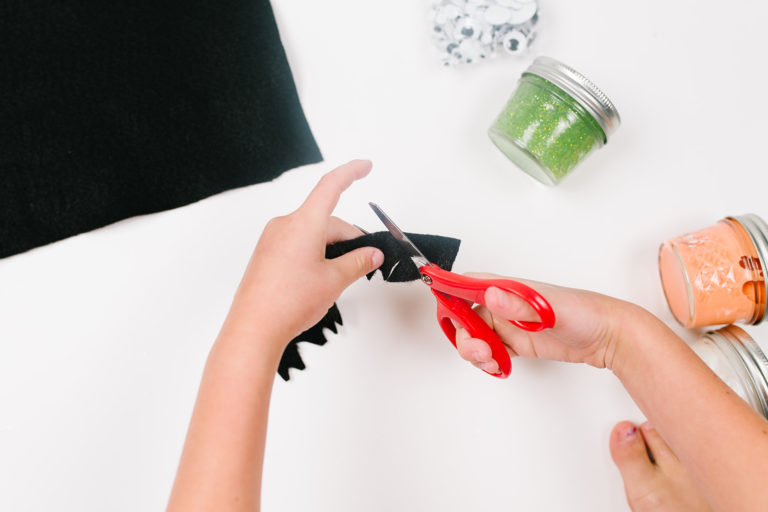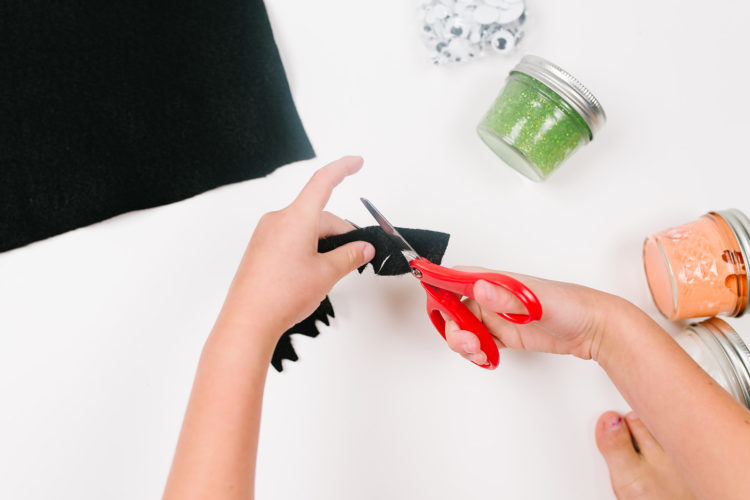 We just eyeballed what we wanted and then cut those shapes out. Then with whatever kind of glue you are using, glue them on along with the googley eyes. If using a glue gun, we recommend adult supervision.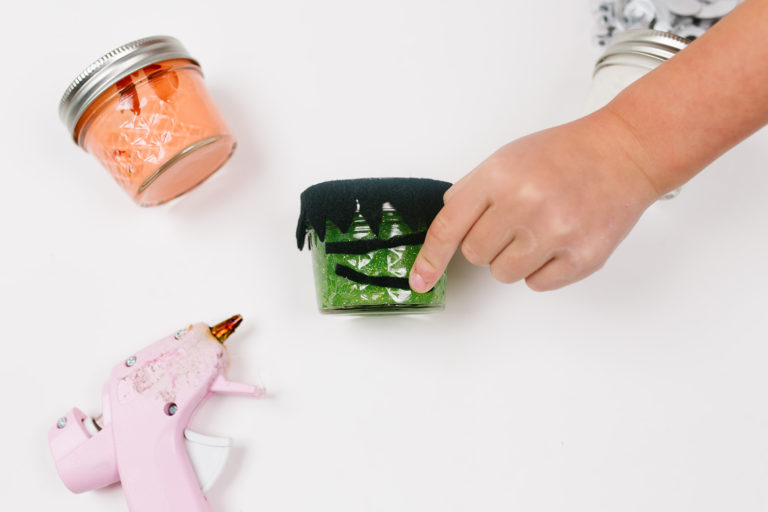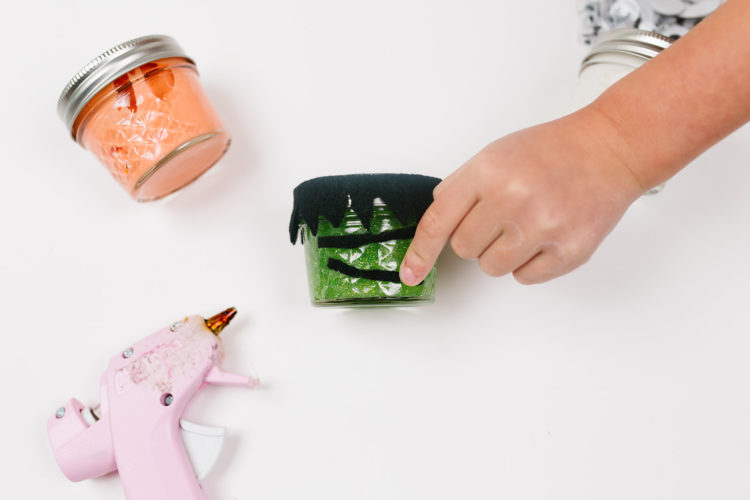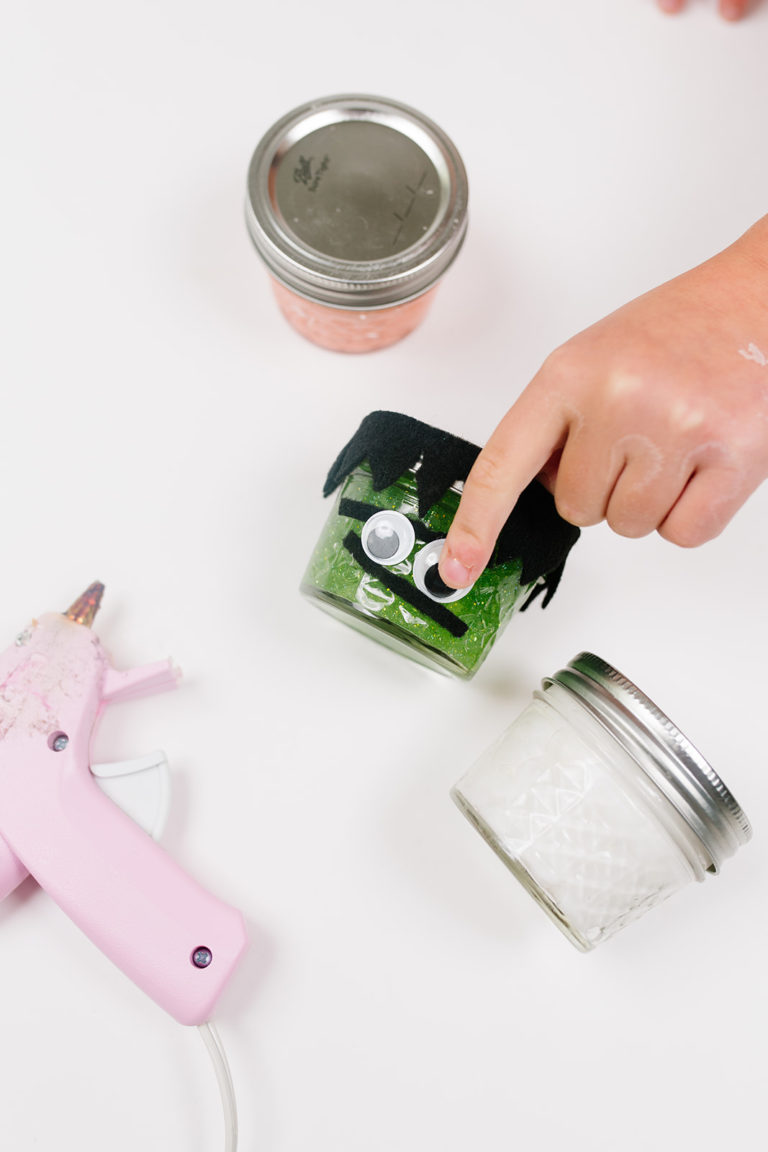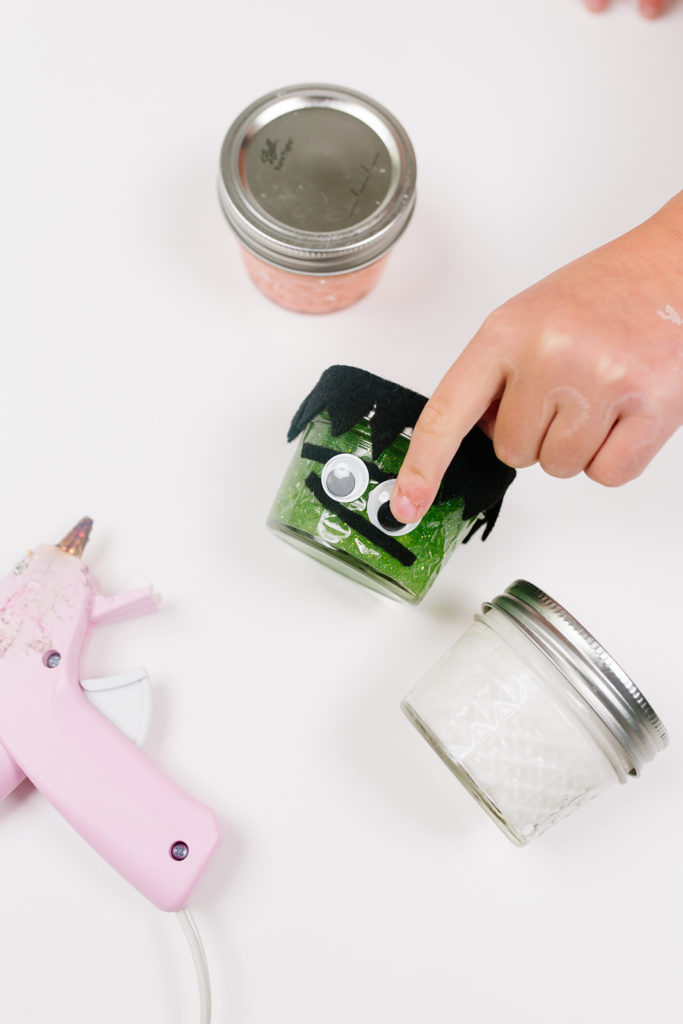 After playing with the slime, place slime in your Halloween Slim Jar for easy storage.

See? Making this Halloween Slime is not so bad!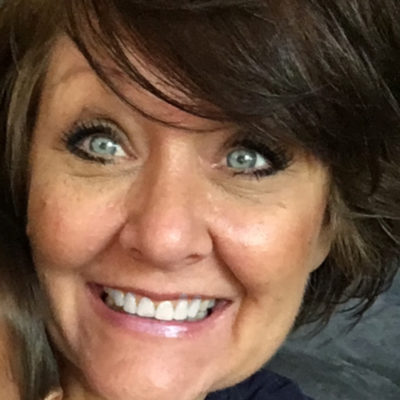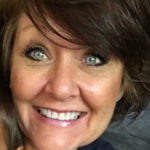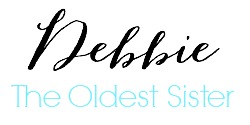 If you still aren't up to making slime, try these fun Halloween Crafts!