I am so glad to share this easy to make Hot Roasted Cauliflower and Cheddar Dip that is perfect for the Super Bowl, without all the calories!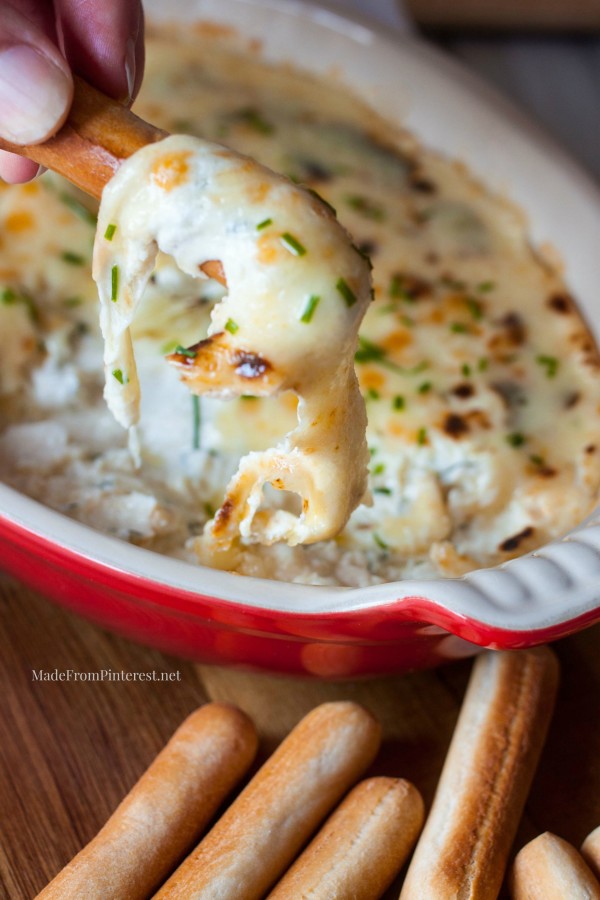 I love the Super Bowl. Mostly for the food and hanging out with family and the commercials. I spend most of the time in the kitchen cooking while the rest of my family watches the game. Since I love to cook, this works for our family and is totally okay with me. But the deal is, when the commercials come on, they have to pause and let me come watch them, or they don't get to eat the food I am making. They never forget about me! Must mean the food is good! I was looking for something new to add to my menu for game day. Something that would be a little lighter than all the indulgent foods we have been consuming during the holidays. But it would have to be really good if it was going to pass the family test. If it isn't good enough to pass the muster, I am likely to miss some commercials.
This Hot Roasted Cauliflower and Cheddar Dip is creamy, warm, comfort food that is full of flavor! Our family tested it out and it passed the test. Phew! I won't miss out on any commercials because of a failed appetizer. I am also loving this recipe because I will make it the day before and I can sit and enjoy some of the game while it bakes. You just need to add a little extra time because it will be cold from the fridge if you make it the day before. For so many years, I have not really understood football. Specifically, what a down was and how it was calculated was an absolute mystery to me. Every time I would ask my hubby, he would begin to explain it, but then get caught up in what was happening on screen and we never really did finish the conversation. Finally, while I was at our high school's football game to support my kids performing in band, a girlfriend of mine sat next to me and explained how it all worked. Maybe I just needed a woman to explain it! Ever since I could make sense of what a down was and how it related to the game, football has been much more fun to watch.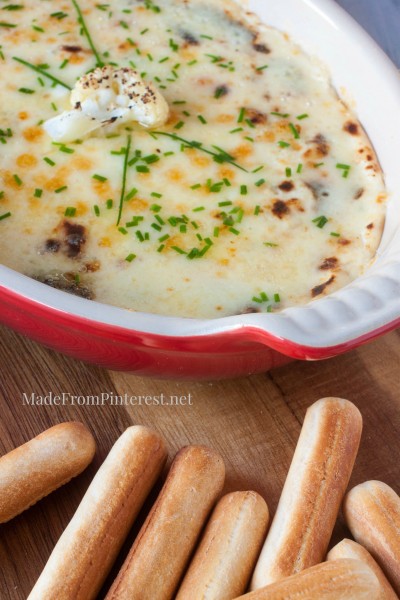 I think I will have a double batch of Hot Roasted Cauliflower and Cheddar Dip all prepped so I can watch commercials and the game!
Enjoy!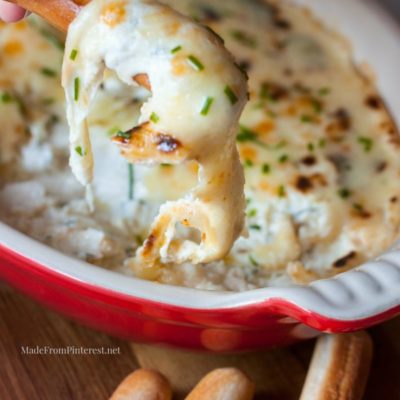 Hot Roasted Cauliflower and Cheddar Dip
Ingredients
1/2

small head cauliflower

cut into florets

1

tablespoon

oil

salt and pepper to taste

4

ounces

light cream cheese

room temperature

1/2

cup

light sour cream or Greek yogurt

1/2

teaspoon

thyme

chopped

1/2

teaspoon

garlic powder

or more to taste!

1 1/4

cup

aged white cheddar

shredded 1/4 cup reserved for top

chives to garnish
Instructions
Roast cauliflower tossed in oil and salted and peppered to taste at 400° for about 20 minutes or until lightly browned.

Add all remaining ingredients except 1/4 cup aged white cheddar and chives to a blender or food processor and puree until smooth.

Bake in a small baking dish at 350° for 20-30 minutes.

Add 1/4 cup cheddar to the top and set under the broiler for 5-10 minutes until cheese is golden brown and bubbly. Watch carefully so it does not burn!

Garnish with chives.
This recipe adapted from: Closet Cooking
Here are a few more game day recipes:
Crock Pot Cream Cheese Taquitos