When a chocolate craving strikes, there is simply nothing else quite good enough to curb that hunger, but Chocolate Pudding Poke Cake!
I love cheesecake. I love pies. I even LOVE caramel apples, but there are days when nothing is going to work, but chocolate.
I used to graze through my pantry. You could find me scouring the shelves for just the perfect chocolate remedy to appease my craving, but whatever I came across never seemed to do the trick. I'd overstuff myself with mounds of sugar and sweets and hours later feel sick from all of the junk I ate. I would end up munching on a pile of sub-par alternatives and still craving chocolate the rest of the day. I think we can all admit we have been here before. Am I right?
If I am going to partake in sweets and treats, I'd rather munch on something worth the guild later. Instead of eating loads of junk that fill me up and leave me feeling sick and still wanting more, I can eat one treat and be good.
If we are going to do chocolate, let's do it, right ladies. Let's eat cake!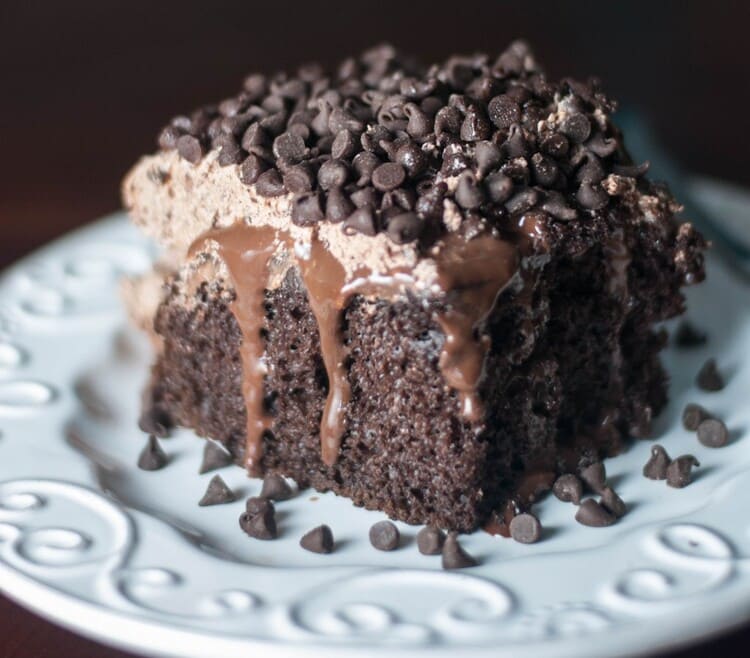 The Chocolate Cake Craving Cure
Enter, this magical recipe for amazing Chocolate Pudding Poke Cake!
This delicious sweet is a combination of chocolate cake, chocolate pudding, hot fudge sauce, chocolate whipped cream, and chocolate chips, this cake is SURE to satisfy your chocolate cravings.
It is rich but on one of those days where you need some chocolate, who cares?! Now instead of meandering through my cupboards, I simply go straight for the good stuff. The Chocolate Pudding Poke Cake has become my go-to when the grandkids and I require a sweet chocolate treat!
Everyone has fun making this cake and this cake fills the chocolate craving. I could probably sit down and devour this entire cake myself, but it's so good everyone in the house helps me eat it. Which makes me feel better, lol!
This recipe is a MUST have on every grandma's chocolate fix list!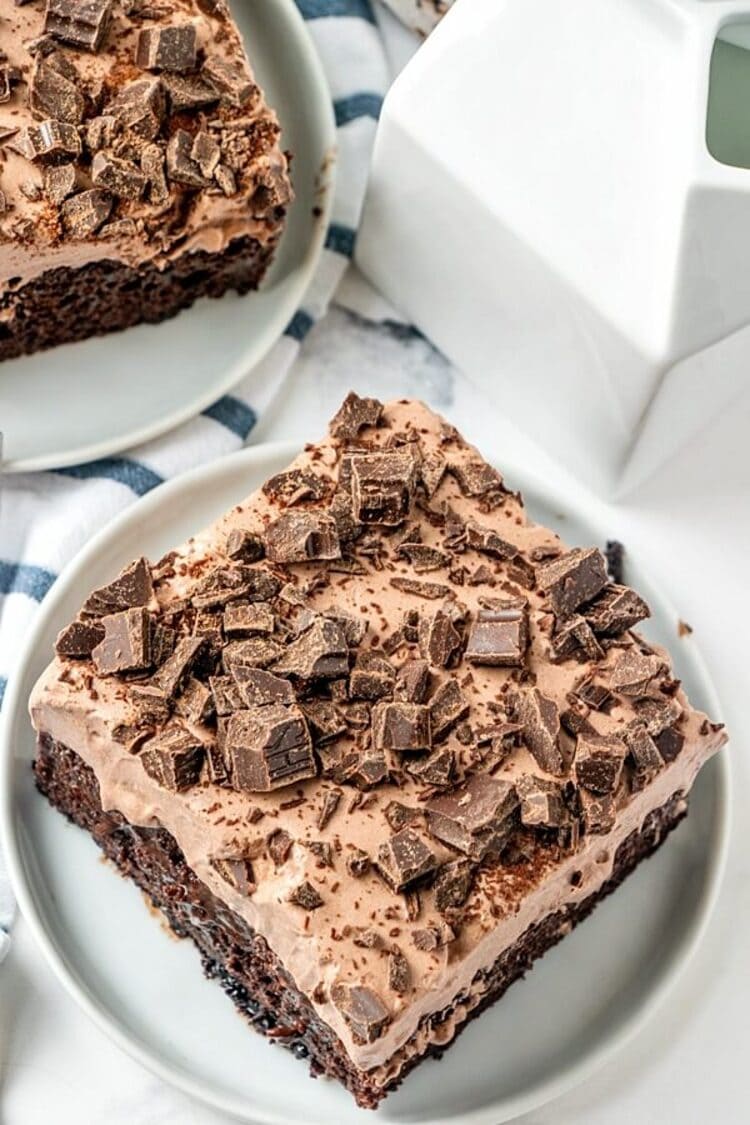 Easy Mix and Make Cake
A big thanks to Love Bakes Good Cakes for the inspiration for this recipe!
The first thing you should know about this delectable delight is that you will NEED to make it ahead of time. While this recipe is easy to make, it takes a few hours to finish. Don't let that discount this one out though, trust me, it is well worth the wait. This delightful goodie is fast and super easy to put together, so if the wait for the finish line on this one is killing you, you could always lick the mixing bowl!
The other great perk of this recipe is that you can make it in one dish and bring it along to any function or party to share with friends and family. And let me tell you, once they have had it, those friends and family will be begging you to bring it to every event. I have often had friends call me and ask me to specifically bring this chocolate desert with me on multiple occasions.
Being that it is all put together in one dish, transport is super easy. Plus, I like to make it in the morning or the night before and toss it in the refrigerator, go about my busy business, and then it's ready to grab and go as I'm heading out the door.
Who doesn't like a dessert that makes your life easier?!
Poke Cake is Grandkid Approved!
My grandkids not only love eating this treat when they come over to visit, but they also love spending time with me making it. My grandkids range in all ages and the great thing about this recipe is that because it's so simple and the mess is containable, any of my grandkids can help me whip it out without too much trouble. I don't need to worry about little fingers getting pinched or fights over who gets which task, because there is always a job for every helper that comes to visit.
My bigger grandkids enjoy reading the instructions (or they have it memorized by now), or they get the oven job. Meanwhile, the younger helpers love to dump, mix, and sprinkle mini chocolate chips everywhere- especially their mouths! We always get a great time together, laughing while mixing, and then as always, we enjoy the chocolate leftovers while we wait.
The littlest grandkids love to be the ones who get to poke the holes into the cake. This part always turns into more fun!
We have made this treat a special goody that my grandkids and I look forward to sharing at least several times a year.

Ingredients You'll Need for this Recipe
Now, before you get jumping into a chocolate crazed frenzy to whip this up, STOP!
I want to let you in on a little secret.
This recipe is fabulous just how it is, however, there is one other great reason the grandkids and I especially enjoy it. You can mix and match it to suit your taste. What I mean by this is, you don't have to just add the ingredients on the list, you can mix in all kinds of fun extras (my grandkids and I have a list!) to make this just what YOU would like.
Here are all the BASICS you will need for the Recipe
1 Box of chocolate cake mix (your preference, Gluten-Free works too)
All the ingredients listed on the back of the box (usually 2-3 eggs, water, and oil)
1 3.4 oz. Box of your favorite Instant Chocolate Pudding
1 more 5.9 oz Box of your favorite Instant Chocolate Pudding
3 Cups of Milk
1 Jar of Mrs. Richardsons' Hot Fudge
1 8oz. Container of Cool Whip
1 12 oz. Bag of Semi-Sweet Mini Chocolate Chips (you can get dark chocolate if you need to)
The EXTRAS list (For Extra Awesome Chocolate Pudding Poke Cake)
Now here is a list of extra goodies the grandkids and I have added into the cake mix or on top to make this dessert extra special! If you have any other great ideas to add to this list, we would LOVE to hear what you come up with. We are always looking for different and fun options.
These extras have all been grandkid tested, and Grandma approved!
M&Ms (your choice)
Marshmallows
White Chocolate Chips
Shaved Almonds
Walnuts
Reese's Pieces
Fruit (we like cherries on top, or bananas and strawberries)
Sprinkles
Coconut
My grandkids love that not only do they get to spend time with me making the cake, they then get to specialize their piece. I usually let them help me round up the "extras" and we set the table with options. Then when we each have our special slice, we see what type of crazy-tasty treat we can create. We like to mix the nuts in with the cake batter, which is great! The candies are tasty inside the pudding layer, and of course, the rest is fabulous on top!
You will have to mix and match and find the perfect fit for yourself!
You will love this recipe so much you may want to stock up on these ingredients when you find them on sale at the store. This way you always have them on hand when you need them and are never caught by surprise when you or the grandkids get a hankering for chocolate, mid visit.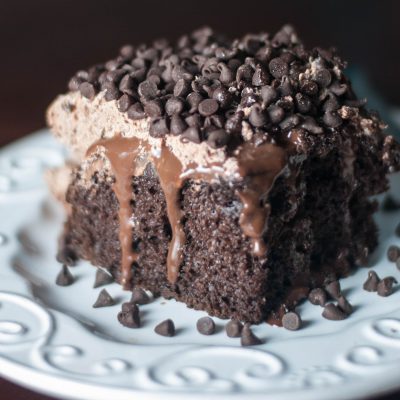 Chocolate Pudding Poke Cake
Ingredients
1

Devil's Food or Dark Chocolate Cake Mix

Whatever ingredients are listed on the box to make the cake.

1

box

3.4 oz. Instant chocolate pudding

1

box

5.9 oz Instant chocolate pudding

3

cups

of milk

1

jar of Mrs. Richardsons' Hot Fudge

1 8

oz

container of Cool Whip

1 12

oz

bag of semi sweet mini chocolate chips
Instructions
Prepare your cake as per the instructions on the cake box in a 9x13 cake pan.

After taking it out of the oven, poke holes in the cake with the end of a wooden spoon or a straw.

Mix 2 cups of the milk with the smaller box of instant pudding. Quickly pour over your cake trying to fill in the holes.

Remove the lid from the jar of hot fudge and microwave until easily spreadable. I put mine in for about 15-20 seconds but your microwave temp may vary.

Spread the hot fudge on top of your cake and let cool.

When the cake is completely cooled, mix the last 1 cup of milk with the larger box of instant chocolate pudding then quickly and carefully fold in the Cool Whip.

Spread on top of the hot fudge layer.

Finally, layer the entire bag of mini chocolate chips over the whipped cream layer.

Cover and refrigerate for at least 4 hours before serving.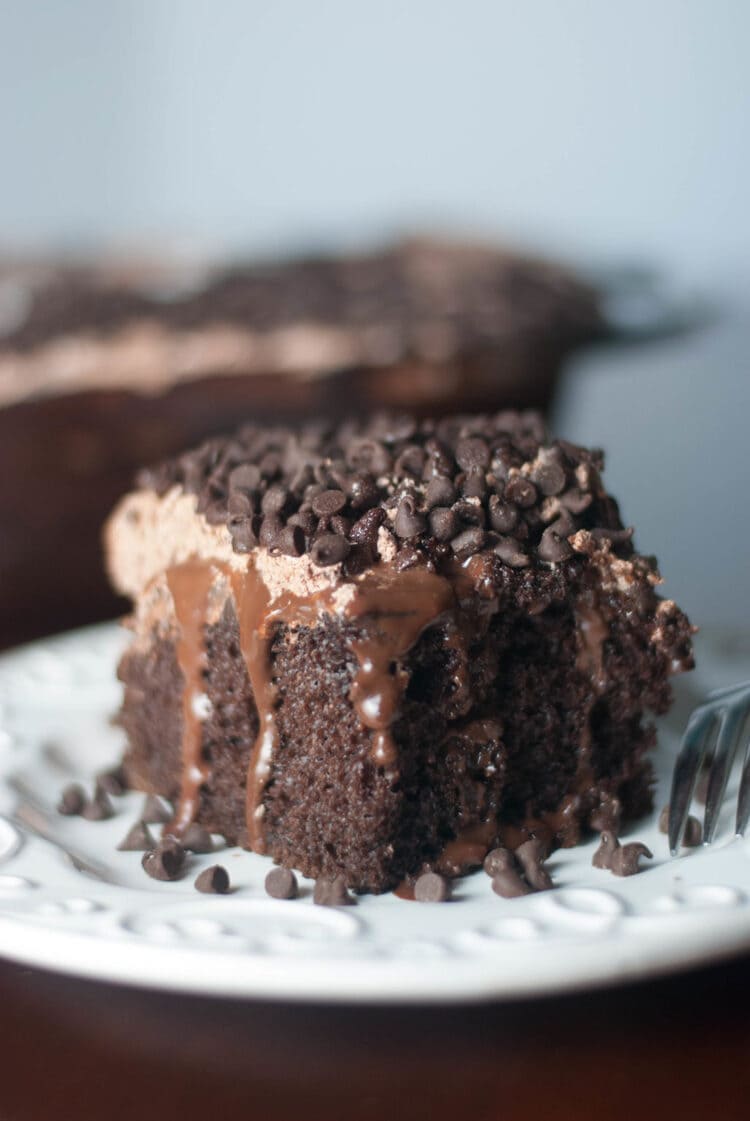 Let's Make Chocolate Cake!
Now that you have this rich and supple Chocolate Pudding Poke Cake in your arsenal, get up! Don't just stand there, get a move on! This is a great project for the next time the grandkids plan to pop by, you can have it pre-made and ready to top. When is your next meeting? Take this treat along and you are sure to win over a few new friends. You will likely want to have the recipe handy as well because they will all be asking for it.
Then again, let's be honest, you don't truly need any reason at all to make this delicious cake – you are allowed to make it just for yourself! You deserve it.
A word of advice, however – when you make this, if you are secretly wishing for some leftovers, this recipe will not do. You will need to make more. The first time I made this cake my husband didn't get a piece. The second time we made it, I didn't get one. Always be prepared to share, and never expect more for tomorrow.
Love Cake? So Do We – Try These Out!