Do you ever have those nights where you are just too tired to make anything? Then this post with 19 crazy easy, crazy delicious chicken casseroles is for you.
Pick up a rotisserie chicken at the store and make any of these in 30 minutes or less!
We've separated these recipes into categories, like Mexican, ranch, and even some "wow" factor ones.
Happy cooking!
This post may contain affiliate links. For more information, click to see our disclosure policy.
Comfort Food

We know that all chicken casseroles are comforting. They are the epitome of comfort food. But these two casseroles are comfort food taken to the NEXT LEVEL. Perfect for a cold night, anytime of year.
Chicken Noodle Casserole: Hello. This combines TWO classic comfort foods into ONE!! Curing everything from the common cold to midweek woes. This casserole has got your back.
Amish Chicken Casserole: Another hearty and comforting casserole, this one is also refreshingly simple–giving you way more time to relax!
Mexican Fiesta

I love Mexican food, and I love casseroles. It's only natural to combine the two!!
Nacho Chicken: With the use of trending superfood cauliflower, this is a lighter take on a traditional casserole, but it doesn't skimp on any flavor (see: cheese)!
Chicken Enchilada Pasta: I love enchiladas. I love pasta. This casserole is BOTH! What?? Perfect for a throw-together that feeds a crowd!
Mexican Tortilla Casserole: This is another one that's quick to throw together and can feed a large crowd! Even better, it's already gluten-free, and you can easily make it vegetarian or vegan!
Mexican Chicken Cornbread Casserole: I know I keep talking about how much I love stuff, but seriously, cornbread is amazing and is the perfect accompaniment to this casserole.
Chicken + Ranch = The Dream Team

Seriously though. Ranch will ALWAYS be my preferred dipping sauce, and chicken with ranch is just other worldly. And these recipes are next-level in other ways, too.
Chicken Bacon Ranch Casserole: Woah. Bacon AND ranch?? This is one casserole that is SURE to become a family favorite! You just can't go wrong!
BBQ Ranch Chicken Casserole: BBQ? Sign me up. This casserole is just incredible combo after incredible combo and it doesn't get better than that.
Cheesy Ranch Chicken Hash Brown Casserole: Whew! That's a mouthful! And it's going to get your mouth full! Of yumminess. Oh, and this is totally a one-bowl recipe, and anything that requires less cleanup is a winner in my book.
Crunch Time

French Onion Chicken Casserole: Is there anything better than a creamy, comforting casserole that has the contrast of a crunchy topping?? This one is topped with crunchy fried onions. Yum!
Creamy Chicken Ritz Casserole: I love Ritz. They're so buttery and good–perfect to top a casserole with! This would be a great dinner to make on a weeknight with the ingredients you have on hand!
Mom's Chicken Casserole: This is supposedly the best chicken casserole ever…and looking at the ingredients, I'm inclined to believe so! And it is very classically topped with crushed cornflakes.
Chicken Stuffing Casserole: I didn't use to like stuffing, but I LOVE it now. This casserole has "yum" written all over it!
Doritos Chicken Casserole: This blogger refers to this casserole as "trash food at its finest." This is sure to be a hit with kids!
Wow Factor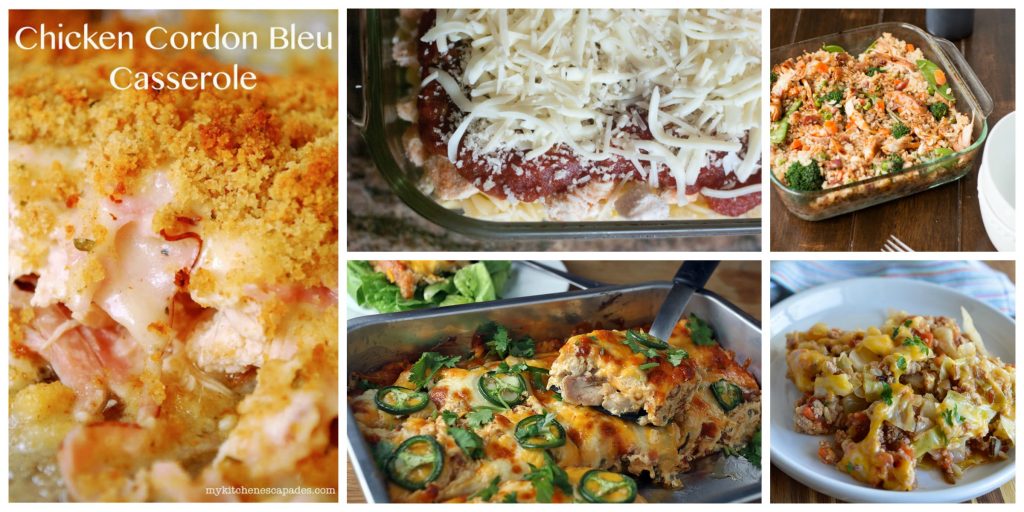 Chicken Cordon Bleu Casserole: There is NO REASON that a chicken casserole can't leave people speechless. This casserole will fill up your family and have them begging for more.
Chicken Parmigiana Casserole: All of the yummy flavors of chicken parm packed into one incredible casserole. Mamma Mia, that's good!
Buffalo Chicken Jalapeno Popper Casserole: For those who love a little spice!! This casserole includes a BEAUTIFUL presentation and complex flavors.
Teriyaki Chicken Casserole: This is like the homemade version of your favorite Chinese dish. Who needs takeout when you have this casserole?
Easy Stuffed Cabbage Casserole: Easy, cheesy, nutritious and quick. You really can't ask for more from a casserole dish. And, it's done in one pot! Take all of the work out of stuffed cabbage rolls without skimping on flavor!
Well there you have it. 19 easy weeknight dinners that are not only able to be made in 30 minutes or less, but are enjoyable for the whole family!
To get you started, you may need a few things. Check out our Amazon picks below!