What grandma doesn't love an easy, yummy, grand-kid-approved dinner idea? These Cream Cheese
Chicken
Taquitos are fantastic because you make the chicken filling in the crockpot! It does the cooking while you spend your time doing more important things, like playing with your grandkids.
Imagine walking in the door to the smell of this flavorful, creamy chicken filling. It's heaven I'm telling you! It's always a good sign when right away my grandkids want to know what is cooking for
dinner
.
Pin it, print it, and tape it to your refrigerator. You'll need to have this recipe handy!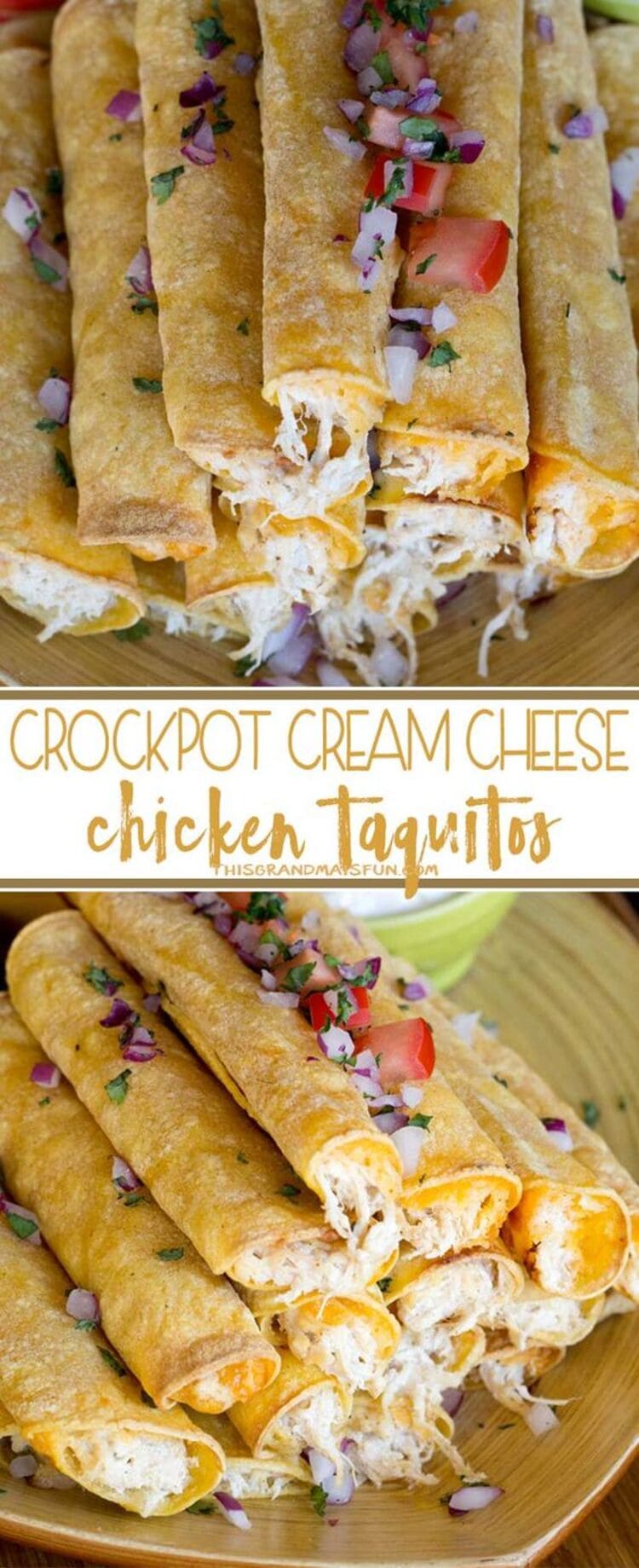 Cream Cheese Chicken Taquitos the Whole Family Will Love
If you are like our family, sitting down to dinner together is challenging. It doesn't happen often enough during the week. With almost every grandkid in a sport or activity these days, we spend most evenings in the week watching soccer, football, basketball, or baseball games. Not to mention all the activities I do regularly. Sunday seems to be the one day we always have the whole family at the dinner table together. So, I try to make Sunday dinners something special. Something that everyone will like.
These Cream Cheese Chicken Taquitos always do the job; everyone loves them and wants them added into our dinner rotation. The kids and grandkids love them because they are tasty, and I love making them because, well honestly, there isn't much involved in making them. This dish kind of cooks itself.
A huge thank you to Tiffany from Creme de la Crumb for the great recipe. A recipe that pleases everyone in my family can only mean one thing, this Pin Rocks!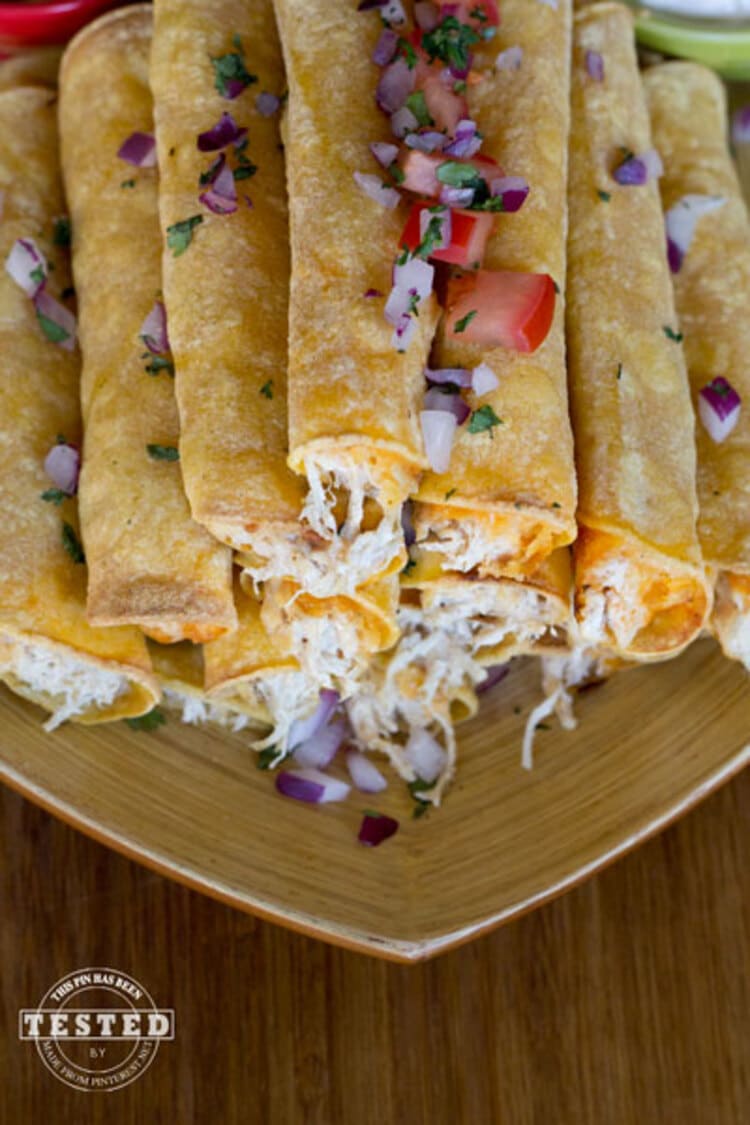 Picky Eater Tested, Grandma Approved!
Every grandma's kitchen table has at least one picky eater.
There is always the one kiddo that does not like meat. Another one that is deathly afraid of vegetables, the one that can't have the mashed potatoes touching the carrots, and in every grandkid heard- the one that will not eat anything green, or blue, or red. The color changes weekly around my house.
So, what is a grandma to do when we need a dinner idea they will all eat and not complain?
It is much harder to complain about what they are eating when they can't tell what's in it. This tip is an old trick I picked up from my mom and passed down to my children. If they can't see vegetables, or identify them, then that means the vegetables aren't actually in there, right?
All the grandkids taste is the chicken and the cheese. However, you could be clever and puree up some veggies to add to these if you wanted to.
For those picky grand-kiddos, this taquito recipe nailed it. It is always a big hit.
This dish is a big hit with my grandkids for three main reasons:
It has cheese.
Need I say more? Anything dripping with gooey cheese is a popular one with kids. Think about it, some of the most popular kid favorites are pizza, cheeseburgers, tacos, and burritos. Quickly translated, that means- cheese, cheese, and lots more cheese. If you have a grandchild who can't have dairy, you can easily swap out dairy-free cheese on theirs.
They can eat with their hands.
What does that list above and these cream cheese chicken taquitos have in common? Your grandkids don't need a fork, a spoon, or any other troublesome utensil to hinder their eating. It is just them and the food. There is almost a primal instinct with kids to eat with their hands, and these taquitos help fit the bill.
Dip, Dip, Dip!
I have found any food a picky eater would normally stick their nose up at, they will miraculously eat when it has something on the side to dip with. Any dip will work. I like to put our a salsa, sour cream, and extra melted cheese as a choice with these tasty taquitos. Some will choose one side, others may choose all three. I let them get wild and use their creative little imaginations here. If I am wanting to be super clever and add an extra healthy option, I whip up some guacamole! Shhhh, they don't need to know it's tasty AND good for them.
Let The Crockpot Cook While You Enjoy Family Time
I love pretty much everything about crockpot cooking. It's easy, the meat is always moist and tender, the house smells so good when you get home and one dish to clean up is always better than a sink full.
While all of those reasons are great, the most wonderful reason of all is how I love that it allows me to spend less time in the kitchen and more time with my family. Sometimes life gets so hectic that we don't take time to just enjoy each other's company.
Last Sunday our two oldest children were visiting from out of state. My daughter, her 15-month-old daughter "muffin" or "stinkywink" to us, and our oldest son. It was bedtime for Muffin and she was getting a little fussy. My daughter found a pack of Glow Sticks in one of our upstairs bedrooms, everyone gathered in the living room, we turned off all the lights downstairs and one by one everyone lit up a glow stick.
Muffin squealed with delight as each glow stick lit up. We gave her 3 glow sticks and taught her how to wave her little arms so the Glow Sticks would make a pattern in the dark. Our glow stick playtime lasted an hour and a half. Muffin was entertained by the glow sticks, and we were entertained by Muffin's excitement and antics.
It was the best part of our week together and helped remind me that it is truly the simple things in life that can bring us the greatest joy and happiness. I loved that the TV wasn't on, no one had a laptop, tablet, or phone in their hand; as far as technology is concerned we were completely disconnected. As a family, we were making the connections that are meaningful and count, by doing something as simple as playing with Glow Sticks!
If I had been in the kitchen all day cooking, I wouldn't have gotten this great time with my family.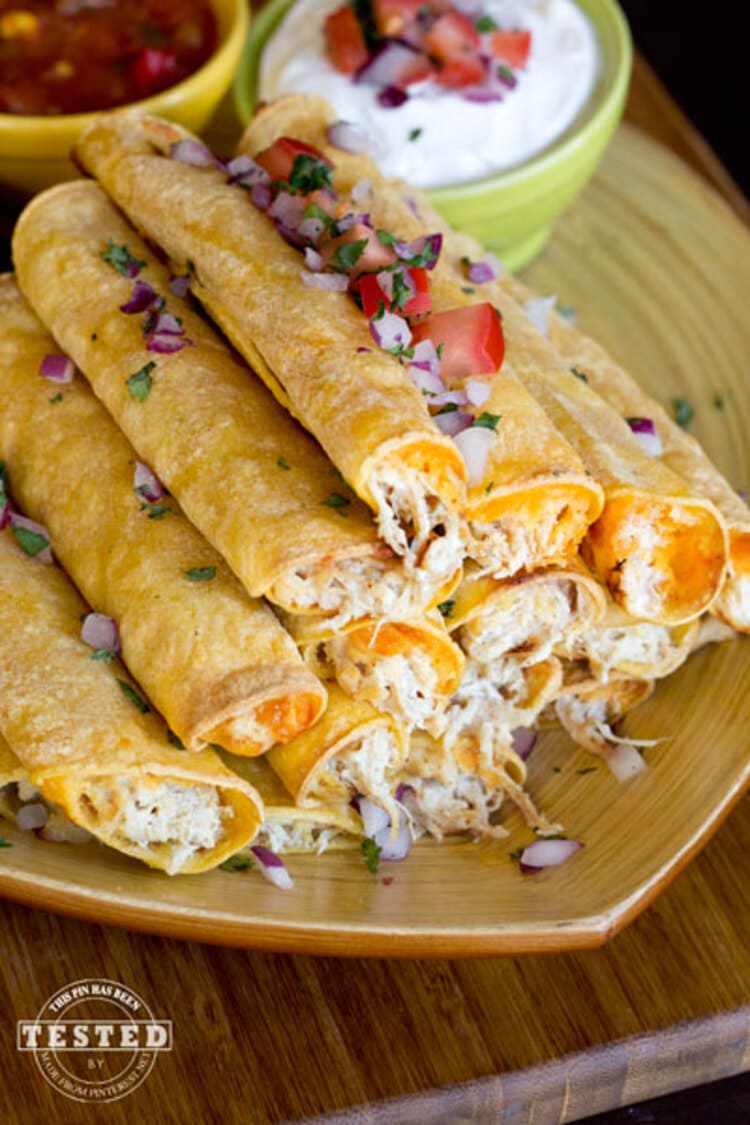 What You Will Need for This Recipe
These taquitos look fabulous, but before you jump into making this dish, you will need a few things.
2 Boneless Skinless Chicken Breasts
Chili Powder
Garlic Powder
Cumin
Salt and Pepper
(80z.) Cream Cheese
1- 1 1/2 Cups Shredded Cheese of Choice
Pack of at least 12 tortillas (more if you have lots of grand-kids)
Optional- Cilantro, Salsa, Sour Cream, or other toppings your family loves!
If you have someone in the family (that picky eater probably) who needs some veggies in their diet or a protein boost, you can always substitute or add in some fun alternatives like black beans or pureed zucchini. Don't be afraid to mix up a batch of simple veggie and cheese taquitos if you want, and give your family a few different options.
I always stick to the recipe when I make a new dish for the first time, just to see if my family likes it. Original recipes are always great when you follow them to the T, but let's be realistic, sometimes we work with what we have or need to adjust a little depending on our family. No matter what you stick in this dish, it will turn out yummy. Add a little of your flair here and there if you'd like.
After all, that is what makes it Grandma's recipe!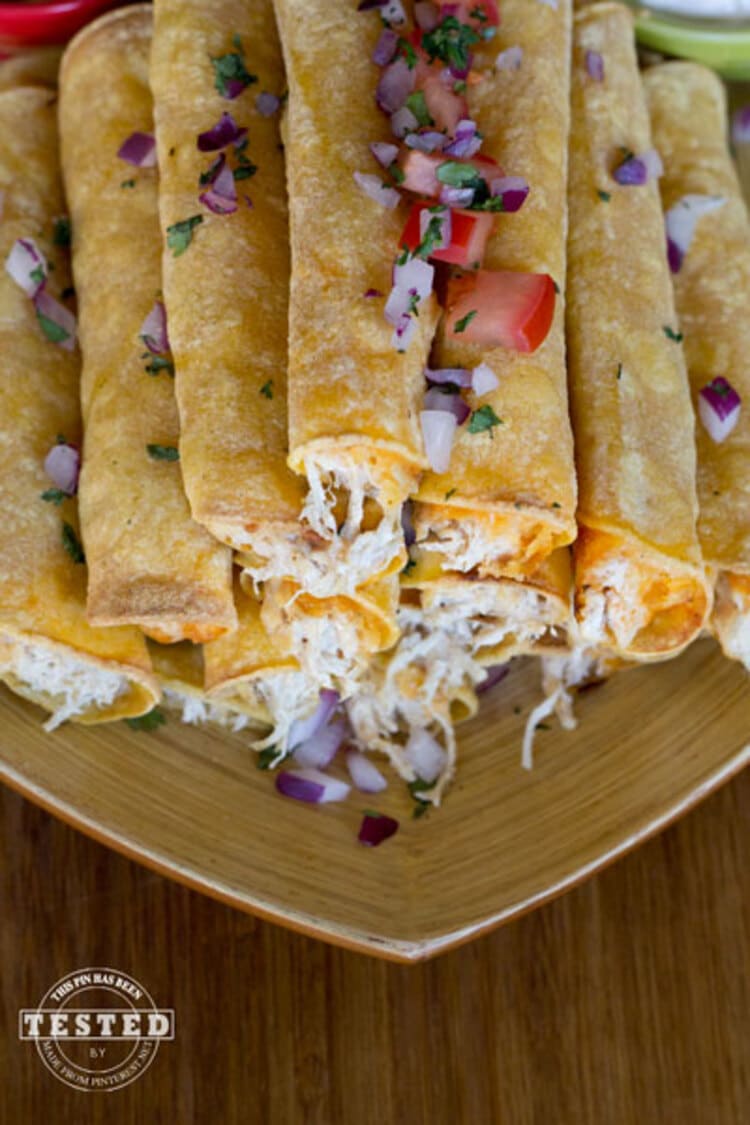 Easy, Slow Cooker Chicken Taquitos For the Win!
Your time is precious, just like those grandkids of yours. While you love to cook healthy and yummy dinners for your family, you don't want to spend every second of your day in the kitchen. I love my kitchen, but I want my grandkids to love coming over to share a meal with me. I want to make food that will keep them happy and begging them to come back.
Make your life a little easier, free up more of your time, and give big smiles and full tummies to your favorite little folks all at the same time with this fantastic Cream Cheese Chicken Taquito recipe tonight!
I will be surprised if your grandkids aren't asking for them again by the end of the week!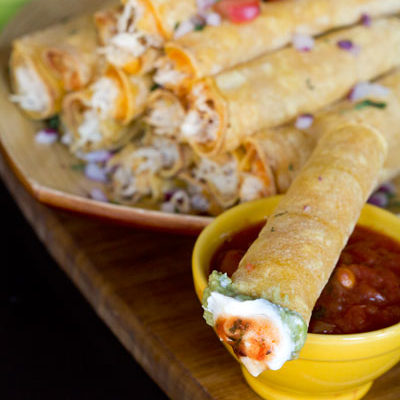 Cream Cheese Chicken Taquitos
Ingredients
2

boneless skinless chicken breasts

1

teaspoon

chili powder

1

teaspoon

garlic powder

1

teaspoon

cumin

salt + pepper

8

ounces

cream cheese

⅓

cup

water

1 to 1 ½

cups

shredded colby or Mexican blend cheese

12 6

inch

corn or flour tortillas

optional: cilantro

salsa, sour cream, or other toppings as desired
Instructions
Mix chili powder, garlic powder, cumin, salt and pepper to taste, cream cheese, and water in a medium mixing bowl. Pour half of the mixture into your crockpot, place chicken in crockpot and pour remaining mixture over the chicken.

Cover and cook on low 8 hours or high for 4 hours.

Minutes before serving, remove chicken from crock pot, shred with two forks, and return to slow cooker. Give it a stir. Cook about 15 minutes longer.

Preheat oven to 400. Here is a great trick to keep your corn tortilla from falling apart. Place 1 corn tortilla on a skillet, put about 1/8 cup cheese on the corn tortilla. Warm the tortilla until the cheese melts, remove tortilla from pan. Melting the cheese on the corn tortilla will keep it from falling apart in the next step.

Place about ¼ cup of the chicken mixture onto the middle of each corn tortilla that has the melted cheese on it or a flour tortilla.

Top with 1-2 tablespoons shredded cheese. Roll tightly and place in a single layer on a greased baking sheet. If using corn tortilla brushing some olive oil over them will help with browning and crisping.

Bake 10 minutes, until tortillas are slightly browned and shredded cheese is melted. Serve with desired toppings and sauces.
Check Out Our Video For This Recipe
Need More Creamy, Cheesy, Favorite Recipes?
Looking for some awesome new ideas to add to your meal plan this month? Add these other great dinner dishes to your supper rotation. Your family, and especially grandkids, will be sure to enjoy it!