Crisp October nights are perfect for spooky movies, snuggles on the couch, and a warm cup of Halloween Hot Chocolate!
I love apple cider, and I love Thanksgiving, but what gets the Fall season kick-started around our house is the first hint of Halloween around the corner. The air gets cooler. The leaves begin to change, and apple and pumpkin flavors start to show up in anything and everything you could imagine putting flavor on.
Very shortly after that, you start to see the Halloween decorations begin to creep out, spooky-themed parties get planned, and every one of us with a flare for the dramatic shines our opportunity to release our tiny theatrical inner diva!
And ladies, my inner child loves hot chocolate. So what better way to add a little style to the haunting season than with this festive drink idea!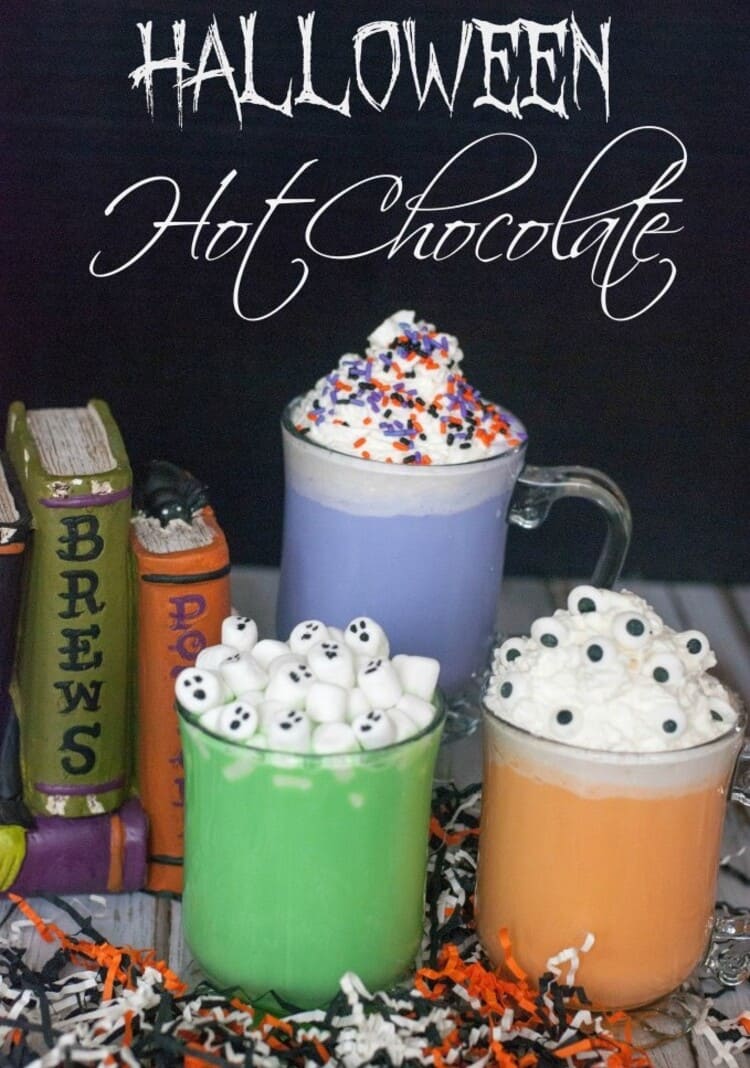 Brilliantly Spooky Halloween Hot Chocolate
All of those other fall drinks I mentioned are well and great, but it's the hot chocolate that does it for me. Each year around the end of September I will fix up a warm mug of hot cocoa, heap whip cream on top, and head out to my front porch to sit and wait for the first signs of my neighbors putting up their Halloween decorations.
It isn't until that first cup of hot chocolate that I can start to do two of my favorite things- decorate for a new season (because you can't start until the neighbors do, right?) and have an excuse to drink as much hot cocoa as I want for the next six months without judgment.
You can imagine how delighted I was when I discovered this recipe from Your Homebased Mom. I then fell upon this ridiculously adorable idea for ghostly marshmallows by Family Fresh Meals. My grandkids and I needed no more incentive than that to kick off the hot chocolate season a little sooner than most, with this Halloween Hot Chocolate!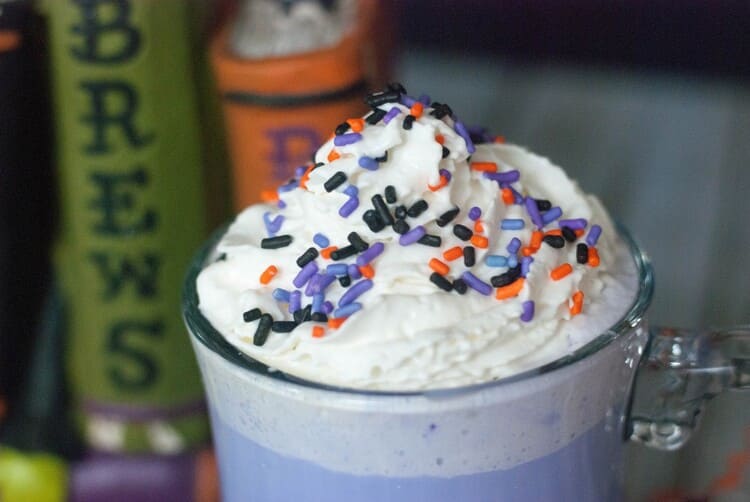 The Perfect Party Treat
Who is having a Halloween party?!
I'm not sure about your family, but around here we have all kinds of fall activities going on. There are always at least two to three parties or carnivals to attend. Apple Cider seems to be the go-to Fall drink, but it can be very acidic after a while and tummy aches pop up after you've attended your fourth harvest festival or friend's fall party. With all the other apple goodies this time of year it's nice to have another option!
Next time you have Halloween festivities at your house, be sure to set up a cocoa bar!
Drink bars are so much fun and get your guests using their creative side, serving themselves (which always is a plus), and let's not forget how fabulous of a decoration it can be. A hot chocolate bar is a great way for guests to do something with their hands, and break the ice. Everyone loves a great hot chocolate on a chilly night at any age, and who could turn down a bowl of orange and black sprinkles? You may be surprised to see how fast a simple conversation about purple hot cocoa with toy spider rings in it can get people talking.
If you are having a costume party, you would use your hot chocolate bar as a game. See which of your guest can mix up a cup to complement their costume!
Brew up some of this AMAZING hot chocolate and put out a spread of some of these fun extras.
Ghost Marshmallows
Food Coloring
Edible Eyeballs
Sprinkles!
Whip Cream
Assorted Candies
Fruit Slices
Nuts
Plastic Spider Rings
Vampire Teeth
Gel Frosting (all the colors)
Crushed Cookies
You can pick up a slew of cool and inexpensive ideas at the Dollar Store that you could put on these.
Go crazy, have some fun, and encourage your guests to do the same!

The Hot Chocolate Brew Tradition
Halloween has become so much more fun since I had grandkids!
The costumes. The decorations. Those cute little faces in their tiny princess outfits showing up at your door (swoon).
Now that my darling kids are grown, I have graduated into an elite group. The grandparent group, where I no longer have to tromp all over town with small children in the rain or cold on Halloween. I no longer have to carry jackets, push strollers, avoid little goblins in the street, or yell "this is the LAST HOUSE" from the top of my lungs. I, Grandma, get to sit at home and enjoy my warmly heated house, eat a Frankenstein cookie, and either hand out candy when the doorbell rings or send the hubby over to do it. Pure bliss.
A few years ago my grandkids came over to kick off their trick or treating, but one of them was more in a trick and not a treat kind of mood. I offered to let them hang out with me and hand out candy while the others went out for the night. To help brighten up his sour disposition, I offered to make him a mug of cocoa and snuggle up on the couch to watch a Halloween movie. That is where it all began. This is how our new Halloween tradition got started.
It is now a tradition to do hot chocolate and spooky movies at my house around Halloween. We have added this wonderful recipe to our list of hot chocolates we love to make and decorate! It is so much fun to watch the kids decorate their drinks. Each one is as unique, bold, and crafty as they are. The kiddos and I toss together a bowl of our favorite Halloween Snack Mix and pile up on the couch with blankets to watch our favorite spooky movie classics while we sip our personalized mug of witches brews. All of my grandkids can participate in this one without much struggle as well, which is important.
My grandkids and I have greatly enjoyed this special time together. They start asking me in early September which movies we will be watching and throwing out ideas for more snacks. This year the grandkids want to have a drink decorating contest. I will get to choose the movie we will watch (keeping it a secret of course) and they will have to decorate their hot chocolates to the theme of the movie!
This is such a fun and simple tradition you could add to your next Halloween!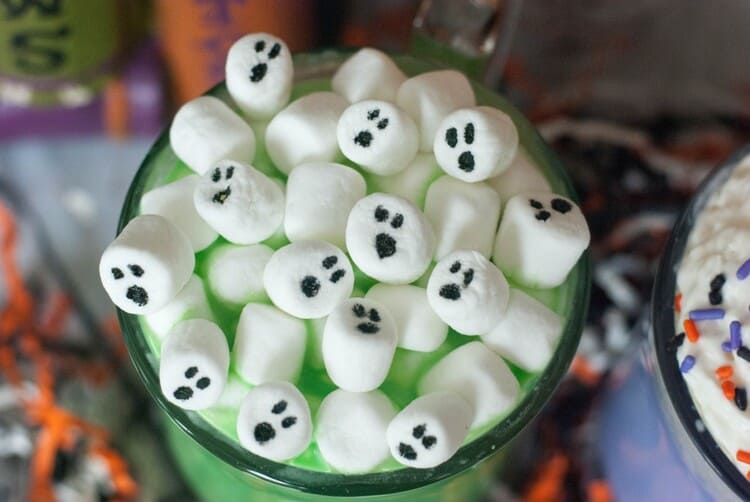 What to Grab for this Recipe
As I said before, the toppings are endless. But, in case you need some inspiration, here is the list of goodies you will need handy to recreate my take on this fantastic Halloween hot chocolate recipe, with the adorable little ghost marshmallows. Always feel free to put your twist on this. You can always substitute out the milk for a dairy-free choice if needed or a vegan bar of chocolate!
12oz. High-Quality White Chocolate
8 Cups Milk
Vanilla
Food Coloring (Think neon, purple, green, and orange)
Candy Eyeballs
Whip Cream
An Edible Food Marker
The list is pretty simple. That is one of the perks of this recipe. You most likely already have nearly all of the ingredients for this treat in your kitchen or around your house.
If you don't want to invest in an edible marker, you could always use frosting and a piping bag if that is easier or more convenient for you. I liked the edible food marker because it was quick, clean, and works well in little hands. Also, if you can't find candy eyeballs you could always substitute them out for another Halloween candy eye. They don't have to be the exact ones I used.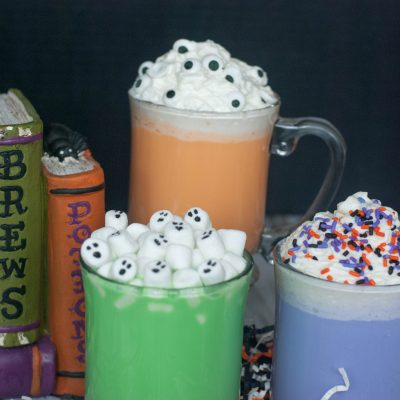 Halloween Hot Chocolate
Ingredients
12

ounces

of high quality white chocolate

I used Ghirardelli White Chocolate Chips

8

C

milk

1

tsp

vanilla

Food coloring. I used AmeriColor Soft Gel colors in orange

green and purple

Candy googly eyes

sprinkles and mini marshmallows

Whip cream

Edible food Marker. I bought mine at Michael's.
Instructions
In a large bowl, put in your white chocolate, cut up into small pieces or your white chocolate chips

Over medium heat, warm up the milk until you just start seeing bubbles..

Pour the milk over your white chocolate.

Mix until your chocolate is melted and the milk is smooth and not lumpy

Add your vanilla and your desired food coloring.

If desired, take some mini marshmallows and draw little ghost faces on them with an edible marker.

Serve with whip cream and whatever topping you like, sprinkles, candy eyes, etc.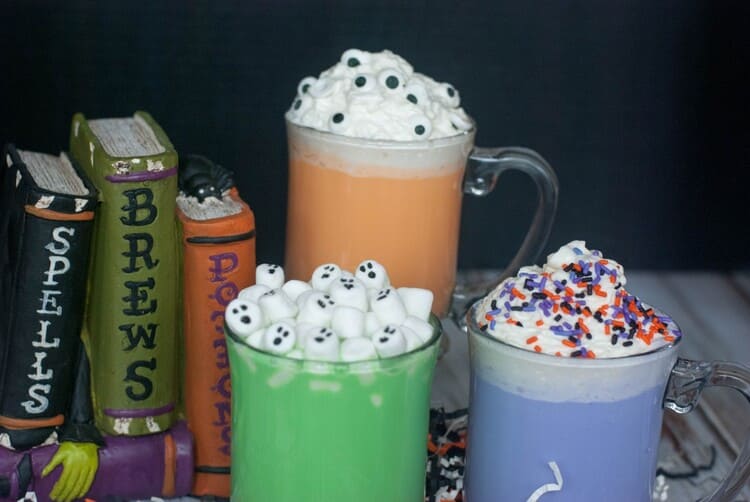 Let's get Brewing Halloween Hot Chocolate
So are you ready for some spooky good hot chocolate?
Now that you have a few new ideas, you are ready to take on this fun little project with your own family. It is so great how simple, yet versatile this drink can be. You don't just have to use it during Halloween. This recipe and the decorations could easily be adjusted for any of the fun holidays year-round. I am already planning to switch it up with a little peppermint for Christmas and Valentine's Day heart candies would be so much fun.
Do you have any great tips on how to make this fun recipe even more hauntingly good?
Find More Halloween Tricks and Treats Here
Looking for more great ways to add Halloween fun to your festivities this year? Check out some of these other tricks we have up our sleeve this time of year!