Are you looking for the ultimate pasta dish? I present to you our most-read recipe – Million Dollar Spaghetti! Surely, it is a family favorite.
In fact, everyone will ask for the recipe after they try it. This is your chance to show your talent in the kitchen and impress your guests with a tasty dinner, too. Grab your pasta and get cooking.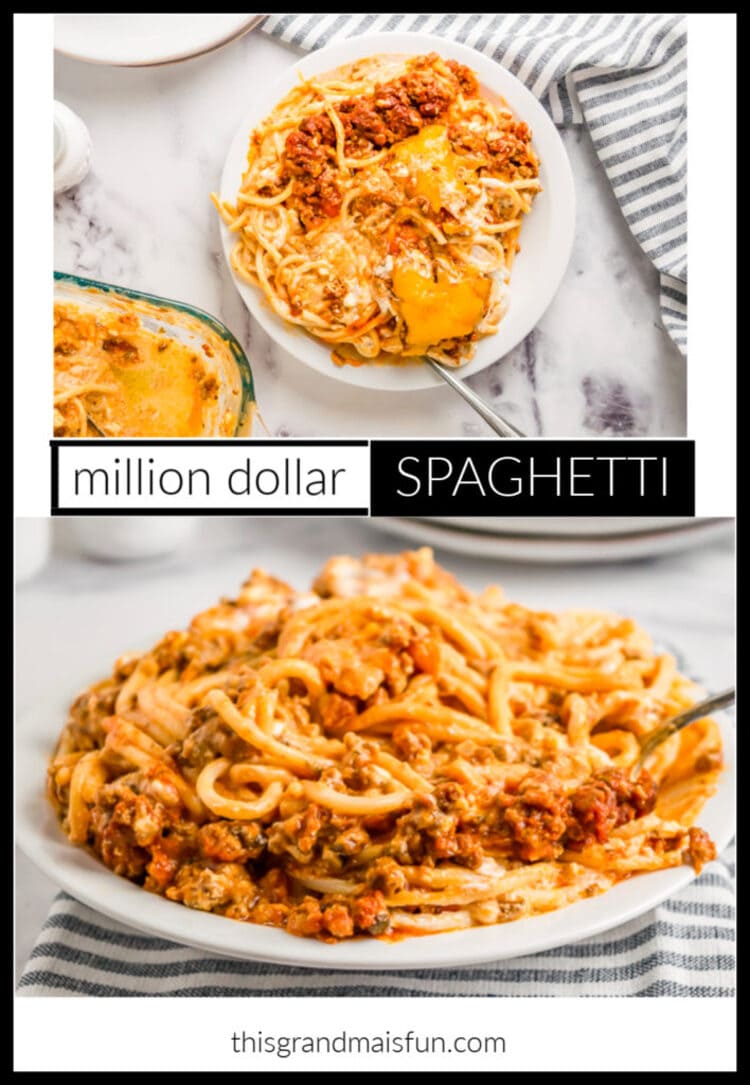 Why you are going to love this Million Dollar Spaghetti?
Want to make a triumph in the kitchen? Look no further. This recipe is hearty, satiating, and so flavorful. Moreover, it contains healthy nutrients.
First of all, ground beef, cream cheese, and cottage cheese make this recipe so delicious. With some grated cheddar cheese on top, and there you have an absolute standout dish!
When you have carved out enough time out of your day to prepare a meal for your family, but then a friend calls, and that time flies away, you can always make spaghetti.
Benefits of Million Dollar Spaghetti:
little time for cooking

no special skills required

no fancy ingredients

a source of carbs

flavorful and satiating

easy to prepare

all-time favorite recipe

the most-read recipe

the best spaghetti ever

healthy and nutritious

freezer-friendly
The cheese makes all the difference! Don't forget about it. Actually, ground beef is one of my favorite meat choices for spaghetti. A real home-cooked comfort food, indeed!
This gooey and cheesy meal will create a mind-blowing experience for you and your palate. The recipe is called Million Dollar Spaghetti for a reason. So addictive and mouth-watering!
In fact, with healthy food choices, you can create incredible and tasty results. The recipe doesn't include any fancy ingredients. What is more, there are no special skills required.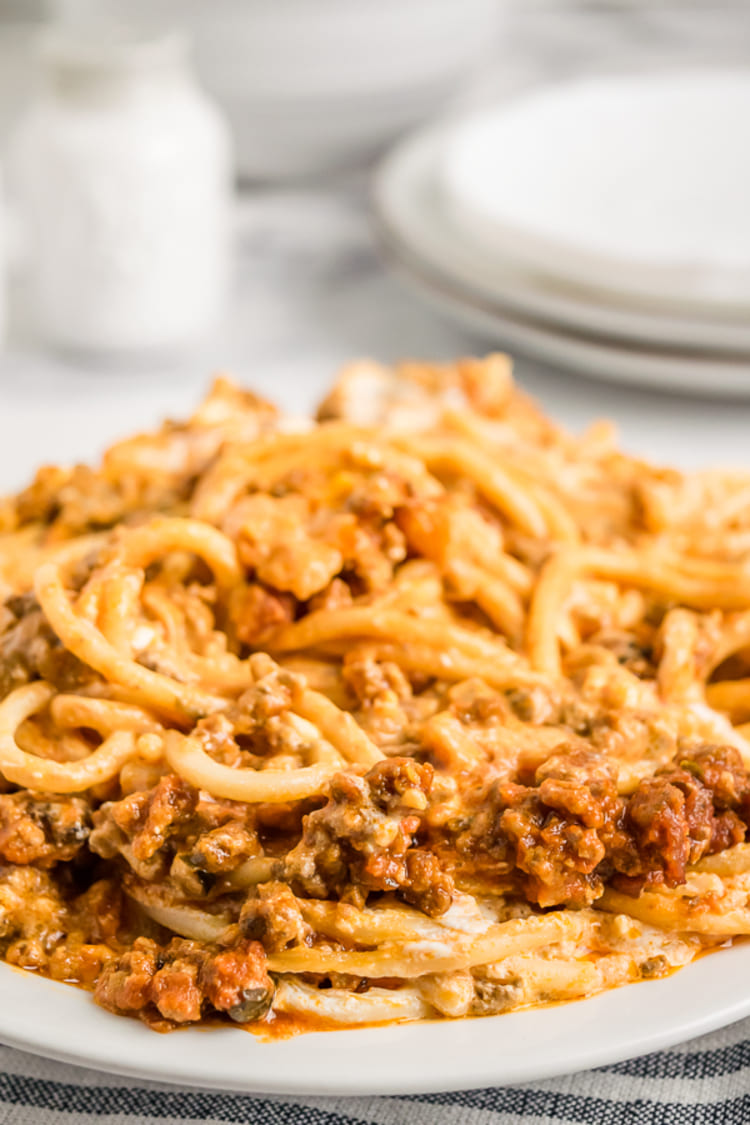 How to make Million Dollar Spaghetti healthier?
Do you need more carbs in your diet? This recipe deserves a place in your meal plan not only for its quantity of carbs but also for the proteins that it contains.
Million Dollar Spaghetti includes dairy and gluten products. Butter, cottage cheese, sour cream, cheddar cheese are not plant-based products. In my opinion, you can easily make it allergy-friendly. Feel free to substitute some of the ingredients to make it suit your diet.
You can try this recipe with:
gluten-free spaghetti

no-sugar spaghetti sauce

vegan cheese

coconut oil
What is more, you can add vegan cheeses if you are going on a vegan diet. Make substitutions and create the flavors you like the most. There are a lot of cheese combinations that go together so well. Try different types of cheese and spaghetti sauce.
Are you going vegan? For instance, you can substitute the ground beef in the recipe with mushrooms. They have a similar texture and the combination with cheese tastes amazing.
If you are on a gluten-free diet, feel free to use the gluten-free pasta of your choice. Moreover, when you pick your spaghetti sauce, make sure it contains less salt or sugar. Make better food choices.
Why are you going to love this recipe?
Are you craving a comforting and tasty pasta dish? Lucky for you, this post is about no ordinary spaghetti. Million. Dollar. Spaghetti.
What if you didn't have to make just spaghetti but could make Million Dollar Spaghetti? Even though your grandkids might call it ba-sketti, they might nominate you for the grandmother of the year award – if only you made Million Dollar Spaghetti.
Your husband might pick you up and twirl you around and plant a kiss on your forehead – if only you made Million Dollar Spaghetti. Or at least try to because we should be careful with our backs these days…

Neighbors would want you to join their garden club, card club, and Junior League Society – if only you made Million Dollar Spaghetti.
Well, here's your chance to become all you've ever dreamed you could be because now you too can make Million Dollar Spaghetti pinned from Being Grown Up.
In addition, the cream cheese mixture on top of the noodles creates a gooey and yummy structure to the meal. It is covered with grated cheddar cheese for even more flavor.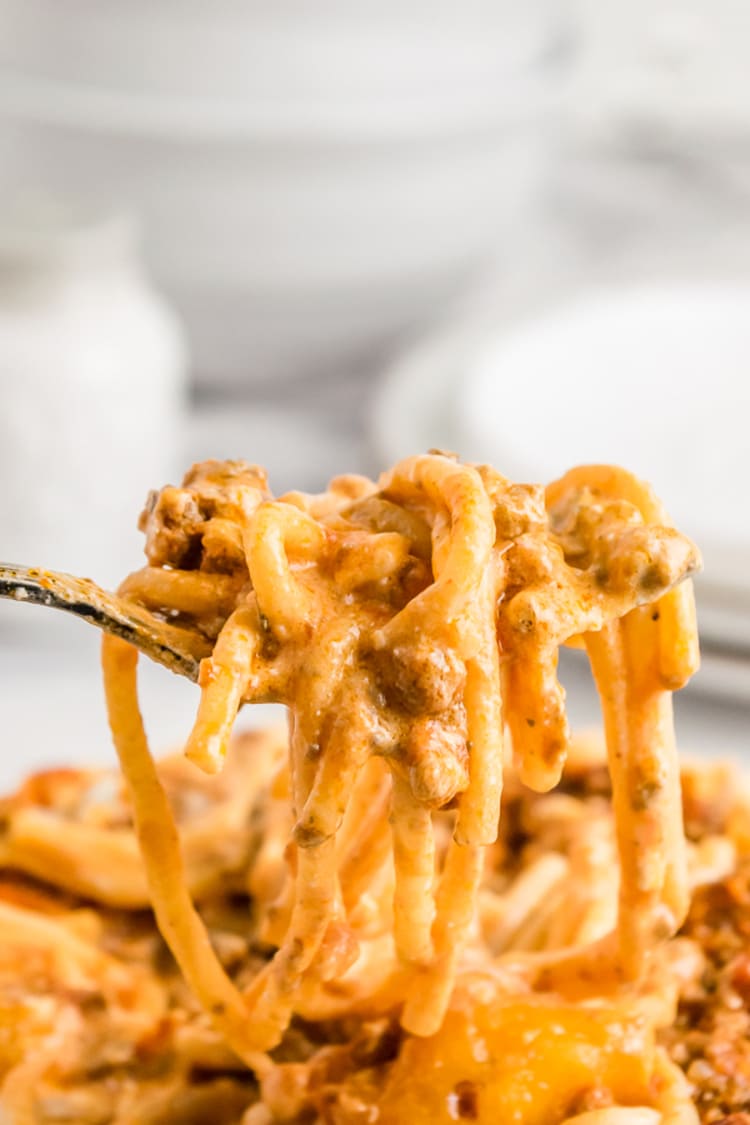 Have you tried cottage cheese?
This recipe includes cottage cheese, and it makes a big difference. Actually, this product is one of my favorites these days. It is high in nutrients and will make your spaghetti healthier. I enjoy eating it every day. As a matter of fact, that is why I liked the recipe in the first place.
Actually, high protein foods can help you keep fit and build muscle mass. It should be noted, if you are trying to stay in shape, you have to incorporate this product into your diet.
Benefits of cottage cheese:
excellent source of calcium

low in calories

source of protein

increases the feeling of fullness

tastes amazing
Cottage cheese is a curd cheese with a smooth texture. It is a healthy option packed with protein, too. Creamy and tasty ingredient to your amazing flavorful spaghetti. Recently, I added this type of cottage cheese to my breakfast, scrambled eggs, dipping sauces. The taste is so good that I became addicted!
However, cottage cheese is a dairy product and contains lactose. It can create problems for people with intolerance to dairy products. For instance, cottage cheese contains more lactose than other types of cheese like parmesan or cheddar, also included in the recipe.
How to make the sauce?
The spaghetti sauce depends on your taste only! Choose the one that you and your family enjoy eating.
If you can't decide which sauce to add, mix a few of them to create a taste of your own.
The cheese is what makes the meal yummy and gooey! Pour the spaghetti on top of the cream cheese mixture. Then bake for 30 minutes.
After that, sprinkle with more grated cheddar cheese. Your perfect dish is ready! Undoubtedly, no one can resist that flavor! Even if you are dealing with picky eaters. Trust me, the recipe will become your most liked dish.
Butter is a necessary ingredient that gives spaghetti an extra flavor. It is a dairy product, too. If you are on a lactose-free diet, substitute it with coconut oil.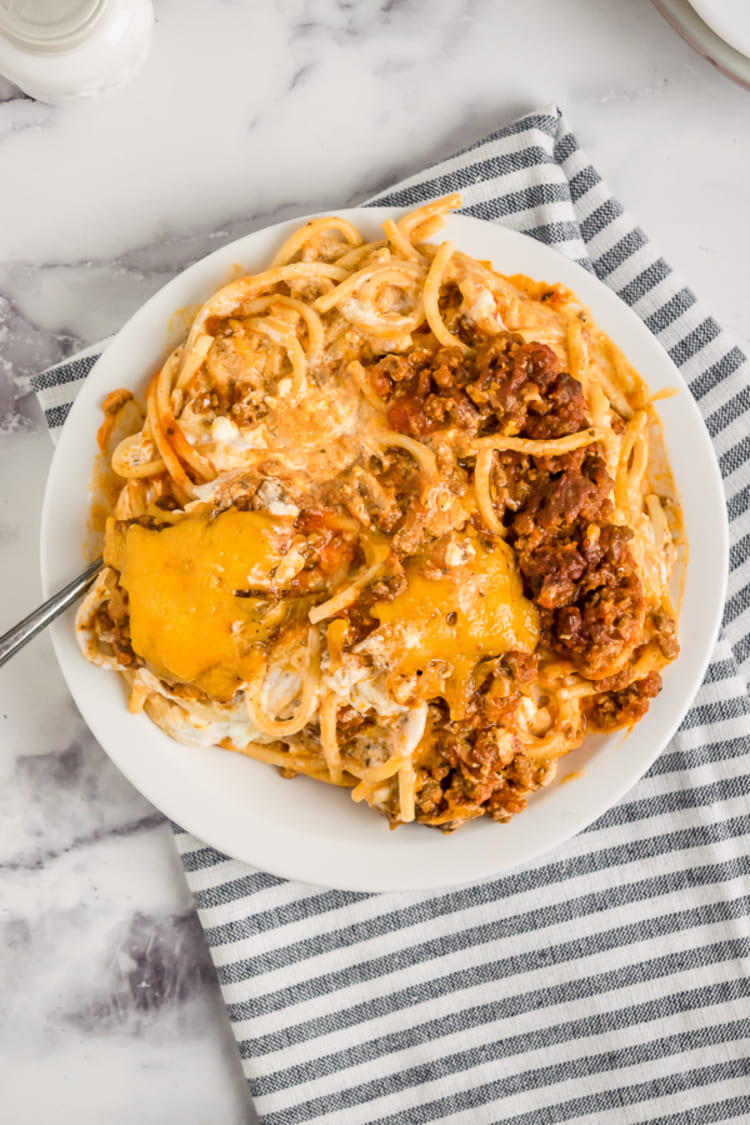 Why do I prefer homemade spaghetti?
First of all, I can eat spaghetti any day! That's why I had to find the recipe that suits all of my cravings and satisfies my taste buds. And this one is surely the kind I can't get enough of!
In addition, homemade food is a smart choice. There are no artificial ingredients, preservatives added, and the meals are healthier. Also, I can add less salt and seasoning of my choice.
Benefits of cooking spaghetti at home:
a lot healthier

meals contain fresh ingredients

you can eat the leftovers

spend more time with family

creates conversations

stress-free activity

helps you save money

teaches your grandkids about healthy eating habits

cook together with your grandkids
What is more, I can choose the sauce I like and make the spaghetti with fresh ingredients. Whether I prefer a gluten-free option or a vegan meal, there is no problem cooking it in the comfort of my kitchen.
In fact, my grandkids love this recipe, and I feel proud every time they enjoy eating it. The best feeling ever! Without a doubt, this spaghetti is bursting with flavor, and you can even boil the spaghetti ahead and store it in the fridge until you are ready to add the sauce and bake them.
You can purchase the perfect glass pan to make this recipe by clicking HERE!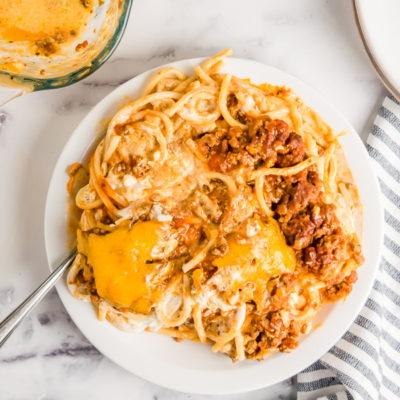 Million Dollar Spaghetti
Ingredients
1

lb

of ground beef

1

jar of spaghetti sauce

8

oz

of cream cheese

1/4

cup

sour cream

1/2

lb

cottage cheese

equals 1 cup

1/2

cup

butter

1 stick

1

pkg spaghetti 16 oz

Grated cheddar cheese
Instructions
Preheat your oven to 350°. Boil your spaghetti noodles until al dente (firm). Drain and set aside until ready to assemble.

Combine the cream cheese, sour cream and cottage cheese until well blended.

Brown your hamburger and when done, drain well. Combine the hamburger with your spaghetti sauce.

Put a few slices of butter into a 9x13 pan then pour half of your spaghetti noodles on top.

Take your cream cheese mixture and pour on top of the noodles. Spread well over noodles.

Pour the rest of the noodles on top of the cream cheese mixture. Put a few more slices of butter on top of the noodles.

Pour your spaghetti and meat sauce on top of your noodles.

Now it is ready to put into the oven for 30 minutes. After 30 minutes, pour the desired amount of grated cheese on top and return to the oven for 15 minutes to allow cheese to melt.
How to store Million Dollar Spaghetti?
Pasta lasts in the fridge for about 3-5 days. Store it in an airtight container. When it is time to serve it, you can reheat it in a microwave or in an oven.
Have you tried a cold pasta dish? As a matter of fact, spaghetti dishes are great to eat cold, right out of the fridge. It is still tasty and satisfying.
Make a bigger batch and put it in a freezer. There it can last for a few months. In addition, this way you will be prepared when you don't have time to cook or you have unexpected guests coming over for dinner. Just get it out of the freezer and reheat it.
You can freeze the sauce, too. For example, make a bigger batch and store it in the freezer to have in hand when needed.
In conclusion
Are you tired of bland and ordinary spaghetti meals? Do you crave something out of this world tasty and satiating? Try this Million Dollar Spaghetti and believe me, it is worth the time to prepare it.
In fact, when your day doesn't go as planned, but you still need dinner, you can always make spaghetti. Isn't that the truth? And they will taste satiating and irresistible!
In short, when your day is crazy, and all else fails – make spaghetti. Frankly, you will get in a better mood instantly. It is the ultimate pasta dish!
Million. Dollar. Spaghetti.
Last but not least, your family will think you slaved away in the kitchen all day. Don't worry, It will be our little secret.
Even if you're not that good at cooking, this recipe will be easy for you to prepare. And the main thing is, you will impress everyone with a tasty dinner!
This Pin Rocks!
Did you try this recipe? Let us know how it was!
Are you looking for more tasty pasta meals? Check out these recipes: