Are you looking for an easy Red Potato Salad recipe? There are so many variations of potato salad! I've heard of potato salads with mayo, mustard, and even one that has beets!
Are you on the mayo or mustard side of the great potato salad debate? This recipe is made with mayo, which is what I prefer. Although, you could definitely add mustard if you prefer the tanginess. The great thing about this recipe is that the potatoes are marinated in a vinegar sauce, so the tanginess is built into the potatoes. This means that this potato salad will be delicious even if you prefer the mustard-based potato salad dressing.
This potato salad is gluten-free and can be made vegetarian or vegan if you substitute the mayo and sour cream. I love to serve potato salad with grilled meat, corn, and baked beans.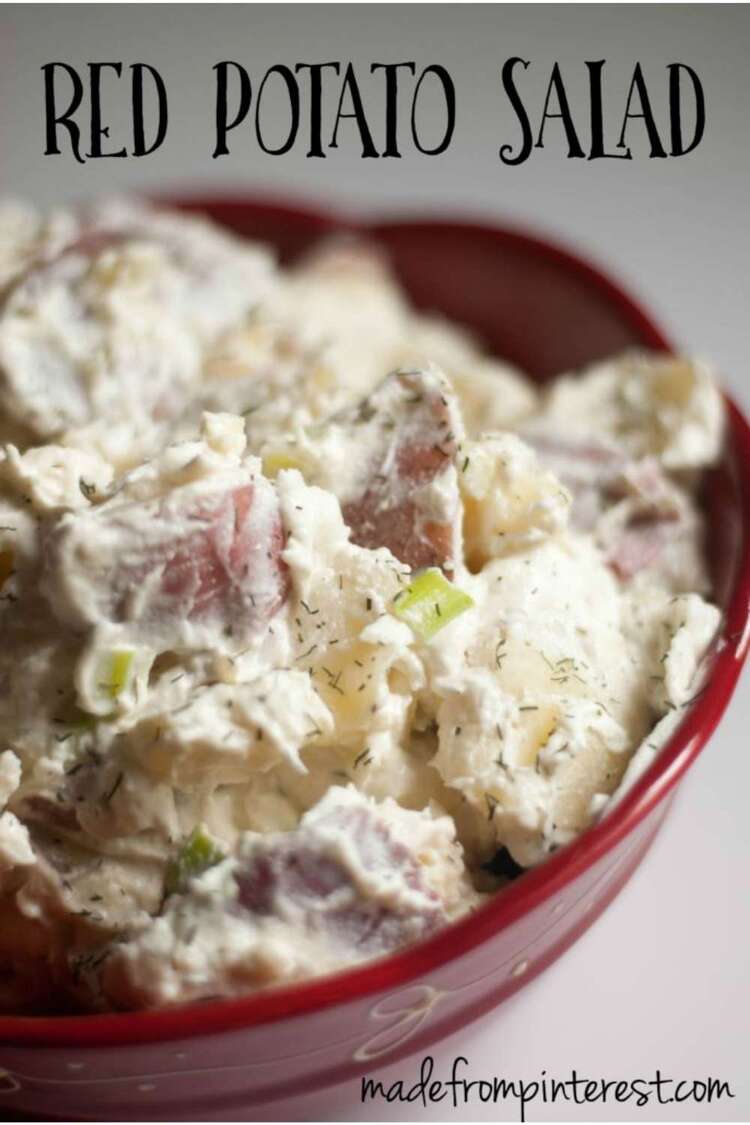 Red Potato Salad Recipe
My husband is NOT a picky eater. He will eat my burnt grilled cheese sandwiches without a word. He will eat my brownies even when they are overcooked and are as hard as a hockey puck. Have I mentioned that I really love my husband?
Now I have a son-in-law who has somewhat discriminating tastes. In fact, we tease him and say that he has a "Golden Palate". I don't think that my hockey puck brownies would get past him in a New York City minute.
A potato salad your family will love
But back to potato salad. I have made many a potato salad in my time and my husband has always eaten it. No complaints, but no compliments either. If I really think about it, I think it might be because his mother (obviously my mother-in-law) makes a GREAT potato salad and I don't think he wants to compare my cooking to hers! He's a smart man.
Well, I ran across this old recipe that I found in my files and decided to give it a whirl. We were barbecuing and I needed a great side dish.
One of the best things that I can say about this Red Potato Salad is that hubby liked it.
And he even said so!
Aren't those the best recipes? When your family actually makes a positive comment about something that you've made? So this recipe quickly came out of my recipe archives and into my front and center recipe files.
It's simple, easy and I think that you'll like it too.
Red Potato Salad Ingredients
This potato salad only requires a few ingredients but is packed with flavor. The vinegar and dill weed help give it a nice tang so you can enjoy it even if you prefer potato salad with mustard. Here are the ingredients that you will need to put together this husband approved red potato salad:
Red Potatoes – make sure it's a waxy potato so it holds its shape. I like red or Yukon potatoes
Sour Cream – Adds extra creaminess to your potato salad
Mayo – The classic base for the creamy "dressing"
Vinegar – Add some tang
Green Onions – For extra crunch, you could use white and green onions.
Dill Weed – to mix in, as well as to garnish with
Salt – you could also add some garlic powder
Pepper – I like to freshly grind some pepper
Tabasco Sauce – this is totally optional, and I usually don't use it.
Making your red potato salad
To make this delicious potato salad, first, you boil and dice your potatoes and allow them to cool down a bit. When I make mashed potatoes, I will boil them whole after washing them. This makes my life easier. I love that I don't have to worry about washing an extra cutting board and knife.
Hey, it works.
However, when I make potato salad, I prefer to dice the potatoes before boiling them. I don't want the potatoes to get too mushy and I find that cutting them before boiling helps me better gauge when they are done.
I also like to cut my cubes kind of small so that the dressing gets on more of the potato. Don't know about you, but I am not a fan of biting into a huge piece of potato with no mayo-dressing (what the heck do you call the mayo sauce on potato salad? Is it a dressing? If you know, fill me in below in the comments!).
Now its time to mix the potatoes with the dressing
Once diced, toss your cooked diced potatoes with vinegar, dill weed, salt, and pepper. Leave that in the fridge to marinate for at least one hour.
While the potatoes are marinating, mix together the sour cream, mayonnaise, and green onions. Allow that to cool in the fridge while the potatoes are marinating.
When you are ready to serve, mix the potatoes into the mayo sauce and incorporate them well. I usually like to fold the potatoes into the sauce. Don't fret if you're like Moira and aren't sure what folding is – it simply means to gently mix in a folding motion.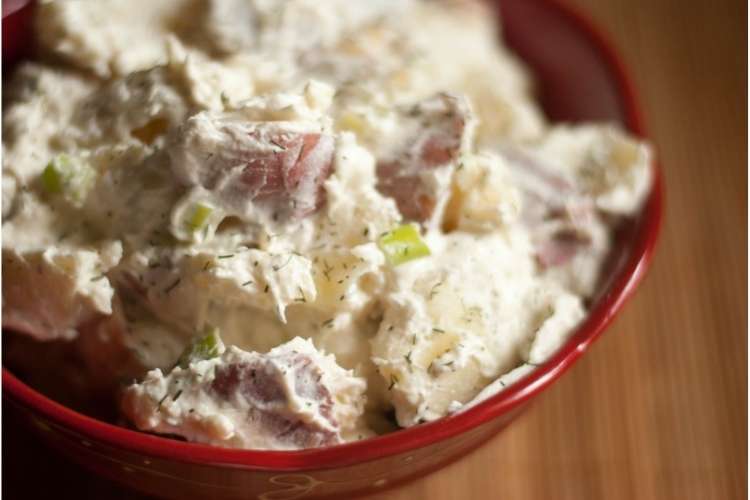 This is to prevent the potatoes from becoming mashed. However, if they do get mashed, it's okay, it'll still be delicious. Bet you can guess how I know. Don't worry, happens to the best of us.
Chill for at least an hour before serving. The longer it's in the fridge, the better it tastes in my opinion. That's what makes this a perfect recipe to make ahead of time.
Garnish with the remaining dill weed and serve with your favorite barbeque dish. You can also top this with slices of boiled egg or even chopped bacon or bacon bits.
Don't forget to chill before serving as it will taste better the colder it is.
Tips for making a great red potato salad
For potato salad, I usually like to cut the potato into pieces before I boil them, unlike when I mash them. To make sure that my potato salad doesn't turn into cold mashed potatoes I like to wash and dice the potatoes and then boil for a minute or 2 less than what I normally would. I want them to be cooked through but still firm.
Chilling the potato salad overnight also helps eliminate the stress on barbeque day. There's nothing worse than being stuck in the kitchen making sides when everyone else is hanging out by the pool or grill hanging out.
Make sure to let your potatoes cool down before you mix in the mayo dressing so that it does not get watery. I am not sure what the science is, but I know I did not like the results.
If you prefer no skin on the potatoes, you could boil them whole, cut around the middle of the potato and then squeeze the skin right off, then dice them. This should be fine as long as you use a sturdy, waxy potato.
Things to keep in mind when making your red potato salad
Remember to keep your potato salad chilled if serving it outside.
Don't forget to put the potatoes into the water while it is still cold so that they can warm up with the water. It is also important that you season the water. I like to add my salt once the water is already boiling.
Don't forget to let the potato salad chill in the fridge before serving. This is a great recipe to make the day before an event or holiday since it will taste better from chilling in the fridge overnight.
Potato Salad Variations you can try
You could boil some eggs and top the potato salad with slices of them.
I also like to add diced green bell peppers to my potato salads to give them more crunch and color.
Add bacon bits or bacon crumbles over the potato salad. Bake the bacon between 2 sheets of parchment paper for mess-free bacon.
If you like your potato salad extra tangy, add a few drops of mustard into the mayo dressing before mixing.
Red Potato Salad is a wonderful side dish for barbeques and potlucks and dinner parties
I love serving this potato salad with some grilled burgers, ribs, or chicken. It is the perfect accompaniment for any barbeque!
This potato salad is also a hit for potlucks and other large gatherings, not to mention summer holidays. My favorite part is that it can be made the night before so it is a stress-free potluck or dinner party option.
This red potato salad goes perfectly with ribs, pulled pork, hamburgers, sausages, brisket, London broil, even grilled fish. No matter what the main dish you want to serve, this potato salad is sure to complement it perfectly.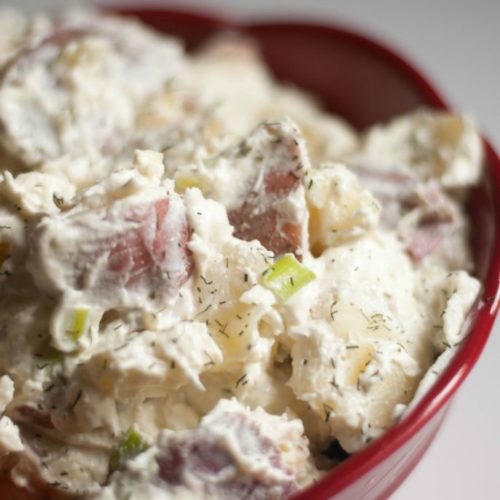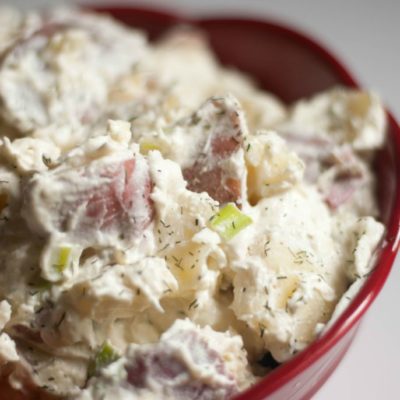 Red Potato Salad
Ingredients
4

large red potatoes

cooked and diced

1/2

cup

sour cream

1/2

cup

mayonnaise

1/4

cup

vinegar

Green onions

diced

3/4

tsp

dill weed

plus some extra for garnish

Dash salt and pepper

May add a dash of Tabasco sauce if desired. I did not add any to mine.
Instructions
Toss vinegar, dill, salt and pepper with potatoes. Marinate one hour. Mix together sour cream, mayonnaise and green onions until well blended. Add to the potatoes and chill until ready to serve. Garnish with some extra dill weed on top.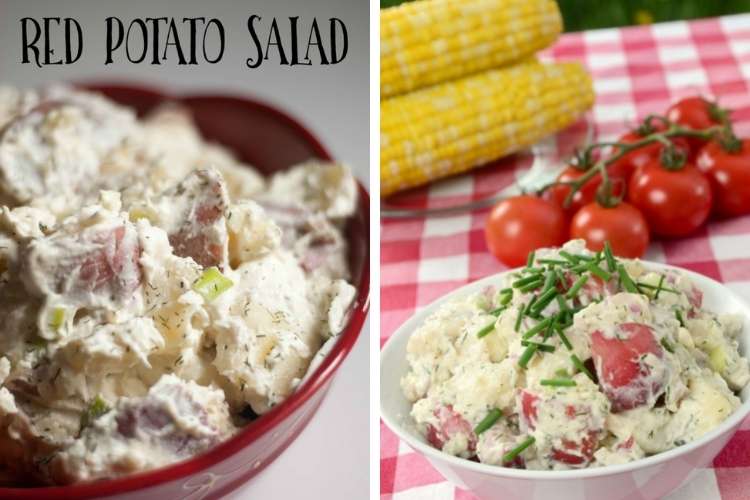 Did you love this red potato salad recipe? Check out these other great recipes from This Grandma Is Fun:
I love how simple and delicious this red potato salad recipe is, and of course, I love that my husband loved it, too! Here are some other great recipes that are also easy and a hit whenever they are served, just like this red potato salad.