Sensory activities are great for any kid, and if you have a grandchild on the autism spectrum, he or she is sure to enjoy and benefit from sensory activities. Sensory play is comprised of such sensory activities and it helps develop a child's senses as well as motor skills.
I've met several kids on the spectrum lately and one left in me quite an impression. He's very high functioning and a sweetheart. I know there are a lot of families with kids on the spectrum who need ideas on how to help their kids improve their abilities. Grandmas should be a part of this process, too.
So this child inspired me. I tried to find activities I imagined that he would like. I've combined this list of 21 activities for kids with autism and I hope that you find some your grandchild will like.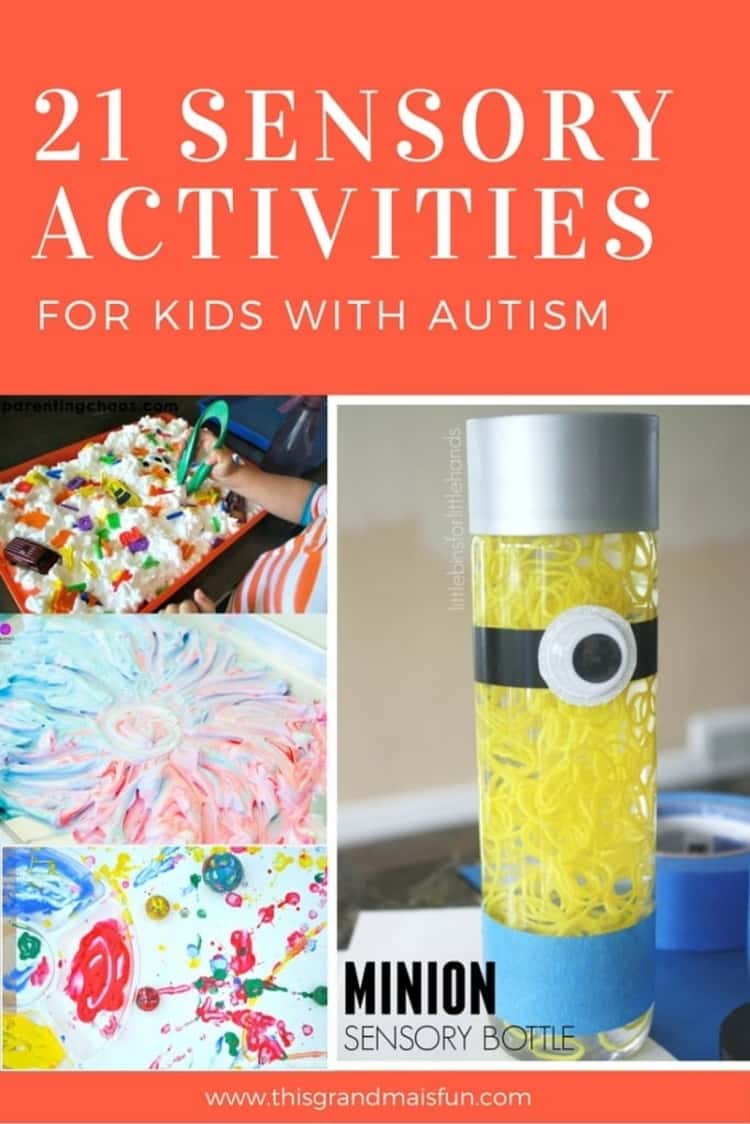 Lots of these activities are sensory bottles, which makes them easy to take on the road, or wherever you may find yourself with your kids!
21 Sensory Activities For Kids That Your Grandkids Are Going To Love
1. This Minion Sensory Bottle Will Excite Any "Despicable Me" Fan
I'm sure it's not just my grandchildren that are totally obsessed with minions – or is it? Either way, this minion sensory bottle is totally cute and sure to entertain your grandkids! Sensory bottles are meant to stimulate the sense of sight and what better way to do this than with your grandkid's favorite movie?! It's creative and deceptively simple! You can even get creative and make a themed sensory bottle personalized to your grandchild's favorite movie.

2. Find It Game To Calm Your Young One's Nerves
I can imagine any of my grandkids, who range in age from 2-8, getting excited about finding the hidden objects in these neat bottles! The best thing is that they are a snap to make!
This calming find-it game would be perfect for long car rides, doctor's visits, or any other scenario when your little ones get fidgety and restless.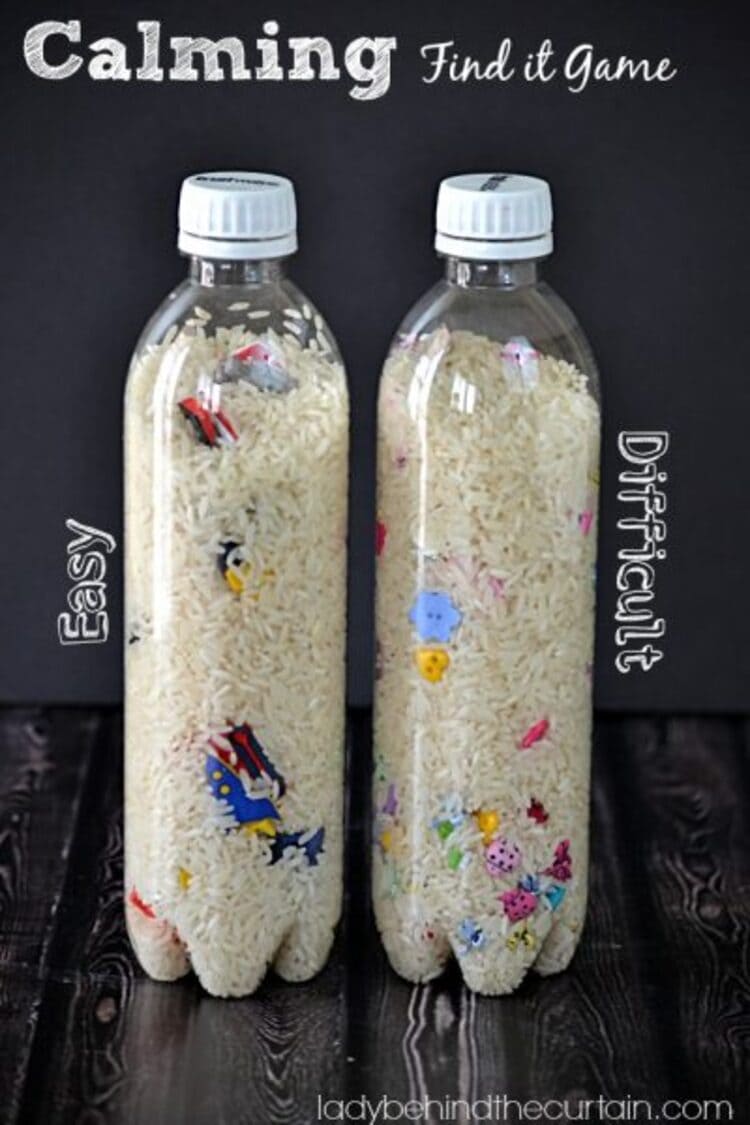 3. Glittery Calm Down Bottles
Almost everyone, kids and adults alike, loves glitter. However, be careful when you work with glitter as it can create quite a mess. Aren't these glittery calm-down bottles so fun and pretty though?? What's better, they're easy to make. You can even enlist the help of the kids! You might even consider making one for yourself – it is a great way to calm down!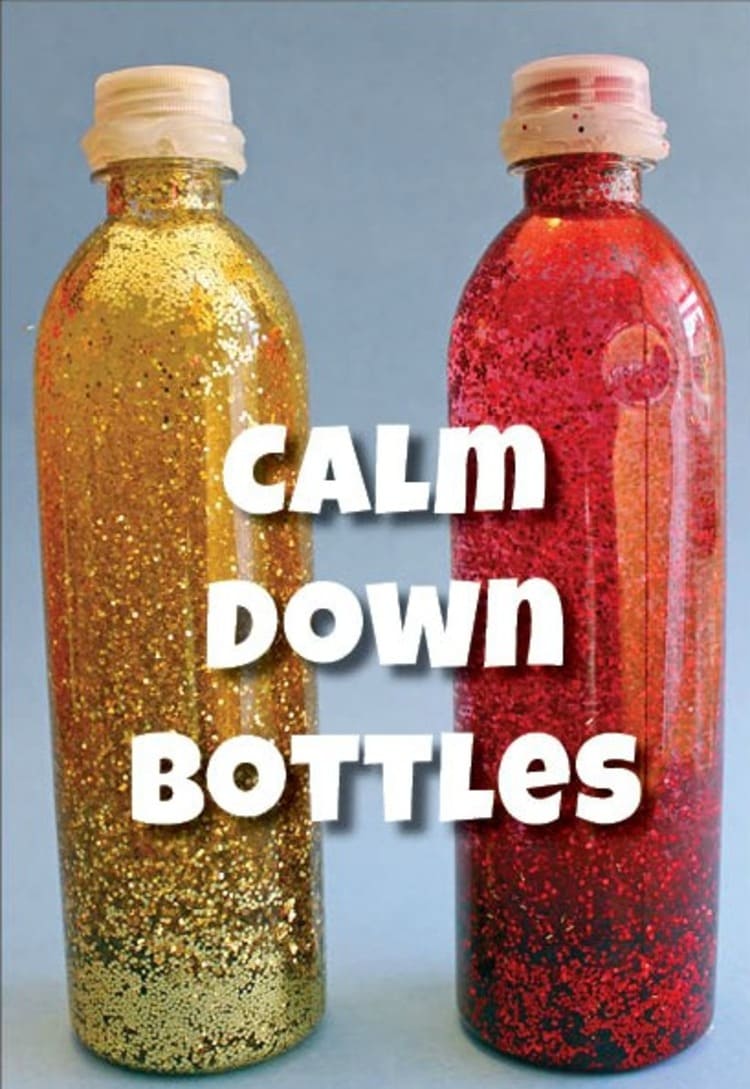 4. This Rainbow Button Sensory Bottle Is Educative and Fun!
When I was a kid, my mom had this old cookie tin that was just full of buttons. I used to love sifting through the buttons with my fingers and looking at all of the different kinds. This rainbow button sensory bottle is a great way to do just that, and would be fun with any kind of buttons! It's also a great way to help kids learn their colors.
This rainbow button sensory bottle, made from easily available supplies, could be the ultimate play toy for you and your young one. From learning colors to counting how many buttons there are, there are so many things to do with this sensory bottle.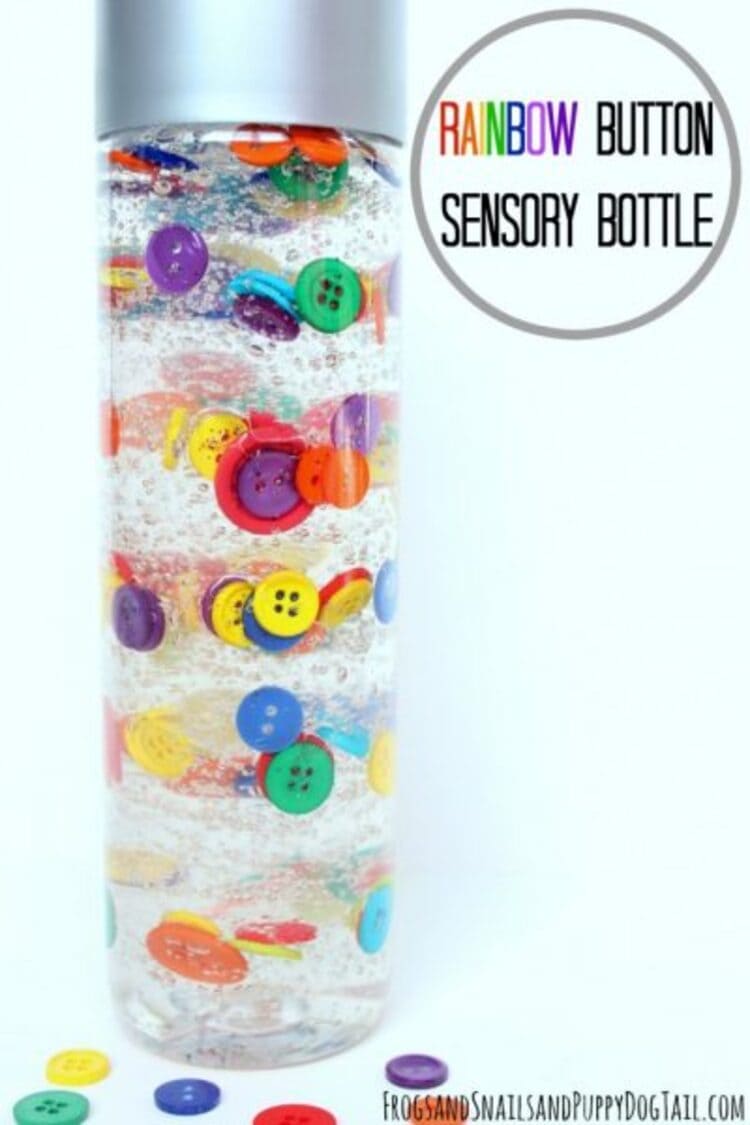 5. "Inside Out" Emotions Discovery Bottles
We actually featured these emotions discovery bottles on our Disney craft post last week, but I had to use them for this post as well! One common struggle with autism is an inability to communicate. These bottles could be a great help to any child who isn't sure how to describe what they are feeling!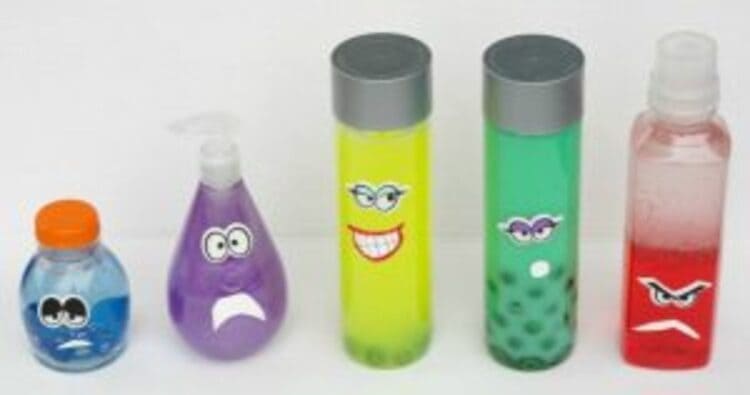 6. Weather Sensory Bottles
Any child learning about different kinds of weather would have a blast with these weather sensory bottles! Here is some beautiful, simple imagery to aid with your grandchild's learning!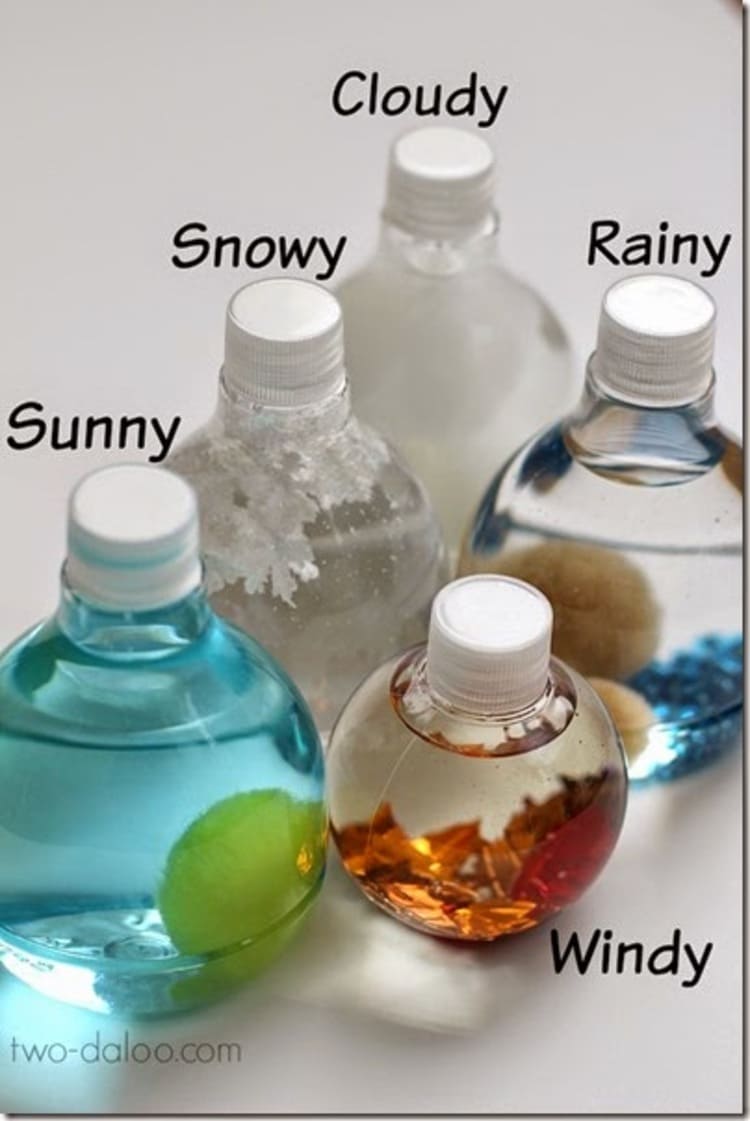 7. Color Mixing Sensory Bottle
I just HAD to share these last bottles, because they're awesome!! Color mixing is so cool, and your grandkids will be endlessly entertained watching the colors mix, and then separate! What a great opportunity to learn, as well!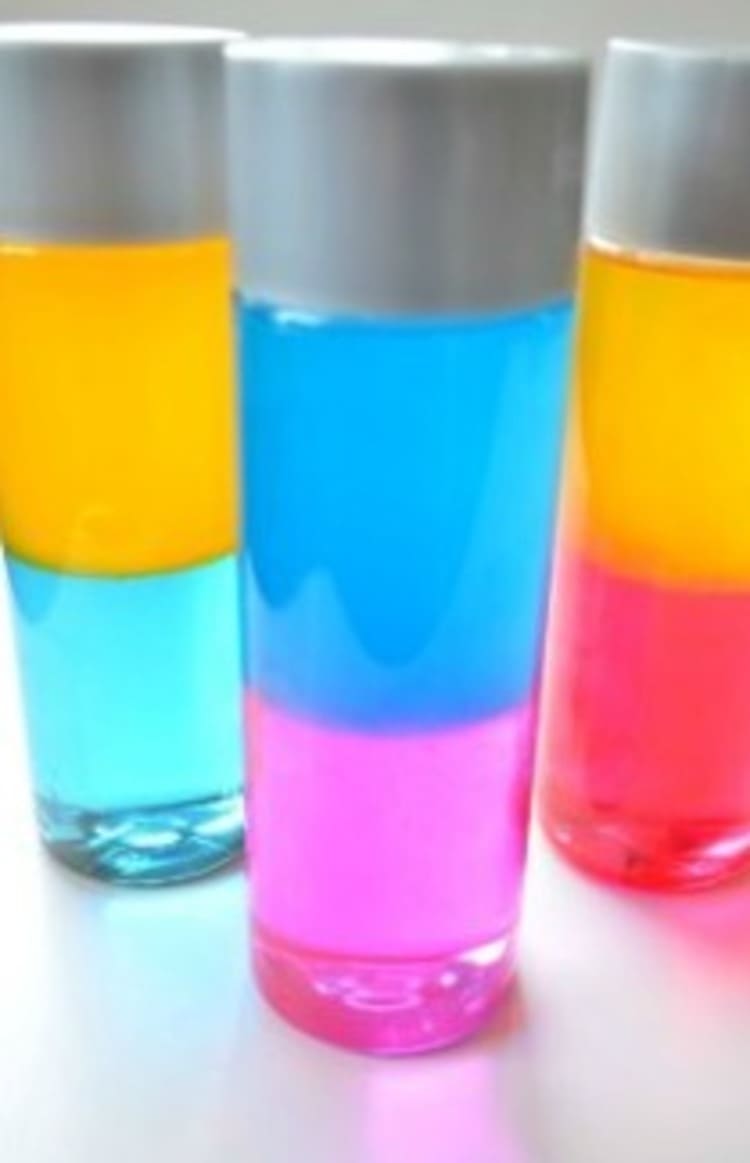 8. Bubble Wrap Stomp Painting
Bubble wrap is so fun to play with, and this ups the fun level! If your grandchild doesn't like the feel or sound of bubble wrap, consider alternatives, like paper towels! This bubble wrap stomp painting activity is definitely something most kids and adults will love.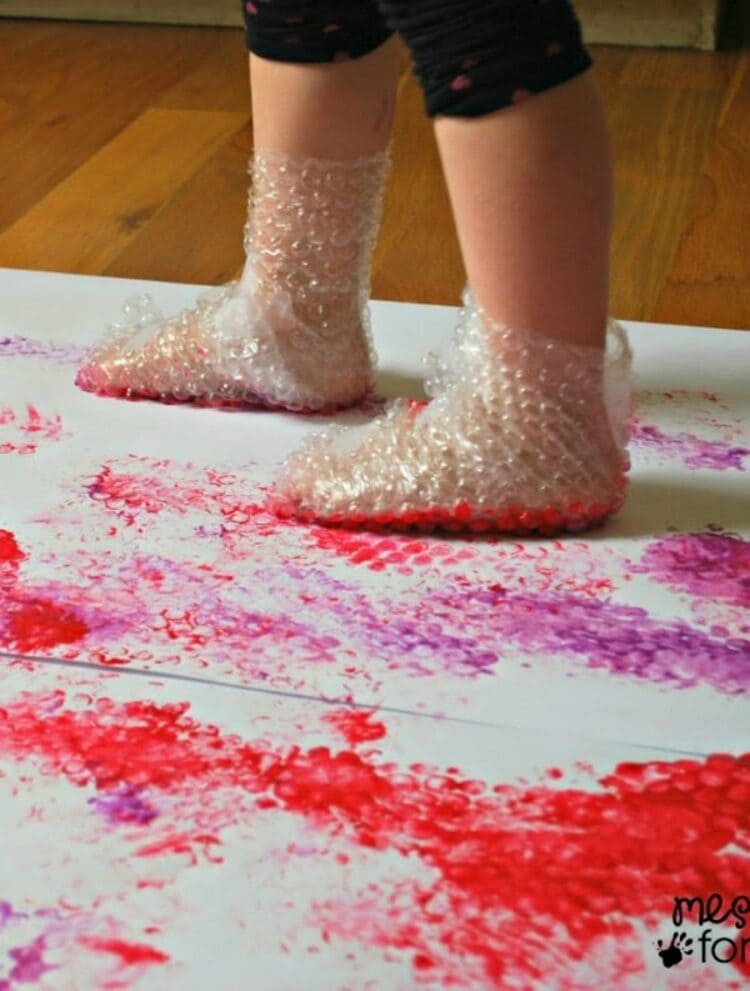 9. Moon Sand/Cloud Dough
You could spend a lot of money on moon sand, or you could just make it yourself! Who knew it was so easy? Your grandkids are sure to enjoy the feel of this soft, smooth sand, and they'll love using it to create whatever shapes their little hearts desire!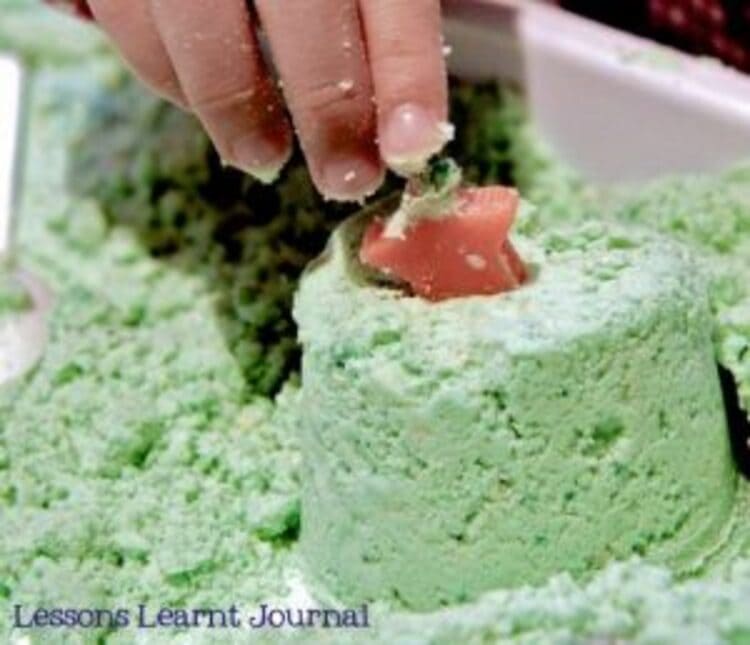 10. Rainbow Noodles Sensory Play
This activity has just enough of an icky factor to make it fun! The colors make it even more enjoyable, and it's totally safe for kids! You can add toys or small items into the rainbow noodle bin to make it even more of an adventure for the kids.
What You Need:
Spaghetti noodles
Ziploc bags
Food dye or washable watercolors
Vegetable oil
How To Make Rainbow Noodles:
Cook as much pasta as you need as per the cooking instructions on the package
Rinse the spaghetti under cold water to cool completely
Divide the spaghetti into bags, one for each color of noodles you want to make
Add several drops of food dye or watercolor to each Ziploc bag followed by some oil
Seal the bags and get the kids to squish and shake the bags until the noodles are completely colored
Once the noodles are colored, open the bags and let them dry for 30 mins.
Pour the noodles into a play bin and let the fun begin!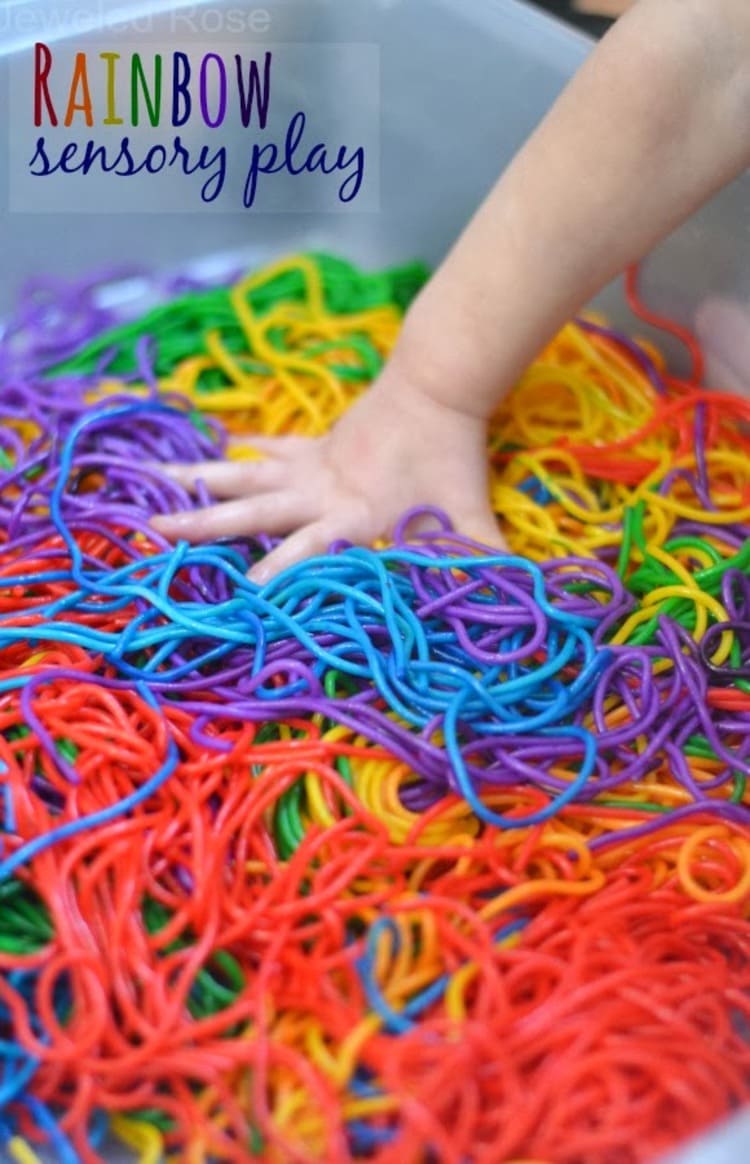 11. Fizzy Cloud Dough
Here's another cloud dough recipe… but, this one FIZZES! That's right, it fizzes. How cool is that?? Keep the fizzing a secret from your grandkids, and then amaze them when you add water! What's even better? This fizzy cloud dough is super easy to make and with few and readily available ingredients.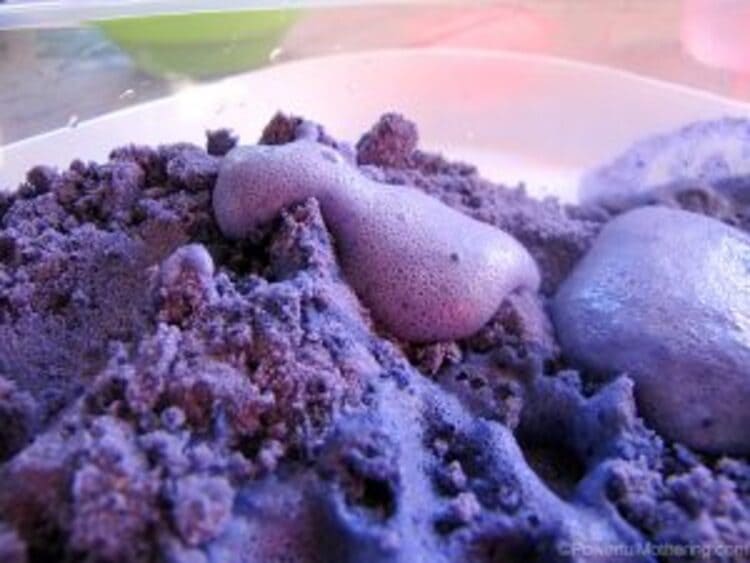 12. Foam Fireworks
For those kids who don't like loud noises, bring the fireworks to them! This fun activity uses shaving cream and food coloring, two totally fun things that children will love to mix and get messy with!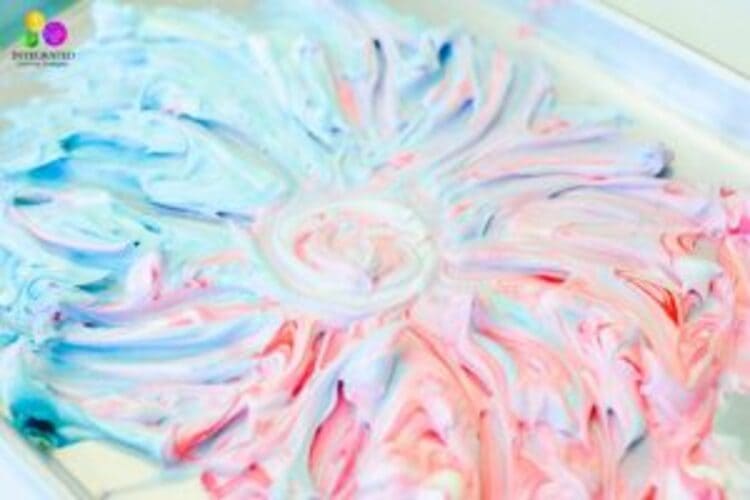 13. Melting Elsa's Frozen Hands
News flash: Frozen is not just for girls! One day while I was babysitting my grandchildren, we went on a drive and sang along to my Frozen soundtrack. It was awesome. Plus, this activity would be great for staying cool during the summer! Who wants to melt Elsa's frozen hands?!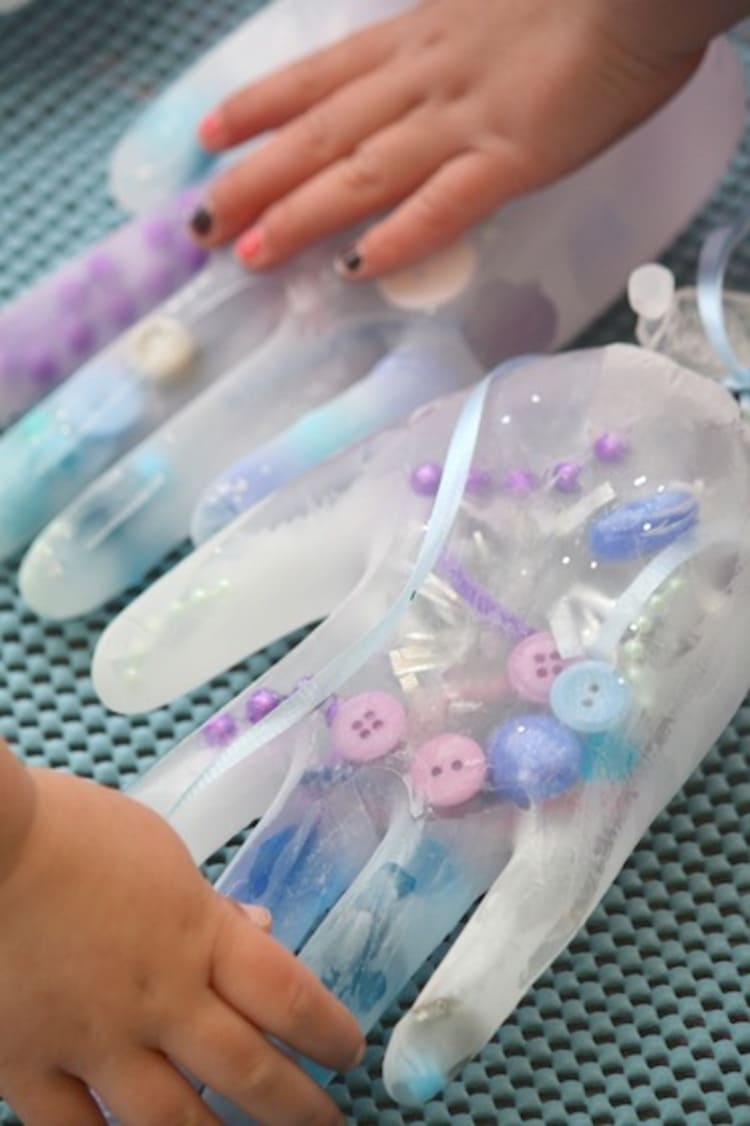 14. Edible Slime – Oooooh, gooey!
Here's another icky, sticky activity that kids are sure to love! Not only is it stretchy, slimy, and fun–it's safe to eat, so if your grandchild has a tendency to put things in his or her mouth, not to fear! If your grandkids love aliens, this edible slime is sure to keep them engaged.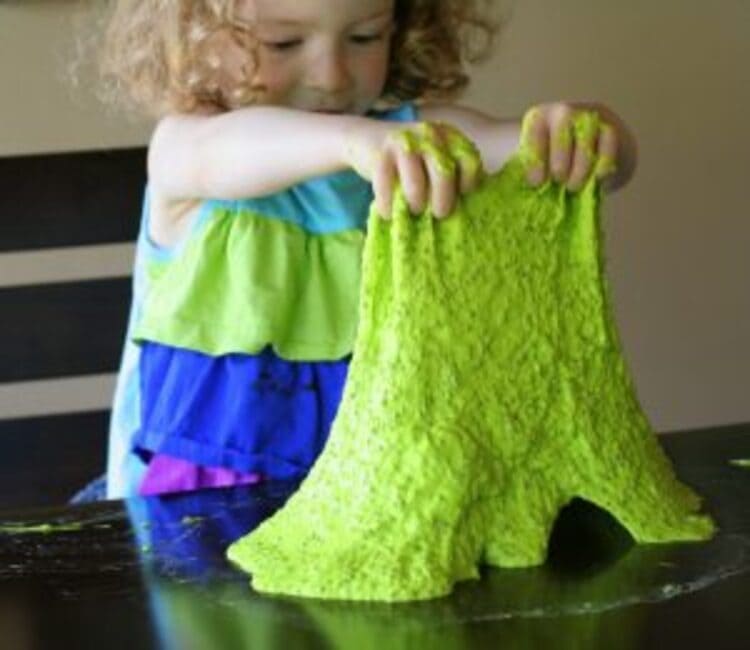 15. Homemade Herb & Spice Play Dough
A lot of sensory activities just have to do with touch. Here's a super neat one that uses your sense of smell – homemade herb and spice play dough. My grandkids love playdough and if yours are like mine, this might just turn out to be their favorite sensory activity! I really want to try the cocoa one!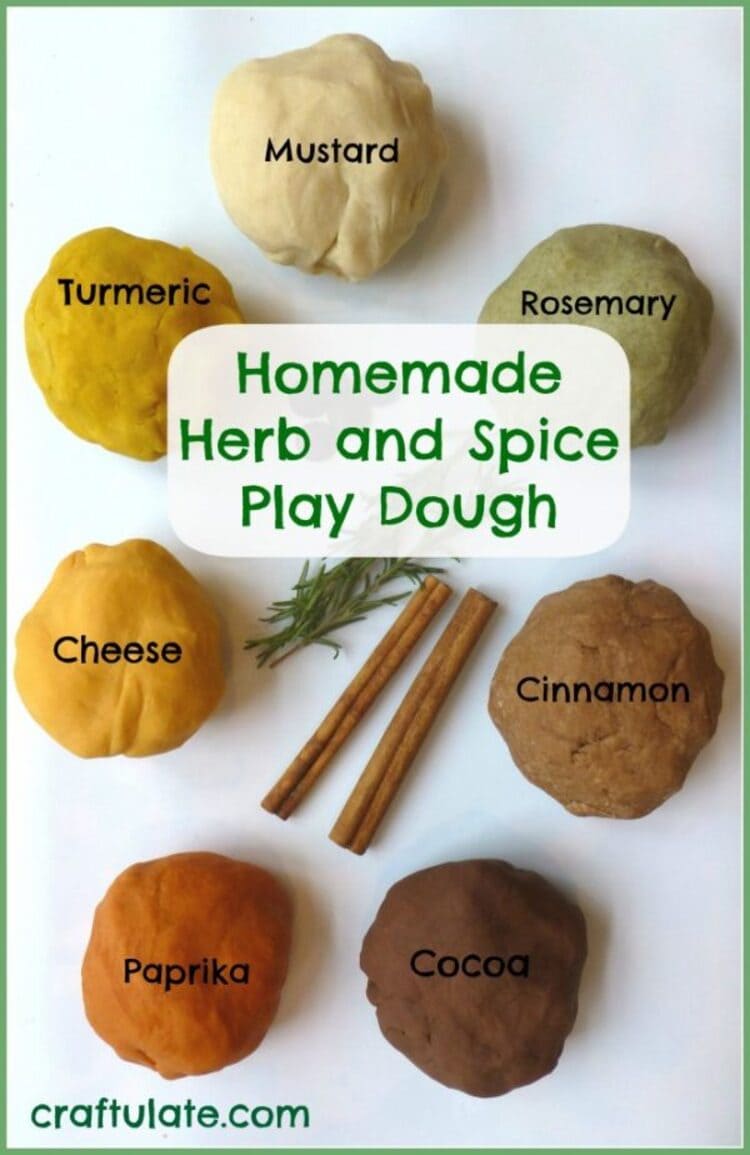 16. Edible Water Beads
There is so much that can be done with water beads! They feel so nice in your little one's hands. These ones are all-natural, made from tapioca pearls, so there's no need to worry about them ending up in your child's mouth!
17. Calming Epsom Salt Sensory Play
Who says Epsom salts are only for adults to enjoy? Your grandkids will have fun playing with their hands, and feeling the relaxing power of Epsom salts! This calming Epsom salt sensory play is amazing.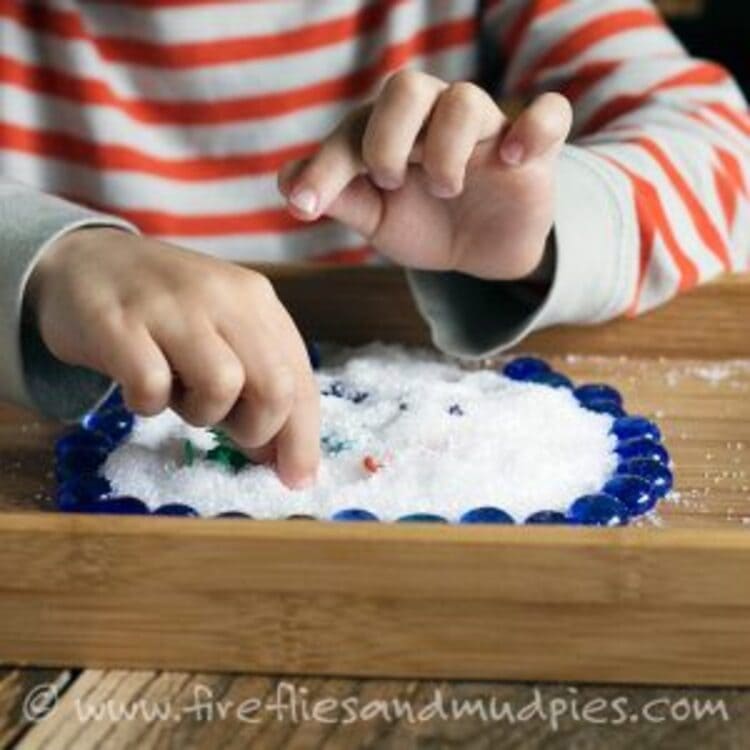 18. Cornstarch Painting Play
This is a fun and simple activity to put together which kids can enjoy! Do this cornstarch painting activity outside for easy cleanup and let your grandkids get messy and creative!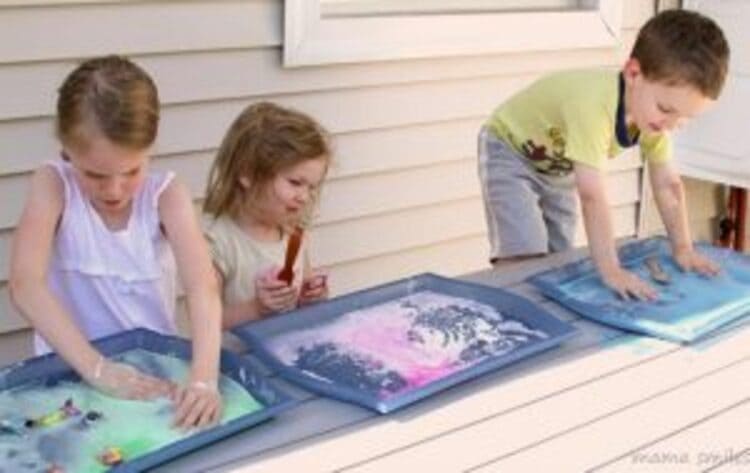 19. Alphabet Car Wash Sensory Play
I will never understand what it is about boys and cars, but seriously–ALL of my grandkids are obsessed! Which makes this a perfect activity for each of them! Toss a bunch of cars and all the letters of the alphabet you can find in a bin filled with shaving cream and let the kids have fun with this ABC car wash sensory play.
20. Carpet Square Painting and Sensory Board
Do you have any old carpet squares lying around? Put them to good use with this fun and unique sensory activity! Carpet square painting is fun and will help the kids master a few shapes. It's also a fun and creative way to create art.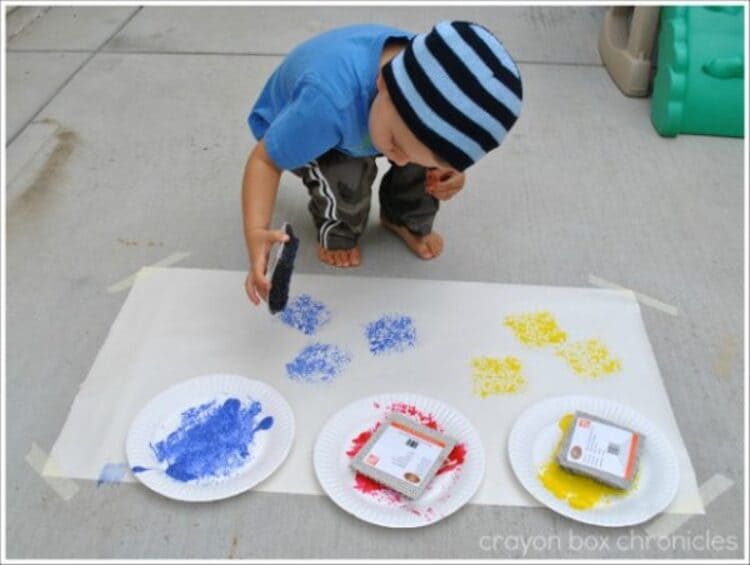 21. Bouncy Ball Art
This bouncy ball art activity has MESS written all over it, but it also has FUN written all over it! Be sure to do this one outside–your grandkids will have a blast!
A Few Final Words…
There you have it, folks! 21 activities for sensory play with easy-to-make toys, huge benefits for kids, both autistic and not, and which are sure to give your young ones hours and hours of fun!
What are some activities you've done with your autistic grandchild? We would love to hear your stories. And if you are struggling to parent a child on the autism spectrum, don't give up hope! You are not alone.
Loved This Collection Of Sensory Activities For Kids? Check Out More Helpful Tips: