Are you looking for a yummy, jiggly, easy-to-make cherry jello recipe? It is the most wonderful cherry jello you will ever eat in your life! The taste is so rich and packed full of cherries.
You can't go wrong with cherry jello. It is super easy to make, red-colored, wiggly, sweet, and full of fruit. Everyone will love it!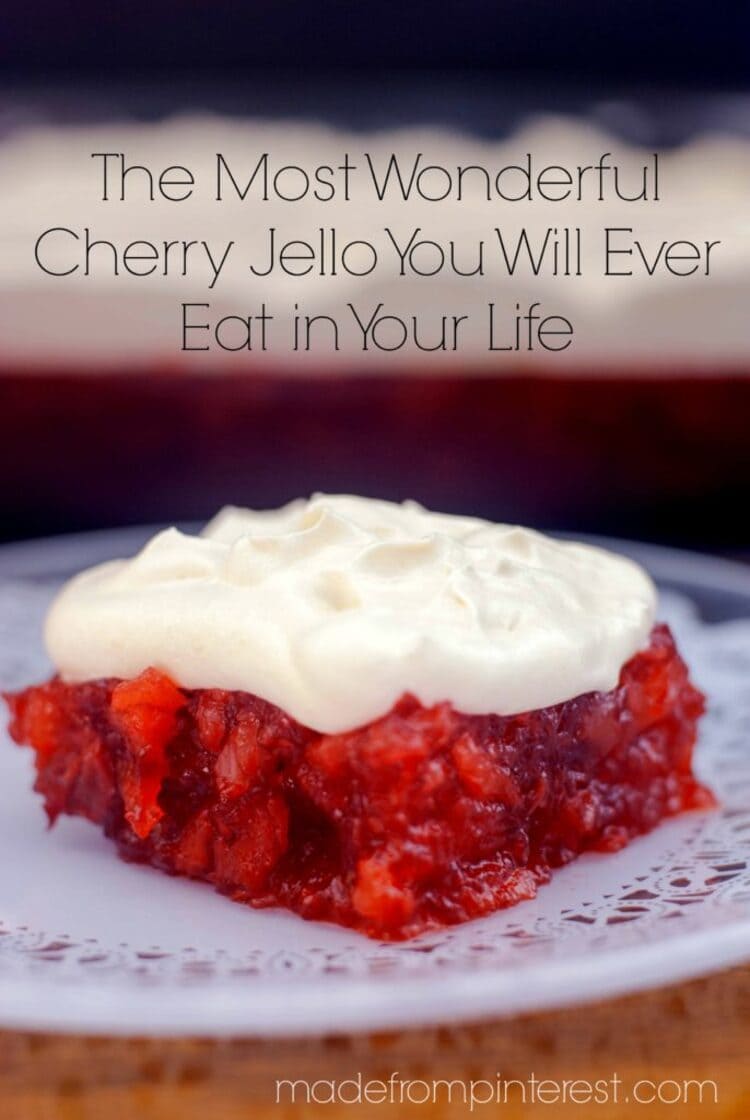 Where did the name of the recipe come from?
Do you have recipes in your recipe files that have funny names? There are the names of just a few of mine! Mississippi Sin Dip, Million Dollar Spaghetti and White Trash Bars.
The recipe that I am sharing today is another one of those recipes. "The Most Wonderful Cherry Jello You Will Ever Eat in Your Life". How can you resist something with a name like that?
Actually, I got this recipe from a friend of mine over 25 years ago. We were at a party where everyone was supposed to bring something, and this is the jello she brought.
As I was in line getting my plate of food, a man was ahead of me who was on his second round. He turned to me and told me that he wanted to come back to get some more of this cherry jello, and he wanted to know what it was called because it was the most wonderful cherry jello he had ever eaten in his life.
Then, I asked my friend about the name of her recipe. She smiled and told me how it was called. You guessed it. In fact, it was called The Most Wonderful Cherry Jello You Will Ever Eat in Your Life.
Honestly, I wasn't expecting any other name. I told her about the man in front of me, and we had a great laugh!
Since then, it became a family staple while my kids were growing up, and to this day, it is still my son's favorite jello side dish. It calls for cherry pie filling, which almost turns it into a dessert, and the whipped topping isn't just Cool Whip and adds a decadent creamy topping.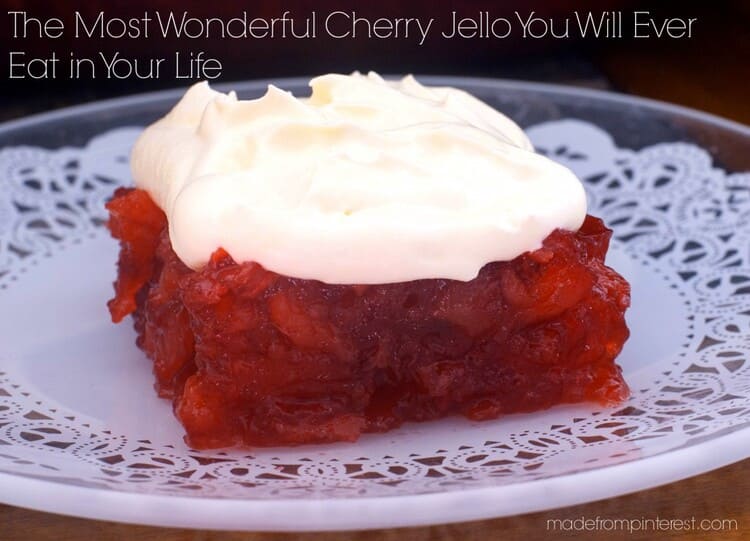 Why you will love this recipe?
Surely, I have to admit. It is not a recipe for cherry jello you expect. There are some secret ingredients added. It is where the magic happens. And every outstanding dessert has its secret ingredients. Once you try it, you will never want to make it any other way.
With pineapples, instant vanilla pudding, and cherry pie filling, you just can't go wrong. It is a spectacular experience for your taste buds!
This recipe is:
gluten-free

fruity

kids-friendly

low-calorie

with natural sweeteners
Frankly, I had no idea that cherries and pineapples go that well together. But when I tried this jello, it made perfect sense. In my opinion, the instant vanilla pudding gives it a creamy feeling, and the chunks of pineapples add this mouth-watering effect.
All these natural fruit sweeteners are full of a range of healthy nutrients. In fact, it is a great way to add more vitamins and minerals to your diet.
It is low-calorie, too. How amazing is this! No crust or base that would add more calories. Just fruit, instant vanilla pudding, milk, and cool whip.
If you prefer, add some sweetener. But don't make it oversweet. The fruit taste is more noticeable when there is a little bit of sourness. At least, this is how I prefer to make my cherry jello.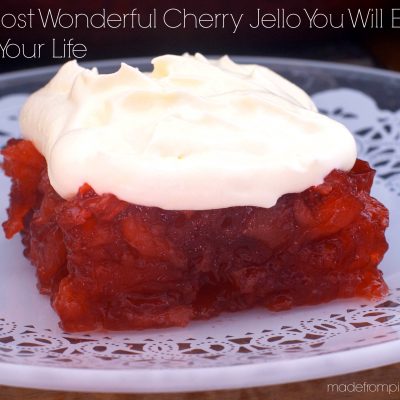 The Most Wonderful Cherry Jello You Will Ever Eat in Your Life
Ingredients
1 6

oz

pkg cherry jello

1

large can crushed pineapple

do not drain

1

can Comstock Red Ruby Cherry pie filling

or other Cherry Pie Filling

1 3

oz

pkg instant vanilla pudding

1

cup

milk

2

cups

Cool Whip
Instructions
Combine cherry gelatin with 2 cups of boiling water. OMIT 2 cups cold

water as directed on the package. Add crushed pineapple with juice and cherry pie filling.

Pour into 9x13 pan

Chill.
Topping
Combine pudding with 1 cup milk and beat. Let set for 1-2 minutes until slightly thick.

Add Cool Whip and mix well.

Spread on top of the chilled cherry jello.

Refrigerate until ready to serve.
How to use The most wonderful jello you will ever have in your life recipe?
This dessert is perfect for any occasion. From family dinners to grandkids' birthday parties, this recipe is a must! What I love about it is that you can use it for a lot of other desserts. Get creative in the kitchen to make the taste you crave!
What is a party without jello? It is the ultimate party food to make in glasses, served with some whipped cream on top. Or serve it on a plate and make it finger food.
If you are planning a cookout or a family dinner? It may take a little bit of your time, but it is worth it.
You can use this cherry jello in:
cherry pie

no-bake jello pie

cobbler

crumble

pannacotta

vegan raw cake

tart

fruit tartlets

layered Christmas jello

layered rainbow jello

cherry jello cups

parfaits
Make the recipe super healthy
With cherries and pineapples added to the recipe, it is already healthy. But you can substitute some of the products to lower the calories even more.
Are you going vegan? In this recipe, you will see some animal products. Surely, you can easily substitute them and make the recipe vegan-friendly.
Indeed, there are pineapples added to the recipe. It makes it a little bit different and makes the taste much more versatile. I told you, it is not ordinary cherry jello at all.
Use some whipped coconut cream on top. Make the dessert with plant-based products only to make it healthier and guilt-free.
If you prefer your dessert sweeter. For example, add some zero-calorie sweetener instead of sugar, such as stevia or erythritol.
Cook with your grandkids
Are you looking for a recipe to prepare together with your grandkids? After all, it's always a good idea to use cooking as a time to bond, and spend quality family time. They will want to help you with this one. What is more, it is easy, and there is nothing that can go wrong. Your grandkids will love the process and the result, too!
First of all, they will be interested to see how to make their jello. I will give you another idea of how to spark curiosity even more! Pick some silicone molds with different animals or other funny characters. Fill them up with the cherry jello and let them eat it after that. Store them in the fridge for a few hours to set. It is going to be a healthy fruity wiggly treat, indeed.
Bring some Jello to your party
Are you hosting a party? This cherry jello recipe can save the day! And it will make the preparation less stressful, too.
It appears that a tropical theme party can't go without jello. For instance, top it with a cocktail cherry and a piece of pineapple for a more summer feeling.
Besides, whether you are going to a Halloween party or a grandkids' birthday party, jello is a great way to bring some tasty treats to the table.
It is perfect for:
Tropical theme party

Christmas party

Halloween party

Birthday party

Family reunion

Cookout

BBQ backyard party

Picnic

Cherry theme party
Without a doubt, it is easy to make, affordable, and healthy treat. You can prepare a batch of jello and serve it as a welcome drink if you are hosting the party.
You can easily change the appearance of the jello and decorate it according to the party theme.
Are you going to a family reunion? Then, make a large batch of the most wonderful jello you will ever have in your life!
Are you hosting a family Christmas dinner? The red color is traditional for this time of the year. It creates the festive and holiday feeling we all love! Make this cherry jello recipe and sprinkle it with coconut flakes on top to add some snowy mood.
Or are you planning Valentine's day party? No problem. Just use a heart-shaped pan and prepare the jello in this shape.
What types of fruit should you use?
In the recipe, we use canned cherries and pineapples. Actually, you can choose frozen if you prefer.
Feel free to use any other fruit you like. Moreover, it is going to be amazing with strawberries and raspberries.
However, to make it a different color, you can use peaches, mango, or blueberries.
Kids-friendly recipe
Clearly, not only the grandkids, but adults love jello, too. It is so much fun. It is that tasty and inexpensive to prepare, that we can't resist it. Moreover, I make jello for every occasion possible. And everyone enjoys it!
Generally speaking, we know that grandkids love eating food with bright colors and jello is one of them. Especially, cherry jello has an amazing red color! Serve it in small glasses with a decoration of fresh fruit and your grandkids will love it!
Undoubtedly, you should bring jello to your next party. Surely, not an ordinary one, but the most wonderful jello you will ever have in your life!
How to store The most wonderful cherry jello you will ever eat in your life?
If you have any leftovers, consider yourself lucky, of course. Store the cherry jello in an airtight container in the fridge for up to 5 days.
Avoid freezing the jello.
How to serve the Cherry jello?
In the recipe, we use whipped cream to top the jello. You can use ice cream of your choice or vegan yogurt.
Certainly, experiment to find what is the best flavor combo for you!
In conclusion
In short, satisfy your sweet tooth with this guilt-free jello treat.
It is perfect for any occasion. Cherries and whipped cream come together for the ultimate fruit dessert! Offer this low-calorie delicious treat to your grandkids and make them happy.
Last but not least, I hope that you try it and that maybe you too will think that it's the most wonderful cherry jelly you have ever eaten in your life! It is worth every bite.
Did you like this tasty cherry jello recipe? We'd love for you to check out some of our other great recipes like these!