Ants are just nasty little buggers! I was in desperate need of this poison ants DIY because it seems like every couple of years they find their way into my house or garage.
A few common household ingredients (water, sugar, and borax) helped me finally eliminate this annoying issue once and for all.
The best part of this poison ant DIY is that it actually keeps these pests away, unlike the store-bought stuff I had tried in the past.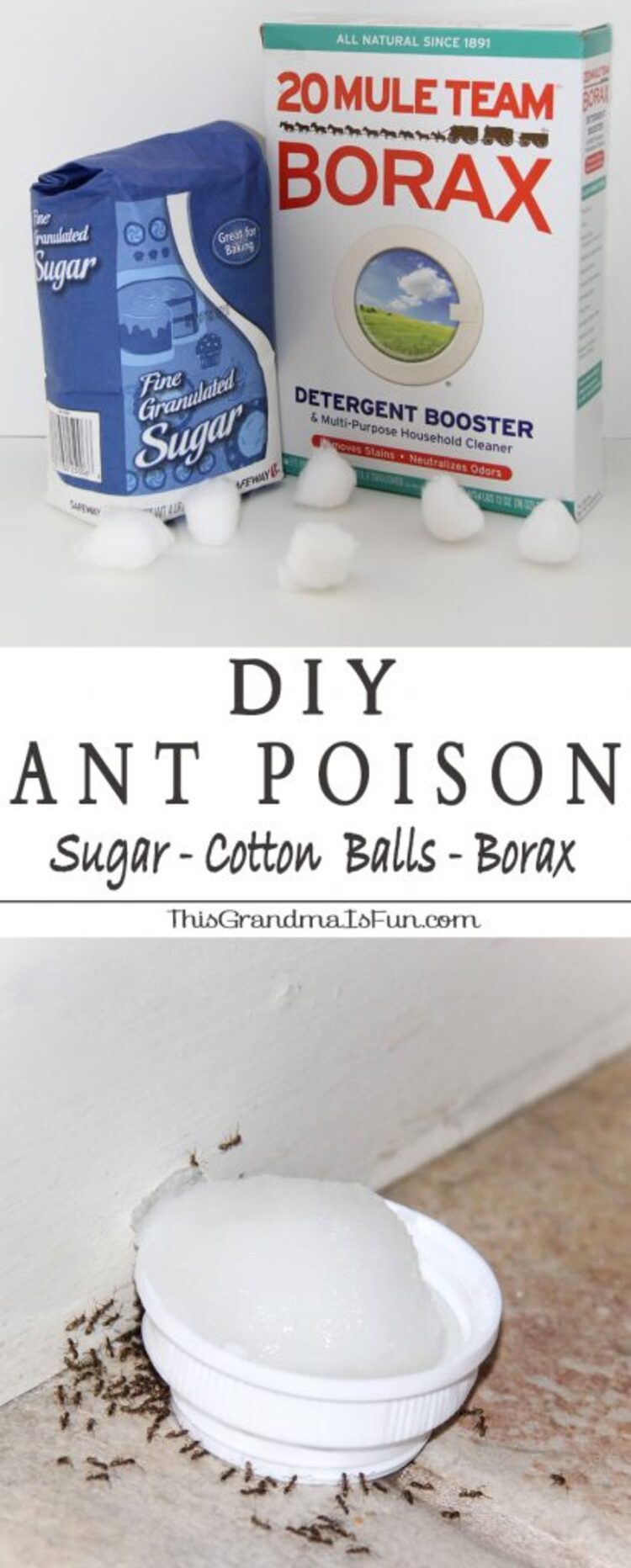 Poison ants DIY to help you get rid of the little crawlers
I can't stand having ants in my house, they make my skin crawl. I can handle snakes and lizards – they are kind of cool (I had a pet chameleon when I was young). Spiders… just grab them in a paper towel and flush them down the toilet, no big deal.
But ants, they drive me crazy!
There are so many of them, and they seem to come from nowhere and everywhere at the same time, don't they?
My usual routine was to grab the aerosol bottle of ant spray to get rid of them. It took at least 2 sometimes 3 applications of the poison ant spray to keep them from coming back. So annoying!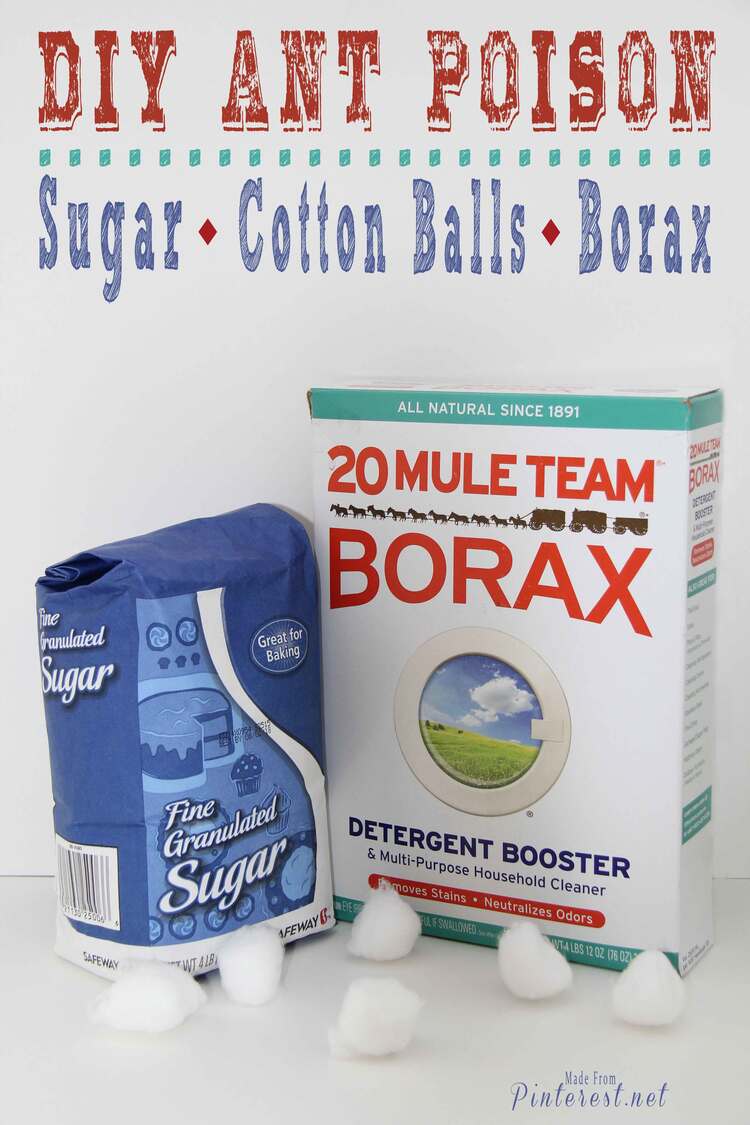 Here is how making this poison ant DIY went down
This year they found their way in again, this time underneath my computer desk.
As a blogger, my computer desk and surrounding area are SACRED.
Talk about invading my personal and professional space!
These guys were just begging for me to kill them!
I ran for the ant spray to stop them in their nasty little tracks. All I found was an empty can. I DID NOT have time for ants yesterday! Running to the store was not an option since I was knee-deep trying to finish my posts for this week.
I sat at my desk with my feet up and searched Pinterest for a solution. Thank you, thank you to Patricia from My Patchwork Quilt for this pin!
This poison ant DIY is exactly what I didn't know I needed!
It was so easy to implement, the ingredients were already in my kitchen and it actually kept those pesky ants away!
Patricia, you are an ant-killing lifesaver!
Not only is this solution effective, but it also eliminates those toxic fumes from canned poisons, which is a great bonus. And did I mention how inexpensive it is? You probably already have everything you need in your bathroom or kitchen. This poison ant DIY solution is perfect all-around- fast, cheap and it works!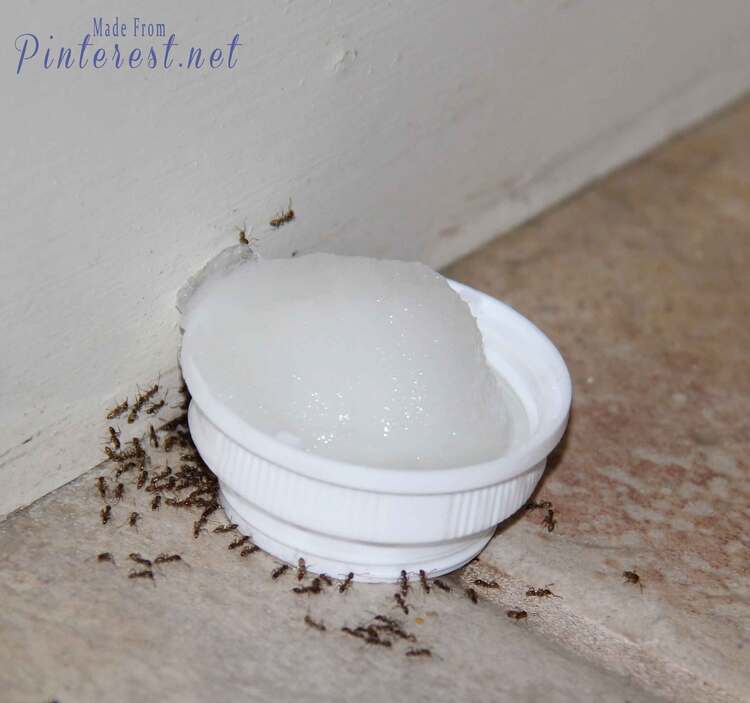 Poison ant DIY Ingredients
All you need to make this simple and effective poison ant DIY is:
warm water
sugar
borax
cotton ball
wax paper (if you don't want to put the cotton ball directly on the floor- I was so excited I forgot this step)
I love that this is so easy to make with common household ingredients and items. I mixed the warm water with the sugar and Borax until it dissolved.
How to make your poison ant DIY
It was super easy to make this poison and DIY. I soaked a cotton ball in the solution I made and placed it in a lid to one of my old medicine bottles. I made sure the cotton ball was soaked and filled the cap so a little would pour out to attract the little creepers.
If you put out sweet poison, they will come!
Sometimes it can take the ants a few hours to find it, and sometimes it can take them a few days. Keep this in mind when choosing where to put your Poison Cotton Ball. And don't forget to keep it away from kids and pets.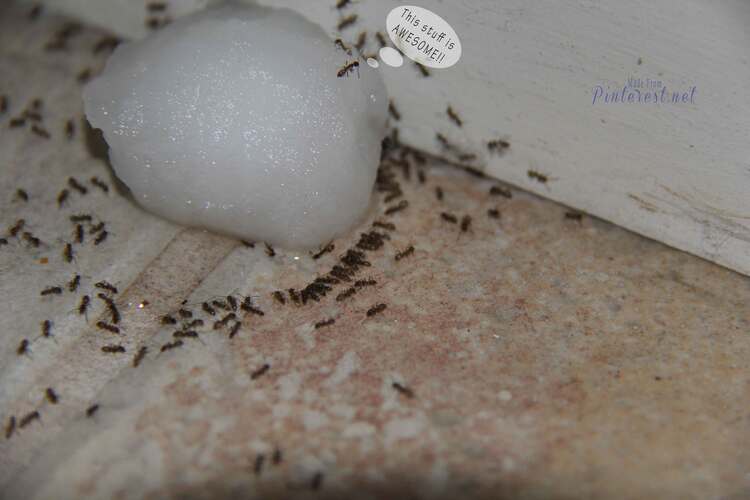 Poison ant DIY Hack: Make it easy for the ants to find
Waiting for these guys to crawl up into the medicine cap was taking too long. If you are like me and don't want to wait too long for the ants to discover the cotton ball, skip putting the cotton ball in the medicine top.
I decided to make it easier for them by placing the cotton ball directly on the floor. I was in such a hurry to see them eat the poison and head back to their colony to share with all their friends, that I didn't think to grab some wax paper to put the cotton ball on.
Make sure to place your cotton ball near where the ants are currently hanging out/traveling. This could be on the floor, although it also works on the kitchen counter or near the sink. The faster they can find it, the faster this poison ant DIY will work.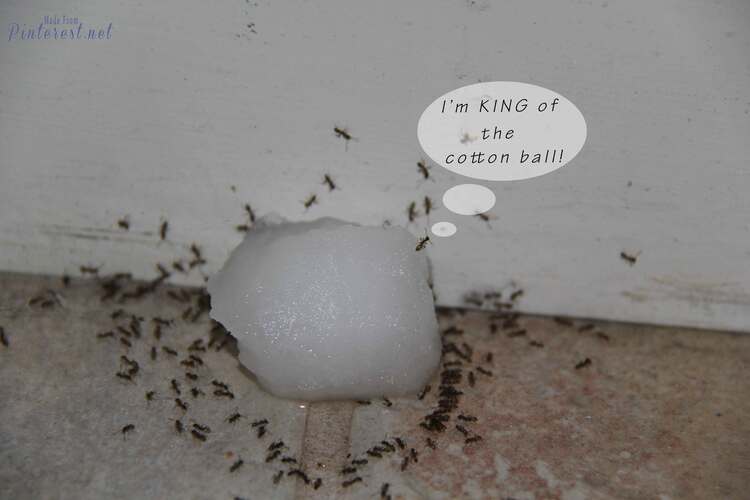 Leave your poison ant DIY out for a while
I love the brave ant who crawled to the top of the cotton ball all by his lonesome! For a while, more ants kept coming out of the little spot in my baseboard to feast on the sweet poison. So far, it seems to be working! As you can see in the photos, the ants were happily surrounding the cotton ball. They seemed to love it!
Discard your poison ant DIY Cotton Ball
Four hours later all the nasty little buggers were gone! Once the sugar water feast was over, I went ahead and threw away the soaked cotton ball.
I threw the cotton ball away in a zip lock bag. No need to attract the ants or other critters to the trash, right?
I love that this is a set-and-forget solution. After soaking the cotton ball I set it where the ants could find it, then came back when I was done working to clean up the mess. I didn't have to find a mask and try to figure out where I needed to spray to kill some ants.
This solution is genius since it lures the ants right to the poison! I also love that it doesn't just work on the ants that I can see. They can carry it back and share it with the other ants I can't see and eliminate the root of the problem instead of just the symptom.
Don't forget to clean up your poison ant DIY area
I had such a lovely grin on my face as I cleaned the sweet poison ants DIY off the floor. There was no way I was going to let a bunch of ants slow down my day or get the better of me.
I did slow down long enough to take pictures and write this post. Just gotta say that.
The recipe makes a lot of poison, so if you would like to store it for future use, you can use either a glass jar or a plastic container. You could also make half or even a quarter of the recipe and have plenty for a batch.
This "poison ants DIY" Pin Rocks!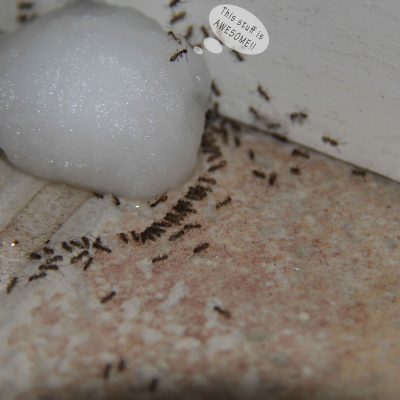 Poison Ants DIY
Ingredients
1

cup

sugar

3

Tablespoons

of Borax

3

cups

warm water
Instructions
Mix sugar and Borax with water until it dissolves.

Soak cotton ball with solution then place cotton ball on wax paper. Place the wax paper with the soaked cotton ball near ants.

This makes a ton of ant poison, cut the recipe to 1/4 and you will still have plenty!
Poison Ant DIY Updates
UPDATE: It is now Friday morning August 23rd and not an ant in sight! There has been a big response to this post which has generated a lot of questions. Instead of answering each question in the comments, I am listing them here for everyone's benefit.
The original author mentioned she hasn't seen any more ants since using this method, so I am confident they will stay away. If for any reason they do come back, I know exactly how to get rid of them quickly and easily!
Did I use Borax or Boric acid for the poison ant DIY?
My photo has a picture of a box of Borax, but I listed boric acid in the recipe. I used Borax and have updated the recipe to 3 Tbsp of Borax.
Poison Ant DIY: Are Borax and boric acid the same thing?
No. Borax is a combination of sodium, boron, and oxygen and is mined from the soil. Boric acid is a crystalline material made from borax. While Borax and boric acid are not chemically identical, one can be substituted for the other to accomplish the same thing in regards to killing ants.
How does Borax kill ants in this poison ant DIY?
Borax works primarily as a stomach toxin on ants. The worker ants will carry the bait food, loaded with Borax, back to the nest. The ants in the colony will ingest it and die.
Is Borax dangerous and/or toxic to children and pets?
Yes, you should keep both children and pets away from this bait solution, Borax, and boric acid.
Did you love this poison ant DIY tutorial? Check out more great cleaning tips and ideas from This Grandma Is Fun